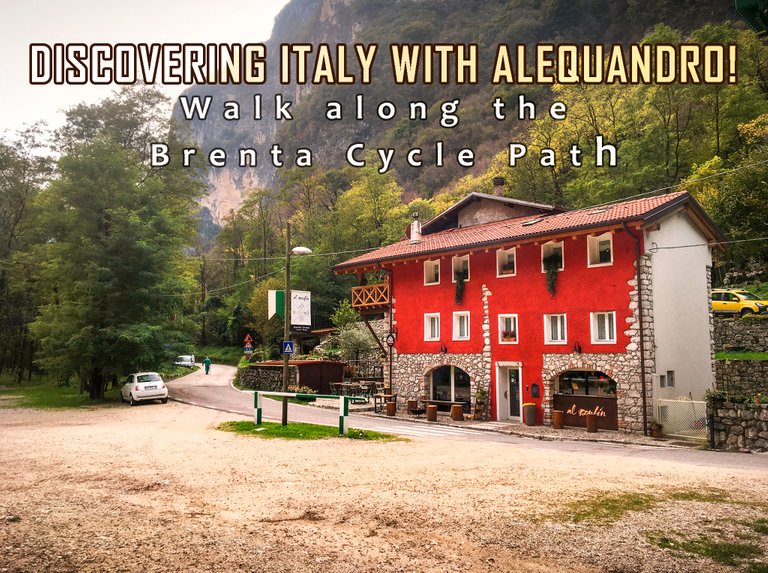 I was freeing my smartphone from countless useless photos, when I realized that time when, not having a camera with me, I used my old Iphone to document the walk.
ITA
Stavo liberando il mio smartphone dalle innumerevoli foto inutili, quando mi sono accorto di quella volta che, non avendo la macchina fotografica con me, ho sfruttato il mio vecchio Iphone per documentare la camminata.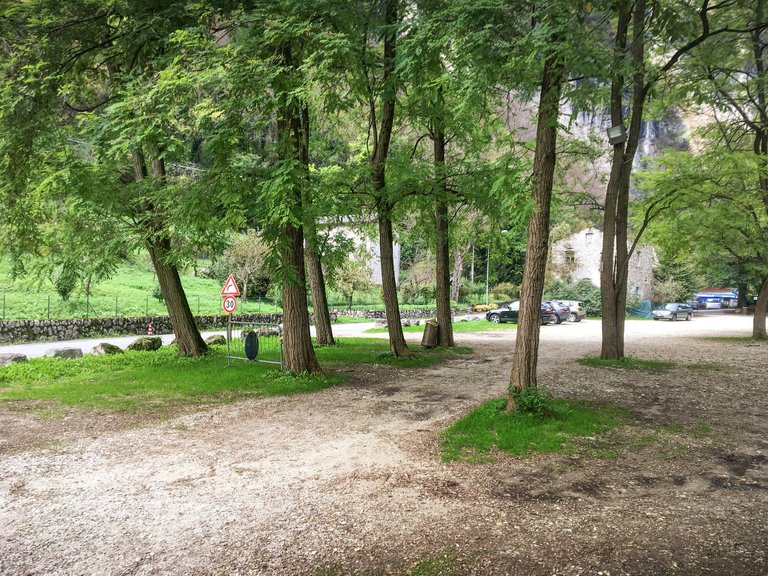 I had taken a series of photos in a place I had never visited before, I drove past it but never got the chance to explore!
ITA
Avevo scattato una serie di foto in un posto che non avevo mai visitato, ci ero passato a fianco in auto ma non ho mai avuto l'occasione di esplorare!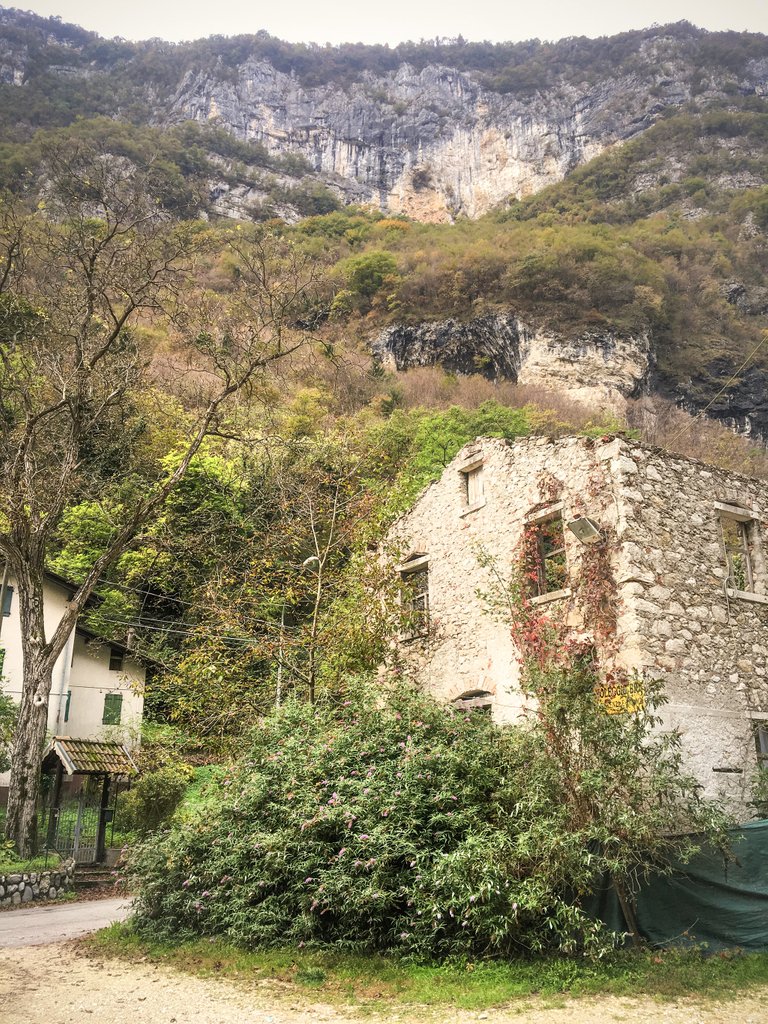 It was October 17th, it was still pretty good, it wasn't that cold.
On my right flowed the Brenta River, there was practically no one.
I could walk without wearing the mask.
ITA
Era il 17 ottobre, si stava ancora abbastanza bene, non faceva così freddo.
Alla mia destra scorreva il Fiume Brenta, non c'era praticamente nessuno.
Potevo camminare senza tenere addosso la mascherina.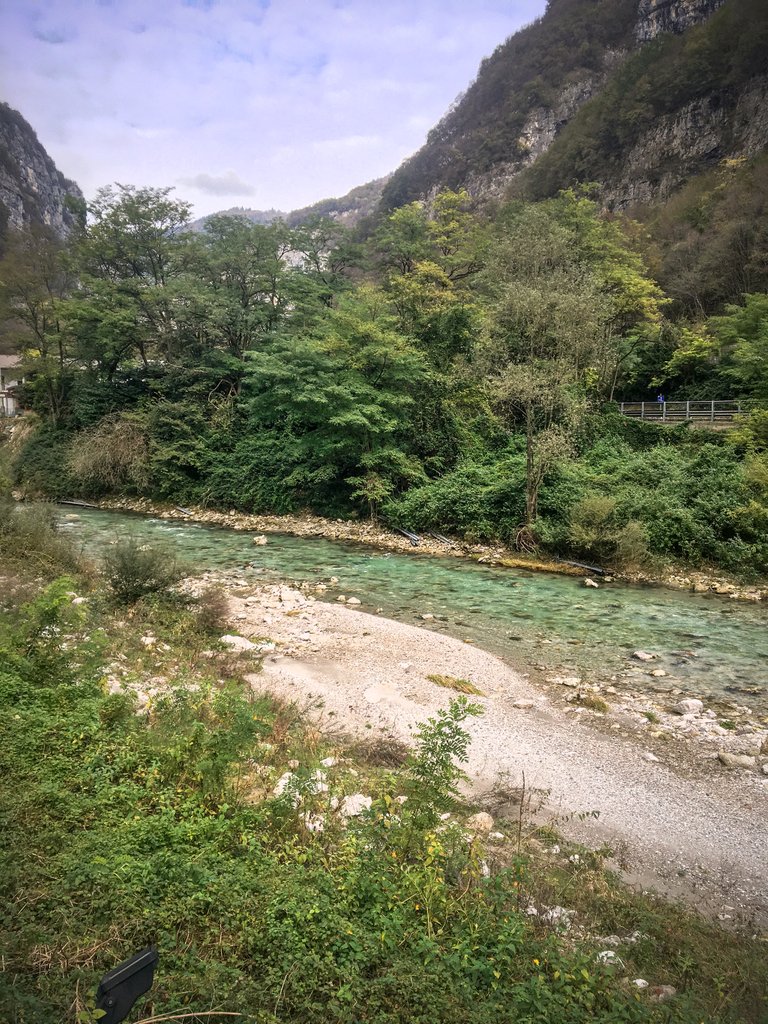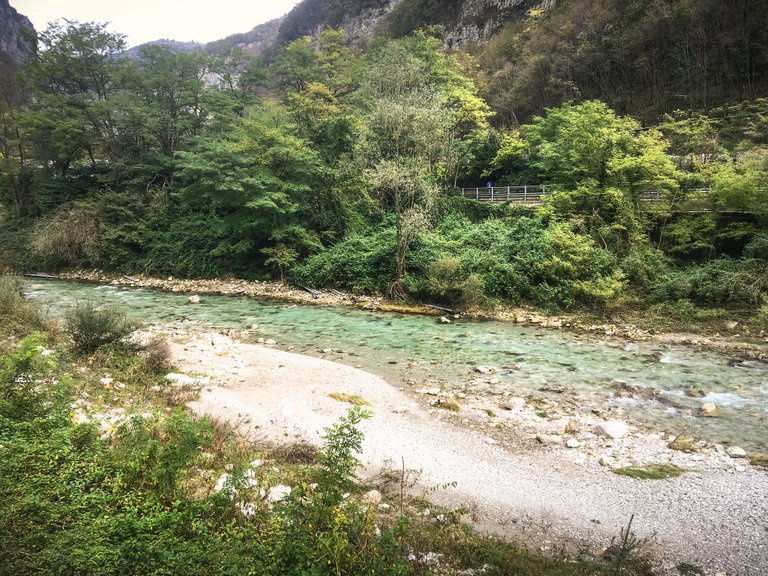 When I saw this sign, my eyes sparkled fantasizing about future excursions.
There are a lot of trails!
ITA
Quando ho visto questo cartello, mi brillavano gli occhi a fantasticare sulle future escursioni.
Ci sono un sacco di sentieri!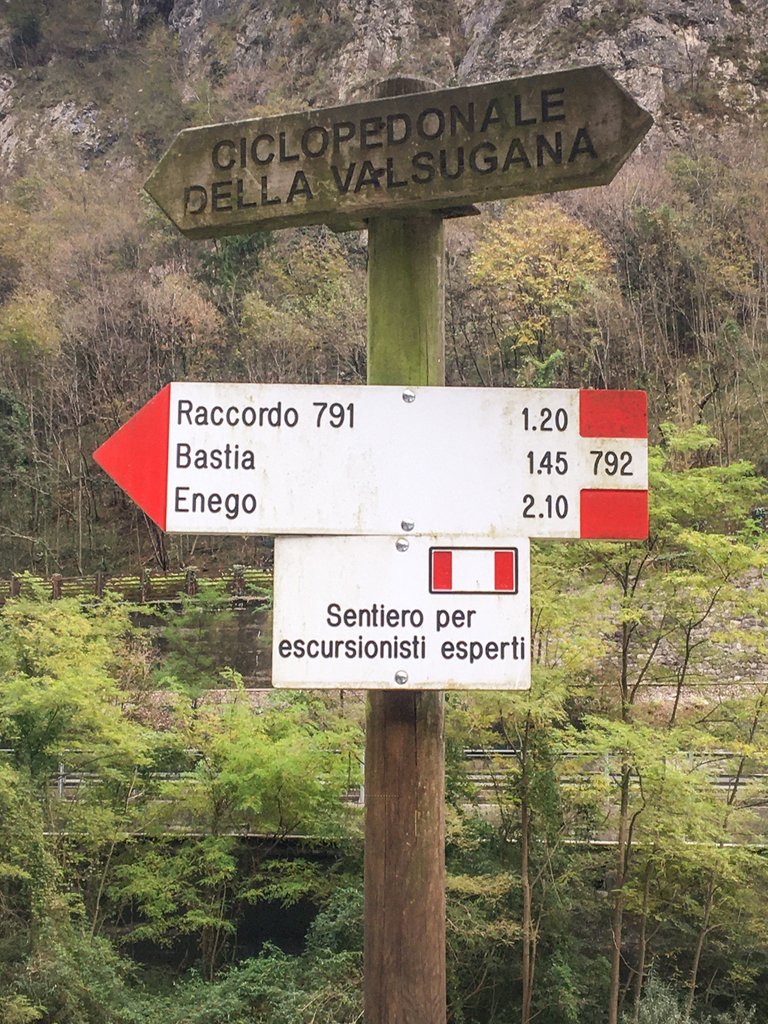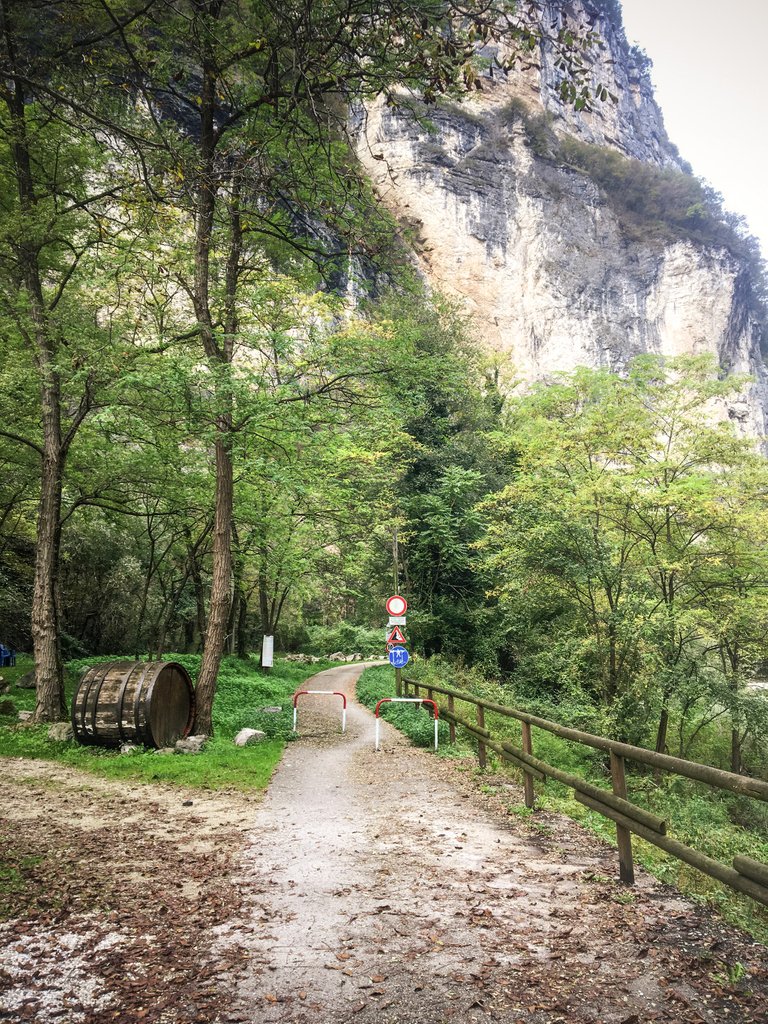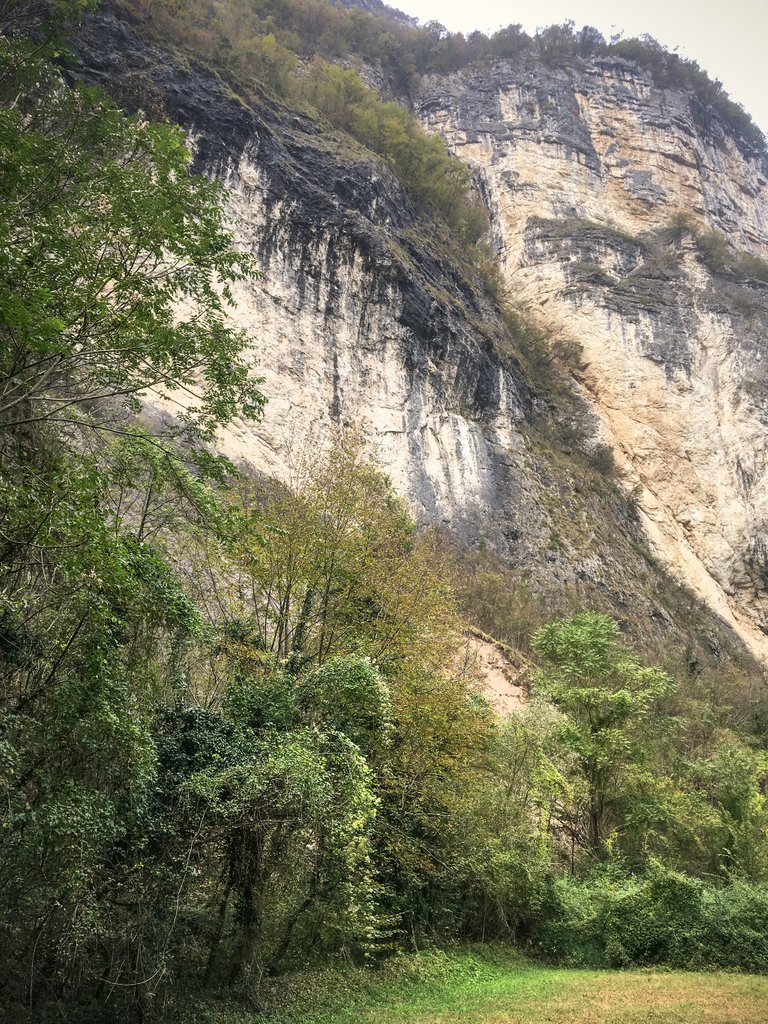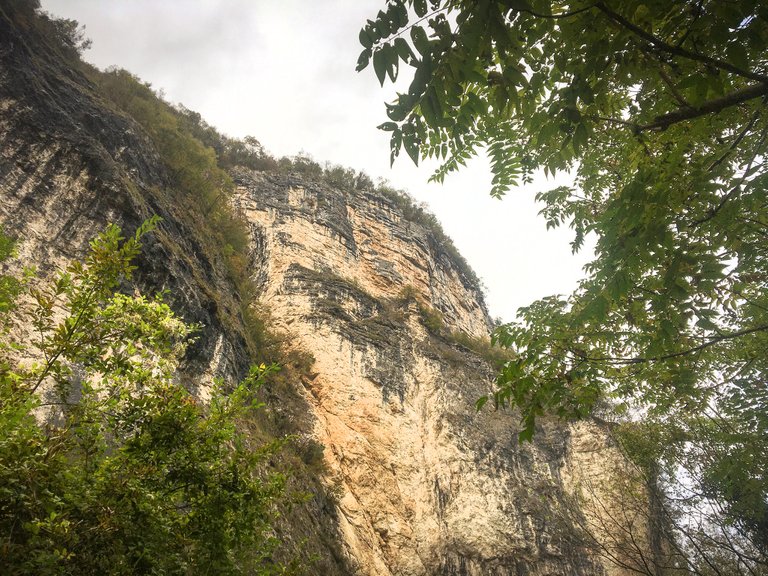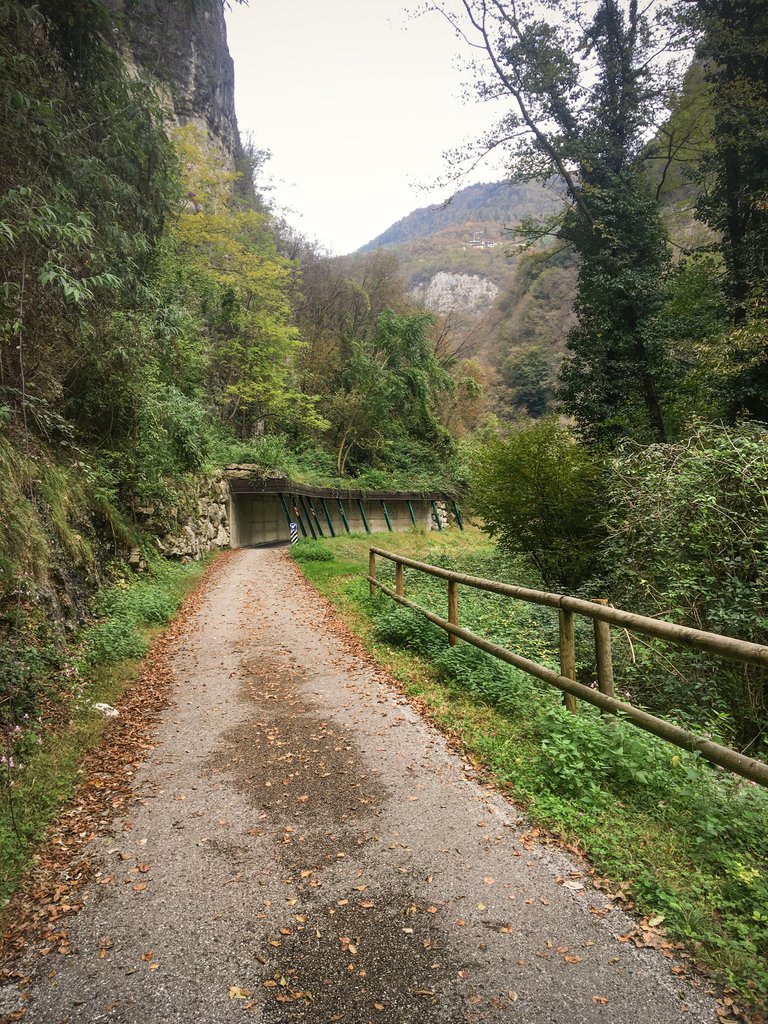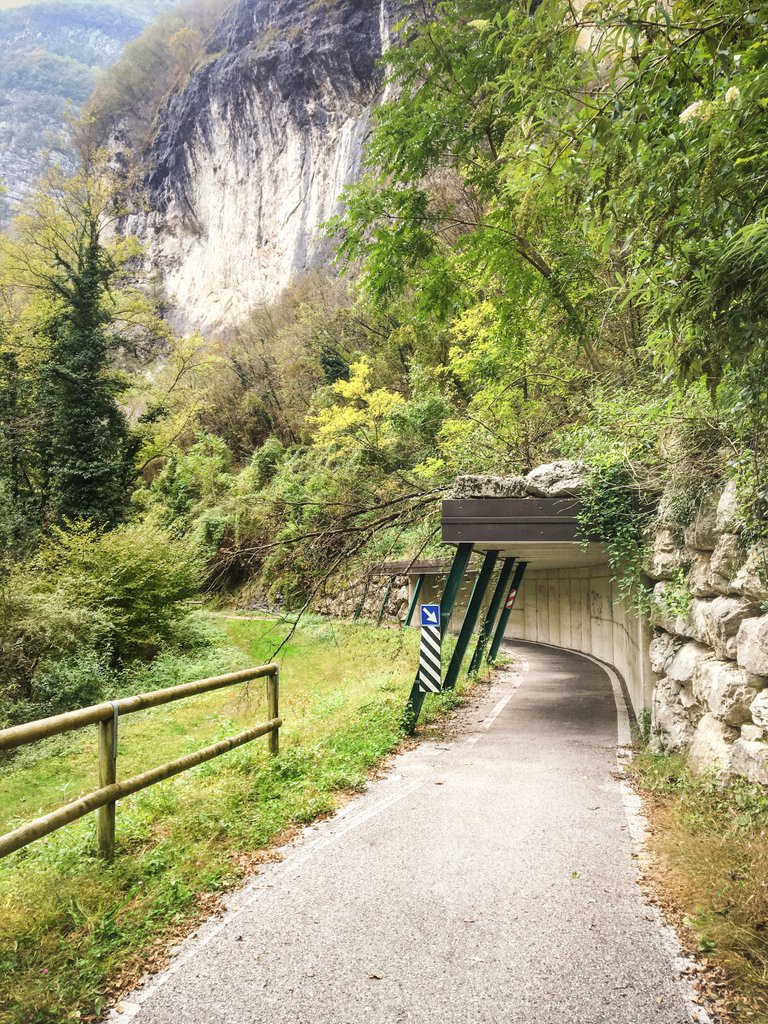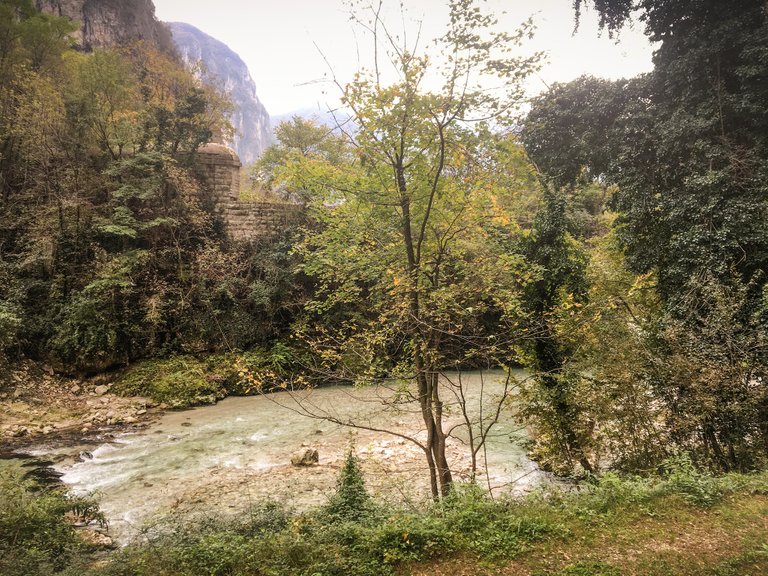 To my left, about thirty meters away, was the rock of the mountains that soared high above my head.
ITA
Alla mia sinistra, ad una trentina di metri, c'era la roccia delle montagne che svettavano alte sopra la mia testa.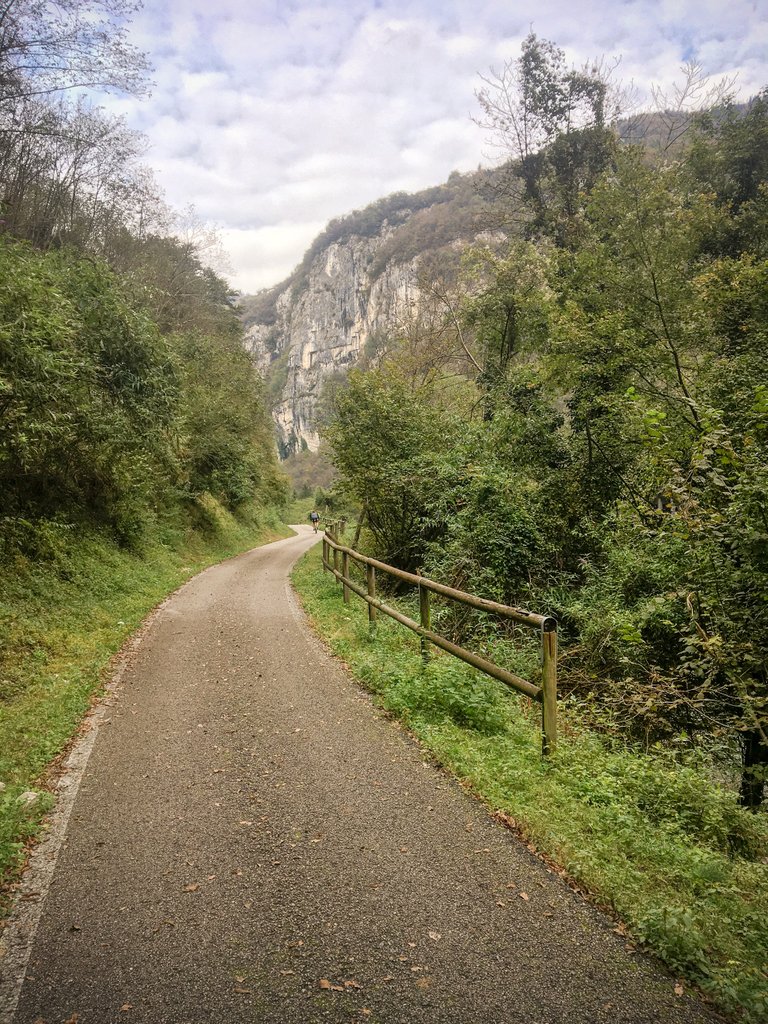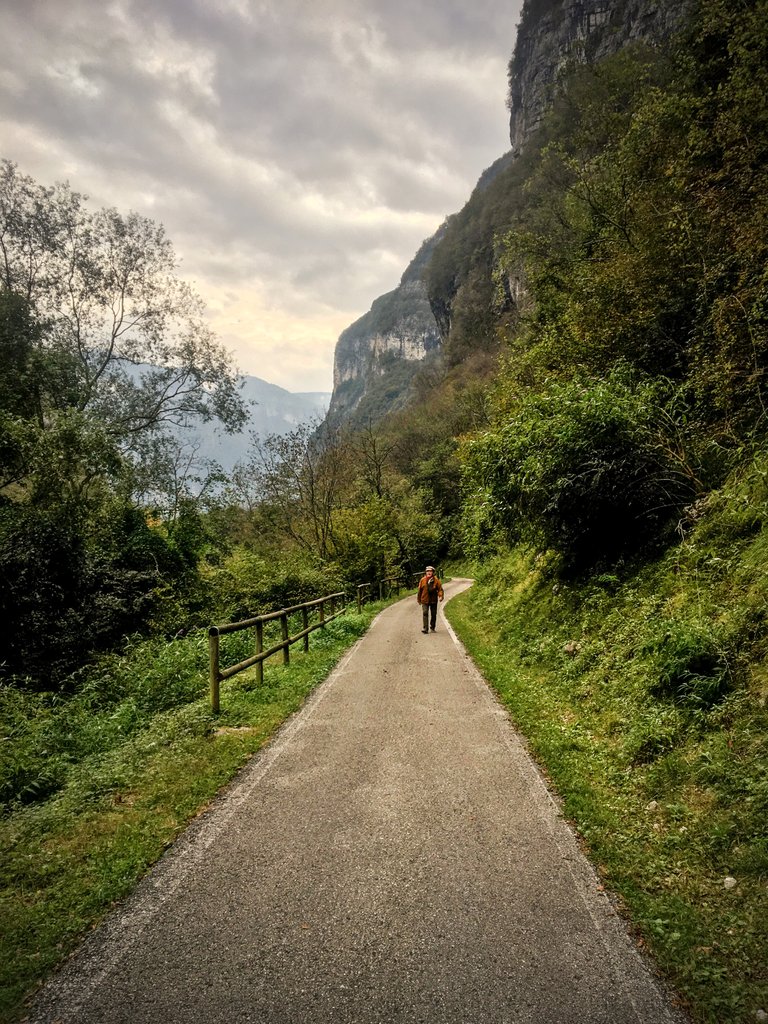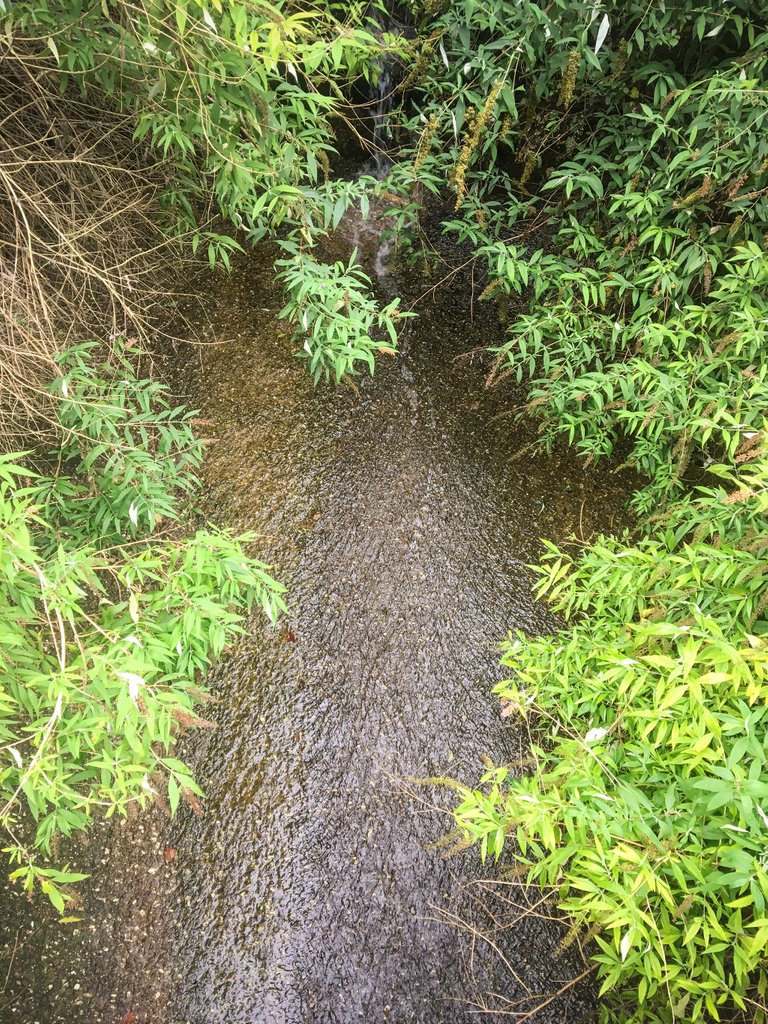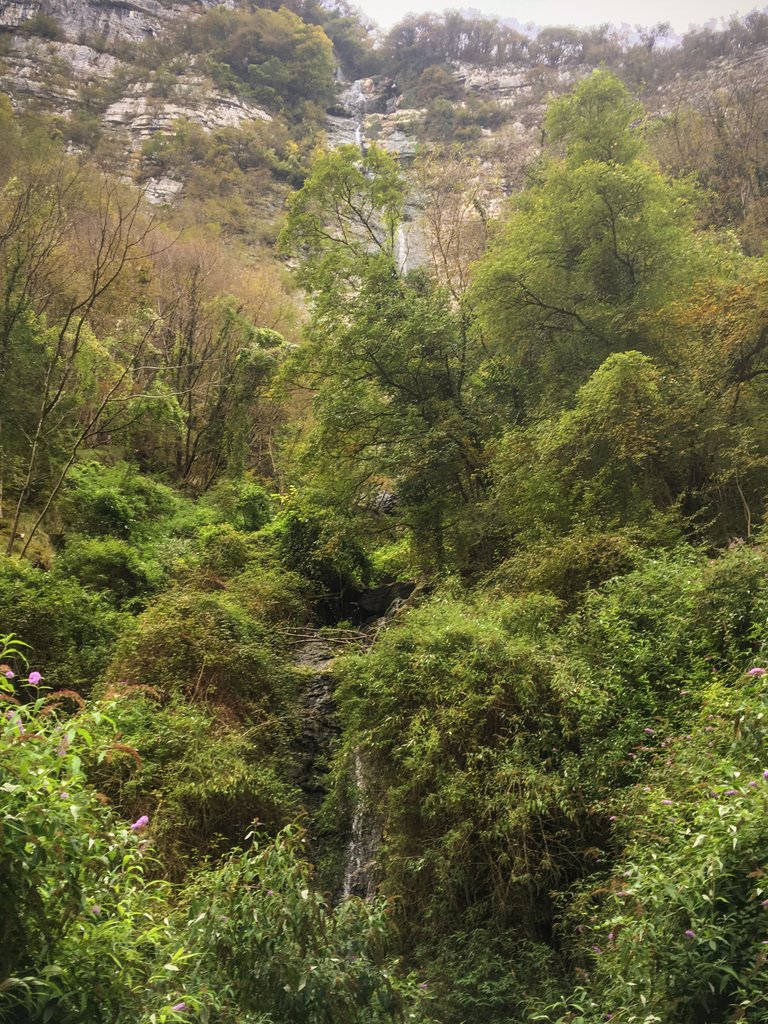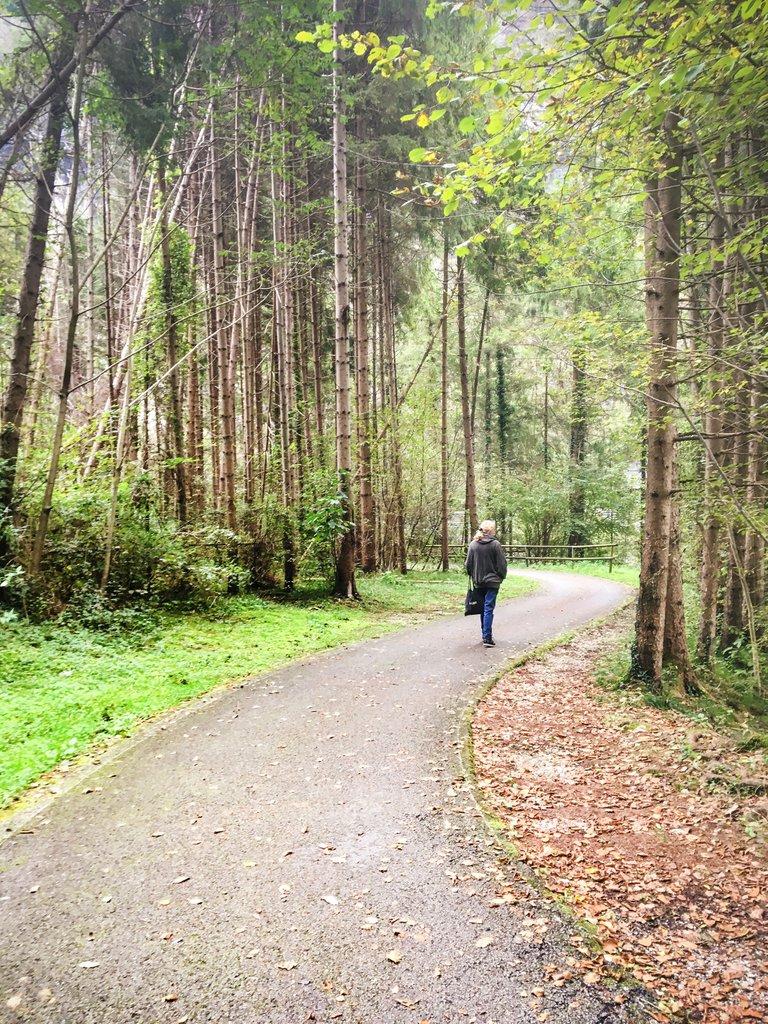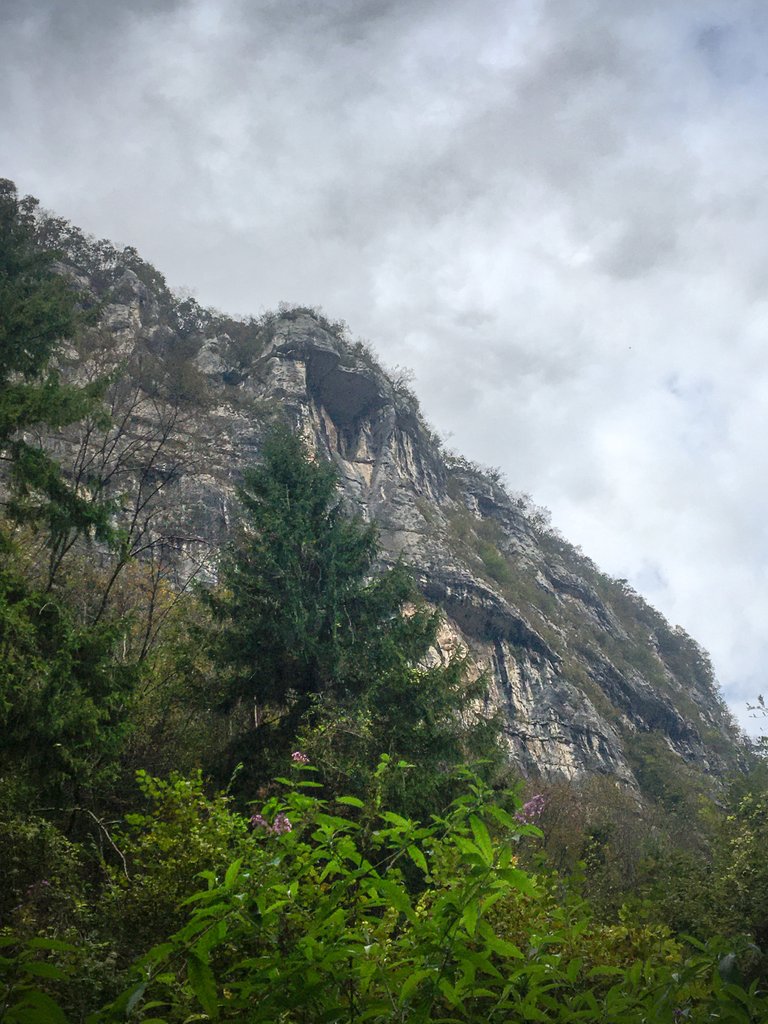 The route is very easy as it is all asphalted specifically for bikes and it is all flat.
Some sections are more wooded because the path moves away from the mountains leaving space for the growth of tall trees.
ITA
Il percorso è molto facile in quanto è tutto asfaltato appositamente per le bici ed è tutto in piano.
Alcuni tratti sono più boschivi perchè il percorso si allontana dalle montagne lasciando lo spazio per la crescita di alberi ad alto fusto.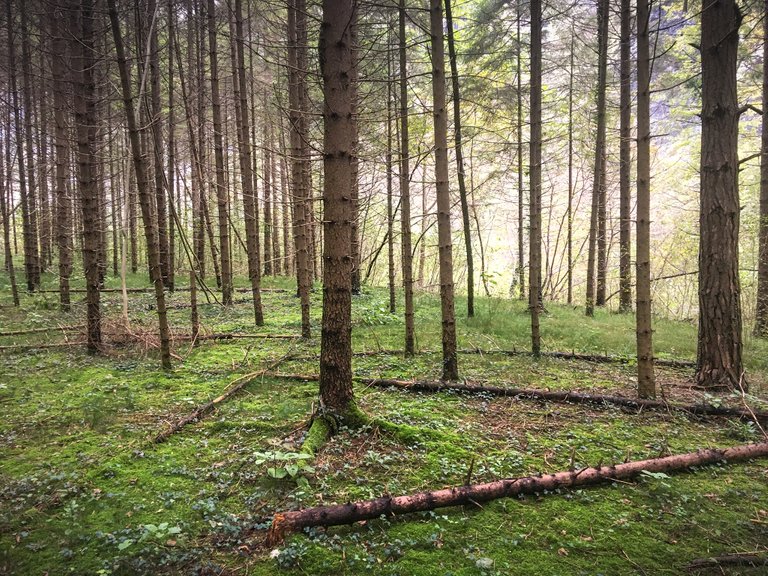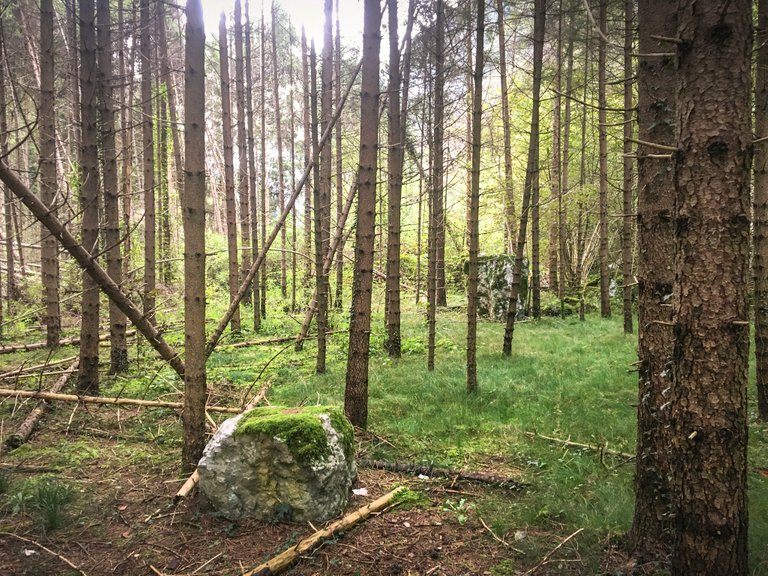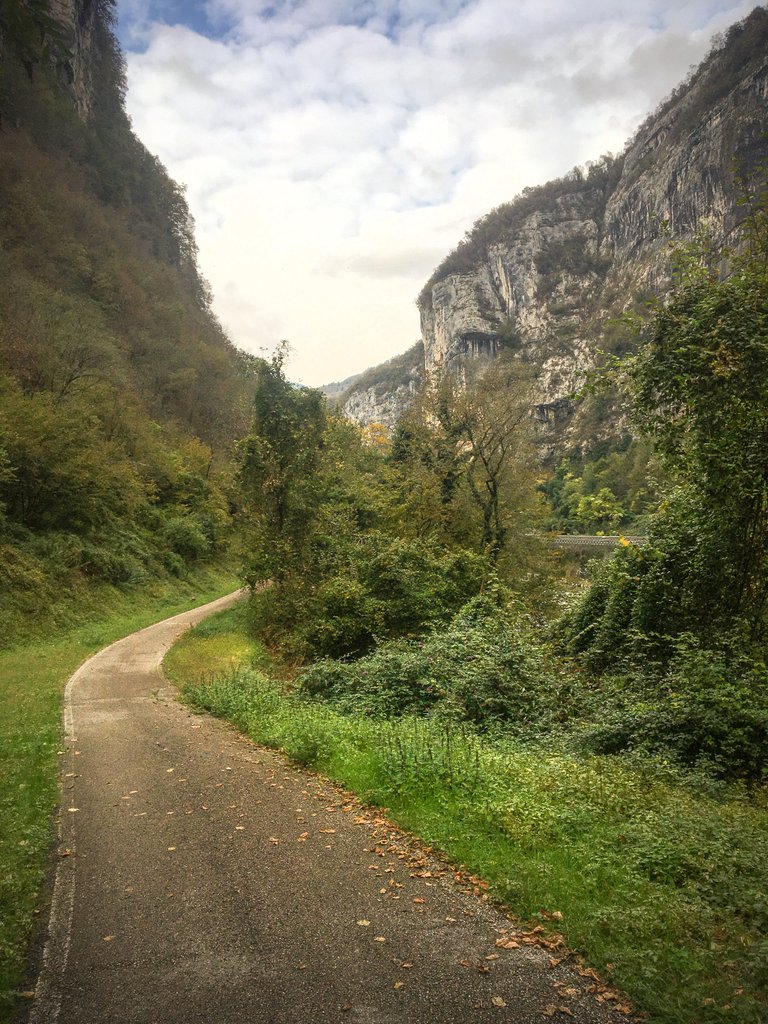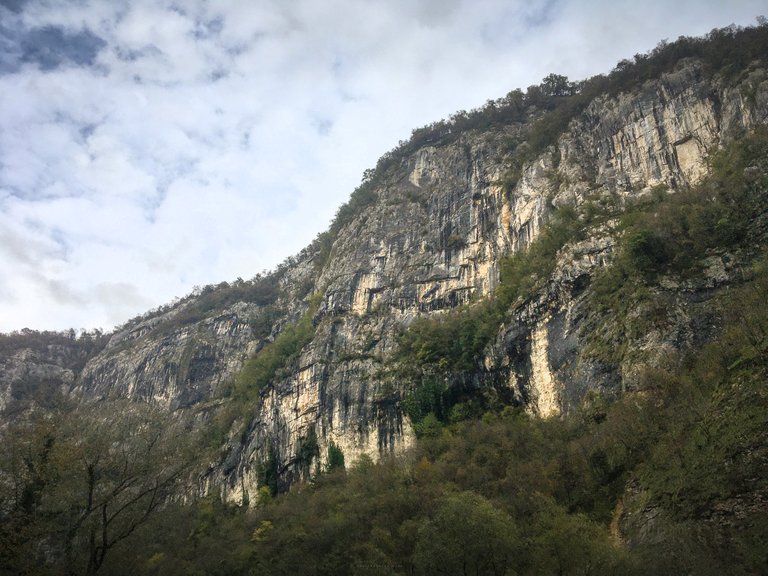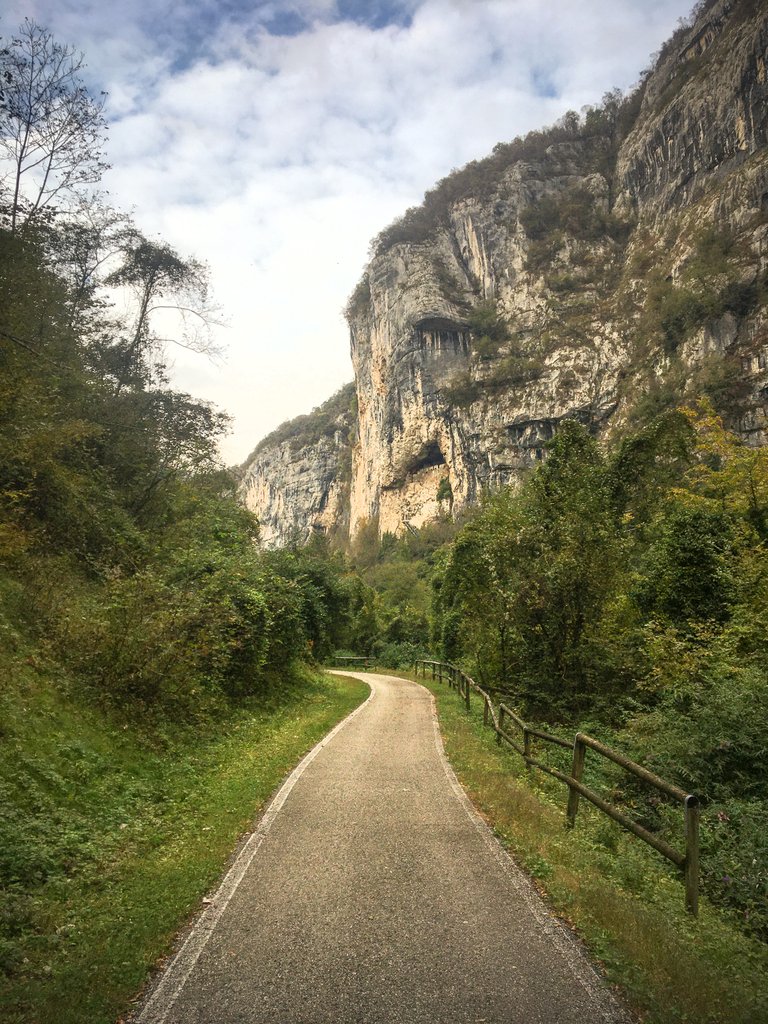 On the rock face, to the right of the photo, you can see an ancient medieval fortification.
ITA
Sulla parete rocciosa, a destra della foto, si può vedere un'antica fortificazione medievale.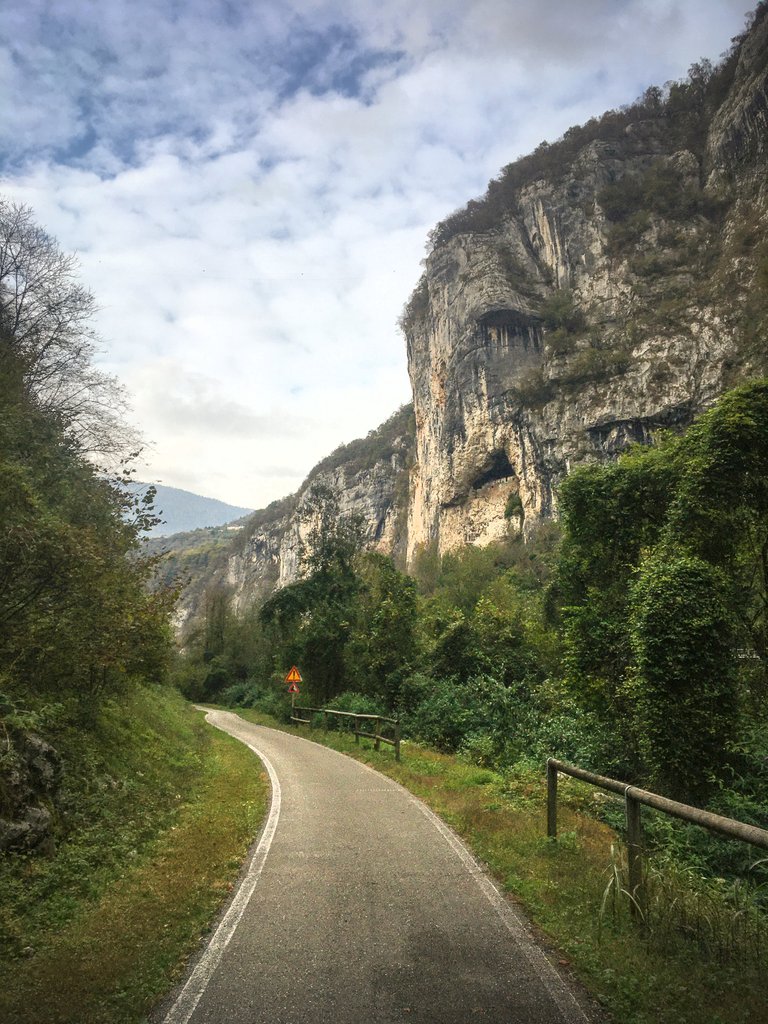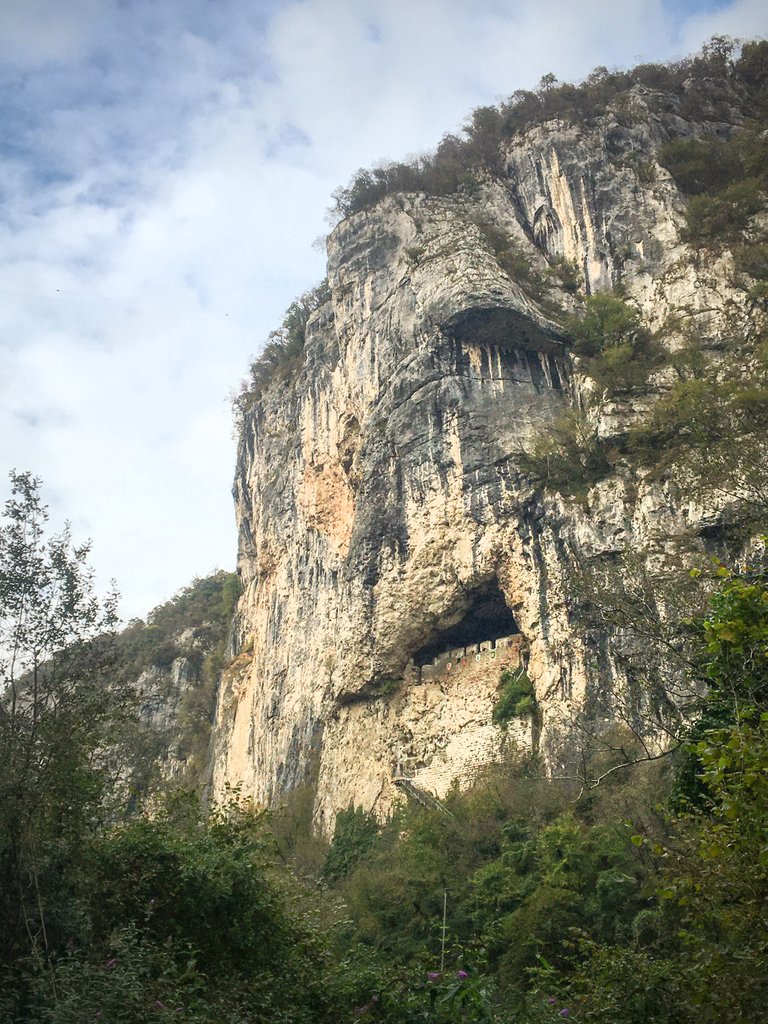 Looking to the right it is always pleasant to watch the transparent blue water flowing.
ITA
Osservando alla destra è sempre piacevole guardare l'acqua trasparenet azzurrina che scorre.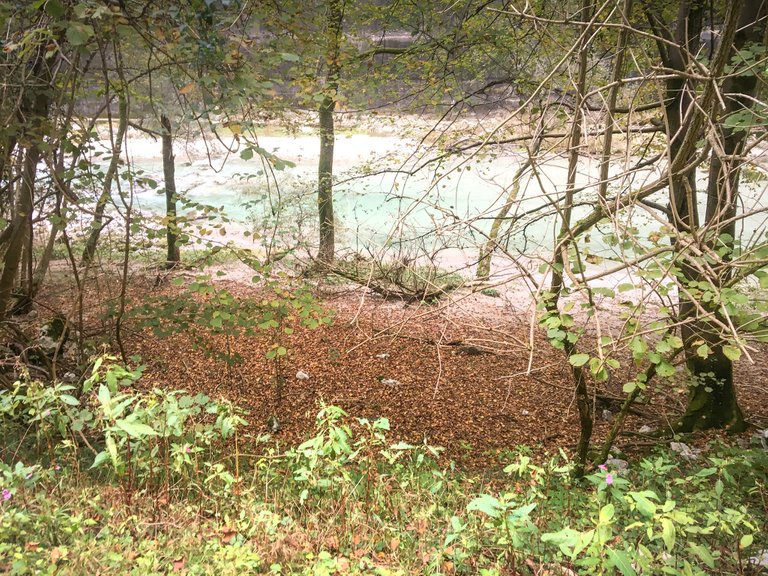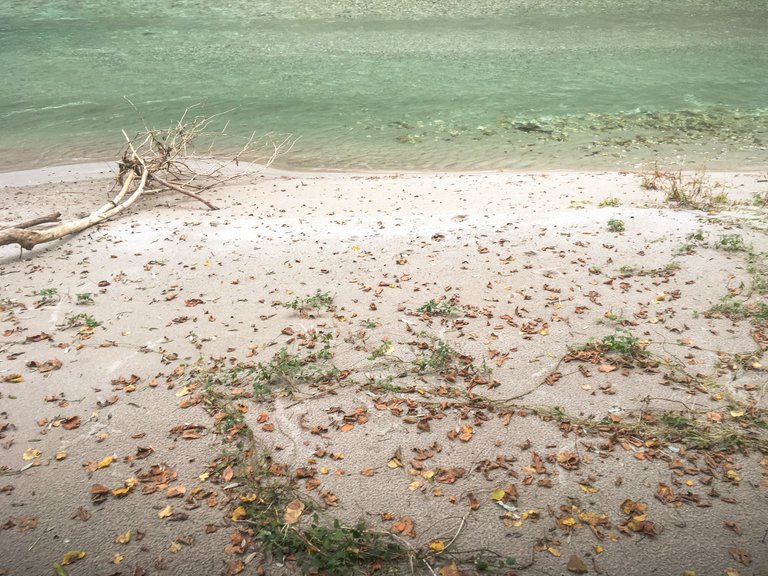 At one point I managed to overcome the difference in altitude and I approached the water. It felt like a small beach.
ITA
Ad un certo punto sono riuscito a superare il dislivello e mi sono avvicinato all'acqua. Sembrava come una piccola spiaggia.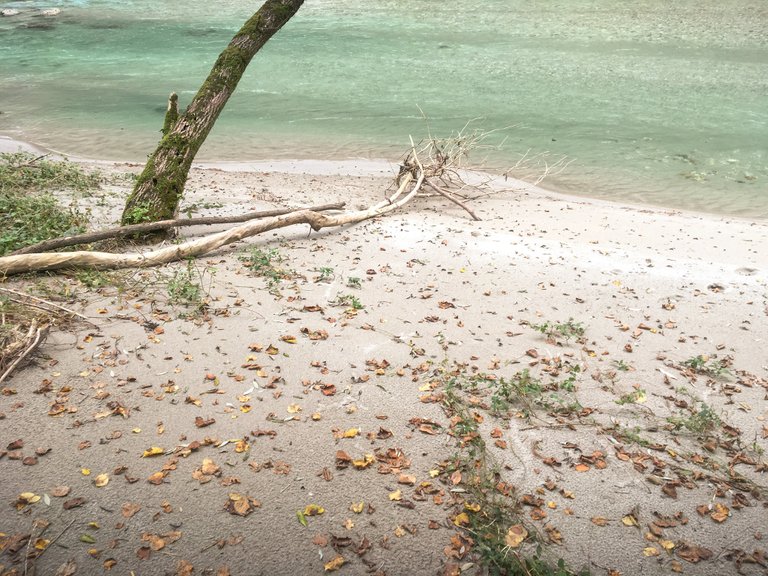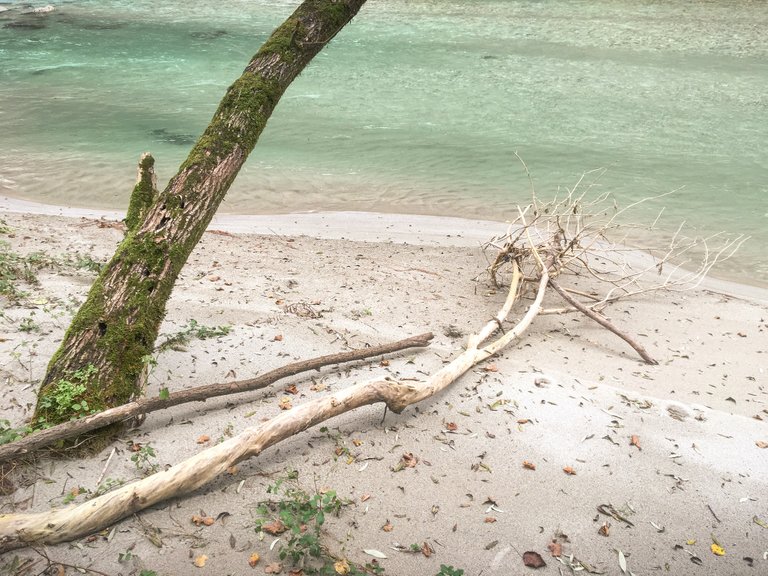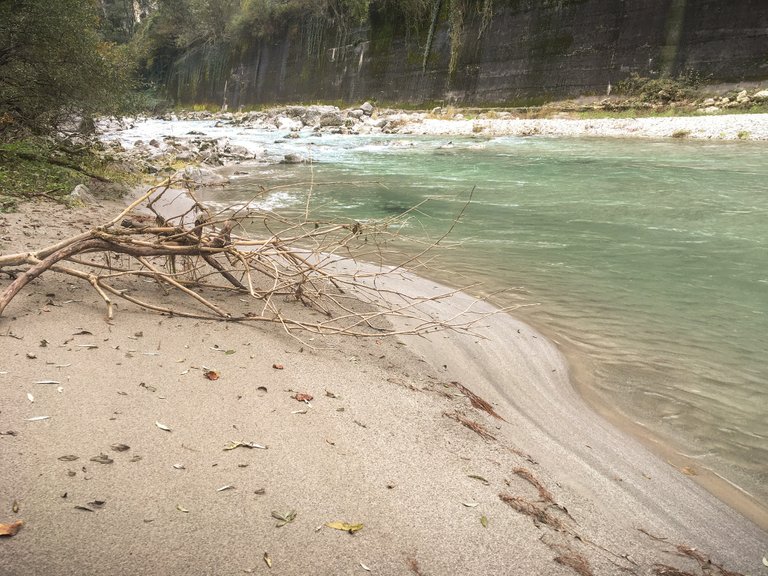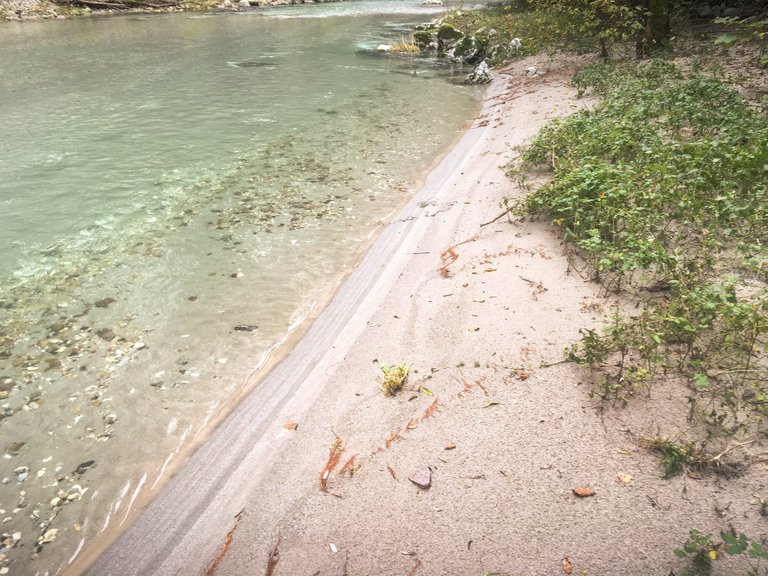 After the break near the water I continued walking and I was able to photograph the fortification from closer.
ITA
Dopo la pausa vicino all'acqua ho proseguito camminata e sono riuscito a fotografare la fortificazione da più vicino.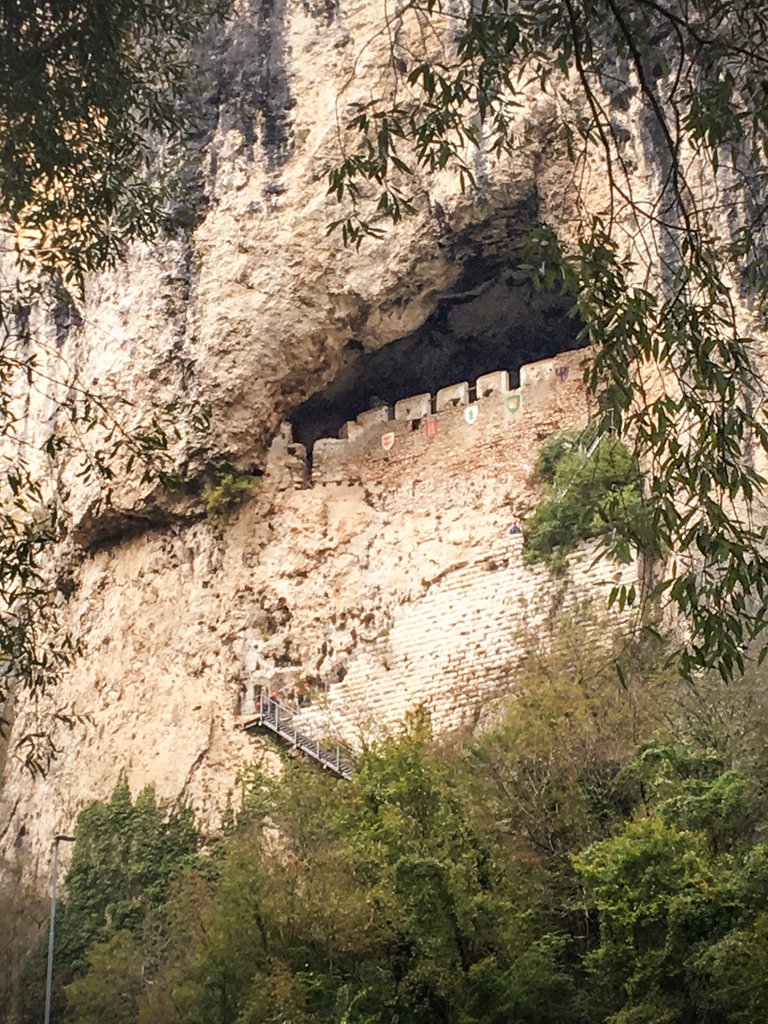 The fortress is called Covolo del Butistone, and from the year 1004 until the First World War, it was used to control the territory and to defend the borders thanks to its strategic position, located right above the main communication route that connected Trentino Alto Adige. to Venice.
ITA
La fortezza si chiama Covolo del Butistone, e dall'anno 1004 fino alla prima guerra mondiale, fu utilizzato per controllare il territorio e per difendere i confini grazie alla sua posizione strategica, posta proprio sopra alla via di comunicazione principale che collegava il Trentino alto Adige a Venezia.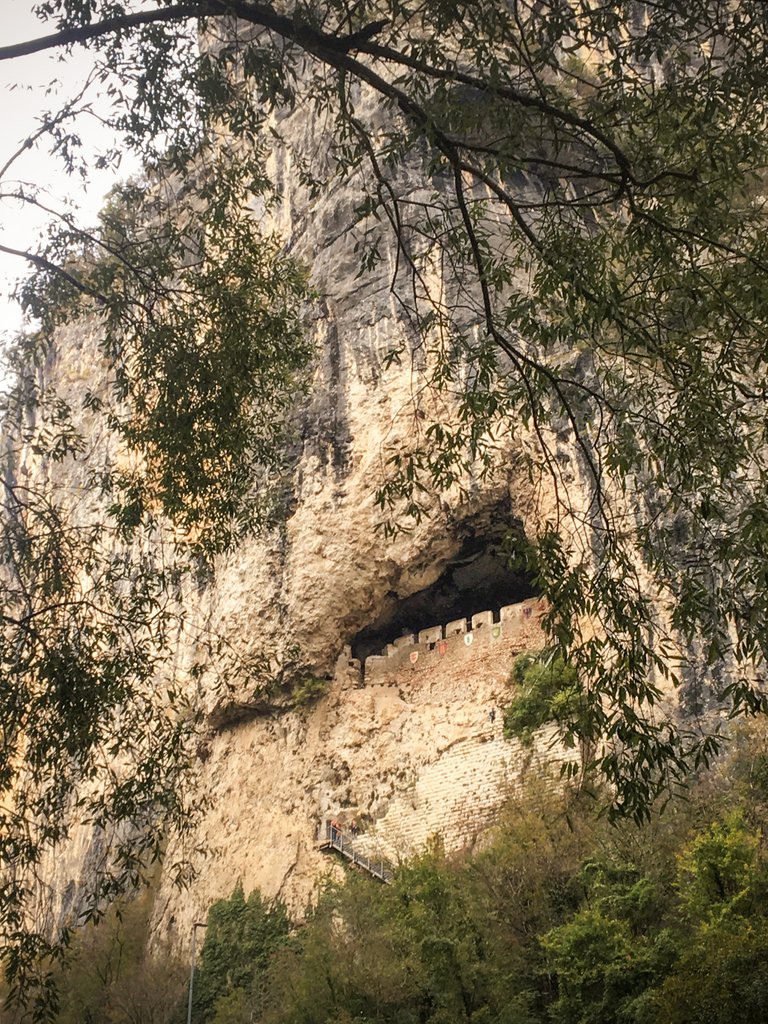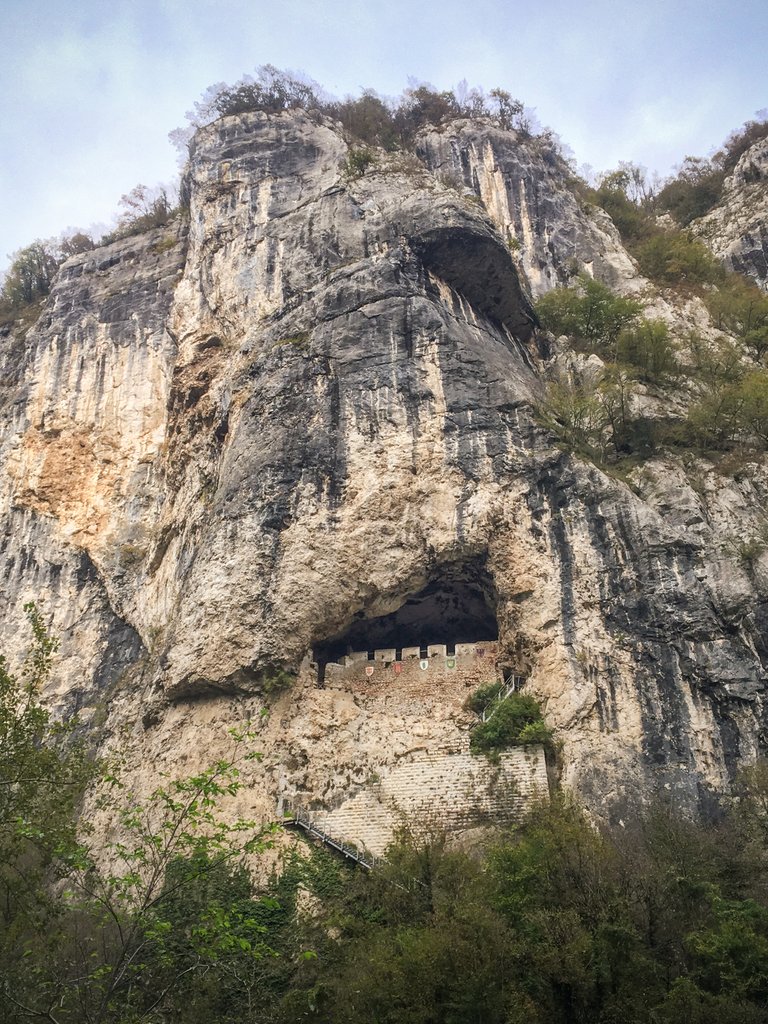 To go up and visit the fortress there is a steep and long staircase and can only be practiced by reservation and with a guide.
I still have to visit it, maybe I'll do it this year.
ITA
Per salire e visitare la fortezza c'è una ripida e lunga scala e si può praticare solo su prenotazione e con la guida.
Io devo ancora visitarla, lo farò forse quest'anno.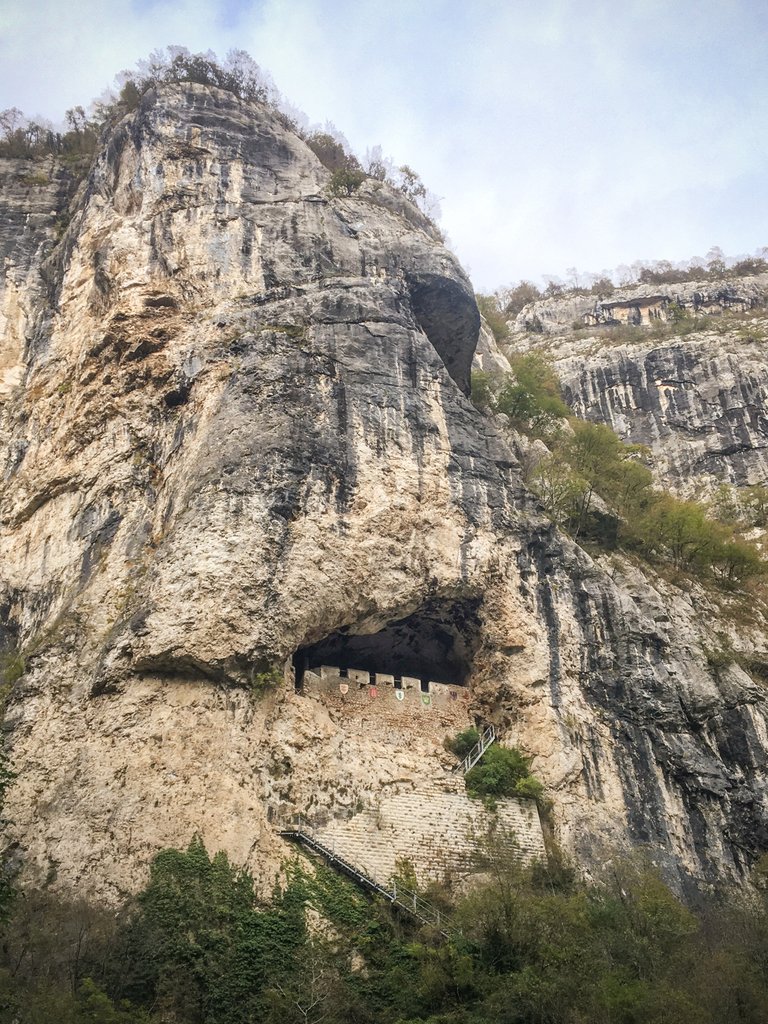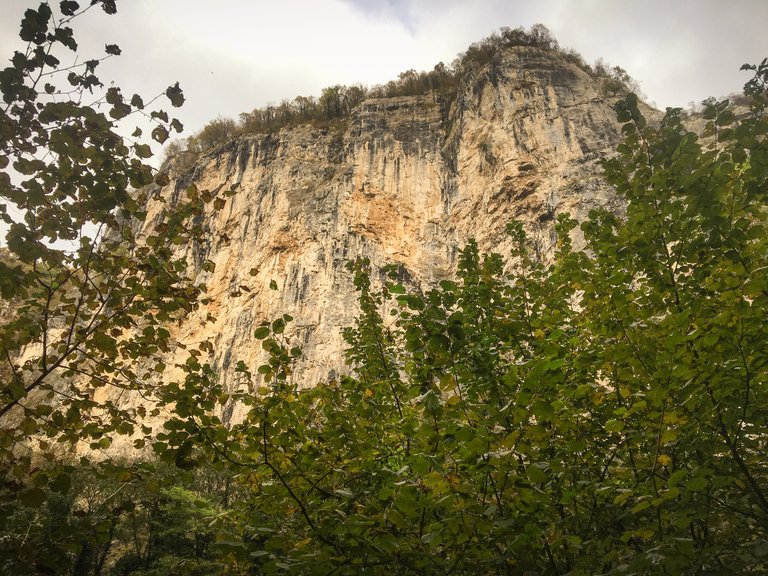 The cycle-pedestrian path is very long, it continues for many kilometers until it reaches Lake Levico in Trentino Alto Adige.
Going back, however, you can easily reach Bassano del Grappa.
ITA
La pista ciclo pedonale è molto lunga, prosegue per molti chilometri fino a raggiungere il Lago di Levico in Trentino Alto Adige.
Tornando indietro invece si può arrivare agevolmente a Bassano del Grappa.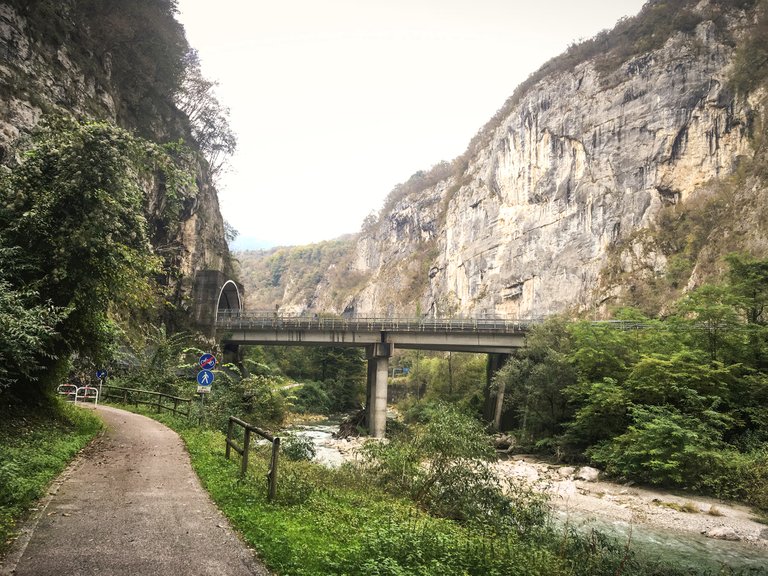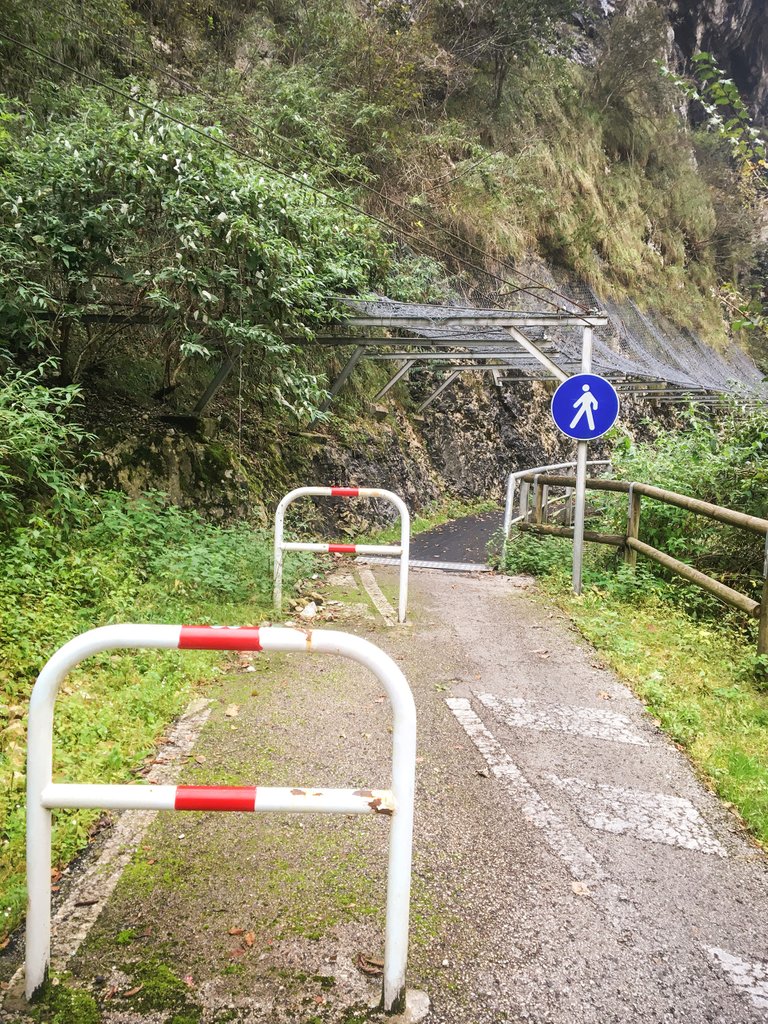 This stretch was overhanging on a metal walkway fixed to the rock, and above there was a metal mesh to defend against falling stones.
I like adventurous traits.
ITA
Questo tratto era a sbalzo su una passerella metallica fissata alla roccia, e sopra c'era una rete metallica a difesa della caduta dei sassi.
Mi piacciono i tratti avventurosi.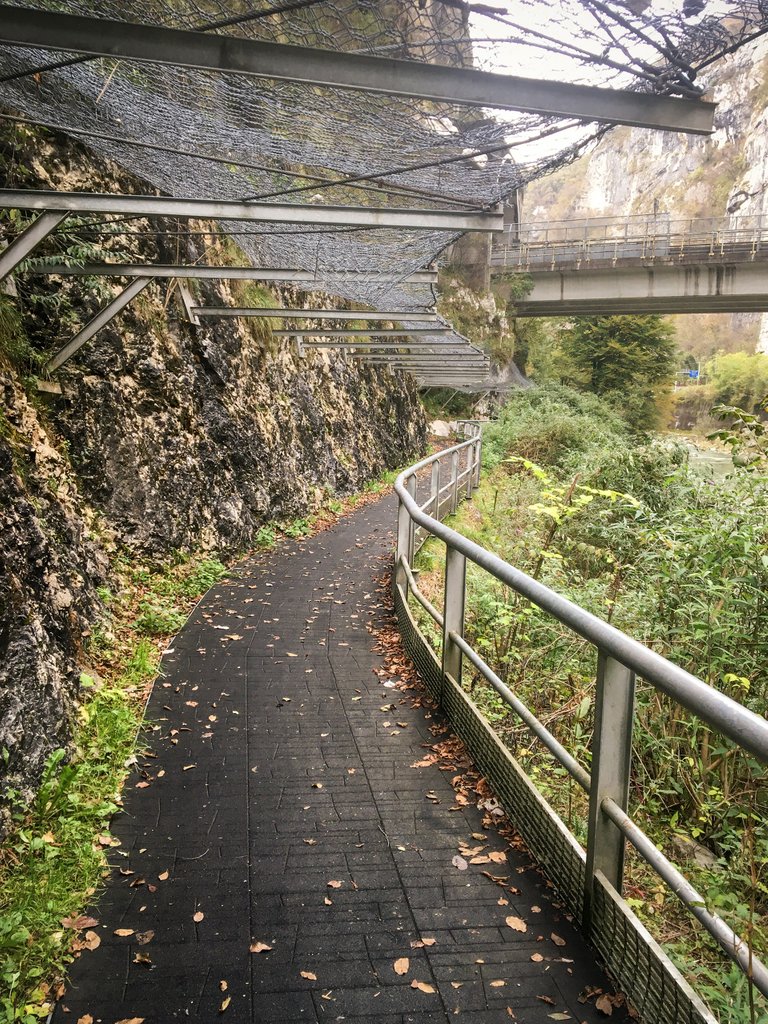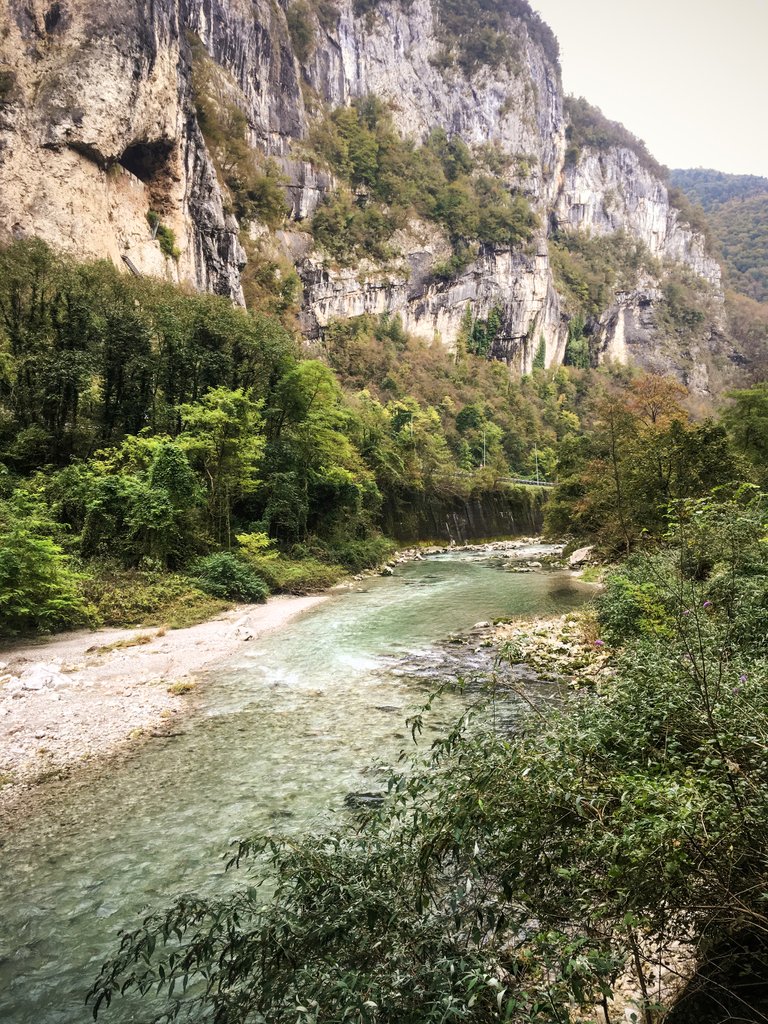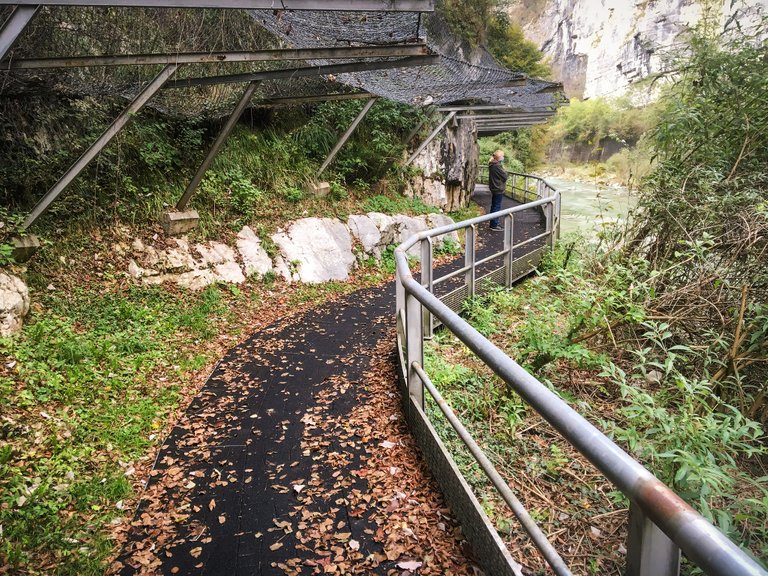 I wanted so much to continue but it was getting late so I turned around and calmly took the path backwards.
ITA
Avrei voluto tanto proseguire ma stava facendo tardi così mi sono girato e con calma ho fatto il percorso al contrario.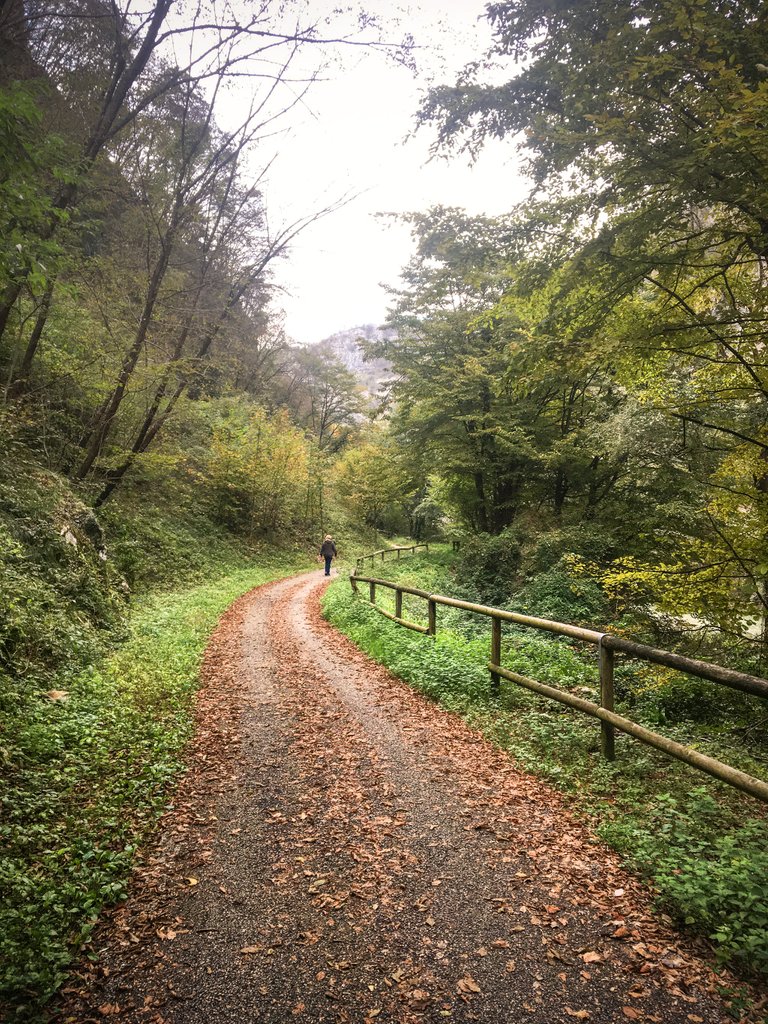 It was undoubtedly a nice, easy and relaxing experience that I recommend to everyone, even families with small children.
I'll meet you at the next excursion! See you soon!
ITA
E' stata indubbiamente una bella esperienza, facile e rilassante che consiglio a tutti, anche a famiglie con bambini piccoli.
Vi do appuntamento alla prossima escursione! A presto!