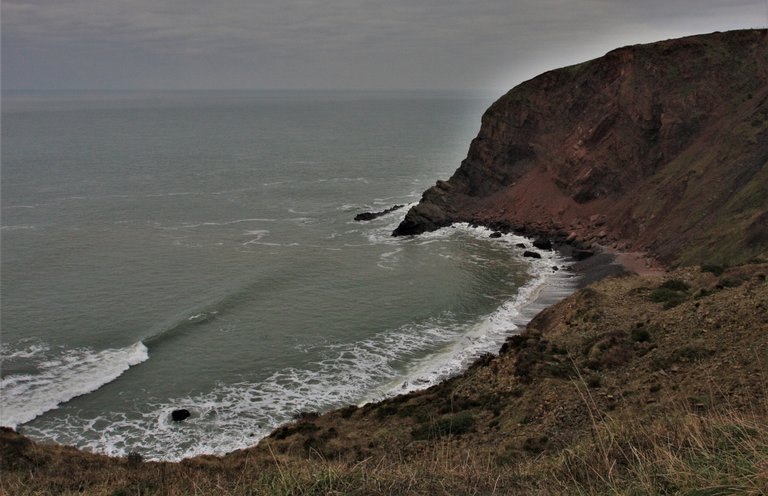 There are few places in the British isles where you can walk the coastline for miles without being stopped in your tracks by privately owned land, towns or buildings. In the part of the UK that I live in there is a unique coastal path that runs uninterrupted for 630 miles.
The south west coast path starts in Minehead in Somerset on the north coast passing through Devon and Cornwall before finishing in Poole in Dorset on the south coast. Many people have walked the entire length and it can be achieved in as little as 30 days if you are super fit but most walk short sections over a holiday returning year on year to complete the entire path.
The route covers varying terrain but for me the rugged Cornish coast is by far the best, with dramatic cliffs and the pounding Atlantic ocean smashing against the towering rock faces or rolling waves in to the many beaches, from beginning to end it is breathtaking. Today I would like to take you on a walk along my favorite stretch, taking in the dramatic landscape and golden sand beaches and coves.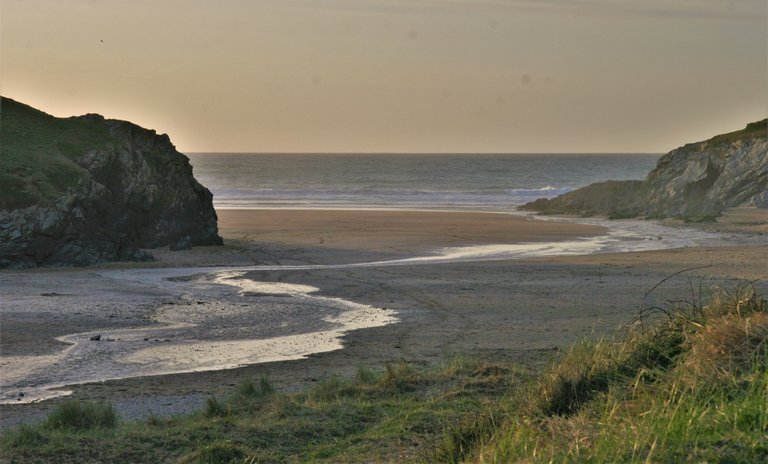 Cornwall, "Kernow" in Cornish is a celtic county and has a rich history and tradition, aside from having it's own language it is famed for it's folklore, myths and legends and the first place on our journey has a big story behind it.
Step into the land of giants and ogre's, what is that sound you here? Thud thud thud, it's the crashing sound of Bedruthans feet as he stomps along the clifftops. After a argument in the neighbouring village the giant Bedruthan storms home angrily, stamping his feet along the way, the sheer force makes the ground crumble away and all that is left are rocks where his feet once stood, leaving in it's place massive stepping stones in the sea.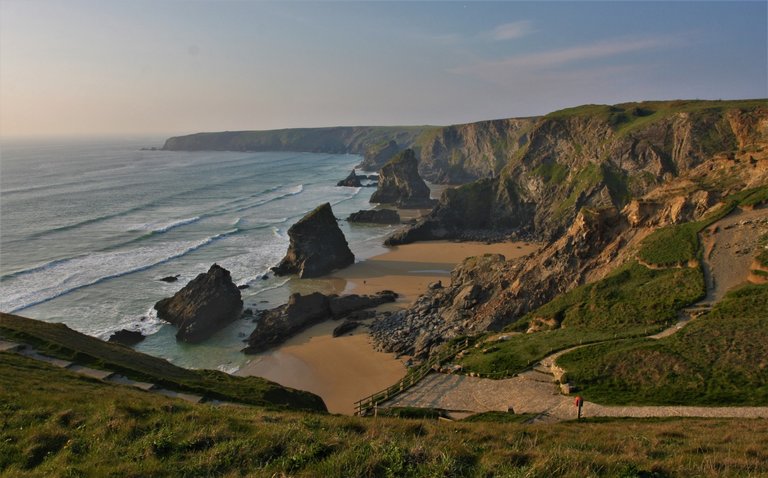 This stunning section of coastline looks like something out of the "land that time forgot" movie set. This whole area has enormous cliffs that are slowly eroded by the constant ebb and flow of the ocean, sculpting these stunning scenes but I prefer the thought that it was the work of giants.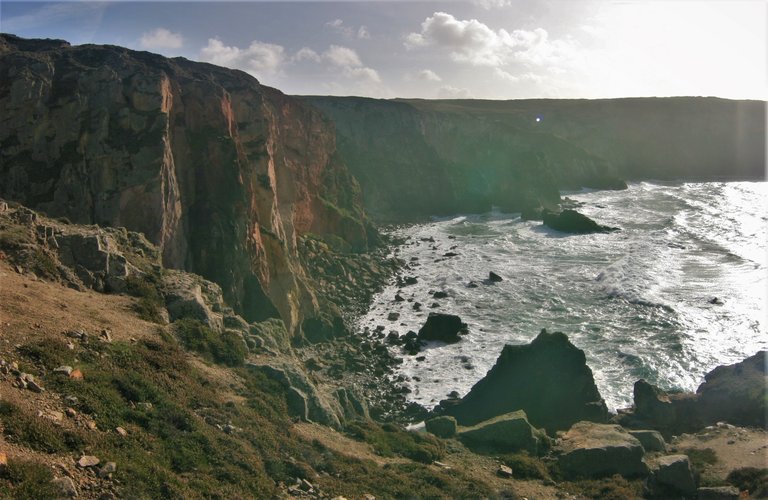 This is a national trust site and part of what is called the heritage coast, from here we will head south climbing up and down hills and through little coves. The track is not always easy going as no real pathway exists just thousands of passing feet scratching a trail around the county.
As we climb high above sea level I take time to look back taking in the view back towards this stoney cove, it is a favoured spot for surfers to get away from the crowds but requires some climbing skills to get down to. For those that dare a empty bay with sometimes awesome surf awaits.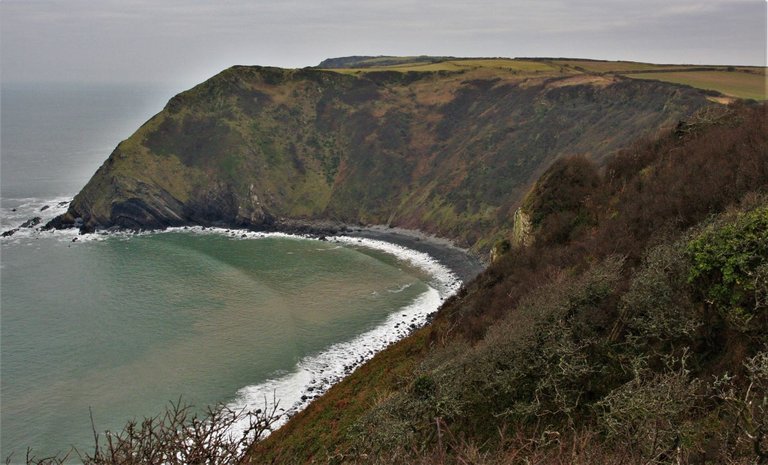 A little further on in our journey and we find ourselves back at sea level, only minutes before we were on top of 300 foot cliffs, now we see a relic of Cornwall's past.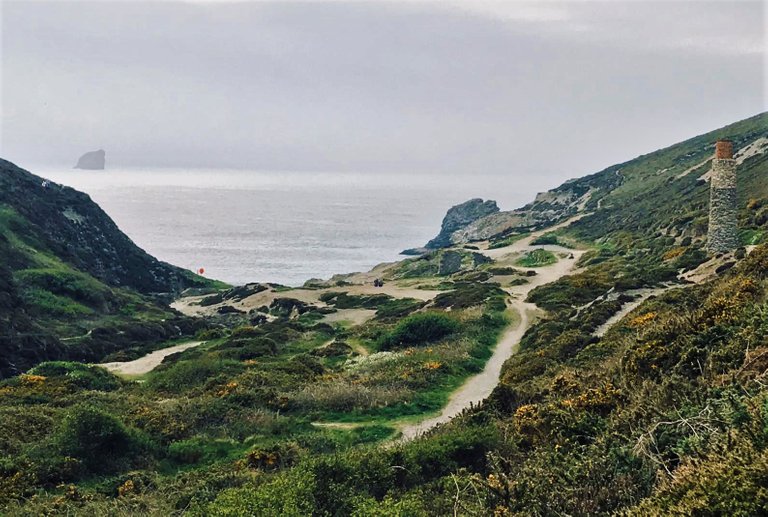 Throughout the county you will see these chimneys, they are remains of mines, some like this one are where smelting of metal ore would happen and others like the one below which were wheel houses for large underground mines. Cornwall has rich deposits of Tin, lead, copper and iron ore and the men that worked these mines became world famous for their ability to extract these once valuable metals.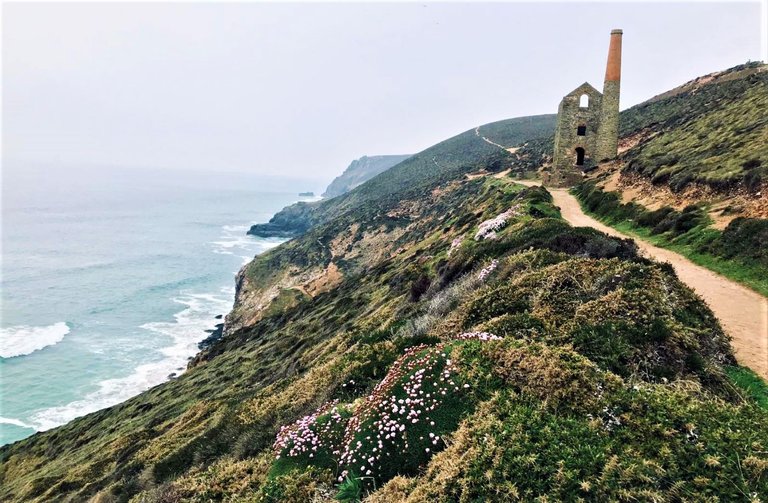 Many of these miners traveled to all corners of the globe to earn their fortune, their skills were in demand and the legacy of their travels can be found in many places bearing the name of Cornish towns. In the Caribbean you will find beef patties on the menu, a direct result of Cornish influence and in Jamaica one third of the island is called Cornwall with most of the town names having a twin back in the UK homeland.

The next spot we arrive at is Mawgan porth it has a nice beach and a small village with the usual bucket and spade tourist shops but if you take a further 5 minute walk you will find yourself on a small secluded quiet beach at Beacon cove. A idyllic setting that even in the heart of the summer is always a peaceful spot to enjoy some sun, sea and sand. Just remember to bring some refreshments and a picnic, although it is only a short walk back to the shops. Just don't tell everyone it's here we don't want everyone to know.
As tempting as is to stay on the beach all day, this is a walk and we must press on. The next place that comes into view is the town of Watergate with it's awe inspiring beach, a popular destination for tourists.
As we stroll down the steep hillside a mile long beach opens up in front of us, there is a lot of activity here as it is a hot spot for kite surfing and regular style surfing. With a great restaurant right on the beach this is again somewhere you could happily spend the whole day, for us we are just passing through on route to my home town of Newquay, just visible through the haze in the bottom of these three photos.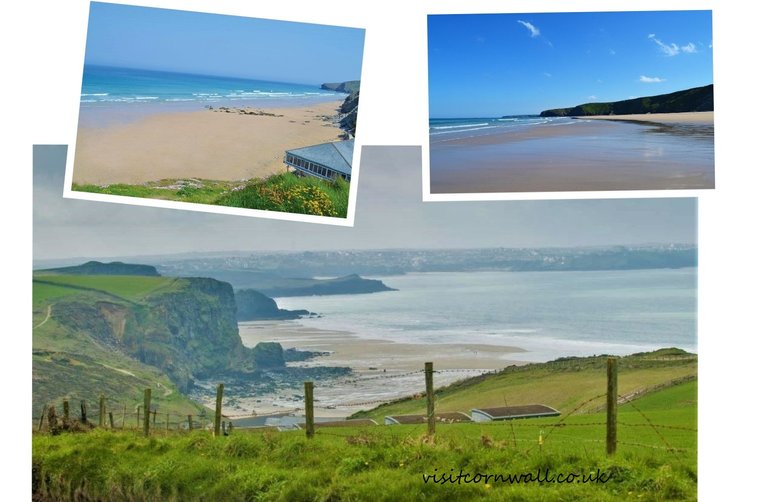 About 40 minutes later and we make it to Newquay, one of the largest towns in Cornwall. The town used to be called Towan Blystra but in the 1400's Edmund Lacey, the Bishop of Exeter received funds to rebuild the quay and harbour and decreed the name of the town would change to "New-quay".
Traditionally this was a fishing village but as the wealth and size of the town grew it became more and more popular as a holiday destination. With seven beautiful beaches around this peninsula town it is no surprise this happened. Still to this day there is a small fishing fleet but mostly the harbour area is a launch pad for whale and dolphin sight seeing tours.
The harbour itself has many quality restaurants and bars, plus being sheltered from the elements it is a favorite spot for families to hang out and explore the historic surroundings. We spent some time here with our niece Keira who loves to play in the boats pretending to be a pirate.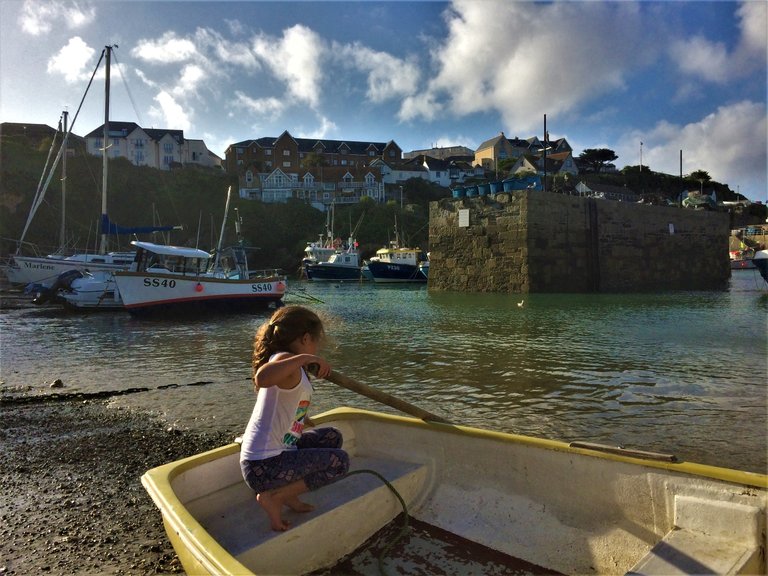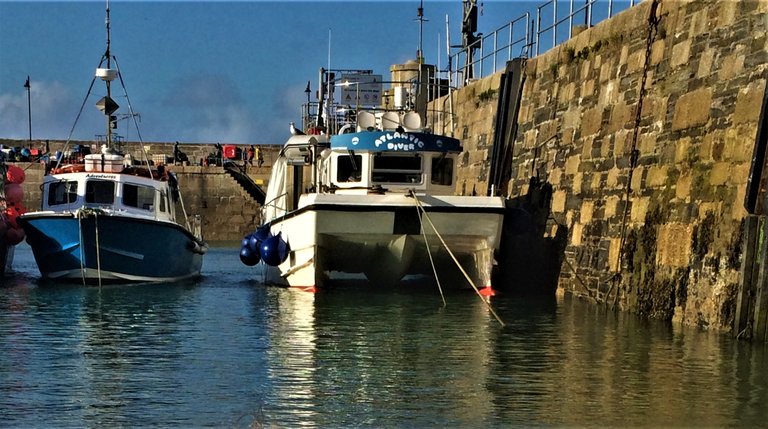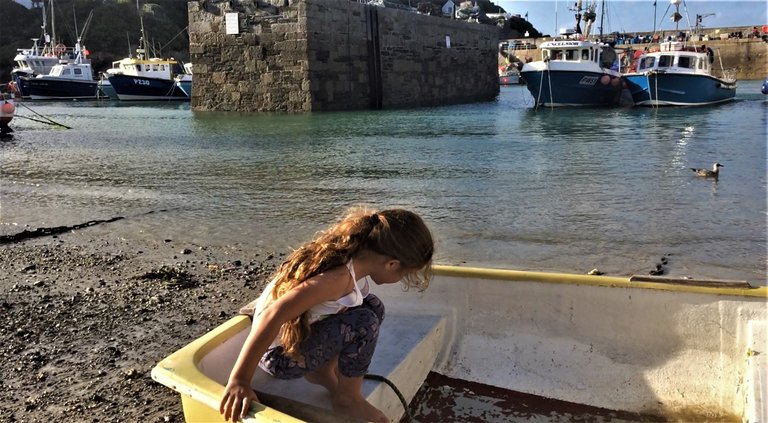 This guy is a famous inhabitant of the harbour, known as "Sammy the seal" he is one of many grey seals that can be found in the area. Sammy has become a bit of a town mascot, after many years back he was injured and struggled to swim for a while. Taking pity on him the local fishermen would feed him part of their catch of the day and slowly he was nursed back to health. Now he hangs around attracting tourists and still gets a free meal from time to time.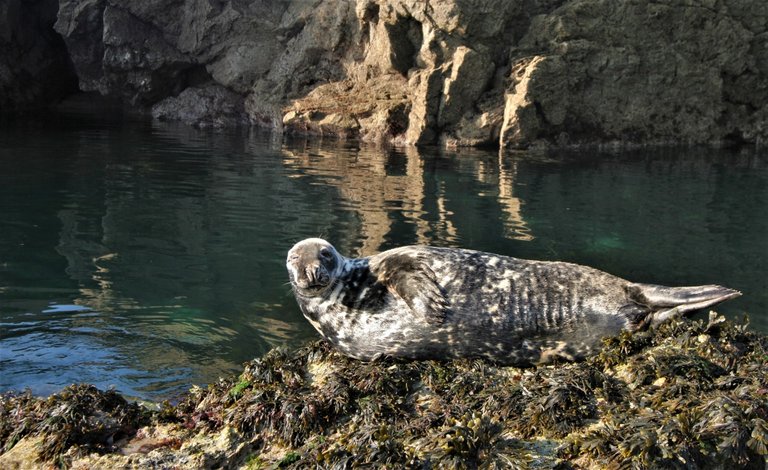 Fishing here is a small family affair, boats handed down through the generations. Although small these boats go far out to sea in all weathers, these guys are brave chaps dicing with the elements of the open Atlantic ocean. It is a far from safe occupation and most families have some sad tales of losses at sea.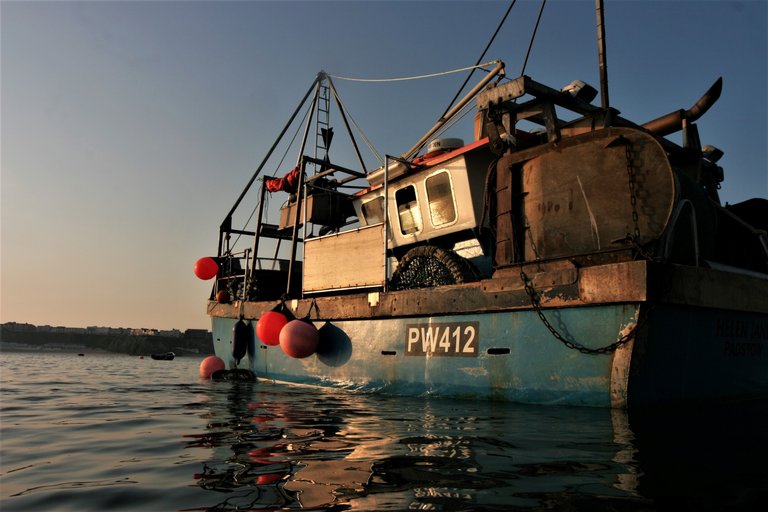 I can't imagine what it must be like to spend weeks on one of these small boats being tossed around by the torrential storms and waves and all to put a meal on our plates. Many of these men also work as volunteer life boatmen, again risking their lives while helping other that succumb to the perils of the sea, in no small way I consider these men hero's.
Sardines is what put Newquay on the map, know as Pilchards they are the grown up version of the sardines that started to travel in the great sardine run from South Africa's west coast, with those that made it finishing their journey bigger and fatter in UK waters.
Due to their massive numbers they could be spotted from land boiling to the surface turning the water a brownish pink colour. It was the job of a local man to sit in the Huer's hut high up on the headland and guide fishing boats towards their catch.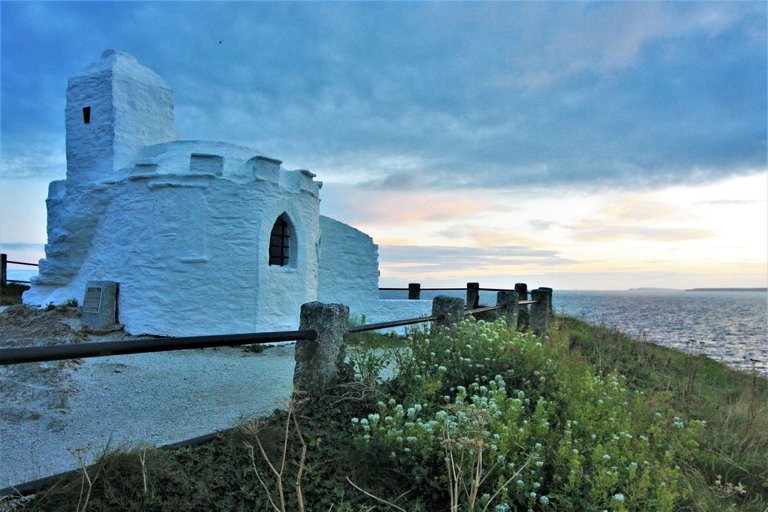 The Huer "caller" would shout out to the harbour below and set the men into action, teams of small boats would string nets between each other to haul in huge numbers of fish. These were salted and packed in crates to be sold all over Europe but in modern times tastes have changed and in 2005 the last Pilchard processor closed in Cornwall ending centuries of business.
The Huer had one last job each night and that was to light a lantern which would act as a light house to warn passing boats of potential dangers. Today this 14th century building is a tourist attraction standing proudly at the highest point of the town.
So to the modern Newquay, aside from a beach holiday town the big attraction is the many beaches providing excellent surfing waves. When the sport of surfing exploded in the 1950's and 60's Newquay was at the forefront, under the guidance of a local legend Bill Bailey a new industry emerged and to this day surfing is still big business, with the town being known as the surf capital of the UK.
I will leave you now as the sun sets on a enjoyable day, with a sneak peek at Fistral beach one of our best surf breaks.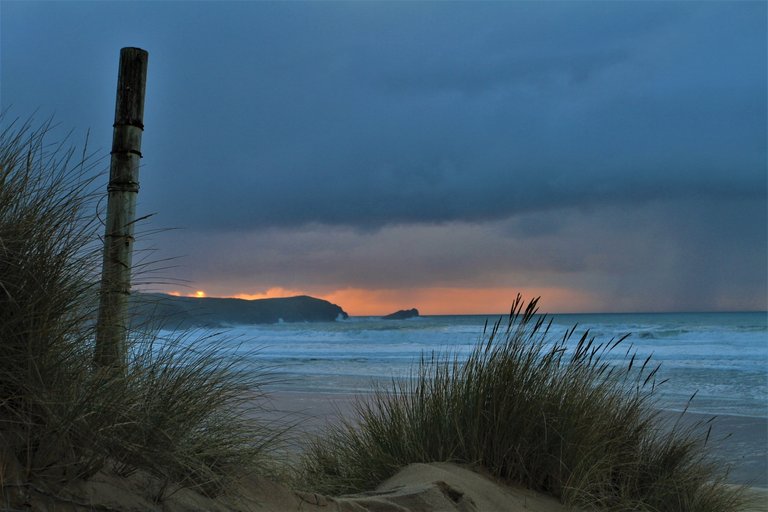 Next time I will go into more detail about surfing and the part I played as a surfboard manufacturer and continue south along the coast taking you to the mining heartlands and a few of my secret spots.
Until then stay safe folks and enjoy life wherever you are and whatever you do.