My city, the city I live in, is a fairly large city, both in terms of size and population. It is the third-largest city in the region, after Istanbul and Athens. I am referring to Bucharest, the capital of Romania, with an area of 228 km and an estimated population of over two million inhabitants. The population is probably smaller now, there has been a massive emigration from Romania to western countries in the last few years, and many young people have probably left Bucharest in search of better-paid jobs.
I live on the outskirts, just on the northern edge of town. An area of houses with courtyards and gardens, with lots of greenery and quite a bit of quiet. The suburbs resemble small provincial towns.
But the city center is another world. Massive buildings, crowds, lots of cars, bustle. That's why any visit to the city center, for various purposes, can be considered a trip to another city.
My town was once a big village! Over five hundred years old, Bucharest developed chaotically, without any kind of systematization, and because of this, in the 19th century, it had the appearance of a big village. Narrow dirt streets, lack of sewage, buildings of different heights, mixed... with oriental and Balkan influences.
After the middle of the nineteenth-century things began to change with the city and the country. A German king and a local elite educated in Paris imposed a rapid modernization that also meant the beginning of the systematization of the cities and the hiring of foreign architects from France, Germany, and Austria. It was the time when most of the city's emblematic buildings appeared, in the center, of course, most of them concentrated on Calea Victoriei, my favorite boulevard. On this avenue, I will make a short trip today...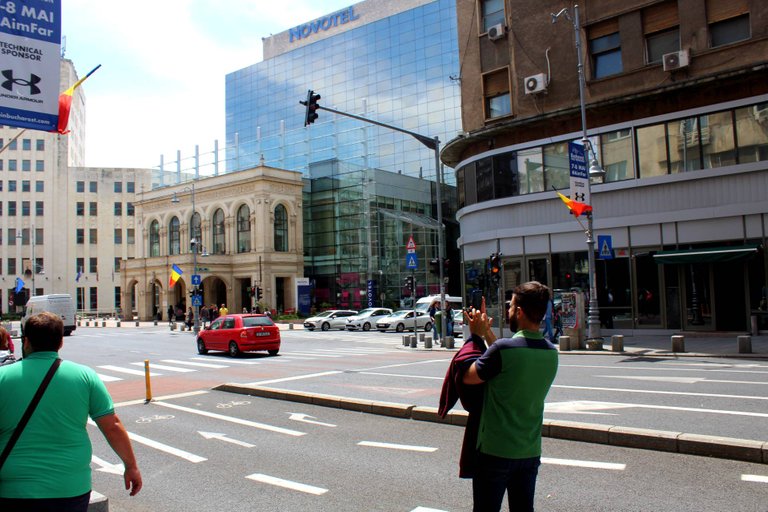 Calea Victoriei (Victory Avenue) is a major avenue in central Bucharest. Situated in Sector 1, and having a length of 2.7 kilometers (1.7 mi), it leads from Splaiul Independenței (which runs parallel to the Dâmbovița River) to the north and then northwest up to Piața Victoriei, where Șoseaua Kiseleff continues north.
source
I like to call it a boulevard but it is not a boulevard because it is a narrow street, made to allow only one road to pass. This was the road that the ruler of the country used to travel from his residence outside Bucharest to the palace. Of course, at that time no one thought about what the future needs would be, just as no one could have anticipated the invention of cars.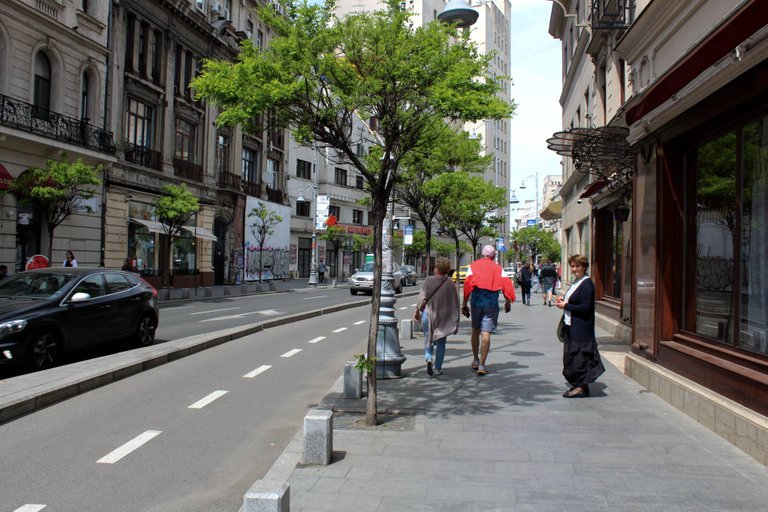 This is the main drawback of this avenue. Insufficient width and narrow sidewalks in some parts. Only two lanes for cars and two lanes for bicycles. This leads to a lot of congestion. Fortunately, on weekends there is a smoother traffic flow.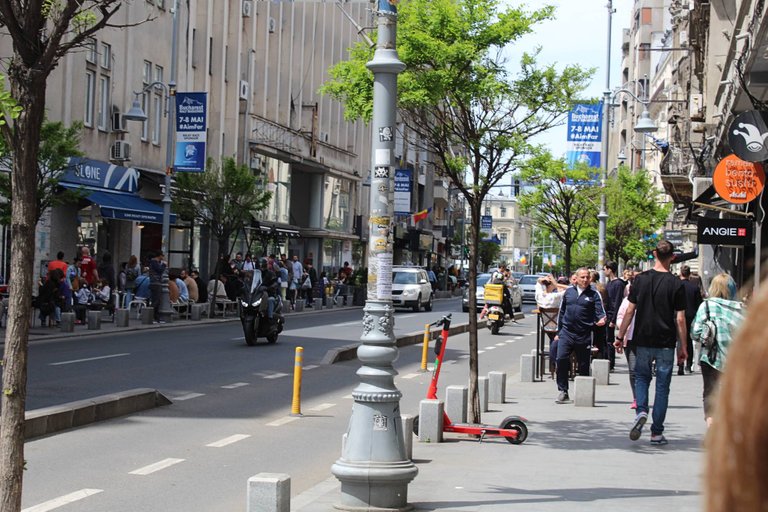 Often a disadvantage can be turned into an advantage, sometimes calculated, and sometimes it just happens. As stupid as we (Romanians) are, I think the second option is valid.
The advantage is that this avenue has warmth, it is friendly, people stay closer to each other, so friendship, old or new, is encouraged...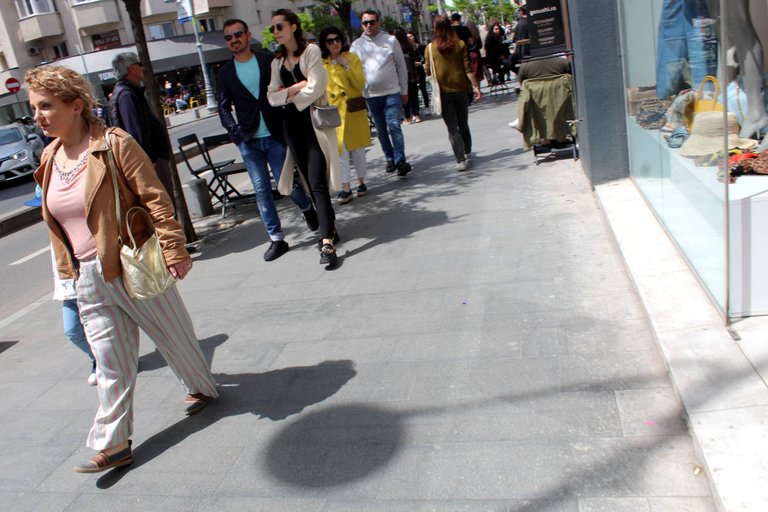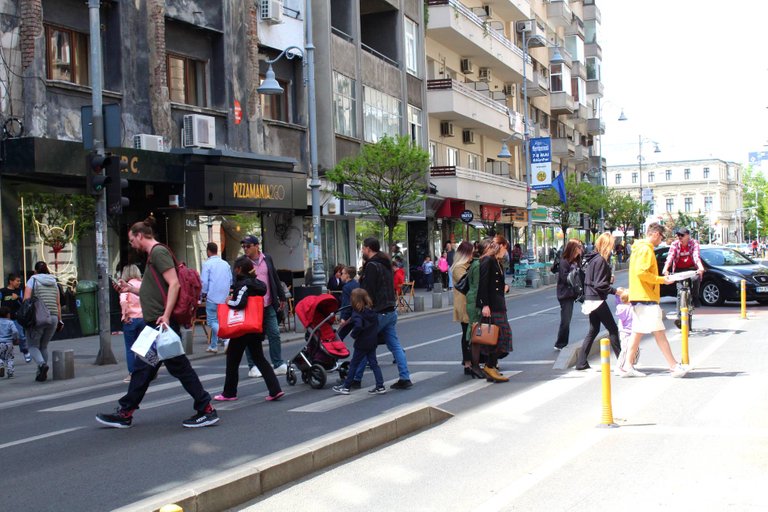 The best place for friendship is on a terrace. Lots of terraces have sprung up on the narrow street. Young people are very happy because of this. I don't like it so much myself, I prefer quieter places when I drink my coffee.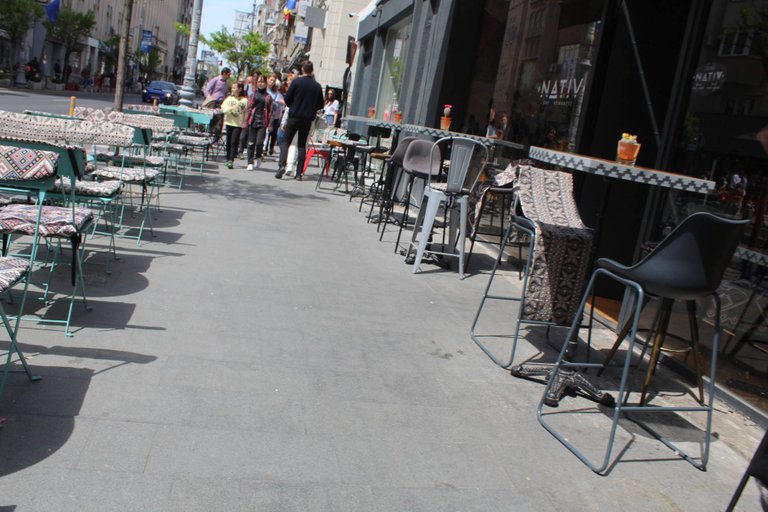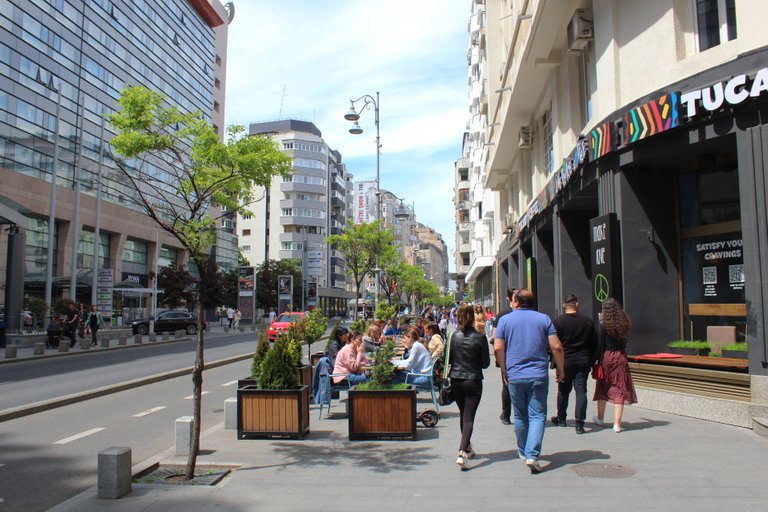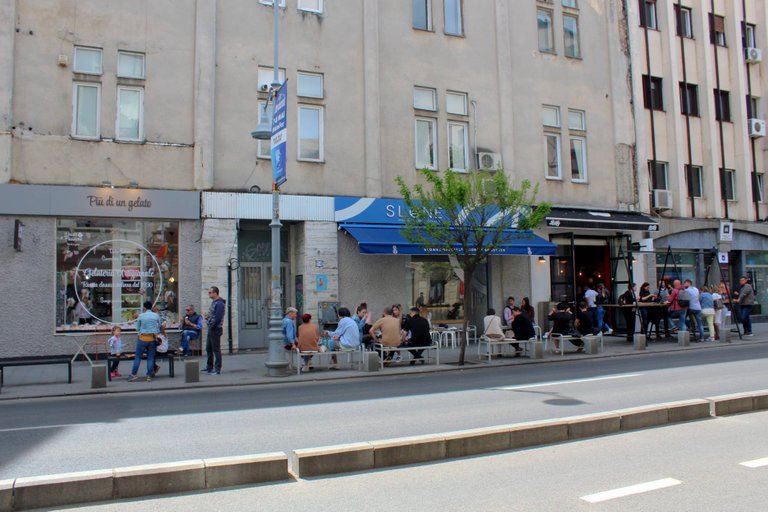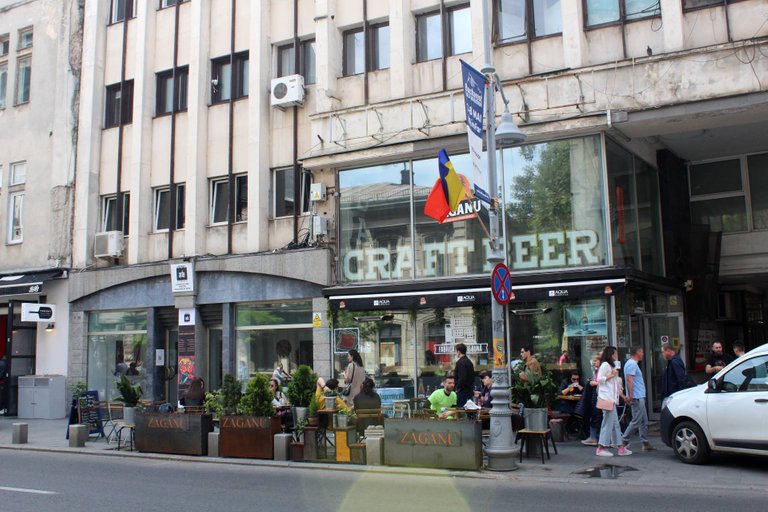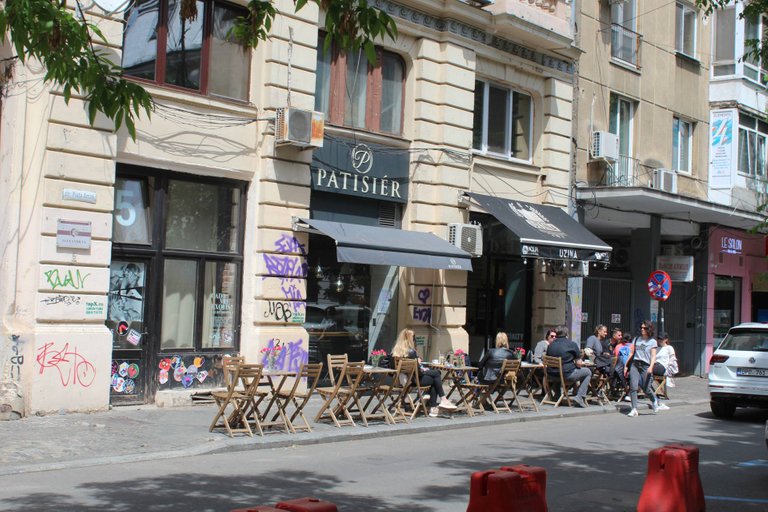 The question now would be: what else can be seen if we ignore the terraces? Here are some historically and architecturally important areas.
The Palace of Telephones and the Novotel Hotel.
The Telephone Palace was built between 1929 and 1934 in a style typical of American skyscrapers, but its height is just over 50m because Bucharest is in an active seismic zone. Architecturally there are influences of Art Deco style.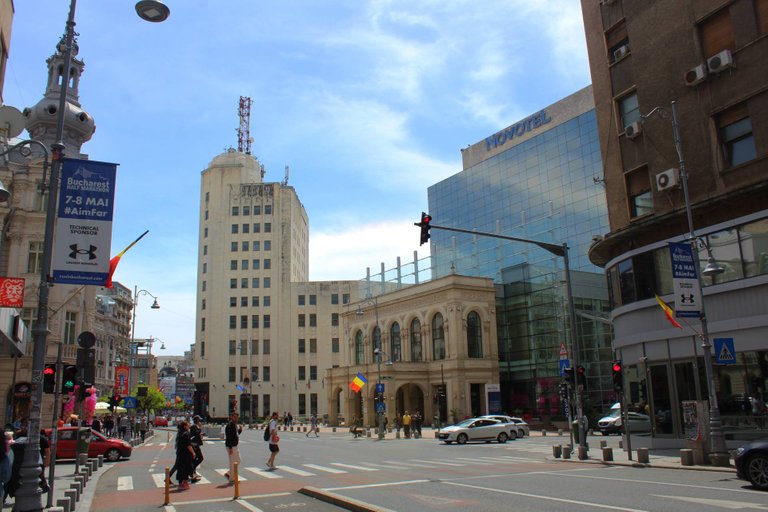 Former Royal Palace Square, now it's called Revolution Square
In the former palace of the royal family of Romania, nowhere is the National Art Museum.
Kretulescu Church was built around 1700, with a beautiful interior painting.
The University Library, was built-in 1895, and in front of it is the statue of King Carol I, the first king of Romania.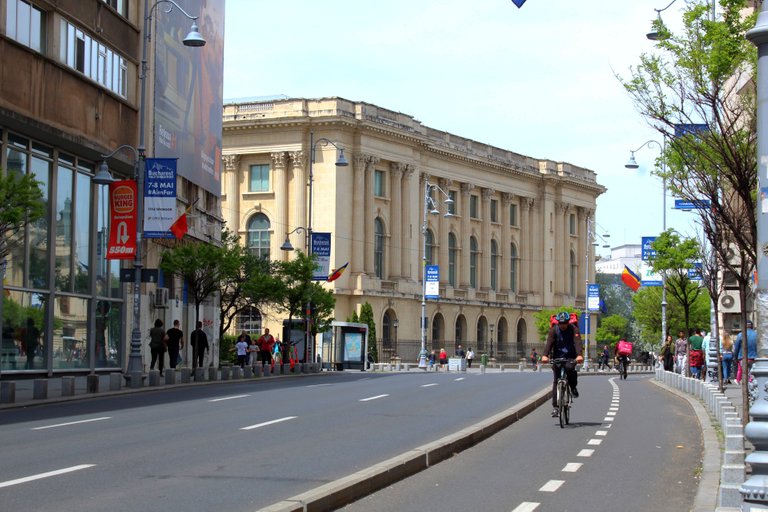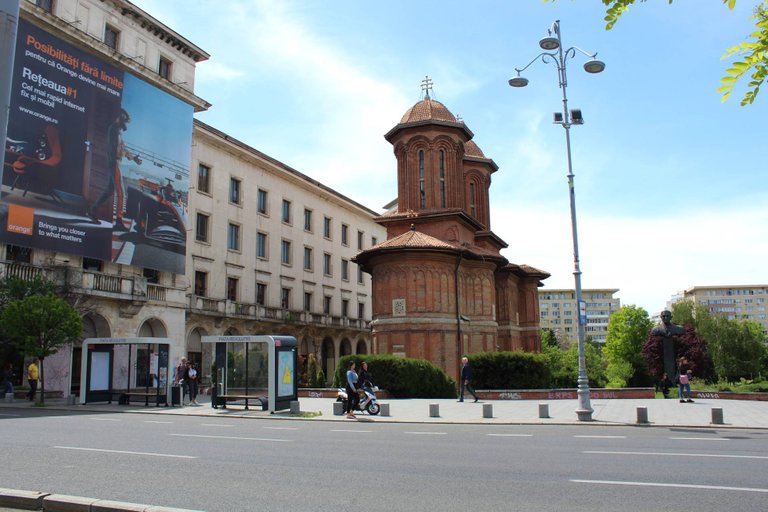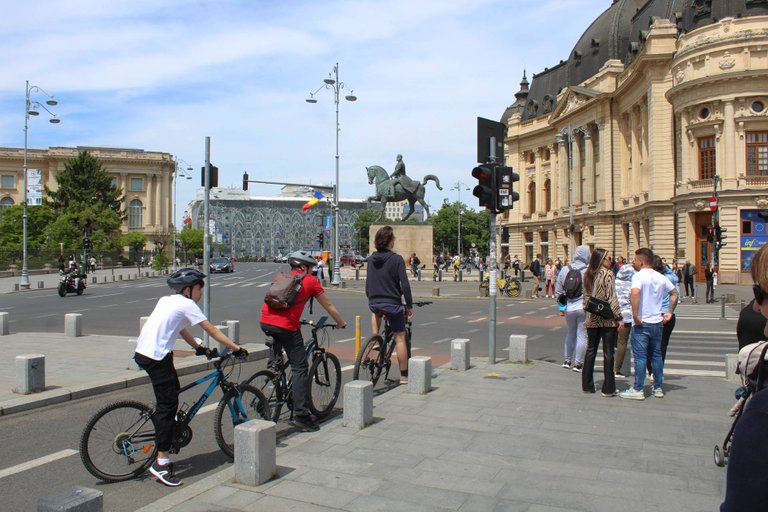 Athenaeum Building
One of the most beautiful buildings in the city.
The Romanian Athenaeum is a concert hall in Bucharest, located on Calea Victoriei, in George Enescu Square (on the north side of Revolution Square). The building, which is a combination of neoclassical and eclectic styles, was built between 1886 and 1888, according to plans by French architect Albert Galleron.
source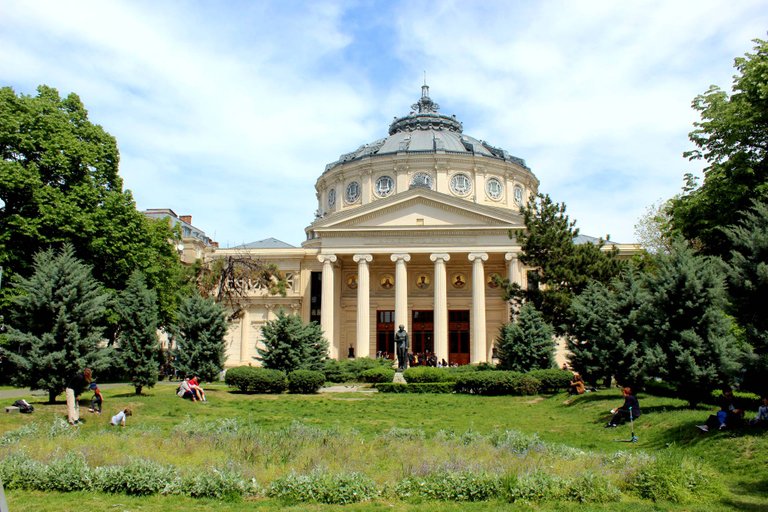 Calea Victoriei is a favorite place for foreign tourists. On weekends more English is spoken in this area than Romanian.
After mentioning some of the most visited places, now I want to show you what I like, what I look at when I walk on this avenue.
I like the small streets that start from Calea Victoriei and have a big building at the end of them, like a kind of stopper.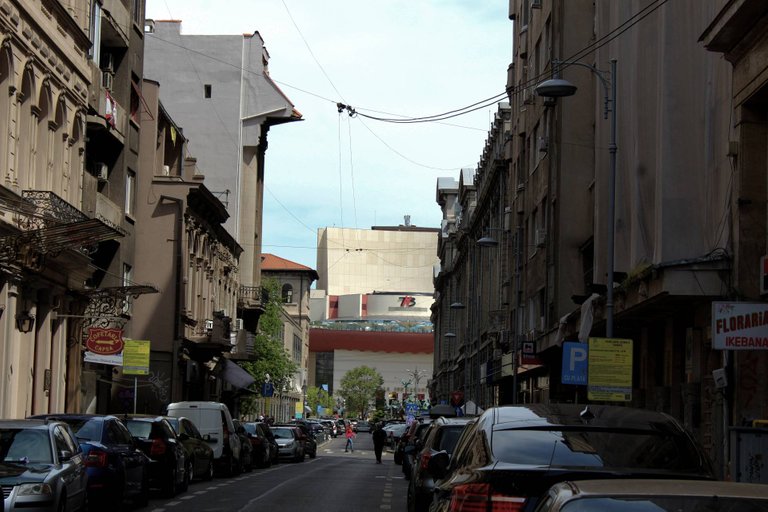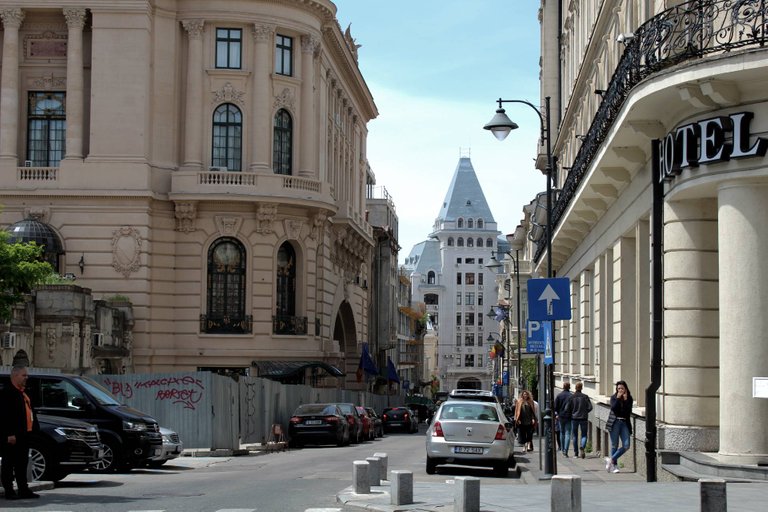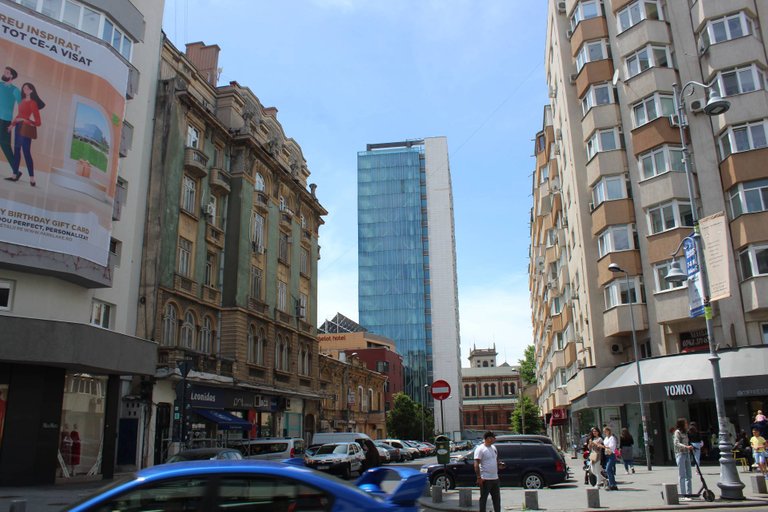 But most of all I like to look at the people around me. I always find something unusual, like this man singing in the street, of course, to earn some money. Sad, but good that he can support himself this way.
Every time, I end such walks with a coffee. A very good coffee!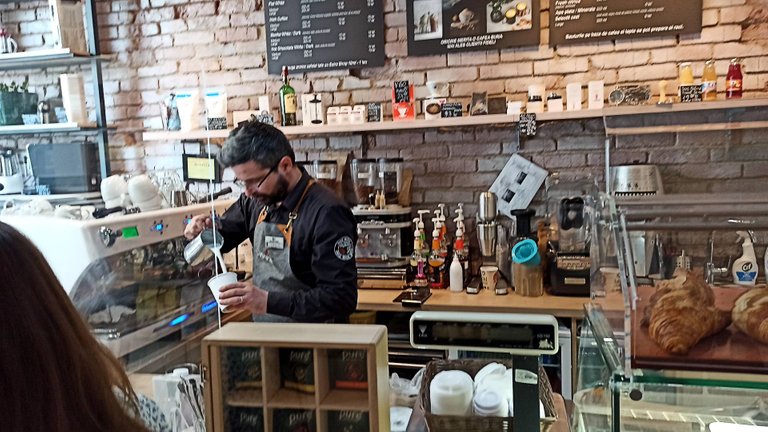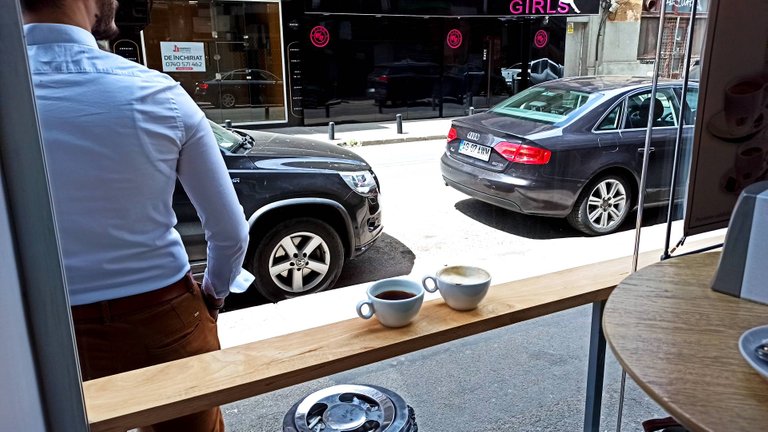 This short visit to the center of Bucharest was also encouraged by the wonderful weather of this most recent Sunday and for this reason, I dedicate this post to those who thought that Sundays can be beautiful and sublime sometimes, i.e. #sublimesunday by @c0ff33a and beautifulsunday by ace108!