---
Welcome to my Throwback Thursday
I just went through old pictures lately because of a sad anniversary on May 4th. My beloved Molly passed to a sudden heart attack three years ago.
What a coincidence it was reading this post which inspired me to share the following with you now.
The post is also a little contest and about taking 5 pics that you have stored in a cloud or wherever and going down #memorylane with them.
So here are my 5s from 2010/11ish
Don't mind the picture quality. They were taken with a Nokia phone back then and are not edited. And those were the first 5 that came across.
**
---
Old Colorado City - The Ice-Cream-Gate
---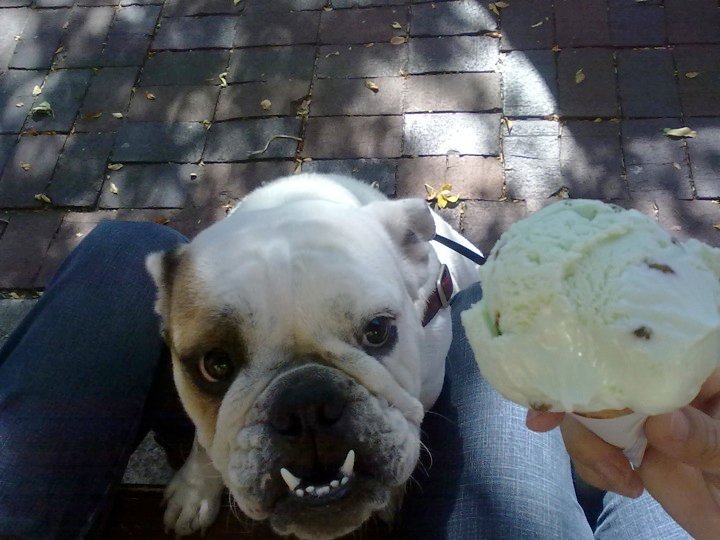 ---
Back in my time in Colorado Springs they had a Country Fair going on in the neighborhood of Old Colorado City. It was just a stone throw away from the Retreat at Cheyenne Mountain, where I was living, so no doubt we went there.
It was a nice, sunny weekend day and we have been strolling around for quite a while, diving into the relaxed atmosphere of the fair. On Colorado Ave and S 26th St we stoped at 'Colorado City Creamery', where they sold homemade ice cream.
Everything looked damn good, except the prices. They charged 7 bucks for a ball of ice cream, well deserved, was it really delicious, but after hanging out at the fair the entire day we had already spent quite some money.
But why going cheap? I got myself a nice ice cream cone with a big ball of pistachio ice. It looked really good and after sitting down on the bench outside it didn't take long for my cute, little vulture Molly to beg the shit out of me.
I wanted to capture the scene, because this cuteness overload needed to be carved in stone, or rather in a picture. Molly was making all kinds of funny noises in her attempt to get the ice cream, but I wouldn't let her. Remember the price? People stoped, laughed and felt pity for her.
What happened next wasn't captured.
Soon after I pressed the button of my Nokias camera, to take the above picture, my personal Ice-cream-gate happened.
I mentioned that it was a sunny day and holding the cone, Molly and the phone a little bit of time passed by before the pic was taken.
Once I pressed the button and stored the phone next to me I finally was ready to take the first lick. Cold, delicious pistachio ice you are about to wander into my mouth.
Slowly my tongue reached for the ice cream, anticipating a taste explosion to happen. So I thought.
As soon as my tongue touched the ball it slipped off the cone. Too much time has passed and the ice cream began to melt.
So instead of wandering into my mouth, the pistachio ice cream ball wandered right in front of the vultures legs.
I can tell you that Molly enjoyed her 7$ pistachio ice cream a lot while I enjoyed an ice cream cone.
---
Stratton Open Space - Mesa Reservoir
---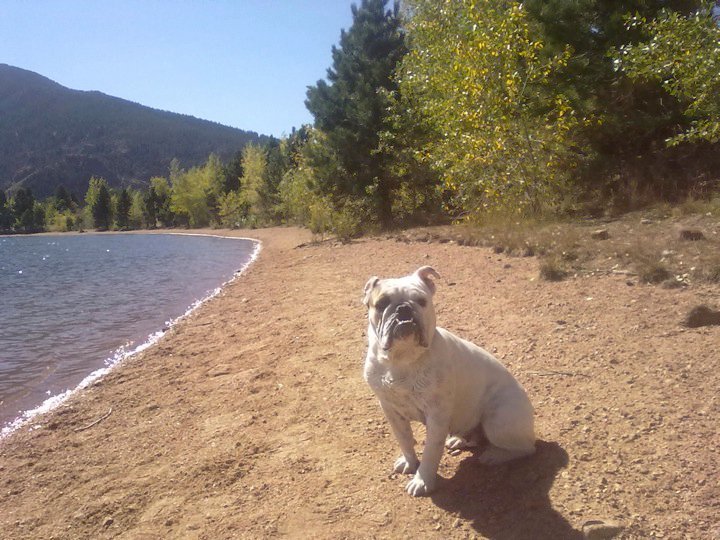 ---
What I loved most about living in the States was the countryside. The fact that I could stumble out of the house and be in the wilderness. Next to our apartment was the Stratton Open Space. A dream for every dog owner.
Molly and me took long walks around that area, it was nice to have that right in front of the door.
A little further up the Stratton Open Space you can find the Mesa Reservoir. A little lake like water reservoir. We enjoyed the walk up there like you wouldn't believe. My heart is jumping thinking about my daily adventures in Colorado Springs.
Anyways, the best memory I have at the Mesa Reservoir is Molly having her first experience with water there. It was a shallow shore and a beach like atmosphere. A lot of dog owners went there to have their dogs refresh and take a swim, especially on the weekends.
Molly was still young back then and watched the other dogs running into the water and swimming. One day she decided she wanted to try it too and so she started walking into the water.
She walked and walked and walked and instead of swimming she just kept walking at the bottom of the reservoir. Me and the other dog owners couldn't believe what we saw, it was hilarious to see Molly walking under water.
Of course I jumped in to lift her up, so she wasn't drowning or walking any further, but I will never forget that scene. We were laughing so hard. It took Molly another 4 years to actually learn to swim after that.
---
Pikes Peak - On Top Of The World
---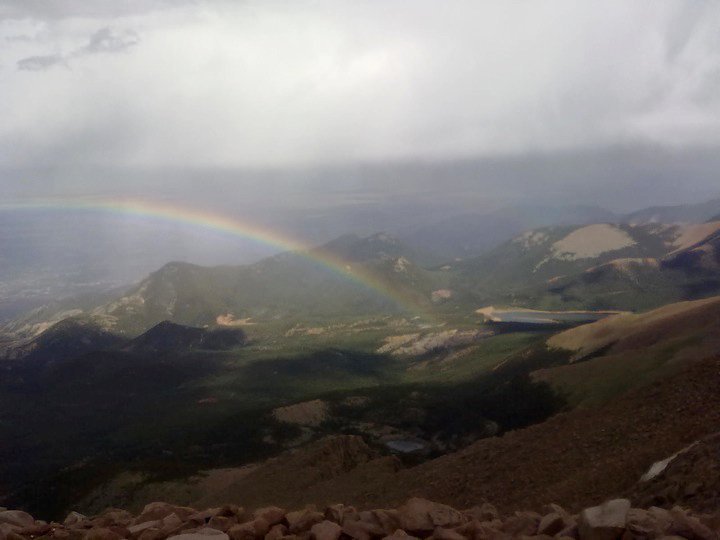 ---
That picture was taken on Pikes Peak sometimes in 2011. Of course living in Colorado Springs you pay a visit to the famous mountain.
Who wouldn't enjoy driving up the fourteener who became famous for the Hill Climb, paying tribute to the German Rally driver Walter Röhrl who wrote history in 1987 with his Audi Quattro S1. I drove up there in my Jeep Wrangler and it was a ton of fun I tell you.
You pass by Crystal Reservoir, Bigfoot and you can see marmots, but just remember that even if it's like 90°F in the Springs, it might snow at the summit.
So no driving up there in shorts and flip flops like I did once, you might be surprised and freezing lol.
Of course Molly had been up there as well.
Reaching the summit you feel just amazing and that day nature showed its beauty to me, sending down this awesome rainbow. In the distance you can see the reservoir and being above a rainbow doesn't happen every day.
---
Home Sweet Home - Mountain Lions
---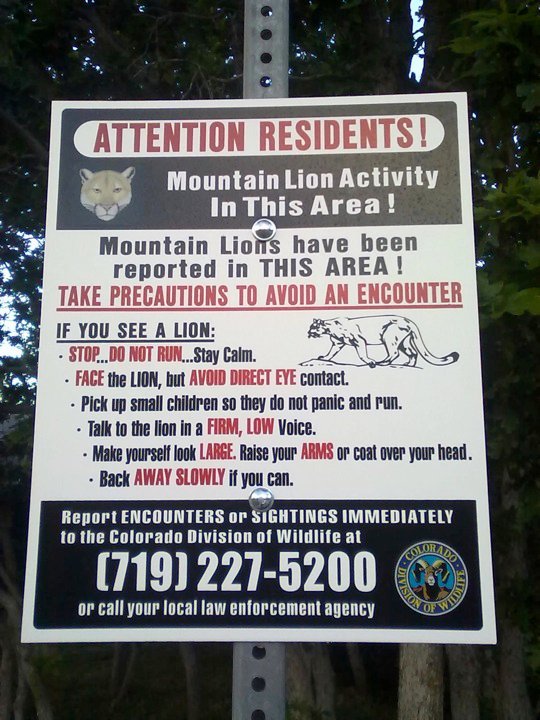 ---
This pic has me thrown back to the most beautiful place I've lived so far. The Retreat at Cheyenne Mountain is a gated community where our apartment was located. All amenities included, like a pool, hot tub, gym and the most perfect view down on Colorado Springs and over the Plains.
This sign you could find all over in that neighborhood and even though I never encountered a mountain lion, I found their droppings on the front porch.
Guess what, I even enjoyed that lol.
---
Broadmoor - Molly Time
---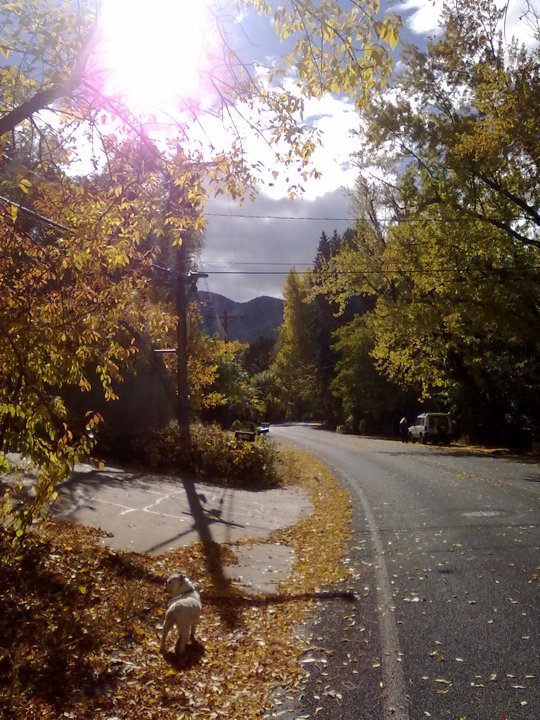 ---
Since my trip down the memory lane was connected to Mollys date of death I will end my Throwback Thursday with this picture of the Broadmoor area.
This famous part of Colorado Springs was in close distance to our place and I often enjoyed strolling around that beautiful neighborhood.
Especially in fall it was so pretty. The aspen trees were shining in bright yellow and Mule deer was hanging out everywhere, well it did so anyways.
Molly enjoyed our daily walks, hikes and adventures as well. I think that pic was taken on W Cheyenne Rd on my way to the Broadmoor Hotel. It is a beautiful area and for sure one of the safer parts of the city.
What I liked about Colorado Springs was the fact that a lot happened outdoors. Being from Germany walking around is normal but in the States it is not always usual.
But with the nickname "Fittest city" COS was my place to be.
In Michigan or Las Vegas it was rather unusual to just take random walks around the neighborhood, at least the locals there seemed to be confused when I did.
For those reading not being from the States, you shouldn't walk around not knowing the areas. You can end up easily in the wrong part of a city, just saying ;).
---
Well, I hope you enjoyed my little throwback stories from the first 5 pics that crossed my way. Comment on them if you like.
---
---
©bulldog-joy
---