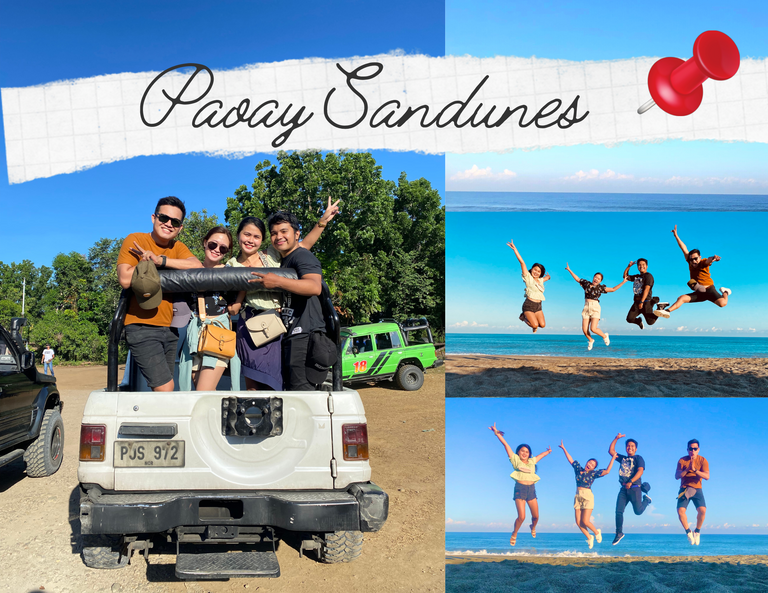 Hello, Hive Folks!
What I want right now is just to continue with my Ilocos Tour Blogs! I know I have been out for a while and this continuation has been delayed fir so long. For that, I apologize to myself!
So, after we were dropped off to the beautiful Paoay Church, we were brought by our tour guide and driver to one of the major highlights in an Ilocos Tour - the famous Paoay Sandunes!
For someone who loves roller coaster, adventures, and trying new things, experiencing the adventures in Ilocos Sandunes is something you would look forward to. I have not been in an ATV before so I knew this experience would be awesome!
---
Registration, Entrance Fee and Rentals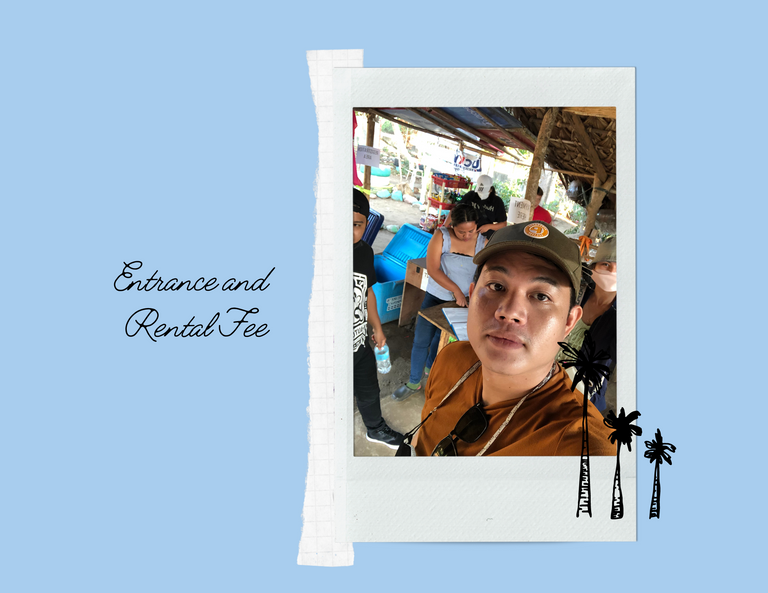 Similar to other tourist attractions and destinations, we had to register and pay for the fees first before anything else.
As far as I remember, we paid 600 pesos individually. So, we paid 2,400 for our group. That was a bit expensive for a one-hour adventure but we were told and convinced by our tour guide that it would be worth it. I was so excited about everything that time already.
---
Sandunes, Here We Come!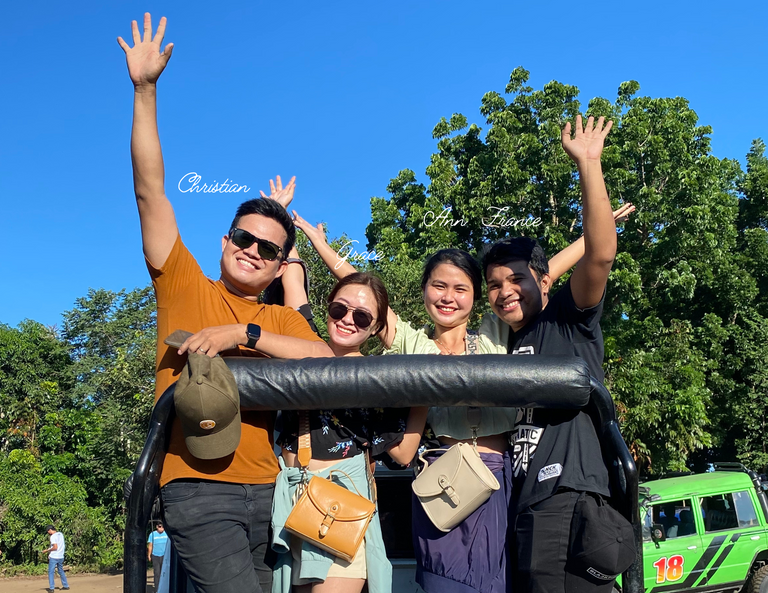 I was still with my squad, Grace, Ann, and France. Based from our looks, we are so excited with this adventure. We first applied sunscreens on our faces because it was super hot during that time.
We did our Sandunes adventure in the morning around 7:30 just after our breakfast and our guide told us that it is the best time for us because there would be a lot of people an hour later. Few people in the area means, we would enjoy the view and the adventure more!
---
The Ride Going Here Was Awesome 👌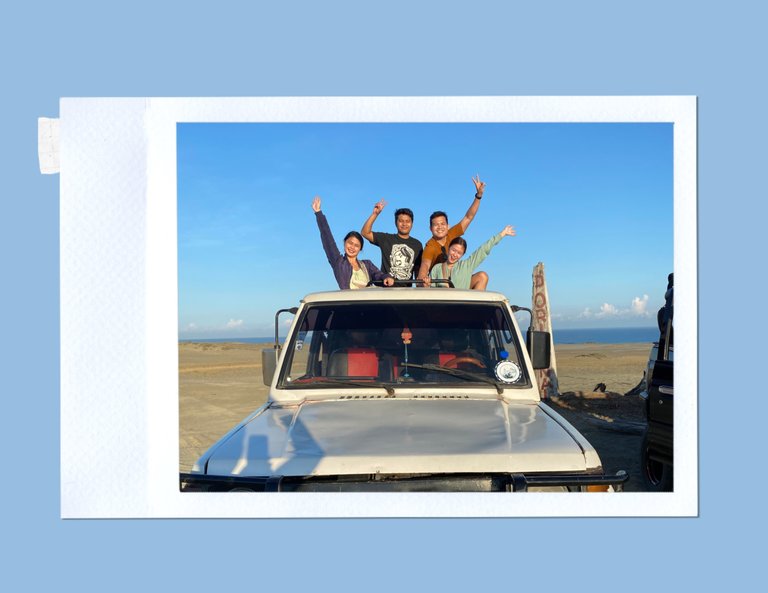 I do not know how to describe how enjoyable the bumpy road was because I do not have pictures or videos of it. Well, I cannot risk breaking my phone for it and also, the experience would be more fun if you truly feel the whole thing. You know what I was saying right?
So, literally the entire ride with the 4x4 ATV was not documented because the four of us were just shouting and holding strongly to avoid getting thrown out the ATV. But it was totally fun, believe me!
---
Group Pictures!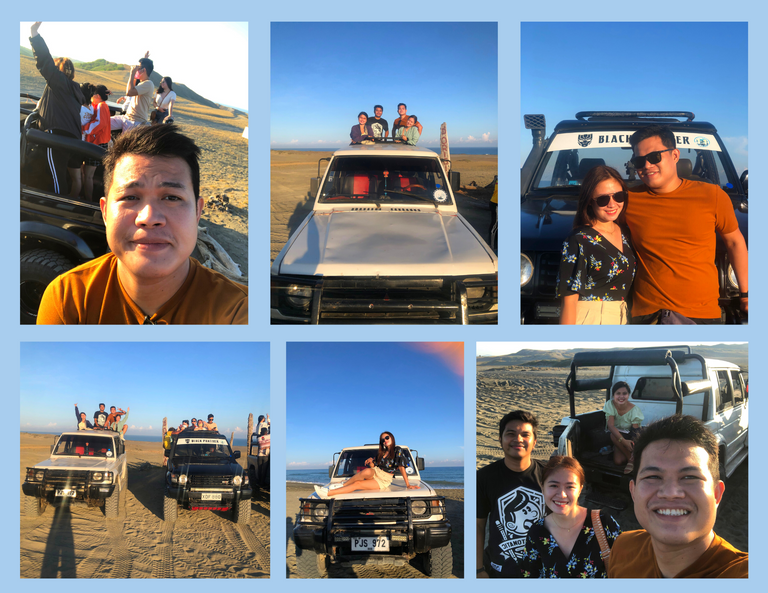 The ATV Drivers stopped by the seashore for us to appreciate the blue ocean and to feel the whole place. Everybody was getting their cellphones and cameras to take some pictures of the breathtaking view of the sandunes and the blue ocean as well.
It was a good break after the many shouting and screaming! We were given maybe fifteen minutes to fill out cellphone storages with duplicated photos. But, you cannot blame any if us because we just want to get the most of the place. Well, who would miss getting a photo in this beautiful place?
---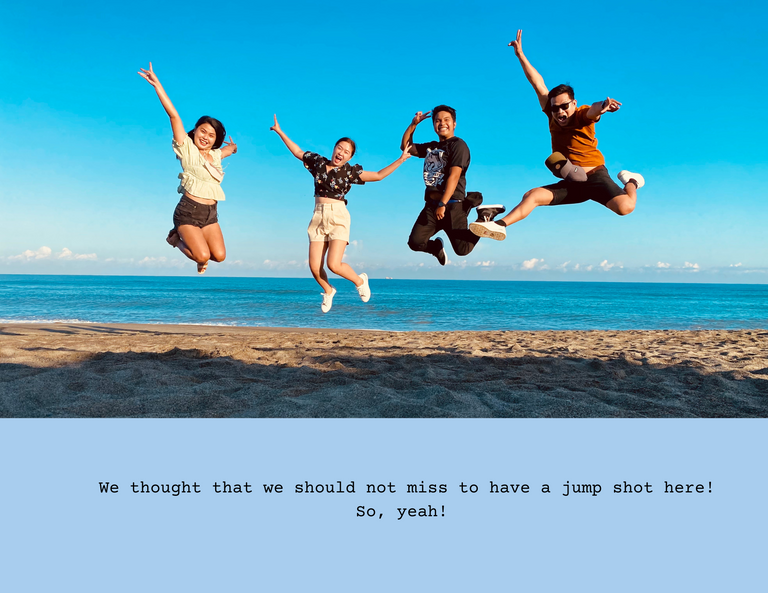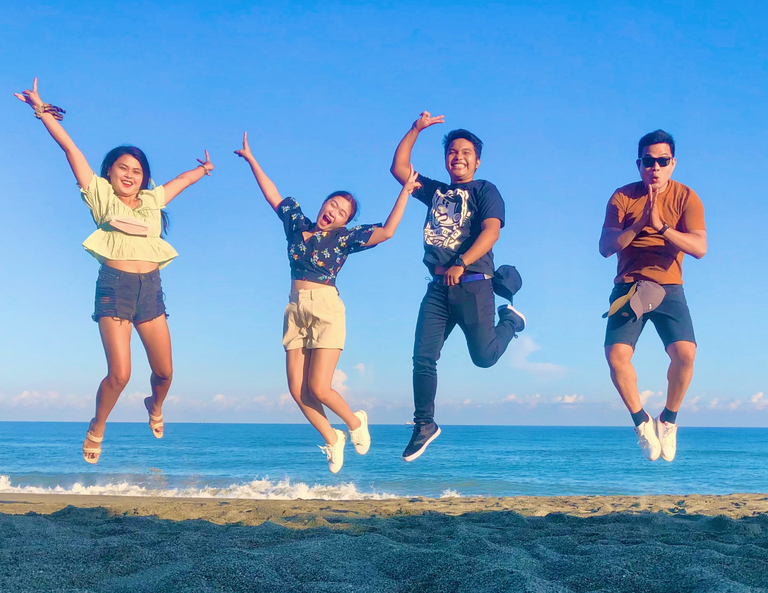 My squad did not miss to take a jump shot. Of course, there were so many retakes before we got two acceptable and decent jump shots! So thankful of the ATV Drivers for they mastered the taking of group pictures including jumpshots as well as the patience to do multiple retakes.
The whole place will surely give you instagram-worthy pictures where ever you want to be photographed. You just have to master your poses and smiles and how you project yourself to the camera just like how my wife and France's wife do.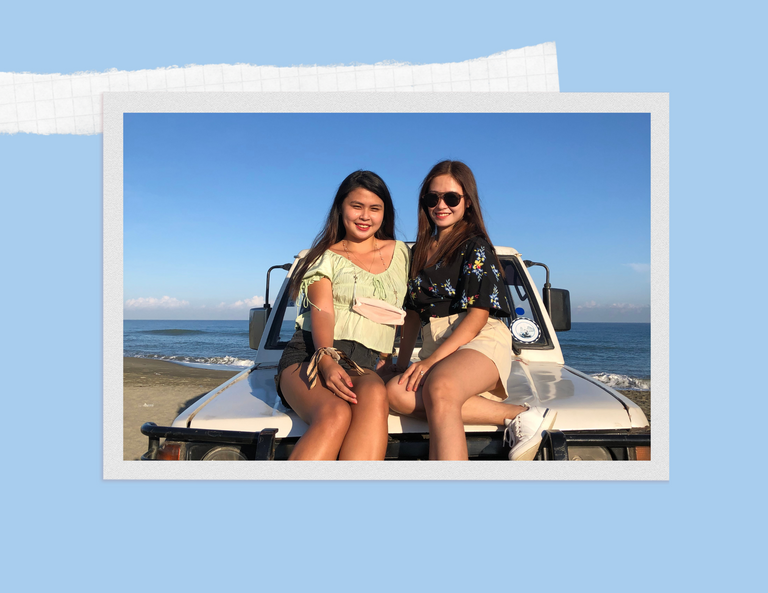 These two pretty faces did great in this photo. Our driver told them to pose on top of the ATV's hood. There are more photos on my google drive but I think this one is more than enough.
---
The Other Group!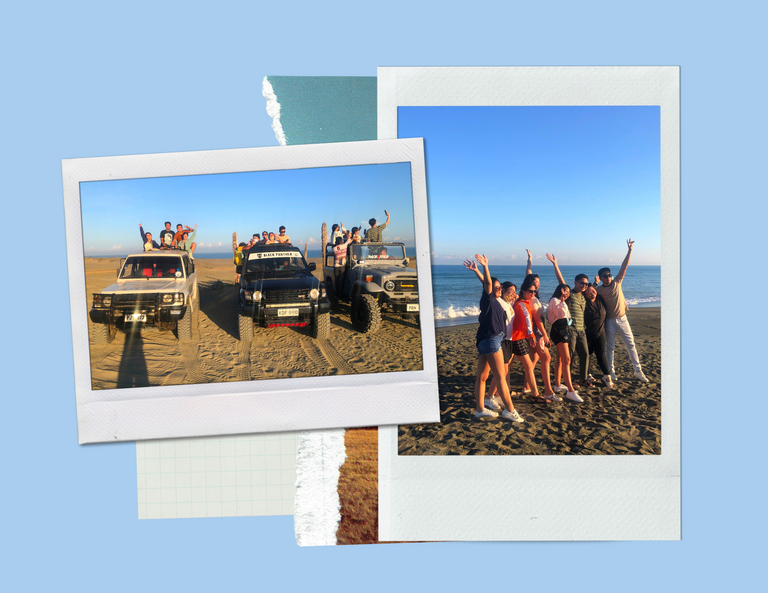 We were actually accompanied by a bigger and younger group - there were eight of them. I interviewed them and I learned that they were college friends. Conversing with them was tough because they speak Tagalog and we speak Bisaya. Well, we can speak Tagalog, but we choose not to talk to them to avoid the struggle. I hope I do not sound rude here but that was really it, it was hard and it was not necessary.
---
My Beautiful Wife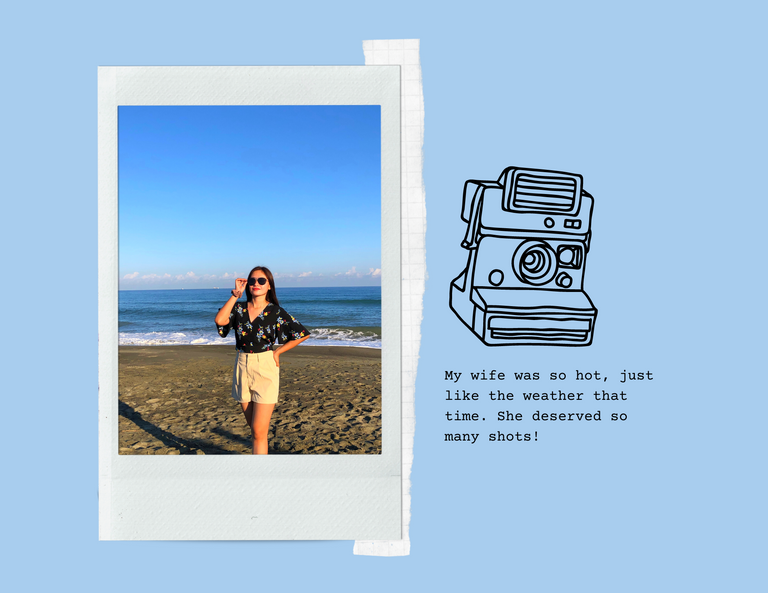 Do you see that? Beautiful View plus Beautiful Wife equals Beautiful Photograph! No need of a mathematical solution, we really had a blast here! And my wife was as hot as the weather that time, so yes, she deserved more than just one solo photo.
Actually, my wife is not into posting on social media and posing in front of the camera, so a single photo in a place is always enough for her. But, I always cannot get enough of her, so I always insist to take some more.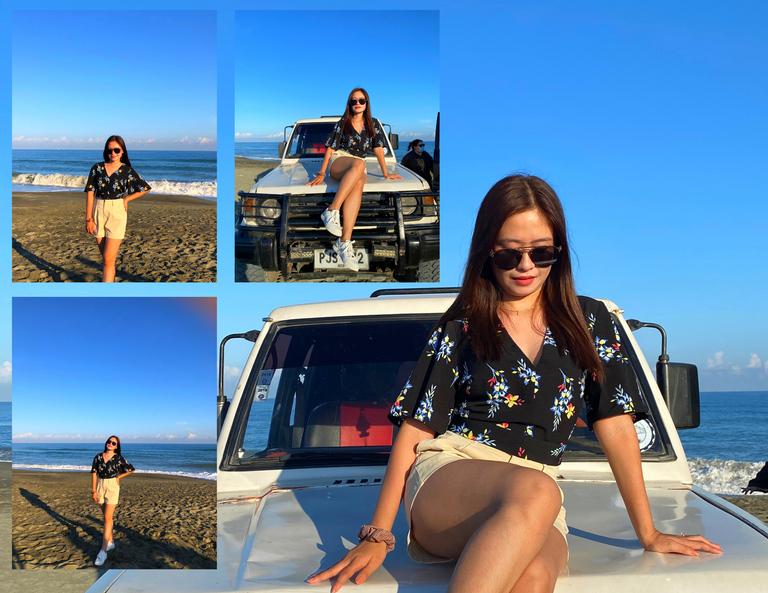 ---
Our Couple Photos in Ilocos! ❤️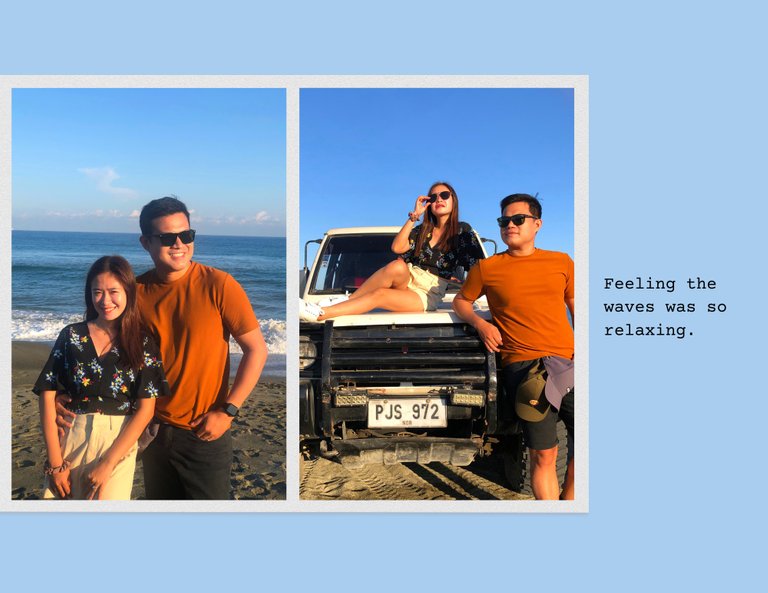 I have travelled few places in the past but I think Ilocos would be my most favorite because this is our first travel as husband and wife. And as others would say, we both look good together.
Travelling now will never be boring again because I now have my wife. Although, in the first blog of our Ilocos Tour I mentioned that we had a small quarrel, I still consider travelling with my wife is the best because I know we will be able to resolve immediately any problem.
---
My First Sandboarding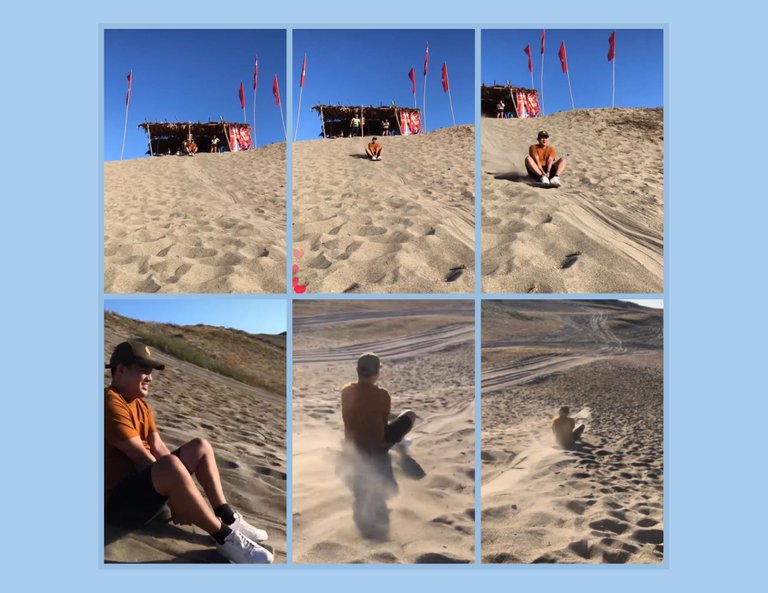 Prior to coming to Ilocos, I already checked in the internet the fun activities that can be done in Ilocos. One of the activities that tops the list is sandboarding.
I really thought that sandboarding was easy to do. But I was totally wrong, especially the standing version! I tried it for a couple of times but I always fell. So, I just tried the sitting version so that I could still experience it. But yeah, I was so jealous of one tourist who made it in just two tries.
---
Rating and Conclusions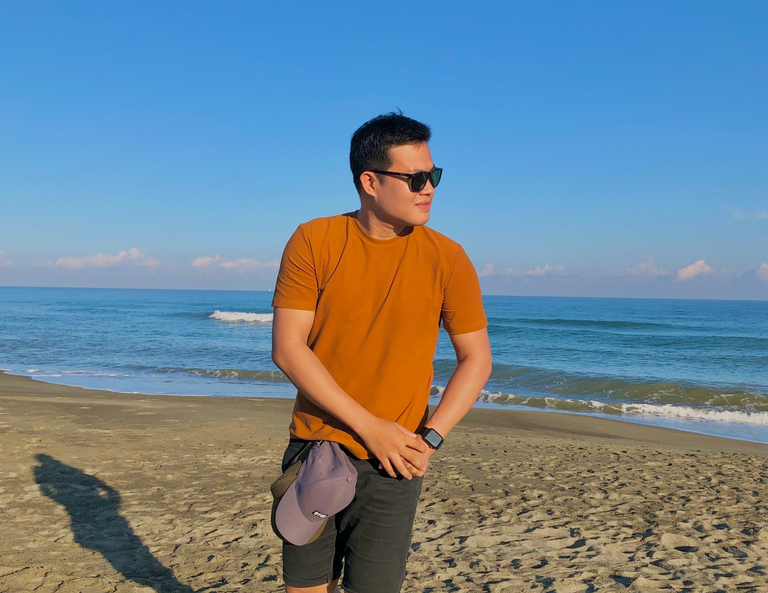 For someone who loves fun-adventures, I rate this whole Sandunes Experience as 10/10. I love the trilling ATV ride, the picture-perfect view, and the challenging sandboarding experience!
So, if you have not tried or travelled to Ilocos, "Panuway Mo" 😂 I mean try it now! Don't miss this if you happen to visit Ilocos!