We were lucky with the weather during my birthday weekend. It was sunny but not too warm, ideal weather for hiking.
Engadin offers way too many opportunities for hiking and it's difficult to choose one trail as you feel like you want to take all of them. Recently, I've been having issues with my hip again, so we considered only easier trails. Not that it made our decision easier as there were still too many to choose from. During our stay we got a mountain pass from our hotel so we could take any cable car in the region for free which was great.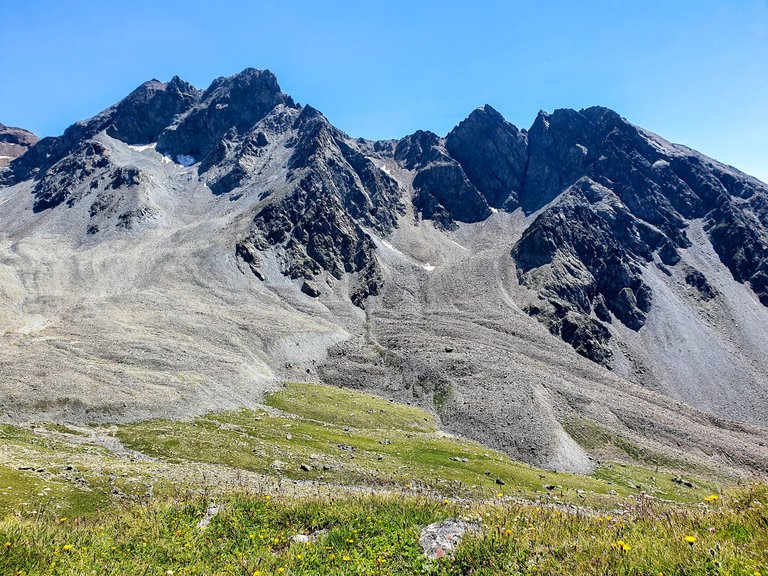 At the end we decided to take the funicular train from Punt Muragl to Muottas Muragl which takes over the 700 climb to the altitude of 2454 m.
This funicular was built at the beginning of the 20th century as the first funicular railway in Graubünden.
We were lucky that we already had our mountain passes as we came to the station only a few seconds before the funicular left. It only goes every 30 minutes in each direction and we wouldn't manage to get the tickets on time.
The journey itself takes less than 15 minutes. I liked it as it was driving on the rails instead of hanging on a cable. Every time you cross your path with a funicular coming from the opposite direction. It's nice as we had people waving on the way up as well as down.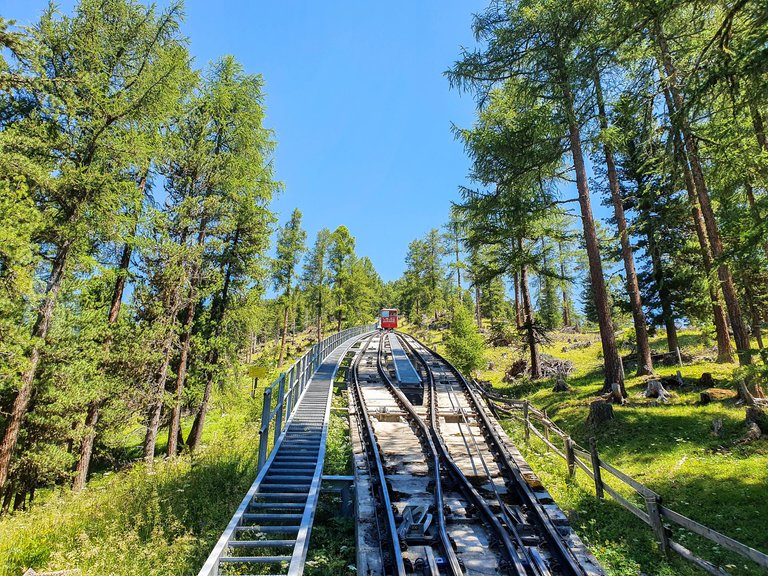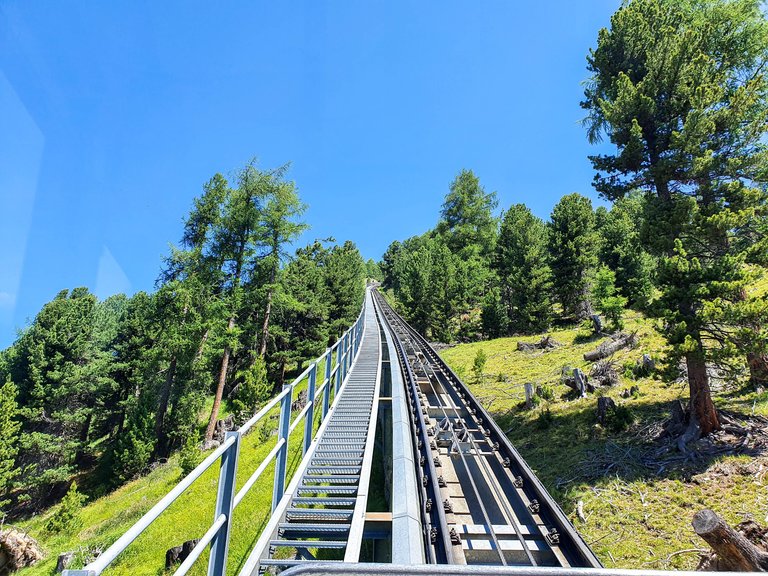 The view from Muottas Muragl is breathtaking. Looking down in the valley you get the most amazing view of the 5 Engadin lakes and when you look up you can admire the peaks of Bernina massif with its glacier in the back.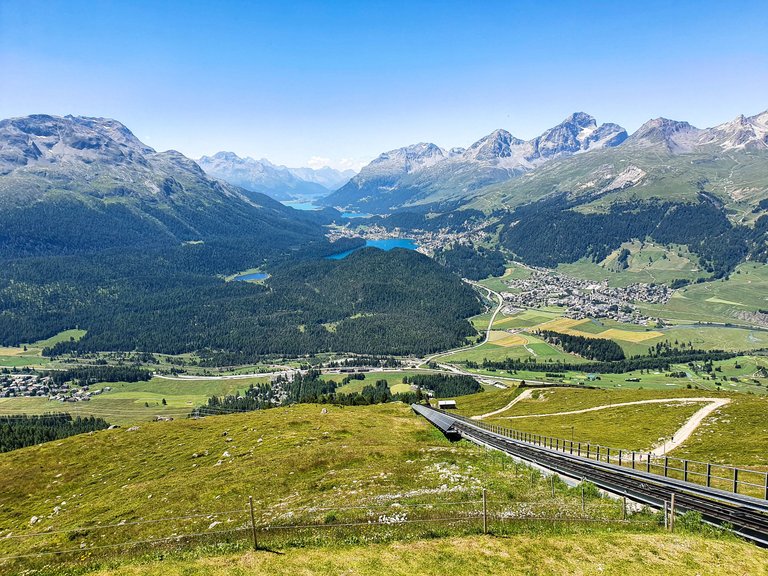 We wanted to take the Panorama trail, enjoy the sun, have a drink on a terrace and relax but our adventurous souls couldn't bare to look at the beauty around them without further exploring it.
We arrived at Muottas Muragl right after breakfast with water but no food as we didn't expect to stay long, but at the end we left at 5 PM when I used my last strength to get back to the funicular. We took a 10 km hike with elevation of 350 m because my husband thought that the lake Lej Muragl on the map didn't seem to be too far away - well, it was and the terrain was tricky too!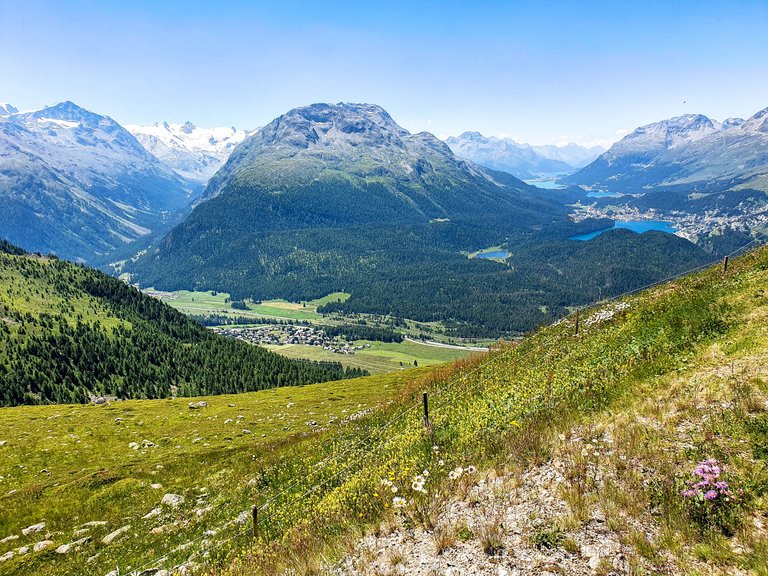 Looking over the valley, we could also see the full range of Albula Alps with Piz Julier on the left. Piz Julier is overlooking the Julier mountain pass which is one of the most beautiful mountain passes that I have ever seen.
This area is popular skiing location which is dominated by Piz Nair with its impressive 3058 m in the middle of the picture. The area is easily accessible by several cable cars and it's a perfect place for experienced hikers in summer.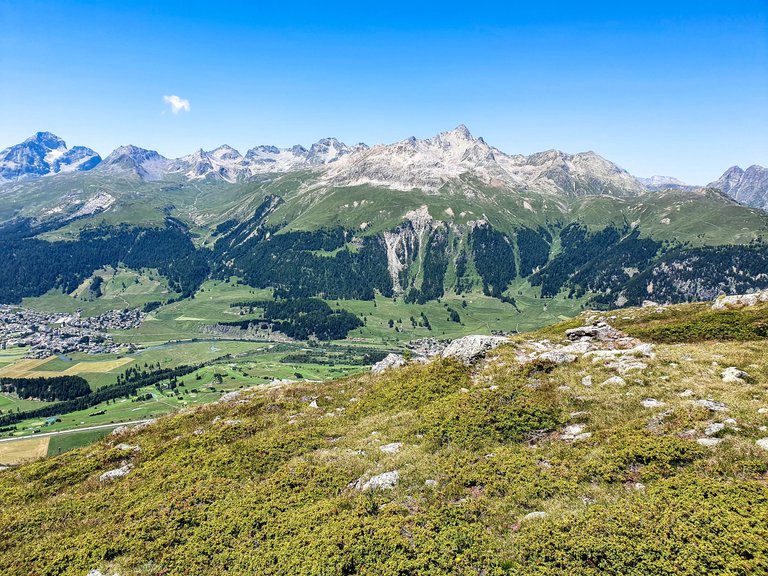 Our hike seemed to be easy at the beginning. It was quite flat and the path was well maintained. Soon we realized that this was just the very beginning of the trail. Suddenly, we were walking up, up, up and there were bigger rocks on the trail with every step that we took.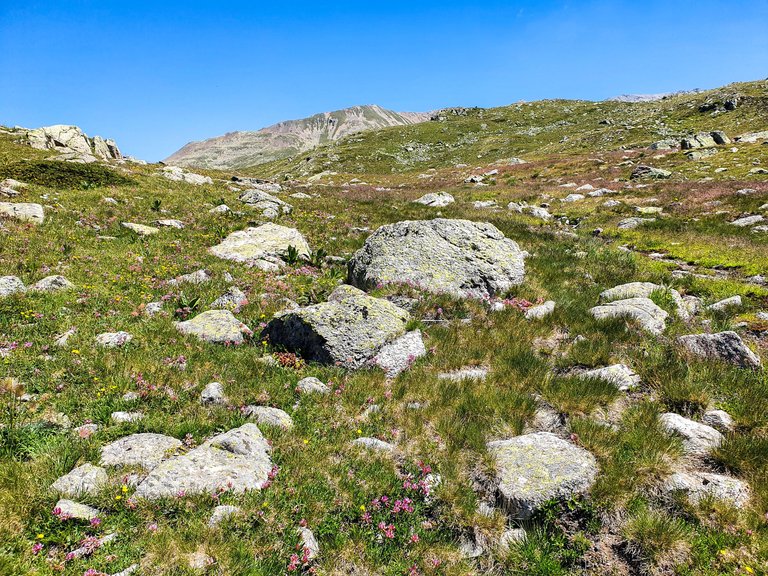 On our way, we passed by the world's most accurate sundial called Sine Sole Sileo which is Latin for 'Without the Sun I am silenced'. The panel indicates how to read the sundial. There are two ways, simple reading with accuracy to 30 seconds and more precise reading with accuracy to 10 seconds. It's not so difficult and you can try it too when you get a chance to visit this place.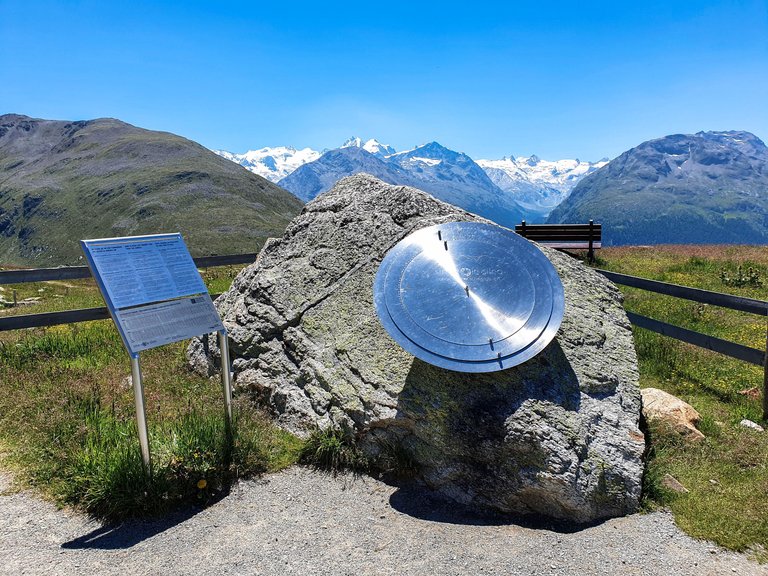 My husband took this seriously 🙂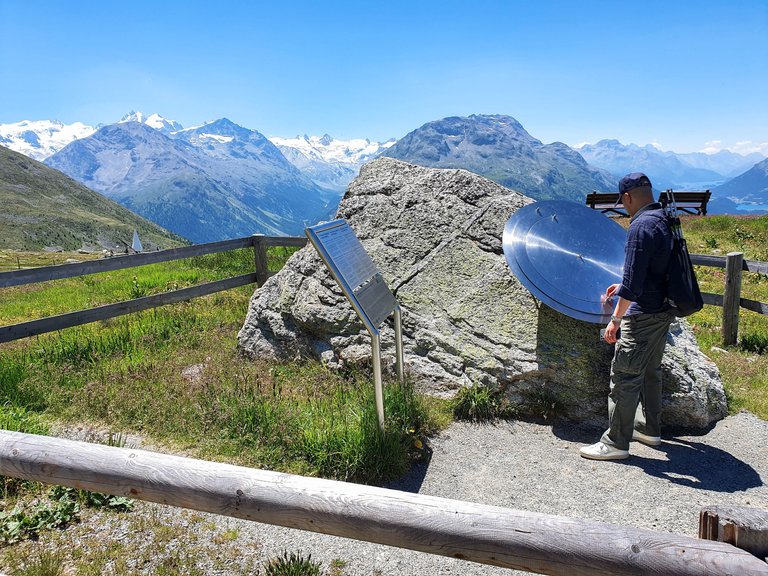 There are probably no peaks in the Swiss Alps without the Swiss flag 🙂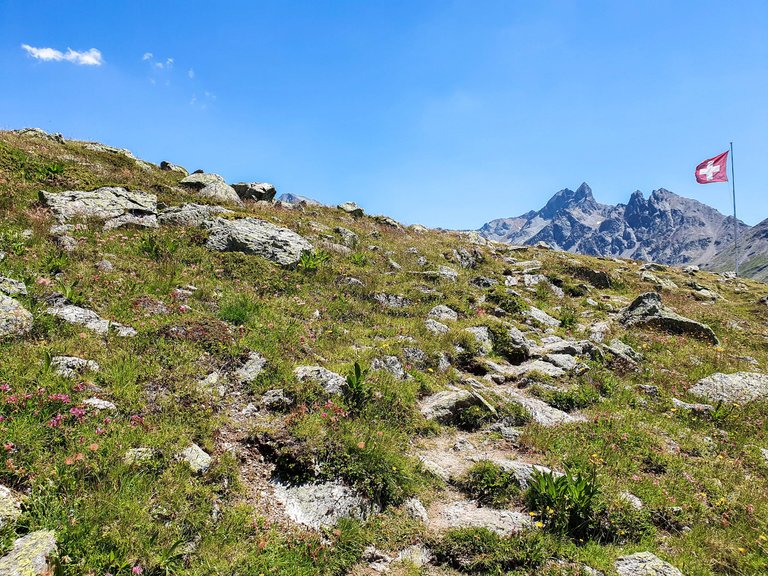 We were getting further away from the funicular. I knew already that I will be starving before we get back as the lake was nowhere to be seen yet.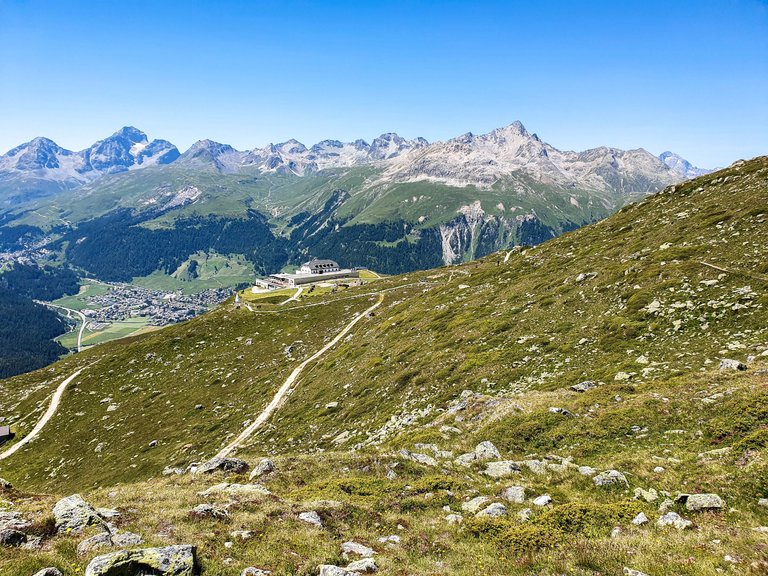 First we thought that we would only walk to the end of this trail but we couldn't be more wrong.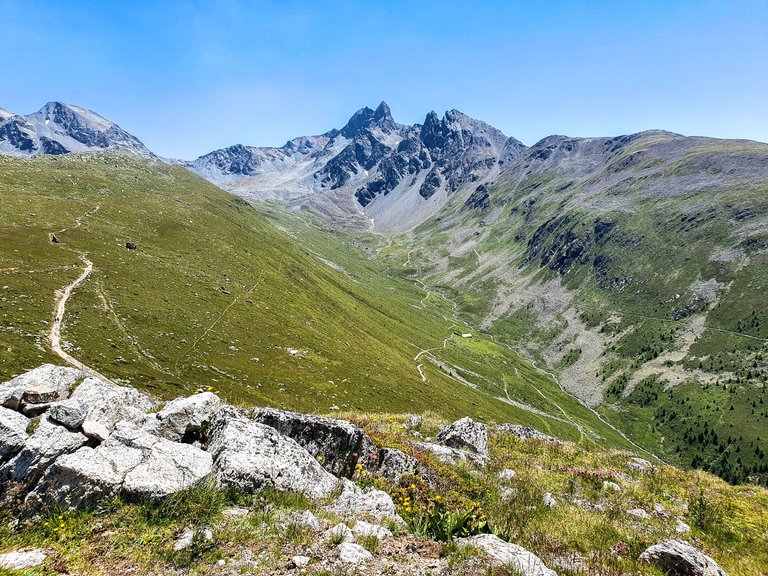 There were benches in the most unexpected places...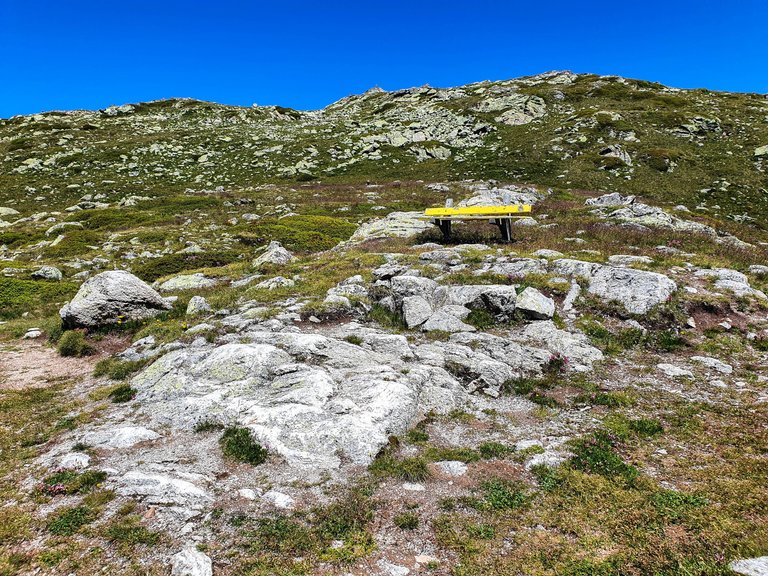 Mountains were peaking from behind the hills all around us.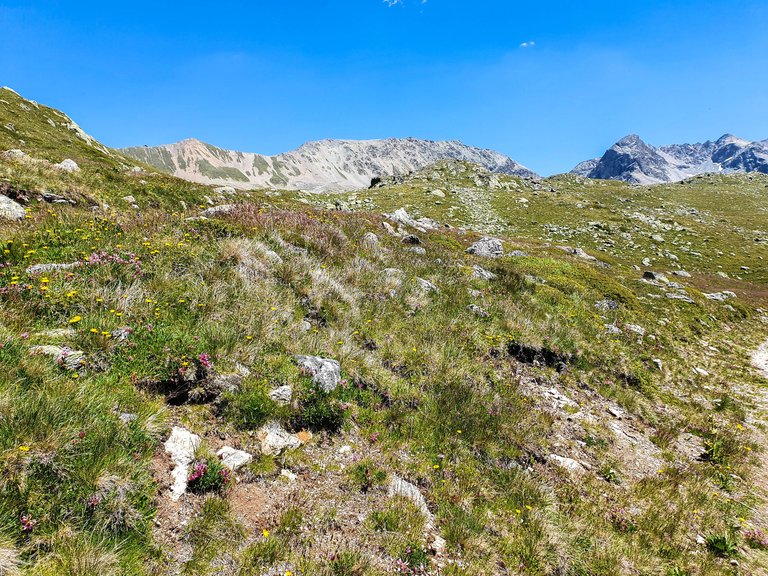 If you look closer you will notice several hiking trails on the other side of the valley.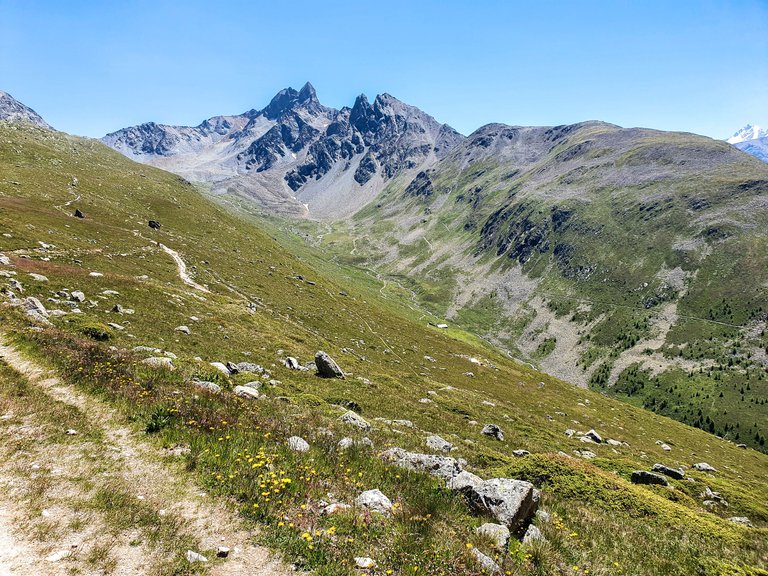 At some point of our hike we could see the glacier too!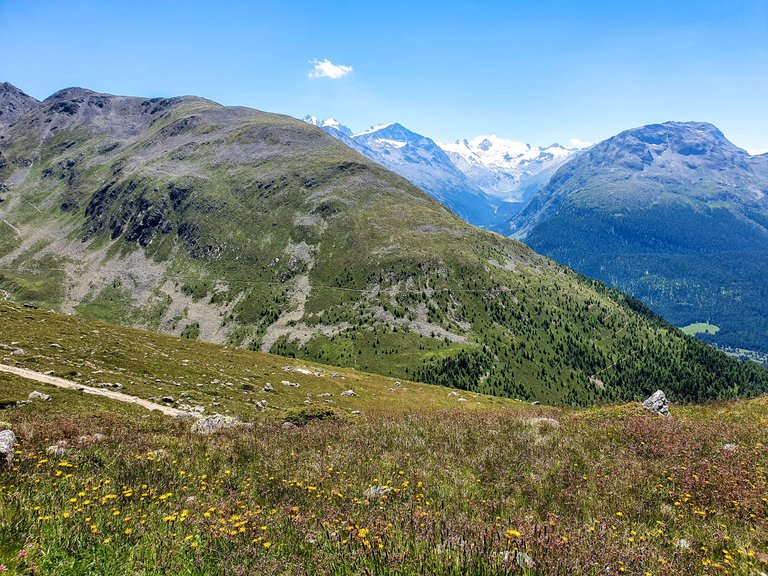 After some time it started to look like a moon land, just with grass 🙂 It was a good decision to buy a sunblock at the station as it protected me very well. It would have protected my husband too if he wouldn't have forgotten to use it on his lower arms before putting his sleeves up. He still looks like a zebra!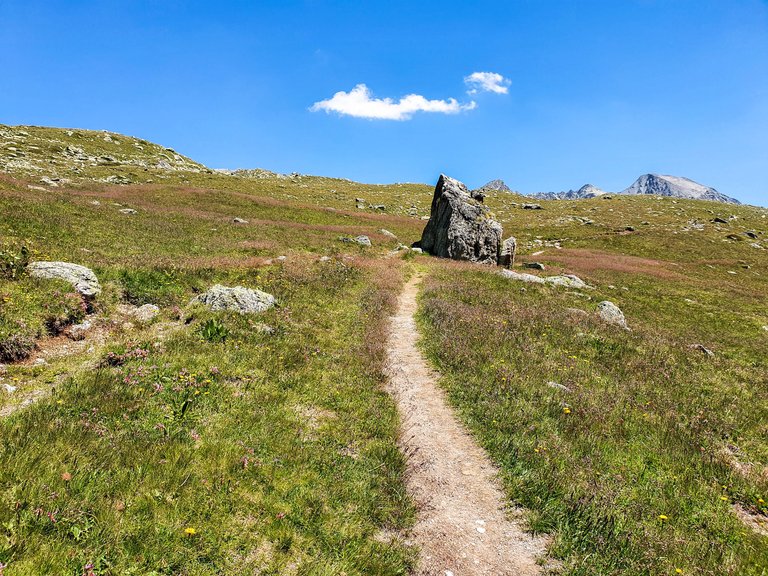 The views were fantastic but I had to stop to enjoy them as the trail was difficult with rocks everywhere, so I had to be careful for my hip.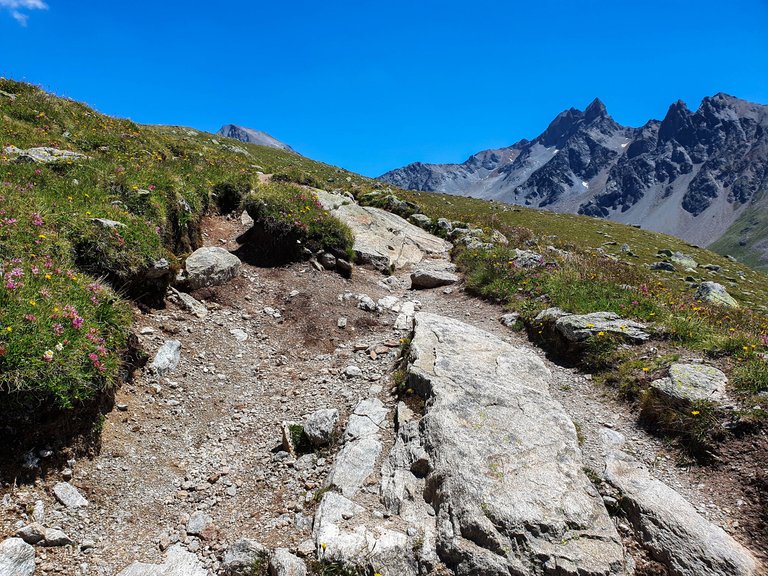 Here we can see St. Moritz which is one of the most luxury places in Switzerland. It's the town around the biggest lake in the valley. From there you can easily reach the Albula Alps easily.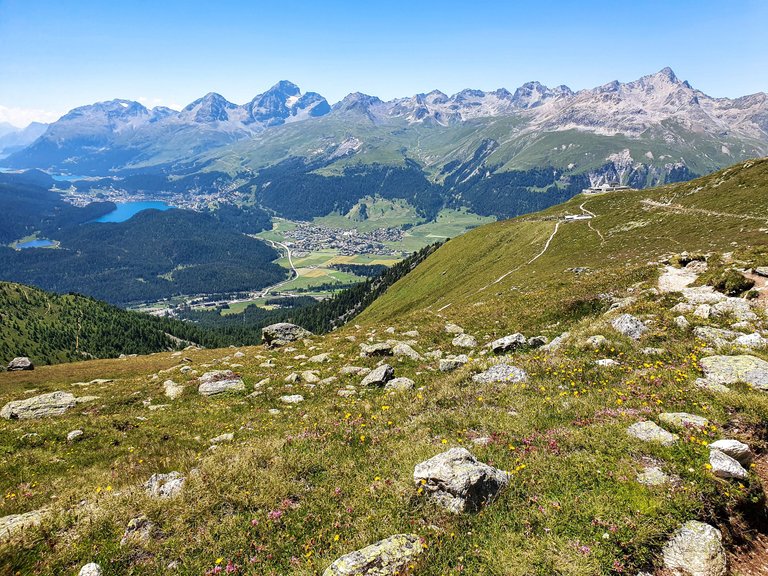 This would have been a great place for a picnic if we would have taken some food with us 🙂 We sat there for a few moments and dreamed of food. We were also figuring out how much weight we will lose during this hike when we only drink water 🙂 Of course we lost nothing!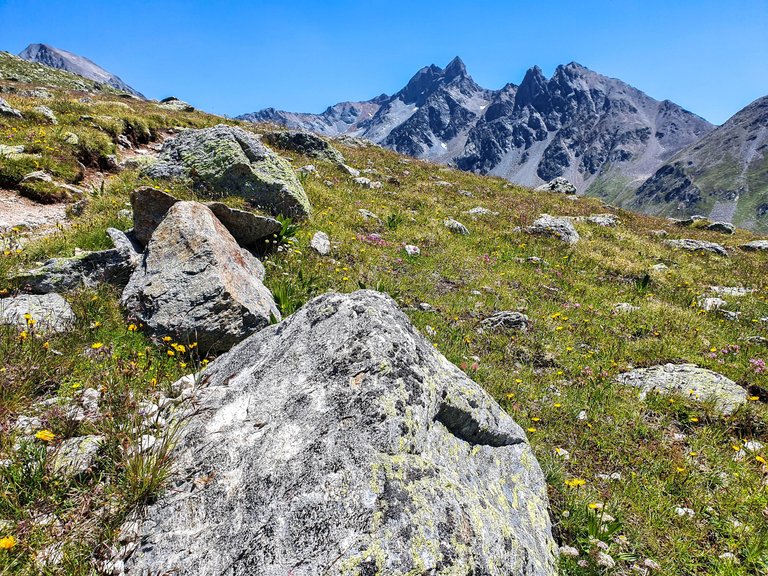 It all looks so flat!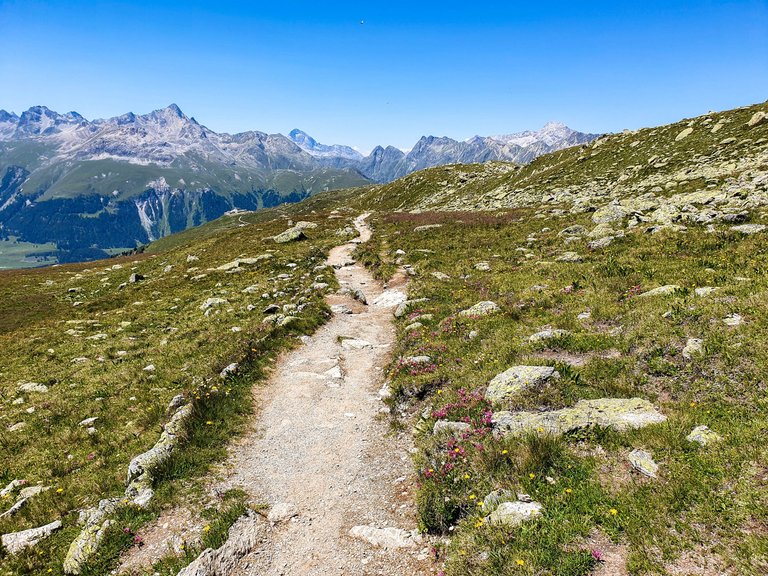 A little bit of art on the way...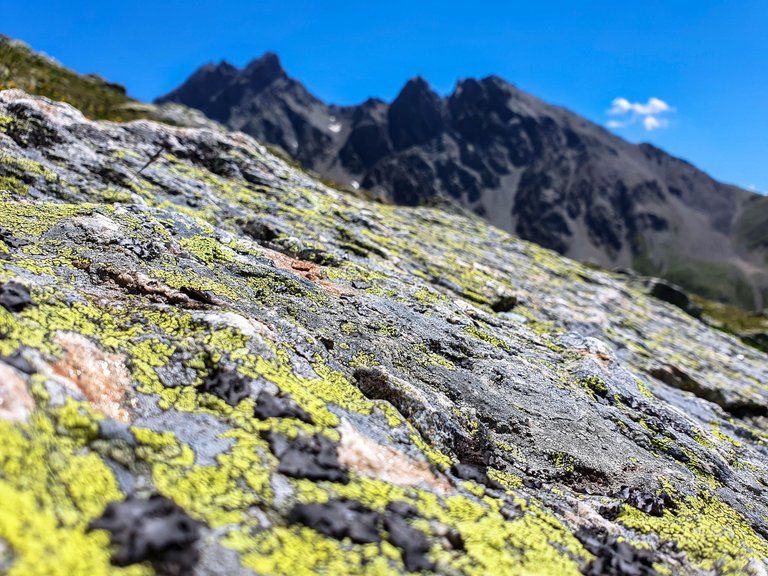 We kept saying we would turn around behind this or that corner and go back to the funicular, and when we reached that corner we would say: Let's hike a bit more and we will turn around behind that corner and so on and so on. Let me just tell you that we passed by many more corners than we planned.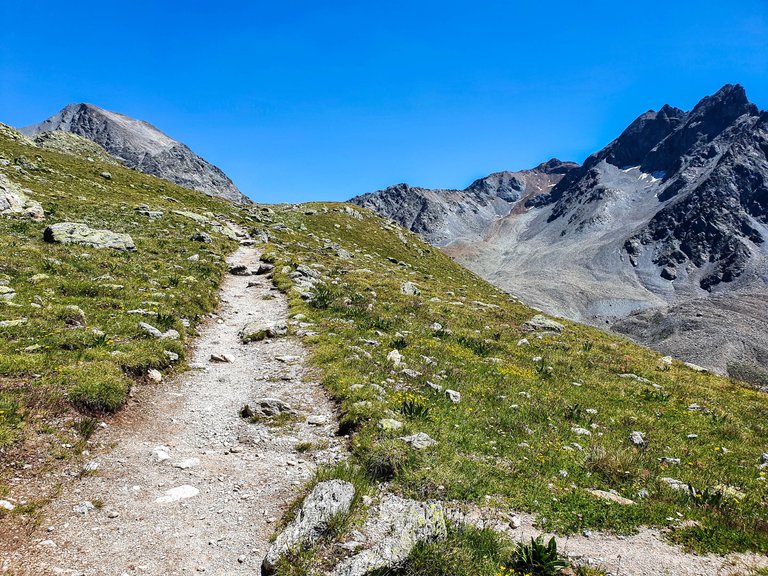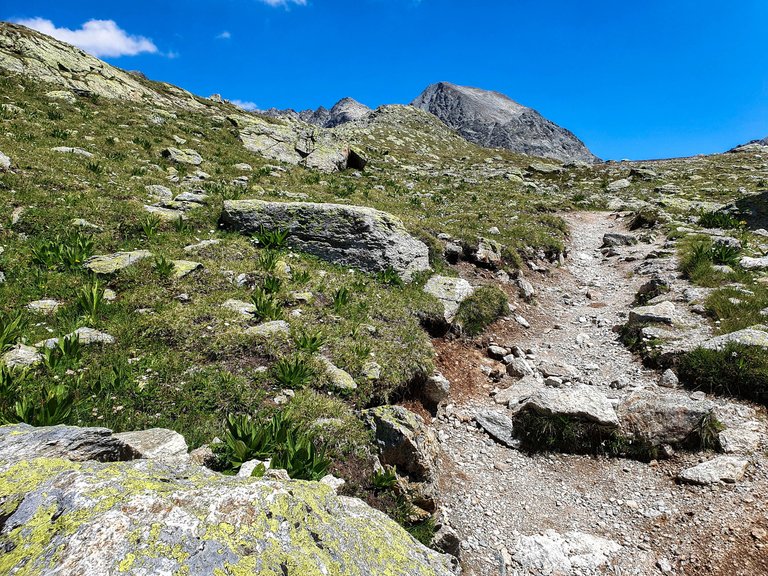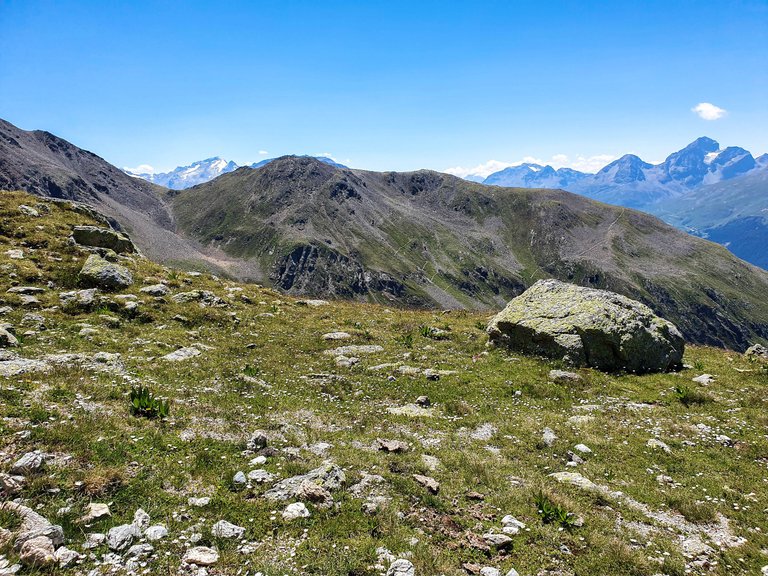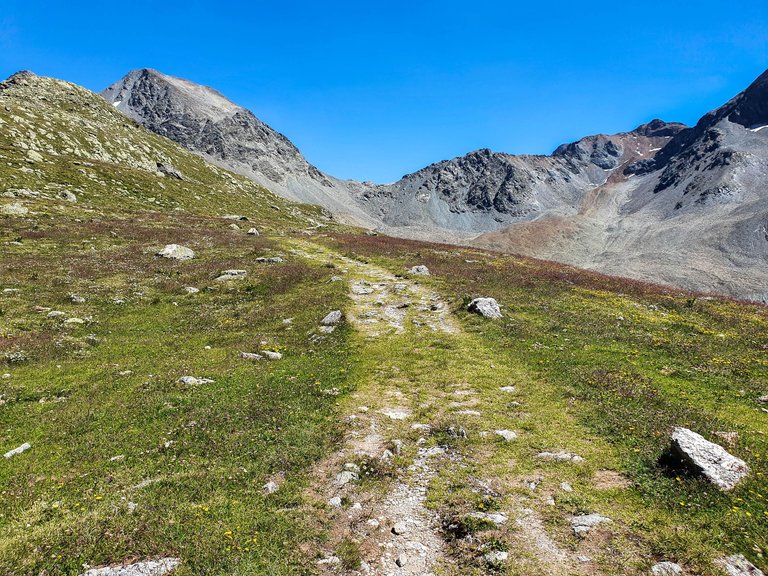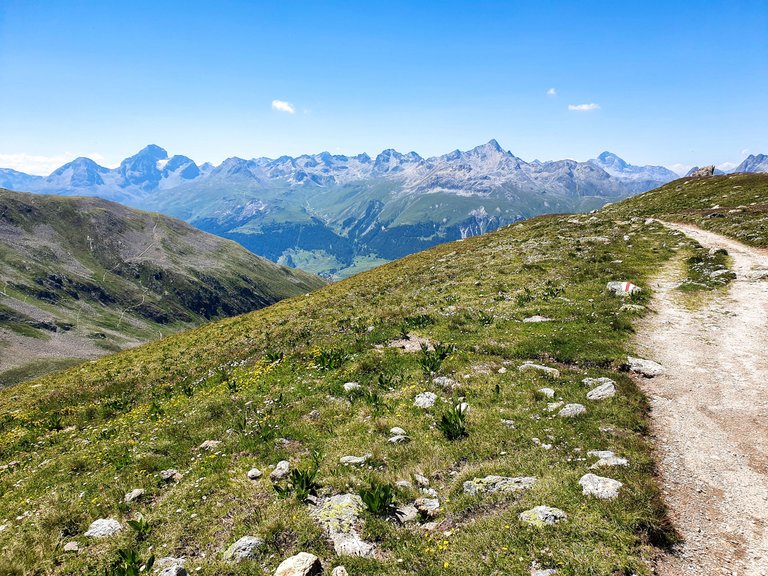 Finally, we could see the lake! Can you spot it?
This was really the last corner that we reached as it was still more than 1 km to get to the lake and we also had to walk back, so my husband convinced me to turn around, and it was a good thing as my hip started to hurt before we reached the station and I have no idea what we would do if we continued further down to the lake.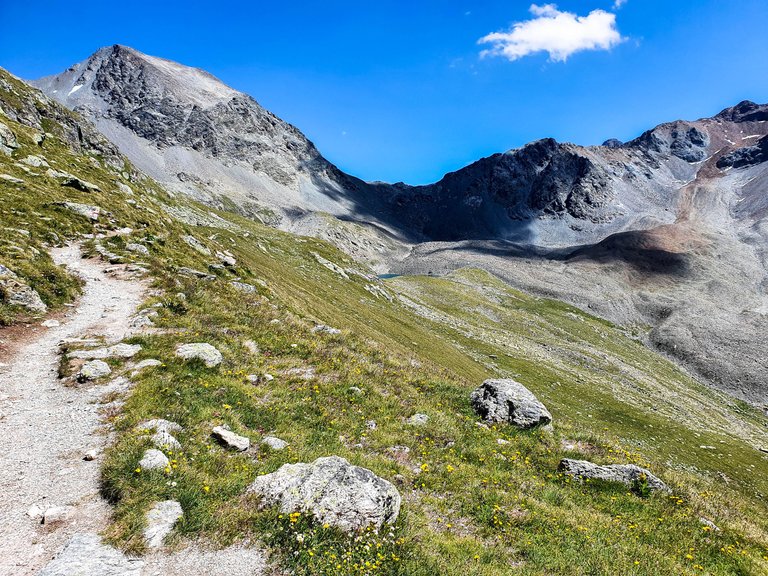 It was windy and the clouds were moving fast, so we got to enjoy another natural spectacle before we hiked back.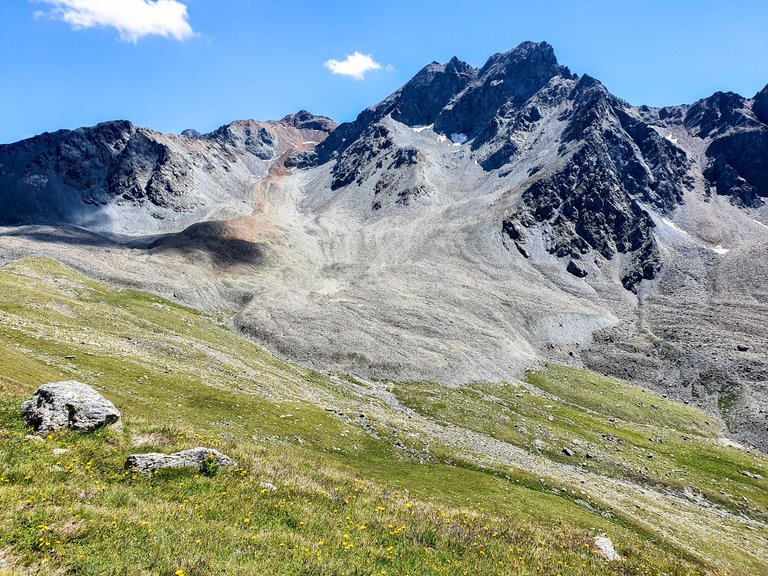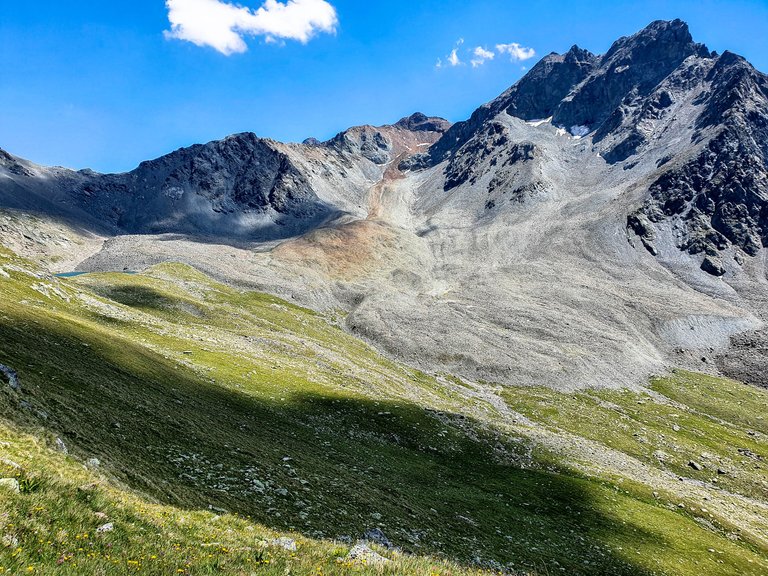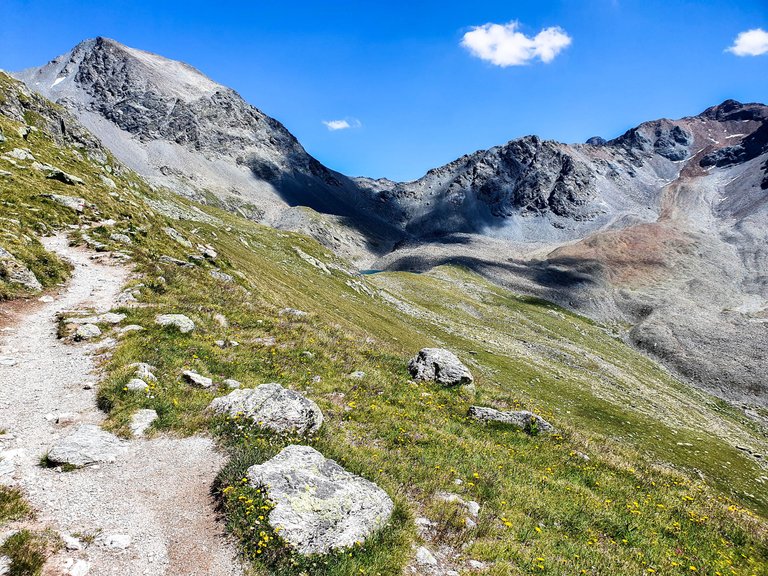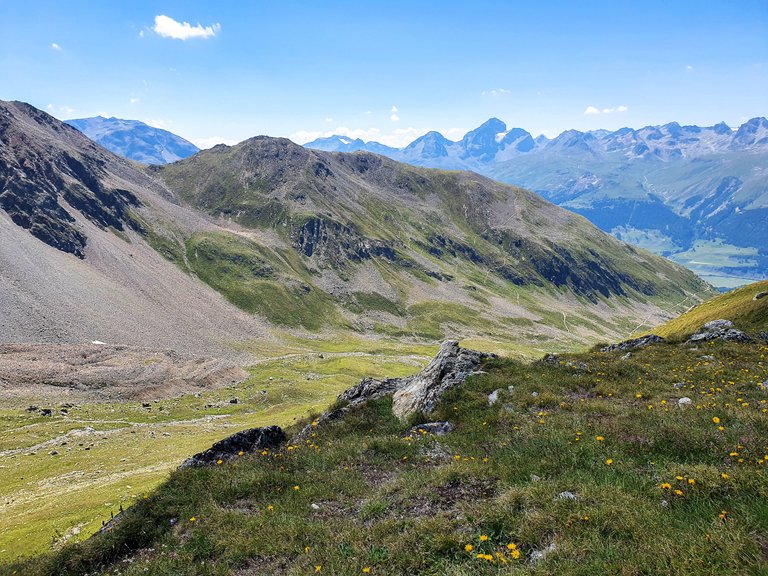 We usually prepare our hikes in advance and don't do many spontaneous hikes due to my health limitations so I am very proud that I managed to conquer this impromptu difficult hike.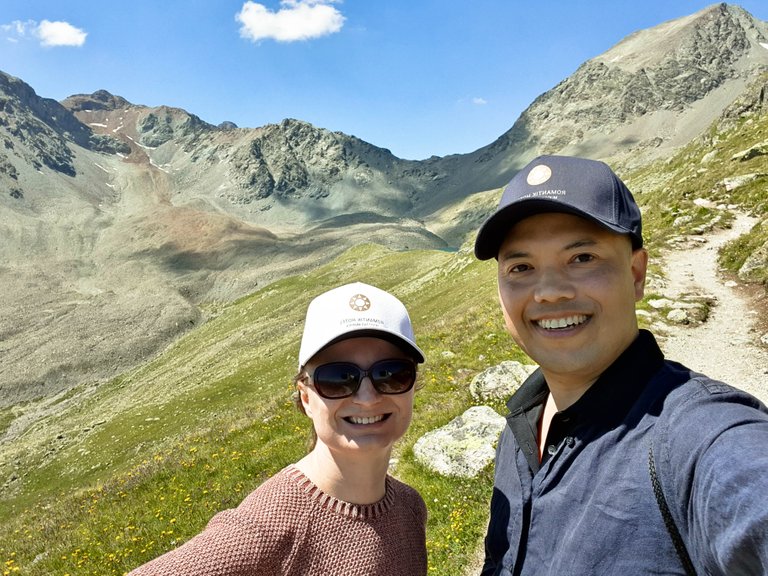 Thank you for reading!
Cheers!
Martina