I love living in Switzerland. It offers so many travel opportunities and it only takes us about 4 hours by car to travel from one side of the country to another. In this short distance, you can find countless lakes and majestic peaks of the Swiss Alps but there is one thing missing. It's the sea. Swiss lakes are beautiful but I love the sounds of waves breaking softly towards the shore and the smell of salty sea air. This is why I can't wait for our summer vacation each year!
Mallorca will always have a special place in my heart. It's an amazing travel destination in the Balearic sea which will treat you with crystal clear water, impressive mountains, interesting history, beautiful architecture, delicious food, parties lasting until the sunrise, friendly locals and many more things that I can't think of right now.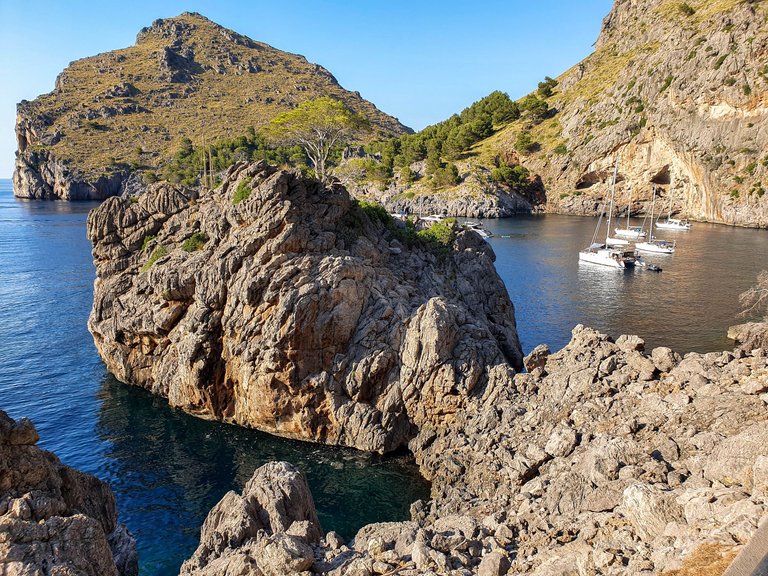 We planned activities for each day but the heatwave made us change some of them. We tried to work around it and did many indoor activities during the day, and went to the beach around 6PM. It was actually great as many people already left and there were just a few of us still enjoying the water.
One day, we put on a thick layer of sunscreen, filled our water bottles, took our hats and off we went to explore the Serra de Tramuntana on the west coast of the island. Our destination was Torrent de Pareis canyon and we couldn't wait to see it!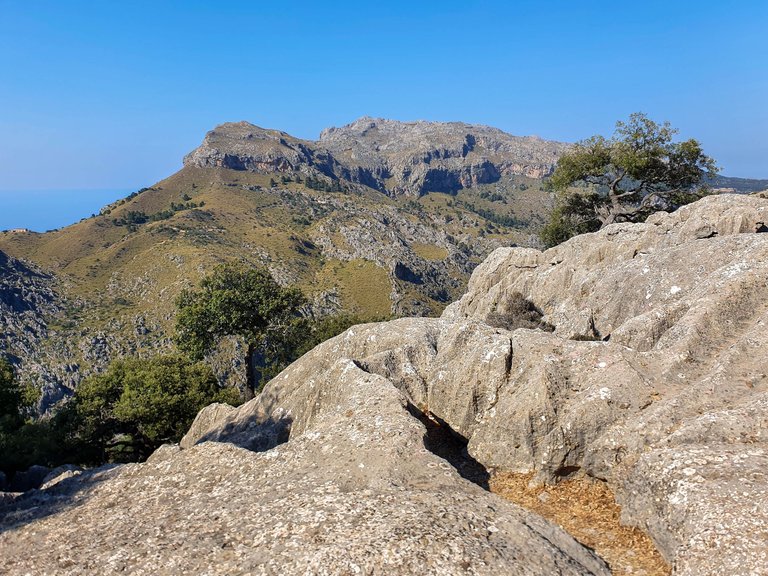 Serra de Tramuntana is a mountain range which is almost 90 km long and 15 km wide, and goes from Cap de Formentor, the northern tip of Mallorca, to the south-westernmost point of the island near Andratx. The mountain range has been declared a UNESCO World Heritage site for its historical, cultural, and environmental importance
The mountains are joy to explore and you can also find there many picturesque old towns to visit. I have already visited Valldemosa, Deià, Sóller, and Pollença and I must say that you cannot miss any of them while visiting Mallorca. Many of these places were not accessible from other parts of the island until the beginning of the 20th century and they still preserve their medieval charm.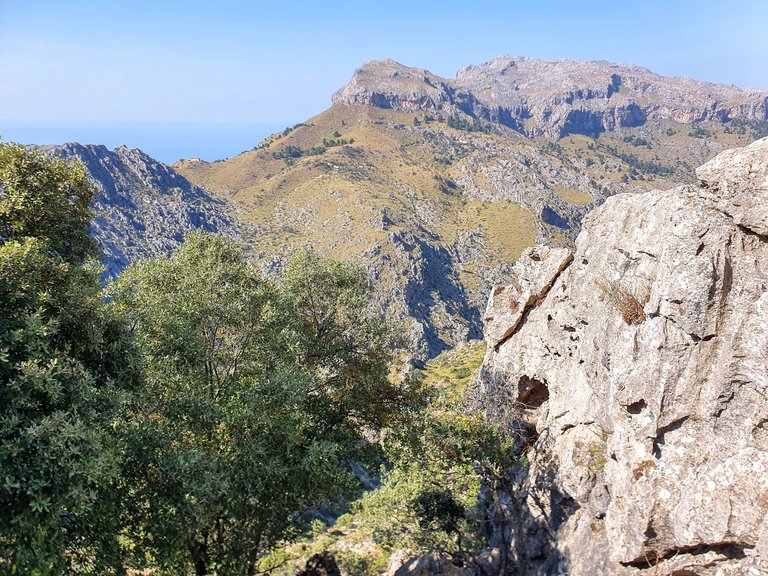 Serra de Tramuntana has many peaks rising over 1000 meters above the sea level. It's highest peak is Puig Major at 1445 m. The mountains are mainly rocky with forested hills, a few smaller lakes, plenty of dramatic ridges, dangerously looking cliffs and some snake-like roads which I have never seen before.
Many towns and villages are situated deep in the mountains, so the roads are narrow and curvy but I was really looking forward to the road leading to Sa Calobra which we were to take that day as it would lead us to Torrent de Pareis as well. It's so narrow that two busses cannot pass each other here. I think it's good that there is not so much public transportation here 🙂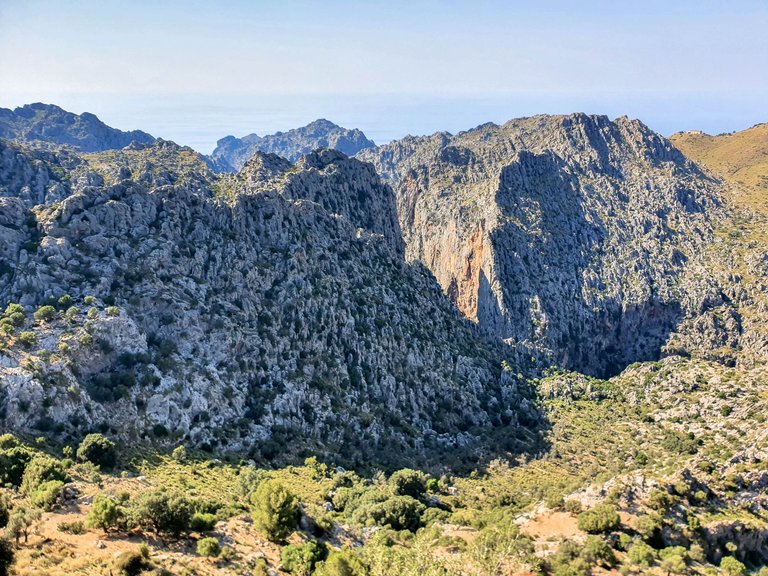 The mountain range is a paradise for hikers, climbers, cyclists as well as nature lovers and it attracts tourists all year round. We saw many cyclists conquering the steepest roads and I had a feeling of deep admiration for them. I found it challenging to even go hiking in that heat.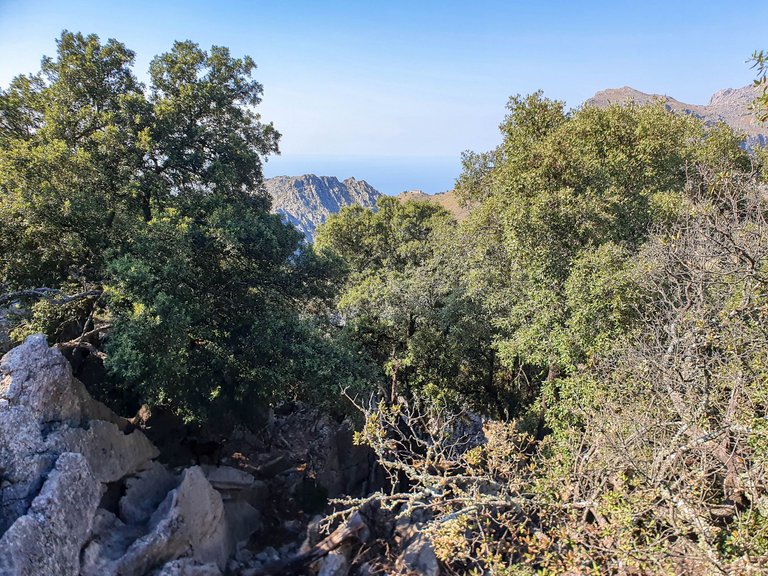 Mallorca is a paradise for hikers and if you are one of them and want to experience something special then you should consider coming here and walk the Dry Stone Route. It's a route which is 135 km long and runs from Port D'Andratx through Serra de Tramuntana to Pollença.
The route is based on ancient pathways and it's split into 8 stages. Some parts are easier and some parts are recommended to be done with a guide. There are some places where you can stay overnight if you decide to walk the entire route.
We are planning to do this next year in October/November as we talked to the locals and they told us that this is the best time to go hiking in Mallorca. It's not too hot anymore and not too cold yet.
I was surprised to hear that the mountains can have a bit of snow in the winter!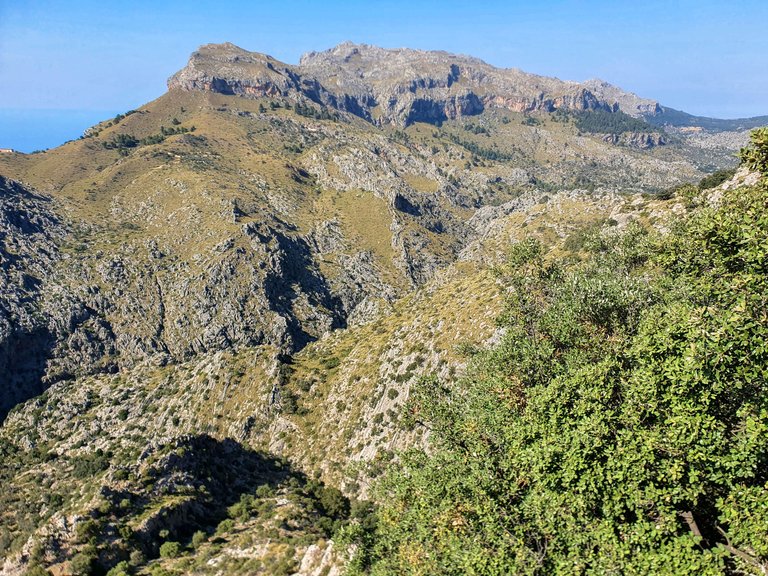 Did you know that there are many wineries in the region? At first, I didn't pay attention as I wouldn't expect any grapes to be growing in these conditions but then we talked to the owner of the hotel where we were staying and he told us that the wine production in the Serra de Tramuntana has a long history! It turns out that it dates back to the 15th century and the grapes were first brought here from Italy.
There are also countless farms with olives and oranges, so don't forget to get some local produce. The land has been made productive by the construction of agricultural terraces and irrigation canals. You can see them in various places.
We were driving to Torrent de Pareis, and suddenly we saw a parking slot with a small bar settled in a cave. We stopped there and got the best fresh orange juice that I have ever had. Even though we knew that the car will be burning hot, we decided to go on a short hike as we happened to be in a forested area. We only did a short hike but this was the point when we decided that we will come back next year in Autumn.
We both love mountains and the Swiss Alps are the place that we love the most but Serra de Tramuntana has something special that we don't find in Switzerland. Maybe, it's the views of the sea, orange trees, rough terrain, or dramatic cliffs. I don't really know but these mountains have something magnetic that makes you want to come back.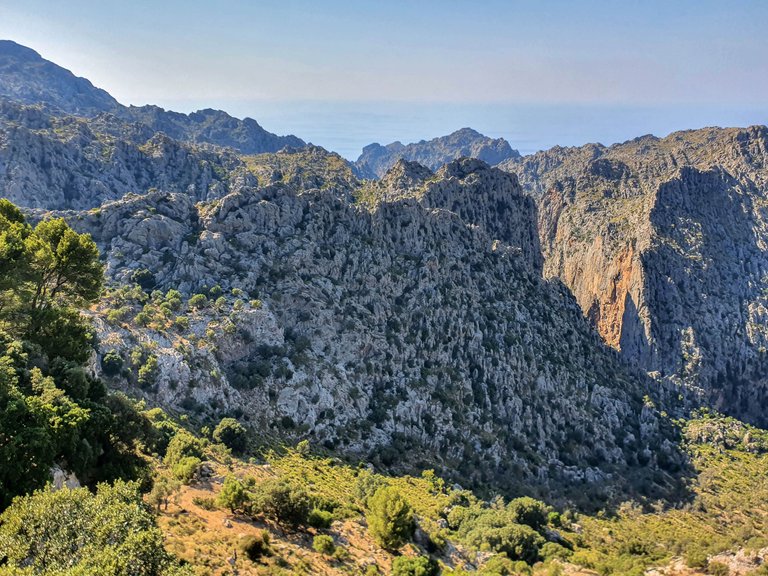 We couldn't stay much longer as it was still a long drive to Torrent de Pareis and we had to be back on time for dinner. It was the Mallorcan night at the hotel and we didn't want to miss it.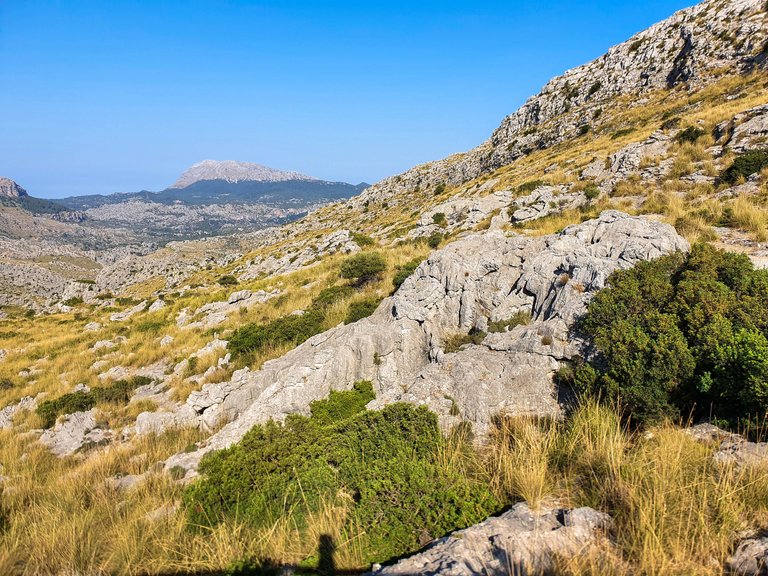 And this is where the fun starts! Behind the gate is the Ruta de Sa Calobra, the road that will bring us to Torrent de Parreis. This road is one of the most scenic roads in the world. It's almost 13 km long and it looks like a very long snake!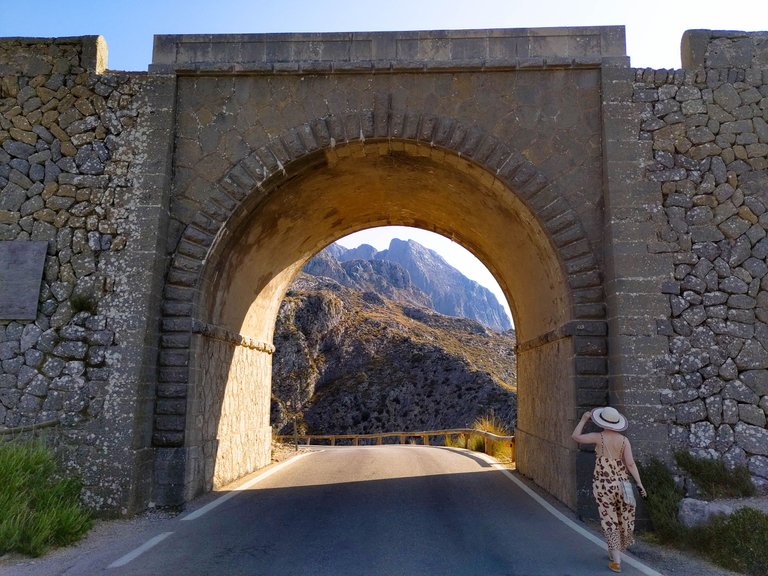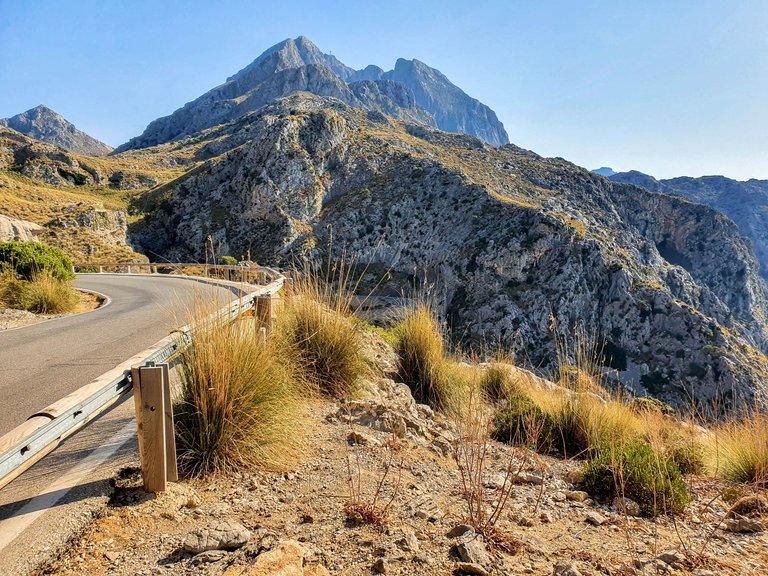 The road was designed by Antonio Parietti, and it was built in 1932 without the help of any machine! The road descends from 682 m to the parking slot which is close to a beach. It's a dead-end road and only way to get out is to drive back up.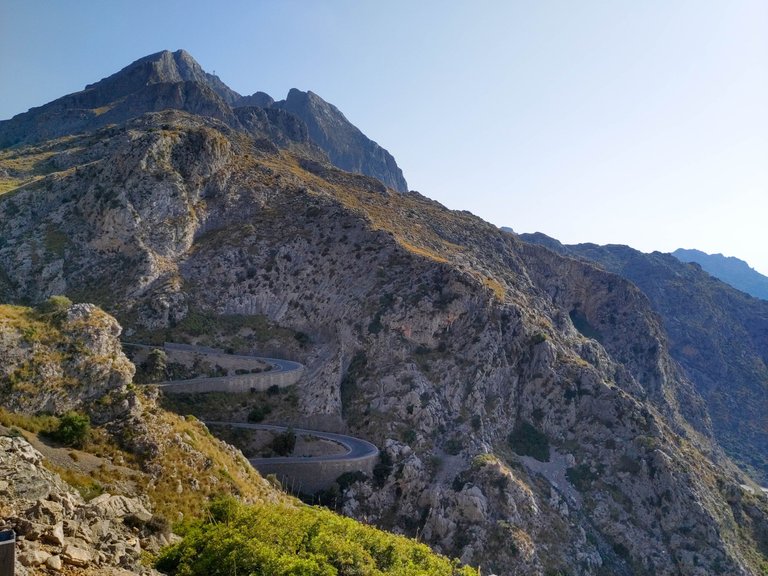 The road is challenging and scary at times, but once you are at the parking slot there is just a short walk to get to the beach, dive in the sea and relax.
If you came to visit Torrent de Pareis you will need to walk a bit more.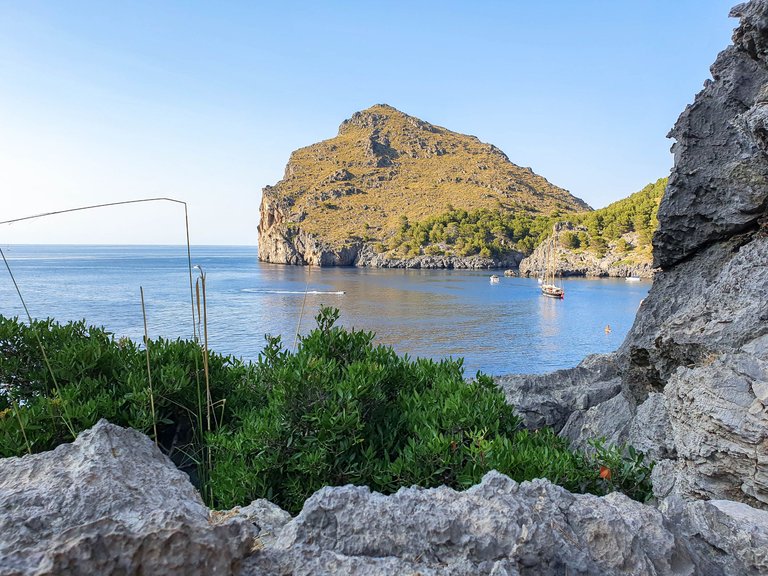 On the way, there are more rocky mountains to admire...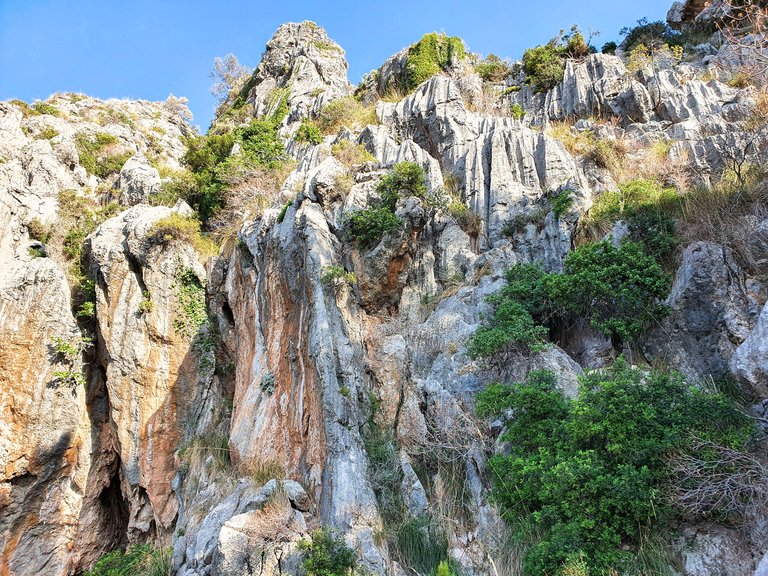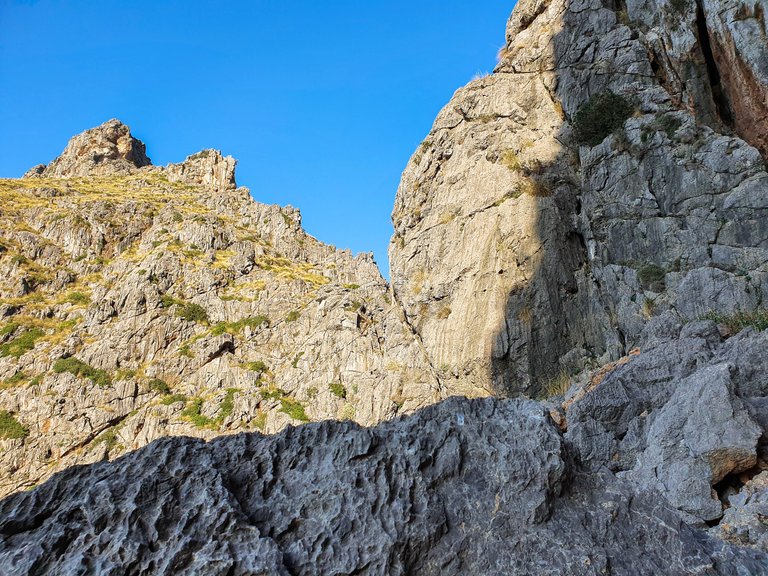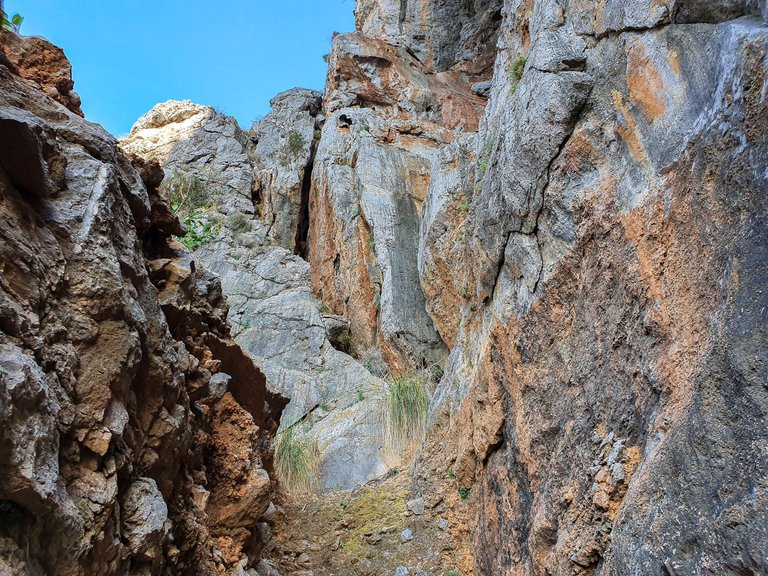 You will cross tunnels through the rock formations...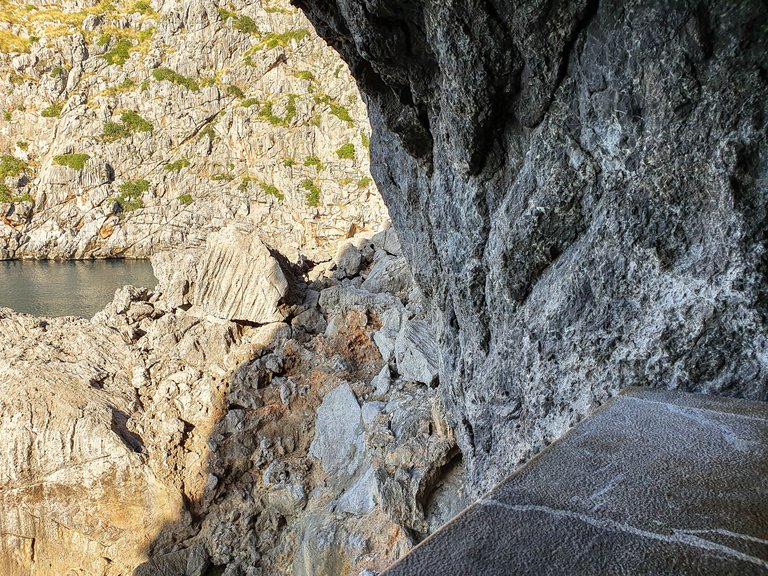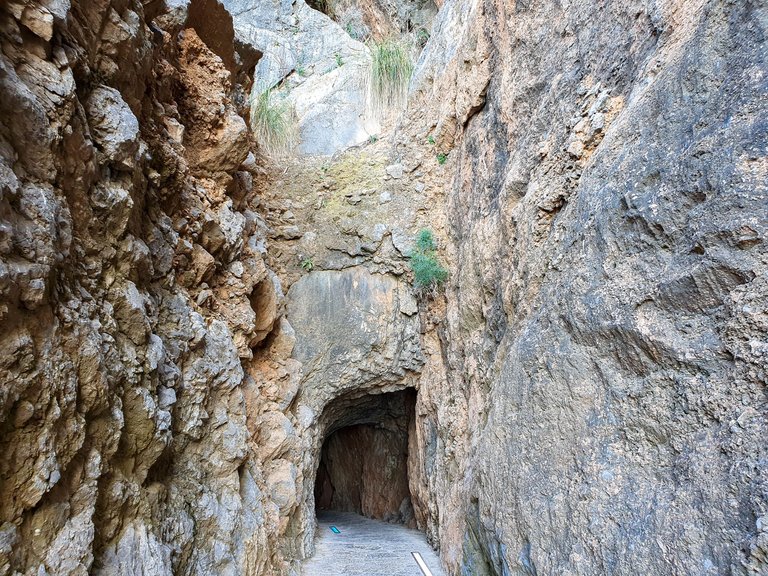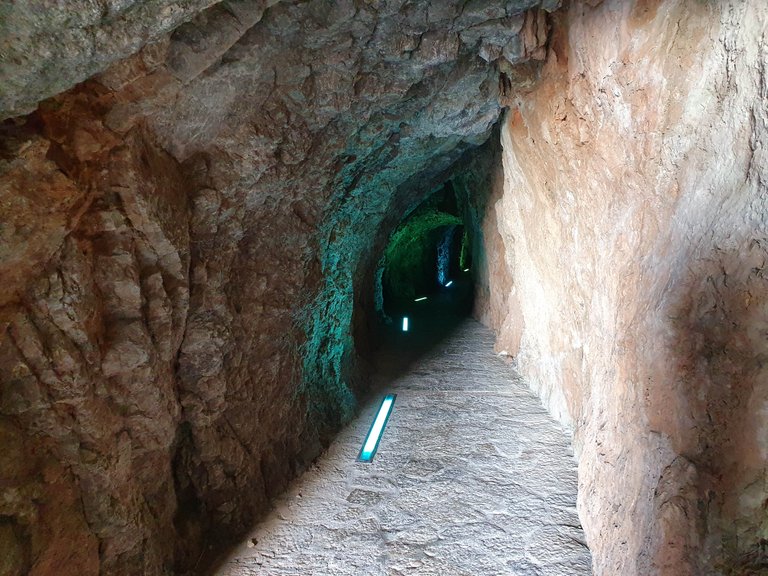 And then you will reach the canyon!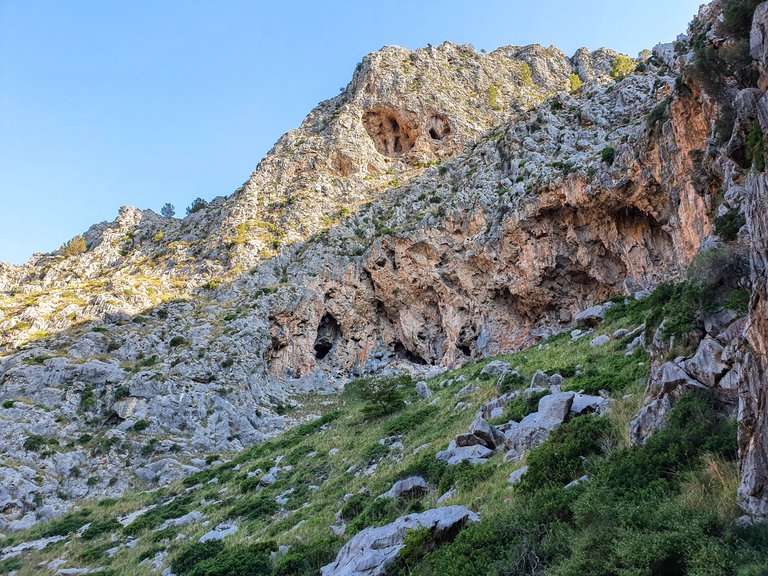 There is an endless pebbles beach..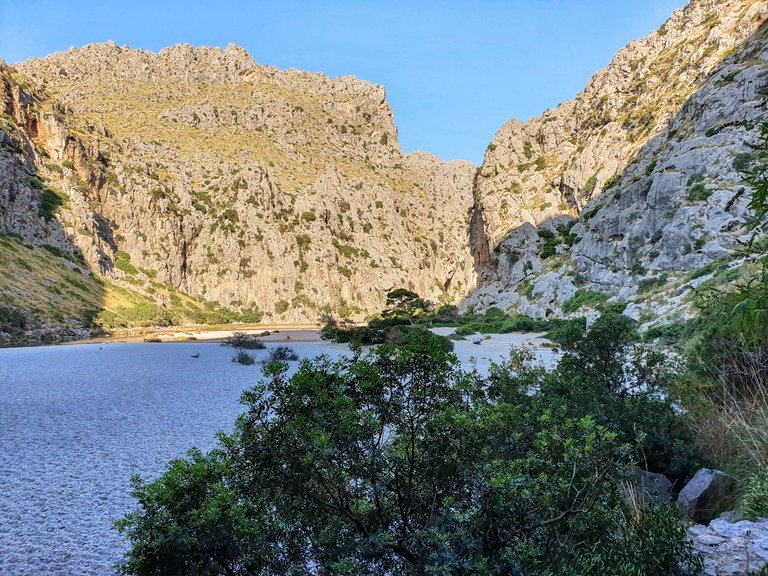 Torrent de Pareis is a dry canyon until mid of September. From autumn to spring, the canyon may be filled with water.
We took the easier way and came here by car but you can also hike down the hill. It takes approximately 3.5 hours and depending on the weather it can be dangerous as the rocks can be slippery. It is not recommended to come here when the canyon is flooded.
It looks like there is nobody here but the beach at Torrent de Pareis is very small and it was so crowded that we decided not to go for a swim. We were in a hurry to get back for dinner anyway, so it wasn't such a big deal.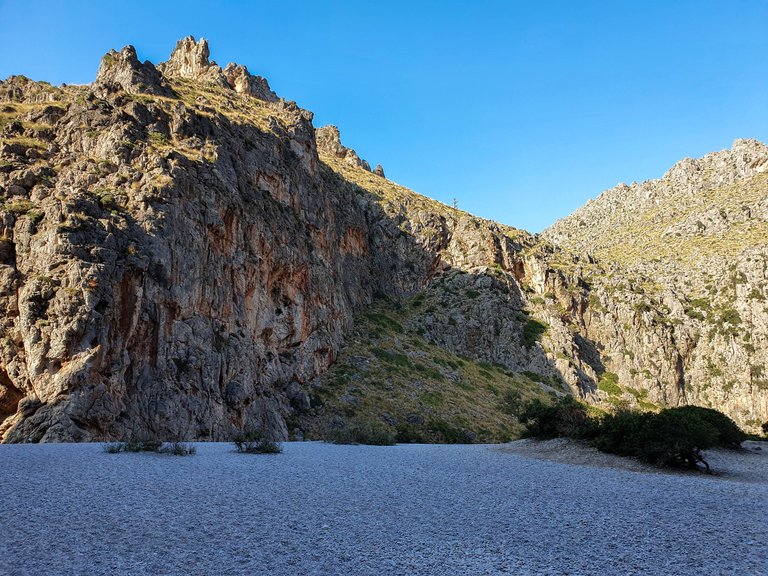 We walked around for a bit and then went back to the car..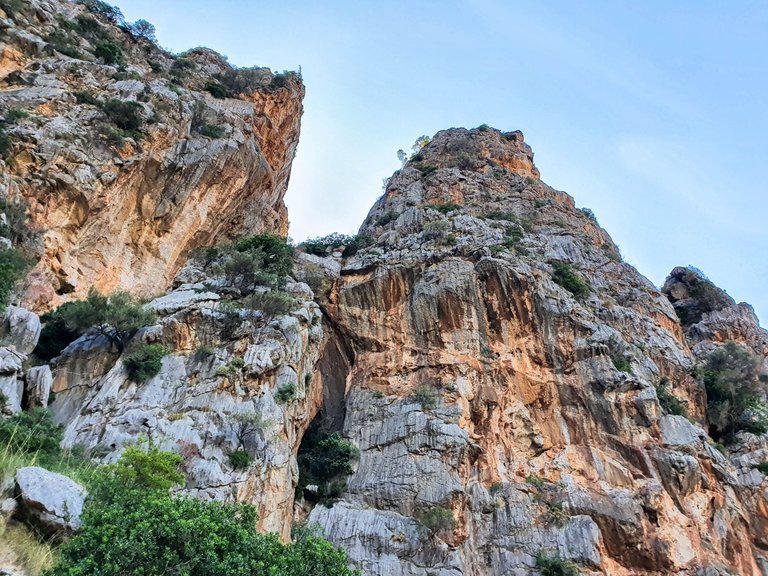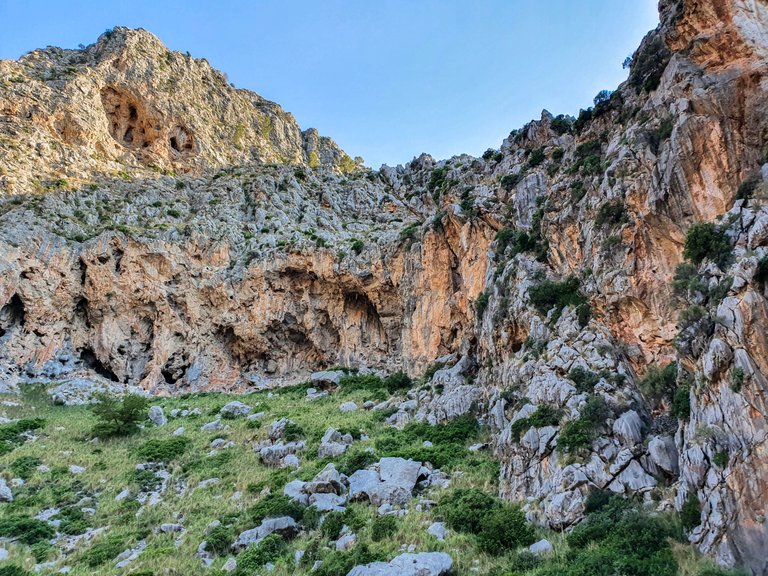 Once we came back up the Ruta de Sa Calobra we had a chance to admire a beautiful sunset. Then it was time to go back...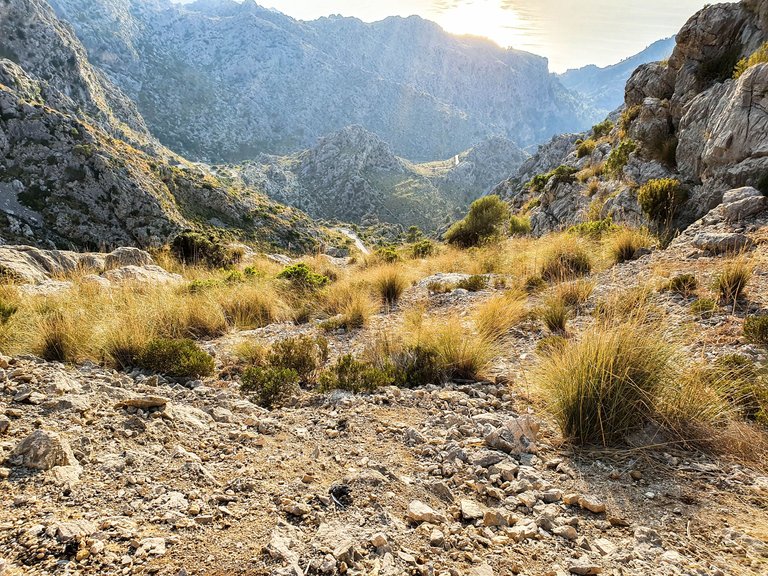 Thank you for reading!
Cheers,
Martina