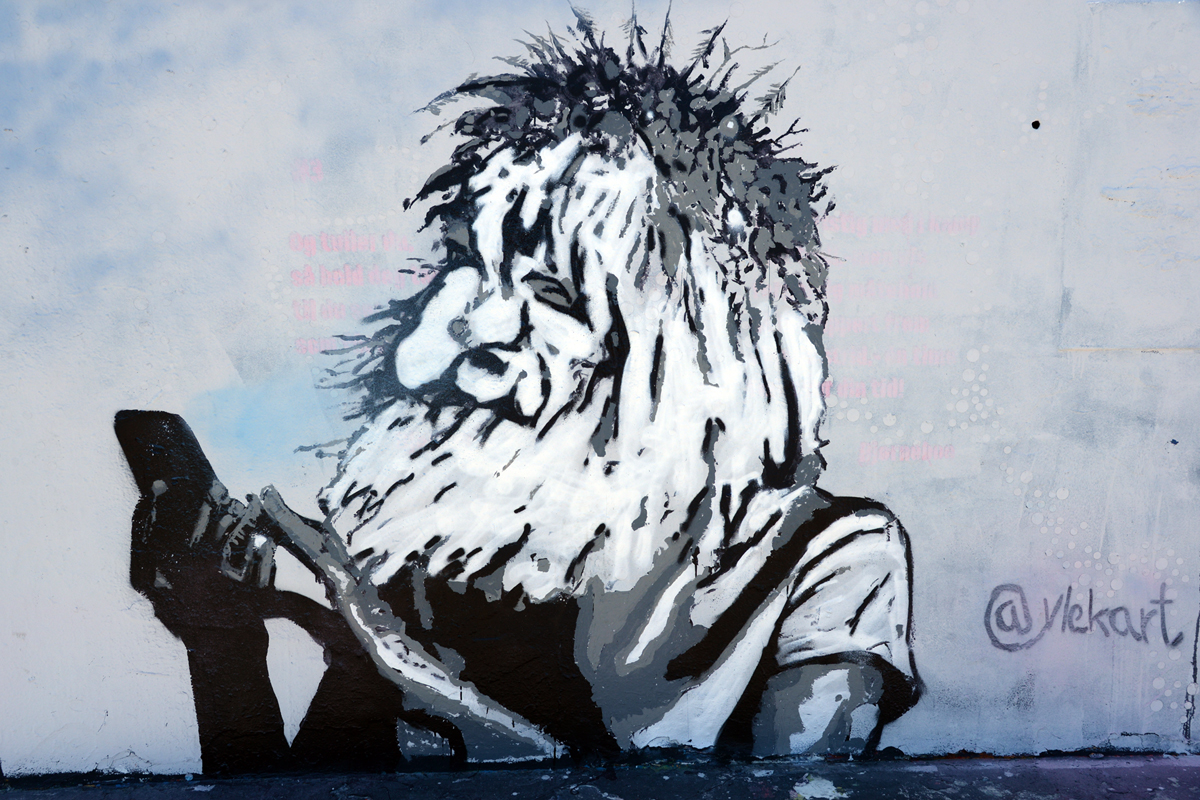 On a random trip I came across a couple of trolls, right at the city center. On the way I passed a power box that mentions trolls and something about "battle against trolls". It may look like the trolls intend to move from the deep forests to the city. One of them has got a mobile phone. Looks like he is adapting to life in the city.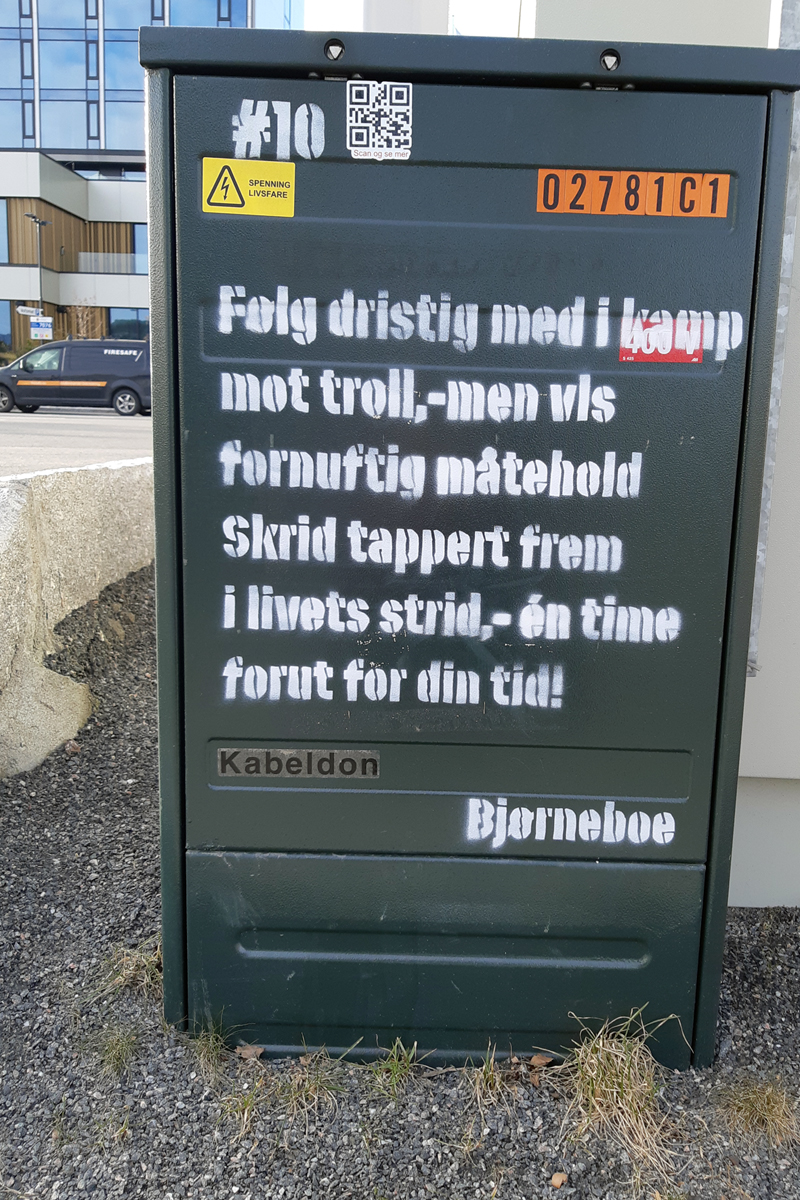 This power box has a text that guides you on the way to the trolls ...The text is written in poetic form so I had a little difficulty trying to translate. But directly translated it says: «follow boldly in battle against trolls, but show sensible moderation. Step bravely forward in the battle of life - one hour ahead of your time». The name Bjørnebo, is the name of a Norwegian author (Jens Bjørneboe) born in Kristiansand in 1920, who wrote in various genres as novels, poetry and essays. I think it might be his words taken from something he has written. I hope my translation made sence.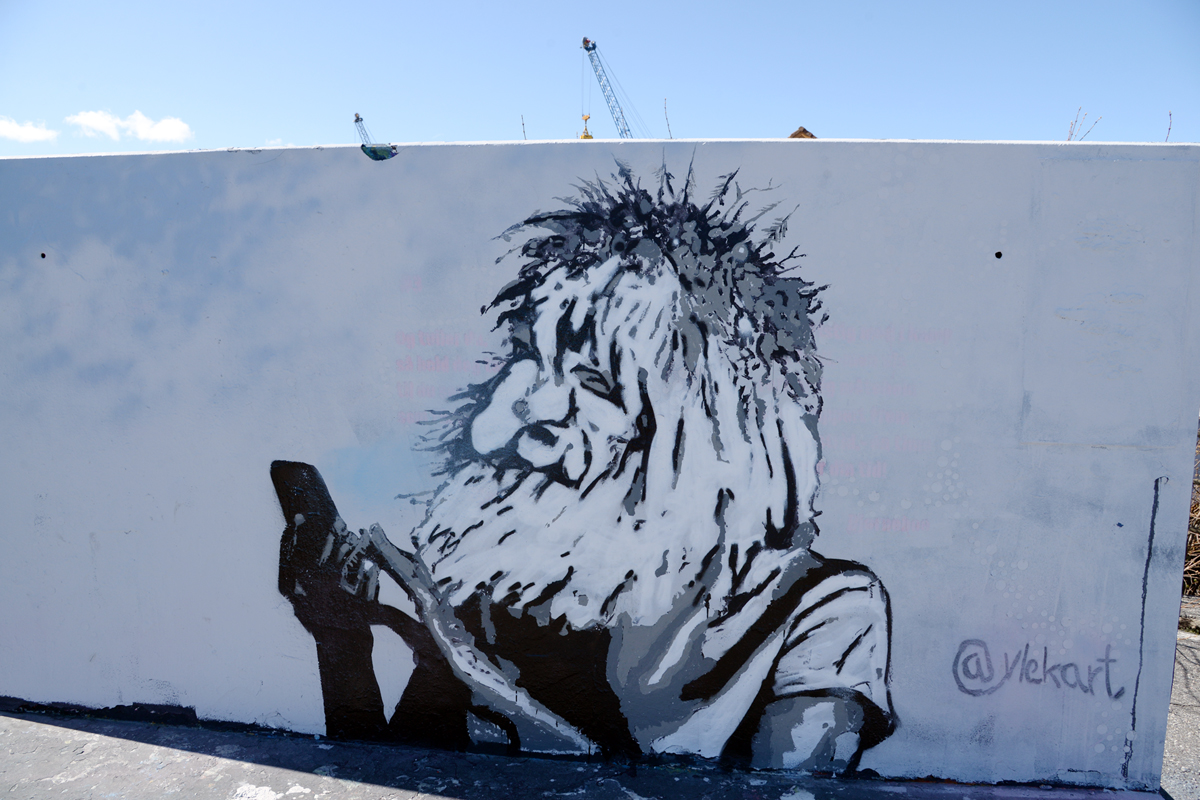 The artist behind this troll is Vlekart, one of our wellknoen and very active artists. But who are these human-like species and where do they come from? In Norway, we know the trolls from our folk tales. These trolls are often portrayed in a derogatory way or at least with a negative undertone. When they appear on drawings, films, etc., they usually do not have an attractive appearance either, although it may vary. They are most often associated with the deep forests and the mountains. It's not so difficult to imagine that a troll or two lurking in the darknes have helped to compose stories about trolls that scare people. Many names of natural sites and mountains in Norway have names associated with trolls, like Trollstigen and Trolltunga (a rock formation).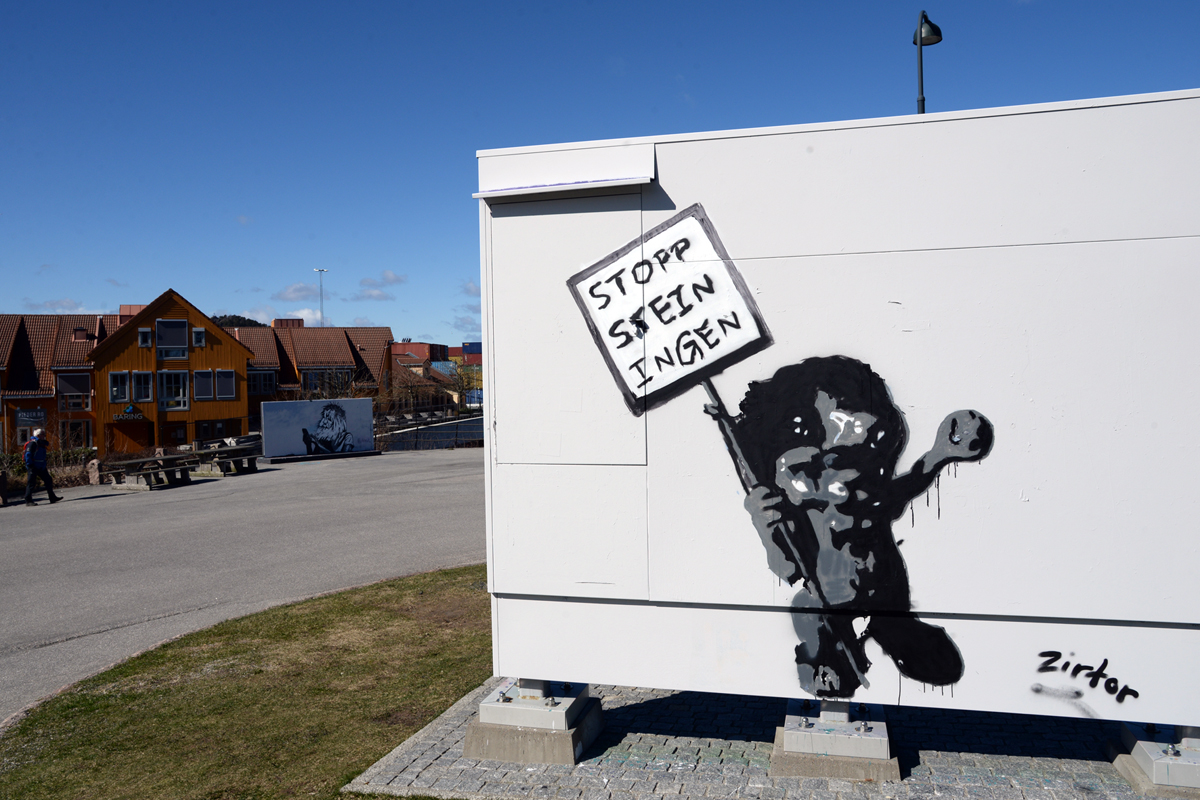 There is one more troll on the opposite side of the street. I wouldn't have seen it if I hadn't decided to cross the street. Luckily I did. He is smaller and carrying av sign saying something like « do not strow stones at anyone» but it looks like he is holding one in his other hand....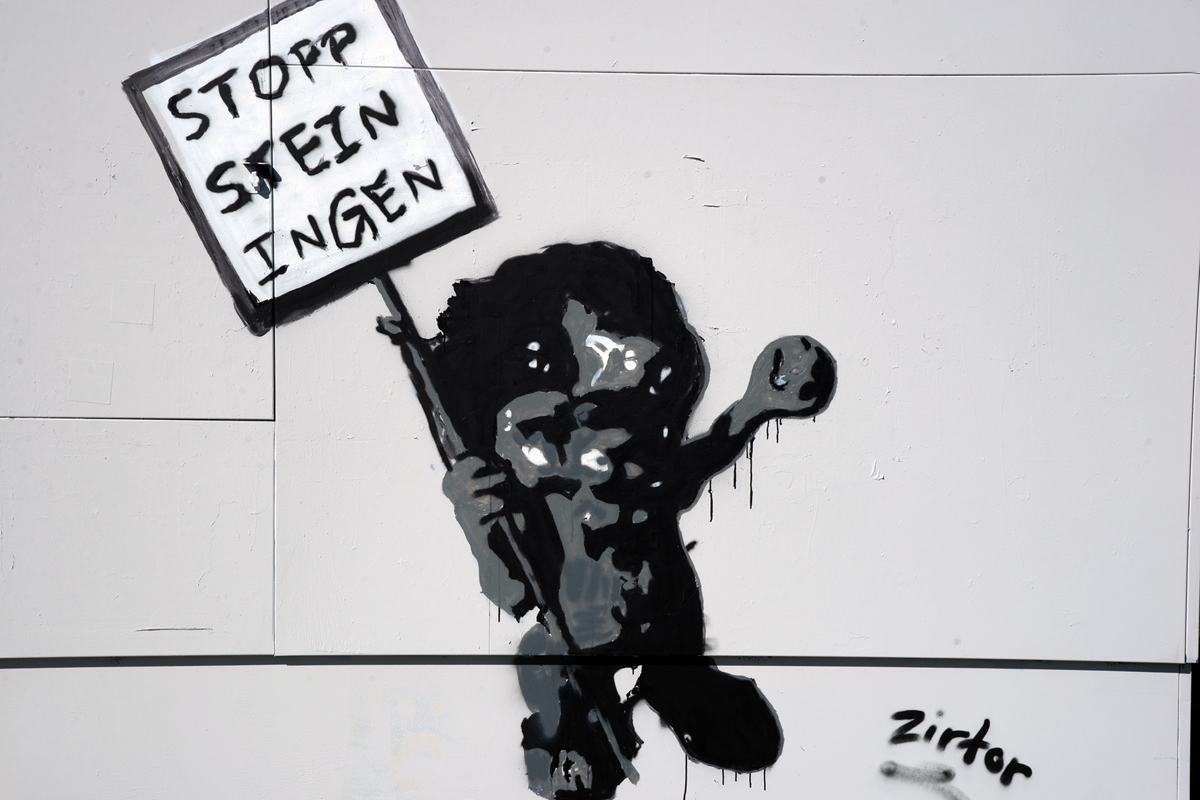 Before all these fairy tales were collected and written down, people have been passing them on from generation to generation, but in oral form. In this way, they have survived for hundreds of years, until Asbjørnsen and Moe decided to do something about it. For a period around 1830s they traveled togheter with a pencil and notepad, thus collecting a number of stories which they later published in book form (1841).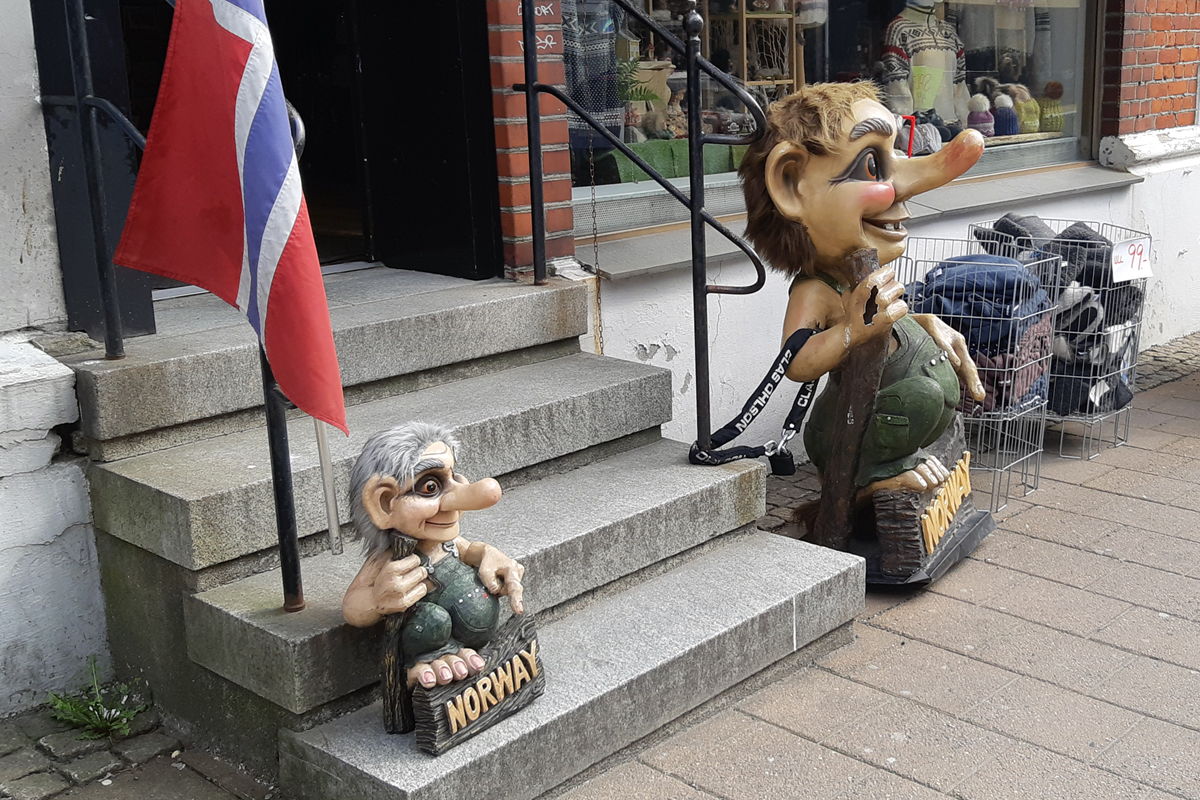 Trolls outside a souvenir shop
This is not the first time a troll has come to the city. All souvenir shops aimed at tourists usually have a large one or two standing at the front door. Inside the shop you will find a large selection of trolls of all sizes. A popular souvenir. They are quite cute, aren't they?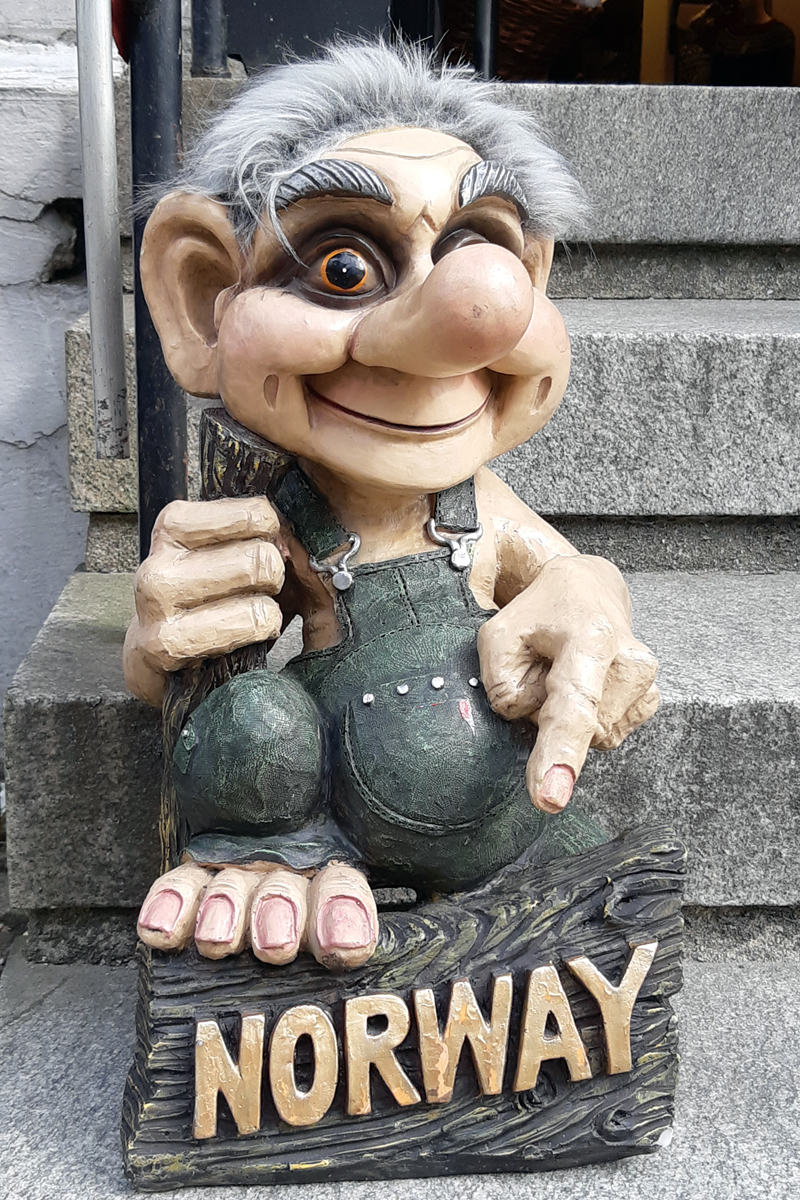 Source:
https://no.wikipedia.org/wiki/Norske_Folkeeventyr
You like street art? Join our street art contest ->
CCC's Street Art Contest #35 | 100% Liquid Payout as Prize Pool & Winners of #34
Please do follow if you want to keep up with my next street art. Any upvotes or resteems are hugely appreciated!
Latest street art post, check out :
STREET ART #86 - Graffiti in Copenhagen (Denmark)
U.J
Kristiansand, Norway
All the photoes are mine, Ulla Jensen (flickr, Instagram and facebook)
[//]:# (!pinmapple 58.147311 lat 7.996127 long STREET ART #87 - The trolls in town (Kristiansand, Norway) d3scr)
Read about us? // Main page!
Latest content: Travel, Art, Food, Article, Poetry