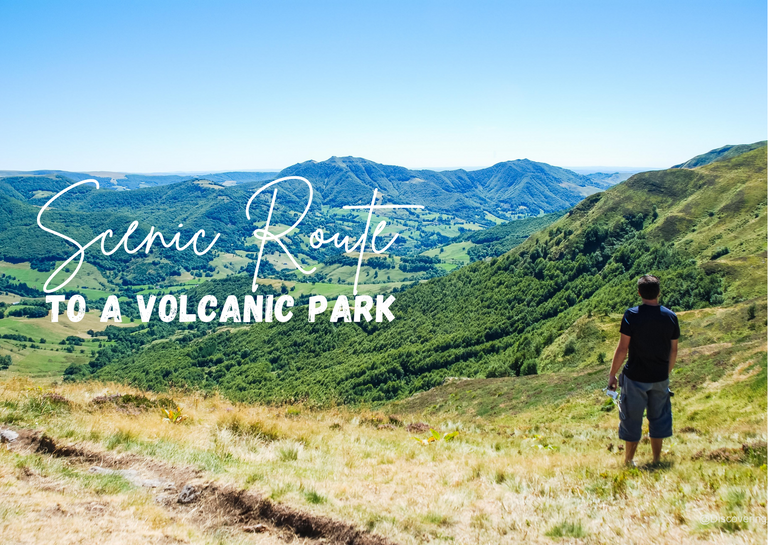 Hello Hive Travelers,
The sound of the ice maker and ice cubes filling up the tray made me long for cooler weather. I could almost see the disbelief on your face right now but yes, while the rest of the world longed for the sun, I am sipping my coffee while sweating in places I never thought possible.
It took months before I could continue the Auvergne series as life spontaneously brought my sister and her family here to the resort village for a one-week visit.
Detours are my favorite part of travel as with life in general. The alternate route brings raw experiences and unexpected discoveries that sparked many travel conversations. Allow me to take you on a journey through the volcanic hills right at the heart of France.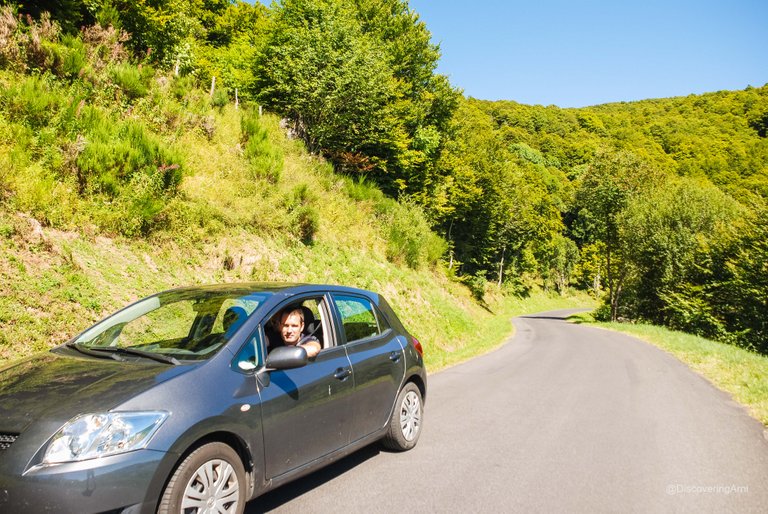 One bright and sunny summer back in 2012, my husband and I spent a week in an organized family getaway in the volcanic region of the Massif Central.
In the first part of the series, I talked about where we stayed, things to do around the area, and how to get there.
---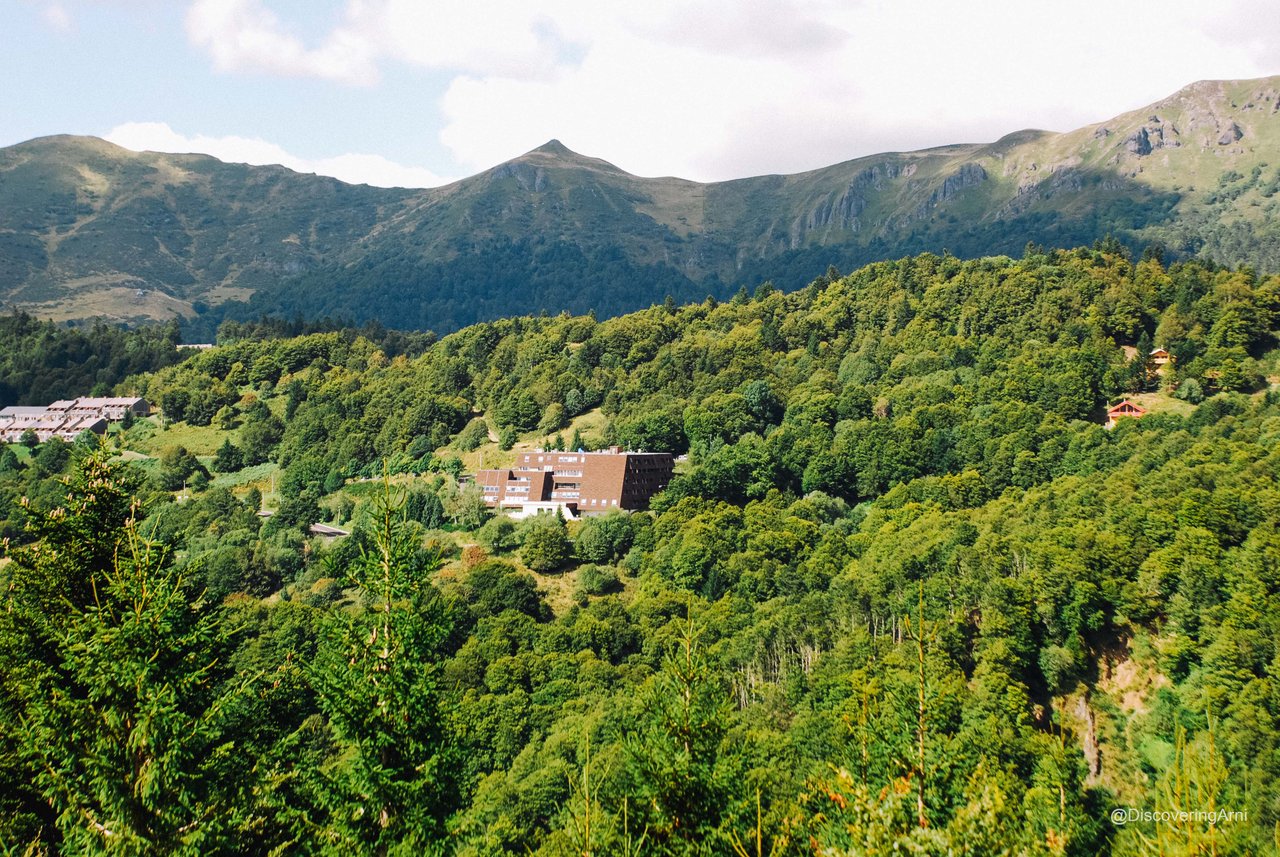 ---
During our journey to visit Salers which was the second part of the series, we made several stops. One of them was this quaint village whose name I couldn't recall.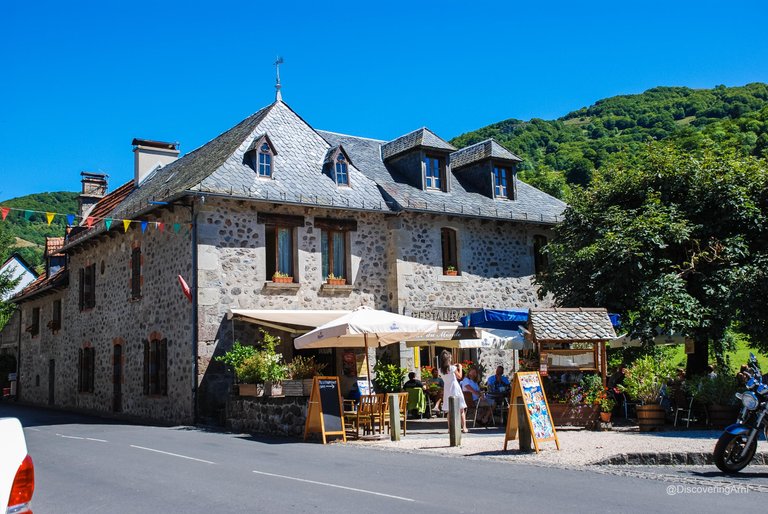 We just had a heavy lunch of the region's traditional specialty called Truffade at the hotel. Imagine pancake-like layers of shredded potatoes and bacon almost to the consistency of mashed potatoes baked in loads of cream, Gruyere, and Cantal cheese. The dish will guarantee a drowsy drive under the bright sun so a coffee stop to stretch the legs and caffeine buzz was more than welcome.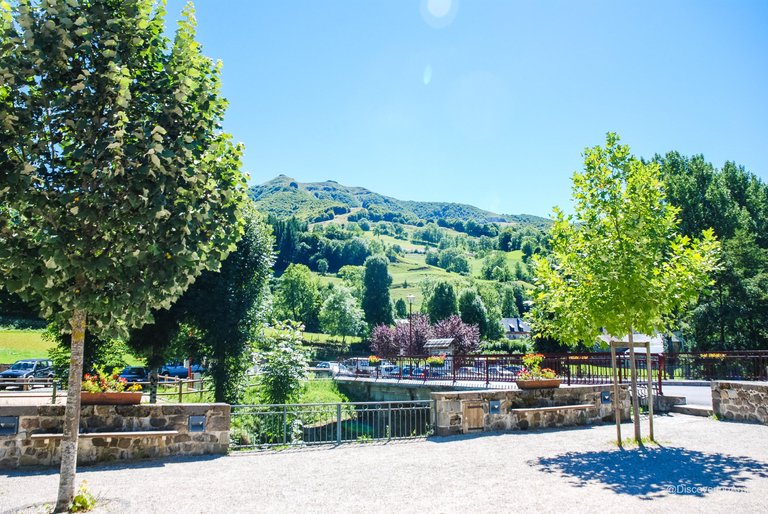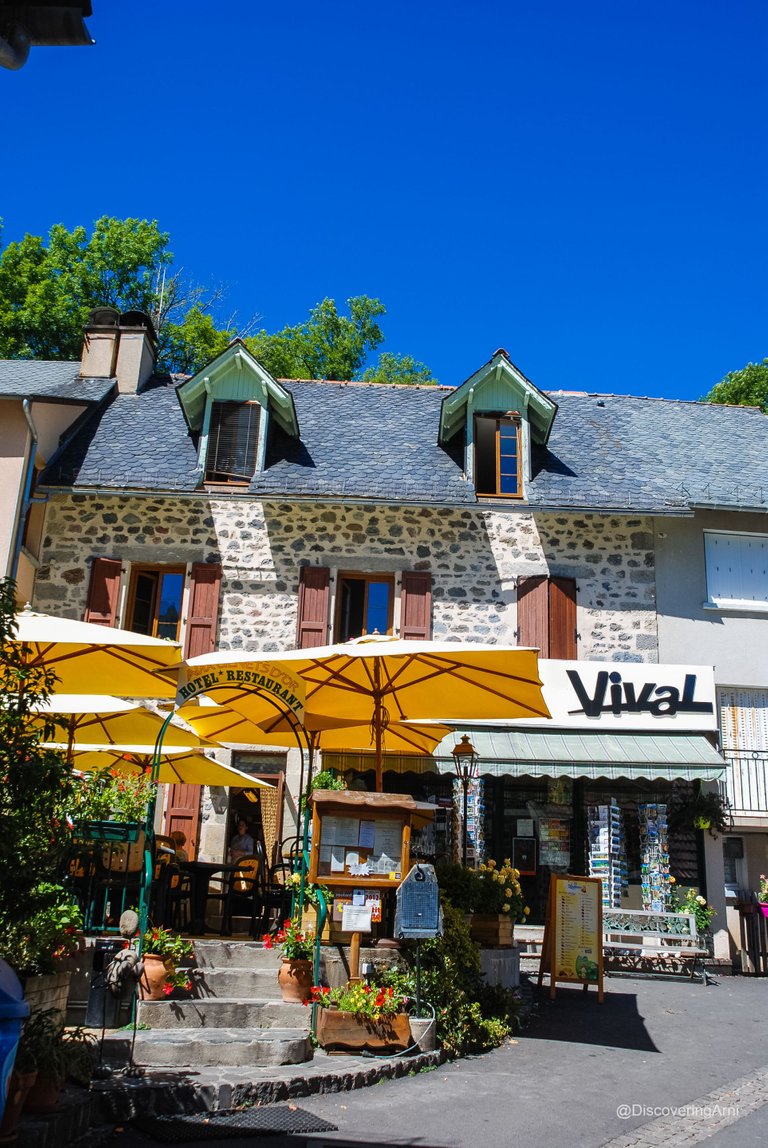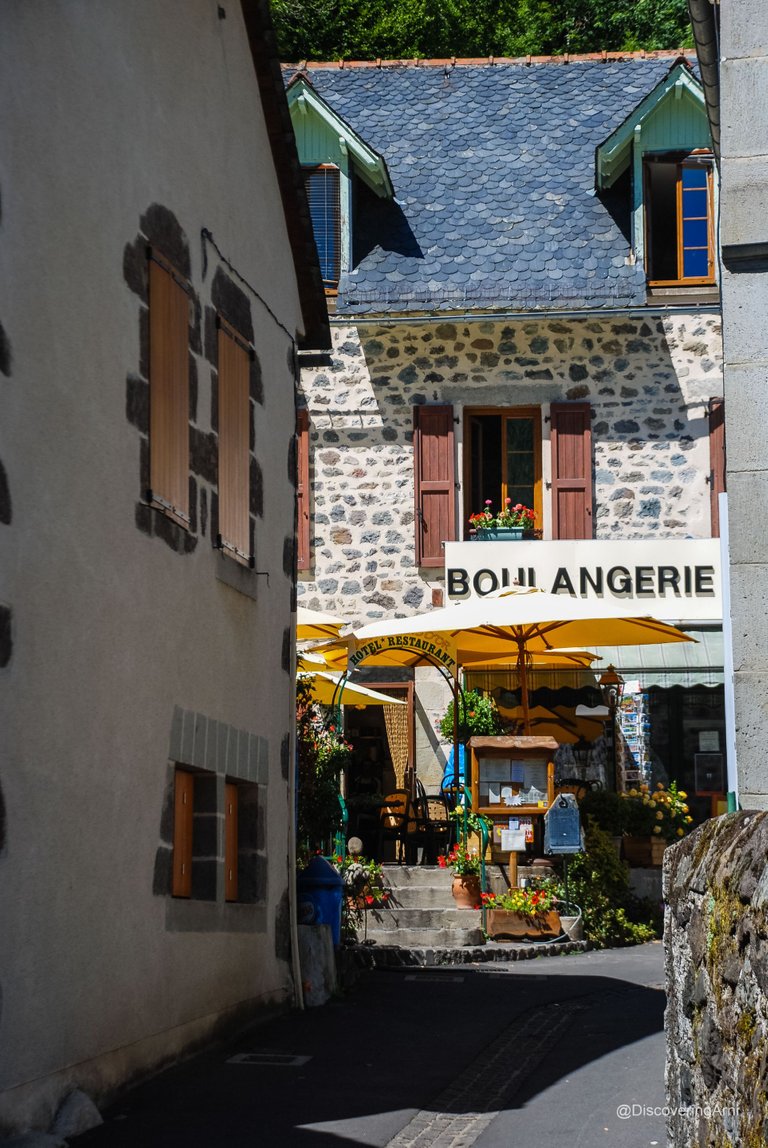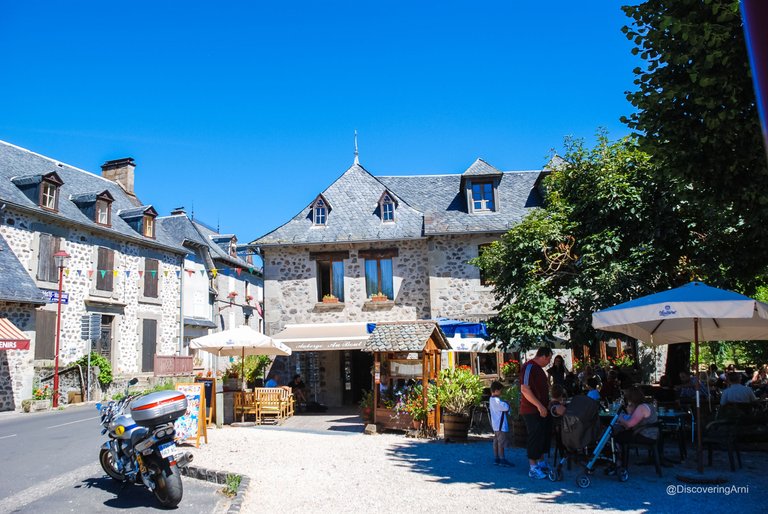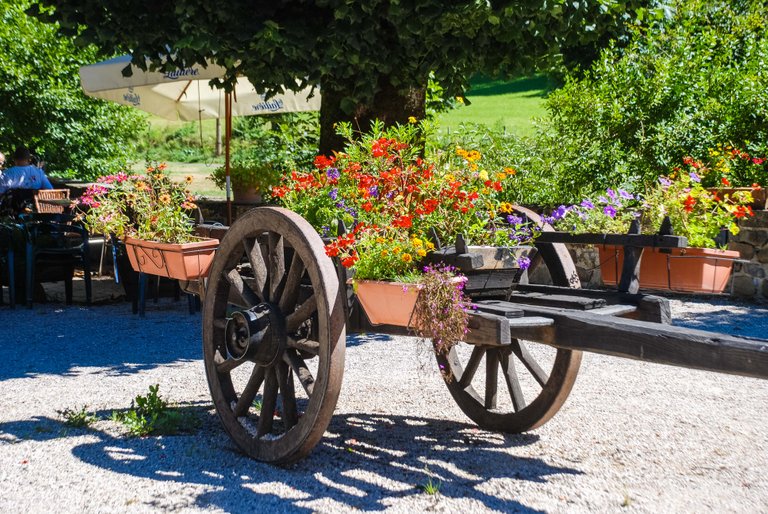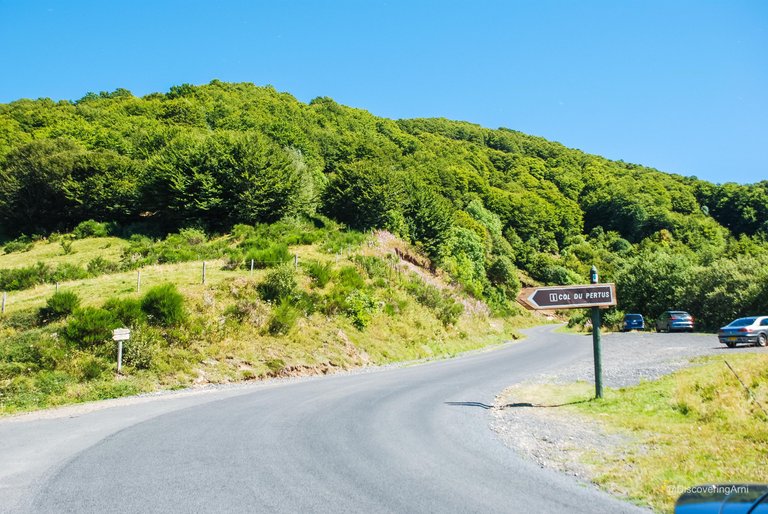 Auvergne, The Land of Volcanoes
I didn't know much about the Massif Central before taking this road trip but I later learned that if you're fascinated by volcanology, this tectonic hotspot is the best place to learn about it in Europe. It is home to the biggest stratovolcano on the continent and a hiker's dreamland.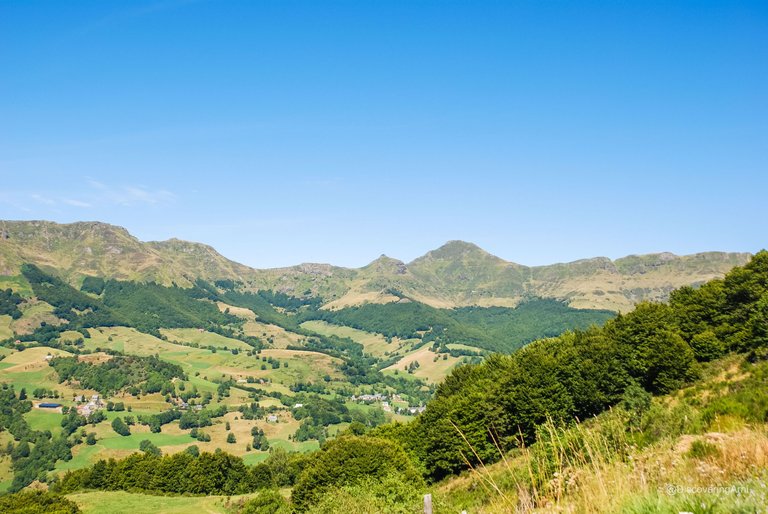 The unspoiled landscape with its impressive green peaks made up of "Puys" meaning hills stretches wide occupying two departments- Cantal and Chaîne des Puys. The latter is a 45-kilometer long chain of 80 volcanoes about 3 to 5 kilometers in width with Puy de Dome (1,465 m) as its highest peak. The Chaîne des Puys - Limagne Fault is a UNESCO World Heritage Site 1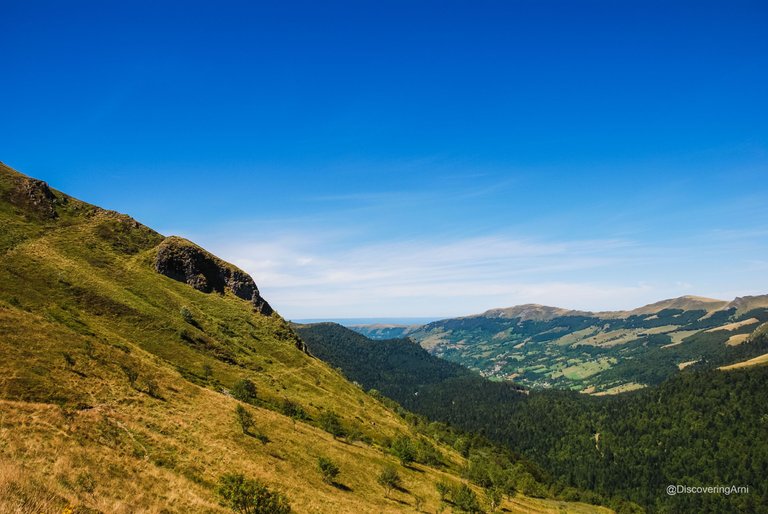 There are two ways to access the Auvergne Volcanoes Region Nature Park in the Cantal Mountains side. We took the more scenic route of Mandailles Saint Julien, the D317 road. @iamyohann drove the small sedan along a meandering mountain road lined by pine trees in varying shades of green and steep ravines.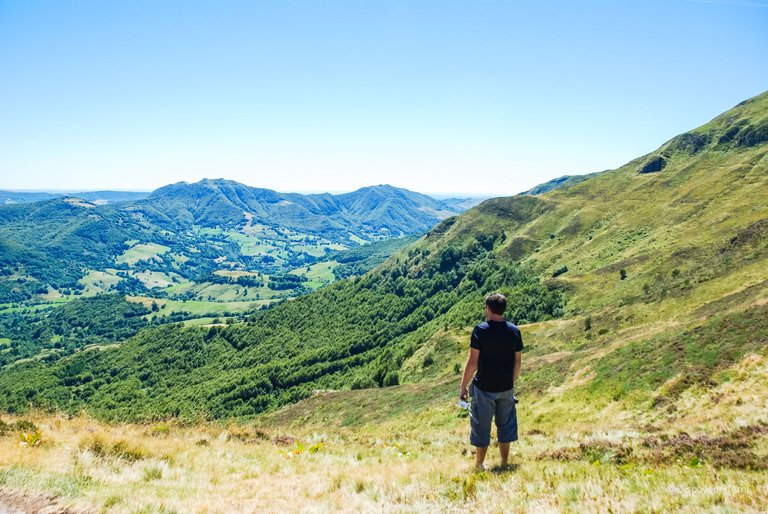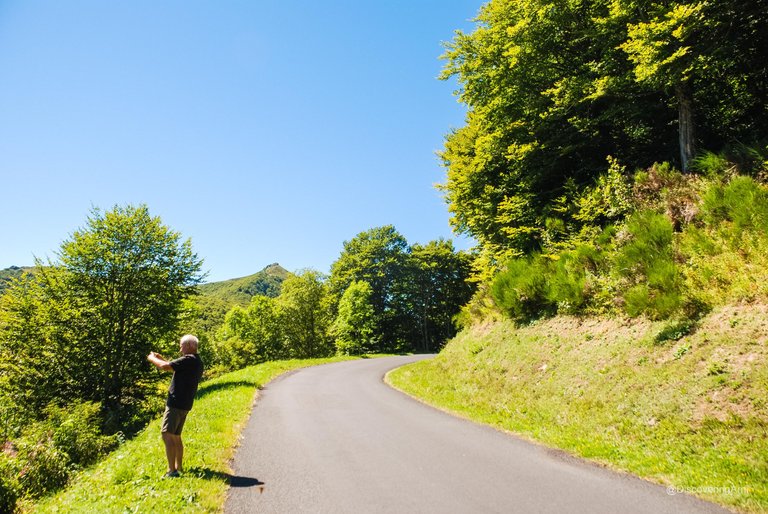 There were numerous observation decks along the way which led up to the Grand National Site of Puy Mary. The family was kind enough to oblige to my photographic whims to stop wherever it was safe enough to do so. They happily took photos as well at the same time.
Our road trip was centered on Cantal Volcanoes and the sign of Auvergne Volcanoes Region Nature Park revealed that we had arrived.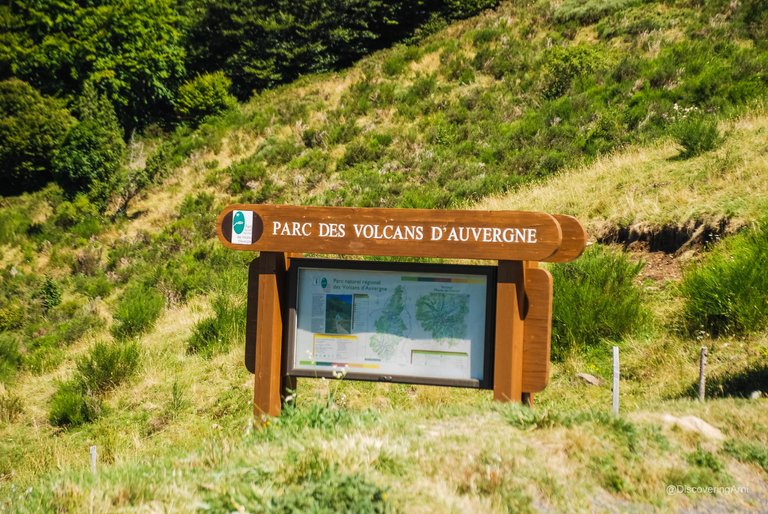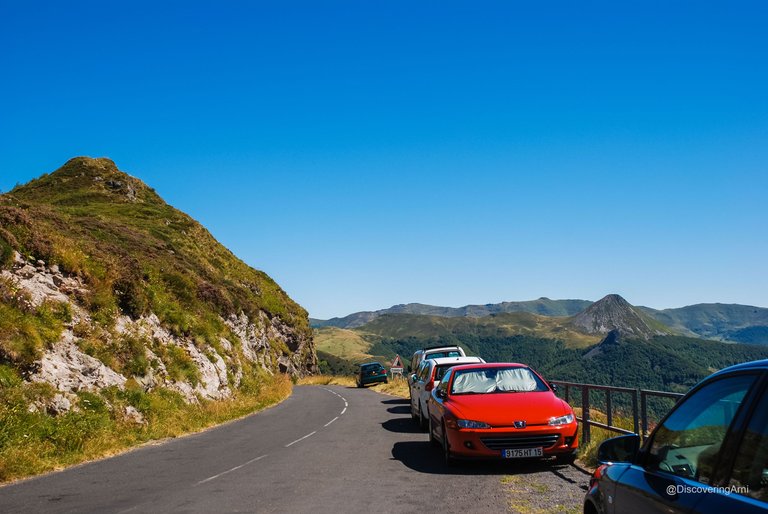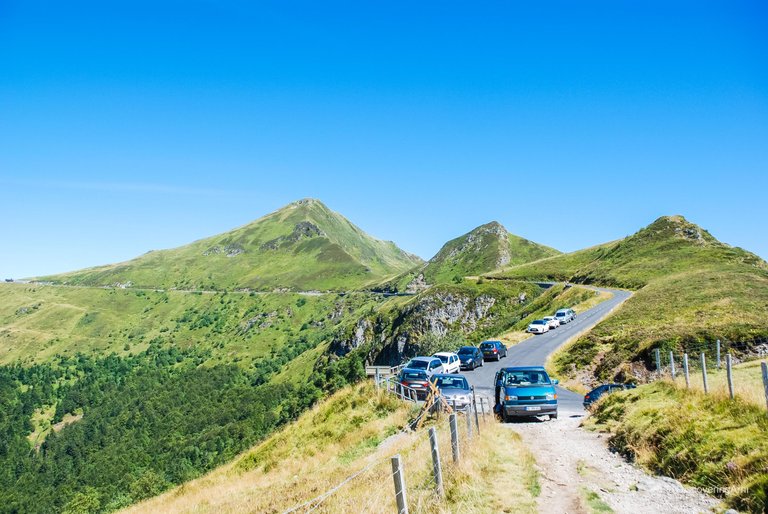 Parc des Volcans D'Auvergne is the biggest regional nature park in France that spans 395,000 hectares in the surface area 2 It is 6 hours southbound from Paris by car.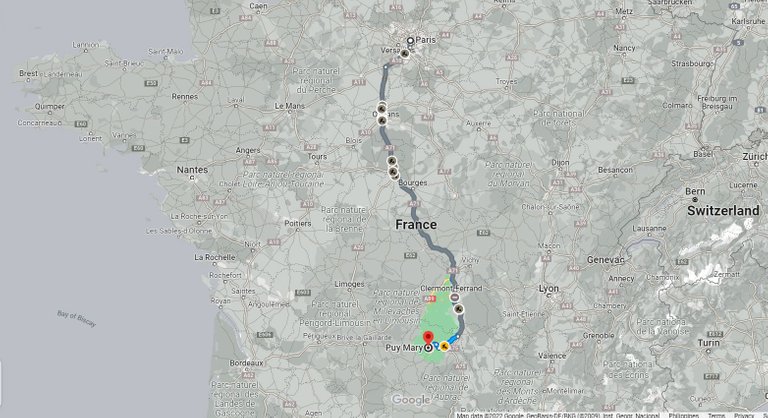 Source
The extinct and dormant volcanoes of Massif Central are said to have been formed 60 million years ago due to the collision of the African and European tectonic plates. When the European plates slipped under the former, this triggered the appearance of fault lines which gave birth to the appearance of Cantal Volcanoes 13 million and 3 million years ago.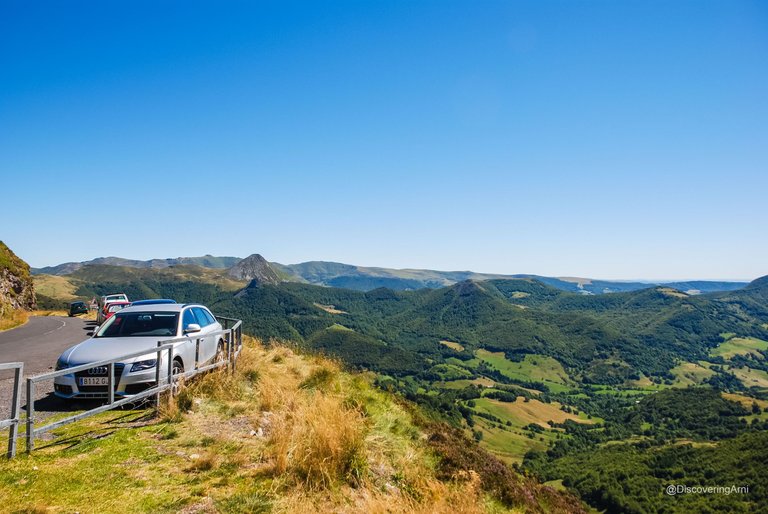 The Auvergne Volcanoes Region Nature Park has limited parking spaces. We parked the car along the side of the road and walked to get a better view.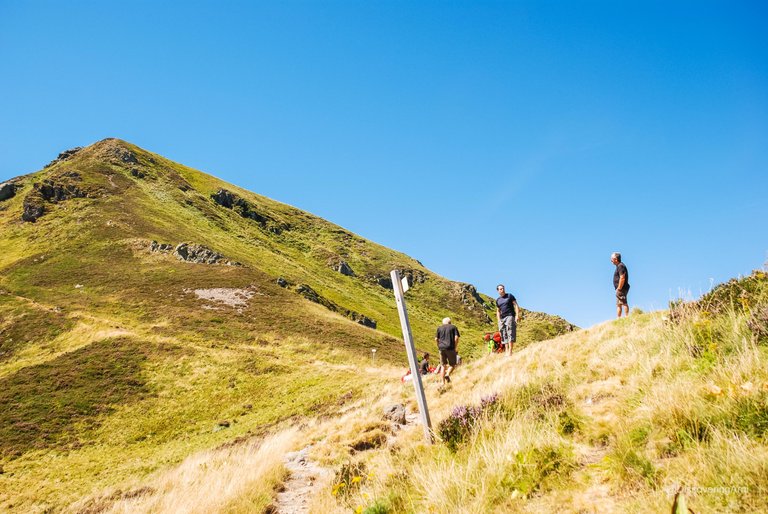 Puy Mary is a pyramid-shaped summit of a trachytic extinct volcano. It is said to be an arduous climb on a beaten path. There are many versions of its height but according to the wiki, it is 1783 m.
We didn't attempt to climb the summit due to the lack of time and I could easily blame the truffade that we ate for lunch. Instead, we followed the path around the surrounding areas to admire the vast terrain and its conical peak.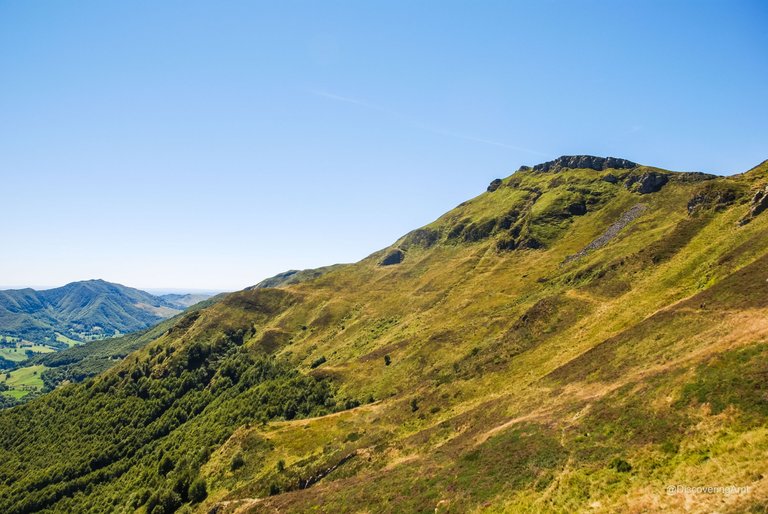 My Takeaway
The Volcanic region of Massif Central is not only for volcanology and geology aficionados. It is a hiker's wonderland where you'll be enthralled by ravines, forests, lakes, dormant and extinct volcanoes, valleys, and architecture made of volcanic stone.
It is huge! We have only seen a small fraction of the Cantal Stratovolcano during the entire trip including Puy Griou and Plomb du Cantal.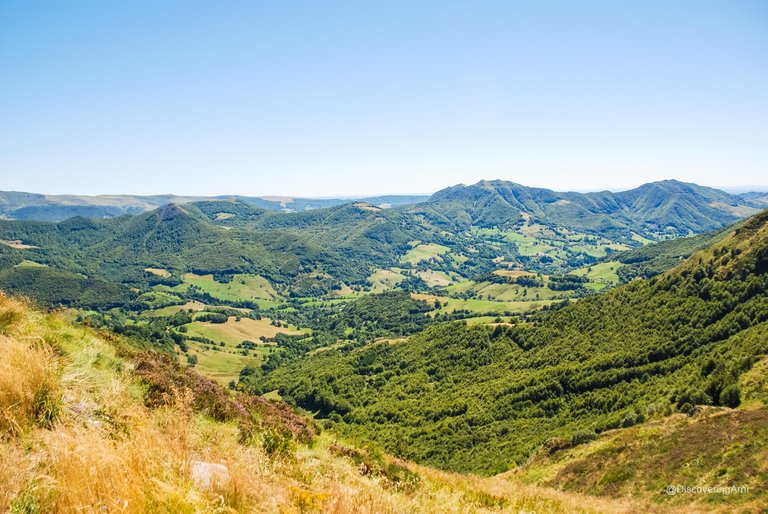 To encapsulate what a vacation in the Cantal Mountains is like as succinctly as I could muster, delight in Auvergne's gastronomy - Saint Nectaire and Cantal Cheese, truffade, Tarte aux myrtilles (blueberry tart), sip a lot of Saint-Pourçain wine and then hike in this tectonic paradise till you drop and repeat.
Having said that, catch the next post about the Burons, the house of cheese making.
Do you like Eat-and-Hike getaways? Are you a volcanology junkie? Then this is a great destination for you.
Thank you for reading!
Related post about Auvergne that might interest you:
Part 1 - Experience an Organized Family Vacation in Le Lioran, France
Part 2 - Salers
Part 3 - Murat
Part 4- Road Trip Postcard in Auvergne: Day Hikes Around Plomb du Cantal
Puy Griou
References:
1 The Chaîne des Puys - Clermont Auvergne Tourisme
2 The Auvergne Volcanoes Regional Nature Park - France Voyage
Geotours France 1: Cantal and the Chaîne des Puys
Cover image edited with Canva
---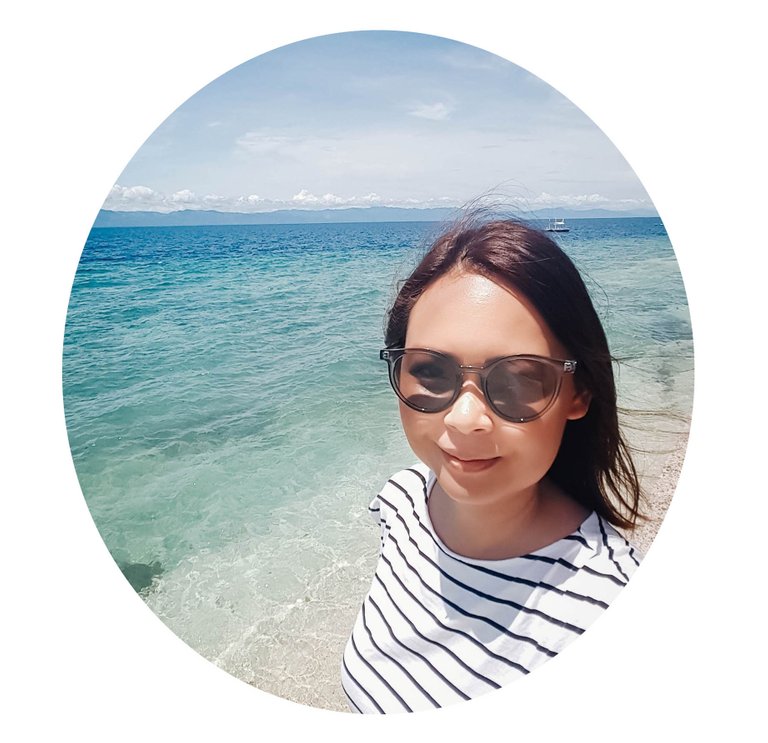 "I am an old soul who simply loves coffee, who finds joy and beauty in both tangible and the unseen."
Curiosity and imagination lead to unexpected experiences. Interested in Nature, Places, Roads Less Traveled, Minimalism, Authentic Living, Anything French, and International Cuisine. Feel free to follow her, re-blog, and upvote if you enjoy her content.