Hola a todos! espero estén bien, y por segunda vez volví a la espectacular comuna 13 en Medellín Colombia pero esta vez acompañada por mi amigo Pawel de Polonia puesto que él quería que le mostrara este lugar y le encantó sobre todo por las escaleras eléctricas porque si no tendría que caminar mucho, incluso hay que caminar un poco para ver todo lo genial que hay en este sitio pero sin duda lo van a disfrutar si la visitan.
Hi all! I hope you are well, and for the second time I returned to the spectacular commune 13 in Medellín Colombia but this time accompanied by my friend Pawel from Poland since he wanted me to show him this place and he loved it especially because of the escalators because otherwise he would have to walk a lot, you even have to walk a little to see everything great that is in this place but you will certainly enjoy it if you visit it.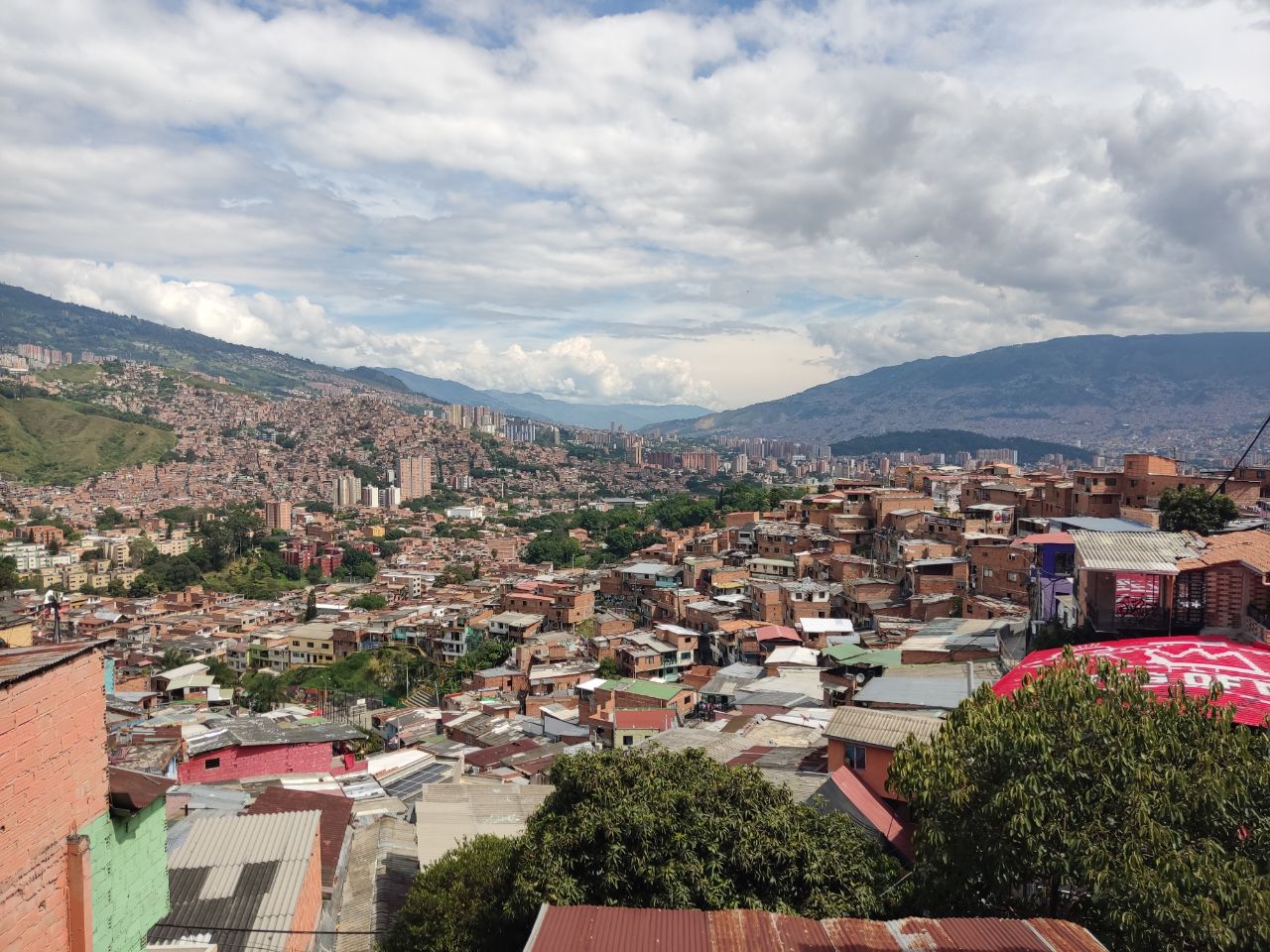 LINK de pinmapple [//]:# (!pinmapple 6.256933 lat -75.614358 long d3scr)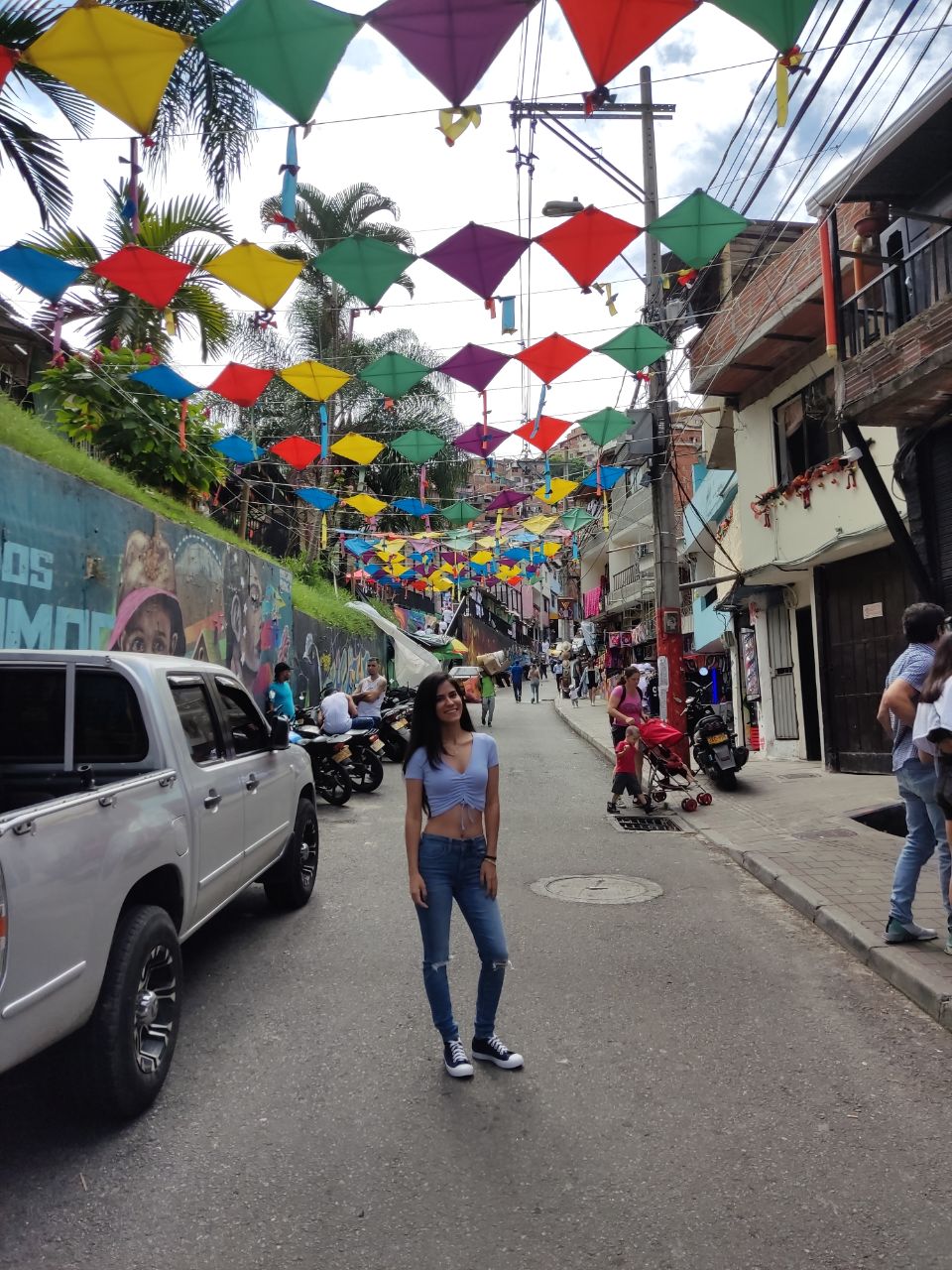 La primera que fui allí fue hace 3 meses y recordaba la entrada de este lugar, pero no recordaba cómo llegar allí, entonces pedimos un Uber hacia la comuna 13 y este nos dejó justo al frente de la estación de metro llamada San Javier, entonces no sabía que hacer allí y preguntando a las personas me dijeron que teníamos que tomar uno de los buses verdes que están allí que estos nos dejaban en la colorida comuna 13 puesto que si nos íbamos caminando íbamos a tardar demasiado y realmente me di cuenta en el bus que era así.
The first time I went there was 3 months ago and I remembered the entrance of this place, but I didn't remember how to get there, so we asked for an Uber to commune 13 and it left us right in front of the metro station called San Javier, so no I knew what to do there and when I asked the people they told me that we had to take one of the green buses that are there, which left us in the colorful commune 13 since if we walked we would take too long and I really realized it on the bus that was so.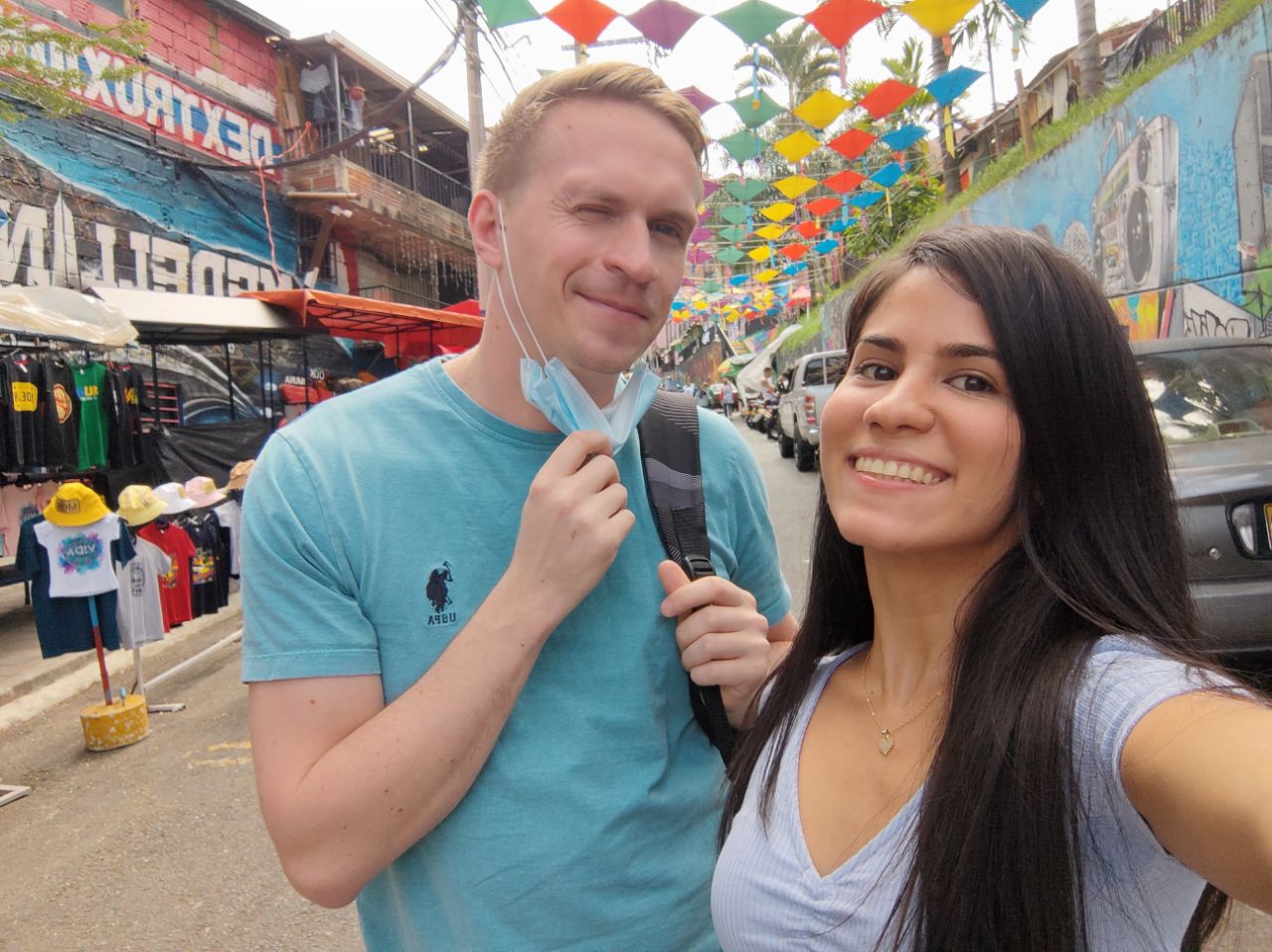 Creo que el aviso que tienen estos buses es graffiti tour, porque sí, ahora esta comuna 13 es muy conocida por los muchos graffitis de muchos colores, además los chicos bailando tan genial, y por supuesto lo que nos nombre de primero, las varias escaleras eléctricas que facilitan el paseo de nosotros los turistas.
I think that the warning that these buses have is graffiti tour, because yes, now this commune 13 is well known for the many graffiti of many colors, also the kids dancing so great, and of course what we name first, the various stairs electricity that facilitate the walk of us tourists.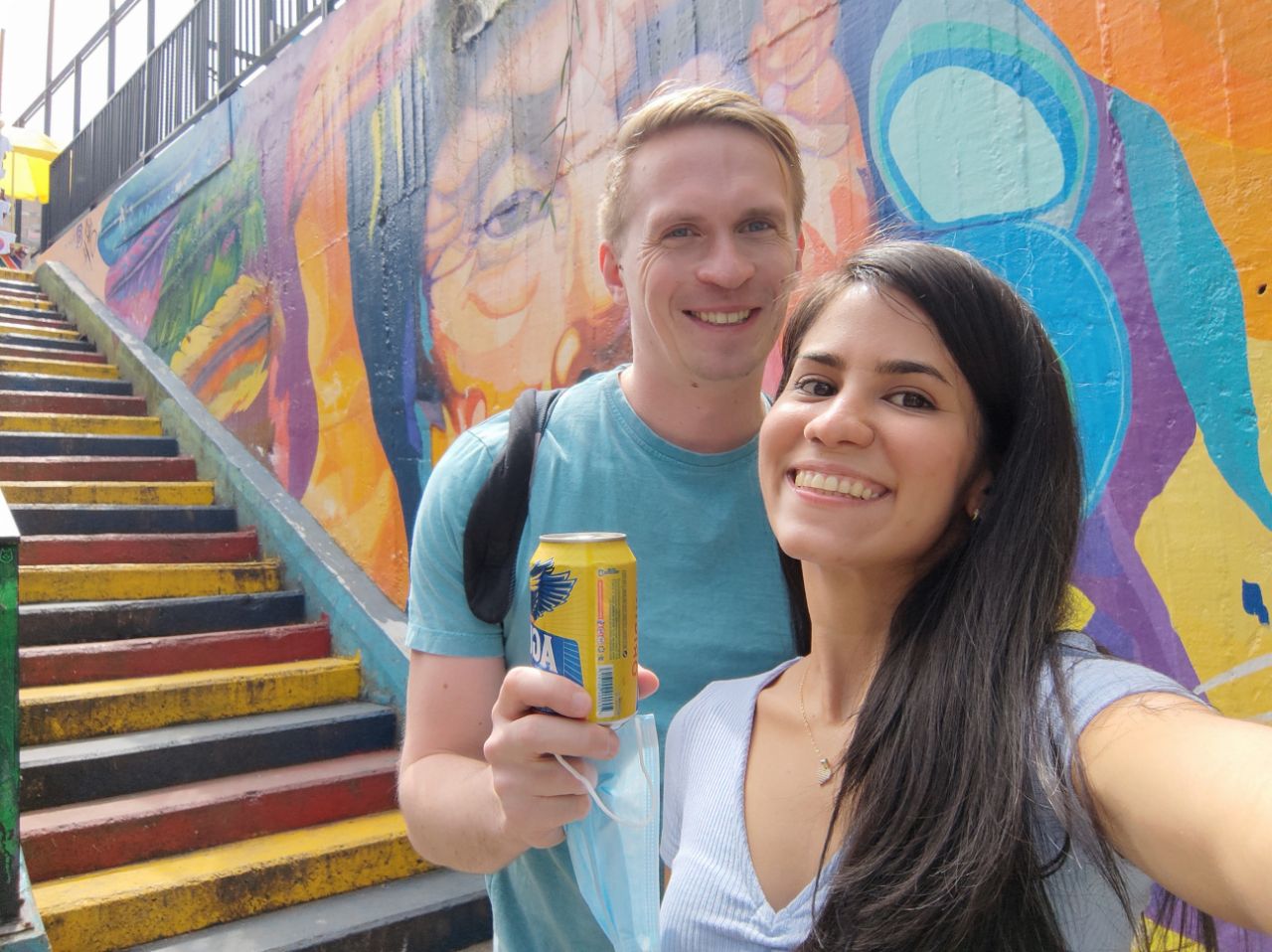 Ahora bien, lo primero que hicimos antes de empezar nuestro paseo fue comprar una cerveza águila (mi favorita de Colombia) puesto que estaba haciendo demasiado calor y queríamos refrescarnos, así que fue una genial idea, otra de las cosas que llaman mi atención en este lugar son las franelas coloridas que venden y otras no tan coloridas, pero con la cara de Pablo Escobar, quien fue un muy conocido narcotraficante.
Now, the first thing we did before starting our walk was to buy an Águila beer (my favorite from Colombia) since it was getting too hot and we wanted to cool down, so it was a great idea, another of the things that caught my attention in this place are the colorful flannels they sell and others not so colorful, but with the face of Pablo Escobar, who was a well-known drug trafficker.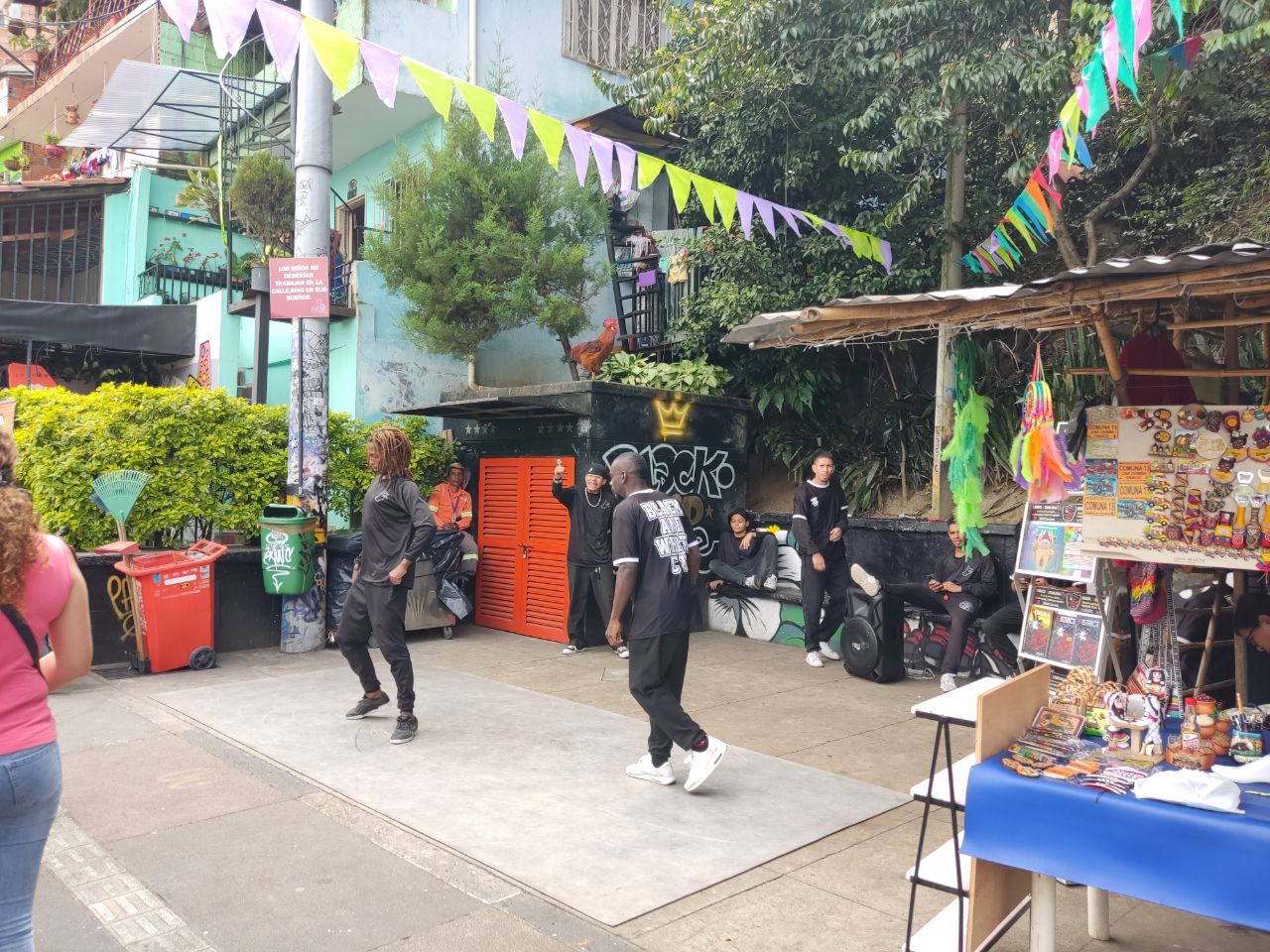 Los chicos bailando break dance, realmente tenían música muy buena y una vez empezaron el show muchas personas pararon allí para verlo porque es muy divertido, también venden muchos souvenir con muchos colores o incluso la bandera de Colombia y son espectaculares, luego llegamos casi al final del recorrido, pero como no había muchas cosas interesantes allí pues nos regresamos y empezamos a buscar las letras grandes de colores que dicen Comuna 13 y además también buscábamos la casa neón.
The guys dancing break dance, they really had very good music and once the show started many people stopped there to see it because it is very fun, they also sell many souvenirs with many colors or even the Colombian flag and they are spectacular, then we almost reached the end of the route, but since there weren't many interesting things there, we went back and started looking for the big colored letters that say Comuna 13 and we also looked for the neon house.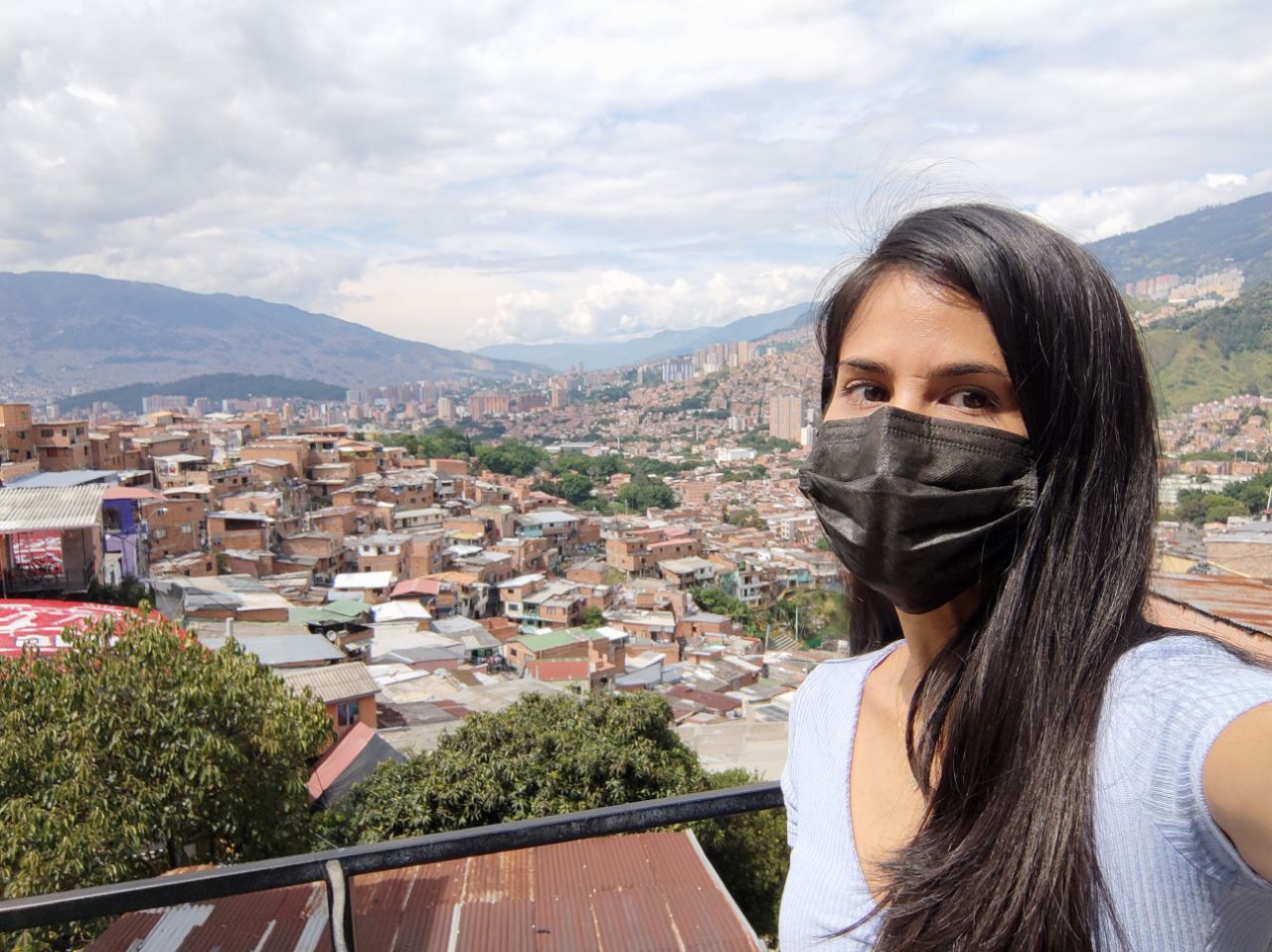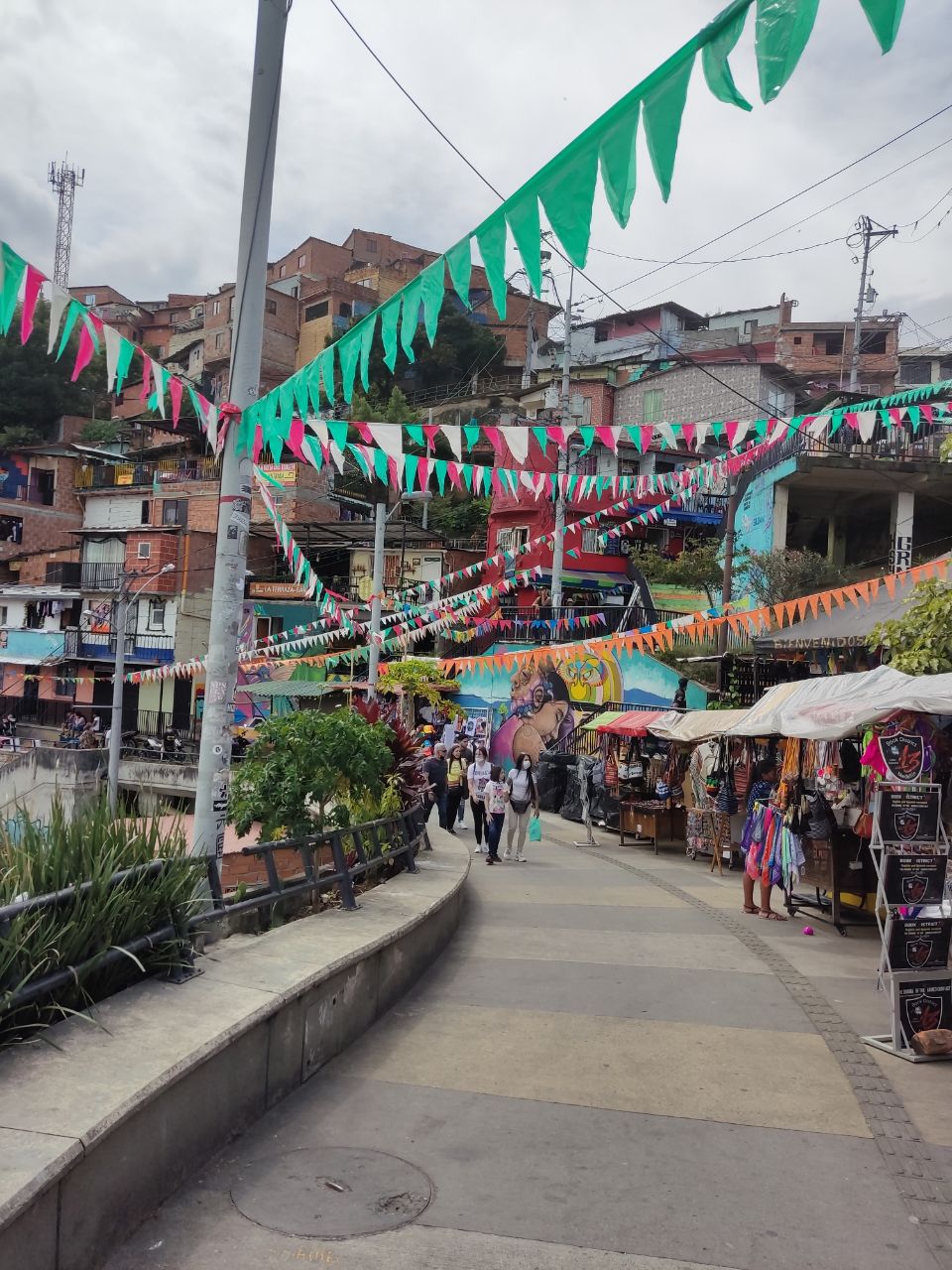 Finalmente las encontramos, y había varias personas haciéndose fotos allí entonces tuvimos que esperar nuestro turno, pero fue rápido, es necesario saber que no tienes que pagar para hacerte fotos allí, el aporte es voluntario incluso en la casa neón tampoco, solo lo que tú puedas colaborar y si realmente puedes hacerlo, pero todas las personas allí son muy amables, así que bien finalmente también encontramos la casa neón y fue genial, cuando fui allí en septiembre no había entrado allí y esta vez tuve la oportunidad de hacerlo.
We finally found them, and there were several people taking photos there so we had to wait our turn, but it was quick, it is necessary to know that you do not have to pay to take photos there, the contribution is voluntary even in the neon house either, only what you you can collaborate and if you can really do it but all the people there are very nice so ok finally we also found the neon house and it was great, when I went there in September I hadn't gone in there and this time I had the opportunity to do it.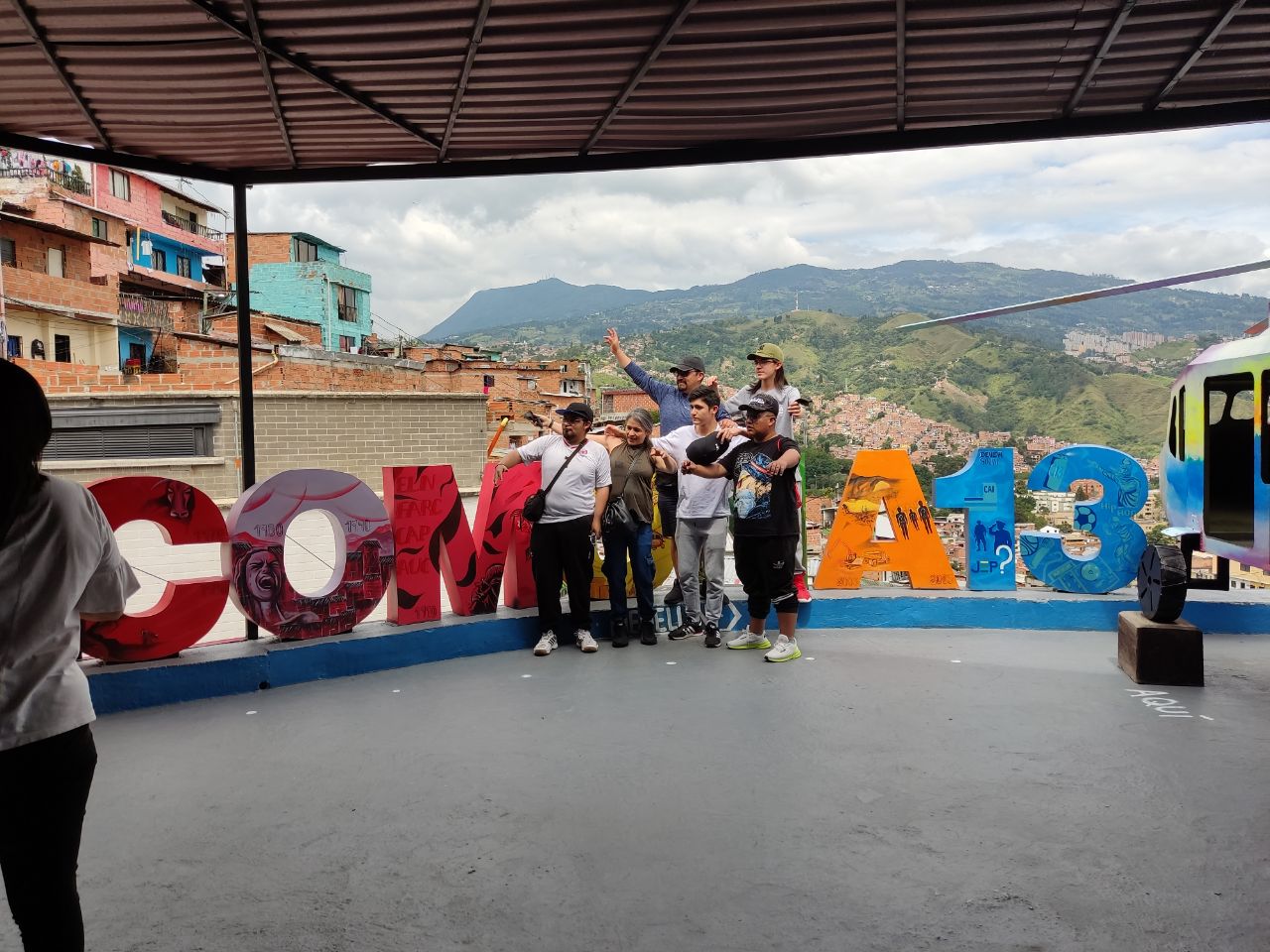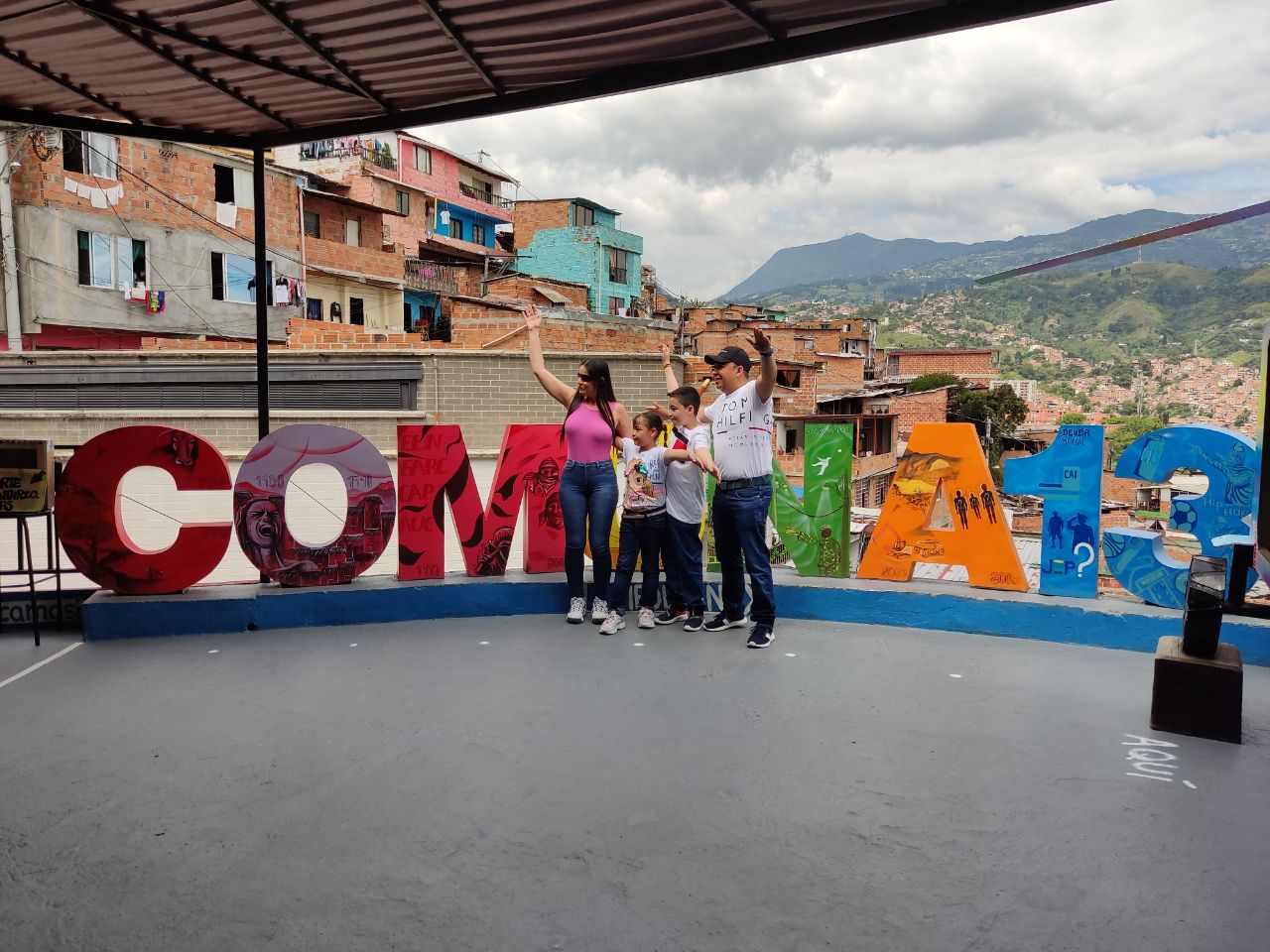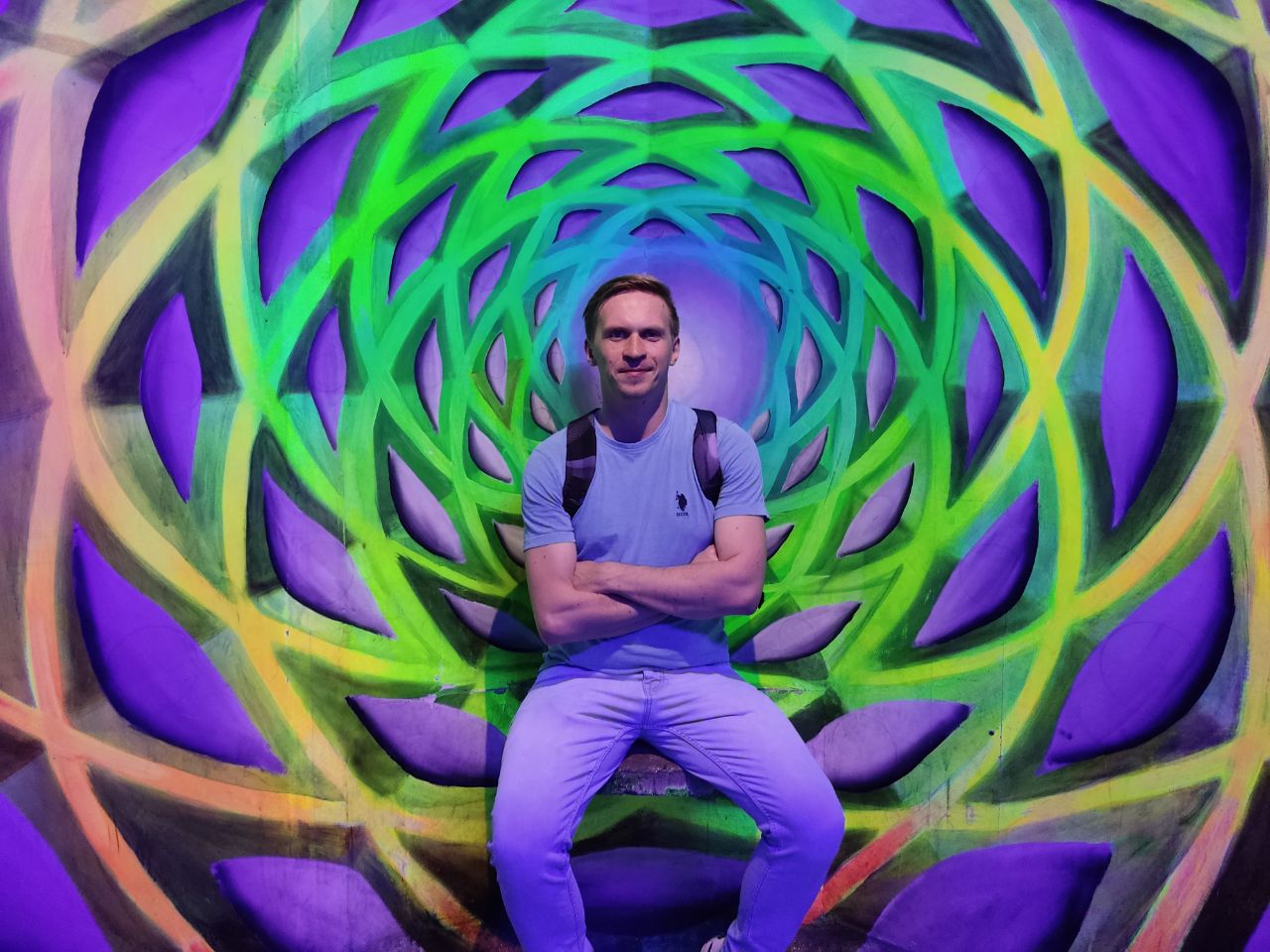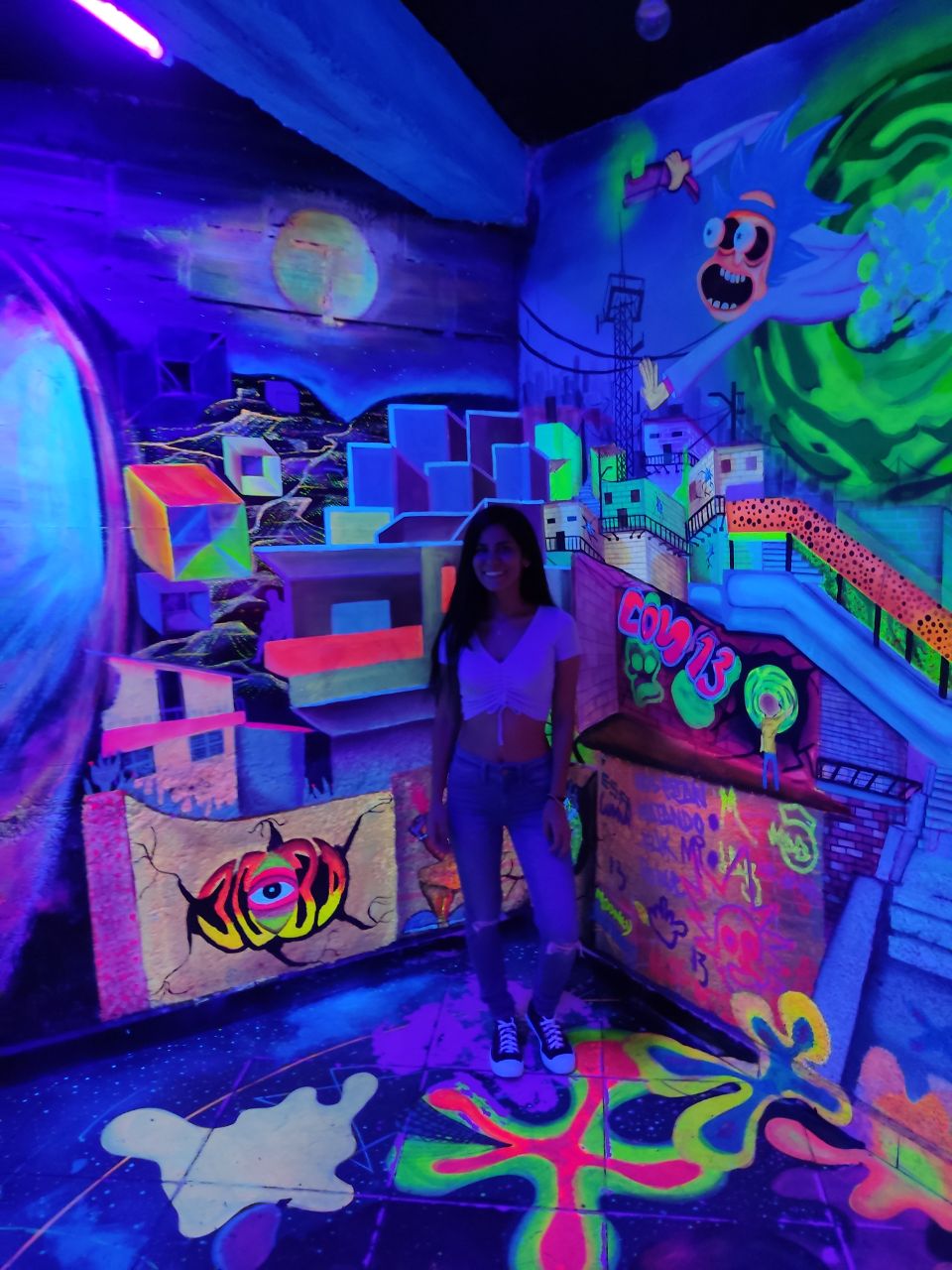 Así que bien, terminamos nuestro tour, y para regresar hacíamos el mismo recorrido, tomamos un bus verde en la entrada del graffiti tour que nos dejó en la misma estación de metro llamada San Javier, de hecho, coincidimos con el mismo conductor que nos había llevado hasta allí, y una vez en la estación de metro decidimos comprar una tarjeta del metro para pagar unos pasajes y poder subirnos al metro cable lo cual da un poco de miedo, pero es divertido ver la hermosa ciudad de Medellín desde tan alto.
So well, we finished our tour, and to return we did the same route, we took a green bus at the entrance of the graffiti tour that left us at the same metro station called San Javier, in fact, we met the same driver who had taken there, and once at the metro station we decided to buy a metro card to pay for some tickets and be able to get on the cable metro, which is a bit scary, but it's fun to see the beautiful city of Medellin from so high up.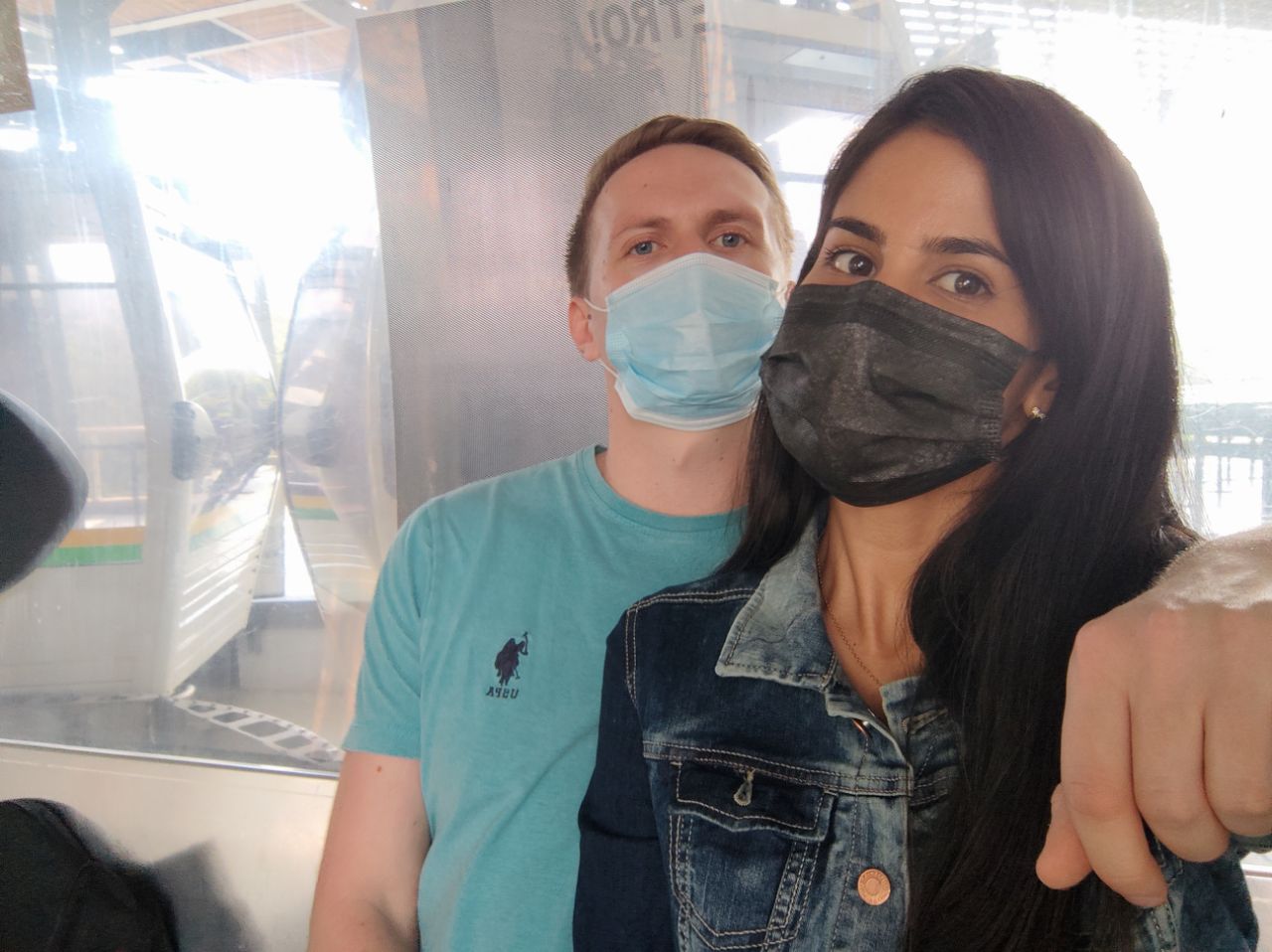 Cuando terminamos el recorrido en el metro cable, volvimos a la estación y decidimos caminar hasta un sitio donde un Uber nos pudiera localizar y llevar hasta casa, pero estos tardaban demasiado, supongo que era porque había mucho tráfico, sin embargo, decidimos esperarlo mientras tomábamos otra cerveza águila, así que no todo es malo, solo hay que saber aprovechar los momentos de la mejor manera.
When we finished the trip on the cable car, we went back to the station and decided to walk to a place where an Uber could locate us and take us home, but these took too long, I guess it was because there was a lot of traffic, however, we decided to wait for it while we drank another eagle beer, so not everything is bad, you just have to know how to take advantage of the moments in the best way.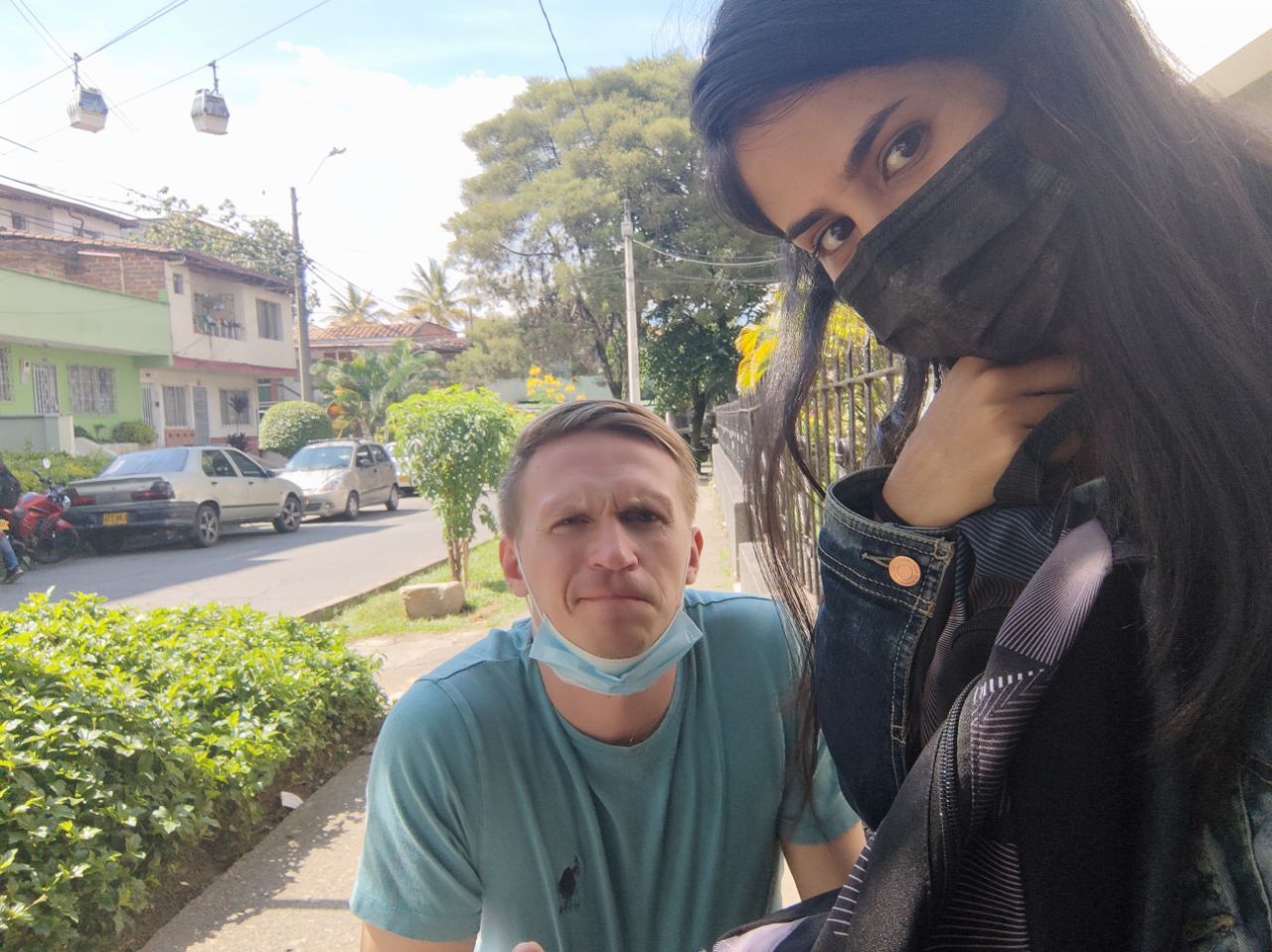 Eso fue todo por hoy, espero que les haya gustado y nos vemos en un próximo post donde les seguiré mostrando más sitios espectaculares de la hermosa ciudad de Medellín que sin duda es genial para visitar con amigos. Saludos!
That was all for today, I hope you liked it and see you in a future post where I will continue to show you more spectacular places in the beautiful city of Medellin, which is undoubtedly great to visit with friends. Greetings!
Todas las fotos de este post fueron tomadas con un Xiaomi Poco X3 Pro // All the photos in this post were taken with a Xiaomi Poco X3 Pro