Hola a todos, espero que estén bien, y tanto me gustó el tour de Guatapé desde Medellín que, por supuesto decidí volver, en aquella oportunidad fui acompañada por mis mejores amigas Kerit y Esthefany, pero esta vez tuve la gran compañía de mi amigo Pawel, y la verdad es que la experiencia es increíble que sin duda volvería a ir, es un lugar muy especial y como se los había prometido en un post anterior, hoy vine a contarles sobre el tour paso a paso para que puedan imaginárselo.
Hello everyone, I hope you are well, and I liked the tour of Guatapé from Medellín so much that, of course, I decided to return, on that occasion I was accompanied by my best friends Kerit and Esthefany, but this time I had the great company of my friend Pawel , and the truth is that the experience is incredible that I would definitely go again, it is a very special place and as I had promised in a previous post, today I came to tell you about the tour step by step so you can imagine it.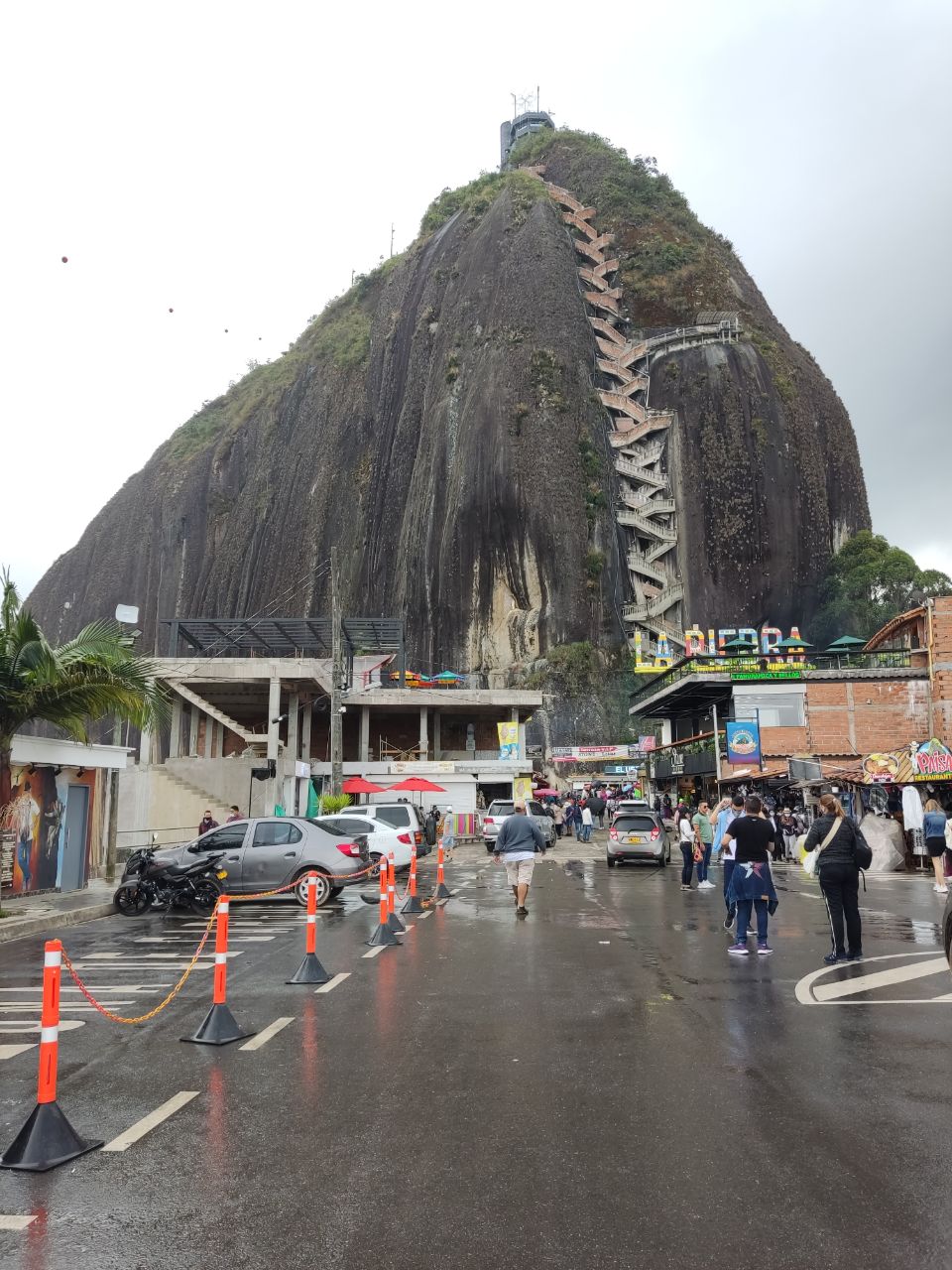 Piedra del Peñol
Link de pinmapple: [//]:# (!pinmapple 6.217215 lat -75.165862 long d3scr)
Nuevamente volví a hacer el tour con la empresa MaxiTours, así que se los recomiendo también, a ellos los pueden encontrar en Instagram y realmente son seguros, pero ahora les voy a contar la experiencia y esta empezó cuando los chicos de MaxiTours nos buscaron a las 8 am cerca de donde nos estábamos hospedando mi amigo Pawel y yo, porque sí, el tour incluye el transporte, además del desayuno y el almuerzo, y nuestra primera parada fue en el Municipio Marinilla para tomar nuestro delicioso desayuno en un restaurante y abajo se los muestro.
I did the tour again with the MaxiTours company, so I recommend them too, you can find them on Instagram and they are really safe, but now I am going to tell you about the experience and it started when the guys from MaxiTours looked for us at 8 am near where my friend Pawel and I were staying, because yes, the tour includes transportation, in addition to breakfast and lunch, and our first stop was in the Marinilla Municipality to have our delicious breakfast in a restaurant and downstairs we I show them.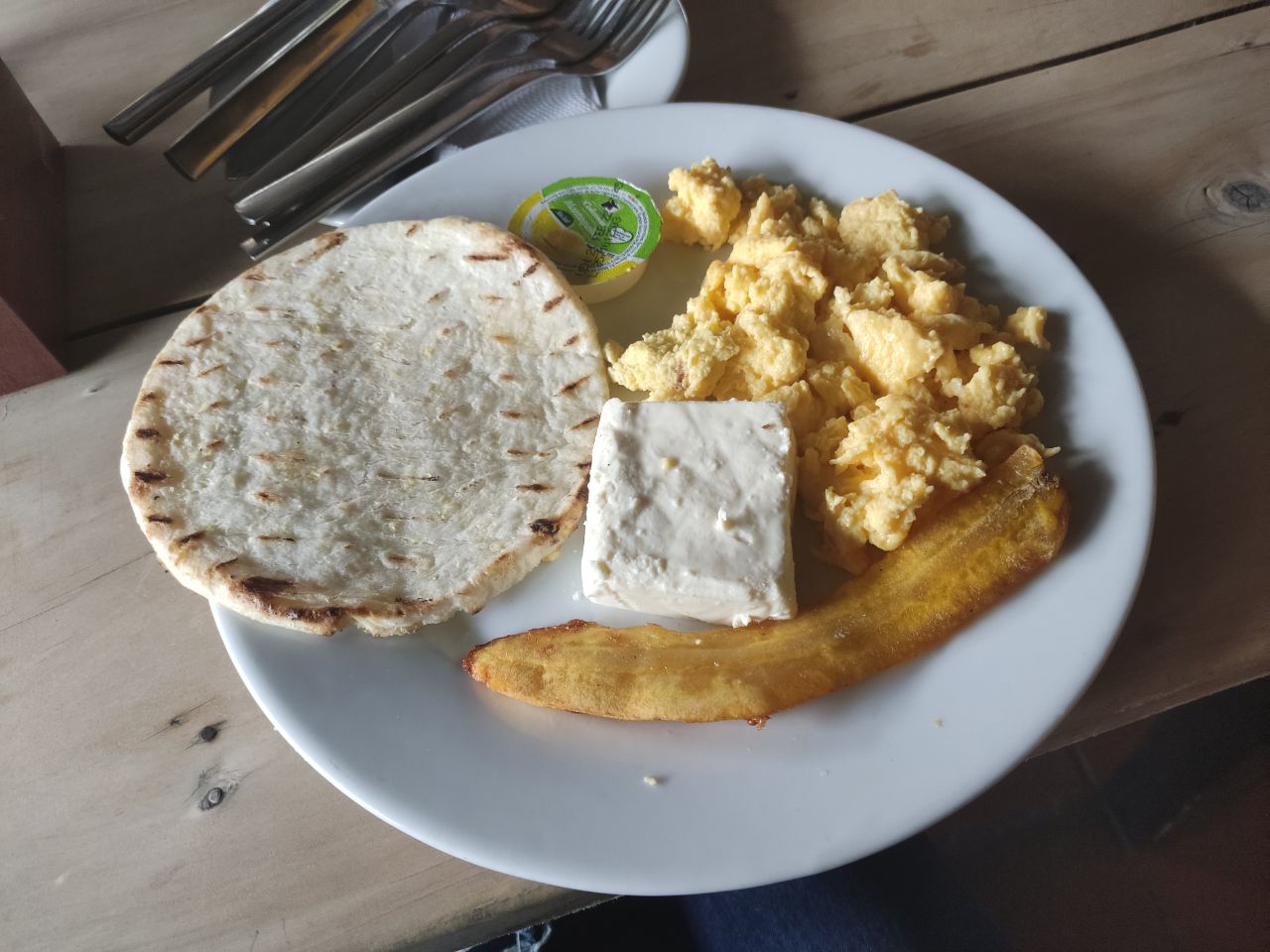 Arepa de maíz pelado, huevo revuelto, queso, tajada y mantequilla // Peeled corn arepa, scrambled egg, cheese, slice and butter
Esta parada duró como una hora aproximadamente mientras todos los viajeros tomábamos el desayuno, después de eso nos montamos otra vez en el bus el cual diferenciábamos de los otros buses por el número de la placa, y la siguiente parada fue en el Pueblo del Peñol para visitar este este pueblo nos dieron 20 minutos, los cuales son suficientes para observar y hacer un par de fotos, aquí hay una iglesia muy bonita y también hay un vendedor de sombreros y ponchos que los presta a los viajeros para hacer fotos.
This stop lasted about an hour while all the travelers had breakfast, after that we got back on the bus which we differentiated from the other buses by the plate number, and the next stop was in the town of Peñol to Visiting this town gave us 20 minutes, which is enough to observe and take a couple of photos, here there is a very nice church and there is also a seller of hats and ponchos that lends them to travelers to take photos.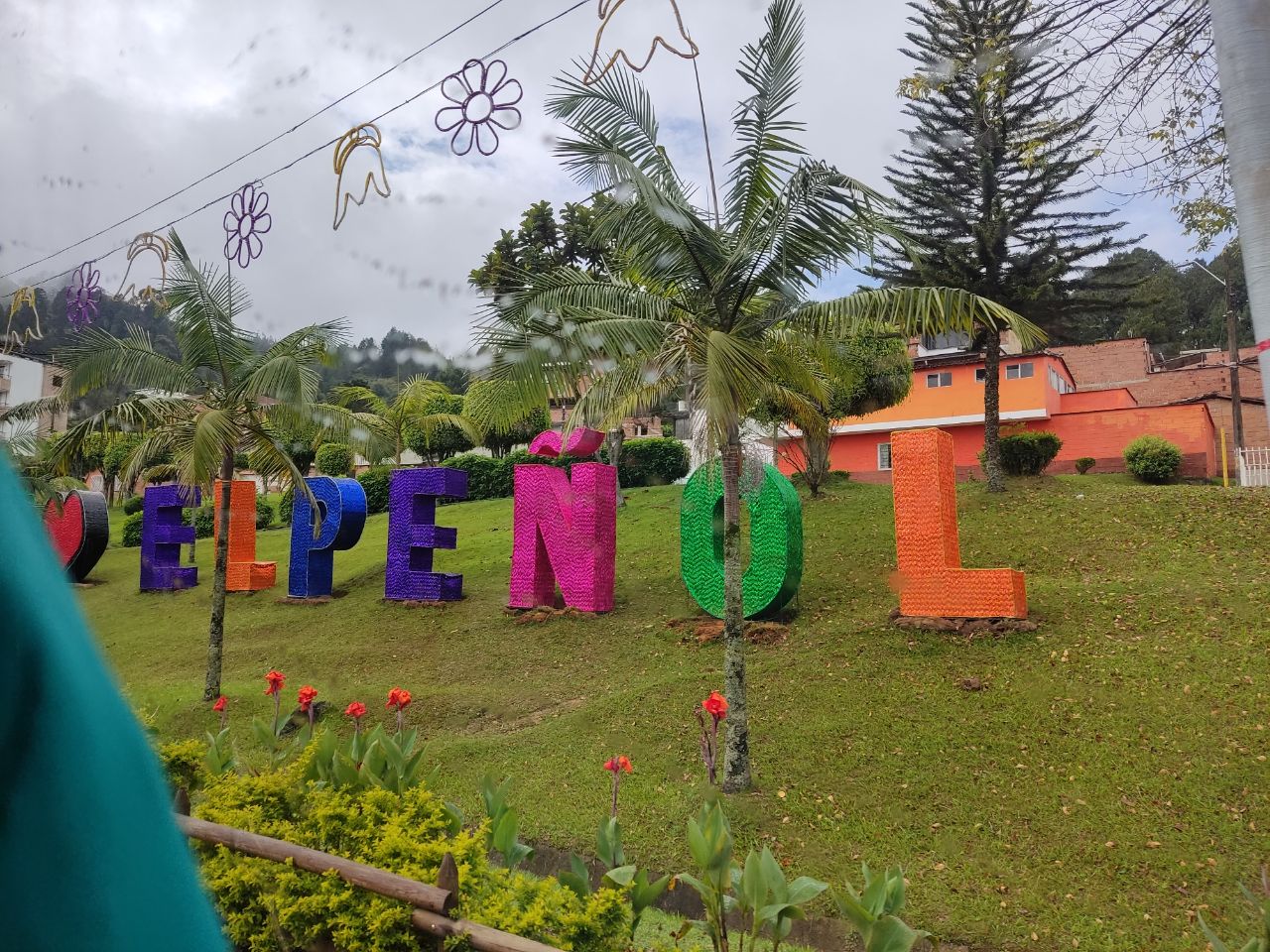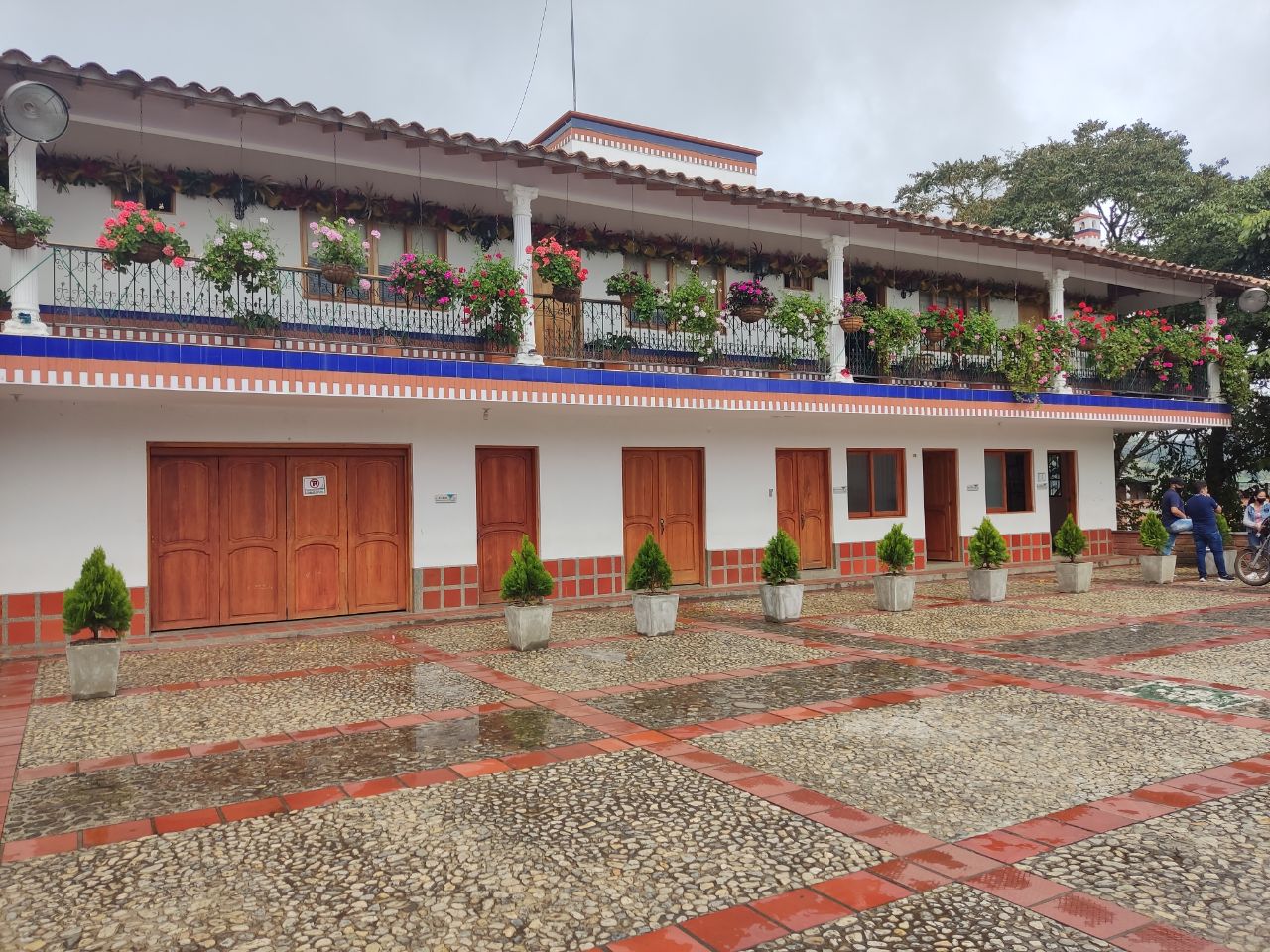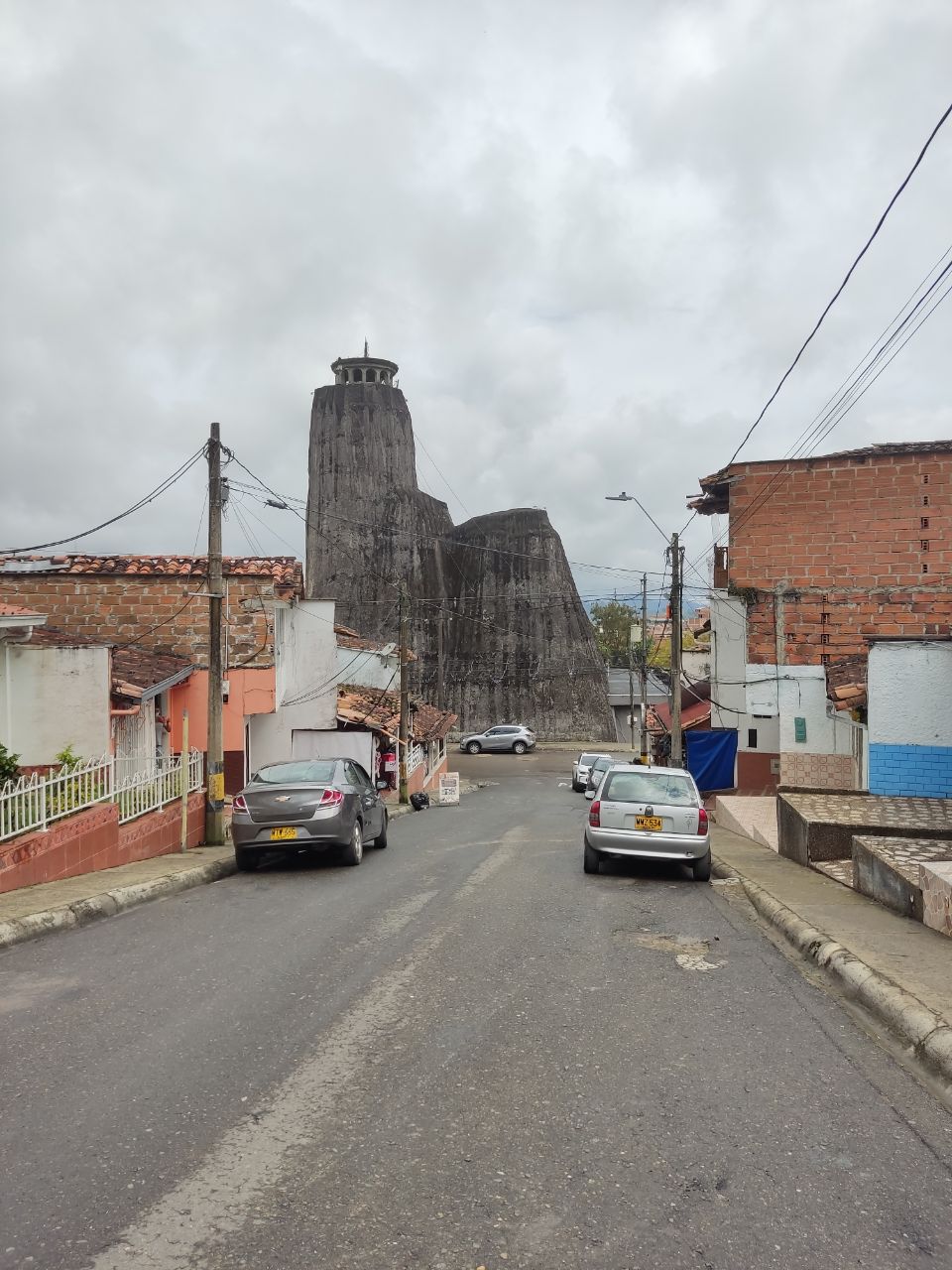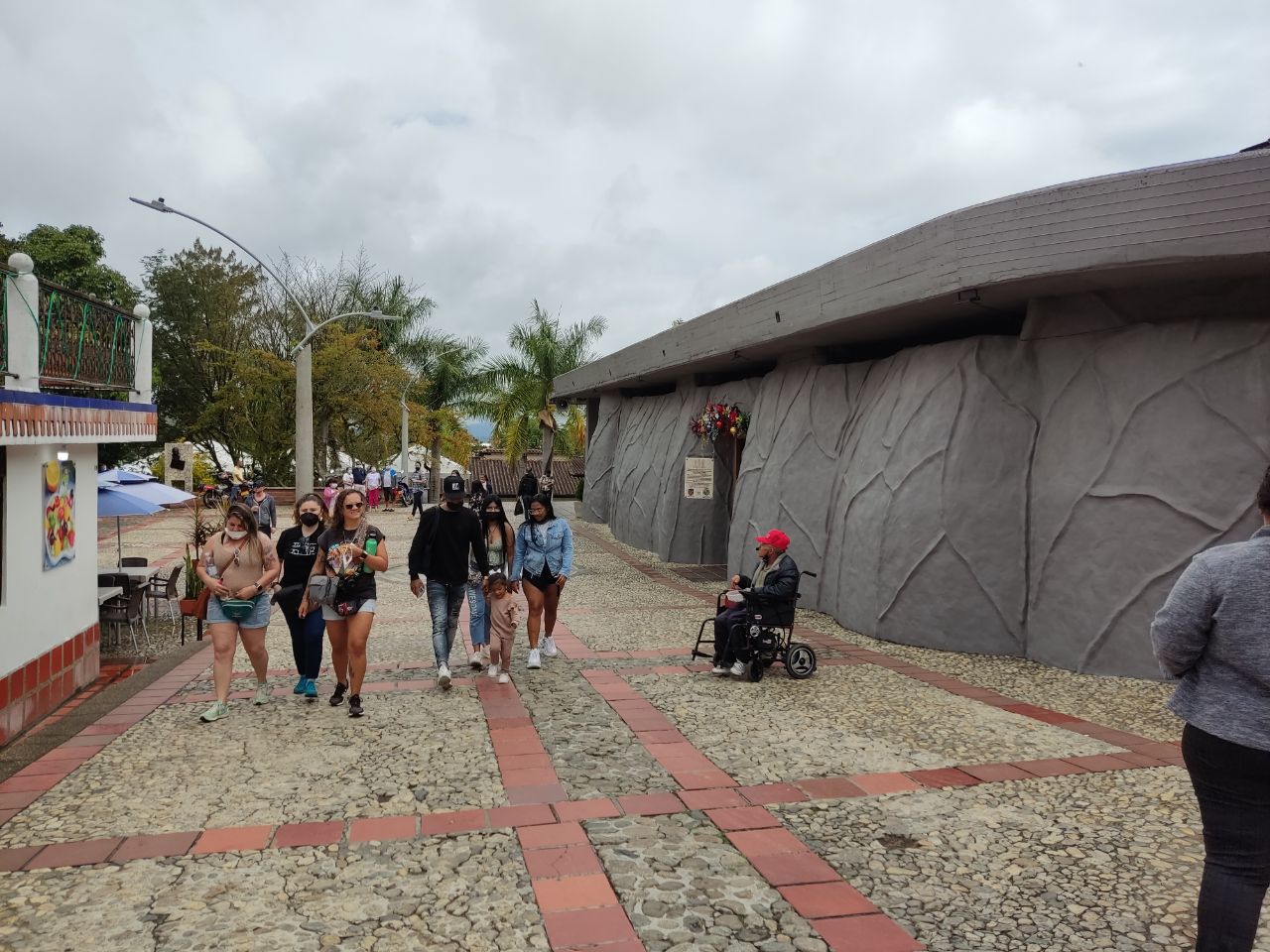 El orden del tour no fue igual que la última vez, pero de cualquier forma está bien porque como dije este tour es genial, además que seguía incluyendo lo mismo por el mismo precio que fueron 94.000 pesos colombianos que son aproximadamente 25 dólares, y lo próximo que hicimos fue el paseo en barco por la represa y debo admitir que esta es mi parte favorita, apenas subes al barco te dan un chaleco y luego de arrancar te dan una explicación sobre las casas que se ven allí.
The order of the tour was not the same as the last time, but in any case it's fine because as I said this tour is great, plus it continued to include the same thing for the same price which was 94,000 Colombian pesos which is approximately 25 dollars, and the next What we did was the boat ride on the dam and I must admit that this is my favorite part, as soon as you get on the boat they give you a vest and after starting they give you an explanation about the houses that you see there.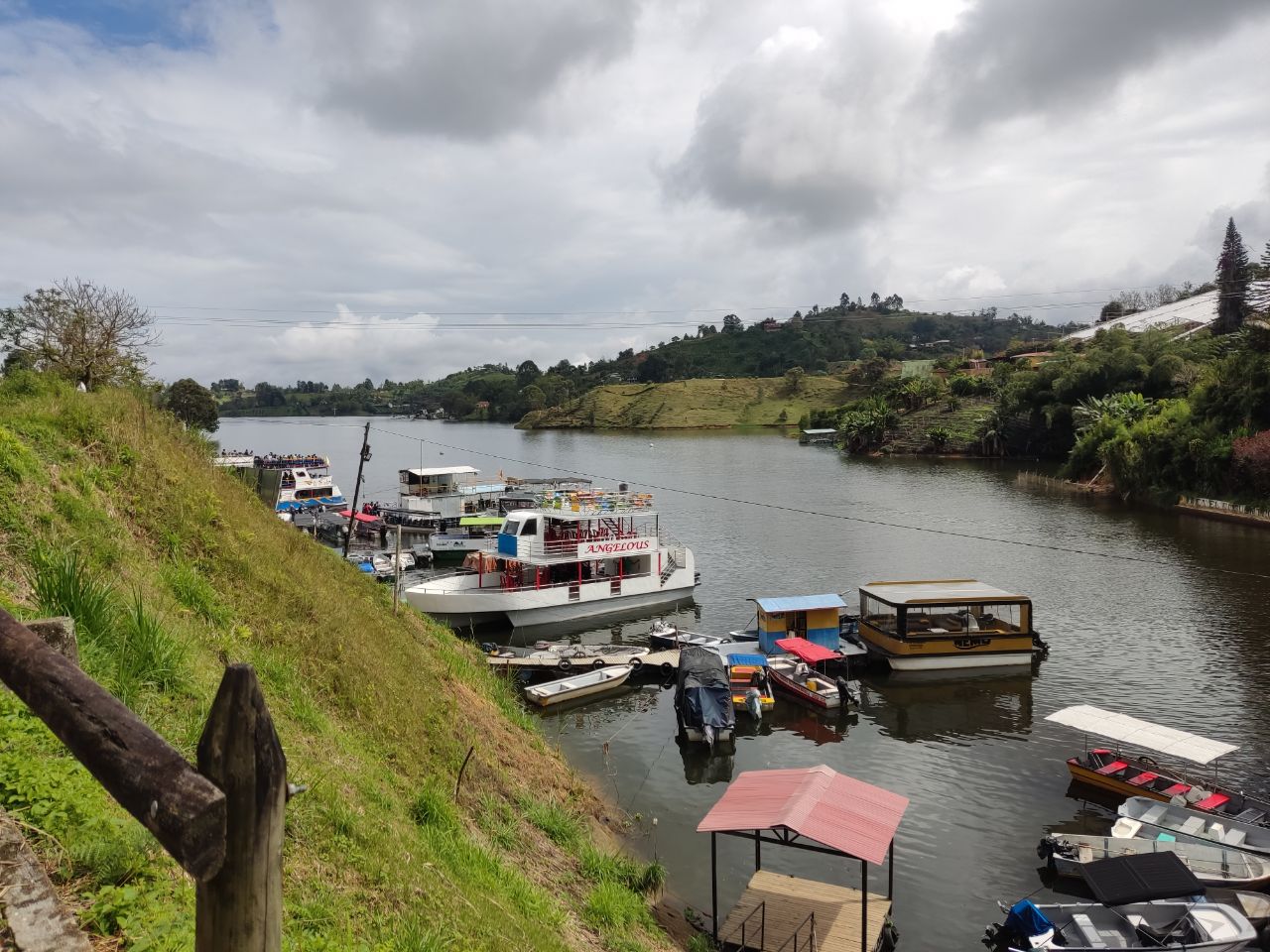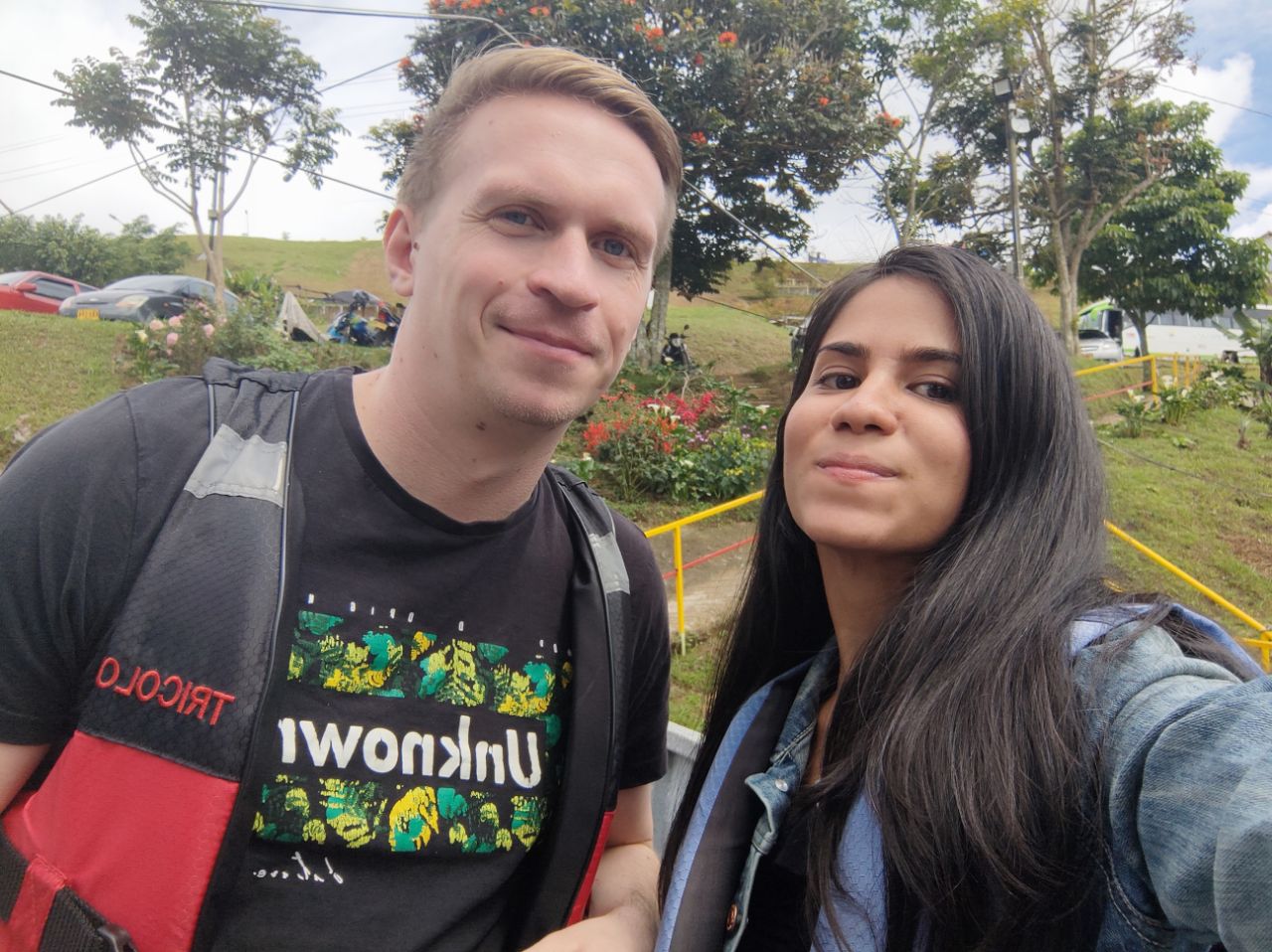 Entre esas casas está la de la hija del ex narcotraficante colombiano Pablo Escobar la cual fue destruida antes de estrenar o al menos eso dijeron en el tour, también vimos la casa del futbolista colombiano James Rodríguez y otras casas tan acogedoras que te dan ganas de vivir allí, todos estábamos observando, y otros además haciendo fotos y un momento divertido es cuando veíamos a otros viajeros en lanchas y nos saludábamos, también es divertido el chico que canta en el barco y que improvisa con los destinos de los pasajeros, nos hace reír mucho y aplaudirlo finalmente por el talento que tiene.
Among those houses is that of the daughter of former Colombian drug trafficker Pablo Escobar, which was destroyed before it opened, or at least that's what they said on the tour. We also saw the house of Colombian soccer player James Rodríguez and other houses so cozy that they make you want to live. there, we were all observing, and others also taking photos and a fun moment is when we saw other travelers on boats and greeted each other, the boy who sings on the boat and who improvises with the destinations of the passengers is also funny, he makes us laugh a lot and finally applaud him for the talent he has.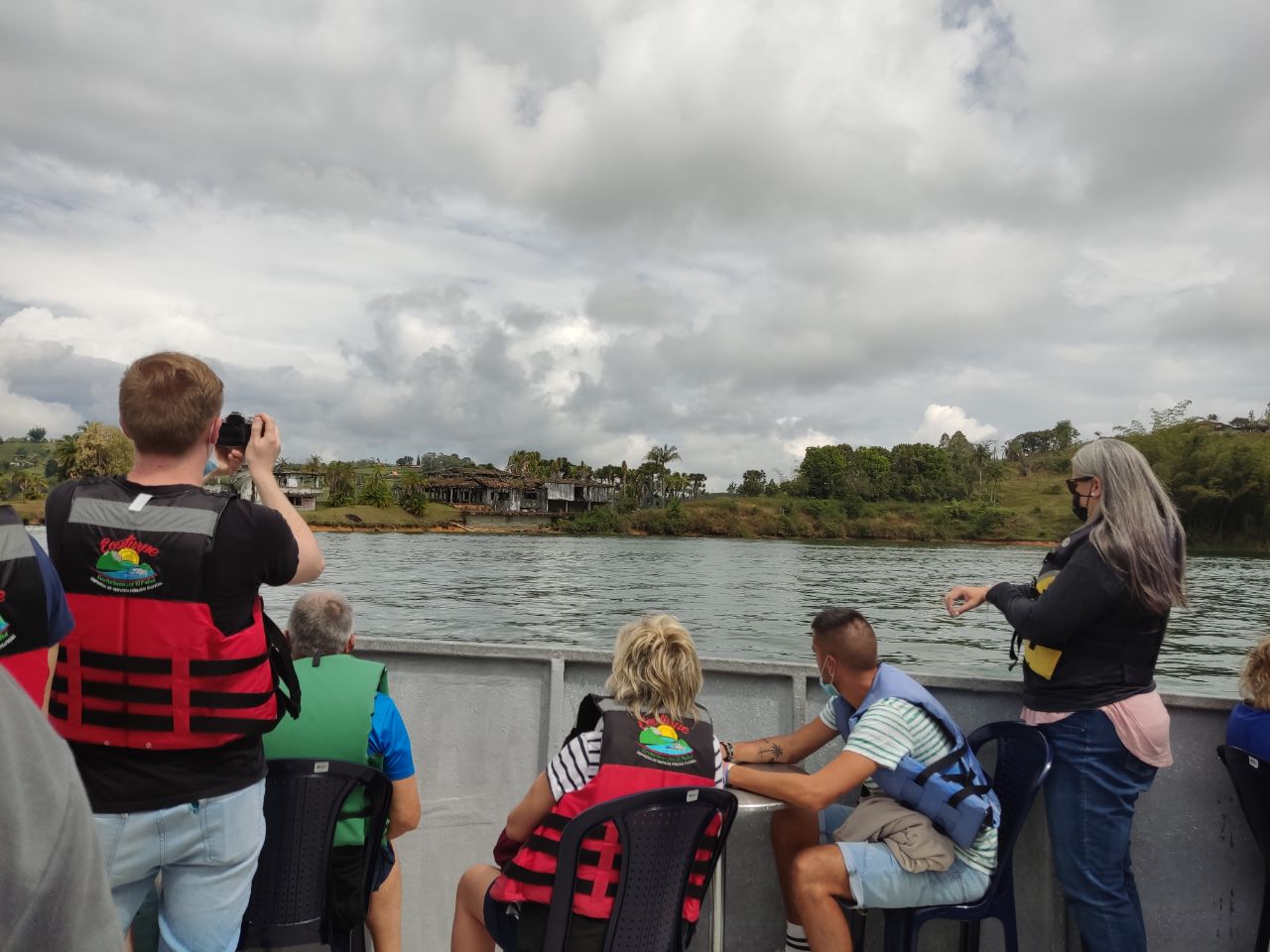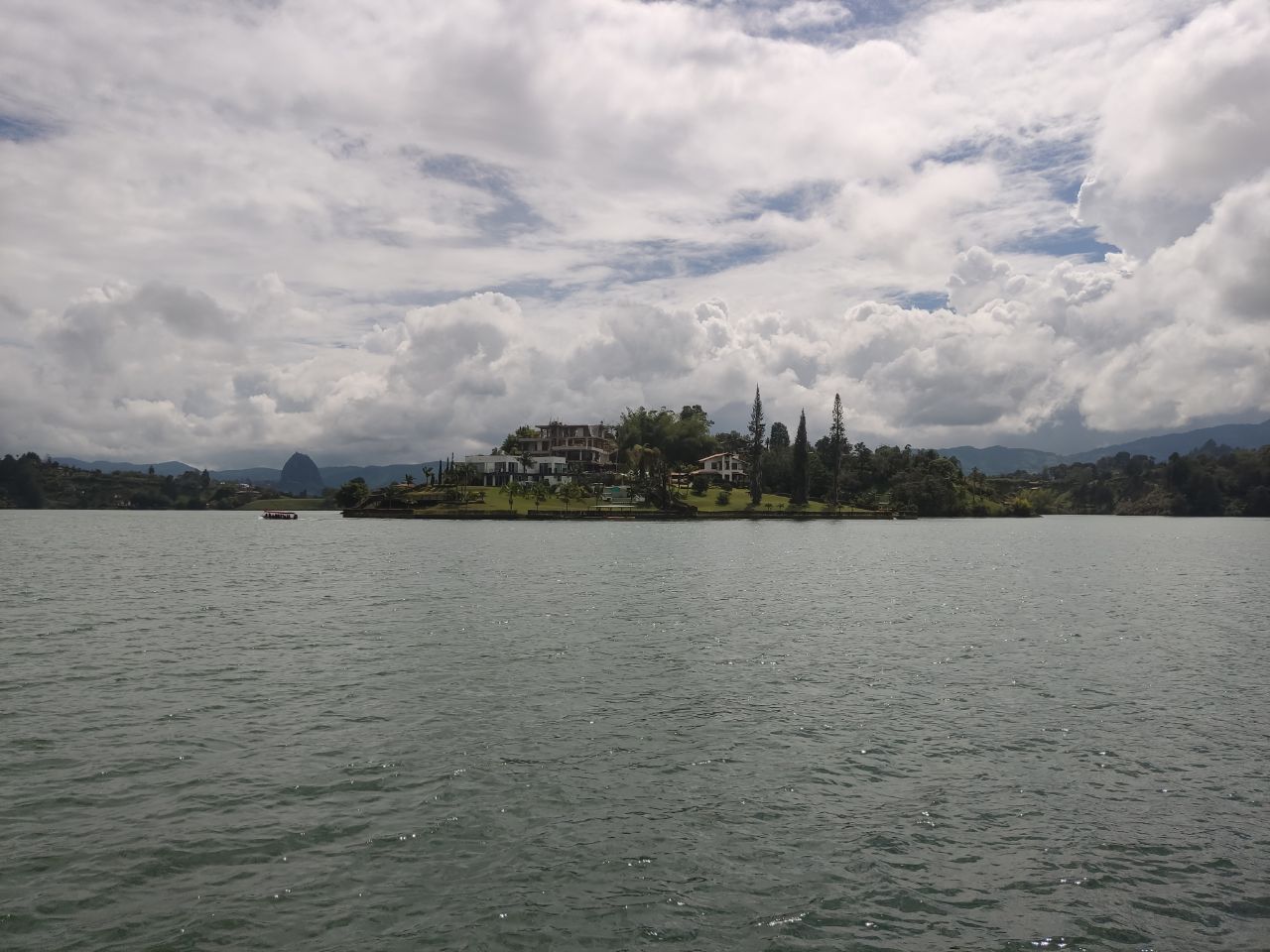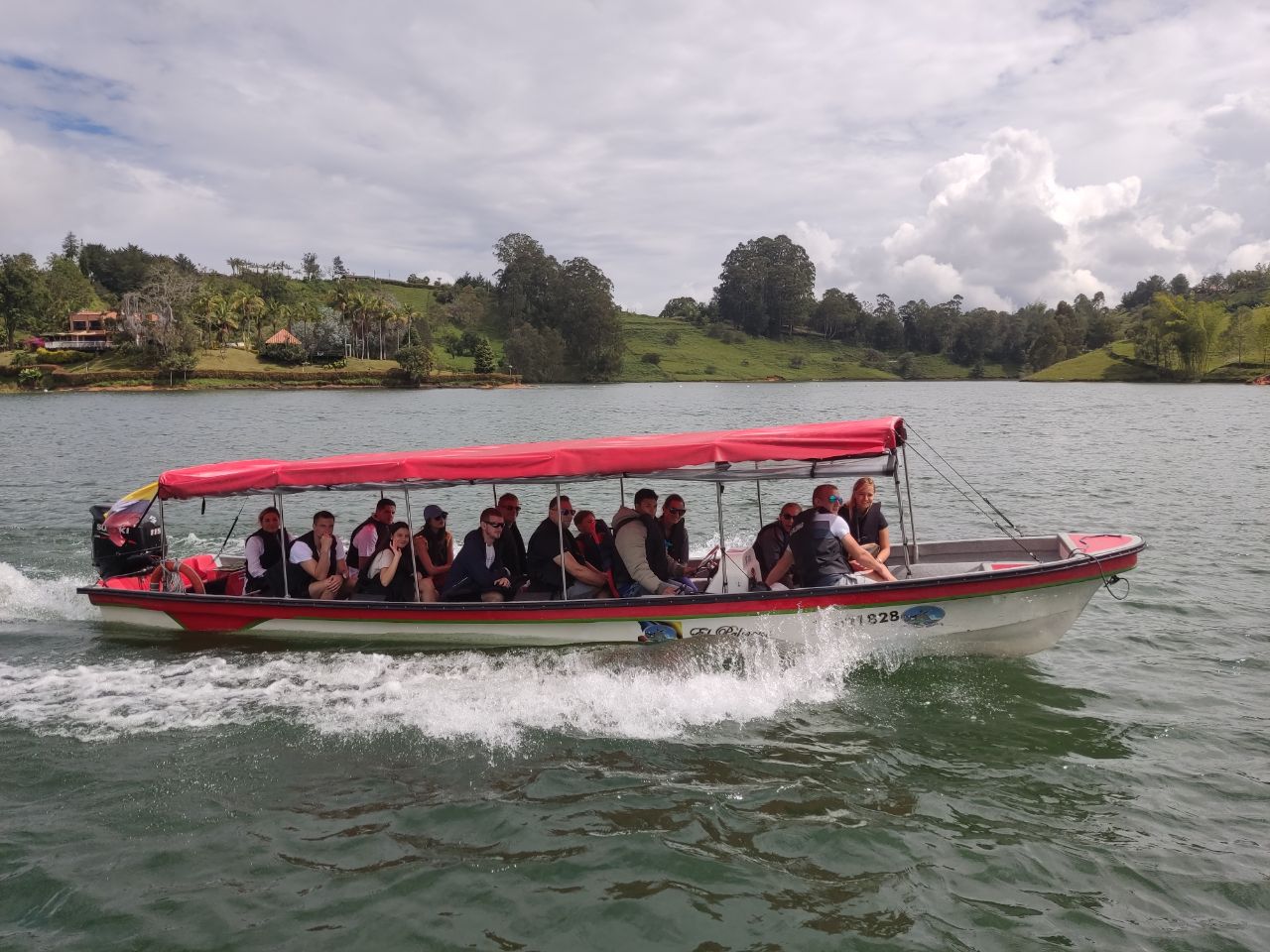 Después fuimos a la réplica del antiguo Peñol, y su nombre lo dice todo, excelente parada para comprar una cerveza puesto que había mucho sol, también venden muchos suvenirs allí y otra iglesia preciosa, además es una buena parada para hacer uso del baño y continuar con el recorrido.
Then we went to the replica of the old Peñol, and its name says it all, excellent stop to buy a beer since there was a lot of sun, they also sell many souvenirs there and another beautiful church, it is also a good stop to use the bathroom and continue with the tour.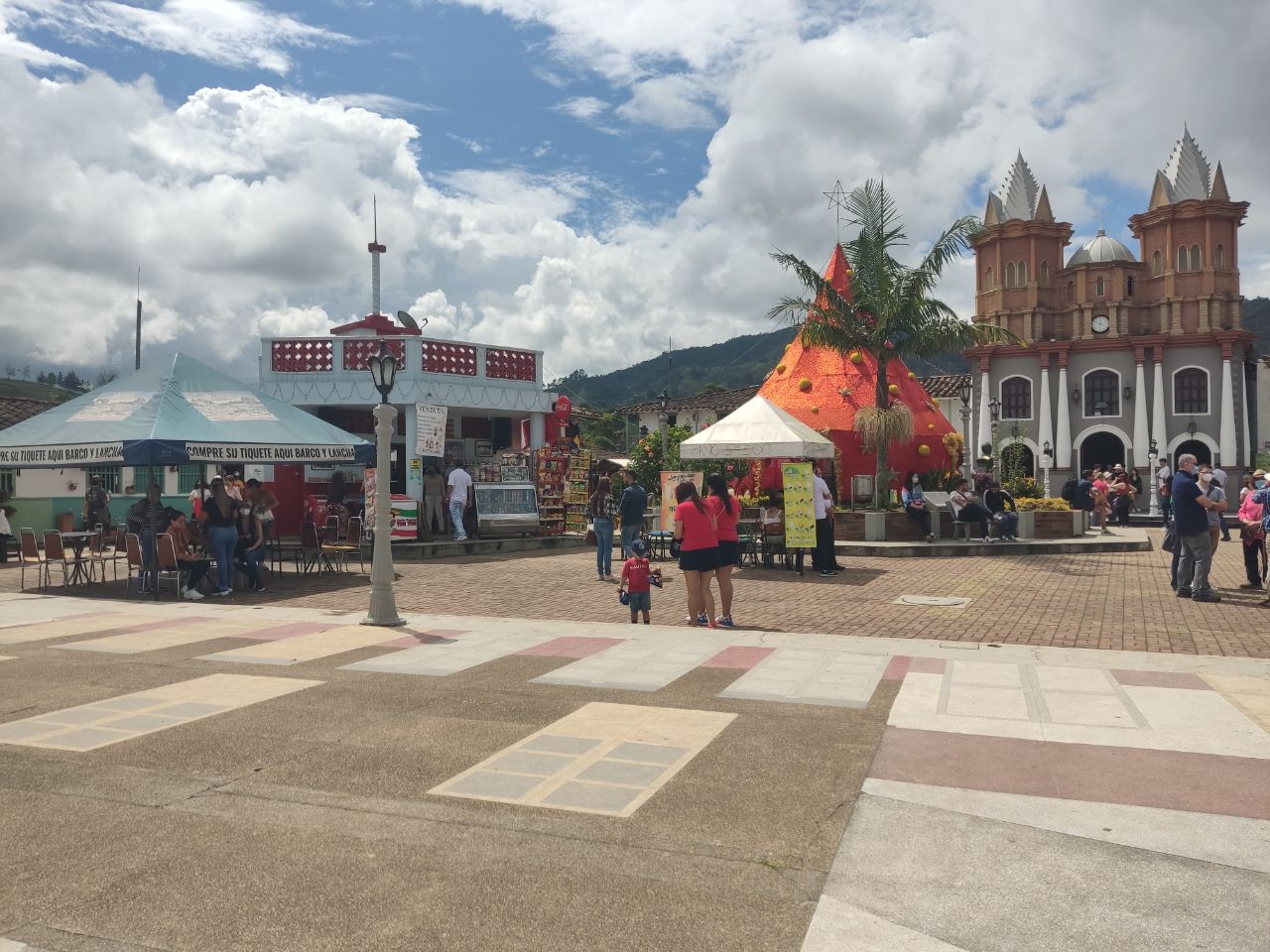 Réplica del Antiguo Peñol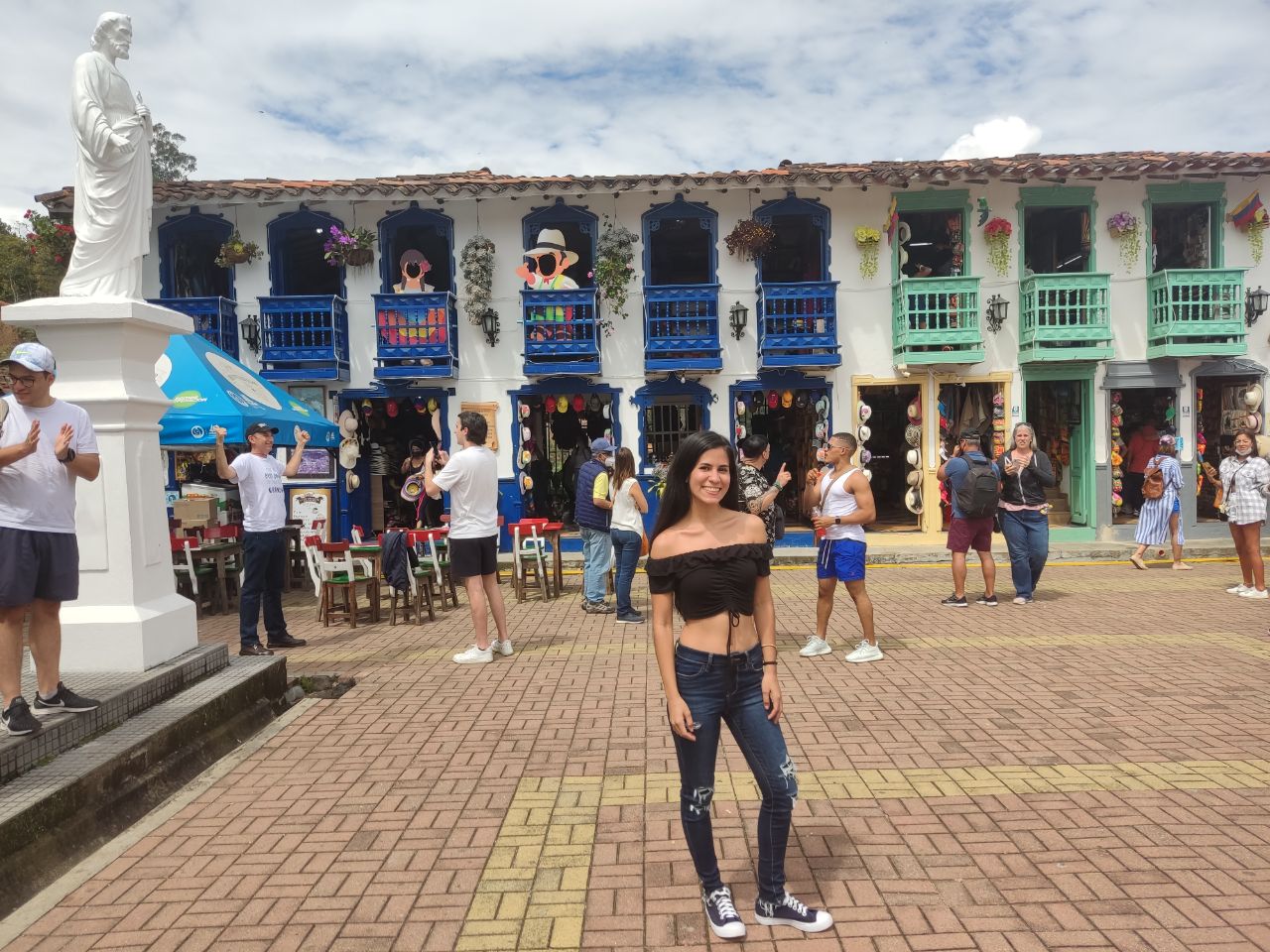 Nos montamos de nuevo en el bus y esta vez para ir al municipio de Guatape, para cuando llegamos allí el clima cambió y ahora estaba lloviznando, pero eso no es problema para conocer este hermoso lugar con una fuente y decoración de navidad genial en su plaza, solo que de día no podías observarlo mucho, lo primero que hicimos aquí fue almorzar y el almuerzo estaba delicioso, luego nos dieron una hora para el paseo por todo el pueblo puesto que aquí hay mucho por ver, y una de las cosas que lo diferencia son los zócalos de diferentes diseños y colores en las paredes de las casas, también te ofrecen paseos en motos por todo el pueblo, pero nosotros no lo hicimos y tampoco pregunté el precio pero se veía genial y más cómodo puesto que ya estábamos un poco cansados, también hay muchos restaurantes y ventas de postres.
We got on the bus again and this time to go to the municipality of Guatape, by the time we got there the weather changed and now it was drizzling, but that is not a problem to get to know this beautiful place with a fountain and great Christmas decorations in its square. , except that during the day you couldn't see it much, the first thing we did here was have lunch and the lunch was delicious, then they gave us an hour to walk around the town since there is a lot to see here, and one of the things that difference are the baseboards of different designs and colors on the walls of the houses, they also offer you motorcycle rides throughout the town, but we didn't do it and I didn't ask the price either but it looked great and more comfortable since we were already a little tired, there are also many restaurants and dessert sales.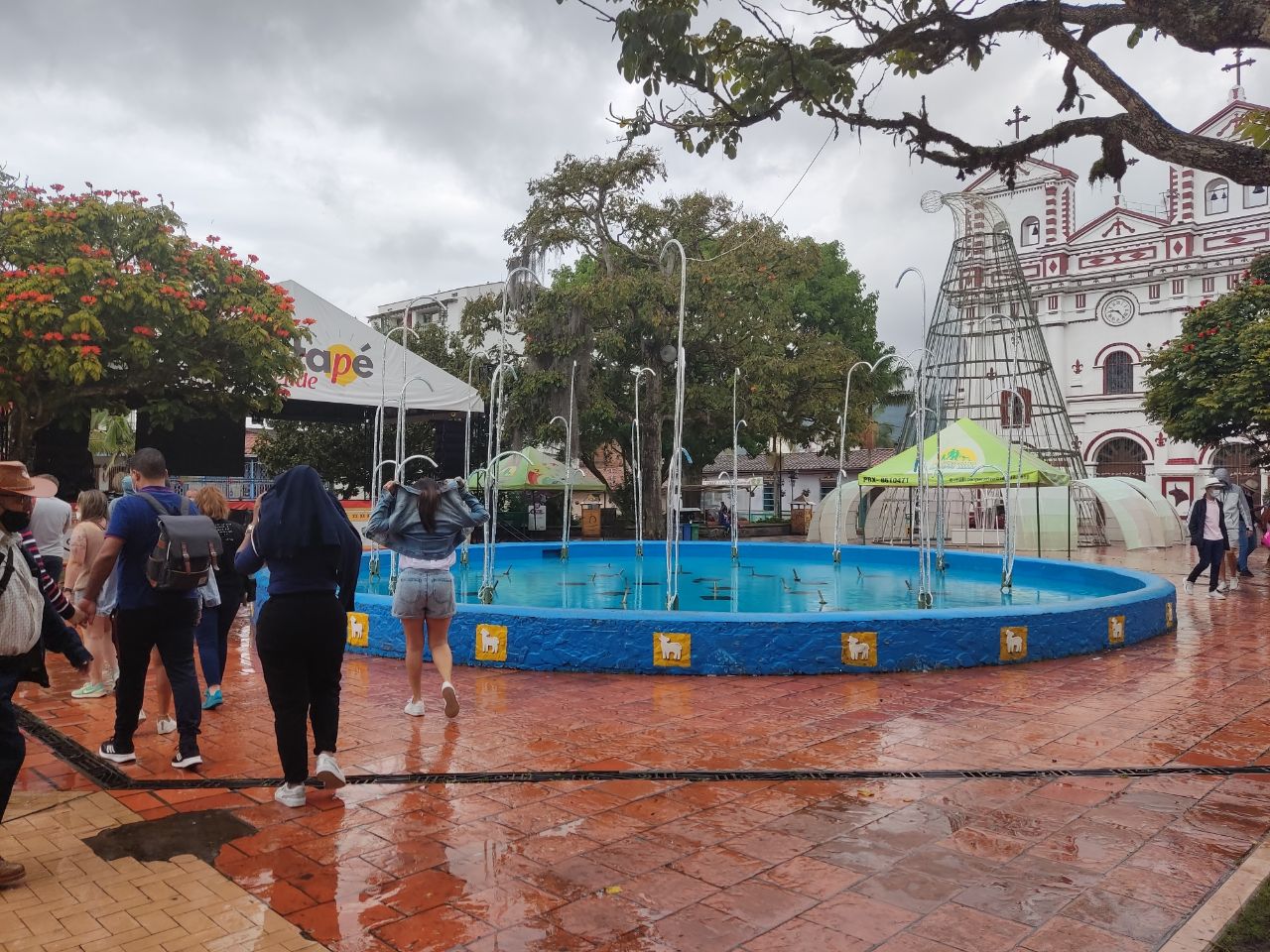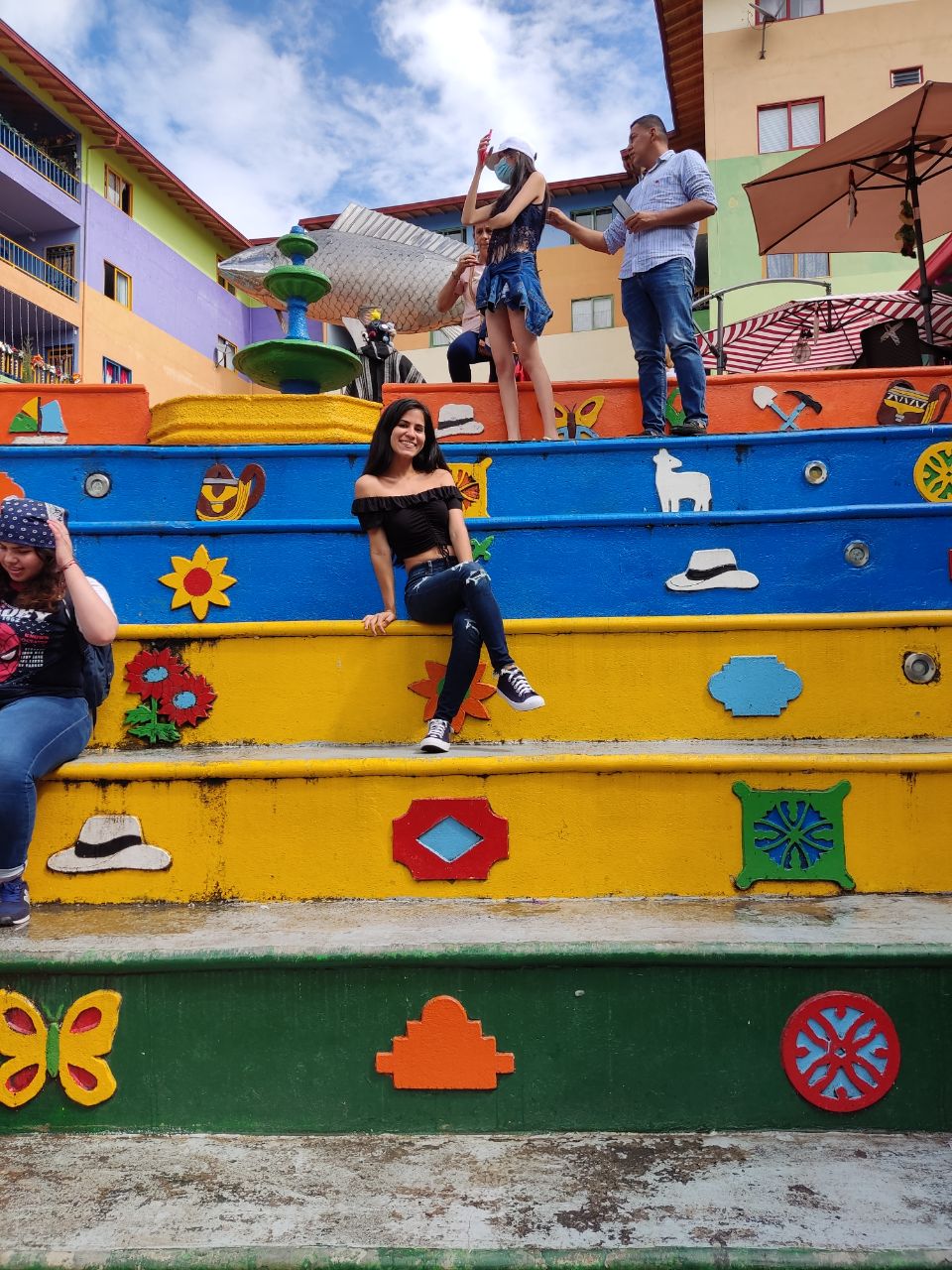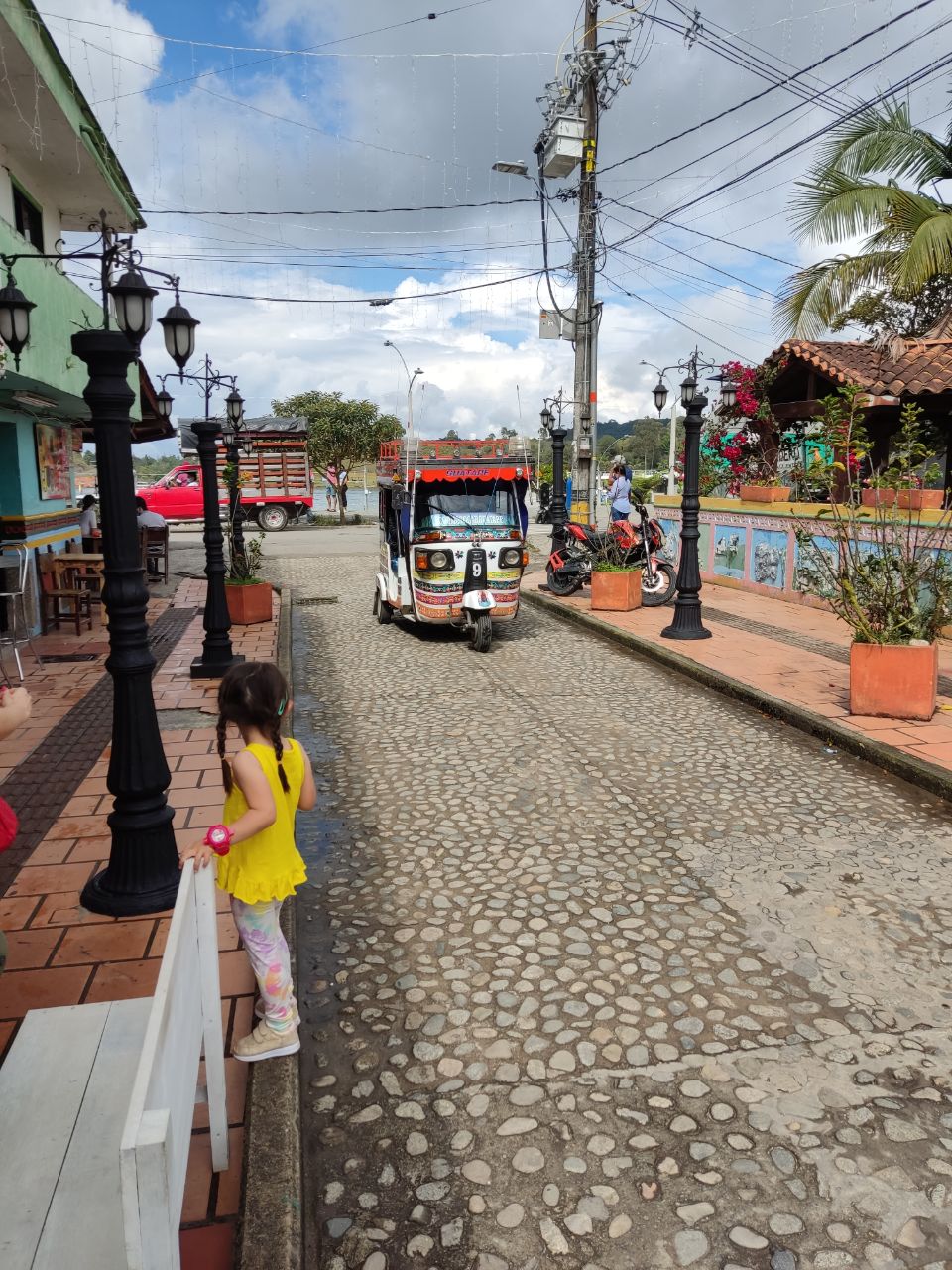 Y finalmente y lo más esperado por todos además del paseo en barco, es la visita a la piedra del peñol, el tour no incluía el boleto de ascenso, pero este lo puedes comprar allí por 20.000 pesos colombianos lo que representa un poco más de 5 dólares, creo que solo reciben pesos colombianos allí, pero hay cajeros así que no es problema para todos los extranjeros que viajan allí, así que hicimos la cola para comprar nuestros boletos y nos fuimos directo a subir los más de 650 escalones.
And finally, and the most anticipated by all, in addition to the boat ride, is the visit to the Peñol stone, the tour did not include the ascent ticket, but you can buy it there for 20,000 Colombian pesos, which represents a little more than 5 dollars, I think they only receive Colombian pesos there, but there are ATMs so it's not a problem for all foreigners who travel there, so we queued to buy our tickets and went straight up the more than 650 steps.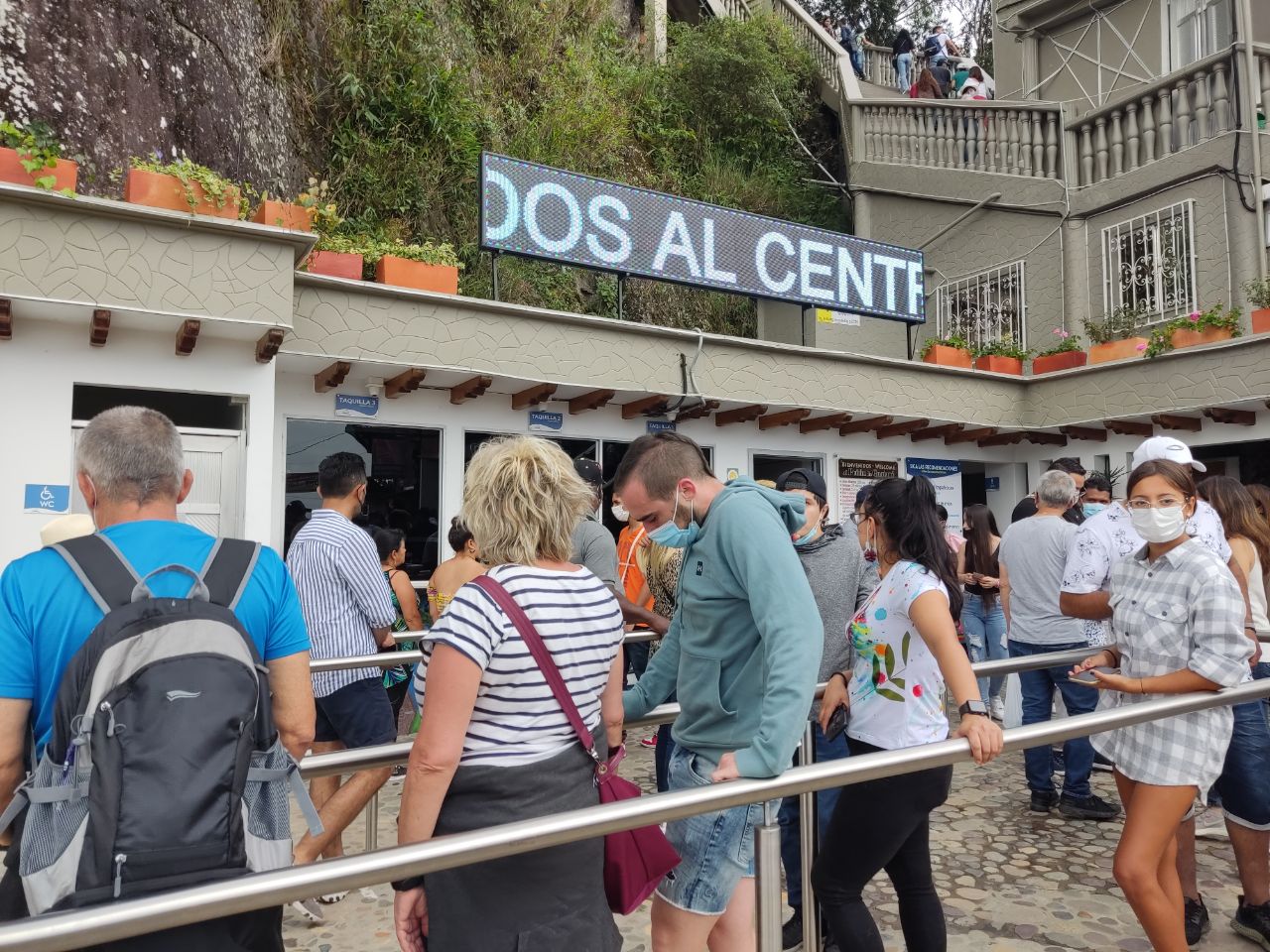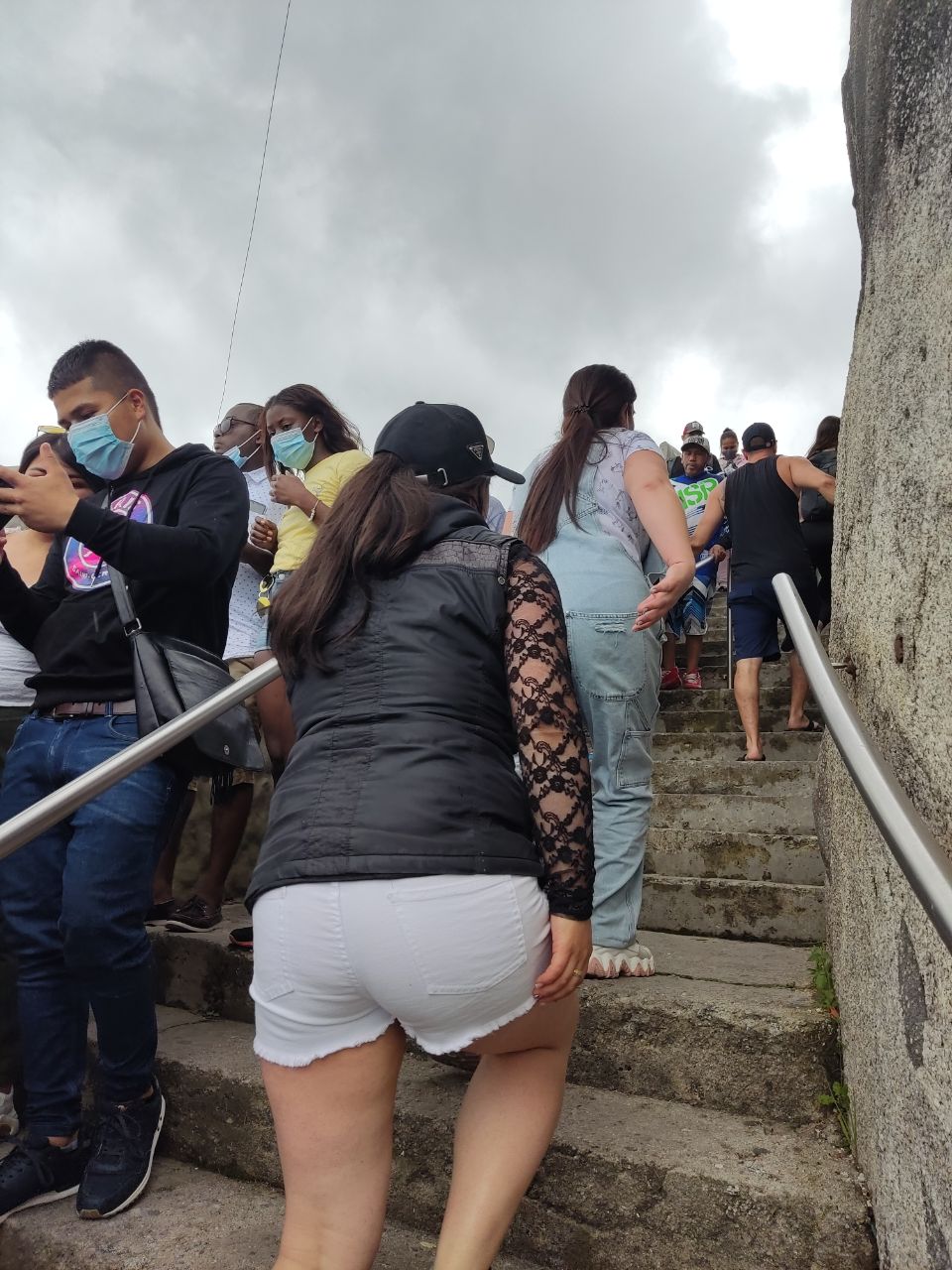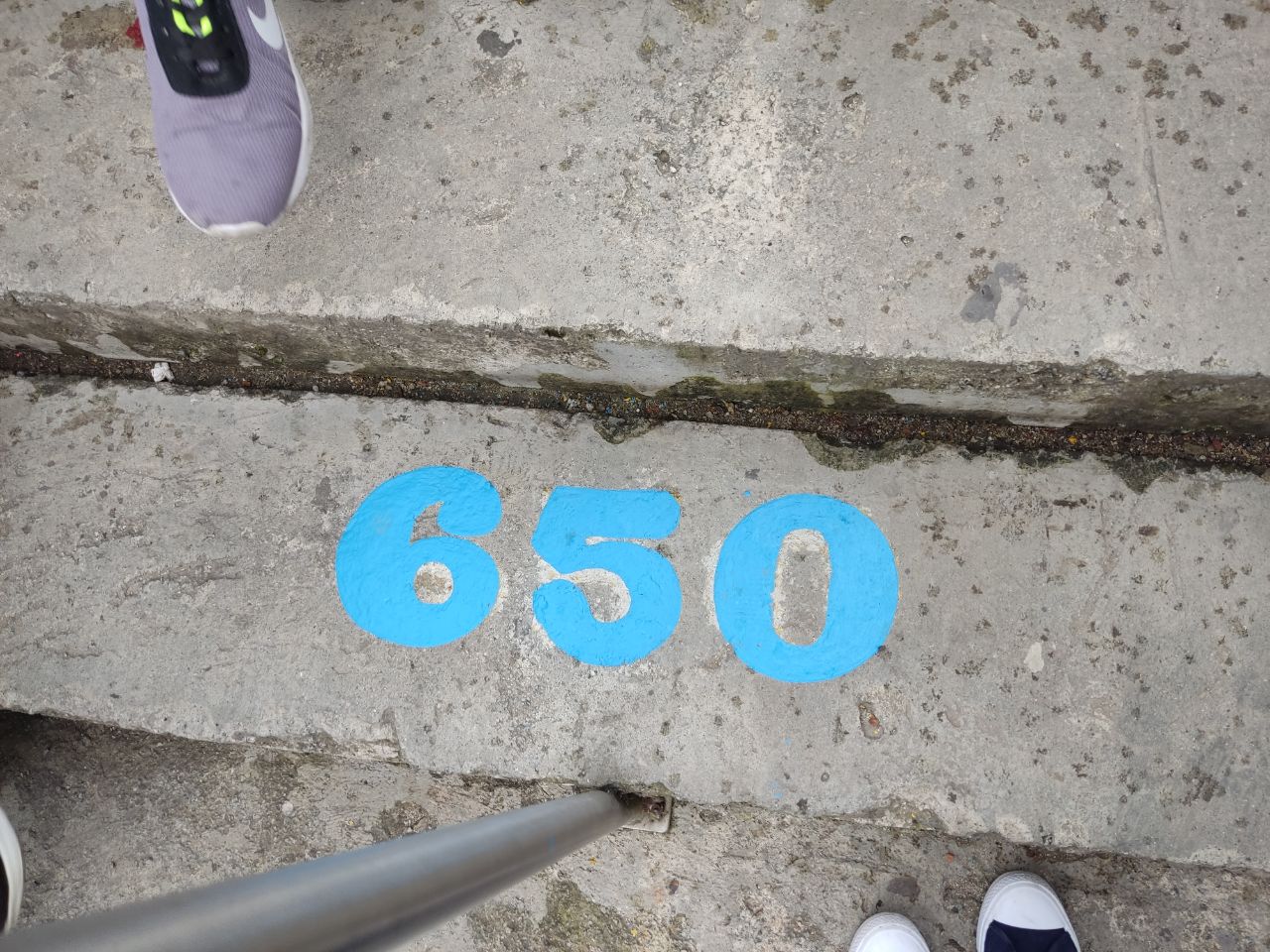 Por supuesto que lo logramos, pero también era necesario hacer unas paradas en el camino porque son muchos escalones y realmente te cansas y quieres mucha agua, así que les recomiendo subir con agua, una vez allí arriba la vista es espectacular, nos quedamos un rato observando, pero no tanto porque seguía lloviznando y luego decidimos regresar abajo.
Of course we made it, but it was also necessary to make some stops along the way because there are many steps and you really get tired and you want a lot of water, so I recommend going up with water, once up there the view is spectacular, we stayed for a while watching, but not so much because it was still drizzling and then we decided to go back down.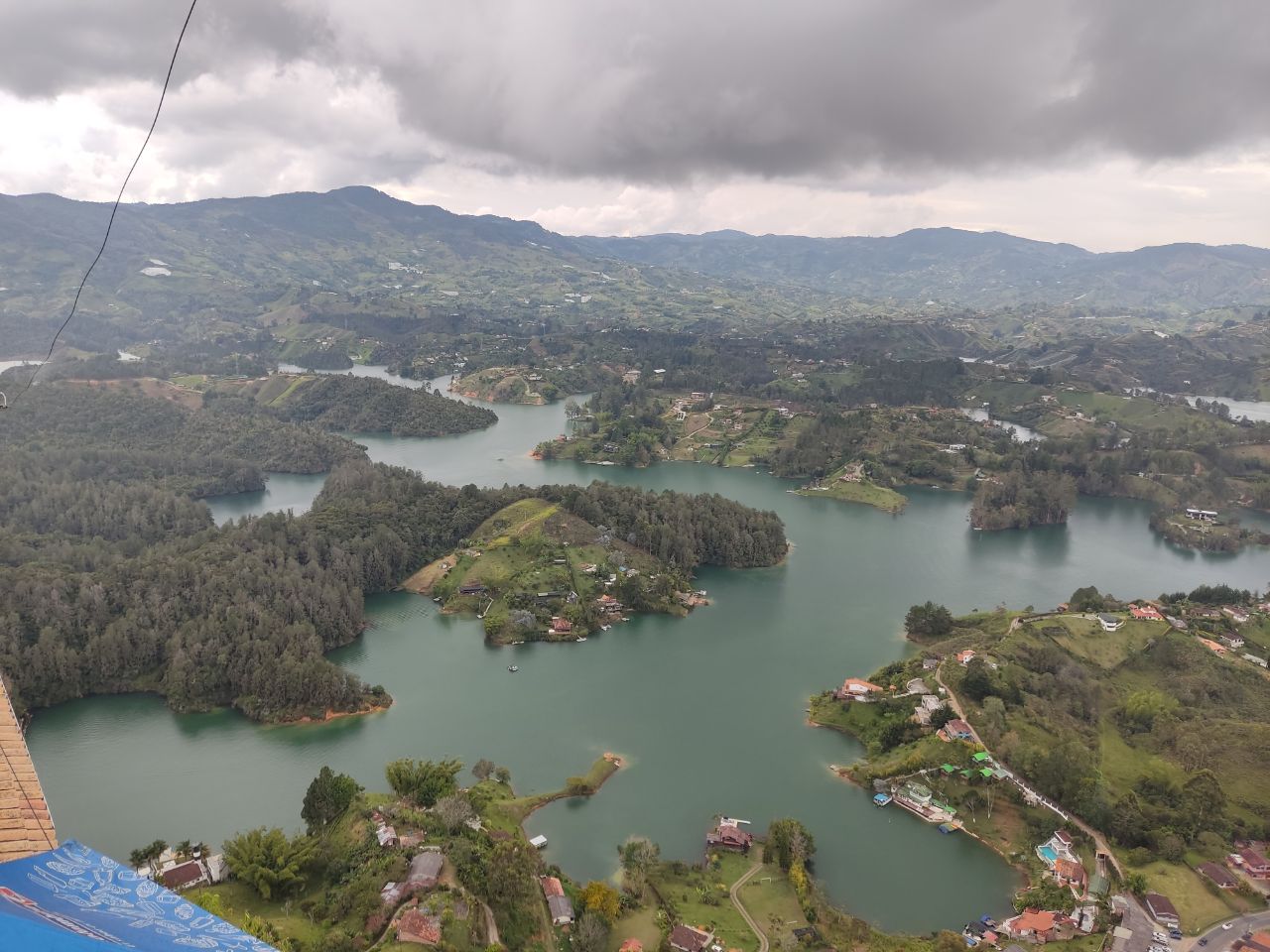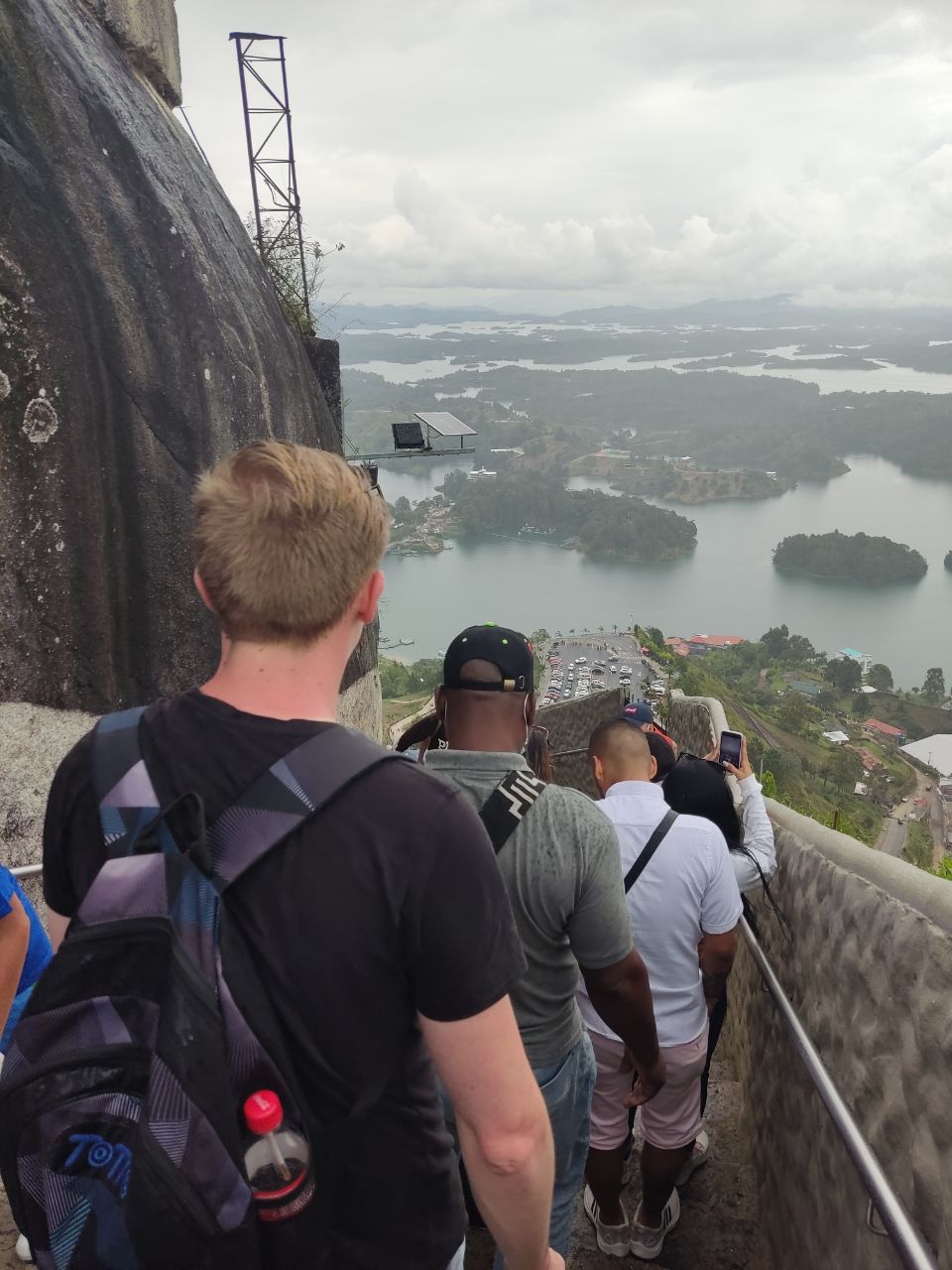 Allí ofrecen el servicio de helitours o paseo en helicóptero, pero tampoco sé el precio, solo sé que se veía genial pero ya era nuestra hora de regresar a Medellín, así que una vez todos los pasajeros estábamos en el bus que fue a eso de las 4:30 pm regresamos y este viaje es de 2 horas aproximadamente, todo depende del tráfico, gracias a Dios este día no había mucho y llegamos temprano a casa cuando los chicos nos dejaron en el mismo lugar donde nos recogieron.
There they offer helitours or helicopter rides, but I don't know the price either, I just know that it looked great but it was time to go back to Medellin, so once all the passengers were on the bus that went around 4:30 pm we return and this trip is approximately 2 hours, it all depends on the traffic, thank God this day there was not much and we arrived home early when the boys left us in the same place where they picked us up.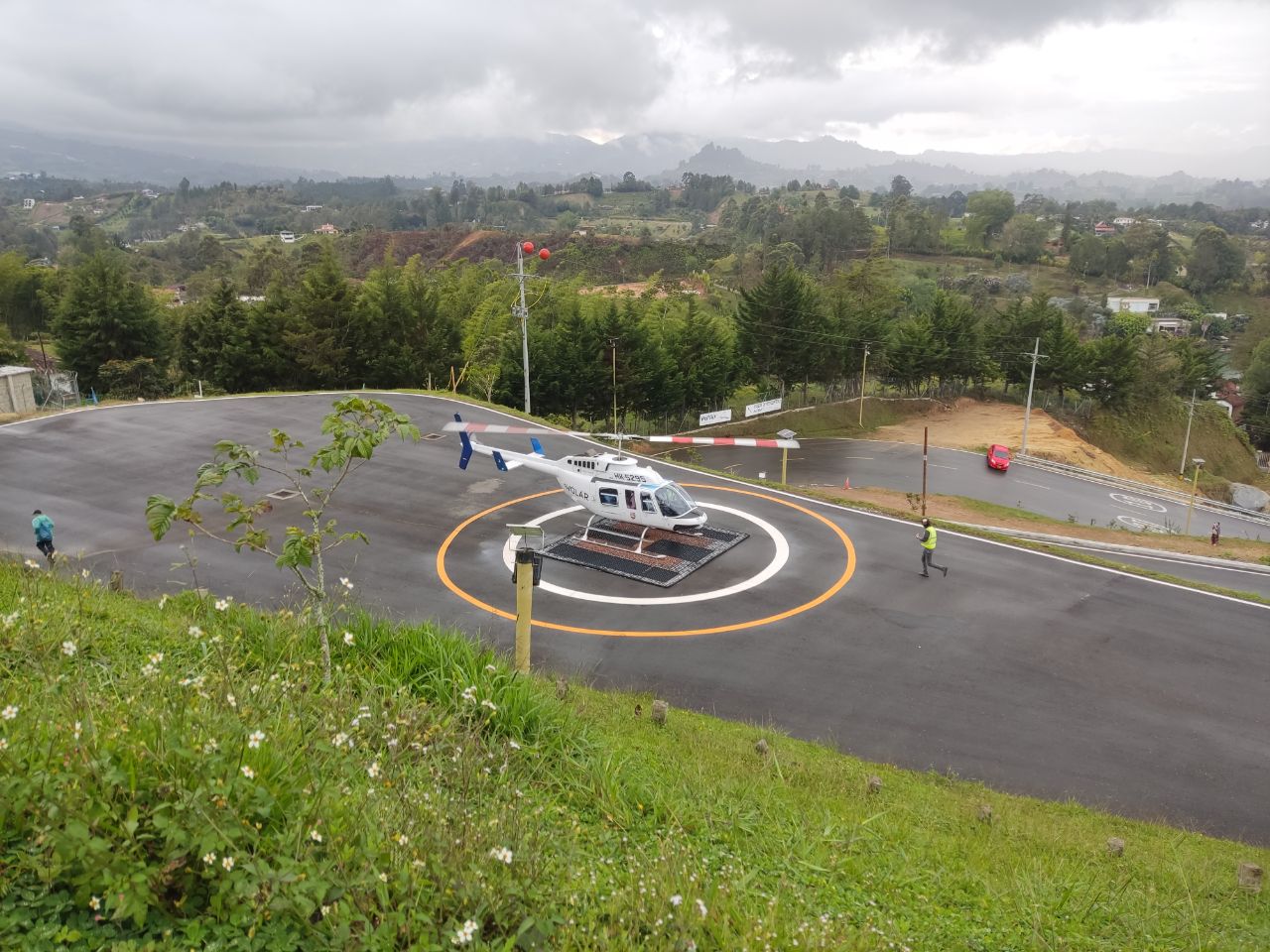 Eso fue todo el tour de Guatapé, la verdad es que es una experiencia genial, en realidad Medellín es genial y estoy segura que les va a encantar, por eso es una ciudad tan visitada por extranjeros. Espero que les haya gustado y nos vemos en un próximo post donde les mostraré más de Medellín. Saludos!
That was the whole tour of Guatapé, the truth is that it is a great experience, actually Medellín is great and I am sure that you will love it, that is why it is a city so visited by foreigners. I hope you liked it and see you in a next post where I will show you more about Medellín. Greetings!
Todas las fotos fueron tomadas con un Xiaomi poco x3 pro // All photos were taken with a Xiaomi poco x3 pro