When travelling Faith and I prefer to find a balance between doing something and doing nothing; Doing nothing usually means doing something, but not too much doing something...A little confusing I guess. What I mean is sometimes we just like to do more relaxing things, take a rest day, and what's more relaxing than a train ride through some beautiful scenery?
We were down in Dunedin on the south-east coast of New Zealand's South Island; It's a very beautiful part of New Zealand, but then all of New Zealand is beautiful. We had a free day and decided to check out a train journey we'd heard about...It was basically a train ride with scenery, nothing more, but it sounded like the perfect thing to do on our rest day.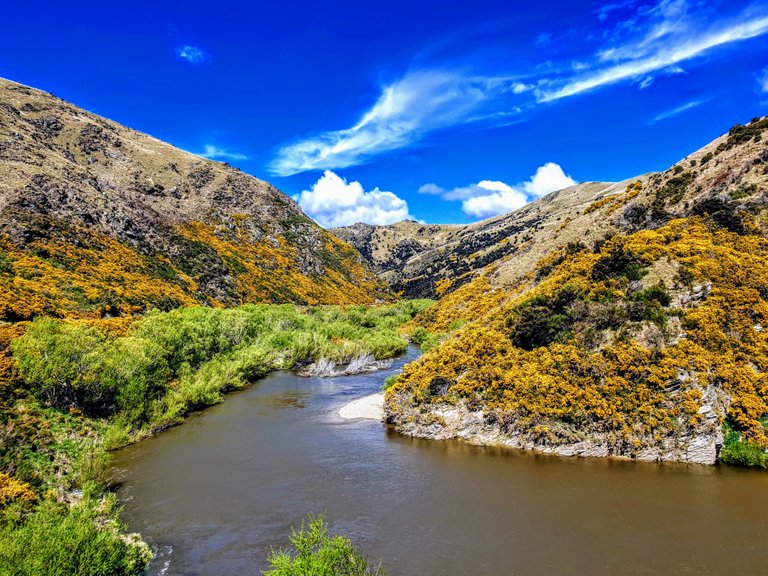 Taieri Gorge railway
The day trip begins at the very attractive Dunedin Railway Station, once New Zealand's busiest train station. Construction began in 1903 and the station was built with a multi-purpose use in mind due to Dunedin being a strong commercial and industrial centre with gold and coalfields nearby and lucrative forestry and livestock industries in the area.
You can see it pictured below. If you look carefully you'll see Faith in the lower right of the shot just below that tree...She's pretending to be a flower.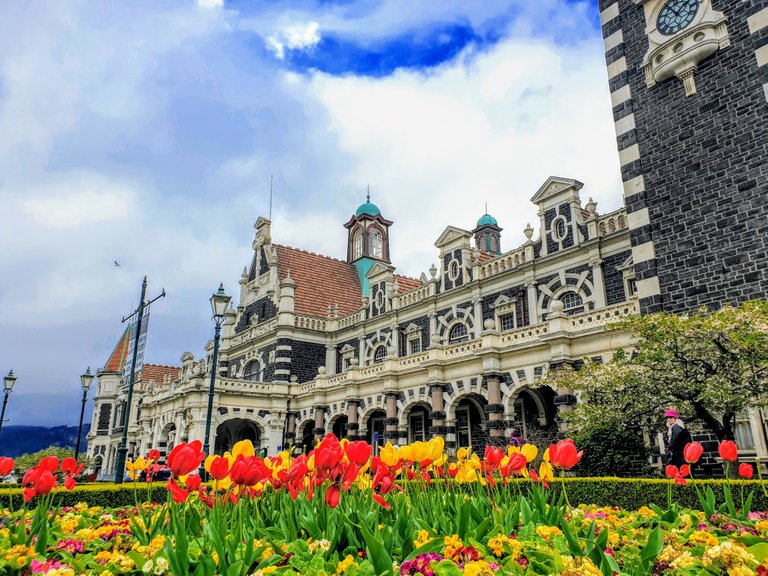 If you've followed my posts for a while you'll be familiar with my wife Faith...And that bloody beanie! I'm not sure if I've got any photos from New Zealand without her wearing it however it was cold and I think she makes it work.
We arrived at the station and watched the railway workers get the train ready for our trip and wandered about the station a little. It wasn't difficult to imagine it a hundred years ago, it hasn't changed much which is nice I think; There's nothing modern about it.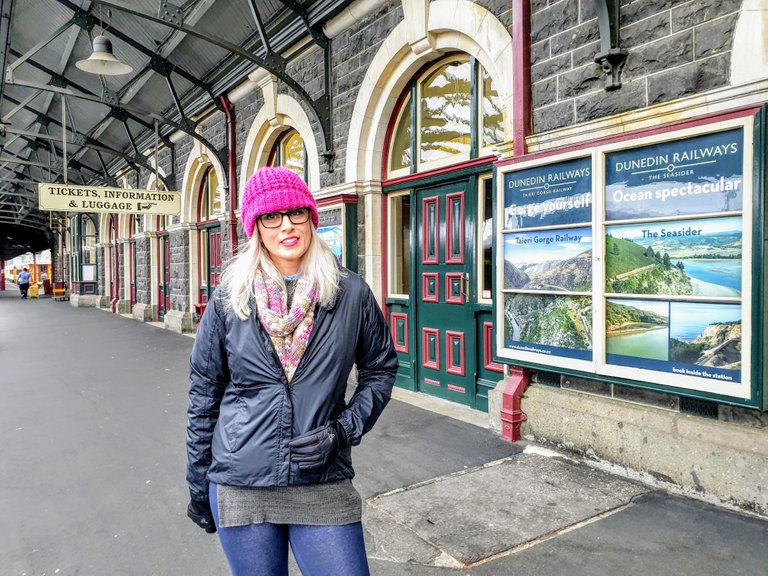 Below you can see the chap coupling the locomotive up to the carriages. The fellow in the yellow safety vest is waiting as the locomotive slowly moves backwards towards the carriages and then you can see him signalling to the train driver once it's coupled. It was all quite a simple process and one the chap has probably done a thousand times.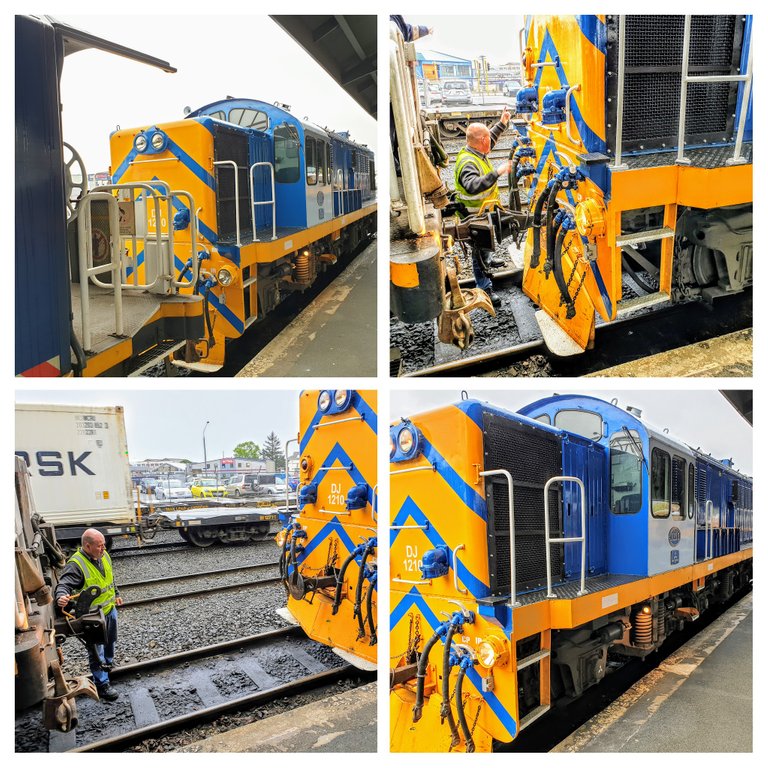 Soon after we were on our way heading northwest and then north following the the Taieri River up-stream.
This railway, the Otago Central Railway, began construction around 1877 not long after the gold rush began and considering the terrain it would have been very difficult to construct. There were gorges to span and mountains to tunnel and with most of the work happening manually it was a massive undertaking; This is evidenced by the fact it wasn't until 1921 when the line reached Cromwell up near Queenstown a couple hundred kilometres away.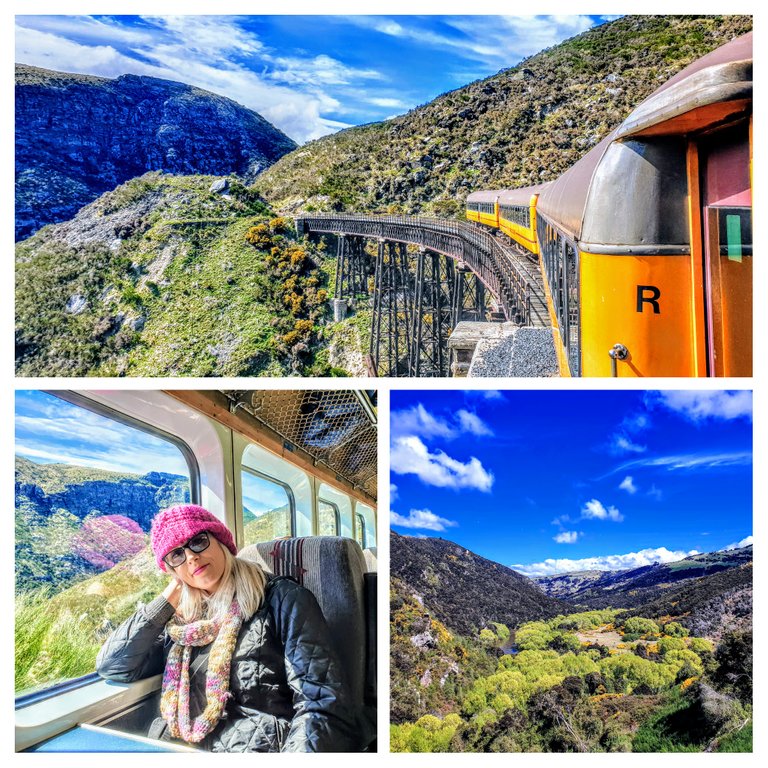 The line was closed around 1990 as a dam was constructed and much of it was removed. The Taieri Gorge railway now operates on the remaining section between Dunedin and Middlemarch.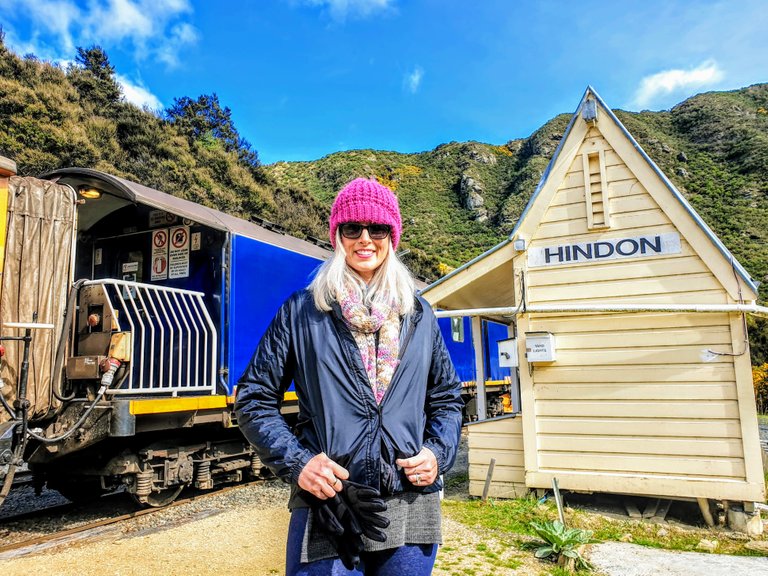 Once complete the line serviced those industries mentioned above and was a vital lifeline for people living and working in the areas along its route. It had it's share of trouble though.
A head on collision in 1902 forced the introduction of tablet working, for safety purposes. This required a train to collect a tablet from the tablet-station at the beginning of a section to gain access to that section of line. It would then have to drop that tablet off at the next tablet-station when it exited the section. That part of the rai line was deemed closed to all other trains as no tablet would be there for them to collect. This, and signaling, prevented any further collisions of trains travelling towards each other.
Interestingly trains were required to actually stop to collect these tablets although at some stations operators were employed to hand them to train crews so they would not be forced to stop.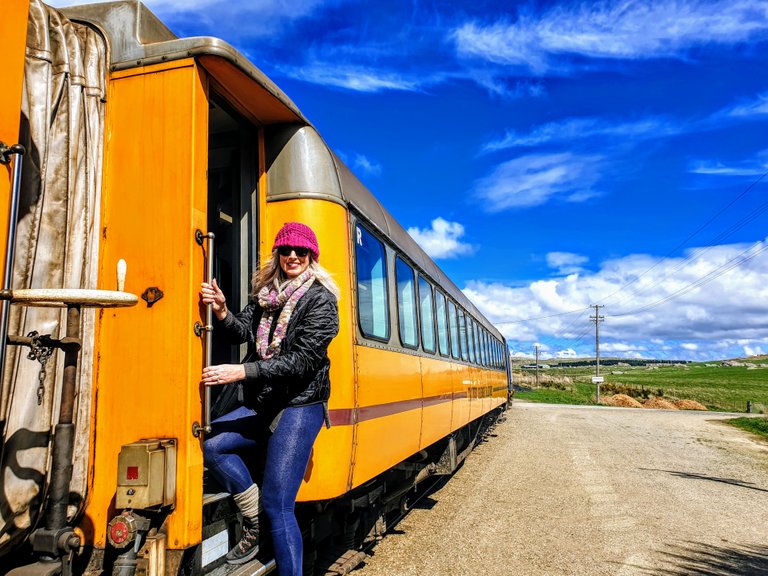 There were several stops along the way and at each were information boards outlining the history of the line and the areas it went through.
We took some time to read some of the information which pretty much demonstrated how hard life would have been back in the early days. I think easy days were few and very far between. There's stories of gild miners rail workers and farmers who ran sheep in these remote areas.
As the train wound its way along the river, spanned the deep gorges and cut through mountains I was left with nothing but respect for the men who cut this line with nothing but their hands, picks and shovels. Of course, it wasn't much easier for the farmers and gold miners who worked the area although with the introduction of the railway things got just that little bit better as travel was easier and equipment more readily available.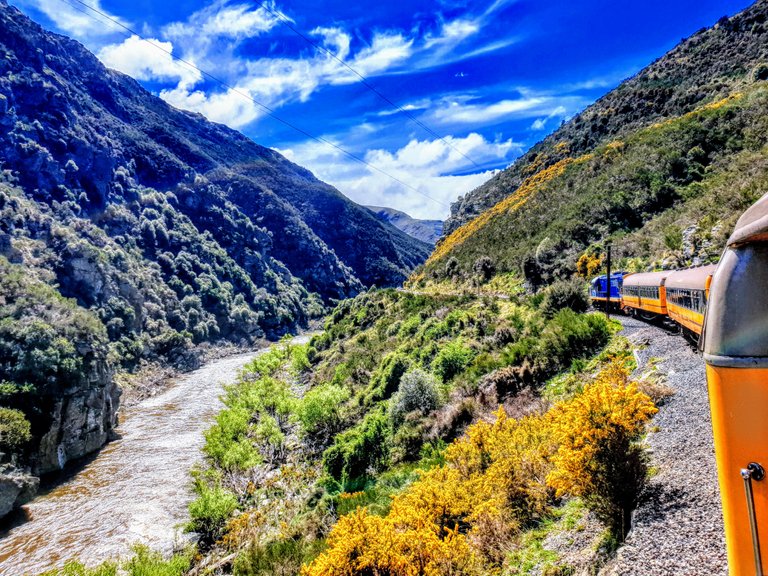 The on-board commentary is excellent and there's a dining car where one can grab tea, coffee and cool drinks, sandwiches and cakes plus chips and other snack foods. There's no hot food service though. We grabbed sandwiches and coffee, which was remarkably good, and enjoyed the view whilst we ate. Of course, me being me, I didn't sit around for too long preferring to move about and spend some time on the open-air deck, the cold wind in my face.
The railway operates a return service but also a one-way trip which is what many hikers and cyclists prefer. They take the ride up then disembark to take on the Otago Central Rail Trail.
This trail is a really cool journey which I'd like to do one day. You can take a look at the website here if you like and a look at the one minute video lifted of their website will give you a glimpse of how legit it is! You can see that that video here.
That's an adventure we'll have to take on another trip though as we were already heading back to Dunedin.
The Taieri Gorge Railway keeps alive some of the history of the Otago Central Railway...Since 1877 trains have snaked their way along these tracks and whilst only a small section remains it's enough to give people an idea of how necessary and vital this line would have been to the development of the area.
We paid $103AUD each for our trip and on-board food and drinks are extra. I'd say it's a great way to see some scenery one would not normally see if driving and to learn a little about the history of the area. We used it as a rest day, that was the intention, but it's really an activity in itself and well worth the effort.
Thanks for hopping on board this post, I hope you also get the chance to ride this rail trip someday.
---
Design and create your ideal life, don't live it by default - Tomorrow isn't promised.
Be well
Discord: galenkp#9209