I've been working for thirty eight years, since the age of thirteen when I took a job at a local supermarket sorting one litre soda bottles returned for washing and re-use. It wasn't a glamorous job but paid me a few dollars an hour, which seemed like thousands to a little tacker like me.
We weren't a well-off family so that job, seventeen or eighteen dollars a week, made a big difference and provided a degree of responsibility and the satisfaction of reward for effort - An ethos that stuck with me.
I've had a few different jobs since and, fortunately, they paid a little more each time as my experience and expertise grew. Now...Well I work at executive level in a huge company operating in the property sector. I lead others, mentor and guide, consult with clients, have budgets to write and, luckily, enjoy a large degree of autonomy in my role. It's a job I'm good at, probably to be expected after twenty years in the industry, and I enjoy doing it mostly.
Today...I enjoyed it a little more than usual and here's why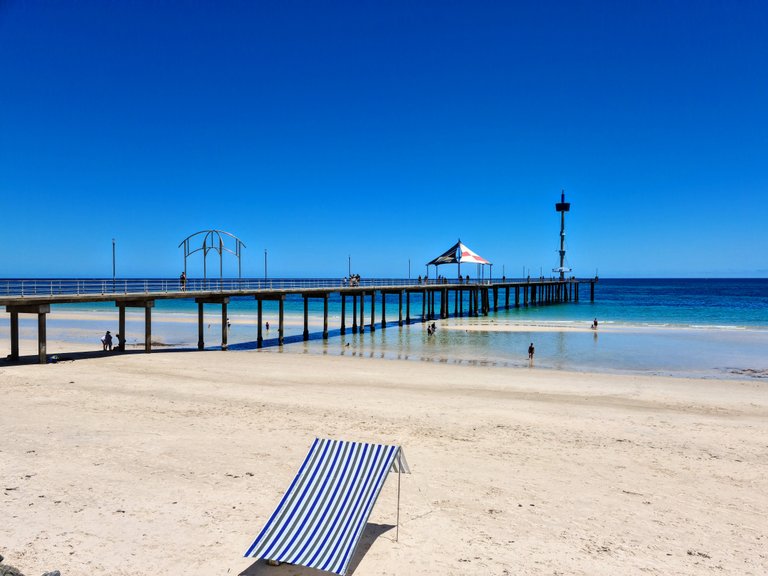 I've just finished a client meeting; We've been communicating in respect of her investment portfolio and are at the business end now. Today was a casual meet and greet, a coffee meeting, which gave me a chance to add the final layer of value with the client, with the contract to follow.
She proposed the meeting place, further from my office than I would have liked but I jumped at it and I think the images demonstrate why.
---
Jetty Road, Brighton, South Australia
We met at a café called Alimentary, 47 Jetty Road; It's a casual place that serves breakfast, light lunch-meals, desserts and coffee. It was busy but she reserved a table; We greeted and got down to the serious business of business talking about investment, the market, life in general and basically sealed the deal in a fairly friendly and civilised manner and in pleasing surroundings.
After the hour-long meeting we parted ways and I decided to take advantage of this stunning location by wandering down the road towards the beach for a walk.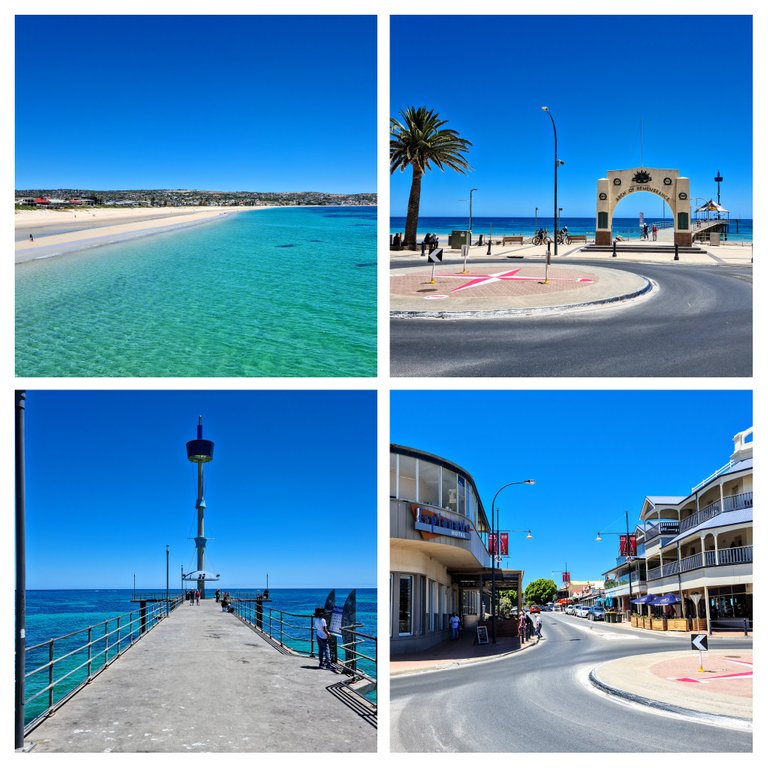 Brighton is small suburb to the south of the city, some fifteen kilometres from the Adelaide CBD, and is highly regarded for its cosmopolitan and relaxed vibe...And that stunning beach you can see in my images.
It draws thousands of people each year although never seems to be crowded; I suppose this is because we have so many amazing beaches like this that people tend to space themselves out between them all.
The esplanade is a popular place for walkers and runners, bike riding and skating and on days like today there's always people making the most of the views and atmosphere. It wasn't a hot day today so only a few were in the water. Paddle-boarding, kite-surfing and kayaking are popular water-sports and the jetty often hosts recreational anglers hoping to snag a bite.
I added myself into the mix today by taking a stroll along the esplanade and breathing in some of the fresh sea air and the stunning views in this beautiful place. I grabbed a drink and just plodded along really, nothing strenuous considering I was wearing work attire. There seemed to be no hurry...A perfect working day right?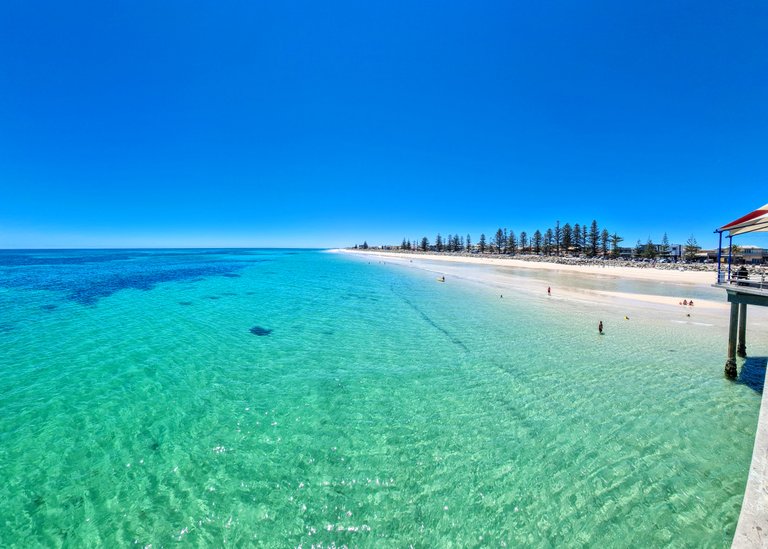 On my way back I took a stroll along the jetty which is where I took the image above, it's looking north back towards another legit Adelaide seaside location; It's called Glenelg and I wrote about it a couple weeks ago which you can see here if you would like.
The colour of the water was stunning today and I wouldn't have minded going for a dip on company time but thought better of it and walked around instead. It'll be a super hot weekend this week so I'm sure there'll be plenty out there in the water in the next few days...I might head back down for a dip too considering that it's a four day weekend for me this week.
Jetty Road itself is full of cool little shops, funky, even quirky, places offering all sorts of things like clothes, homewares, crafts and even toys...I went into that toy shop for a look...No Lego though.
The most prevalent shops are the eateries though and it's at the café's, ice cream parlours and bakeries where you'll find people socialising, eating and drinking foods that have a distinctly local flavour, and generally loving their Jetty Road lifestyle...And there's a lot to love.
It's where I am writing this post actually, a café where I'm enjoying smashed avocado on rye toast topped with poached eggs with chargrilled chorizo on the side. Yep, you read that right! It's awesome. I took a look at the photos I snapped on my phone during my walk and figured they were post-worthy...So, hiving on company time! Yeah I know, naughty me.
If café's, bakeries and ice cream shops aren't your thing there's a big pub on the esplanade, imaginatively named, Esplanade Hotel, where one can sit on the balcony with a cold beverage enjoying pub-fare and the view...They do some great seafood there...Speaking from experience of course.
People are parochial around here; The locals love Jetty Road and are happy to come back again and again most walking from their homes near by, and why not I guess, when it looks like this! People from right across Adelaide come here though and it's a really great spot to meet friends and family offering a nice mix of eateries, shopping and that amazing beach. Speaking of the beach, the Brighton Surf Rescue Club is based here so swimmers can enjoy themselves knowing there's help close at hand if required.
I enjoyed my office environment today, which is probably not surprising considering the location; I'm pleased my client proposed Jetty Road, Brighton for the meeting. It's time to head back to my real office now though where the view is...Nowhere near as amazing as it is down here at Brighton.
Still, I can't complain I suppose; Doing deals in places like this is about as good as a work day gets and I'm lucky my job allows me the luxury to spend work time in places like this sometimes. It's a big leap from that supermarket job where my working life began thirty eight years ago and I feel lucky to have the opportunity.
So, tell me, what was your first job and have you had the fortune to work in any fantastic locations like this?
---
Design and create your ideal life, don't live it by default - Tomorrow isn't promised.
Be well
Discord: galenkp#9209