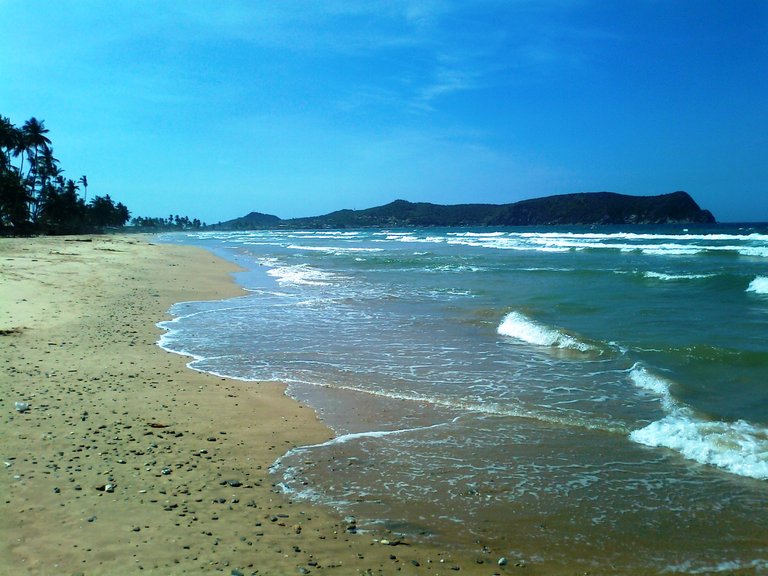 Los Cocos beach / Playa Los Cocos
---
Hello friends of the world who read me! My trip through Sucre, Venezuela, continues as I had told you. My daughter and I took the bus in the city of Carúpano to go to our next destination: Río Caribe.
¡Hola amigos del mundo que me leen! Mi viaje por Sucre, Venezuela, continúa como les había dicho. Mi hija y yo tomamos el autobús en la ciudad de Carúpano para ir a nuestro próximo destino: Río Caribe.
After about an hour, we arrived in the city, we got off in the center and from there we walked and asked for posadas. We found a very beautiful one called La Posada de Arlette, that was the name of the owner, a Swiss woman who had come to these lands on vacation, she met a Venezuelan, they got married and stayed here. She had been widowed a few years ago, she told us. Her inn was very clean and tidy and in her living room she had a huge library full of all kinds of books, she spent a lot of time reading, she also had two beautiful dogs that she always took for walks on the beach.
Después de una hora aproximadamente, llegamos a la ciudad, bajamos en el centro y de ahí caminamos y preguntamos por posadas. Encontramos una bien bonita llamada La Posada de Arlette, ese era el nombre de la dueña, una suiza que había venido a estas tierras de vacaciones, conoció a un venezolano, se casaron y se quedó por aquí. Había quedado viuda hace unos años, nos comentó. Su posada era bien limpia y ordenada y en su sala tenía una enorme biblioteca llena de todo tipo de libros, ella se la pasaba leyendo, también tenía dos perros bellos que siempre sacaba a pasear a la playa.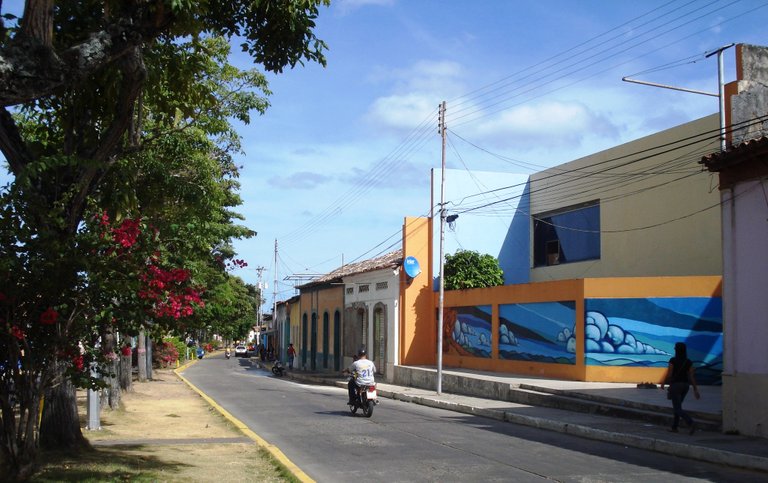 Main street of Río Caribe / Calle principal de Río Caribe
---
We talked for a while and then she took us to the second floor where the rooms were. We stayed in one that had a view of the street, very beautiful, we really liked it. There, what was heard was the sound of the different birds and we were happy to know the beauties of this place.
Hablamos un rato y después ella nos llevó al segundo piso donde estaban las habitaciones. Nos quedamos en una que tenía vista hacia la calle, muy bonita, nos gustó mucho. Ahí lo que se escuchaba era el sonido de los distintos pajaritos y nosotras contentas por conocer las bellezas de este lugar.
We asked the lady which beaches were suitable to visit, we left our things in the room and took a jeepney to go to the closest beach: Los Cocos beach. When we got there, the first thing we did was look for the shade in one of the stalls there, with thatched roofs.
Le preguntamos a la señora qué playas eran adecuadas para visitar, dejamos nuestras cosas en la habitación y tomamos un taxi colectivo para ir a la playa más cercana: Playa Los Cocos. Llegando allí lo primero que hicimos fue buscar la sombra en uno de los puestos que había ahí, con techos de paja.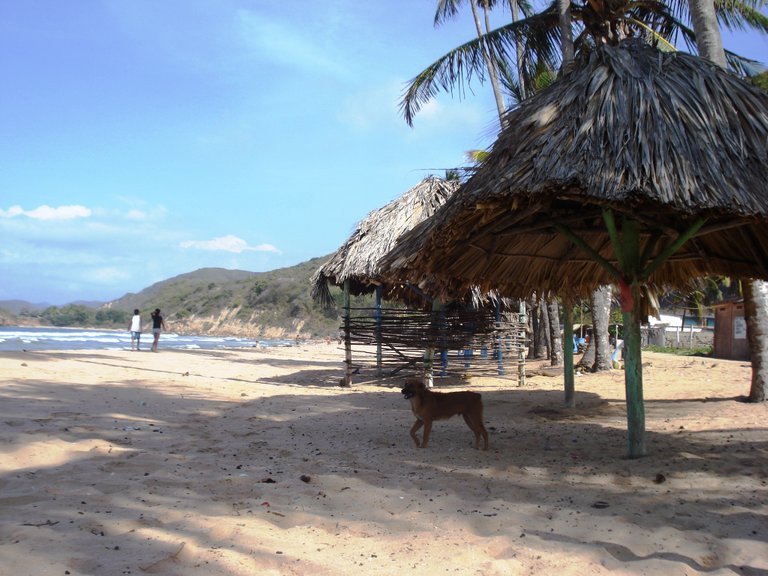 My daughter took off her clothes and got into the water. After a while I also went in and while I am bathing I see many round and large things that the sea was bringing to the shore, one after another. The people there told us that they are called "bad waters" and that in that season the sea throws them away.
Mi hija se quitó la ropa y se metió al agua. Al rato entré yo también y mientras me estoy bañando veo muchas cosas redondas y grandes que el mar estaba sacando a la orilla, unas tras otras. La gente de ahí nos dijo que se llaman "aguas malas" y que en esa temporada el mar las bota.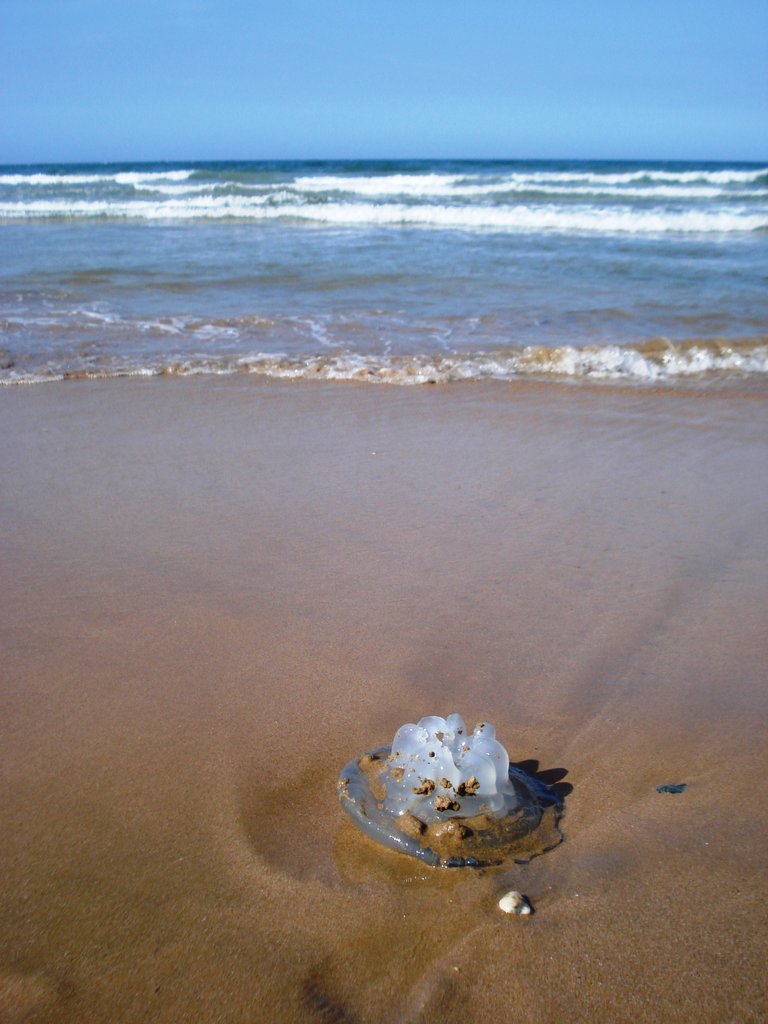 We stayed a little longer and then we got out of the water. I turned one over with a stick to see it, it was like jelly and very heavy, it was still alive. Well, the sea kept throwing those things away and we didn't swim anymore. We were tanning, we had lunch what we had brought and then we walked on the sand because despite the "bad waters" the beach was beautiful and the place magical.
Nos quedamos un poco más y después salimos del agua. Yo volteé una con un palo para verla, era como gelatina y muy pesada, estaba todavía viva. Bueno, el mar seguía botando esas cosas y no nos metimos más. Nos quedamos bronceándonos, almorzamos algo que habíamos llevado y luego caminamos por la arena porque a pesar de las "aguas malas" la playa era hermosa y el lugar mágico.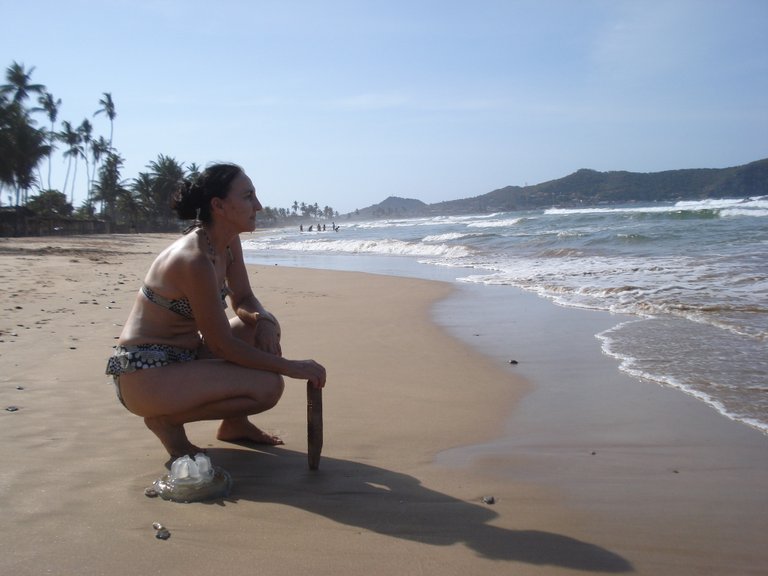 We took a lot of photos, there were hardly any people that day but what there was a lot was rubbish thrown in the sand and we collected what we could in a bag. There are many unaware and irresponsible people who don't realize that they are polluting their own lives.
Tomamos muchas fotos, casi no había gente ese día pero lo que sí había bastante era basura tirada en la arena y nosotras recogimos lo que pudimos en una bolsa. Hay muchas personas sin conciencia e irresponsables que no se dan cuenta de que están contaminando su propia vida.
We had a lot of fun on this beach that we didn't know, all the beaches always seem beautiful to me. It's the best to lie on the seashore, close your eyes, listen to the waves and feel the freshness of the sea breeze, what a divine sensation!
Nosotras nos divertimos mucho en esta playa que no conocíamos, siempre todas las playas me parecen bellas. Eso es lo máximo acostarse en la orilla del mar, cerrar los ojos, escuchar las olas y sentir la frescura de la brisa marina, ¡qué sensación tan divina!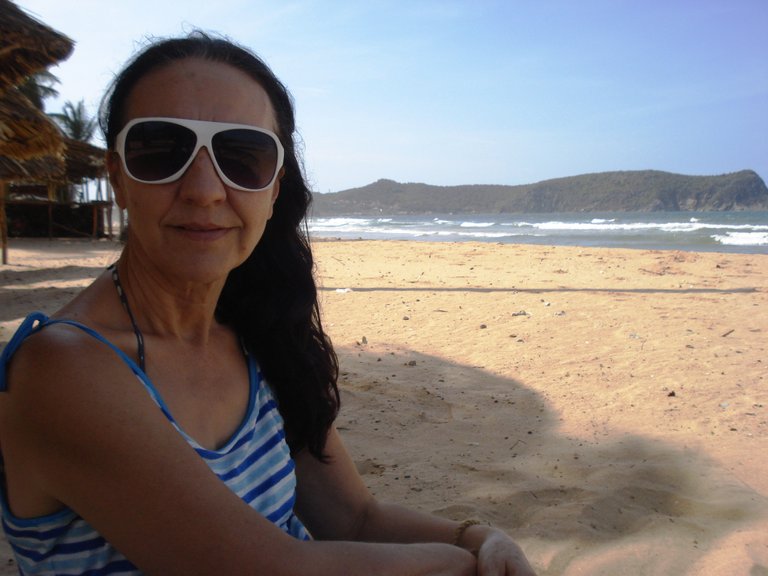 We stayed until sunset on the beach and then we took a taxi and returned to the inn. We took a bath, got dressed and went to the boardwalk to take a walk and learn about the life of the Ríocaribeños (gentilicio of its inhabitants), a city or small town, I think everyone knows each other, good and humble people.
Nos quedamos hasta el atardecer en la playa y después tomamos un taxi y regresamos a la posada. Nos echamos un baño, nos vestimos y fuimos al malecón a dar un paseo y conocer la vida de los Riocaribeños, una ciudad o pueblo pequeño, creo que todos se conocen entre ellos, buena gente y humilde.
Near the boardwalk is Venetur, a beautiful, very large hotel that receives tourists from all over and with that view of the sea I found it spectacular. Well, from the boardwalk we went to have pizza for dinner in a restaurant and when we finished we stopped by a bakery to buy bread, cheese and some yogurt for breakfast the next day, because at the inn they didn't give food, only water.
Cerca del malecón está Venetur, un bello hotel bien grande que recibe turistas de todas partes y con esa vista al mar me pareció espectacular. Bueno, del malecón nos fuimos a cenar pizza en un restaurant y al terminar pasamos por una panadería para comprar pan, queso y algún yogurt para el desayuno del día siguiente, porque en la posada no daban comida, sólo agua.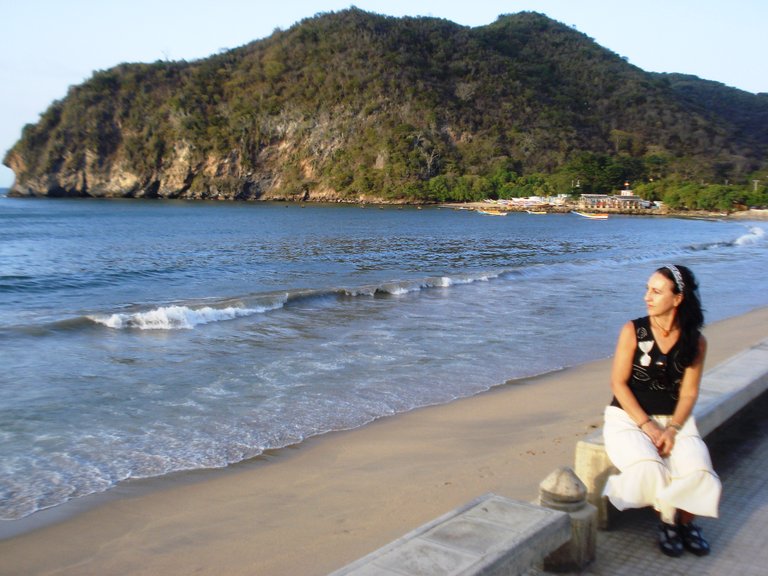 By Río Caribe boardwalk / Por el malecón de Río Caribe
---
The next morning we got up in high spirits, had breakfast in the room and then went out to ask how far away was a beach called Chaguarama de Loero, one said that it was three hours on foot, another that this was a lie and that in an hour and a half we would arrive.
A la mañana siguiente nos levantamos con mucho ánimo, desayunamos en la habitación y después salimos a preguntar qué tan lejos quedaba una playa llamada Chaguarama de Loero, uno decía que a pie son tres horas, otro que eso era mentira y que sólo en una hora y media uno llegaba.
We went to a bus stop, asked and got on. The bus dropped us off at the entrance of the town of Chaguarama and from there we walked, quite a bit, passing in front of some scattered houses. We continued walking alone, there was no one else there, I was really afraid, I don't like very lonely places, but my daughter said nothing was happening.
Fuimos a una parada de camionetas, preguntamos y subimos. La camioneta nos dejó en la entrada del pueblo de Chaguarama y de ahí fuimos caminando, bastante, pasando frente a algunas casas dispersas que había. Seguimos caminando solas, no había nadie más allí, yo la verdad andaba con cierto miedo, es que los lugares muy solitarios no me gustan, pero mi hija decía que no pasaba nada.
What happens is that there is almost no public transport to go to the beach, and if there is, it only transits once a day. My feet were already hurting and the heat above me, you can imagine. There was little left to arrive and suddenly a bus with people came, we got on and took us to the town where the beach was, which was the final destination of this bus.
Lo que pasa es que ahí no hay casi transporte público para ir a la playa, y si hay pasa una sola vez al día. Ya a mí me dolían los pies y el calor encima, se pueden imaginar. Faltaba poco para llegar y de repente venía una camioneta con gente, subimos y nos llevó hasta el pueblo donde estaba la playa, que era el destino final de este transporte.
We got out and the driver told us that around noon he was going to pick us up, it was Sunday. So we walked to the beach, I stopped, that beach was very lonely and there were no people at all, I was scared and yelled at my daughter, don't go any further! But she went to the shore of the beach, she wanted to take pictures, and to tell the truth, the place was spectacular and the beach as half hidden, it seems that only the few people who live in that town bathe there.
Bajamos y el conductor nos dijo que como al mediodía iba a pasar a buscarnos, era día domingo. Entonces fuimos caminando hasta la playa, yo me detuve, es que esa playa era muy solitaria y no había nada de gente, me dio miedo y le gritaba a mi hija, ¡no vayas más lejos! Pero ella fue hasta la orilla de la playa, quería sacar sus fotos, y a decir verdad, era espectacular el lugar y la playa como medio escondida, parece que ahí se baña sólo la poca gente que vive en ese pueblo.
I stayed behind waiting for my daughter to return, the road was dirt and a little narrow, with tall vegetation on the sides and noises were heard in the mountains every so often as if a snake were passing by, what a scare! After a while my daughter came back happy and told me: you don't know what you have missed, that beach is beautiful! I went up there and she was right, a wild beauty and at the same time somewhat dangerous as a girl from the town told us.
Yo me quedé atrás esperando que mi hija regresara, el camino era de tierra y un poco angosto, con vegetación alta a los lados y a cada rato se escuchaban en el monte ruidos como si una serpiente pasara, ¡qué susto! Al rato mi hija regresó contenta y me dijo: ¡no sabes lo que te has perdido, esa playa es bellísima! Me acerqué hasta allá y ella tenía razón, una belleza salvaje y a la vez algo peligrosa como nos comentó una muchacha del pueblo.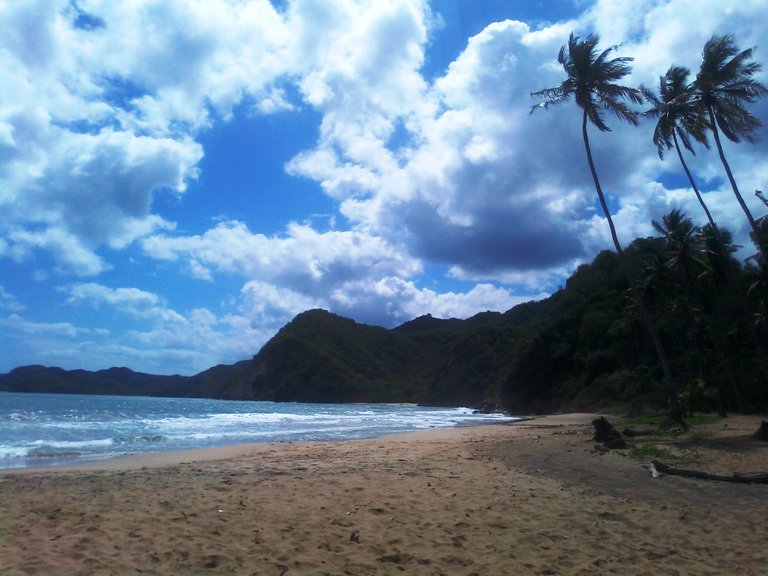 The beach of Chaguarama de Loero / La playa de Chaguarama de Loero
---
We walked to where some houses were and we sat under the shade of a tree to wait for the bus that was going to pass at noon to return to Río Caribe, while my daughter bought some ice creams that were sold in a house. It finally arrived and we left that little town, we didn't bathe on its beach but we had a great experience of the unknown.
Caminamos hasta donde estaban unas casas y nos sentamos bajo la sombra de un árbol para esperar el transporte que iba a pasar al mediodía para regresar a Río Caribe, mientras mi hija compró unos helados que vendían en una casa. Por fin llegó y nos fuimos de ese pueblito, no nos bañamos en su playa pero nos quedó una gran experiencia de lo desconocido.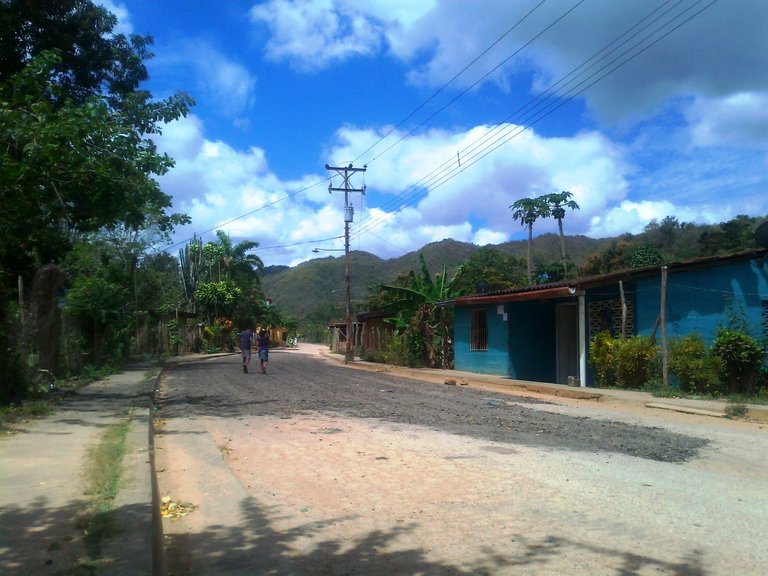 The little town of Chaguarama / El pueblito de Chaguarama
---
When we got to Rio Caribe we went to have lunch at a restaurant, we took a walk along the boardwalk and later we stopped by the bakery to buy something for breakfast the next day. We arrived at the inn, chatted for a while with Arlette, the owner, and went up to the room to take a bath and rest. In these two places that we visited, we had a great time, although in the second we walked a lot, but it was worth it, that's how the adventures are, full of discoveries that make one stronger to continue getting to know the next beaches that I will tell you about later.
Cuando llegamos a Río Caribe nos fuimos a almorzar a un restaurante, dimos un paseo por el malecón y más tarde ya pasamos por la panadería para comprar algo para el desayuno del día siguiente. Llegamos a la posada, charlamos un rato con Arlette, la dueña, y subimos a la habitación a echarnos un baño y descansar. En estos dos lugares que visitamos la pasamos muy bien, a pesar de que en el segundo caminamos mucho, pero valió la pena, así son las aventuras, llenas de descubrimientos que lo ponen a uno más fuerte para seguir conociendo las próximas playas de las que les voy a contar más adelante.
Greetings my friends and I hope you enjoy the beautiful landscapes of these beaches that you see in the photos, see you soon!
Saludos mis amigos y espero que disfruten de los hermosos paisajes de estas playas que ven en las fotos, ¡hasta pronto!
THANK YOU SO MUCH FOR READING AND SUPPORTING! / ¡MUCHAS GRACIAS POR LEER Y APOYAR!


If you want to read the previous posts of my trip through Sucre, here are the links:
Si quieres leer los posts anteriores de mi viaje por Sucre, aquí dejo los links:
https://peakd.com/hive-163772/@ioanna-m/my-vacation-in-sucre-venezuela-part-i-colorada-beach-mis-vacaciones-por-sucre-venezuela-i-parte-playa-colorada
https://peakd.com/hive-163772/@ioanna-m/my-vacation-in-sucre-venezuela-part-ii-patilla-beach-and-carupano-mis-vacaciones-por-sucre-venezuela-ii-parte-playa-patilla-y


Photos taken by my daughter @sofathana with a Sony Cyber Shot 7.2 mp digital camera / Fotos hechas por mi hija @sofathana con una cámara digital Sony Cyber Shot 7.2 mp