🌲 🇫🇷 🕍 🇫🇷 🌲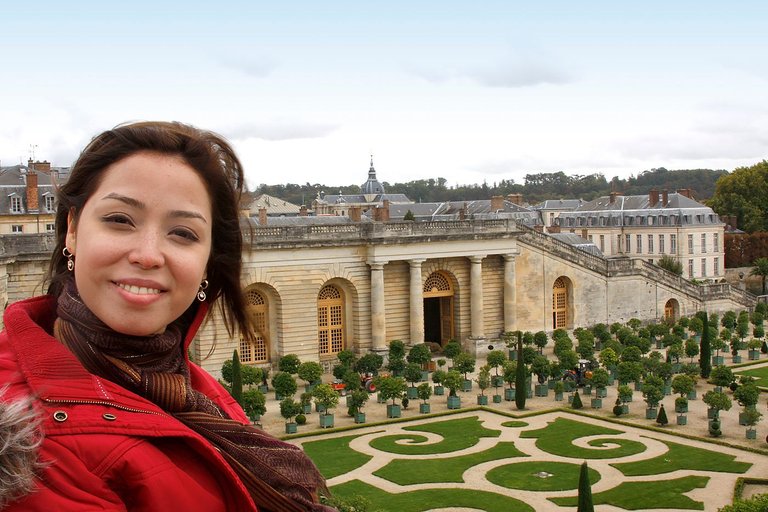 Código Pinmapple: [//]:# (!pinmapple 48.807492 lat 2.109608 long d3scr)

🌲 🇫🇷 🕍 🇫🇷 🌲
Hola mis queridos
#Hive
y
#haveyoubeenhere
hace unos años, junto a mi esposo en nuestra luna de miel, tuvimos la fortuna de visitar Versailles, el lugar más famoso y concurrido del mundo por tener los más bellos palacios y espectaculares jardines que jamás se hayan visto. Su construcción inició durante el reinado de Luis XIII, pero fue Luis XIV a quien se le acredita esta extraordinaria creación de arquitectura y paisajismo que involucra las artes del siglo XVII. Es el lugar más importante de la historia francesa, tanto que allí fue firmado el Tratado de Versalles que puso fin a la Primera Guerra Mundial. La UNESCO (Organización de las Naciones Unidas para la Educación, la Ciencia y la Cultura) la declaró Patrimonio de la Humanidad en 1979.
Hello my dear #Hive and #haveyoubeenhere a few years ago, together with my husband on our honeymoon, we had the fortune to visit Versailles, the most famous and crowded place in the world for having the most beautiful palaces and spectacular gardens ever seen. Its construction began during the reign of Louis XIII, but it was Louis XIV who is credited with this extraordinary creation of architecture and landscaping involving the arts of the seventeenth century. It is the most important place in French history, so much so that the Treaty of Versailles that ended World War I was signed there. UNESCO (United Nations Educational, Scientific and Cultural Organization) declared it a World Heritage Site in 1979.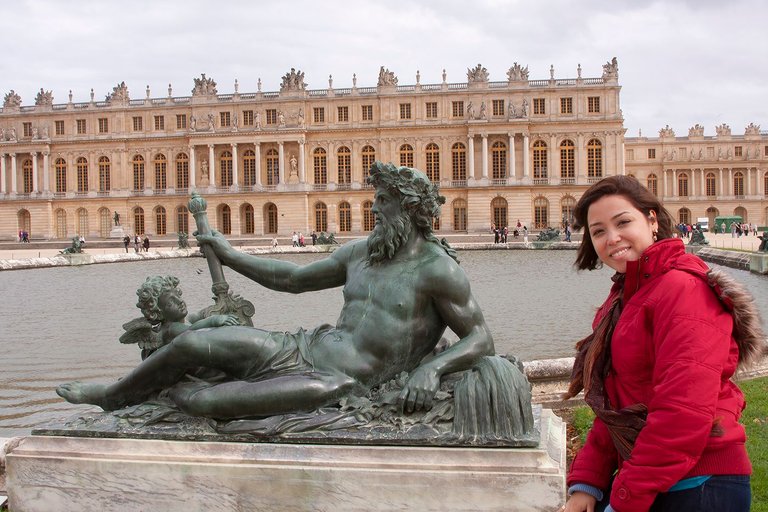 Al lado de una escultura que adorna una fuente / Next to a sculpture adorning a fountain.

🌲 🇫🇷 🕍 🇫🇷 🌲
Gracias a la información y mapa que nos facilitó la Oficina de Atención al Turista de París, pudimos llegar sin contratiempos. Tomamos un tren en la estación Champs de Mars-Tour Eiffel (estación de la Torre Eiffel) hasta la estación de Versailles Château-Rive Gauche en un recorrido de unos 40 minutos aproximadamente y luego caminamos alrededor de 10 minutos hasta la entrada del palacio.
Thanks to the information and map provided by the Paris Tourist Office, we were able to get there without any setbacks. We took a train from Champs de Mars-Tour Eiffel station (Eiffel Tower station) to Versailles Château-Rive Gauche station on a journey of about 40 minutes or so and then walked about 10 minutes to the entrance of the palace.


🌲 🇫🇷 🕍 🇫🇷 🌲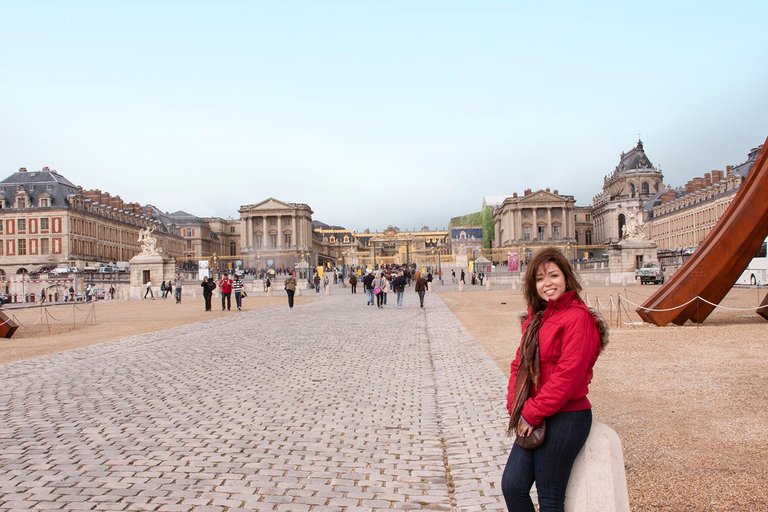 Avenida principal antes de ingresar al palacio / Main avenue before entering the palace
Al llegar te encontrarás que en las rejas del portón principal hay un cartel blanco donde dice que es un monumento histórico. Recuerdo que para ese momento estaban restaurando, el palacio y lo primero que te sorprende es el color dorado en los detalles que incluso tenía la reja. Para mis ojos fue todo un espectáculo.
On arrival you will find that there is a white sign on the railings of the main gate saying that it is a historical monument. I remember that at that time they were restoring the palace and the first thing that strikes you is the golden color in the details that even had the grille. For my eyes it was a spectacle.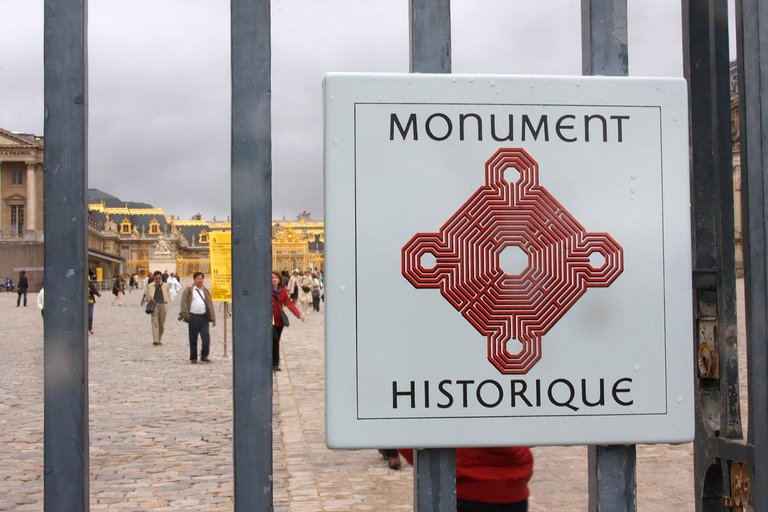 Rejas externas del monumento / External railings of the monument

🌲 🇫🇷 🕍 🇫🇷 🌲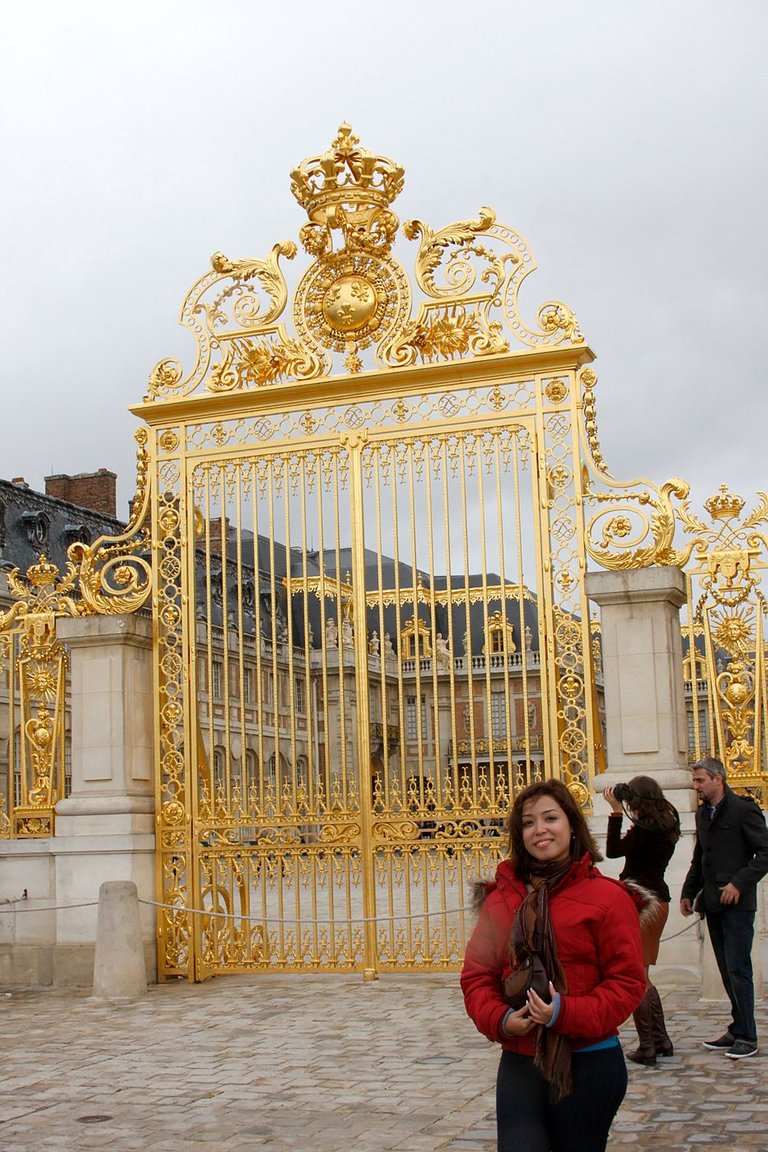 Rejas internas antes de entrar al patio central / Internal railings before entering the central courtyard

🌲 🇫🇷 🕍 🇫🇷 🌲
Luego de pasar esas rejas existe un gran patio externo donde hay distintas esculturas y obras de gran tamaño. Para entrar finalmente al palacio tuvimos que transitar por una especie de embudo o túnel en donde los visitantes entregaban sus tickets. Atravesado este túnel se llega al patio central y de allí se ingresa a los pasillos del palacio.
After passing through these gates there is a large outdoor courtyard where there are various sculptures and large works of art. To finally enter the palace we had to go through a kind of funnel or tunnel where visitors handed in their tickets. Once through this tunnel we arrived at the central courtyard and from there we entered the corridors of the palace.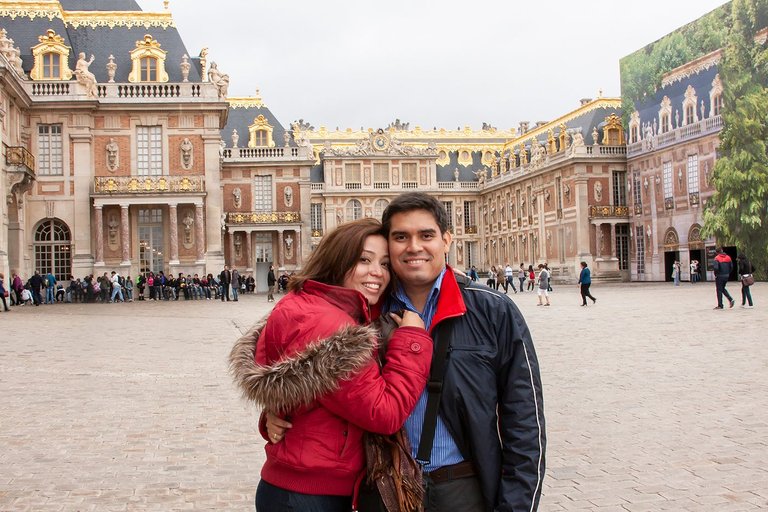 Patio central / Central courtyard

🌲 🇫🇷 🕍 🇫🇷 🌲
Para que tengan una idea de lo descomunal del lugar, las paredes y los techos están repletas de incontables obras de artes, además de las recámaras del rey y la reina existen 700 habitaciones, 67 escaleras y 2153 ventanas, pero lo que me impresionó muchísimo fue el salón de los espejos ya que, de acuerdo con los datos suministrados por los guías turísticos, el salón era alumbrado por aproximadamente 3 mil velas. Imagínense la cantidad de sirvientes que tenían sólo para alumbrar esta parte del palacio y la cantidad de dinero que se gastaba sólo para su mantenimiento. Sin embargo, debido a sus muchos ventanales si goza de una excelente iluminación durante el día.
To give you an idea of how huge the place is, the walls and ceilings are filled with countless works of art, in addition to the king and queen's chambers there are 700 rooms, 67 staircases and 2153 windows, but what really impressed me was the hall of mirrors because, according to the information provided by the tour guides, the hall was lit by approximately 3 thousand candles. Imagine the number of servants they had just to light this part of the palace and the amount of money spent just for its maintenance. However, due to its many windows it does enjoy excellent illumination during the day.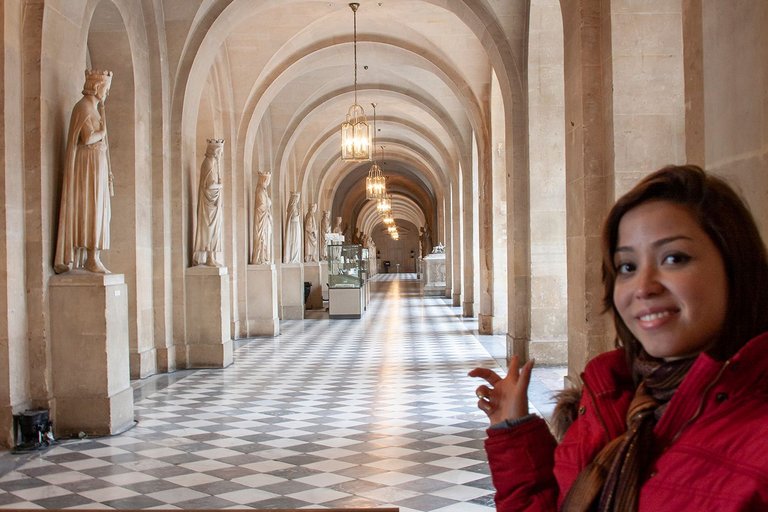 Uno de los innumerables pasillos del palacio / One of the palace's countless corridors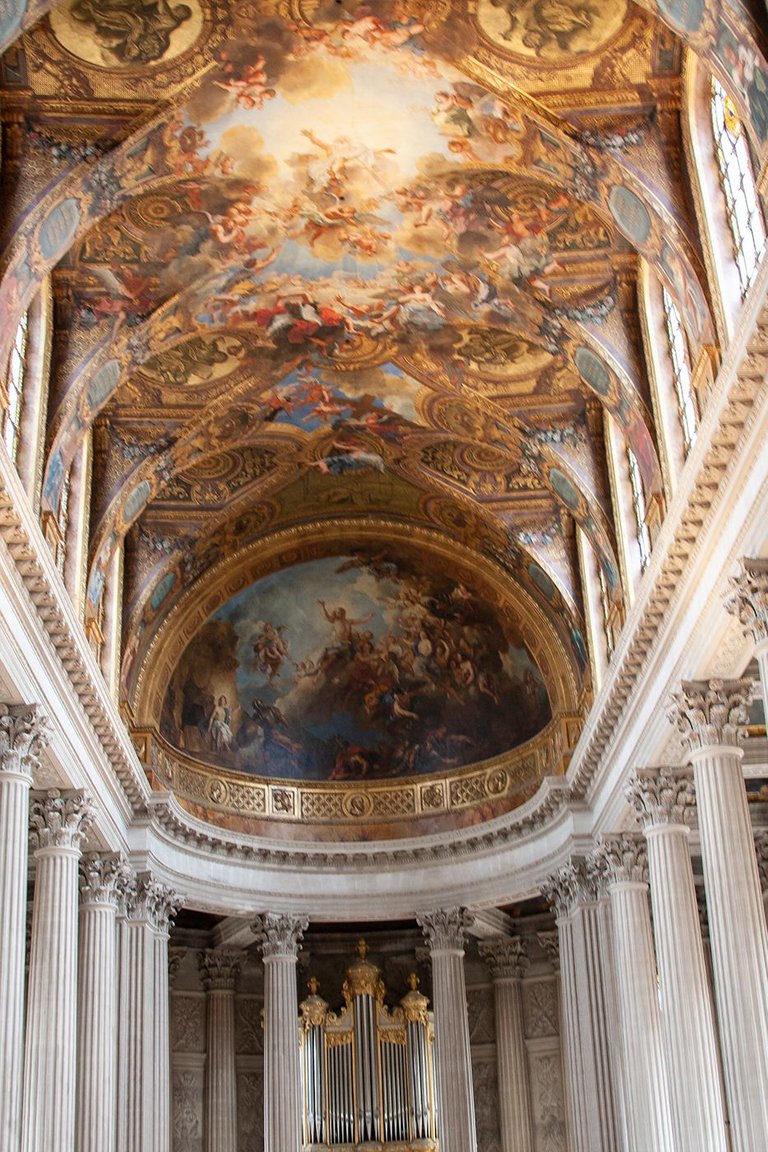 Techos y columnas del Palacio / Ceilings and columns of the palace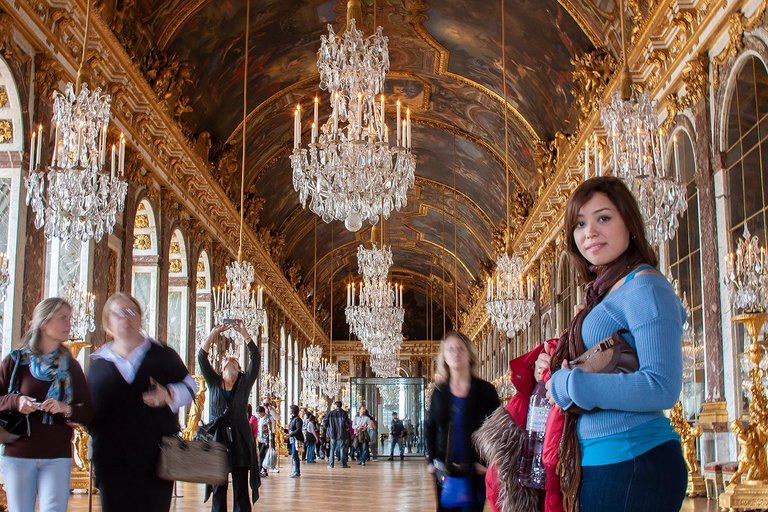 Salón de los Espejos / Hall of Mirrors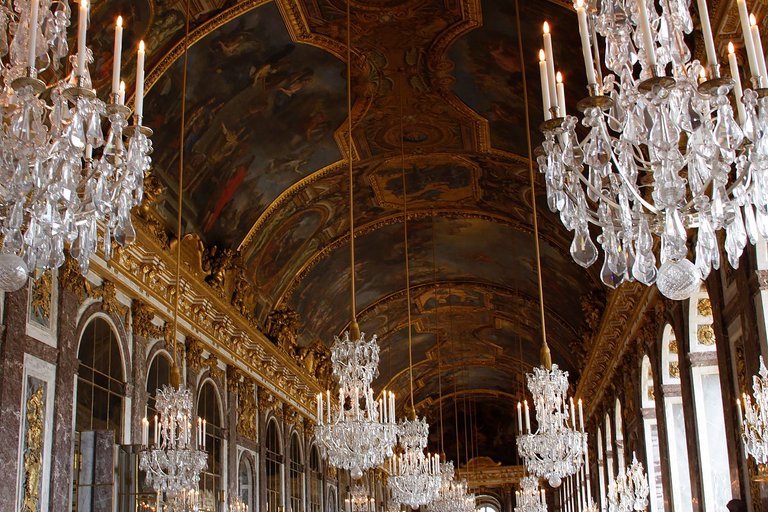 Lamparas del salón de los Espejos / Lamps of the Hall of Mirrors

🌲 🇫🇷 🕍 🇫🇷 🌲
Desde dentro del palacio puedes ver el fabuloso Jardín de Versalles. Con 800 hectáreas, 2 mil árboles, 372 estatuas, 620 disparadores y 52 fuentes cualquiera se puede perder y prácticamente nadie puede recorrer en un día. El lugar es tan enorme que puedes rentar un carro de golf, subir al trenecito o bicicletas para hacer el recorrido. Nosotros lo hicimos a pie. Por supuesto no nos dio tiempo de ver todo. Pudimos recorrer el Bosque de la Reina y observar algunas fuentes como la cuenca de Apolo, entre otros.
From inside the palace you can see the fabulous Garden of Versailles. With 800 hectares, 2 thousand trees, 372 statues, 620 triggers and 52 fountains anyone can get lost and practically no one can walk through it in a day. The place is so huge that you can rent a golf cart, take the little train or bicycles to make the tour. We did it on foot. Of course we didn't have time to see everything. We were able to tour the Bosque de la Reina and see some of the fountains such as the Apollo Basin, among others.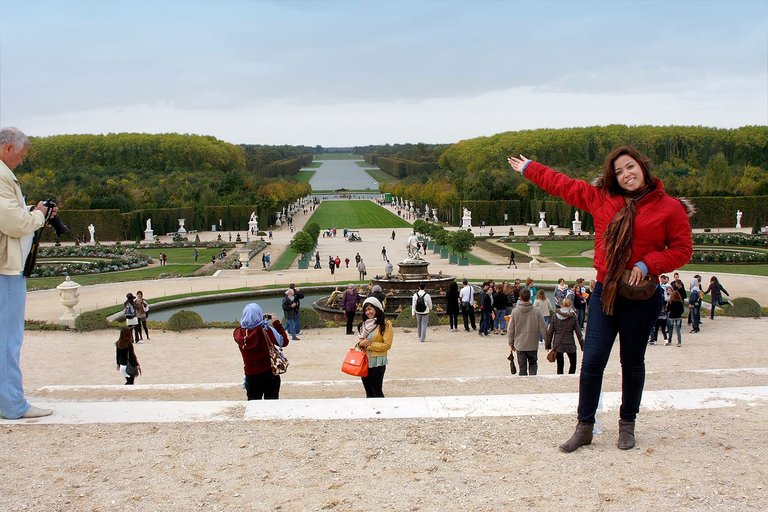 Jardines de Versailles / Gardens of Versailles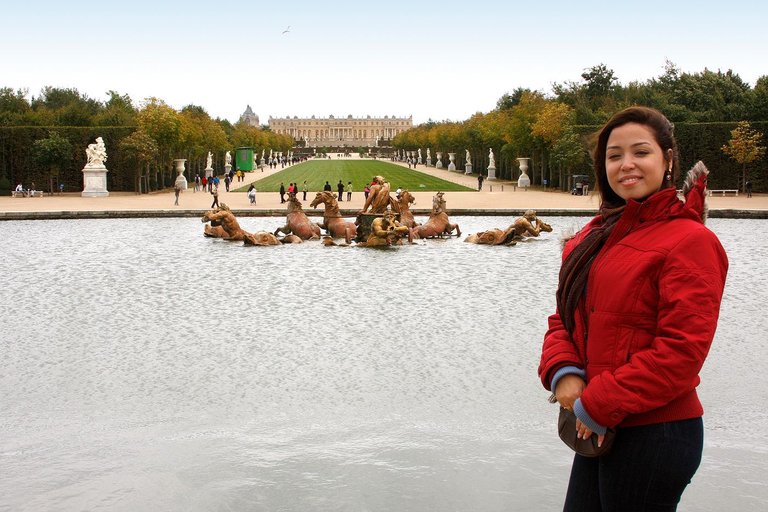 Cuenca de Apolo / Basin of Apollo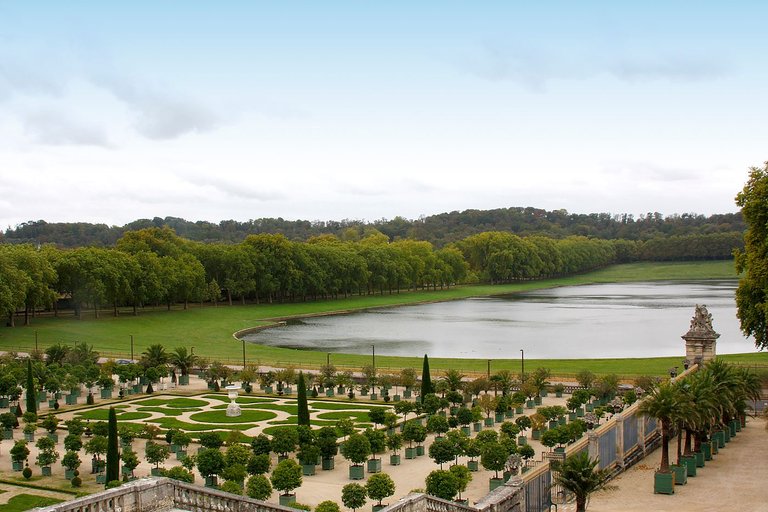 Parte de los Jardines / Part of the Gardens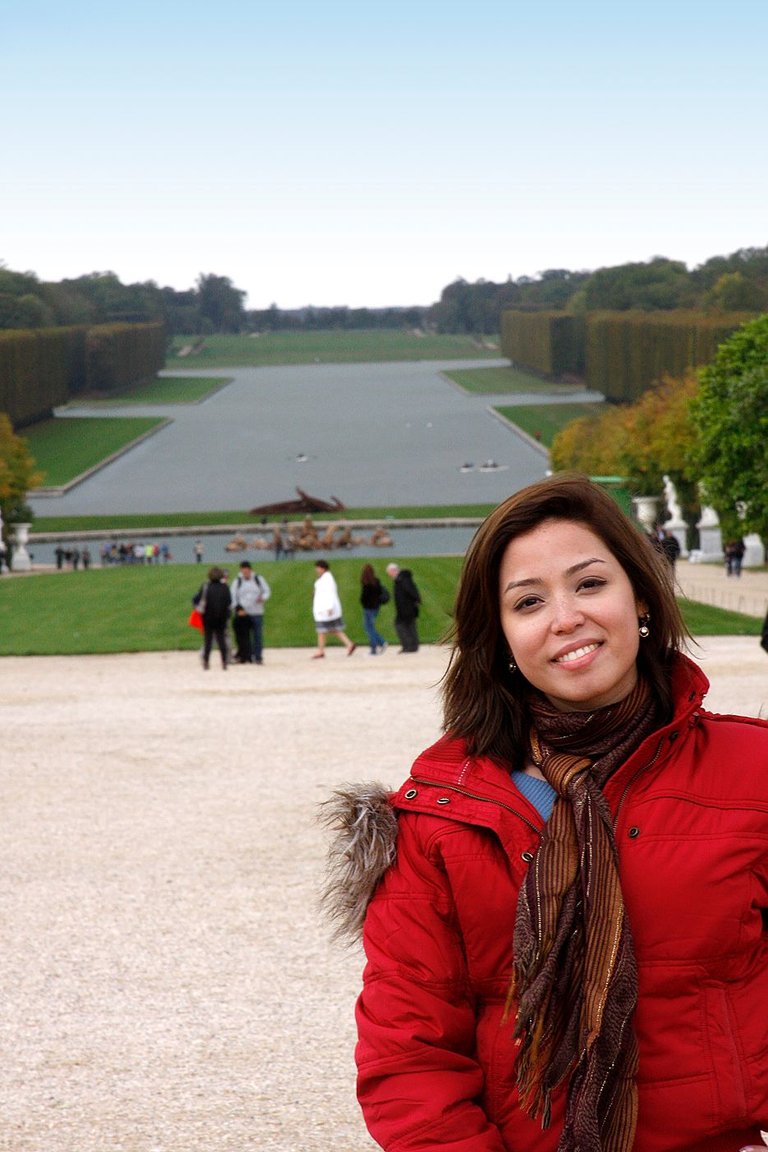 Jardines de Versailles / Gardens of Versailles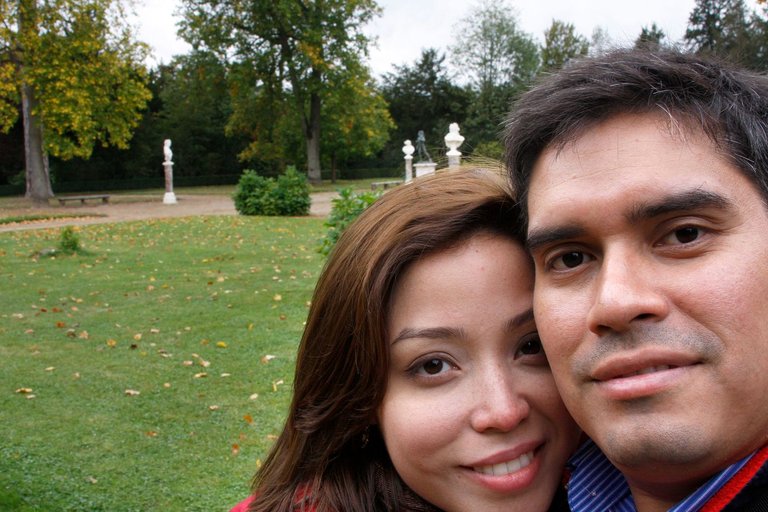 Selfie con mi esposo / Selfie with my husband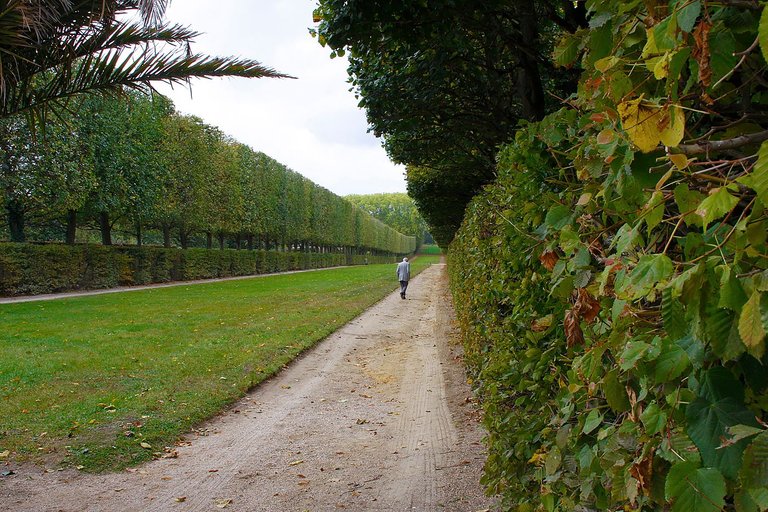 Otra parte del bosque / Another part of the forest

🌲 🇫🇷 🕍 🇫🇷 🌲
Recomendaciones:
Debes comprar las entradas con anticipación. Nosotros fuimos a la oficina de atención al turista el día siguiente de nuestra llegada para evitar las colas que a veces son larguísimas.

Debes llevar zapatos cómodos porque la caminata es fuerte.

Lleva agua para que puedas estar hidratado en todo el camino.

Lleva algún refrigerio. Dentro del jardín solo vendían snacks y bebidas. Nosotros compramos paninis y almorzamos en uno de los cientos de bancos en un jardín hermoso.
Por cierto, la comida en París es costosa recuerdo una cena costaba unos €26 y era lo más económico 😂. Terminamos comiendo comida callejera crepes & paninis que a mi me encantaron, una que otra vez comimos en restaurantes.
Para finalizar, ir de viaje es lo más placentero que se puede hacer. Conocer nuevos lugares, culturas y gastronomía, para mí no tiene precio. Es como dice el dicho: "viajar, comer y vivir es lo que uno se lleva al morir".
Recommendations:
🕍 You must buy tickets in advance. We went to the tourist office the day after our arrival to avoid the queues that are sometimes very long.

🕍 You should wear comfortable shoes because the hike is tough.

🕍 Bring water so you can stay hydrated all the way.

🕍  Bring some snacks.  Inside the garden they only sold snacks and drinks.         
We bought paninis and had lunch on one of the hundreds of benches in a beautiful  garden.


By the way, the food in Paris is expensive, I remember a dinner cost about €26 and it was the cheapest (laughs). We ended up eating street food crepes & paninis which I loved, and once or twice we ate in restaurants.
Finally, traveling is the most enjoyable thing you can do. Getting to know new places, cultures and gastronomy, for me is priceless. It's like the saying goes: "travel, eat and live is what you take with you when you die".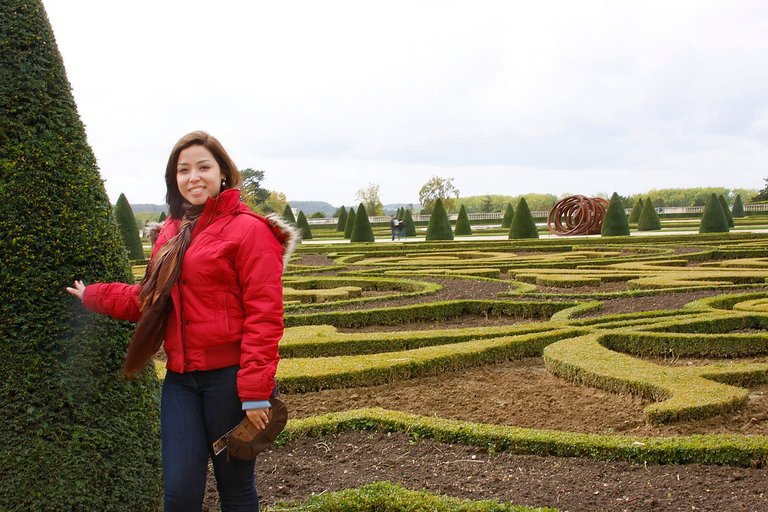 Espectaculares jardines / Spectacular gardens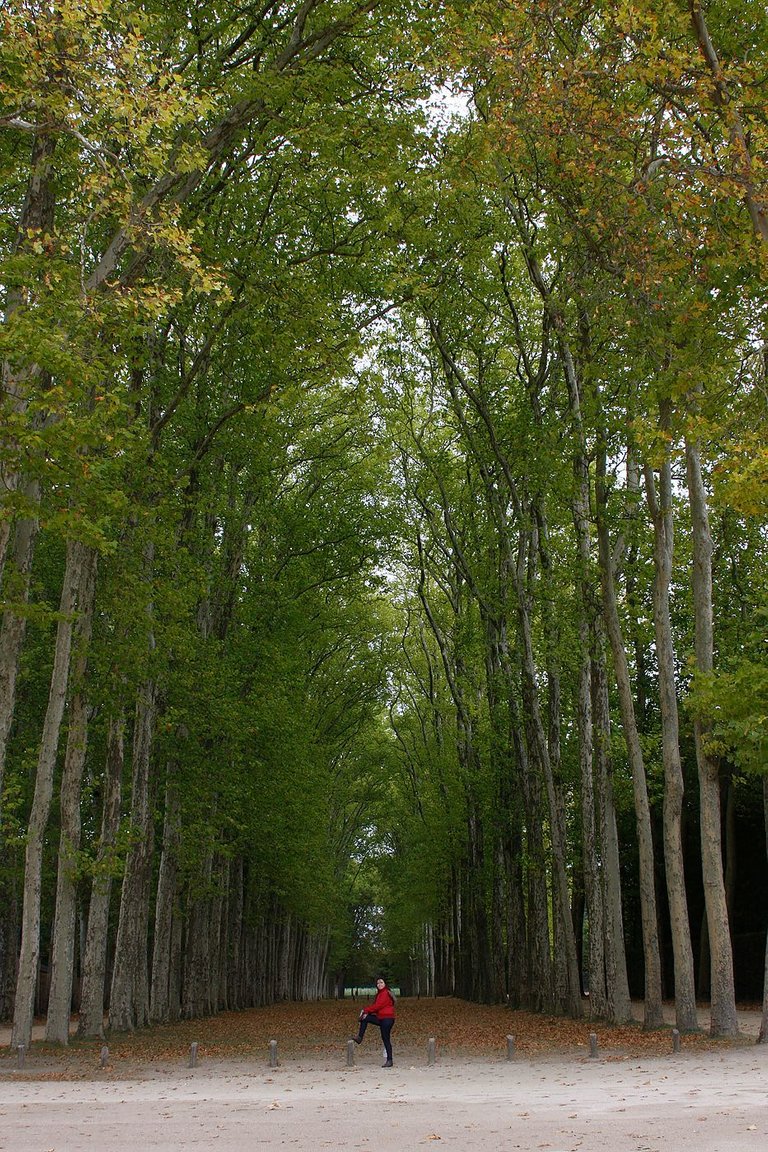 Bosque de árboles / Forest of trees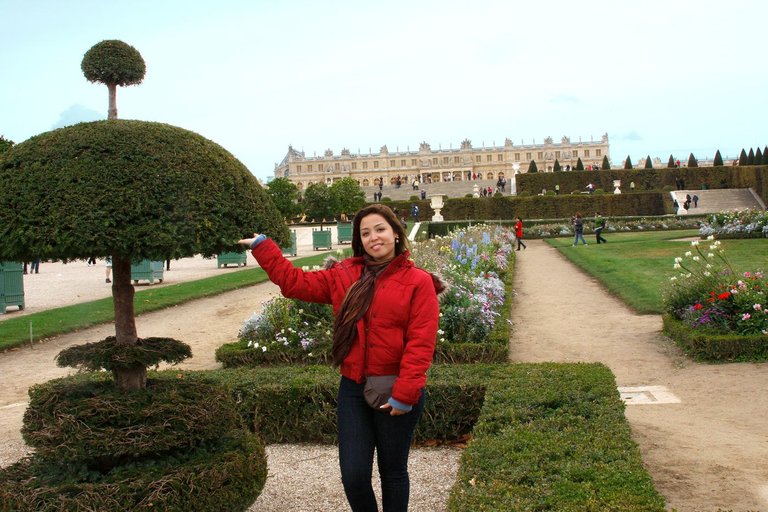 Desde el jardín se puede apreciar parte del palacio / From the garden you can see part of the palace

🌲 🇫🇷 🕍 🇫🇷 🌲
Espero te haya gustado mi post. Gracias por leerme.
Todas las fotos son propias.
Fotógrafo:
Charles Prato
Cámara: Canon EOS 4D.
Traductor:
DeepL
Fuentes:
Diario del viajero
y
Wikipedia
I hope you liked my post. Thanks for reading it.
All photos are my own.
Photographer: Charles Prato
Camera: Canon EOS 4D.
Translator: DeepL
Source: Diario del viajero y Wikipedia