Hi Hive Friends,
how are you? today i want to tell you about a building that fascinated me a lot and that i didn't know existed at all - or rather, how beautiful it is! When many people think of Cologne, most think of the Cologne Cathedral, the Old Town or the Chocolate Museum as sights. And if you look more closely in the individual districts, for example in Ehrenfeld, they say that graffiti or many colourful cafés and restaurants, a very open culture and open people are typical of Ehrenfeld. All of that is true. And yet, since yesterday, Cologne Ehrenfeld also stands for something else. A friend visited me in Cologne and we wanted to see some sights. It was important for her to get to know sights that not every tourist thinks of first. We wanted to divide the days she spent here with me in such a way that we got to know one part of Cologne better on one day. We wanted to start with Ehrenfeld. I live in Junkersdorf, so it's not that far away. The Central Mosque in Cologne is located directly on Venloer Strasse, a very large and busy main road in Ehrenfeld. If you are travelling from Cologne's main railway station, it is best to take the underground 3 or 4 and get off at Piusstraße, from there it is only a two-minute walk.
So we rummaged through the internet. I already knew that there was beautiful graffiti in Ehrenfeld. However, I never paid any more attention to them; with the hustle and bustle on the big shopping streets, they quickly get lost. And I'm usually in Ehrenfeld when I'm partying in clubs, in winter when it's already dark ;). So we chose a street art map route, which I'll tell you more about in my next post. Another sight we found on the internet was the Central Mosque. That's what this post is about. The Central Mosque is just a few minutes' walk from some of the best street art in Ehrenfeld. So we could combine both perfectly.
We were very happy in the morning because the sun was shining. The first time in many days. If we went into the mosque, which is partly glazed, there would be a great light effect. And so it was. But more about that later.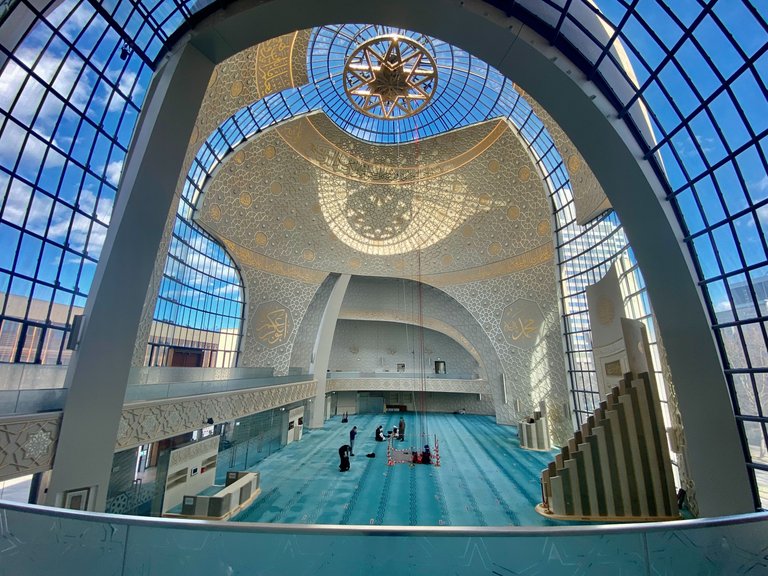 Here we are on the first floor, the area where we only saw women. From here you can look down on the ground floor.
A mosque of almost 4,500 m² with modern avant-garde architecture
The Central Mosque is open daily from 9 am to 6 pm. It is also open right now. It is a mosque of almost 4,500 m² with modern avant-garde architecture. We chose the mosque mainly because of its architecture. I was really impressed when I saw the pictures on the internet, and the mosque does not disappoint when you see it for real. I would definitely recommend you to go there once you are there. Even though you may not have the same faith, it is always interesting to learn about new cultures and religions by visiting mosques or other religious places. If you want to visit the mosque and go inside, you must wear a head covering as a woman. It is best to take a scarf or a hood if you do not have a head covering. We were told at the information desk that there are usually head coverings for visitors, but this was not the case in the entrance area of the mosque. Also note that there are separate areas for men and women. For men, there is the large room inside the mosque, for women there is an area on the first floor, which is more like a corridor from which you can look down on the large area below. Here you are also offered something to read.
What do you think of the architecture? I was very impressed when we entered the entrance area of the mosque. But even more so when we had the view over the mosque from the first floor.
The glass walls let in a lot of daylight, generally it was very bright in here. I think I'll come back again in winter, when it's already dark at 6 pm. I'm curious to see what the mosque looks like then, if there are extra lights?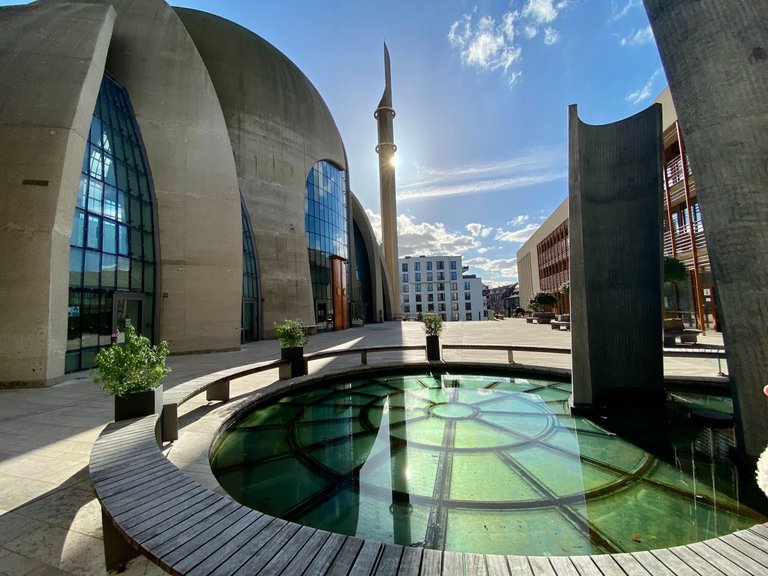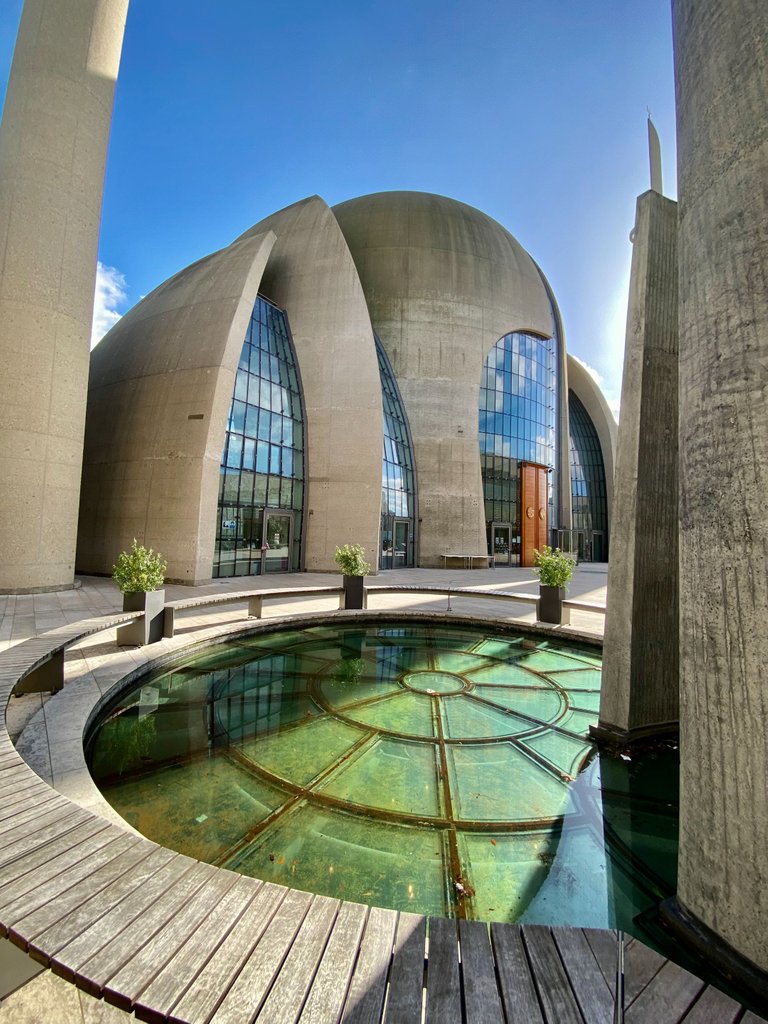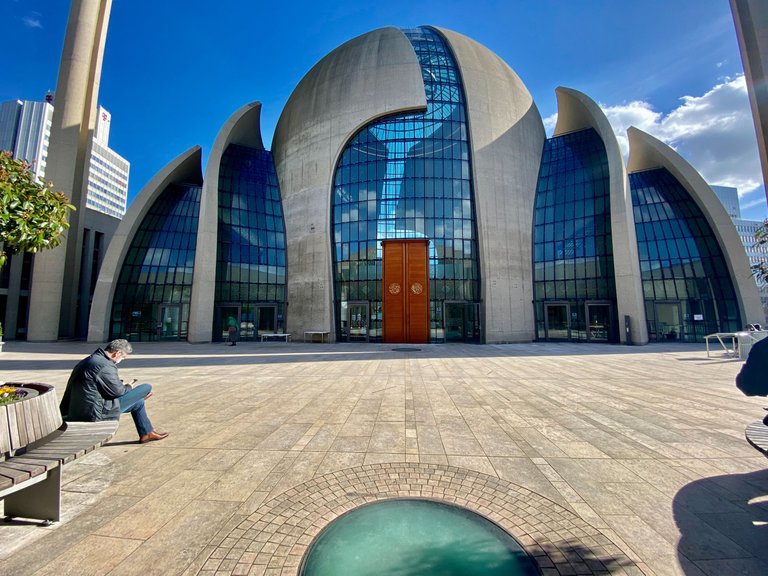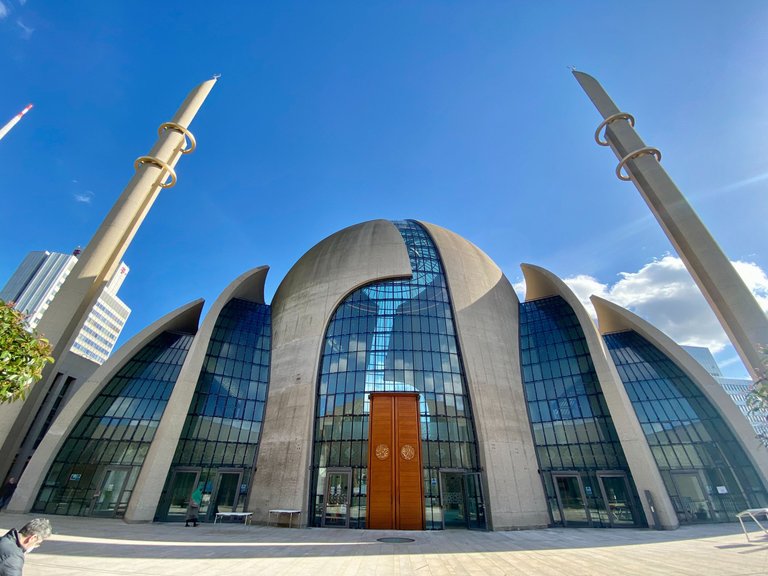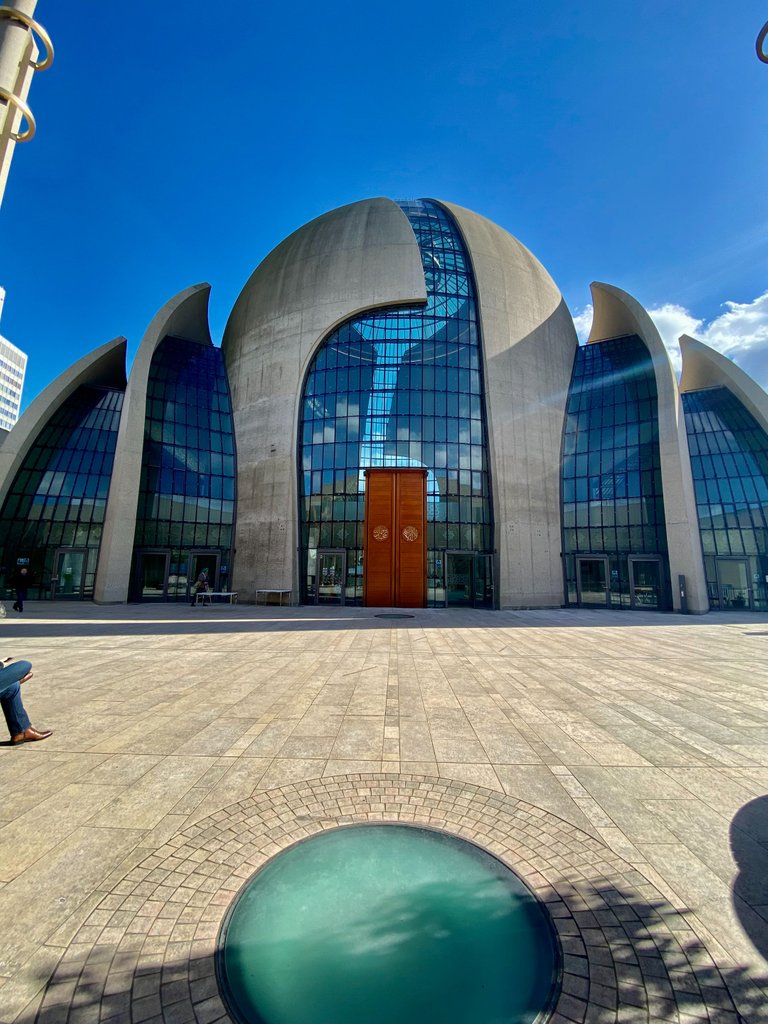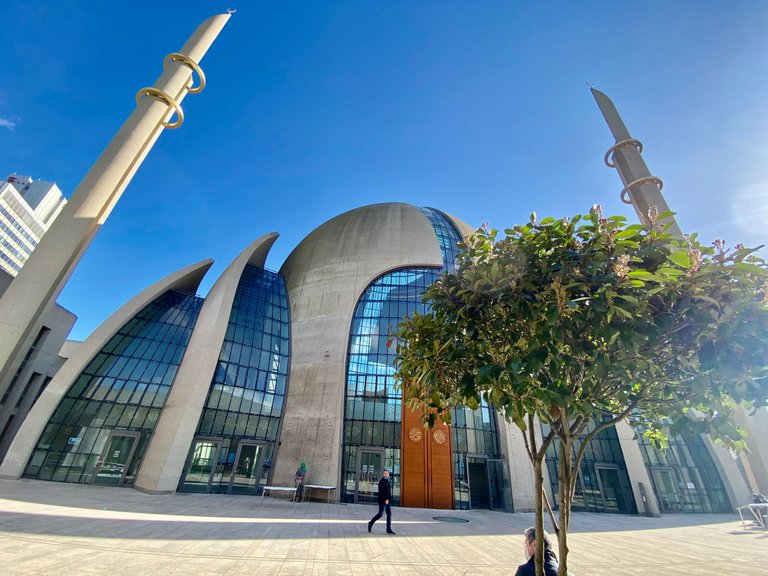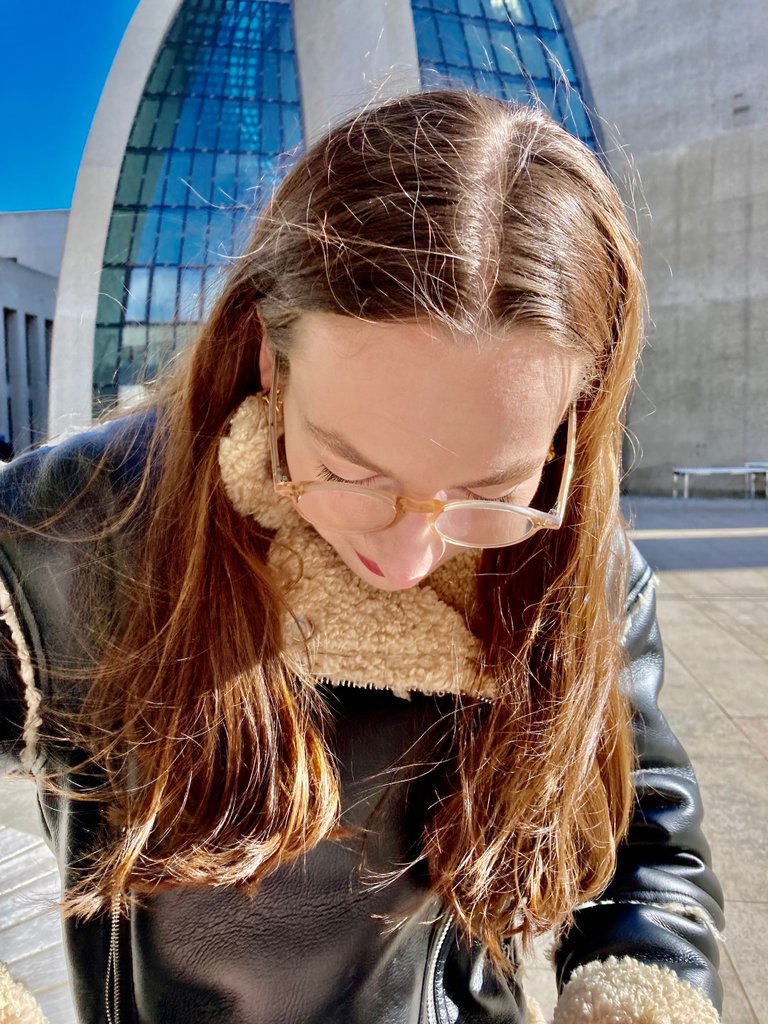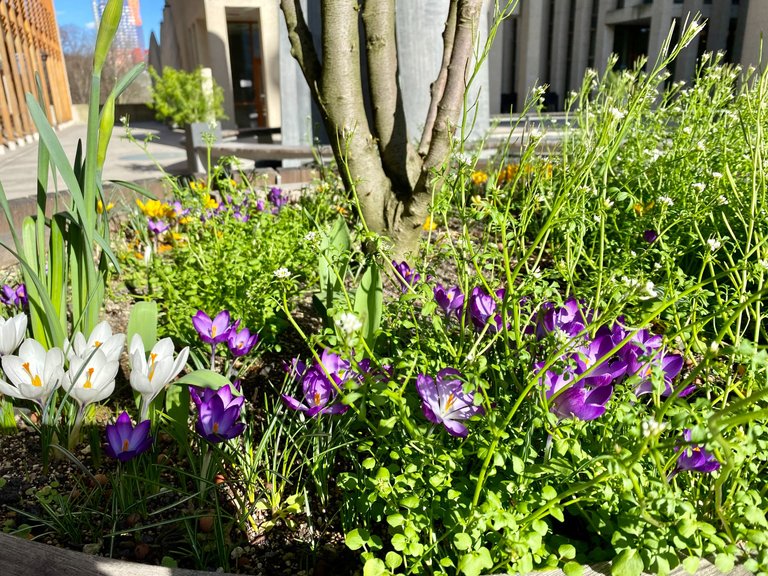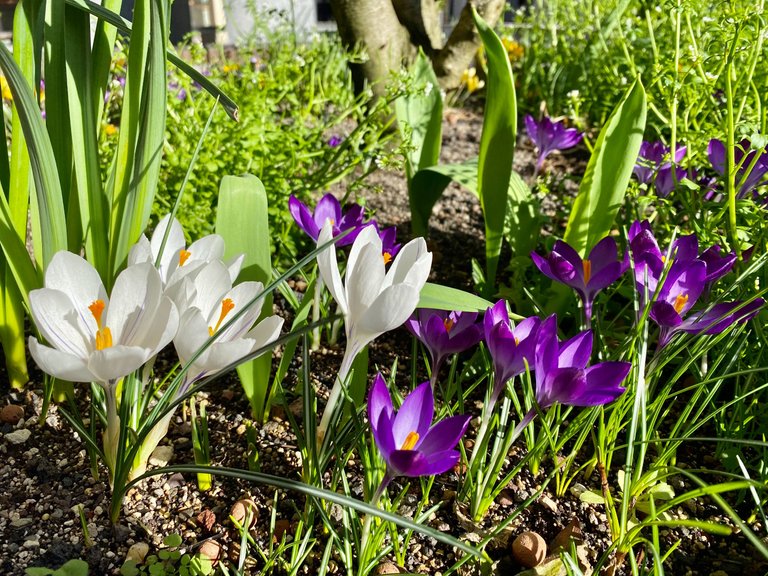 An interplay of concrete, glass and wood
The mosque is relatively new and belongs to the Turkish-Islamic Union (DITIB) in Cologne. The inauguration took place in September 2018 and was even attended by Turkish President Recep Tayyip Erdoğan. I was particularly impressed by the building's extraordinary architecture. There is an interplay of concrete, glass and wood. At the top you can see a transparent dome. In general, the mosque appears very light due to the large glass surfaces. The dome is framed by two filigree 55-metre-high minarets. In front of the mosque there is a large square, which is the community centre. In addition to the mosque, there are prayer rooms, rooms for a library as well as training and seminar rooms.
Small insertion ;): Right at the entrance there was a sign that you could only take photos here with permission. We then asked at the information desk. You are allowed to take pictures, but only with a mobile phone camera and not with a professional camera. I think this is because mobile phone cameras don't make any noise. It was generally very quiet in the mosque, no one was talking. It was a very quiet place, just a place to pray.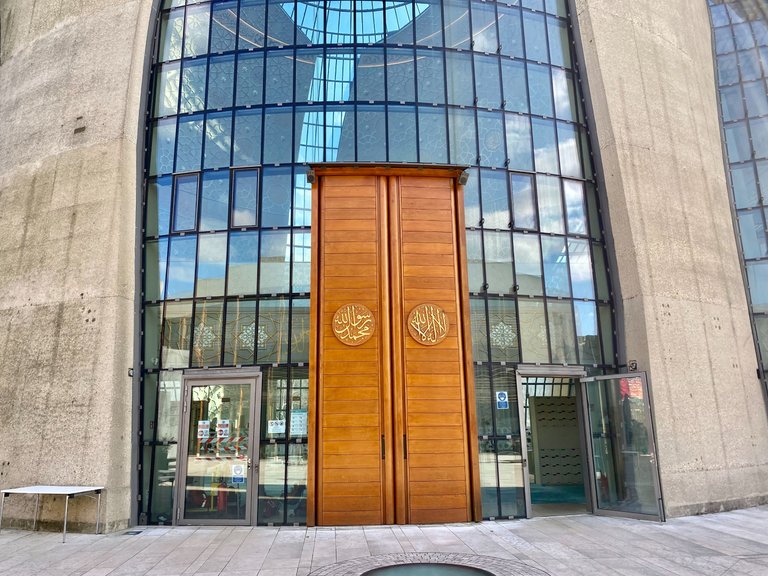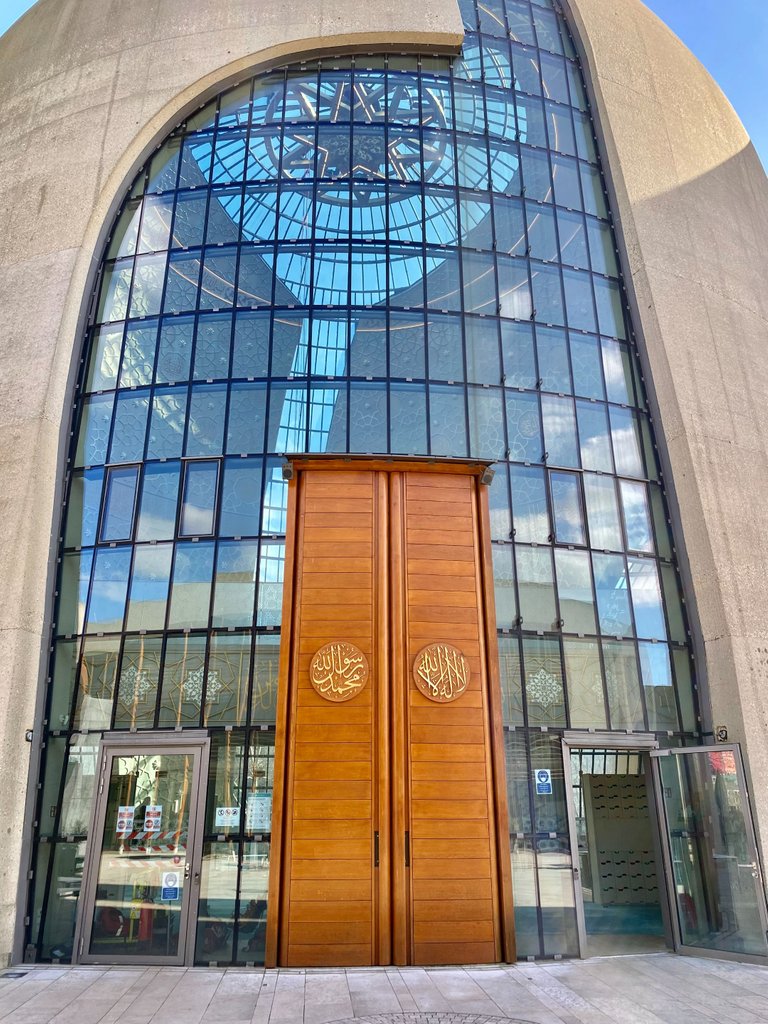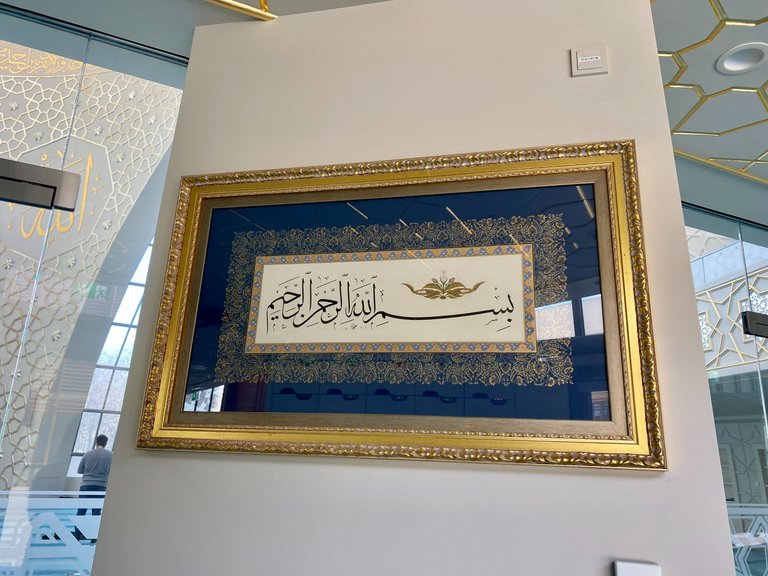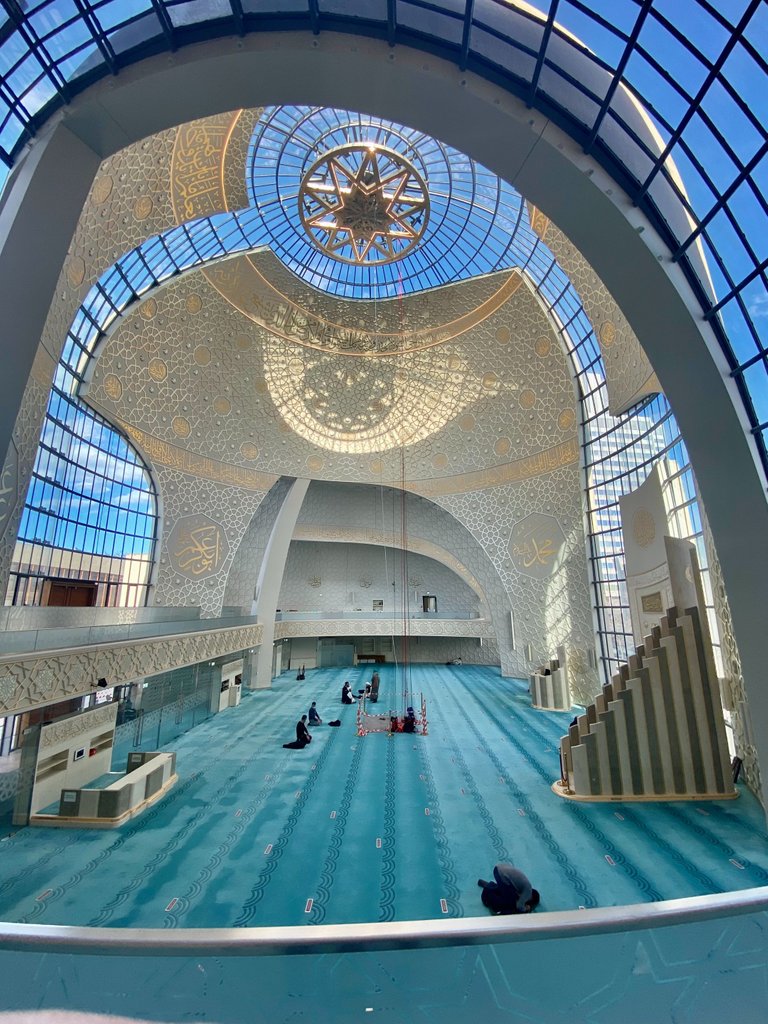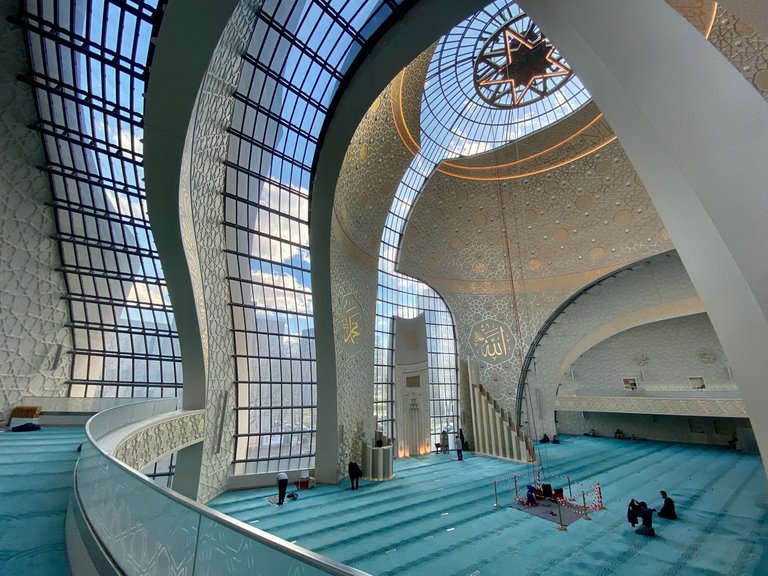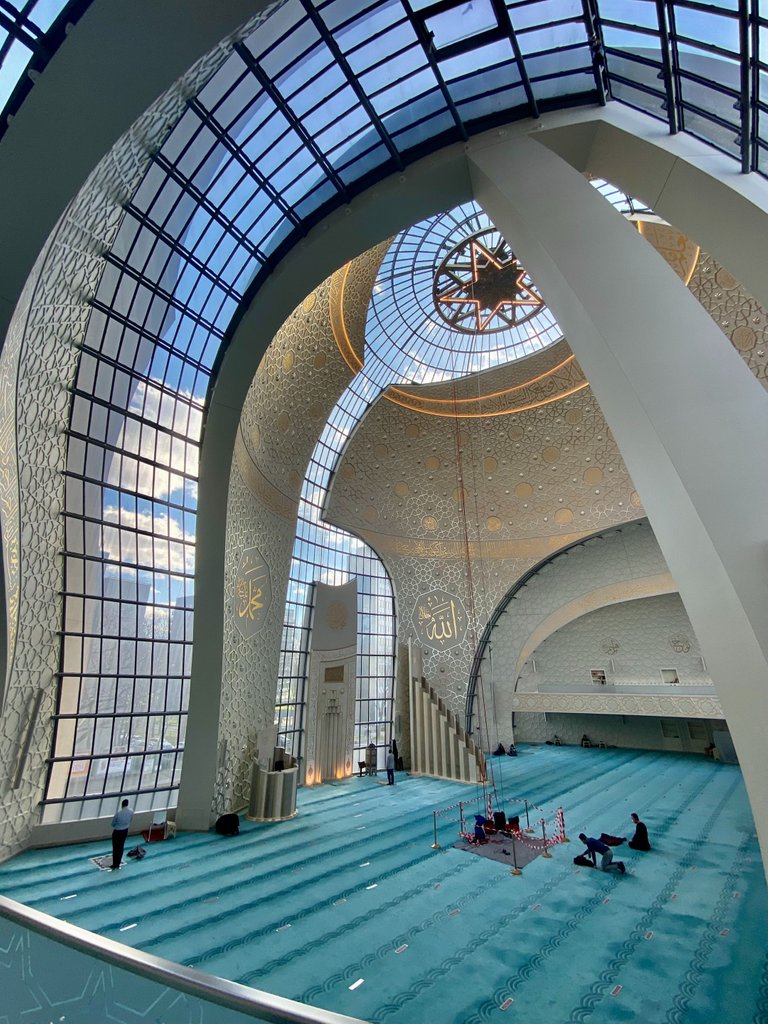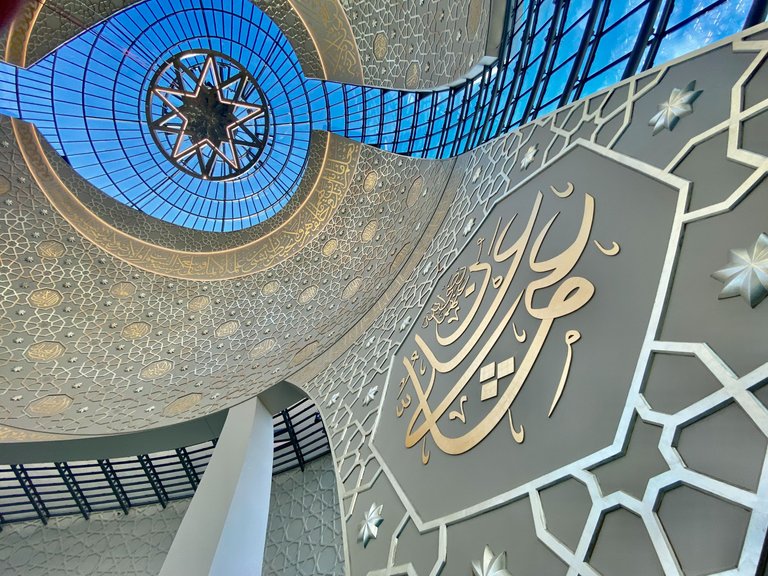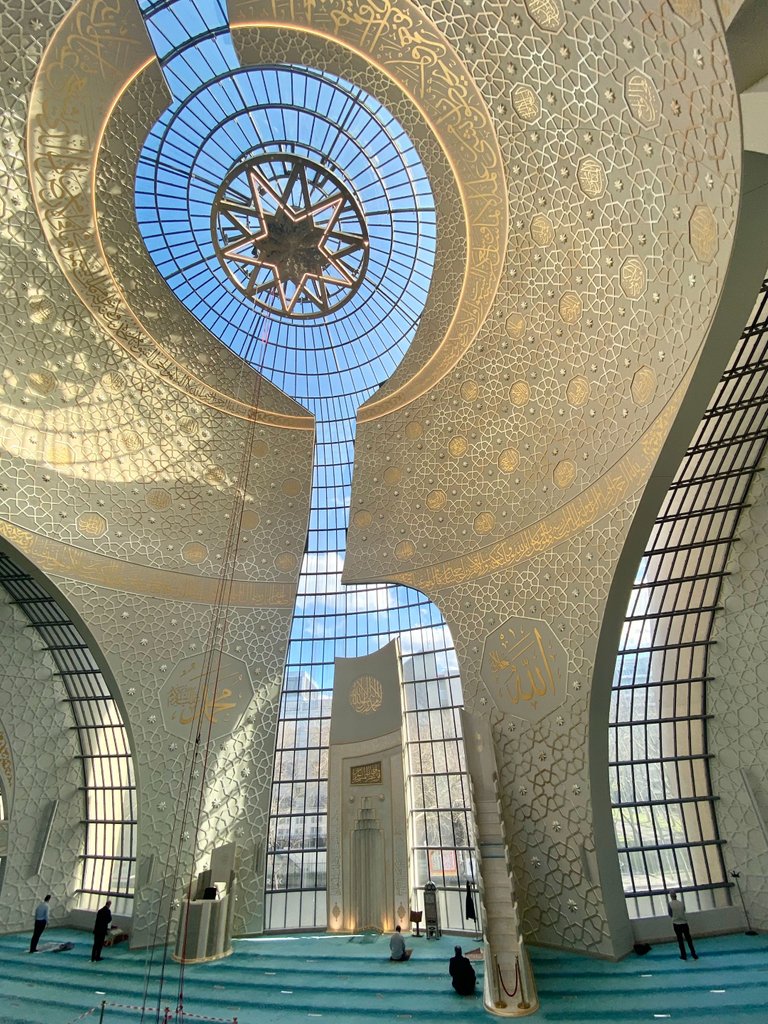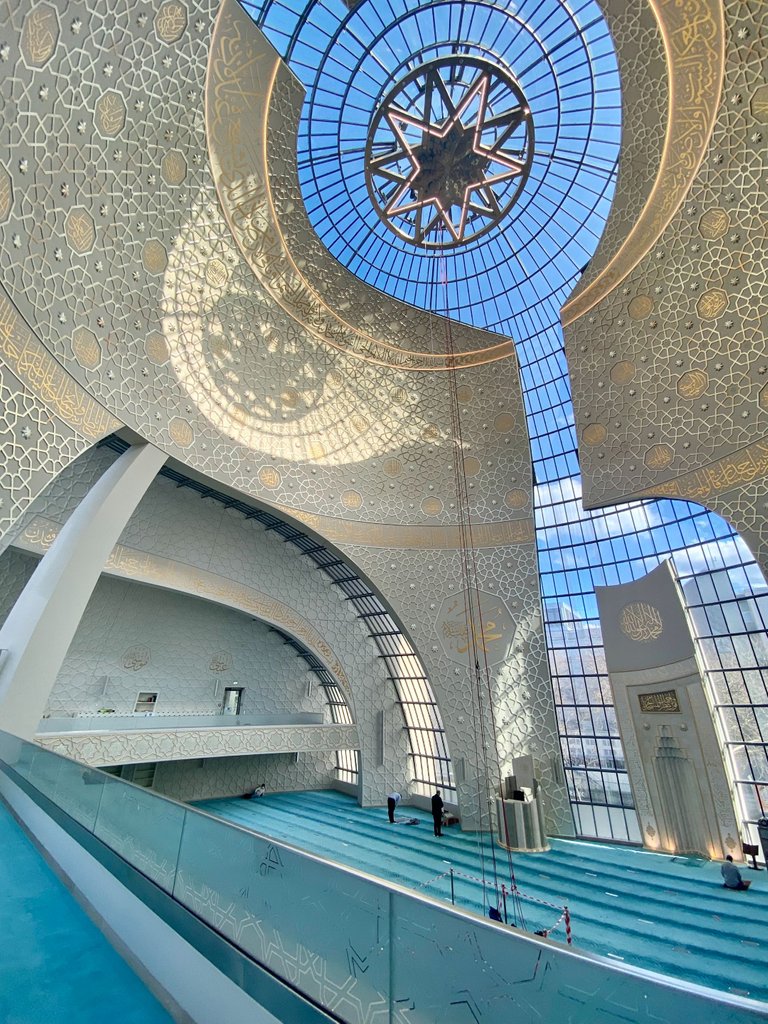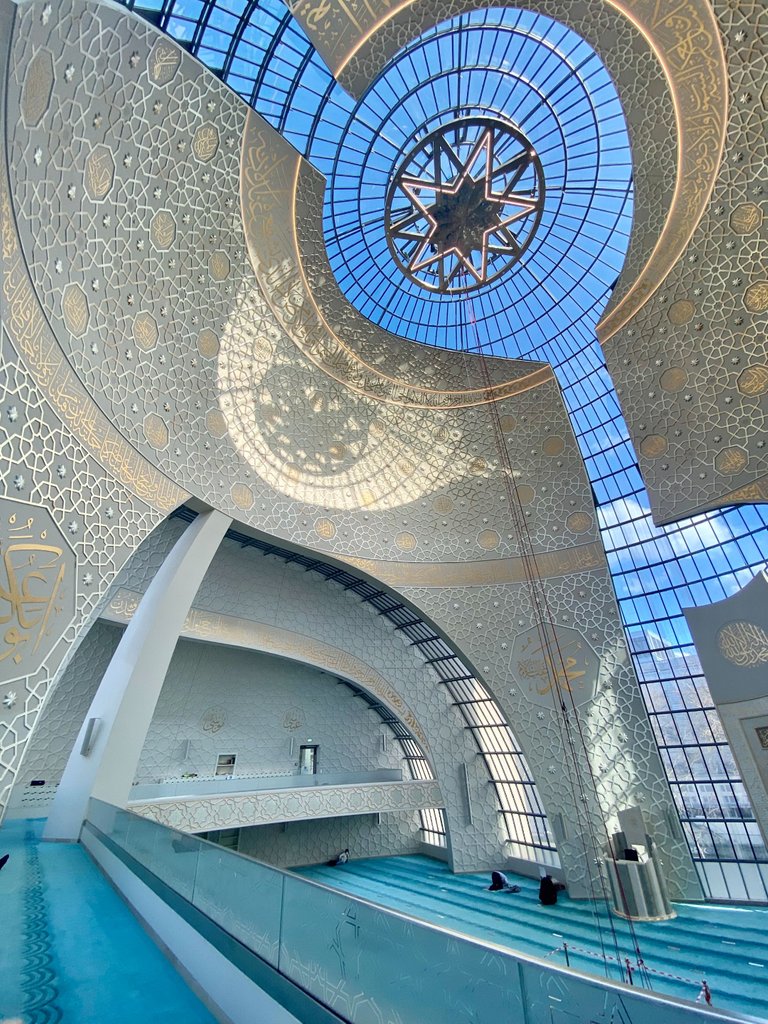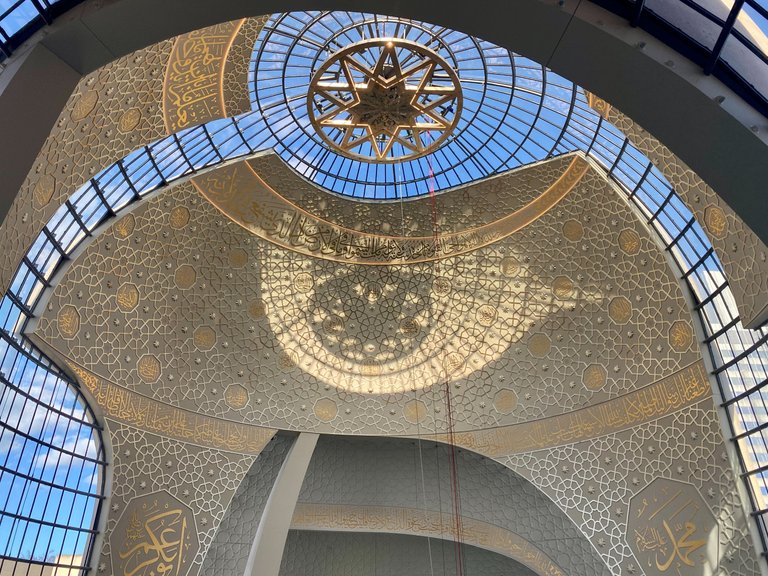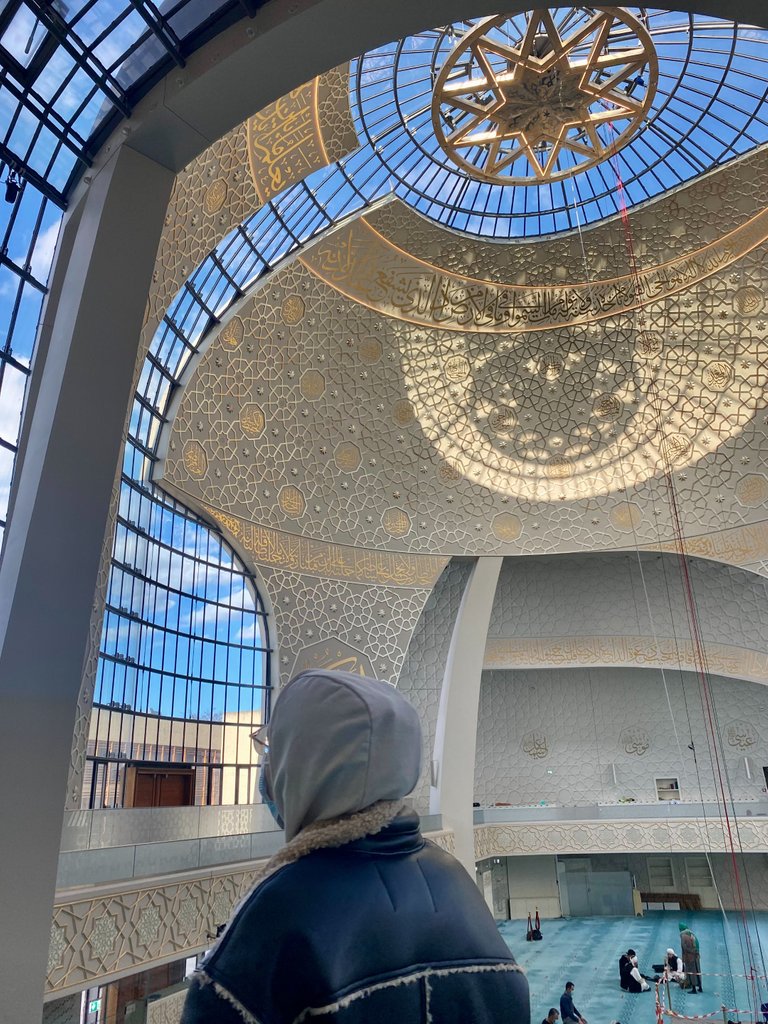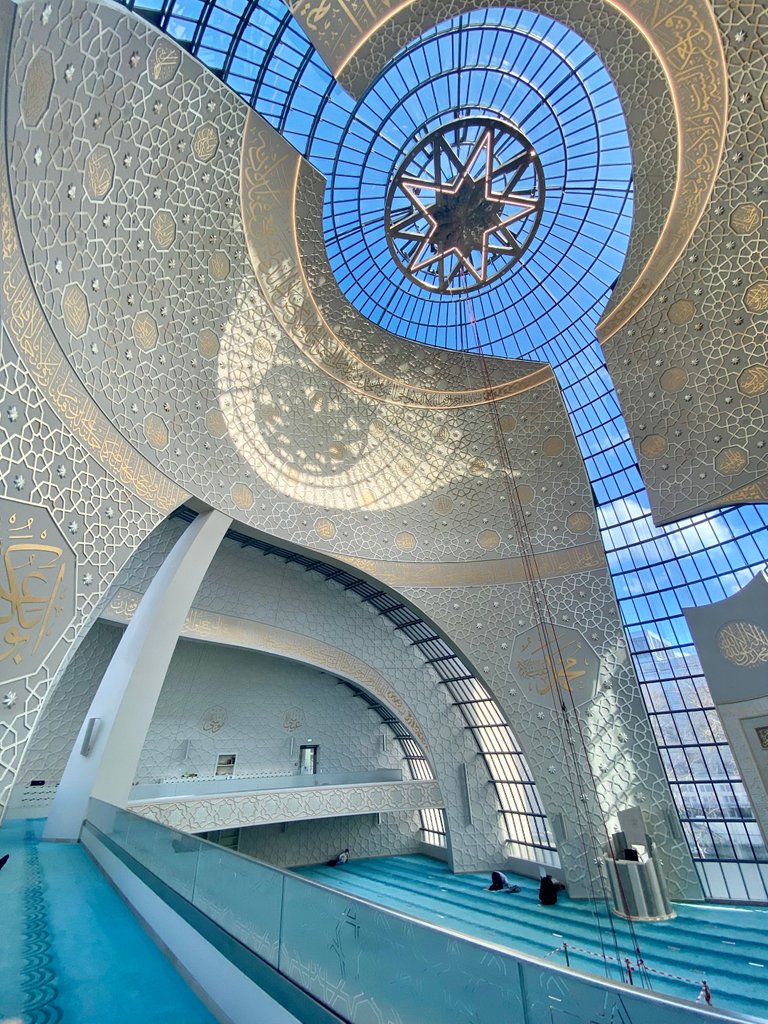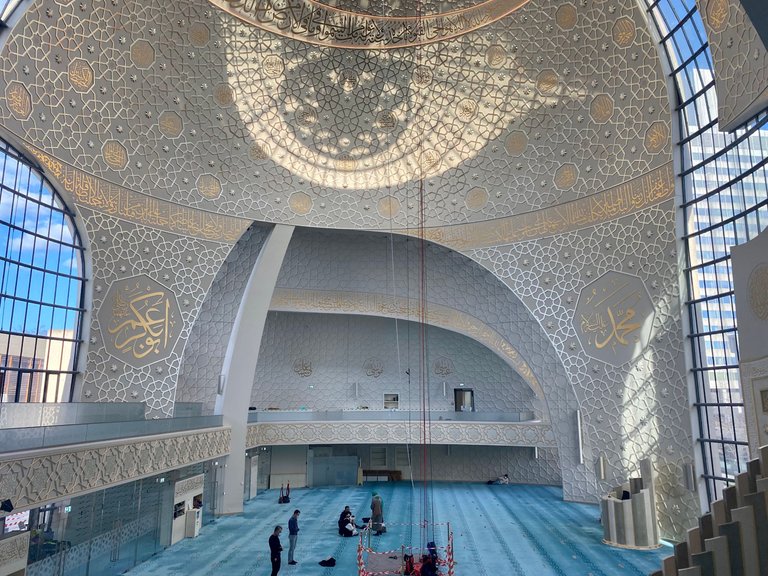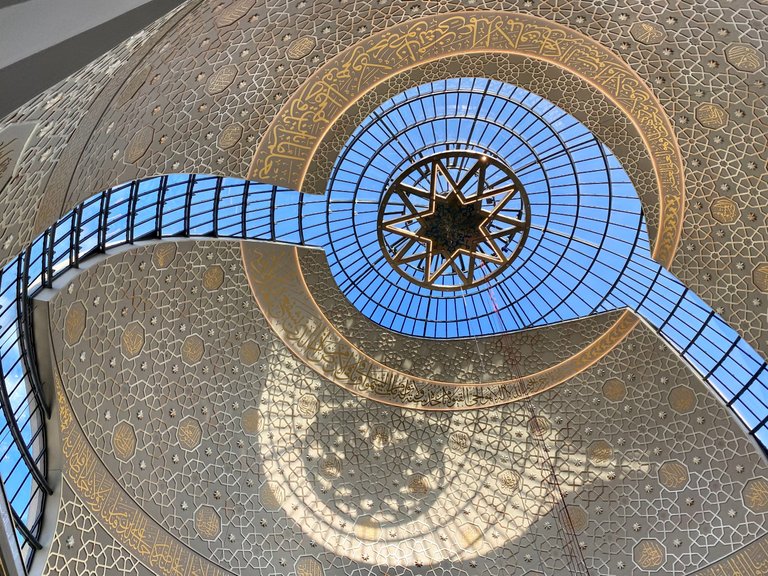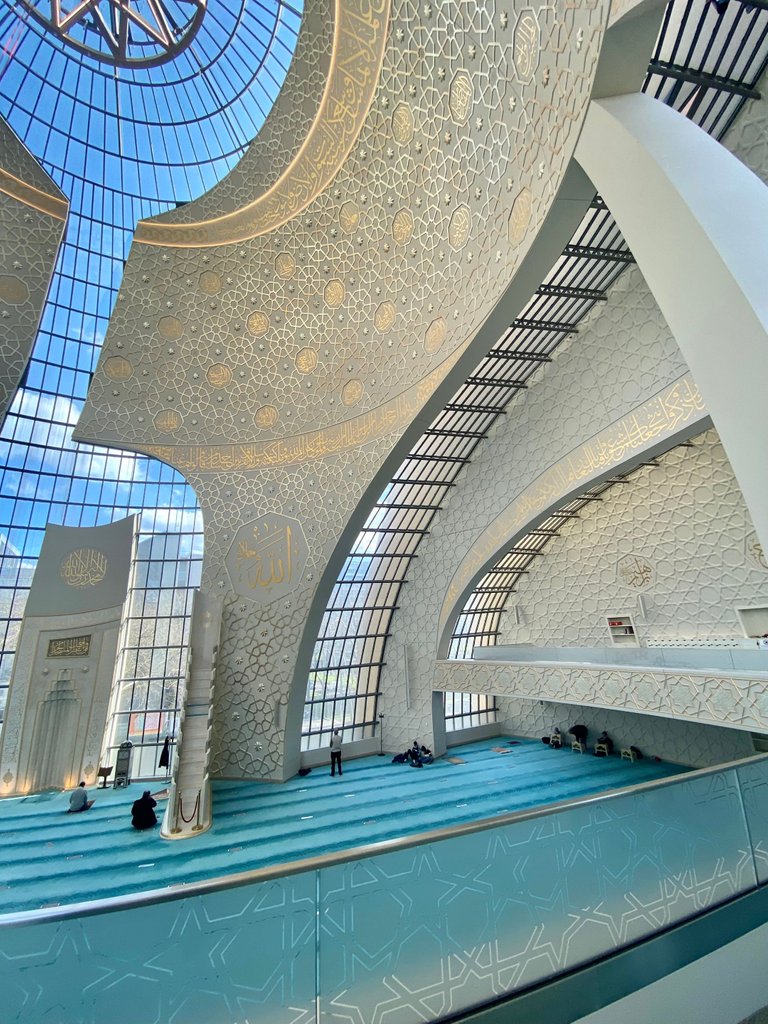 The goal of the architect was to symbolize openness with the partially open dome shape
What I found very nice and hadn't thought of: As soon as we walked up the stairs to the mosque, the TV tower behind the mosque caught our eye, and it was really big, it wasn't too far away...!
The mosque was designed by the German architect Paul Böhm. It won the architectural competition in 2005. Böhm's goal was to symbolize openness with the partially open dome shape. The mosque also serves as a community center.
The prayer room is by far the largest room in the mosque, covering over 2000 square meters.
If you want to learn more about the mosque, you can go to the information center opposite the entrance to the mosque, they have brochures there, or you can sign up for a guided tour. We visited the mosque without a guide, admission was free.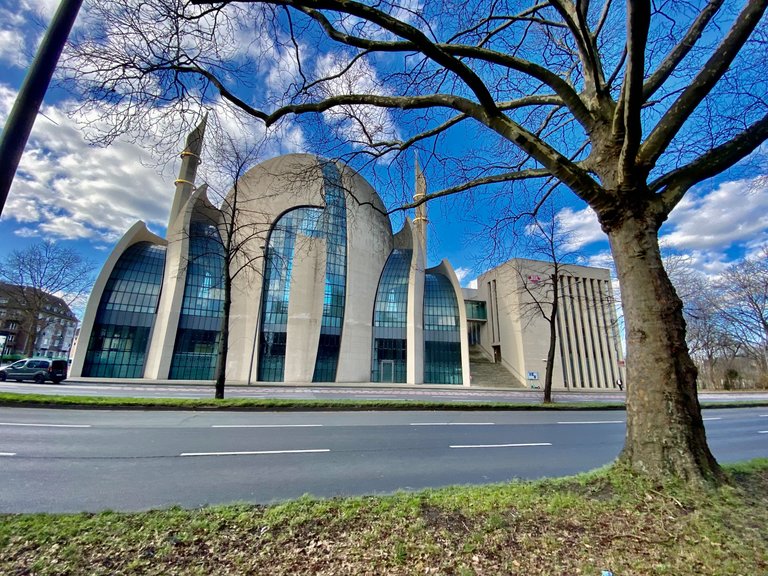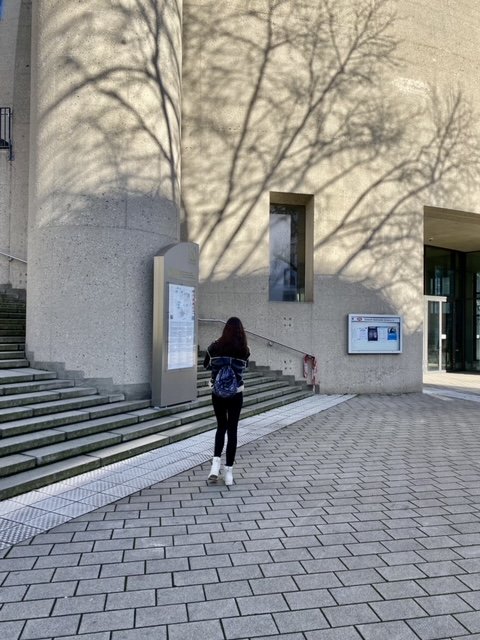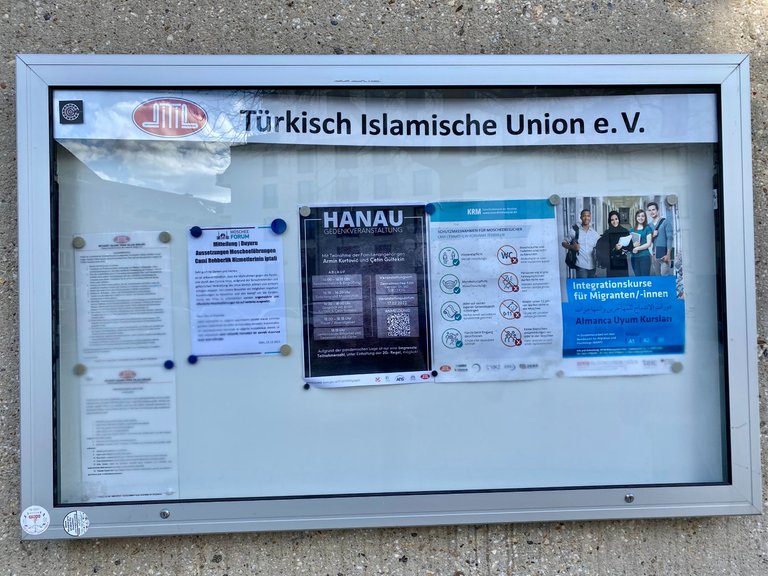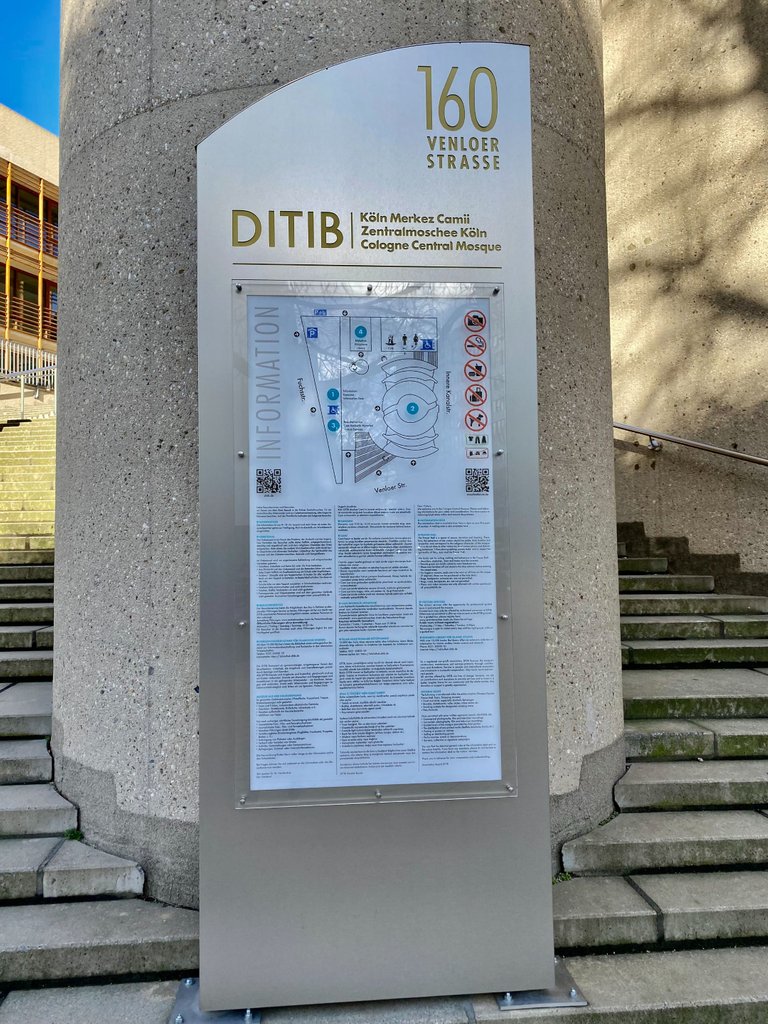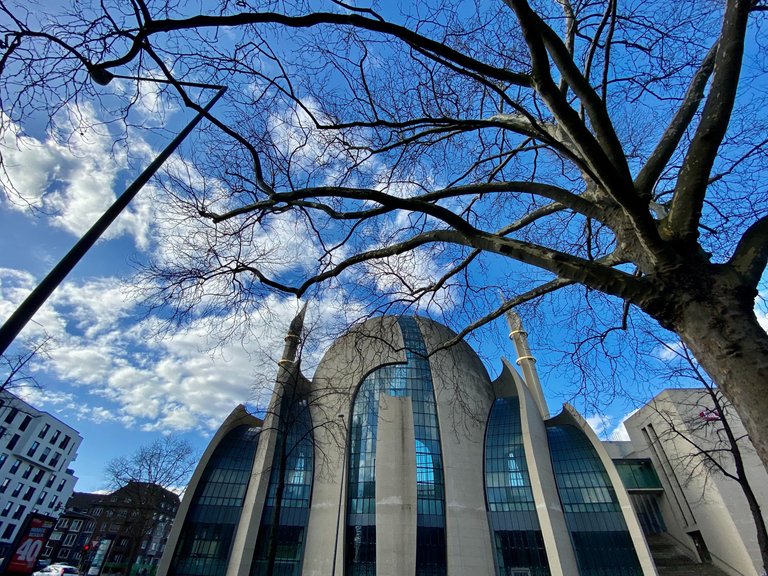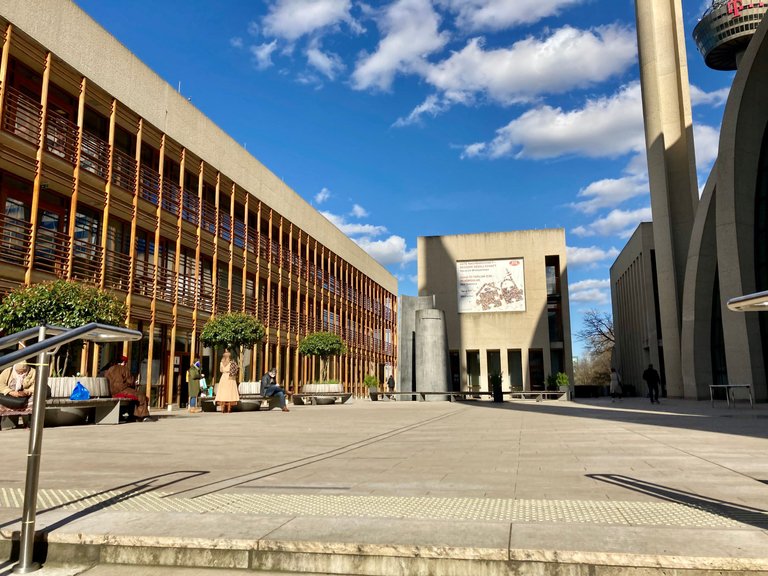 Things didn't always go according to plan. The construction took much longer than expected, at some point Böhm only had to work as a consultant, others completed his work. The mosque should be a milestone of integration. And if you ask me, the mosque has long since grown into Cologne's cityscape. If you have ever been to the Ehrenfeld district of Cologne, you know it yourself: in recent decades, many small shops, tea rooms and other services have been set up by the Muslim population. Nothing less than a prayer room. A provisional character is typical of such prayer rooms. Often they will only be used as temporary use or are located in basements and backyards. I had to find that out when I googled for other mosques in Cologne after I was so enthusiastic about this one - often there are only back rooms where people pray. But the Muslim communities want to get out of there. With the mosque, they were now given more visibility.
I am happy to live in a city that is open enough to support the construction of such a mosque. how do you see it? I hope you enjoyed today's post. Have you ever visited the Central Mosque yourself? Feel free to write me your feedback in the comments. Until next time:)