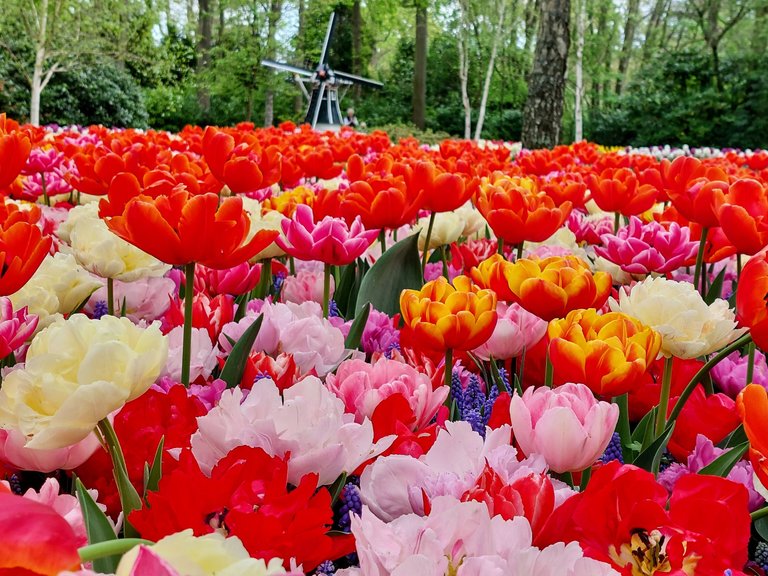 Tulips season has come and gone in the Netherlands already. The tulips have long since been cut to strengthen the bulbs and only their leaves and stems remain in the fields. Even the Keukenhof botanical garden, which generally extends the season a little bit, is now closed. A banner on their website currently reads "We hope to see you in 2023!" It's a bit of a long wait until next year but its a worthy destination to visit if you're a fan of tulips and/or large flower gardens.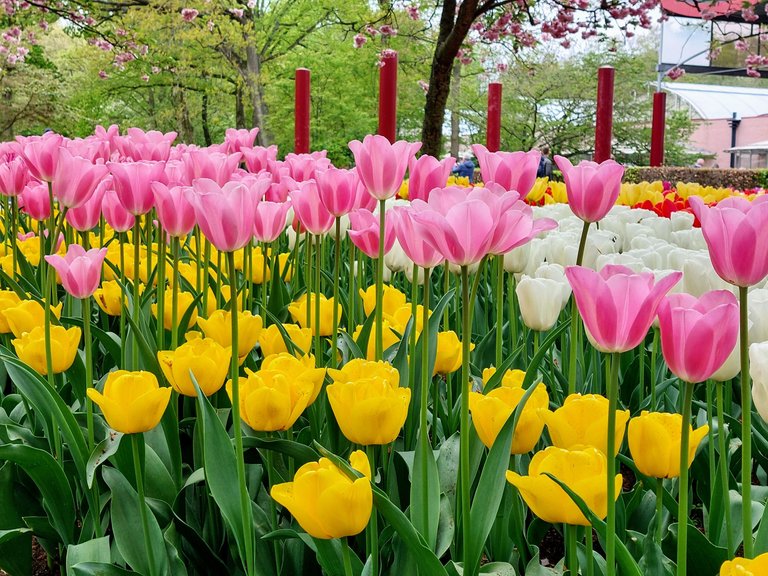 The Keukenhof is located in the province of South Holland in the town of Lisse and this year over 1.1 million people from more than 100 countries visited the garden between the months of March and May. Most of them were from Germany, France, America, and Great Britian according to stats taken from their website, but people generally come from all over the world to see the tulips when they are in bloom.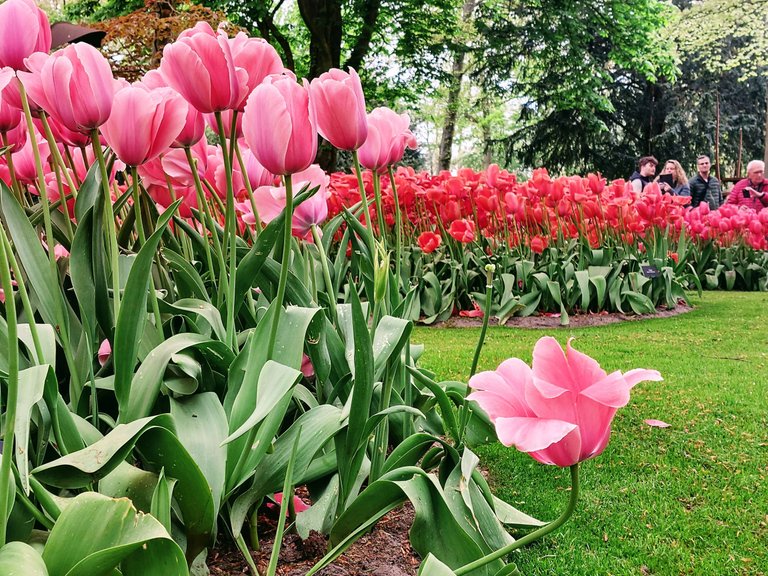 We visited the garden at the end of April this year, on a day when the weather was unfortunately a bit cold and dreary.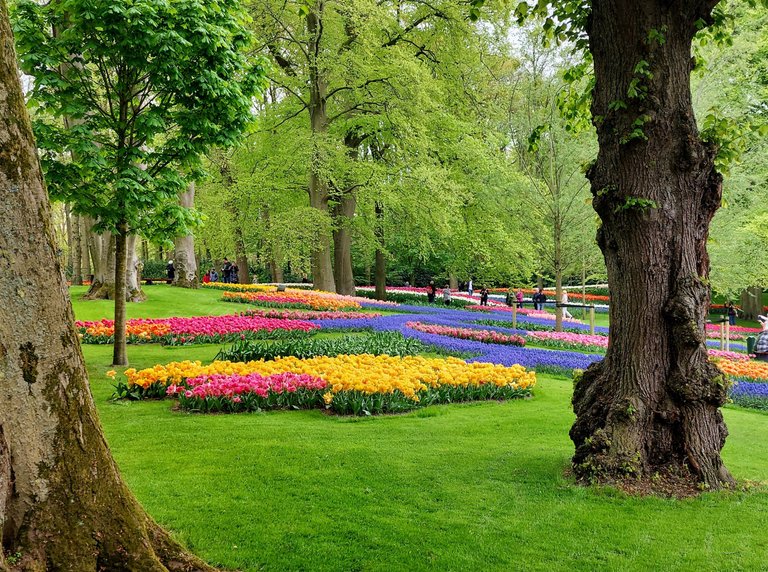 I made the mistake of wearing shorts that day and was quite cold for the duration of our visit.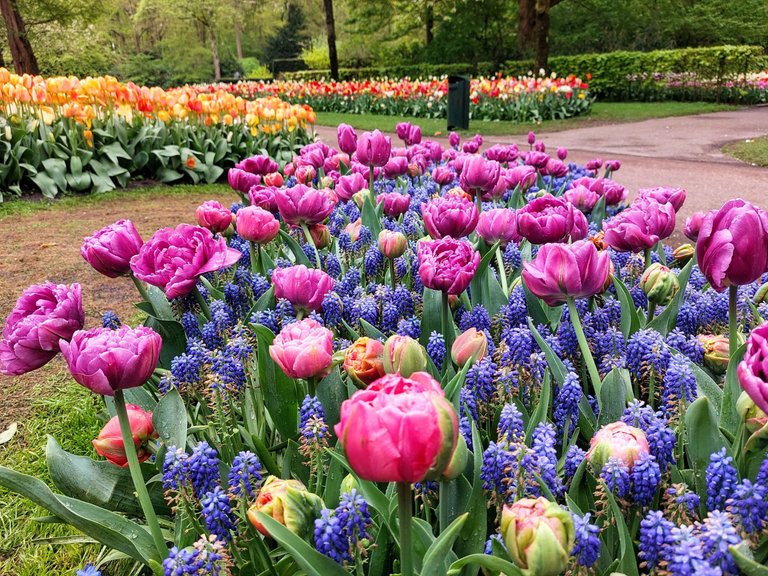 The flowers were extremely bright and cheerful though, even despite the drab and gray weather conditions.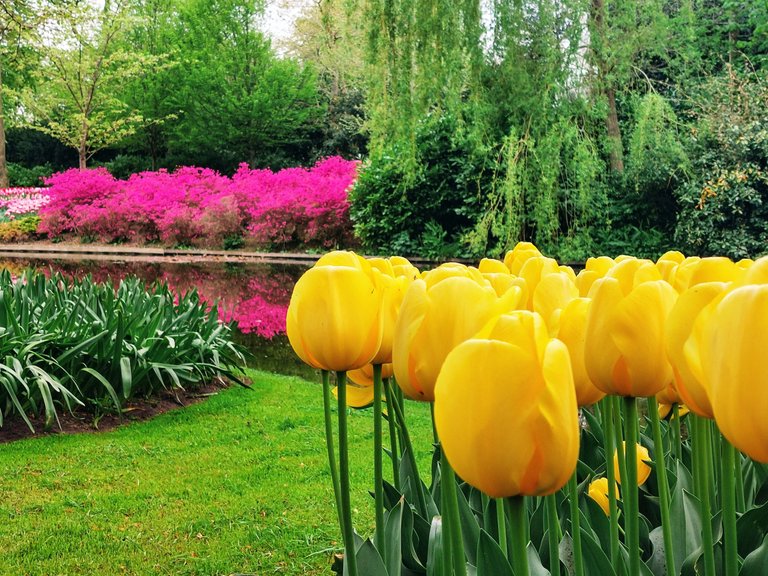 I actually had to remove some color saturation when editing my photos because every picture looked like the flowers were glowing. I don't think that my phone camera likes up close shots of hot pink or the color red.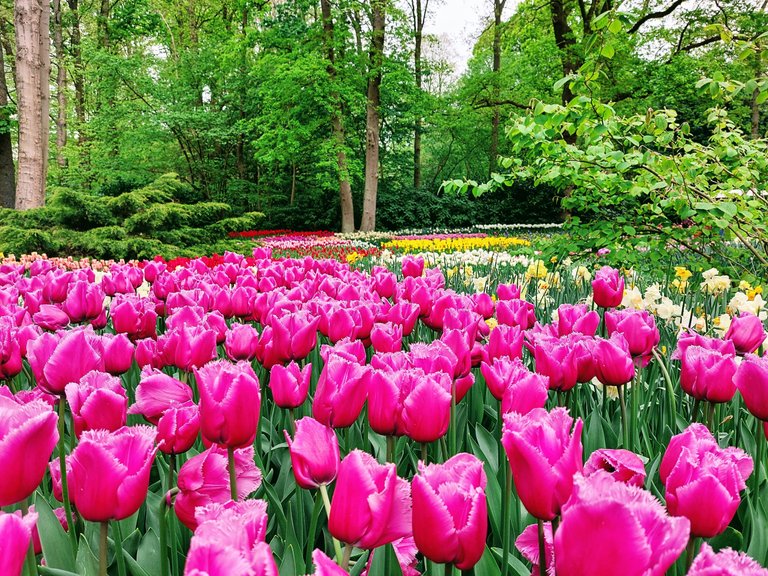 The colors in some photos still look fake to me even though I turned them down a little. The flowers were just too bright for my camera to handle! But anyway...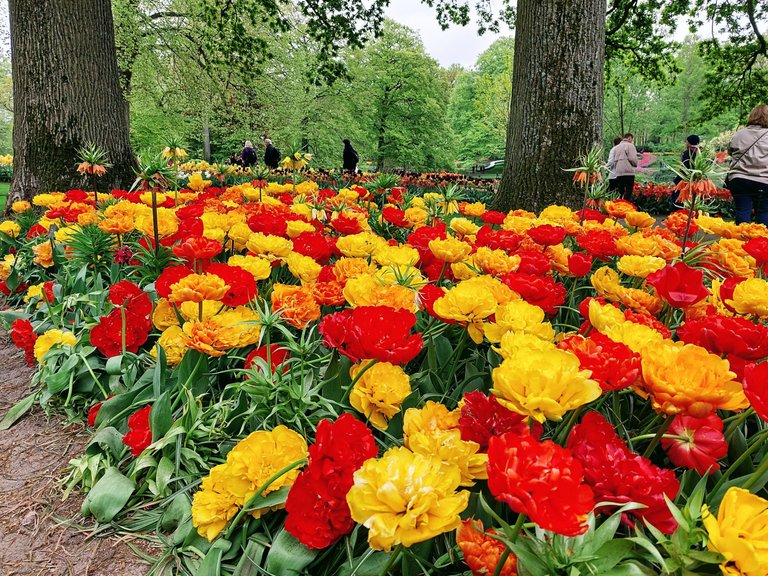 The first thing that you are greeted with upon your arrival is a massive centerpiece display of assorted tulips.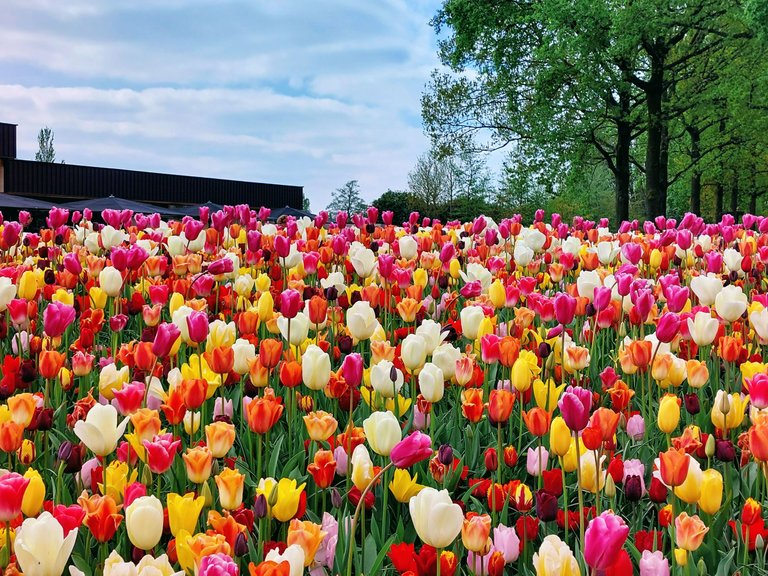 It's basically just a big mound of color.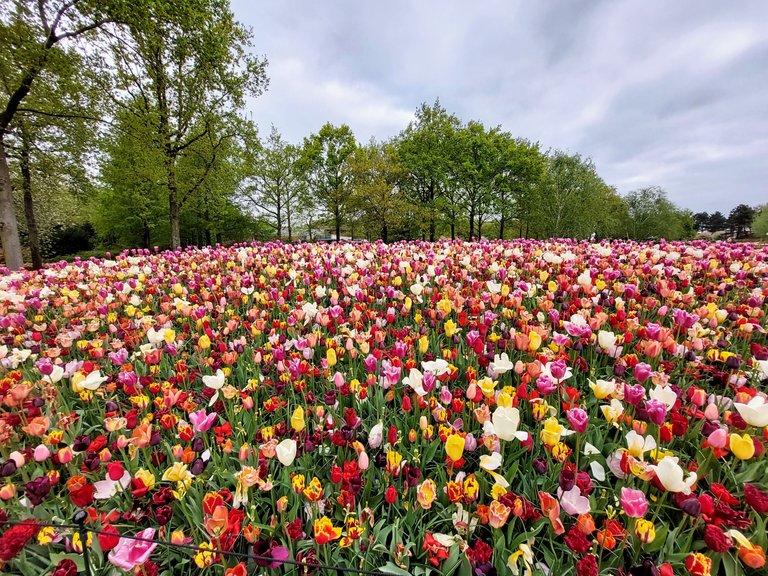 As you make your way into the gardens you come to a variety of different layouts and color schemes, as well as different patterns and flower varieties.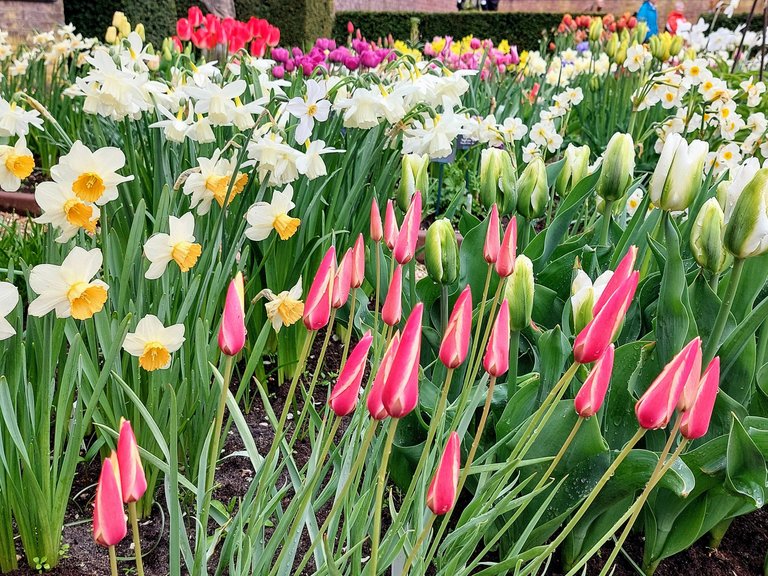 Actually I was surprised at just how many different varieties of tulips there are out there and how big some of them are. Some were the size of bowls, though you can't tell from the photos.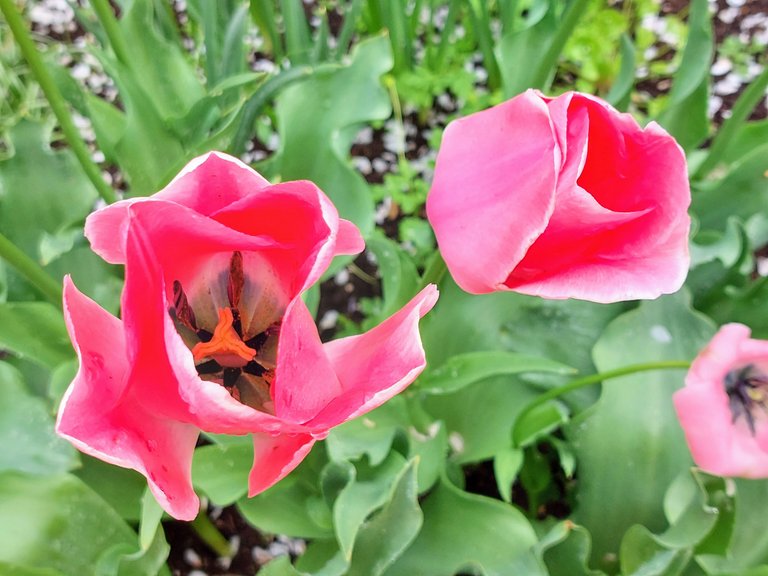 Apparently, there are over 800 different varieties of tulips and the Netherlands produces new ones each year.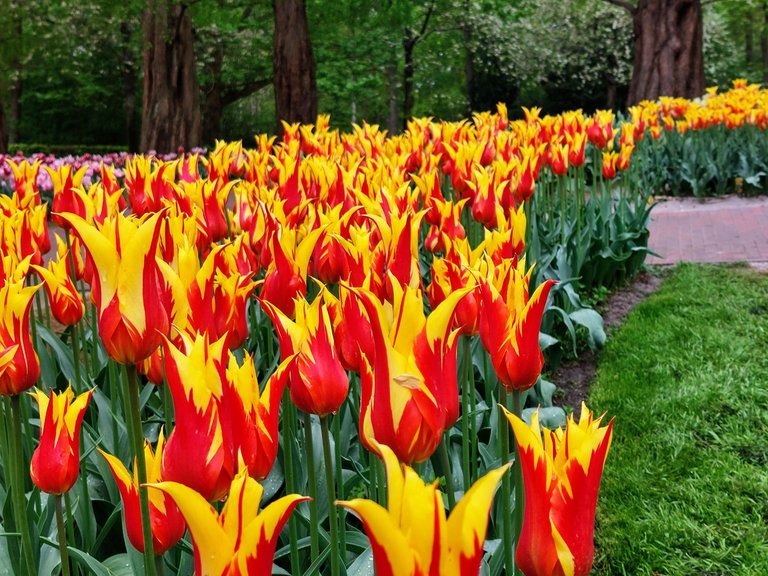 Each variety has a name but I obviously didn't keep track of them. There were way too many for that. This one in particular looks like fire to me, so I'm going to call it the fire tulip.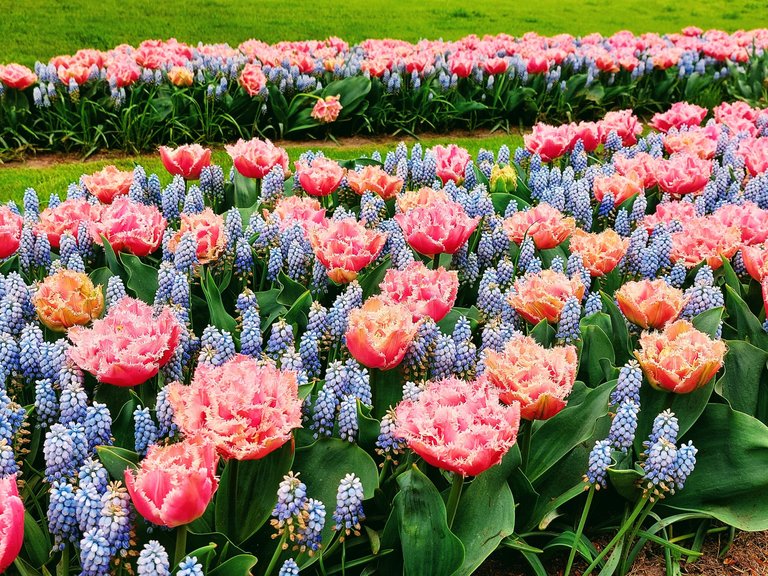 Many of the flower beds appeared to be very well thought out and were arranged quite beautifully.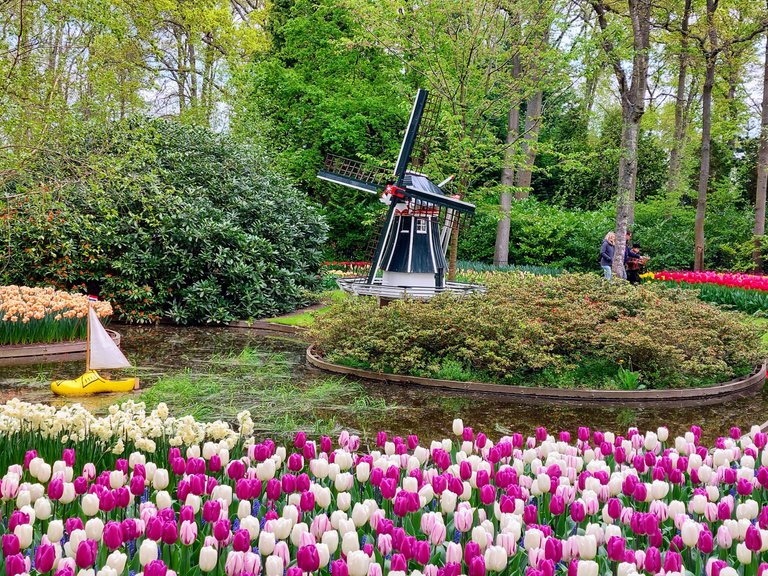 Some reminded me of a bouquet of flowers where each stem seemed to be hand placed for maximum effect.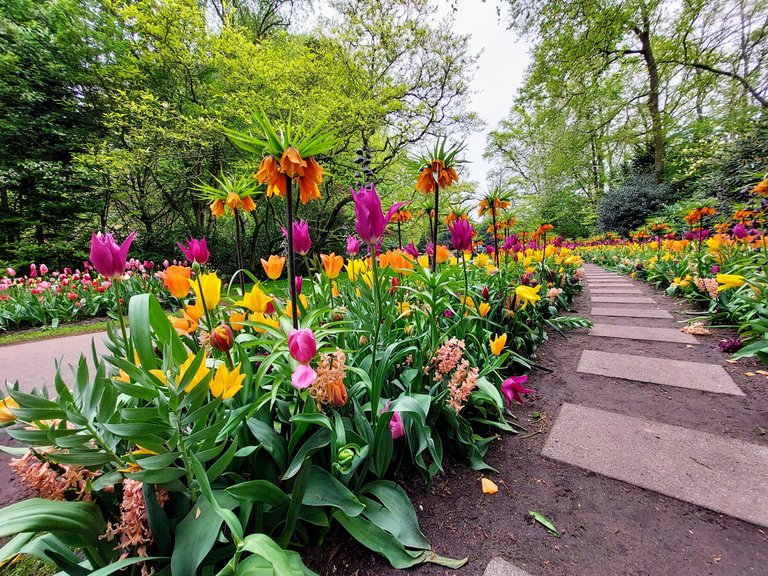 Other areas were the exact opposite though - just simple blocks of color that appeared to be placed randomly along the walking paths. Some of the colors actually clashed a little, but I don't have a photo to give you an example.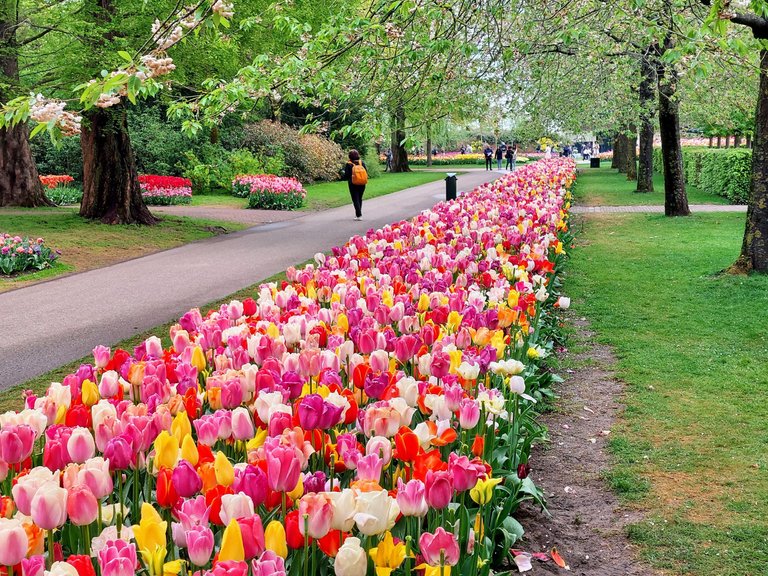 It looked a bit lazy in some places but I think it just comes down to the scale of the place really. The garden is said to be one of the largest in the world and is sometimes referred to as the Garden of Europe.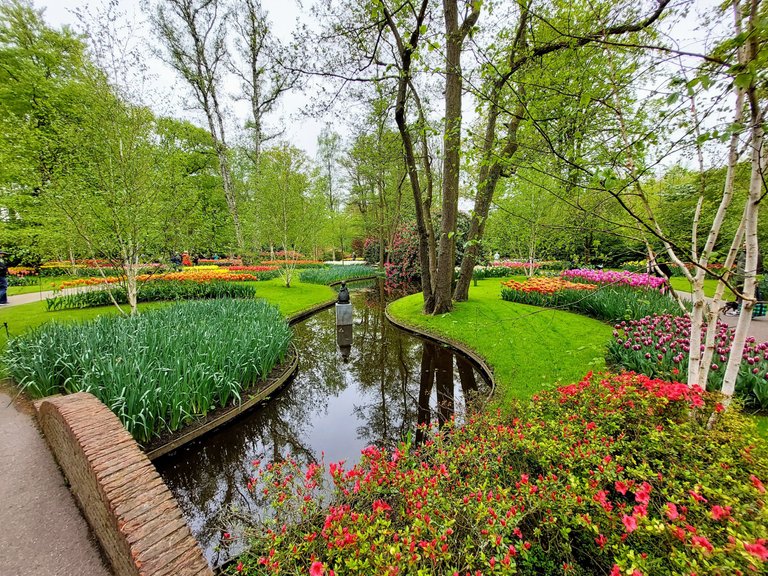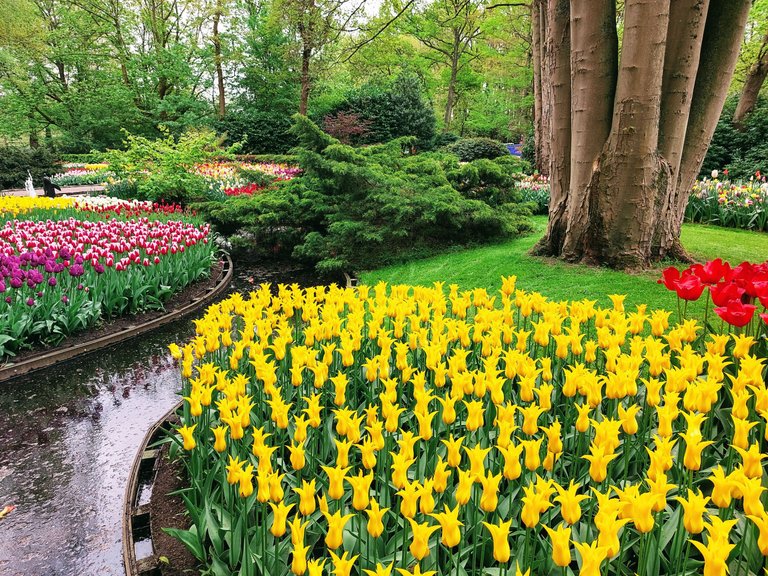 It covers 32 hectares of land and over 7 million bulbs are planted there each year by only 40 growers. The bulbs are donated to the site by over 100 different farmers.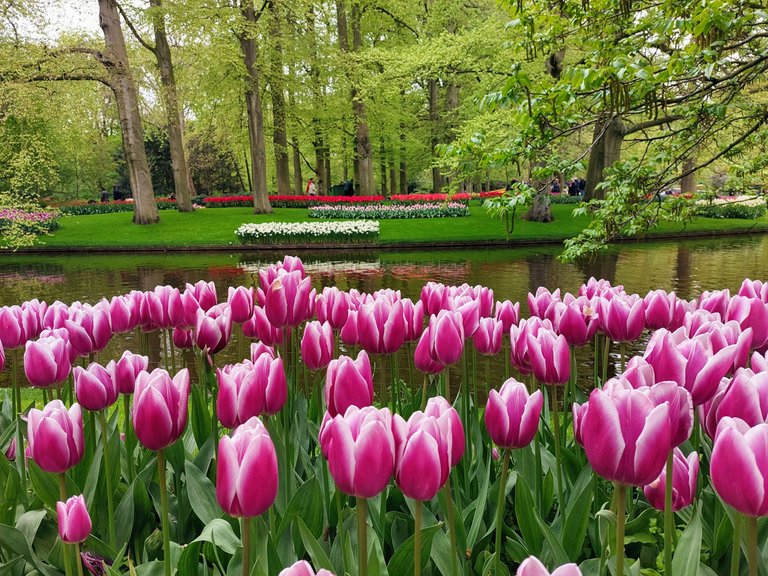 With that in mind I'm guessing that the landscapers and designers take a mixed approach of creating well thought out beds in key places and random color distribution in others that are just meant to fill the voids and save time in planting.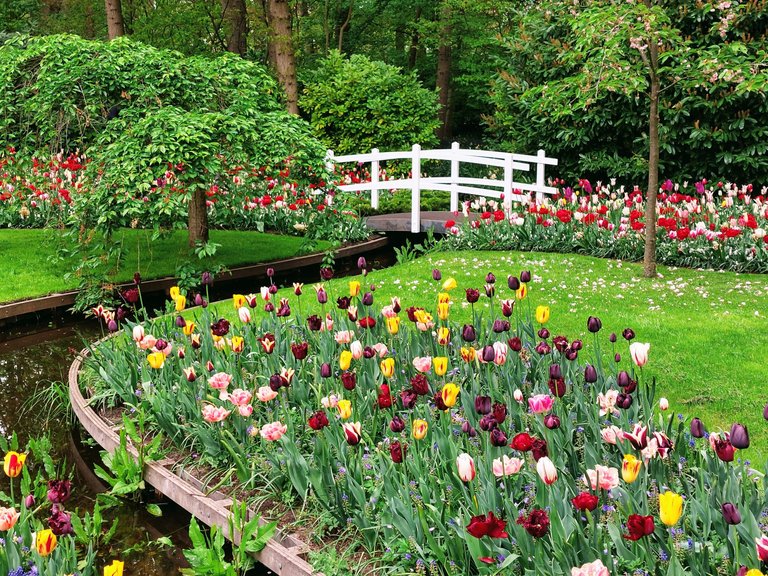 There is a large stream in the park and many water features as well that really add to the overall beauty of the place and make it seem more natural.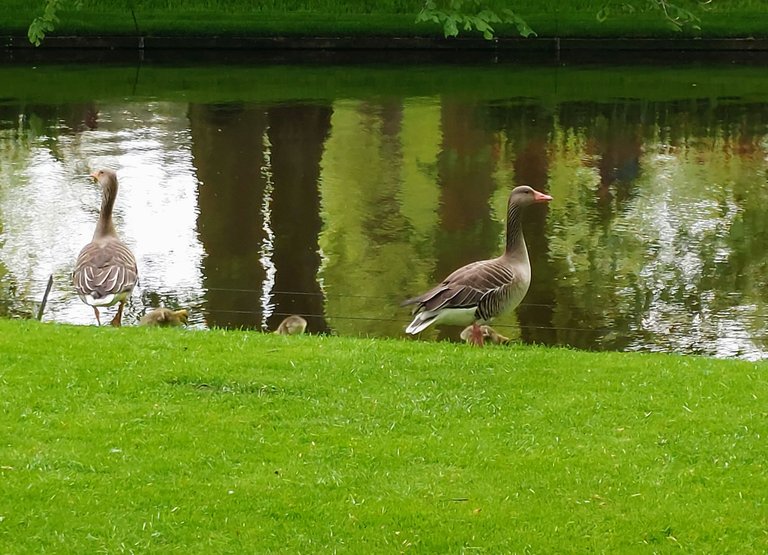 A lot of the geese hand goslings when we were there.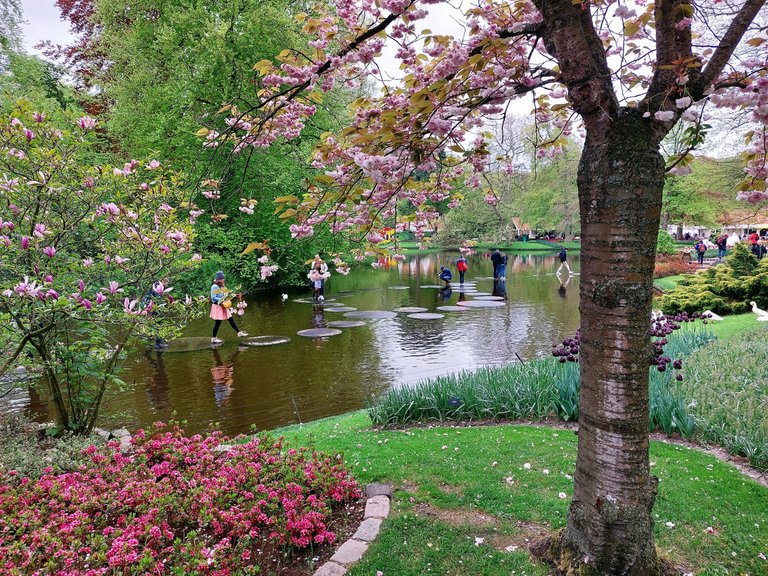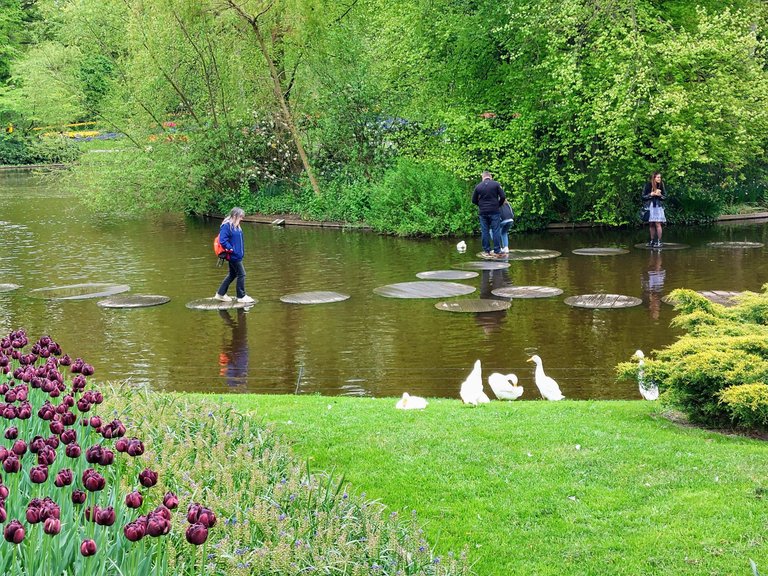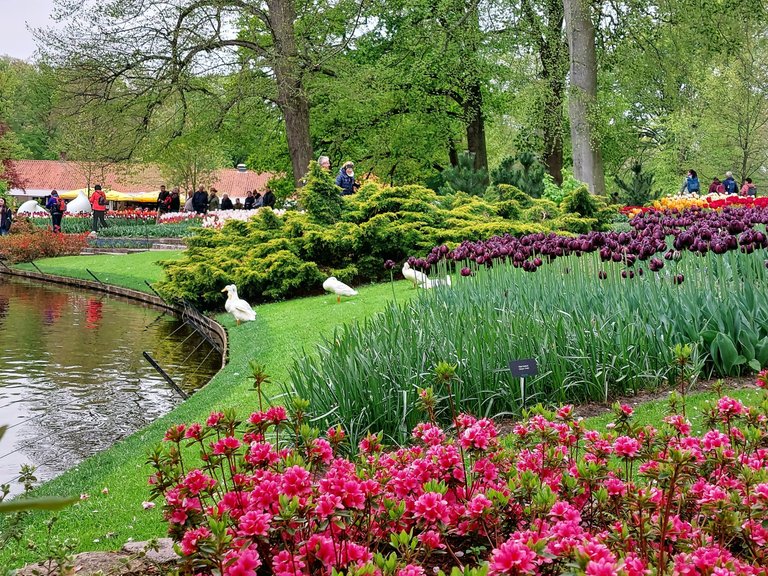 You'll also see a large windmill in the park as well, which you can climb up to get a view of the space from above.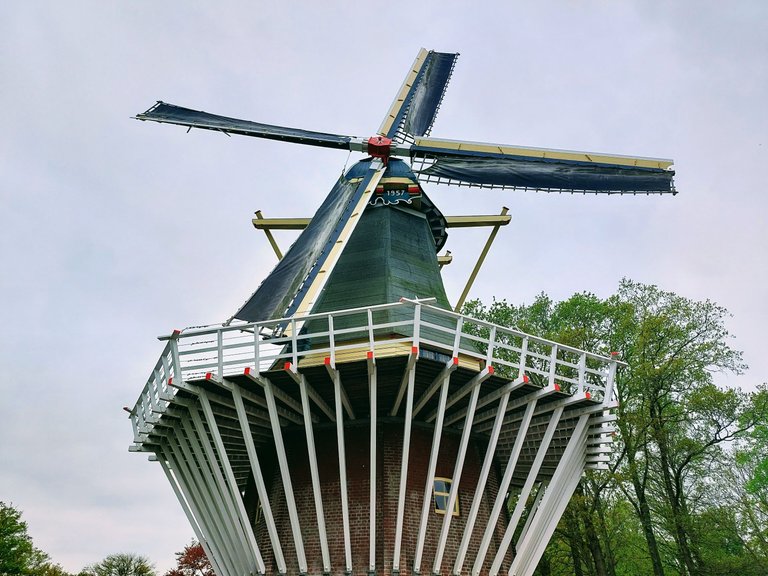 It gets pretty crowded though, as you would imagine, so you would have to be comfortable with the crowds.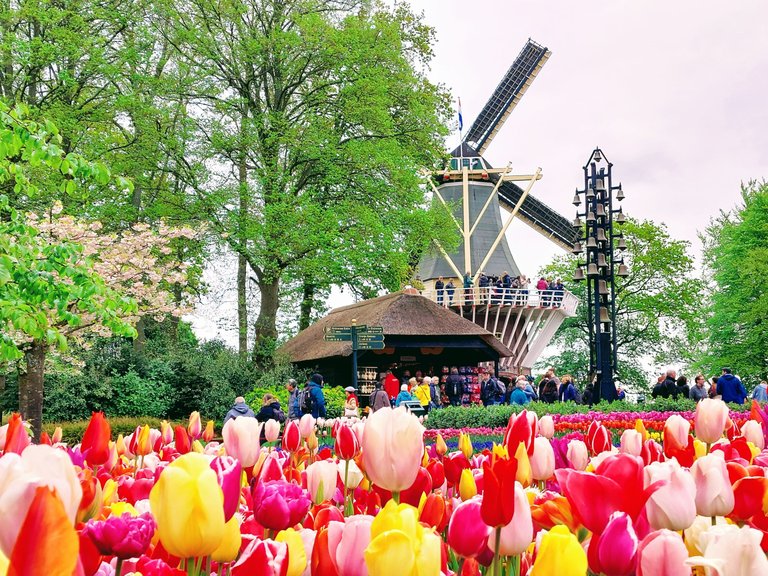 Something that I thought was pretty neat to see were the maintenance workers on site. We saw several of them mowing the lawns with really good push mowers.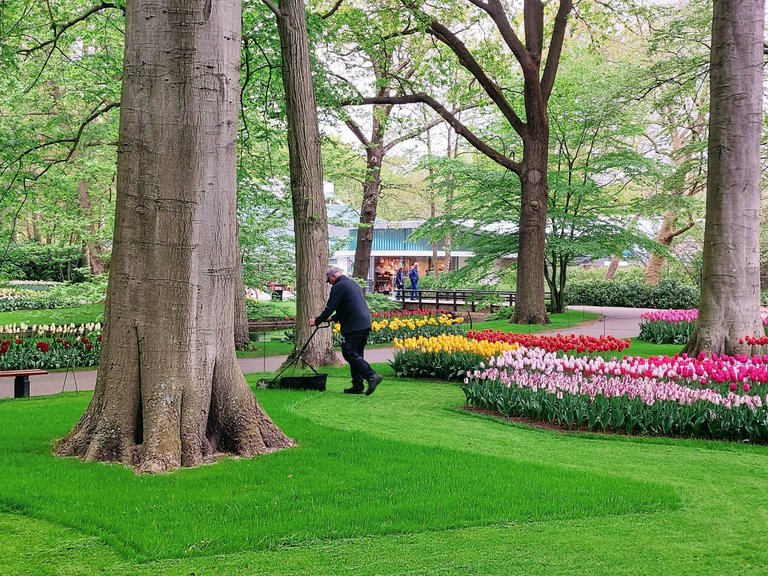 They worked silently without any gas or electric tools. It was obviously done to maintain the calming silence in the garden.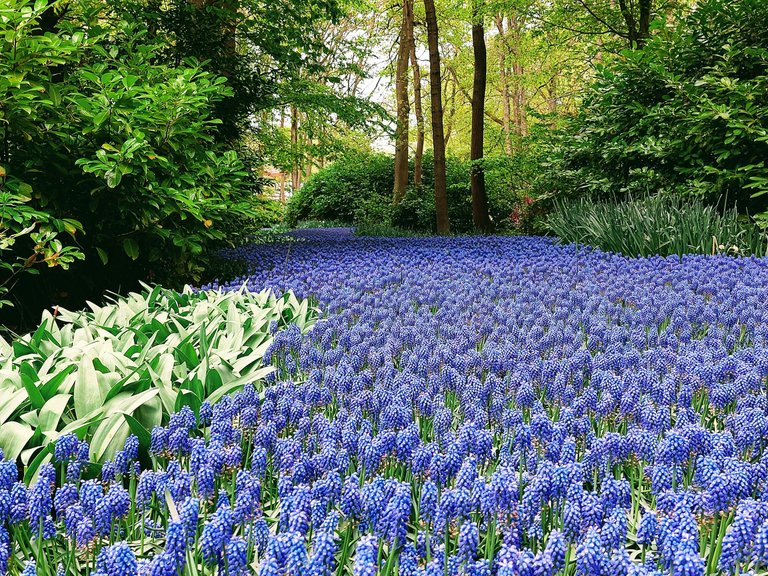 This blue flower bed was neat because it was made to look like a long stream between two different walking paths.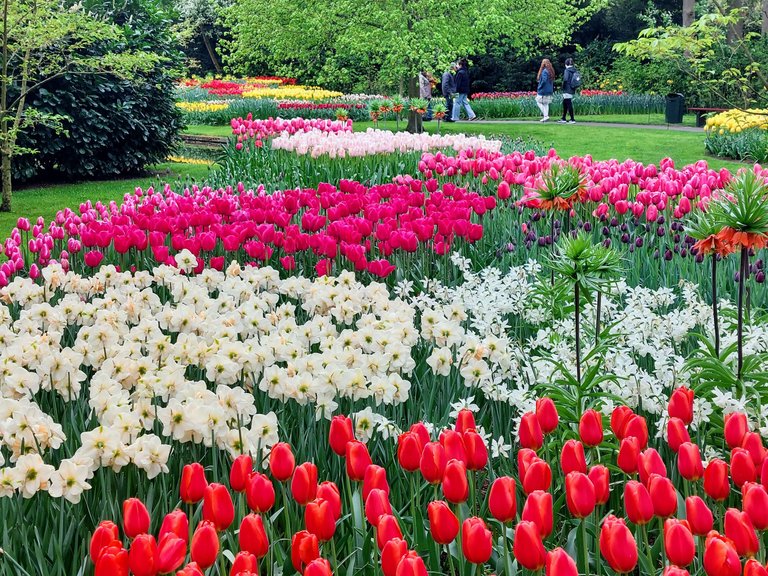 As you can see, there were a lot of different places to explore in the garden and many different flower bed designs throughout the space.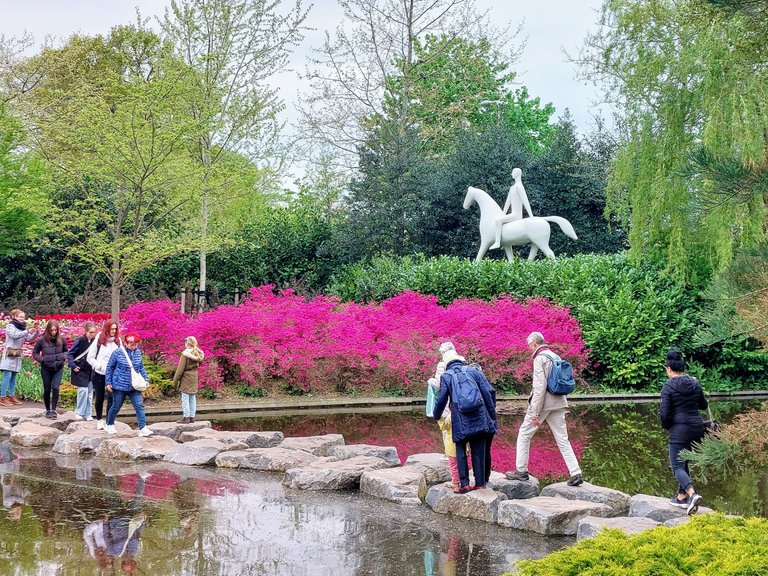 This rock bridge was a pretty popular spot when we were there, with a steady stream of people crossing it.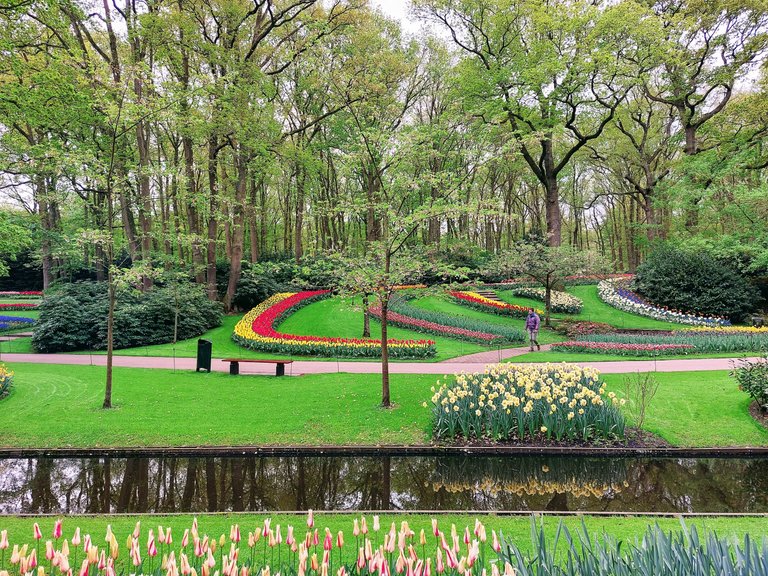 Each year the Keukenhof does a specific theme in the garden and the theme this year (2022) was Flower classic's. It was a celebration of the flower as a classic symbol of human life that has been used in architecture, art and design for many centuries. Its a pretty broad and generalized theme that wasn't obviously recognized in the garden, but nonetheless, the Kuekenhof was definitly a worthy place for a visit. Even our dog approved!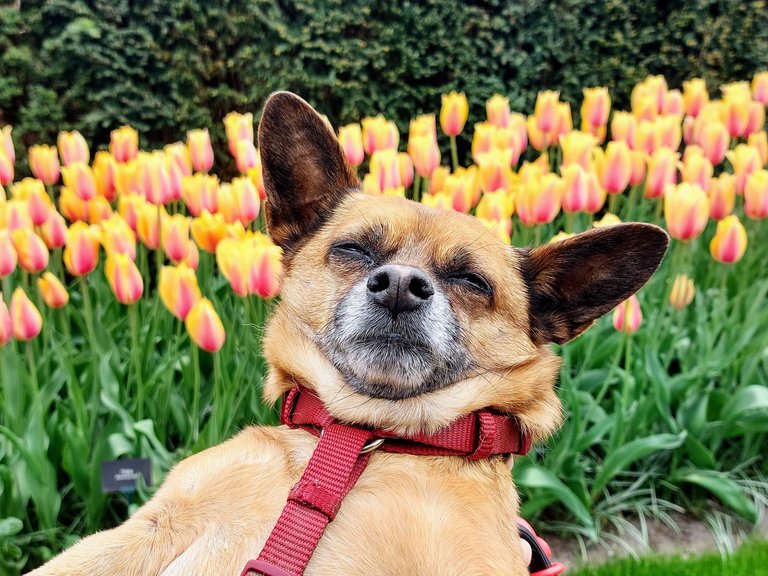 Well thats it for now. If you are interested in seeing more of our trip to the Netherlands than stay tuned, theres more to come. Until then, thanks for stopping by.