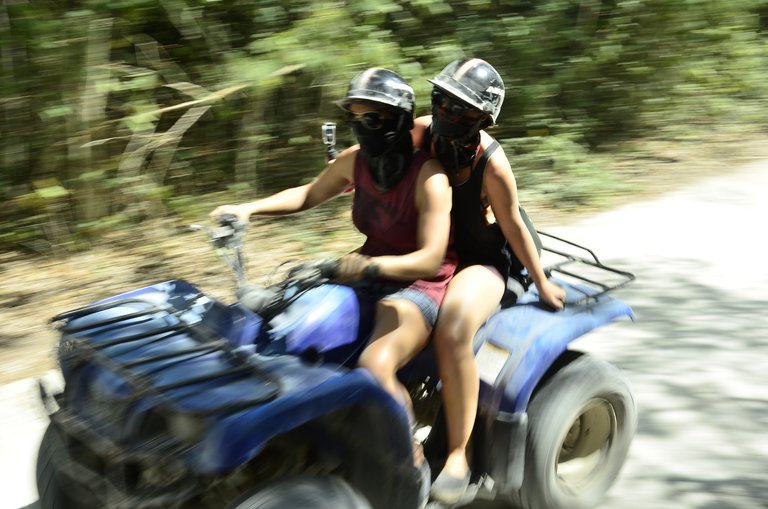 The next day we had to wake up early, because we had a special fun event planned! - Something I always wanted to do during the time I was living in the Caribbean and never had the time or money to.
So basically for me it was a dream come true and for Elena as well, as she loves action and adventure: I had booked an ATV tour through a friend of mine, so we could drive offroad through the jungle from one cave to the other during 4 hours.
In the morning we cooked some breakfast at our Airbnb in Playa del Carmen, prepared sandwiches for the day and packed our things.
As with every tour in this area where you spent half day in the jungle and visit some kind of cenote or beach, it is recommended to bring comfortable cloth, closed waterproof shoes, swim suits, sunglasses, towel, biodegradable insect repellent, biodegradable sunblock and some extra money for pictures, tips and souvenir shops.
Around 8 am we waited at the street for the mini van from Easytours to pick us up and bring us to the starting point in Akumal, a village about 40 minutes away from Playa del Carmen.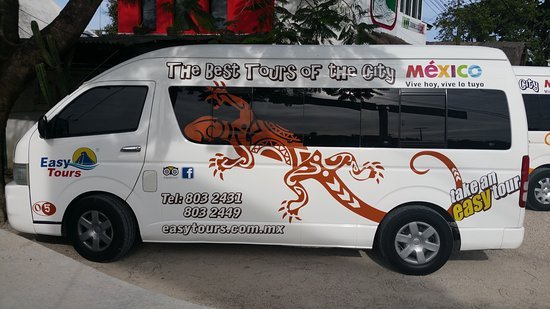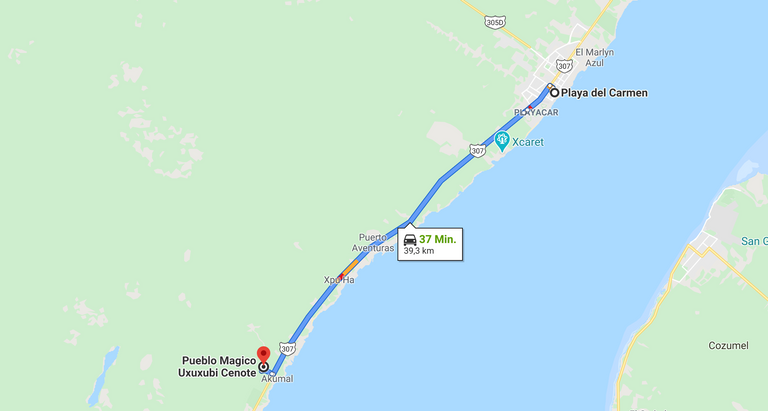 The ATV Off-Road Tour can be booked every day of the week. There are 3 starts /day to do it. 8am/ 11:30am/ 3pm. We took the one right in the morning to avoid being burned too much. - Rain or not, this tour for sure will always happen!!
With my friend being in charge at Easy tours we paid way less, but the usual prices for this are:
1 ATV double 160 usd (1 moto 2 pax)
1 ATV individual 100 usd (1 moto 1 pax)
So at 8:00am the van picked us up from our Airbnb, we collected some other guys and then went straight to Akumal to the operation base.
Arriving we saw the cutest little puppies I had seen in my life!! - I would have loved to take one of them with us, name it Akumal and make sure he had a great life.. but sadly it wasn't possible!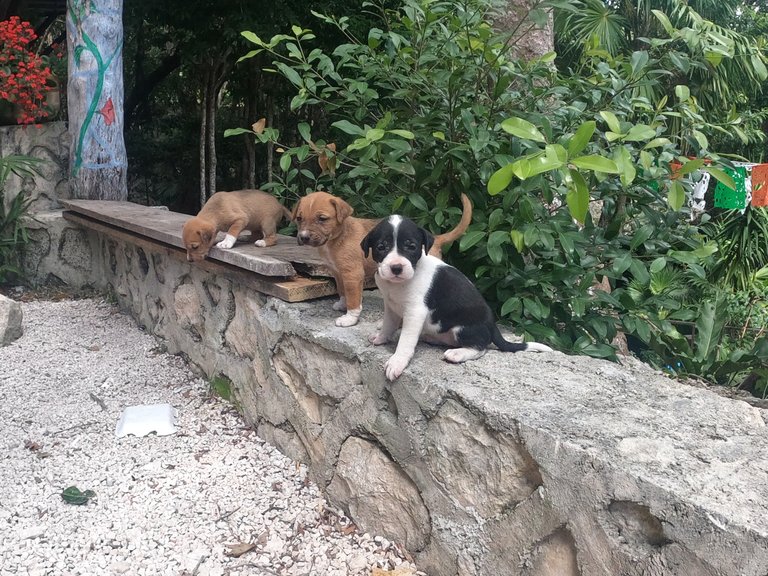 We had the chance to use the bathroom for a last time, changed cloth and got a briefing of activities and safety procedures to operate the ATV.
They have some rules like don't pass anybody and drive in line. Take enough space in between, etc.. and then of course technical stuff about how to ride offroad to avoid accidents.
They also told us to only use biodegradable mosquito repellent and sunblock in order to keep the water nice and clean at our swim, which I think is awesome!
After we signed the paper telling us, that nothing that will happen is their responsability 😁 we got our helmets and protective glasses. Good we had something for our face with us as well.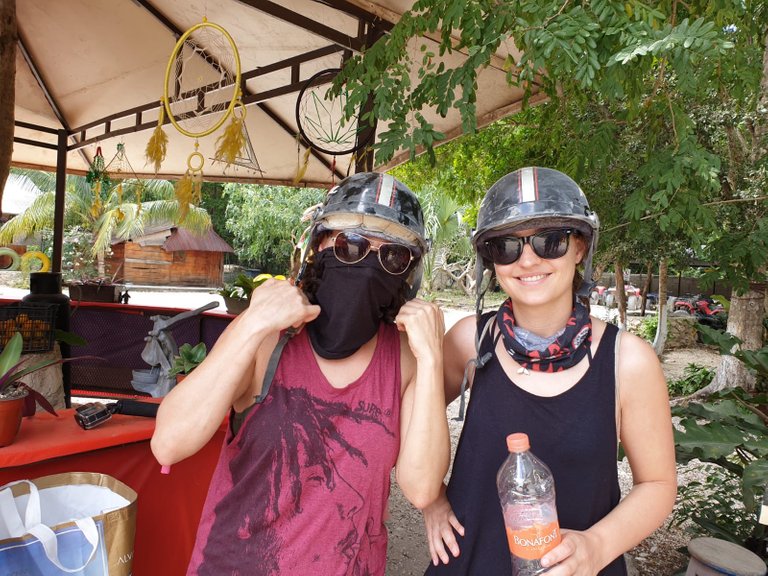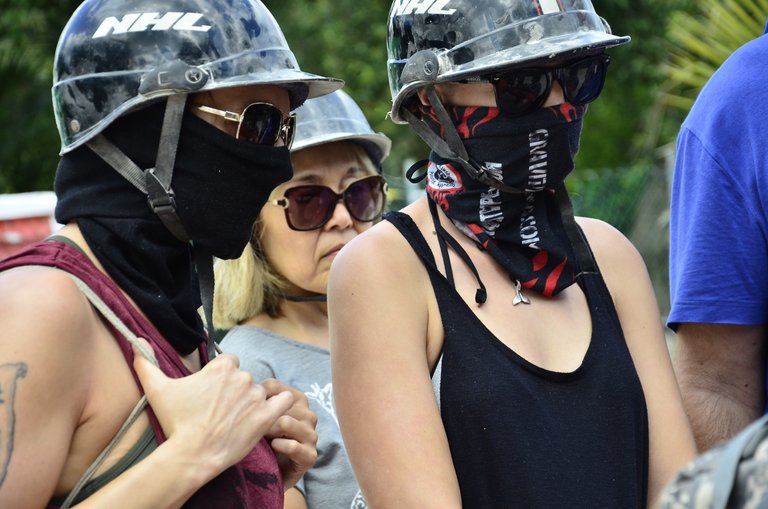 Looking like gangsters we found our ATV. It was the last one in the line, with only one guide behind us. Elena was the one driving, as I knew she loves to do that. - and honestly after my scooter accident in Thailand, I was not very keen on driving myself.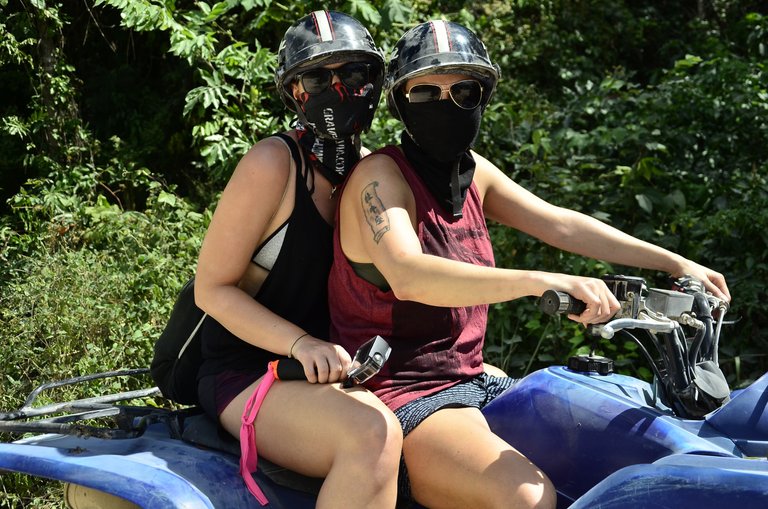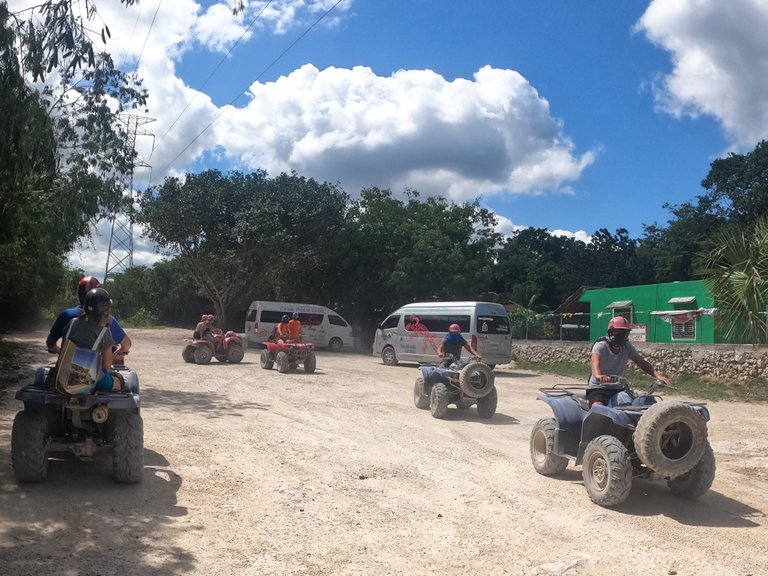 And off we went! What I didn't know in advance was, that we would visit 2 cenotes and one underground river on this tour! It was a great surprise to me, especially knowing that these ones are not open for tourism and we would have them just for ourselves!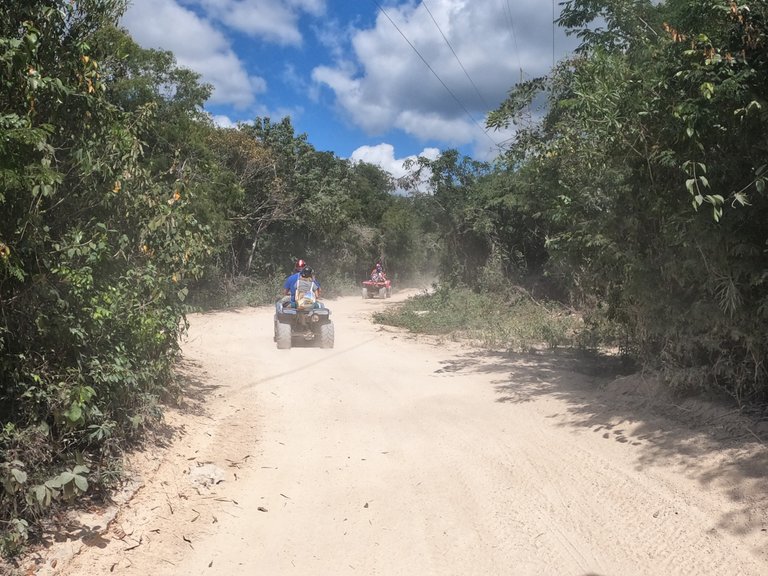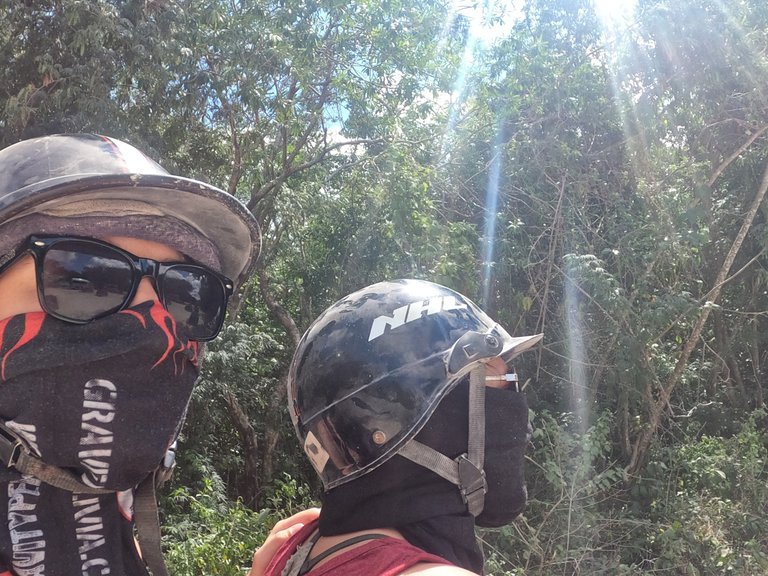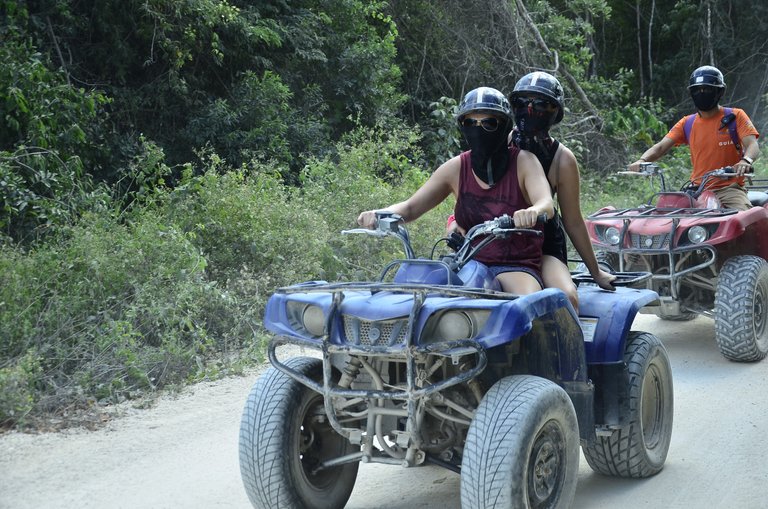 So the first 5 minutes were all about getting used to the vehicle! After that the guide stopped and asked everybody if they are confortable or have questions. Then we started to drive way faster haha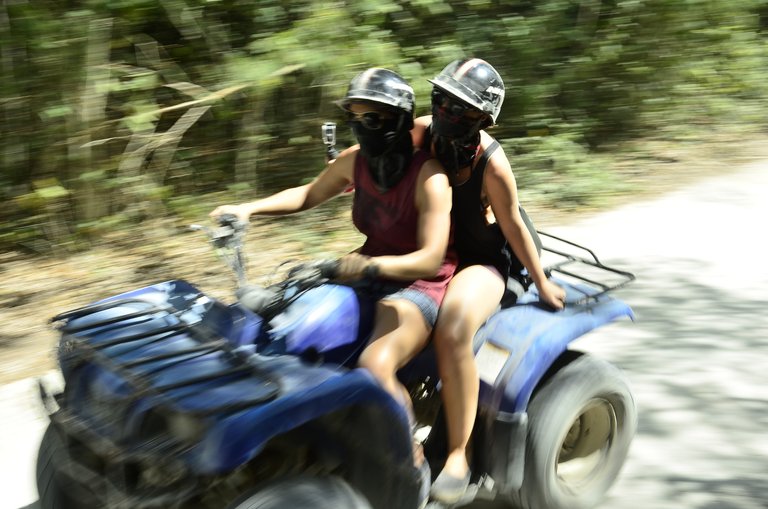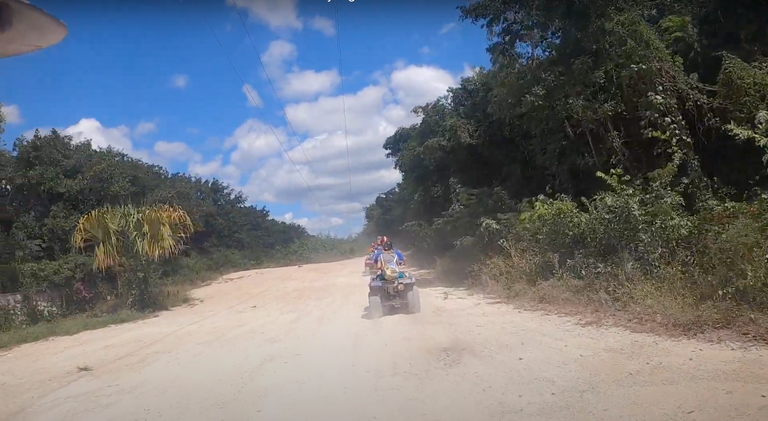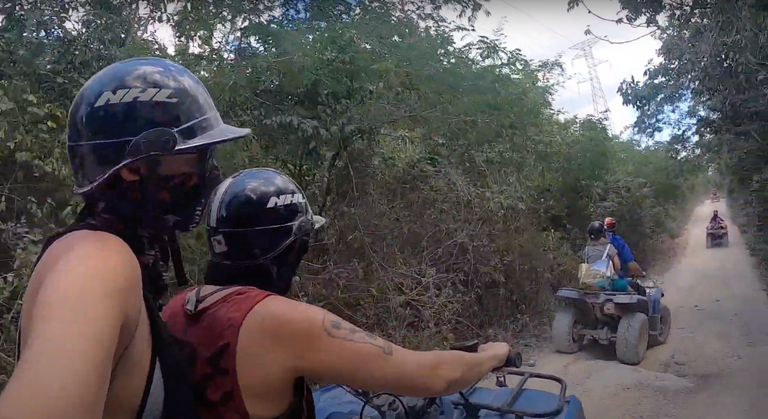 After a while we arrived at the first Cenote. Sadly I don't remember the name of it. But it had something to do with little mayan statues that were found inside of it.
It is a closed cenote, so we had to walk down some stairs to arrive in the cave. There we had a little place to leave your things and change.
Following the stairs we went into the crystal clear refreshing water. The cave was bigger than expected, because it has some underground tunnel system behind it and everywhere you can see the stalactites and stalagmites coming down the ceiling or from the ground.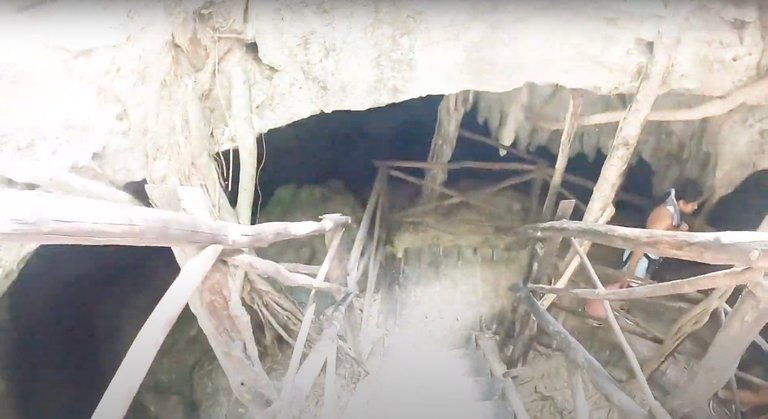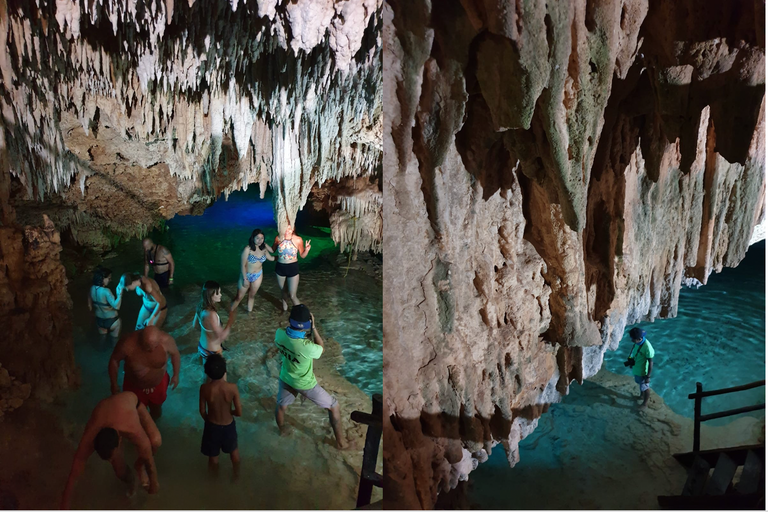 We had about 30 minutes to take a bath and explore the cave, before we would go back upstairs and drive to our second stop.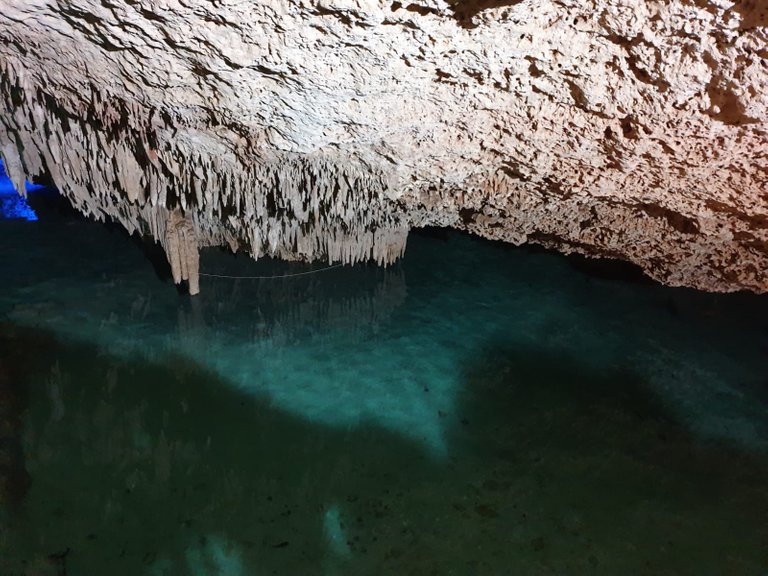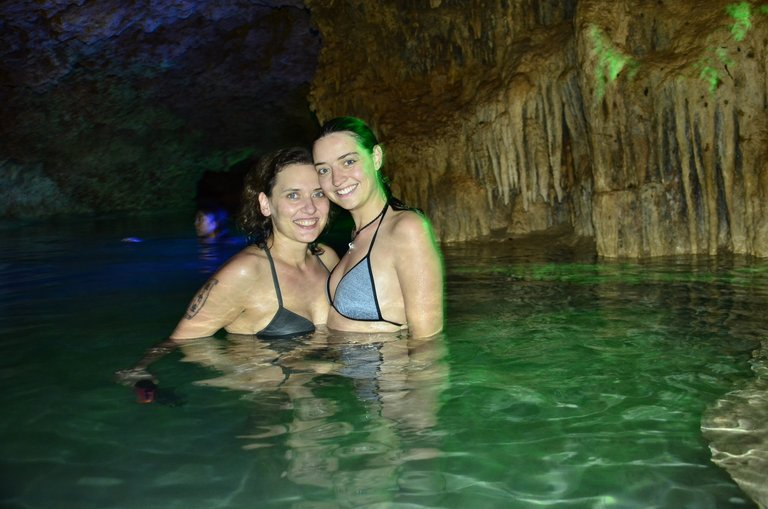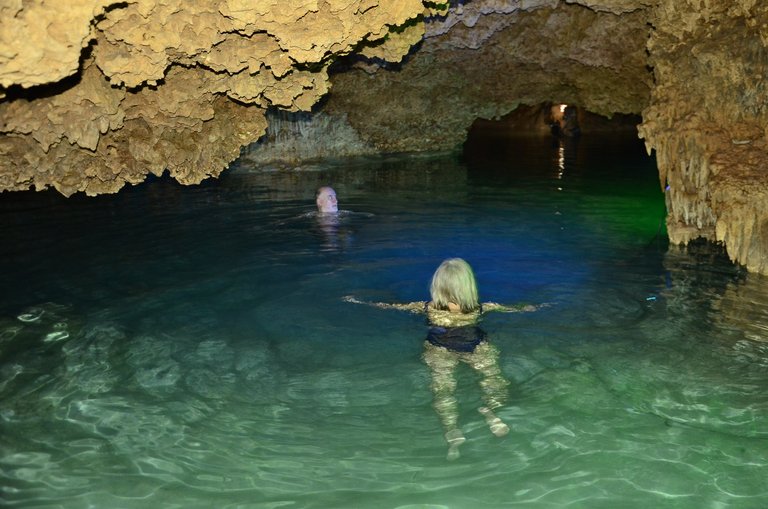 After that we changed our clothes real quick and went back up to the ATVs.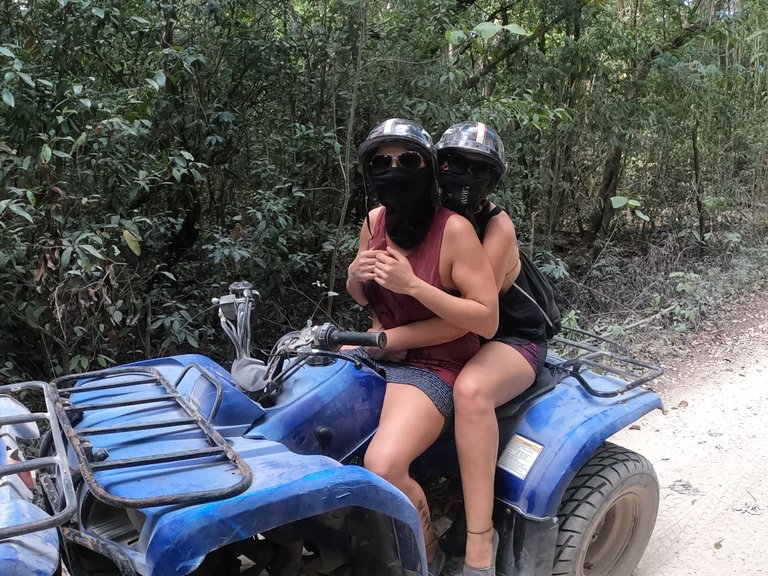 Now the path became a bit more tricky to drive as it was smaller and had more stones. This was really offroad now!! Elena had the time of her life driving through the dirt 😄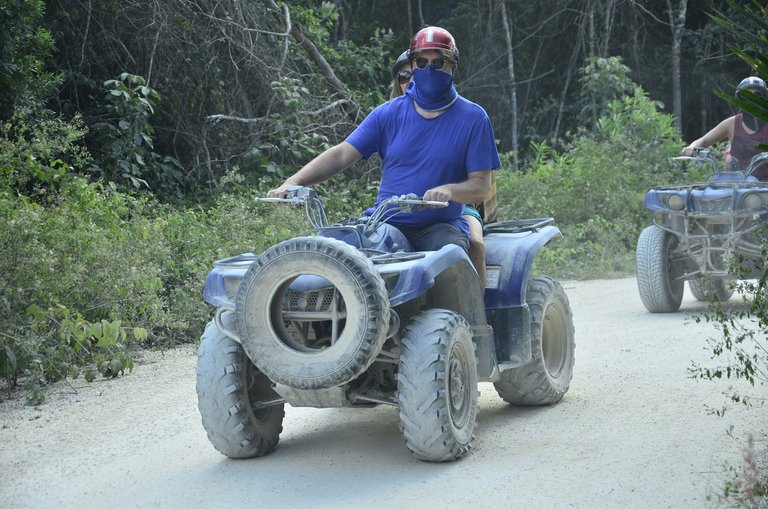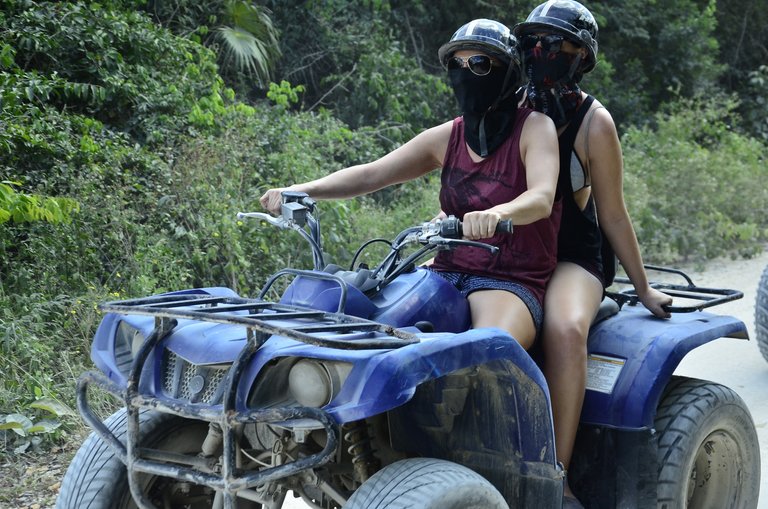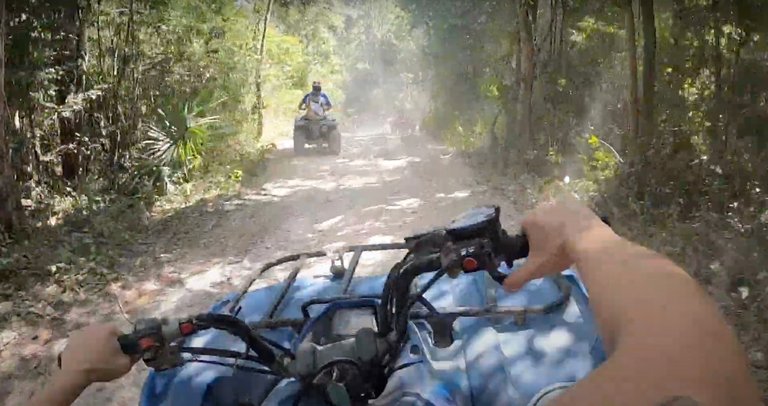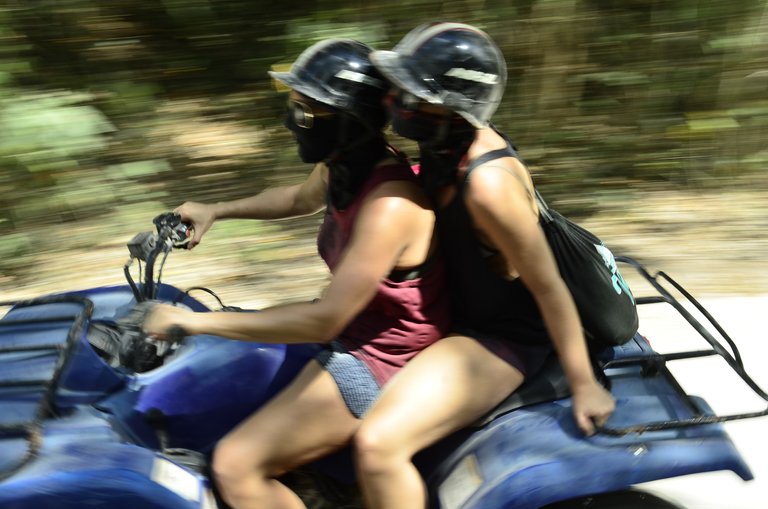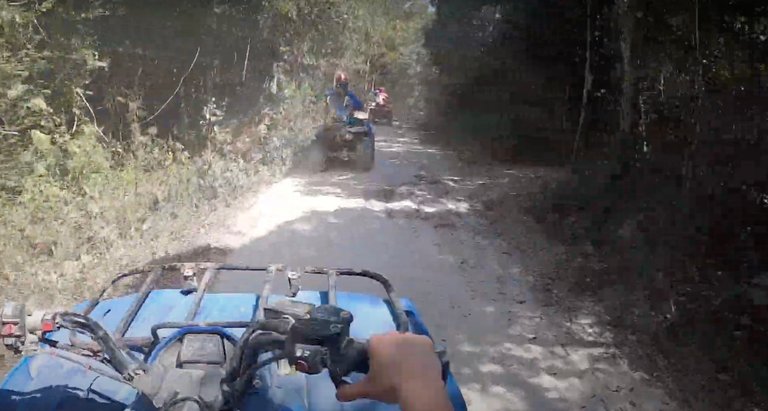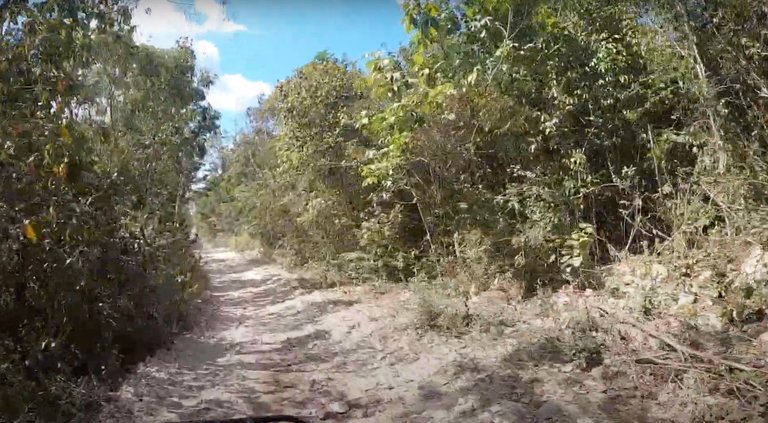 It was really fun to drive through the jungle with much more speed now. As we were still a bit wet from swimming, the dirt became to get sticky and we were happy to have our face covered as this was getting real dirty! - I was just happy to see her happy and tried not to fall down in the back haha.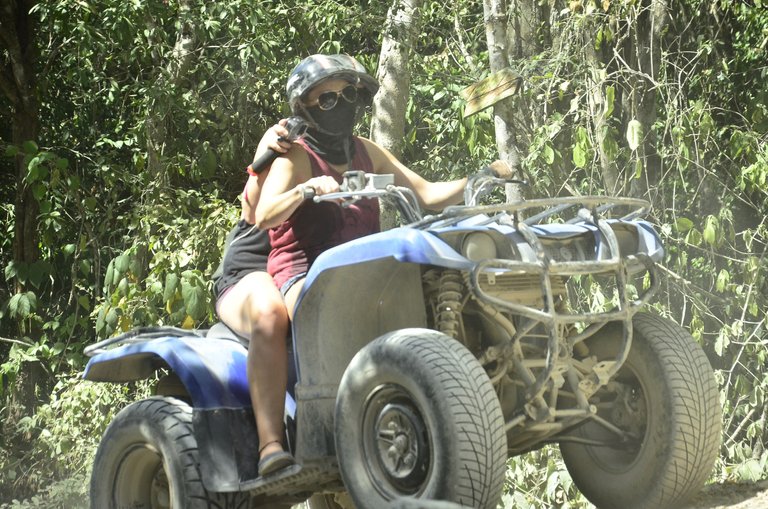 After about 30 minutes drive we arrived at our second stop. I believe it was the Santuario De La Diosa Ixchel. My first underground river/cave to visit. Sadly the go pro is not very good at dark places, so in the video this part is not best quality. - Sorry for that.
So we stopped and went along a small path until we arrived at the cave. It was not really easy to enter it and walk along it in the dark with only flashlights on at some parts.
There were stalactites everywhere and even roots from trees comming through the ceiling so we had to be careful not to bang our heads.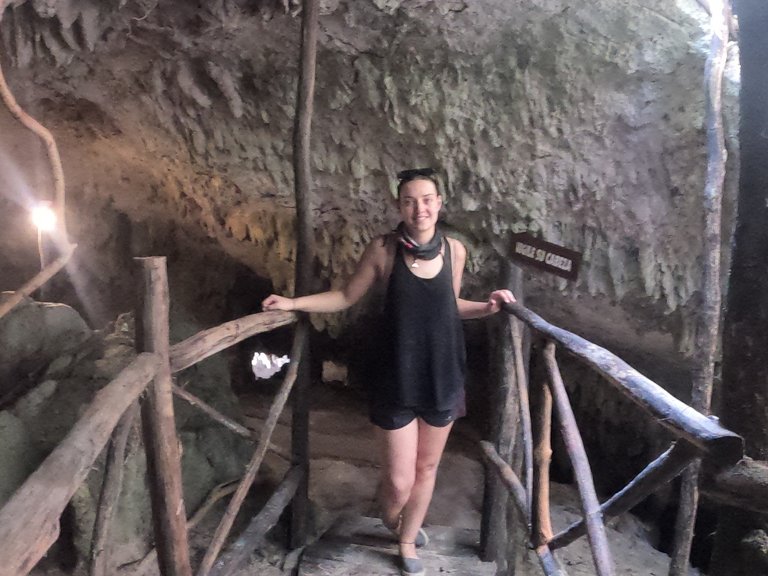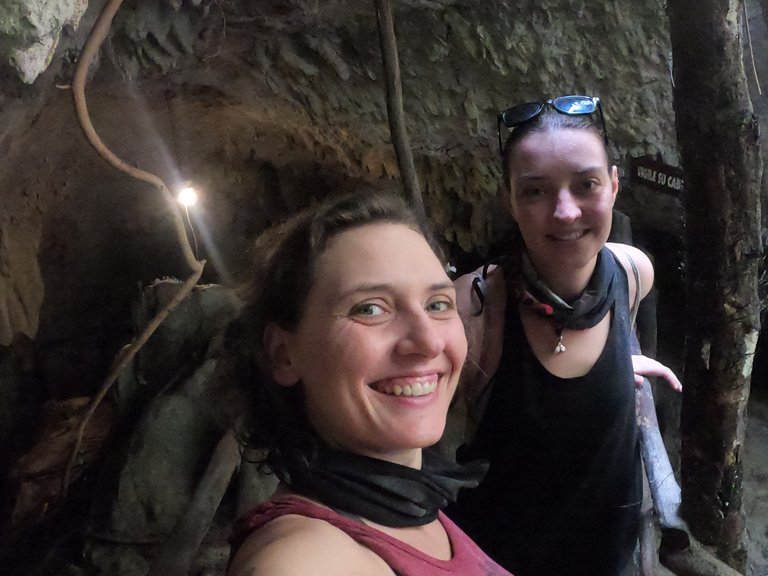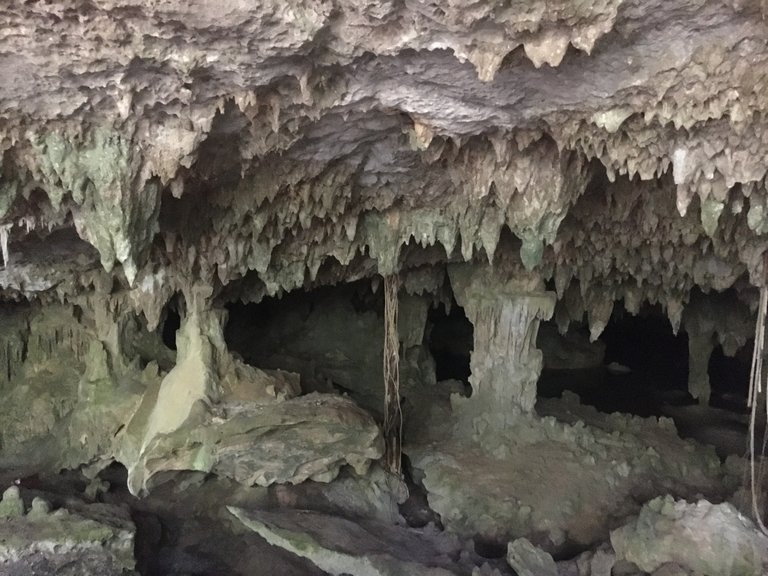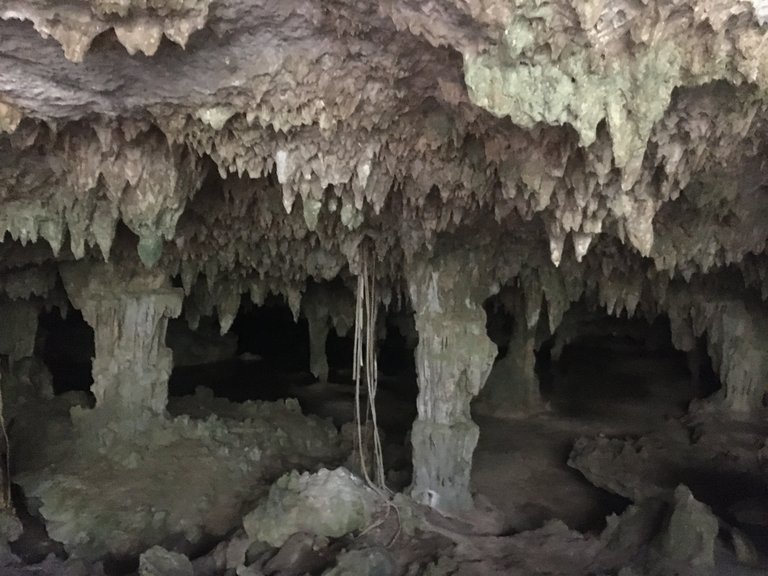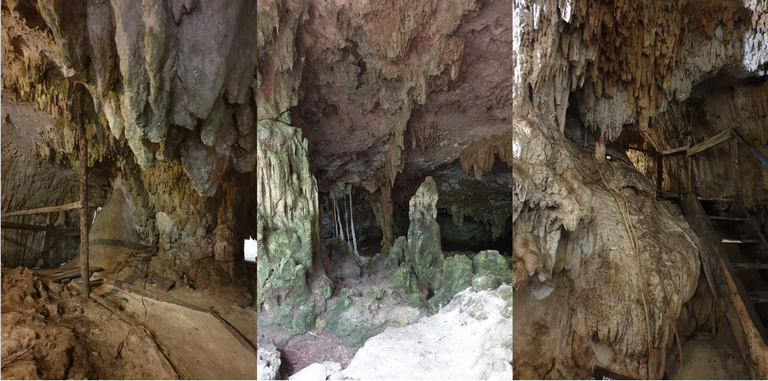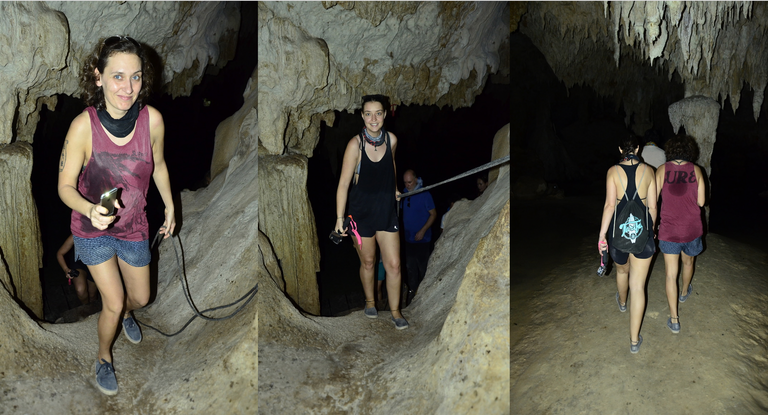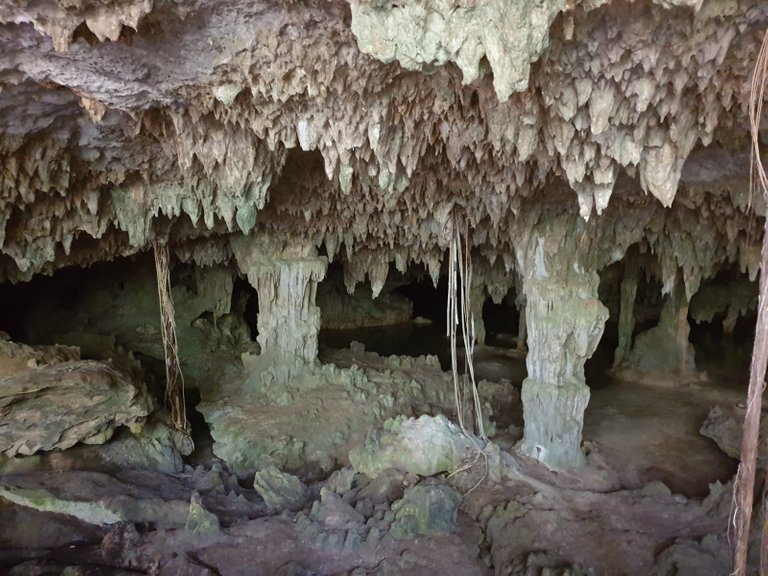 We crossed the tunnel all the way along the river, until we saw light again. On the other side it opened up. Our guide told us that this is a popular place for animals here in the jungle to drink their water in the early morning and night.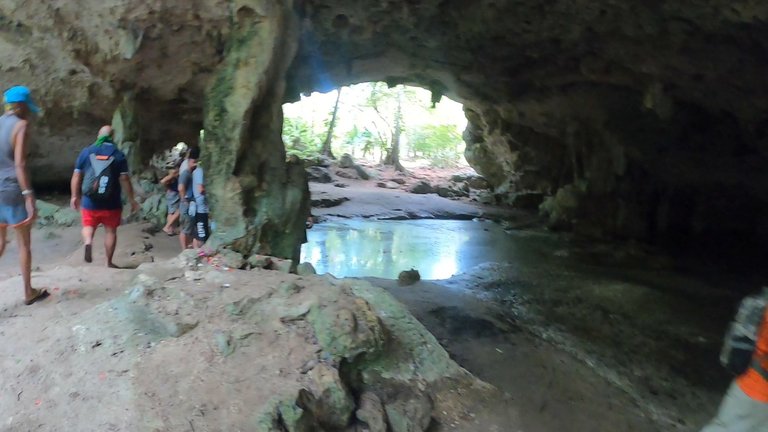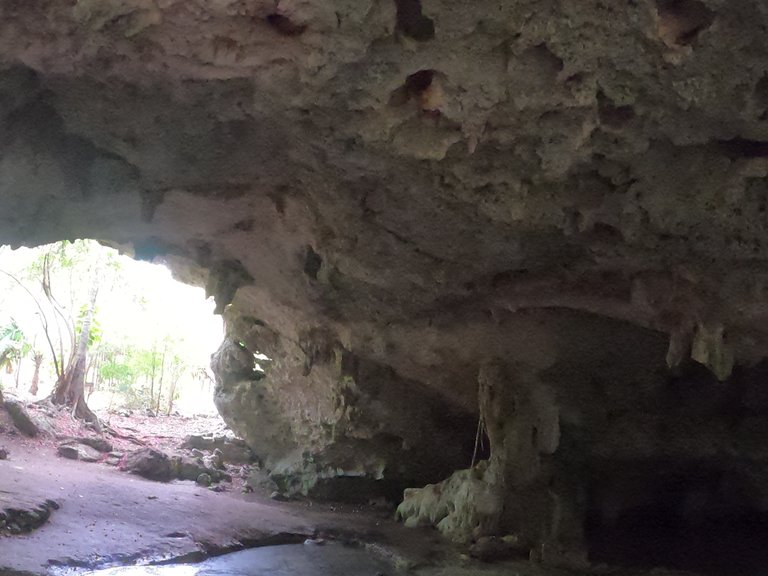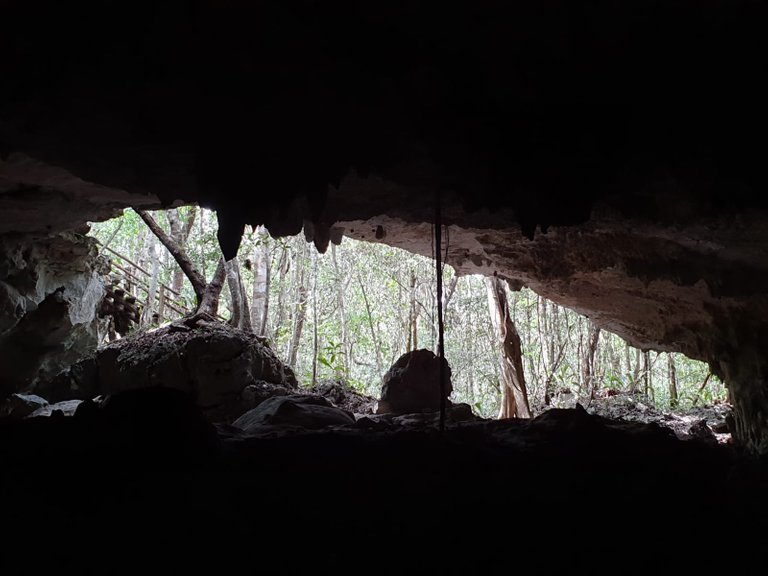 All kind of species like jaguar, deer, monkeys, bads etc. come here to get their fresh water. - So it is very important to keep it clean!
He explained us a little bit about the minerals that are in the water and that are important for the animals.
Then he put some sunscreen on his hand and hold it close to the water. We could see how the minerals went away from where his hand was, eventhough he didn't even touch it.
It was super interesting and impressive to see that! - I like it a lot, that people like this guide rises awareness even at an ATV tour to save the nature around! - A few years ago tour operators didn't care about this kind of things. So I was positively surprised!
From there we walked a little bit more up and learned a bit about the plants around as well, before we went back to the ATVs.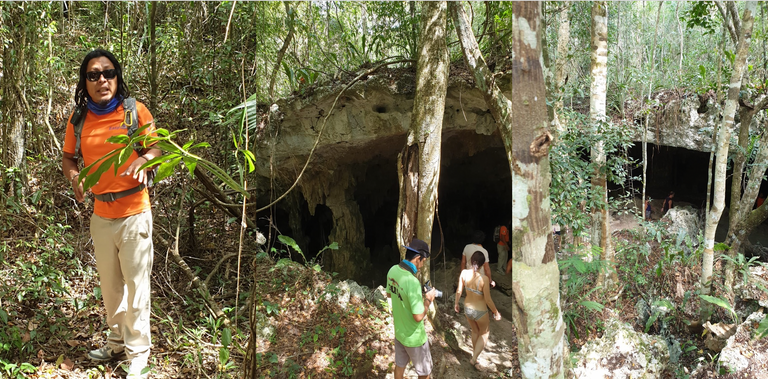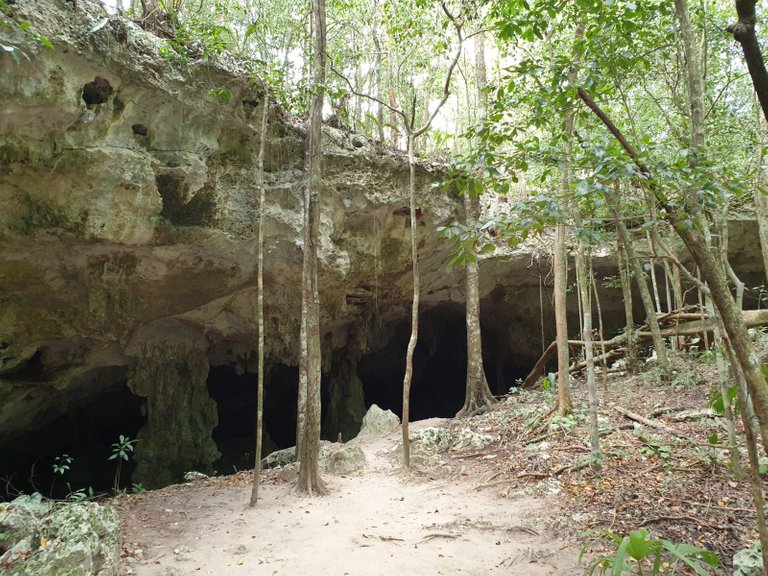 Back at the entrance of the cave we got ready for our last ride that day.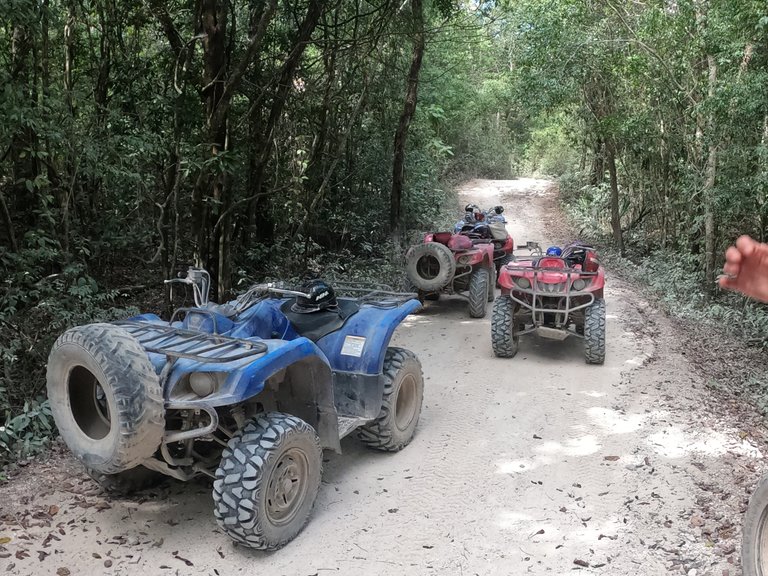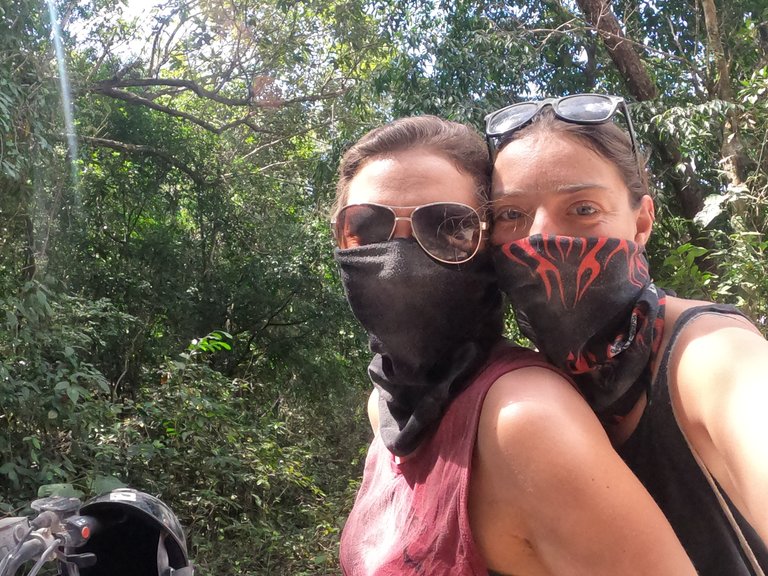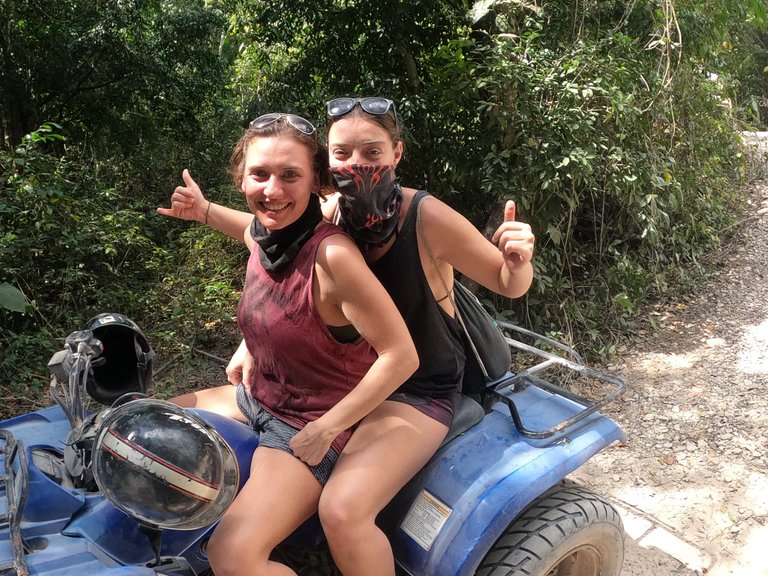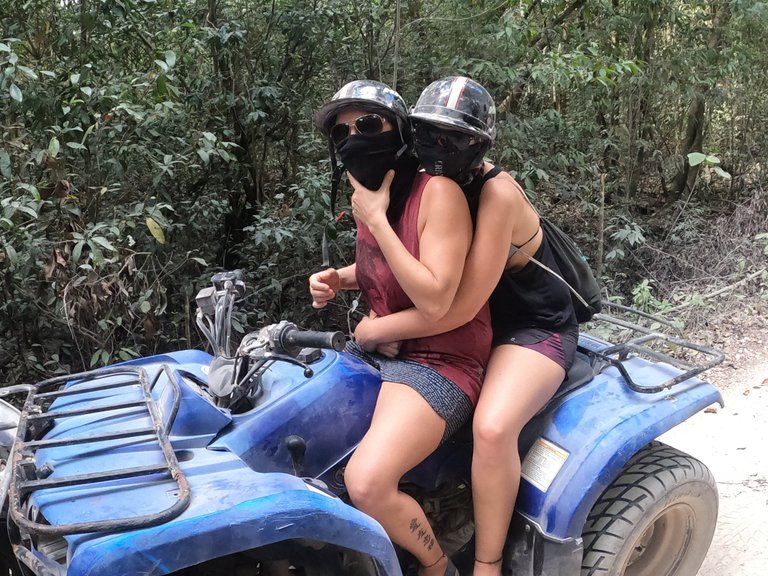 As we were bad in schedule we had to get back to the original starting point as fast as possible! The guide asked us to drive faster than before and literally made us speed up haha.
I didn't see much, which is why I deleted most of the videos from the drive back. It was only dust in our faces and watching the path getting smaller and then bigger again while Elena speeded through the jungle like little speedy gonzalez!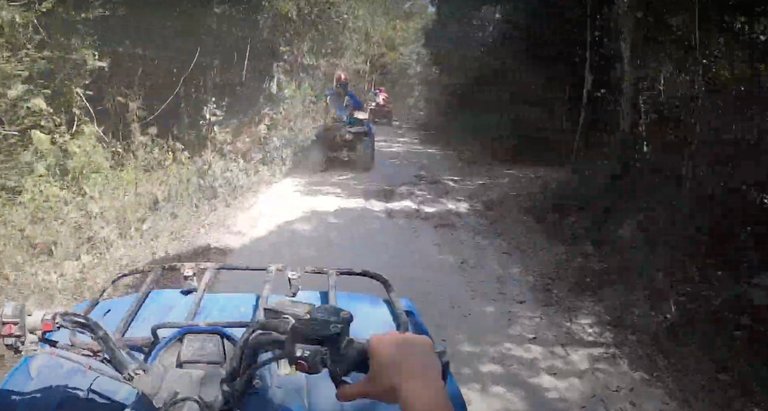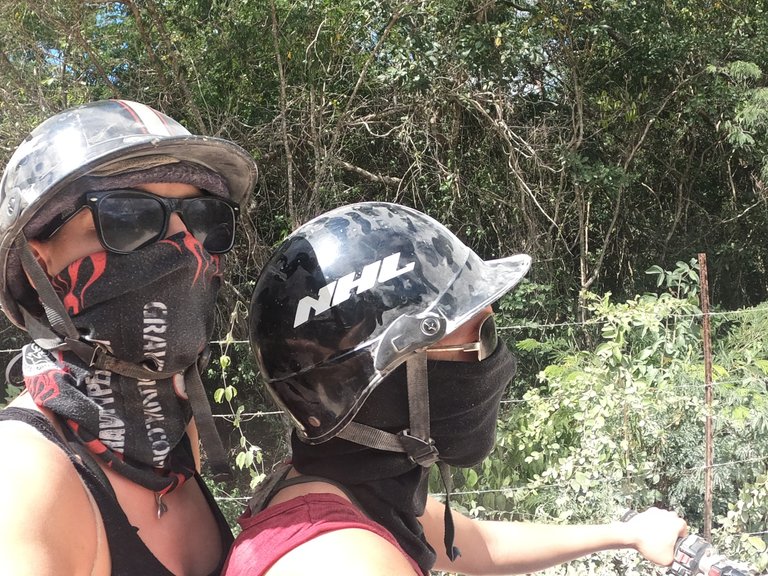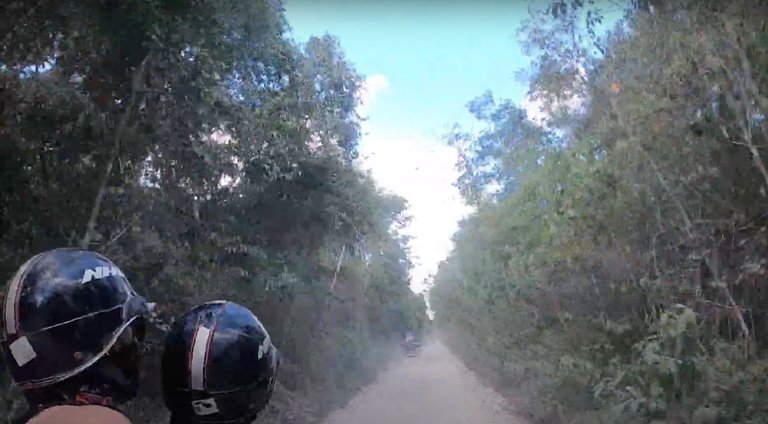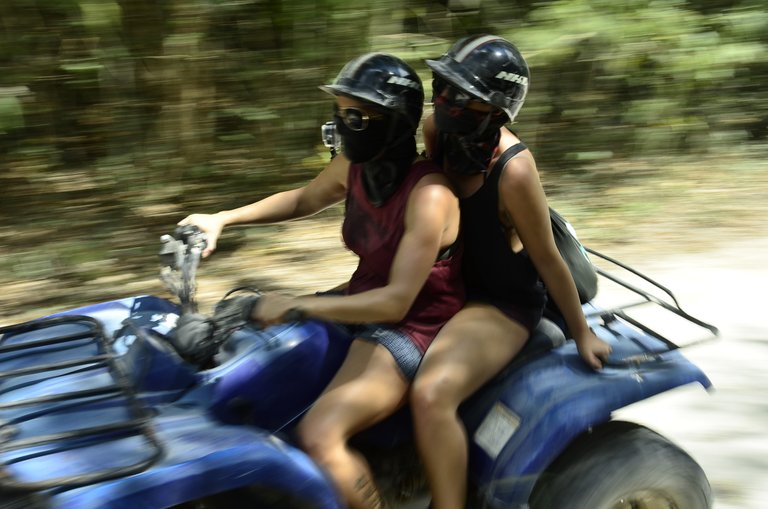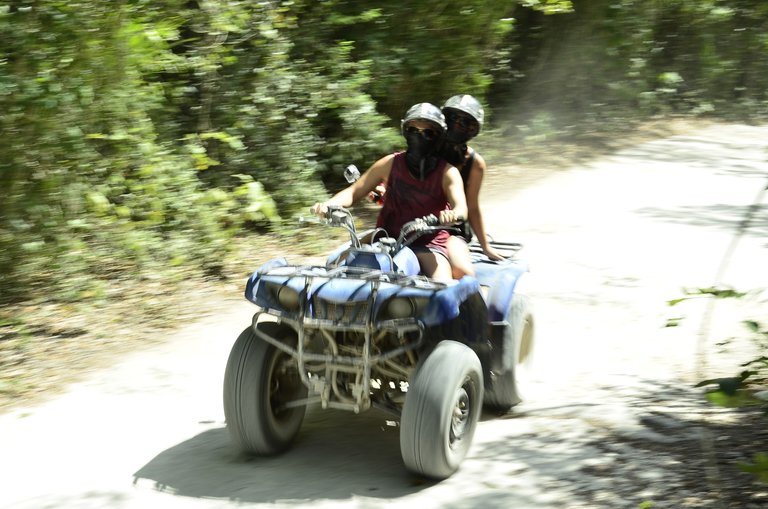 When we arrived at the starting point we were covered in dust and Elena was a bit tired. She told me that driving that long is tough on the arms haha.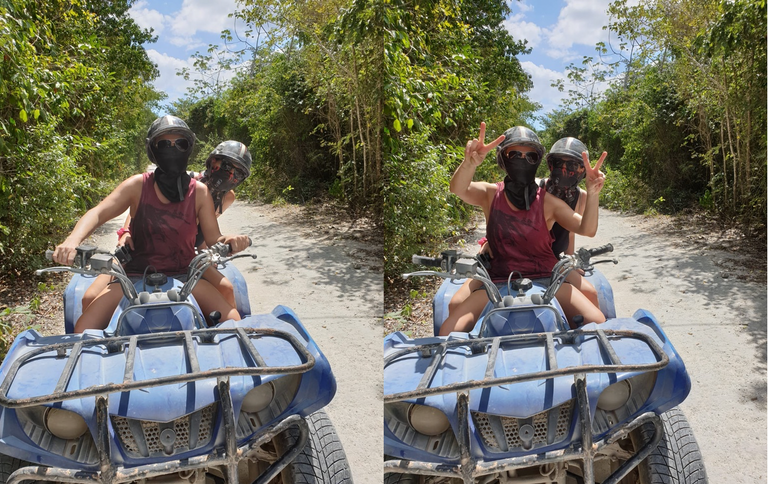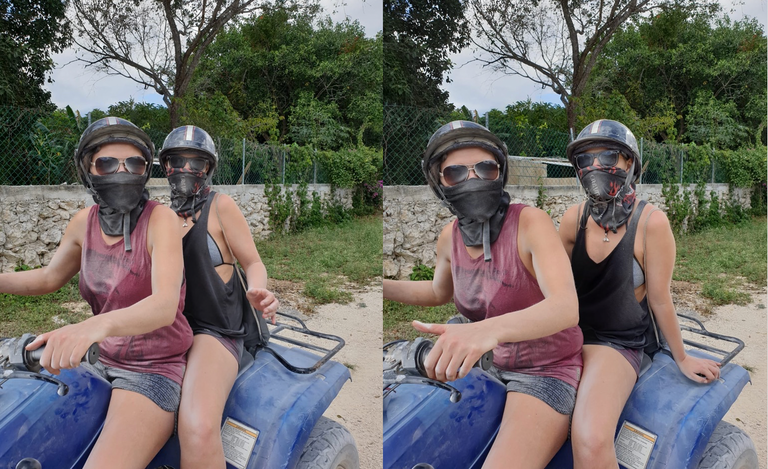 The inicial starting point was at the same time our third stop. Here we received our "lunch" - A sandwich with cheese and ham, and water. At the same time we had still some free time to enjoy the cenote right next to the restaurant.
The perfect time to get clean and have fun! As at almost every cenote, there was an option to jump in with a zip line.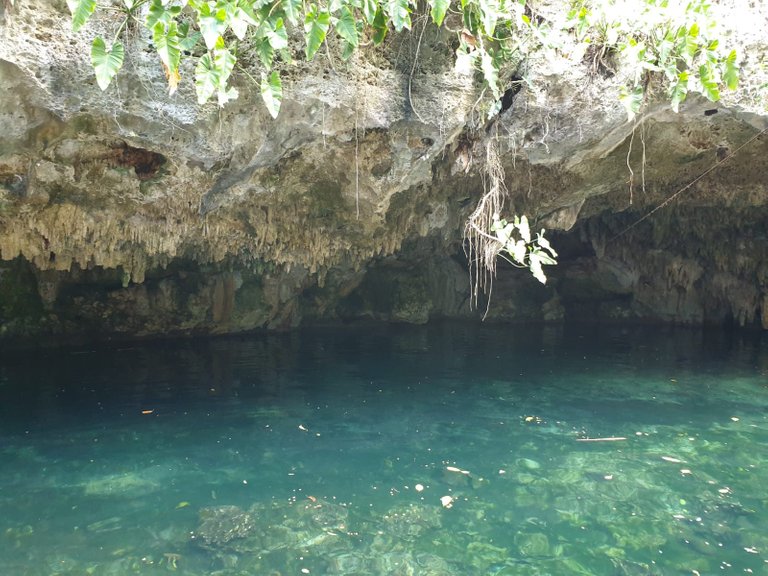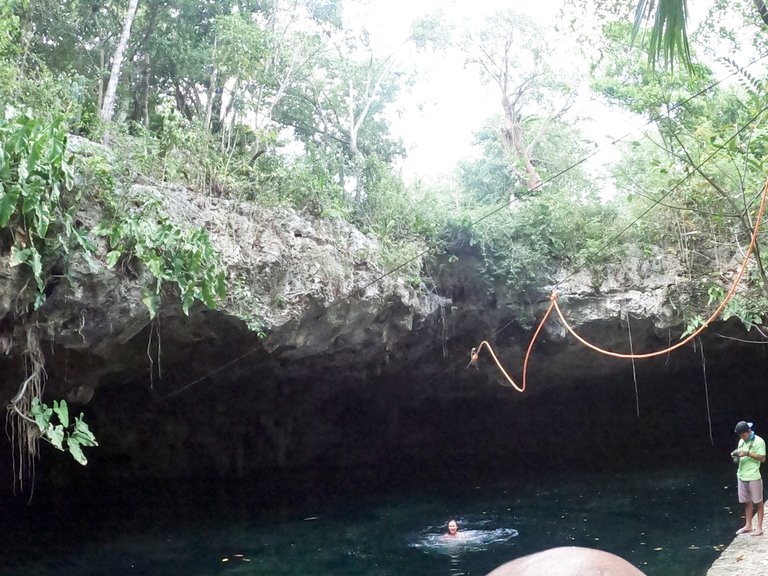 Here you have the full video of our half day trip through the jungle:
After that little refreshment, we were brought back home by easy tours and took a shower before we went to explore the 5th avenue in Playa del Carmen to shop for gifts.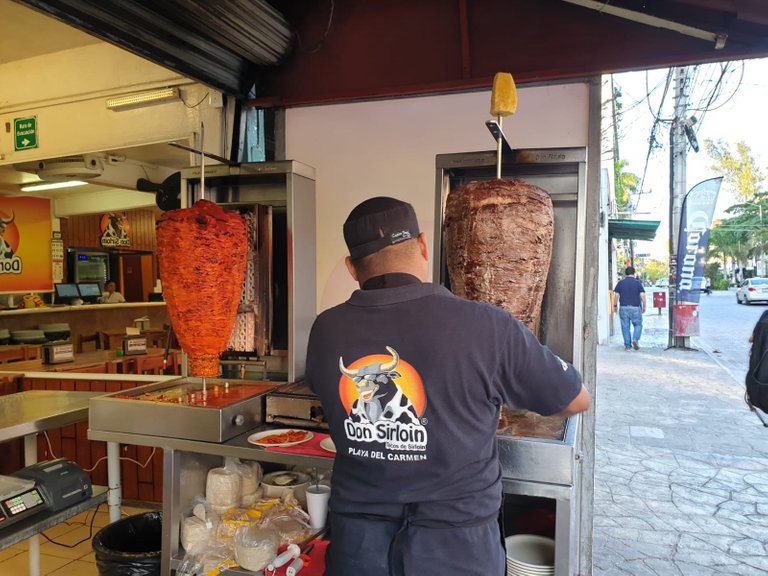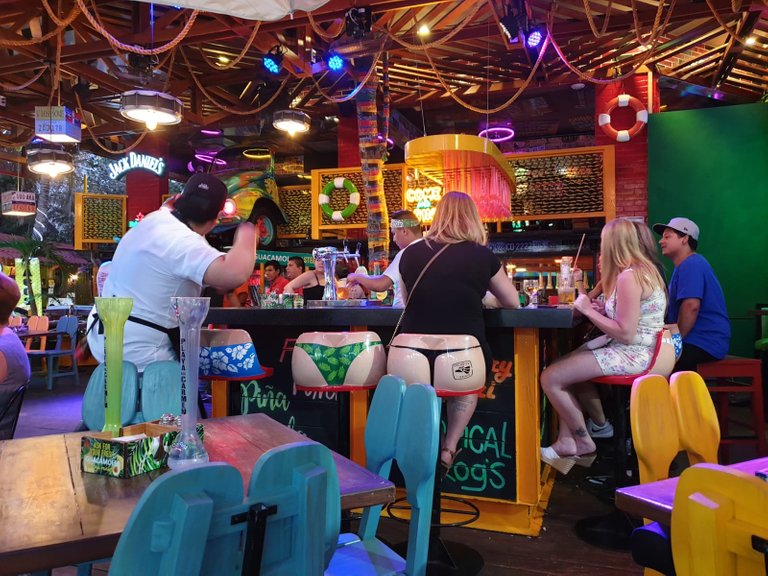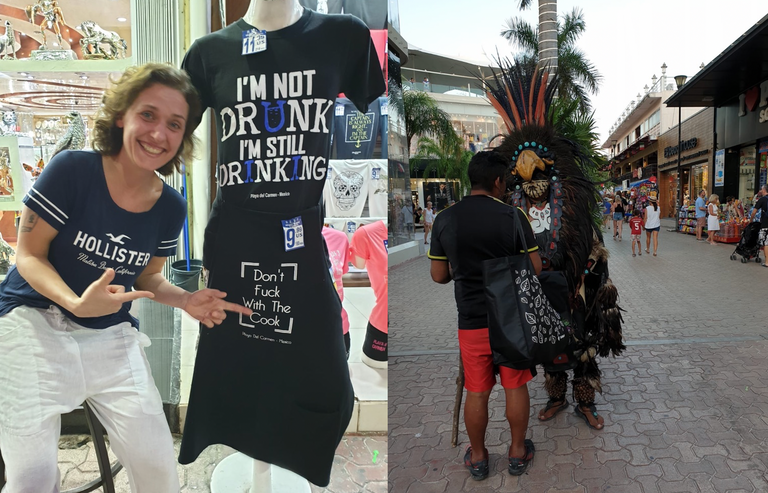 To finish this awesome day we went to one of my favorite beach bars and enjoyed the evening with drinks, live music and good food. The place is called Zensis and is located right at the beach at calle 10.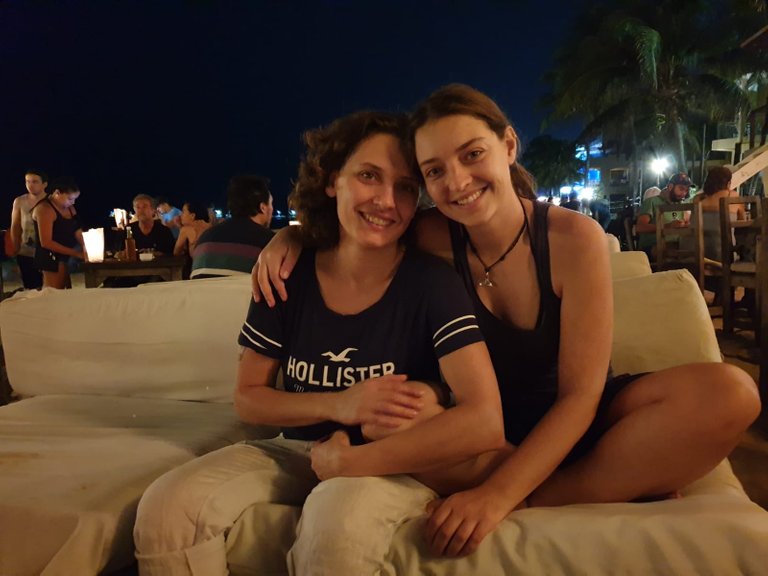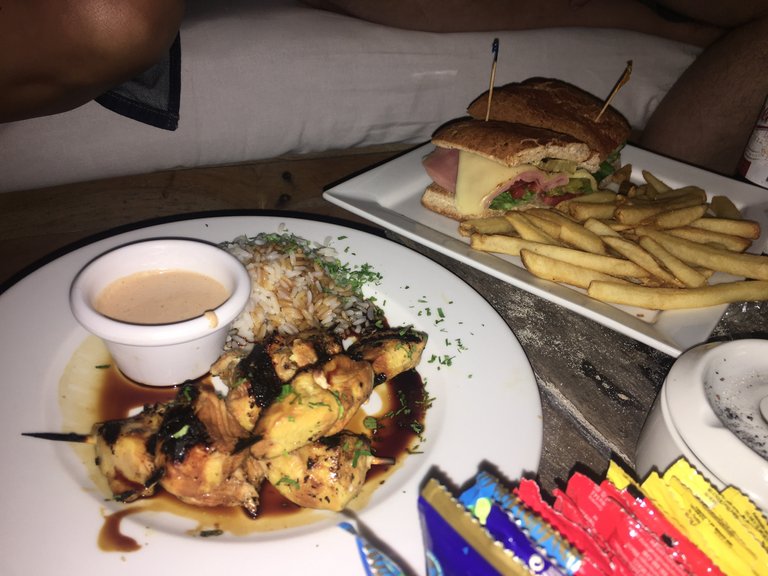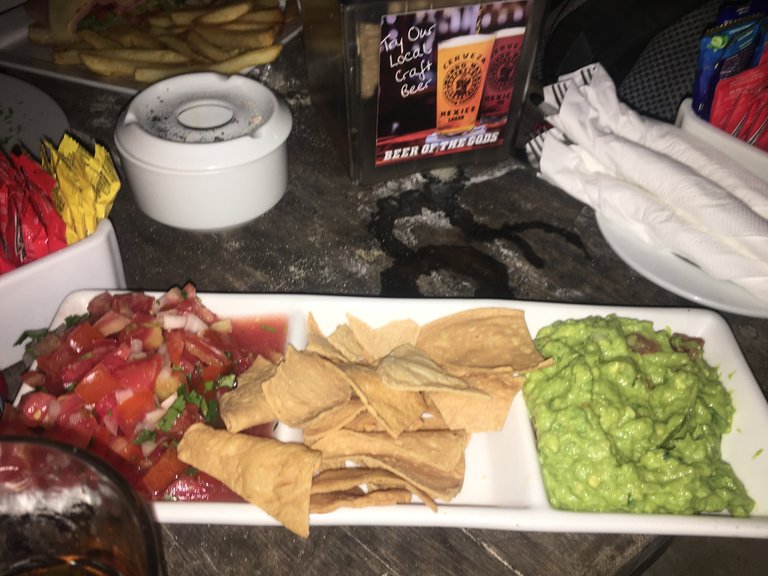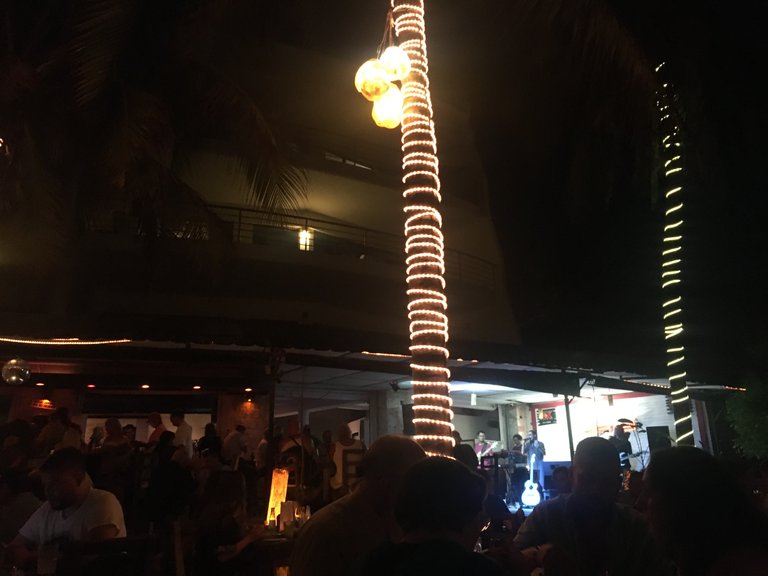 It was the perfect ending to a perfect day!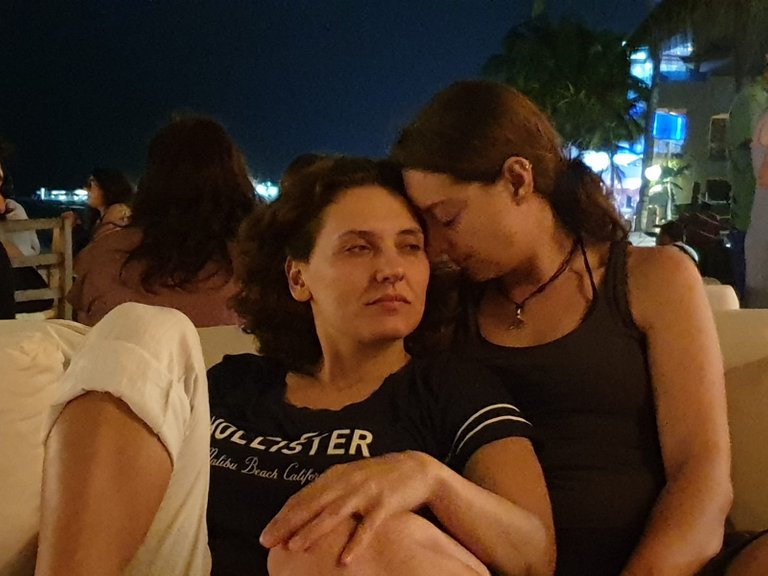 Cheers, Liz