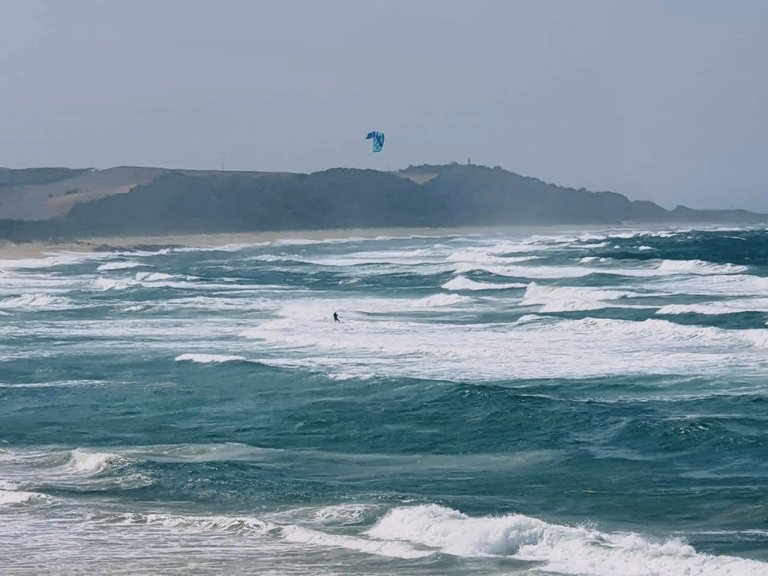 Kiteboarding/ kitesurfing at its best with strong winds down at Scottburgh beach on the South Coast of Kwazulu Natal, a sport for the super fit. This guy had a whale of a time skillfully kitesurfing with the wind and turning to ride upwind at amazing speed!
They apparently can ride their kites upwind up to an angle of 45 degrees to the wind, in fact zigzagging across the wind, and the stronger the wind, the better! A kitesurfer remains attached to both the board and the sail or parachute.
Scottburgh is loved by regular surfers as well because of the superior waves along this strech of coastline.
The Penthouse
Having spent the past couple of months in lockdown, it's been great getting out and about again, and it was a nostalgic visit to this beach as we've spent some wonderful breakaways down that way with family and friends at The Blue Marlin penthouse, being fortunate to have timeshare points which allows us to choose holidays from a large portfolio of resorts.
Dream Vacations
I'm not in the job of selling timeshare, but really, when we first purchased our holiday club points some fifteen years ago, we were a tad concerned that we may have made a mistake, but the point system really is the best as one is not stuck to a specific time period nor to a specific resort. We can even travel across the waters to some really nice resorts.
Our first stay in this unit was back in 2015 and we were more than pleasantly surprised at just how huge it was.
We had the entire top floor of the main wing in the hotel; a massive livingroom with a pool table, two dining areas, three balconies, five bedrooms and four bathrooms, plus a well appointed kitchen, so there was plenty of room for everybody!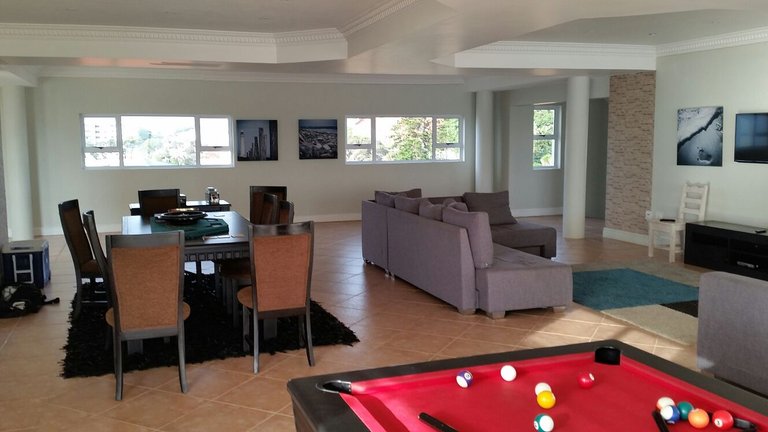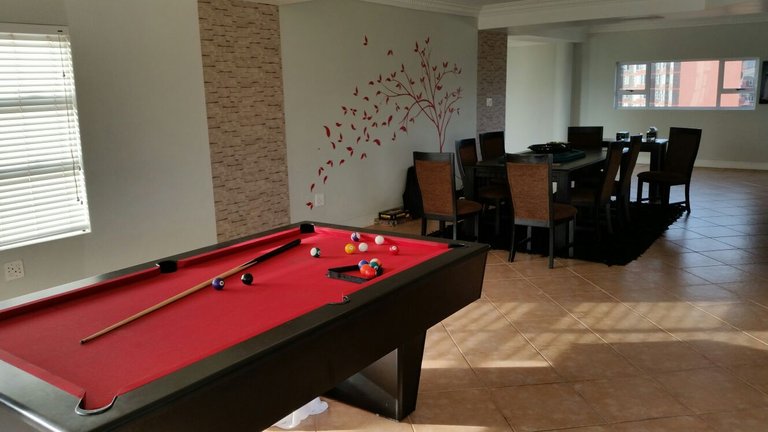 Mom Lily standing on the small kitchen balcony.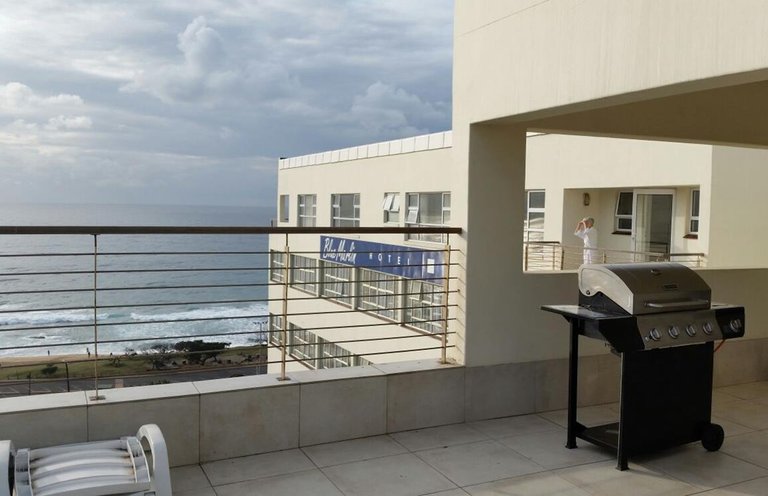 The pool table kept us entertained as did all our favourite board games like 30 Seconds, Rummikub, Uno and a really nice set of Casino games, so we had loads of fun and laughter even though the weather was miserable on our first visit.
I was still working in the corporate world back then, and it was time to let our hair down at the end of a hard week at the office:)
My two best office buddies who are more like little sisters to me; we still keep in touch and meet up regularly.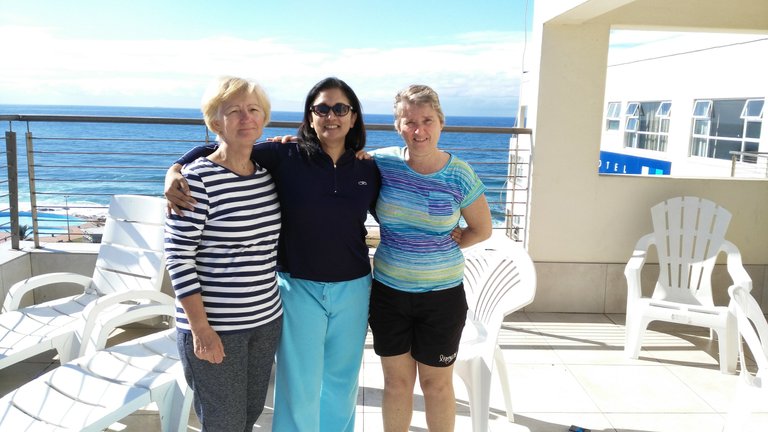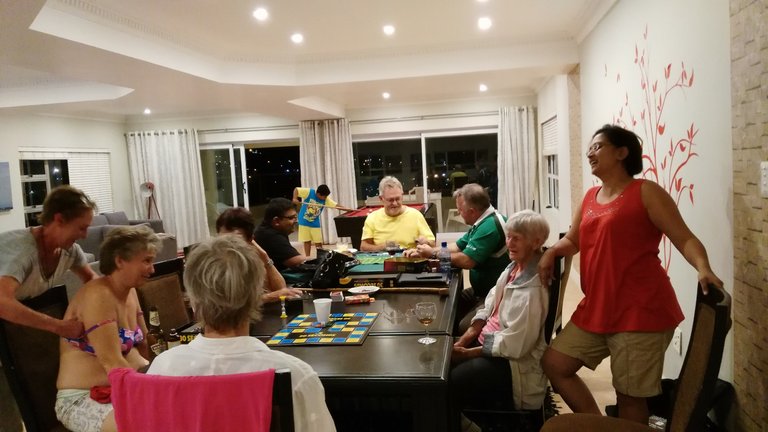 Sharing the catering load
A really nice way of making meal prepping troublefree when traveling with a large group is to let each couple or family take turns in providing the various meals; it's always a surprise to see what's on the table, although we know each chef's specialty!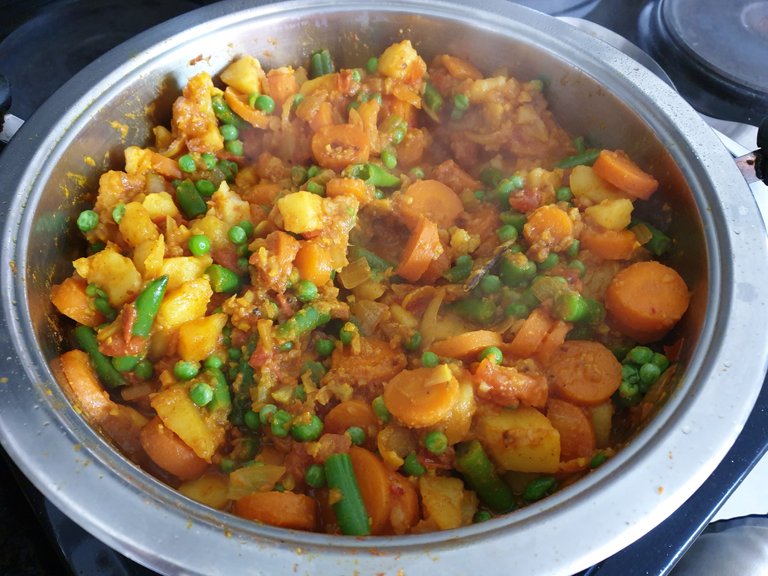 180° views of the Indian Ocean
The main balcony has a really nice large gas Braai (BBQ) and magnificent views of the Indian Ocean on the east coast of Africa.
My brother's favourite job is braaing (BBQ'ing) and he was more than happy with the equipment.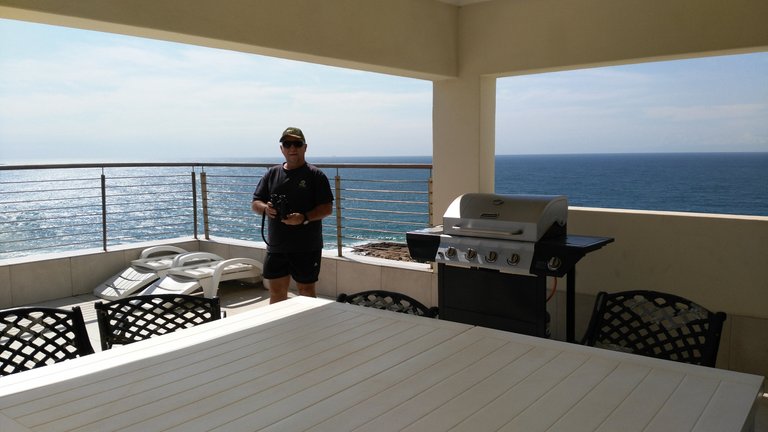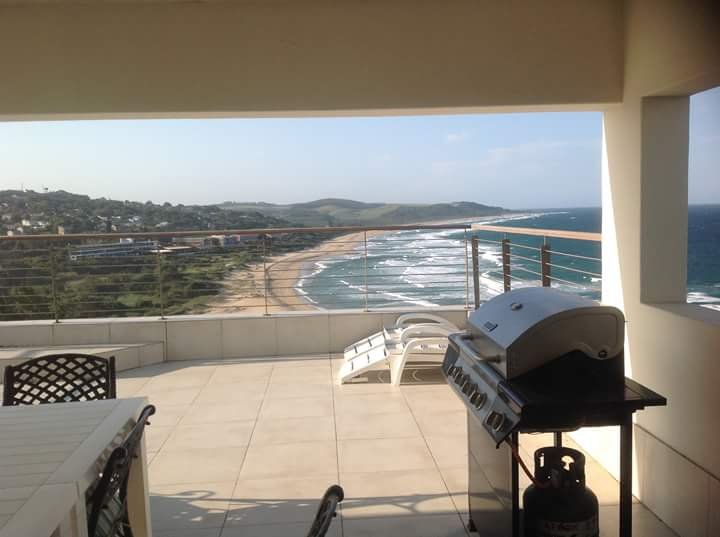 Helicopter taking someone for a flip over the ocean on a cloudy day; one can see the rock pool and day visitors down below. No one was swimming as it was quite chilly!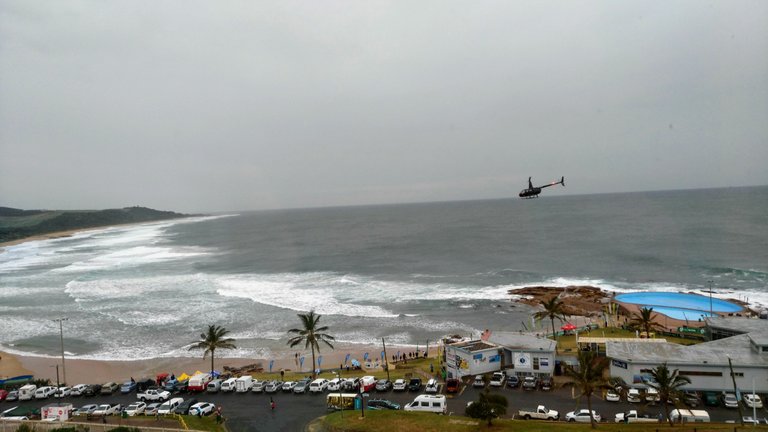 View of the hotel grounds to the other side.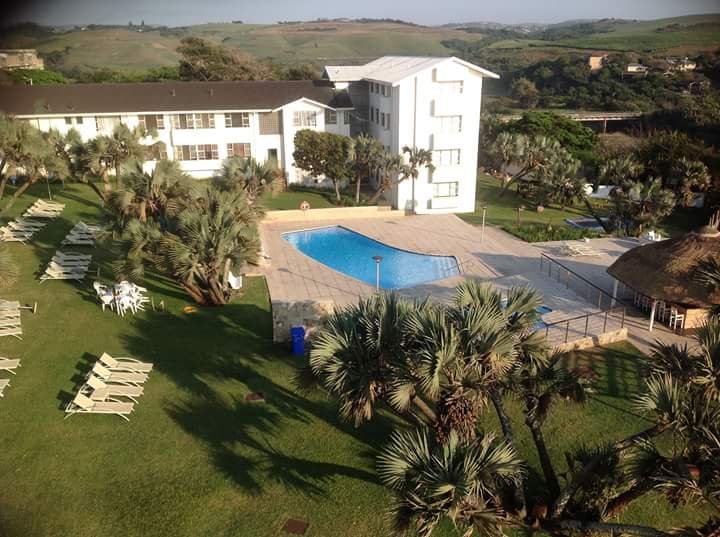 Long Walks on Golden Sandy beaches
One can literally walk for miles along the golden sandy beach, and walked we did every day.
We saw this interesting rough-hewn giraffe lookalike wooden sculpture with a small wooden deck for those wanting to rest or have a better vantage point.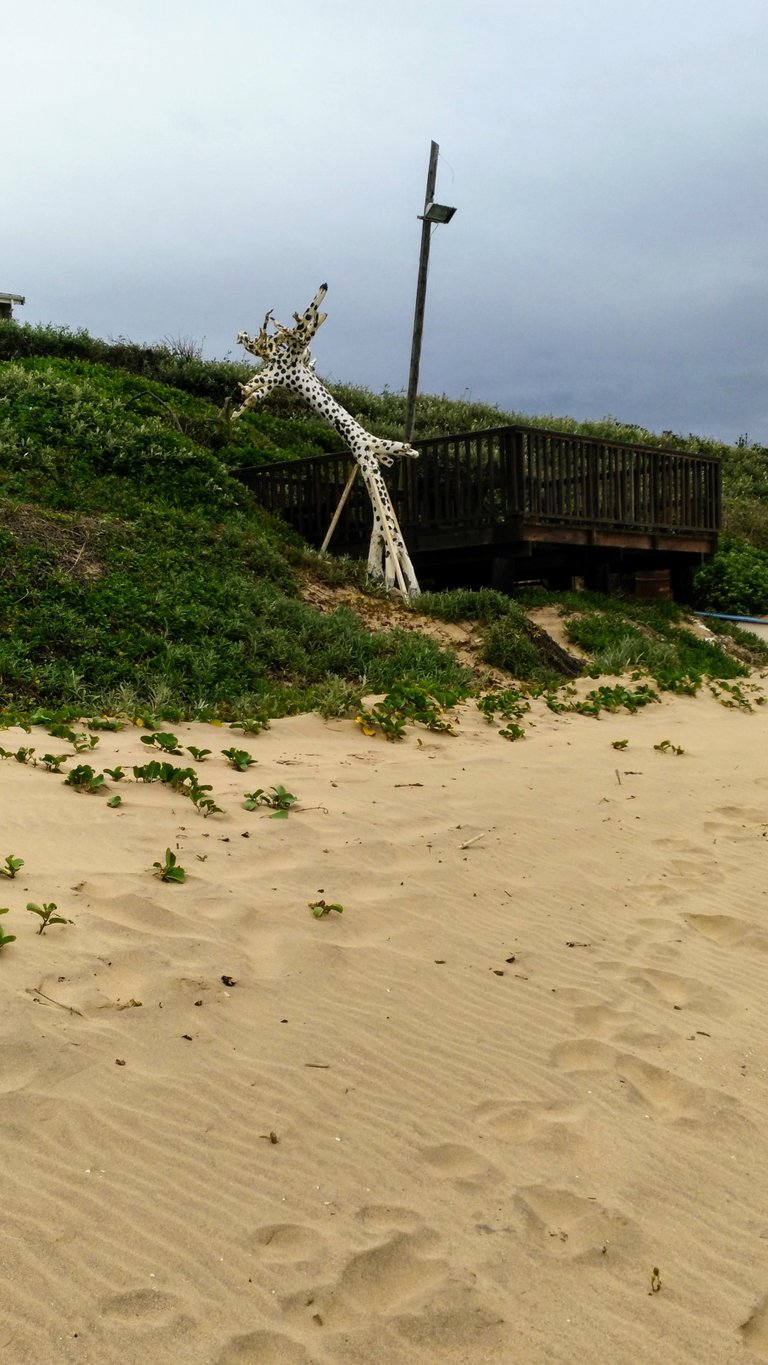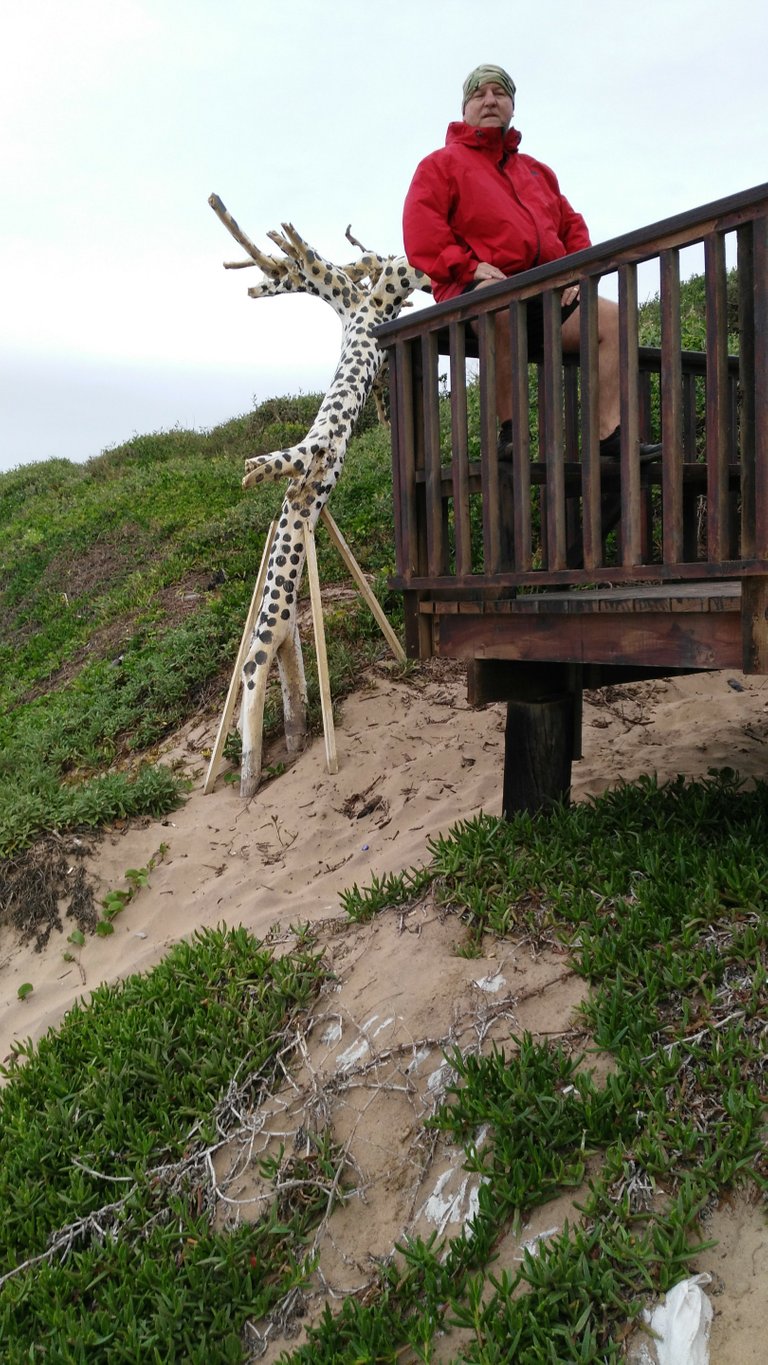 Covid Lockdown Level 2
We went back there this weekend for a day visit and saw the Water World sadly dry and without any life around as many facilities were still closed for lockdown.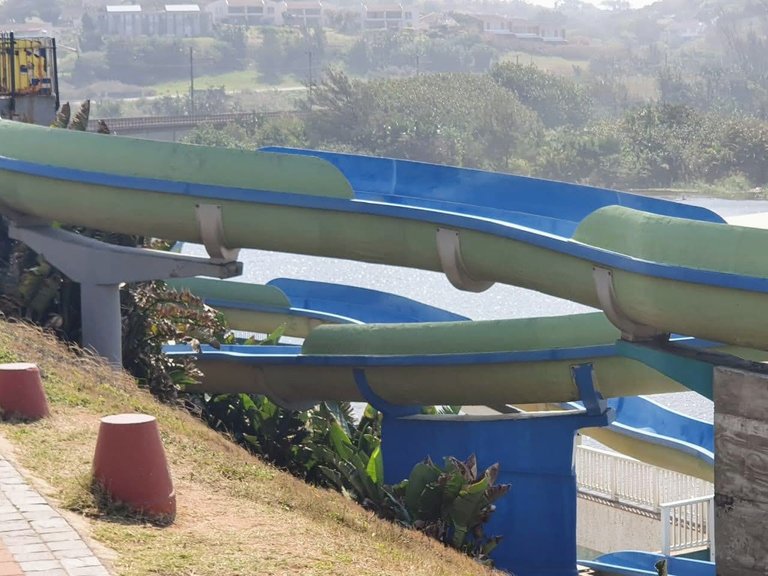 The sea was really choppy from the strong winds, or as we would say, it was full of white horses!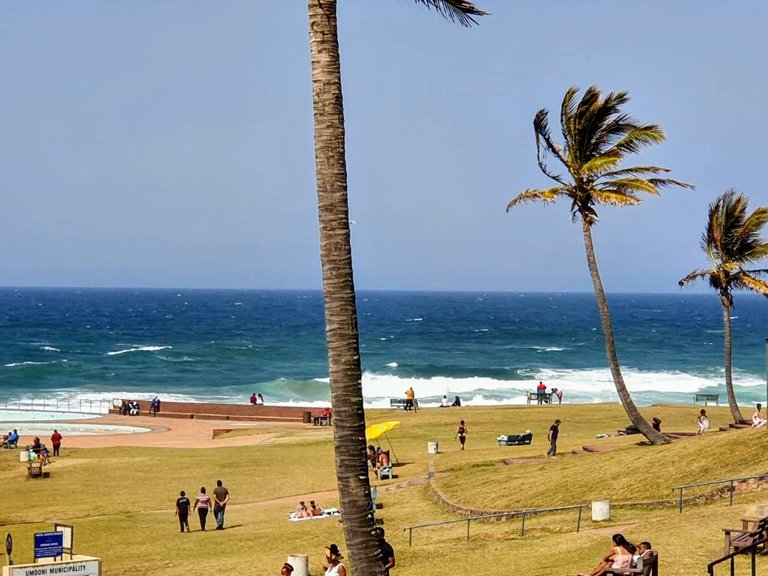 Some people even braved the still cold waters; we are officially in spring but winter's chill has not left us altogether.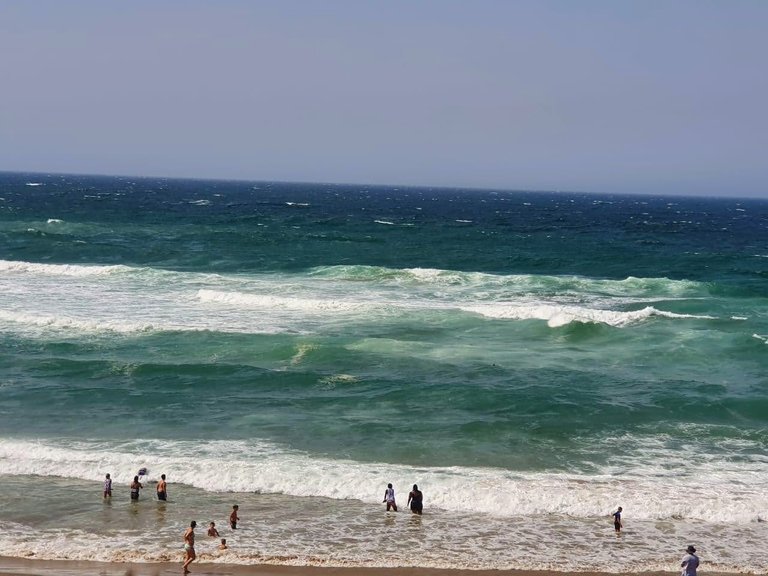 The rock pools have been drained for maintenance as no one has been allowed to swim since lockdown started.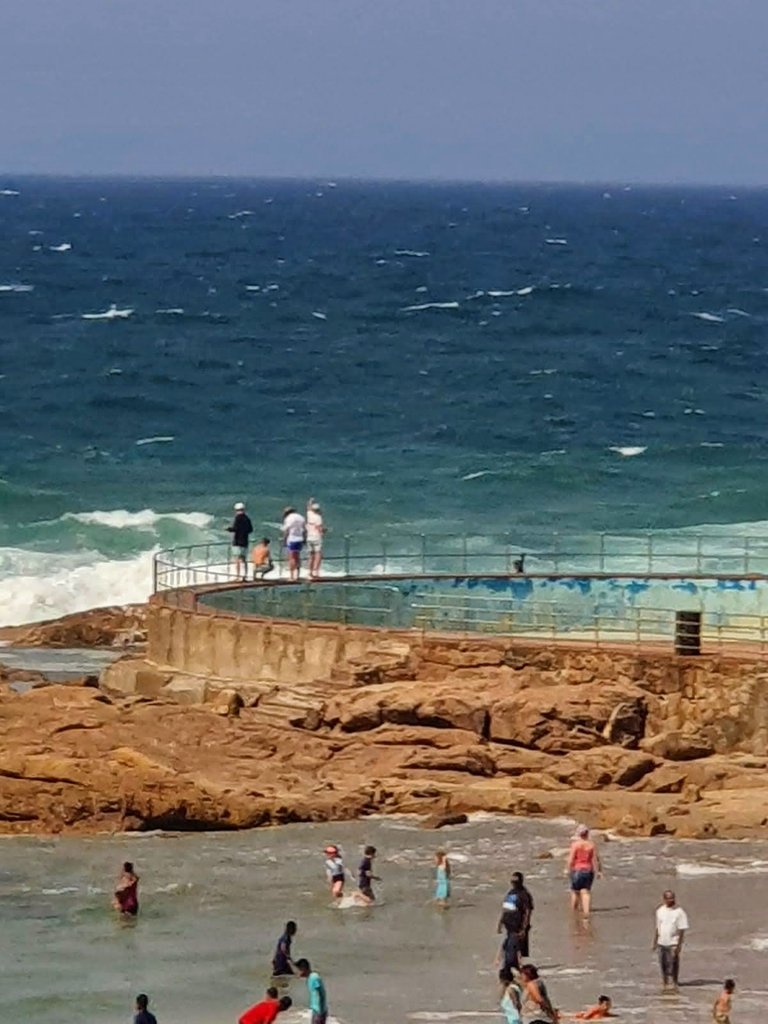 Masks are still mandatory when out in public.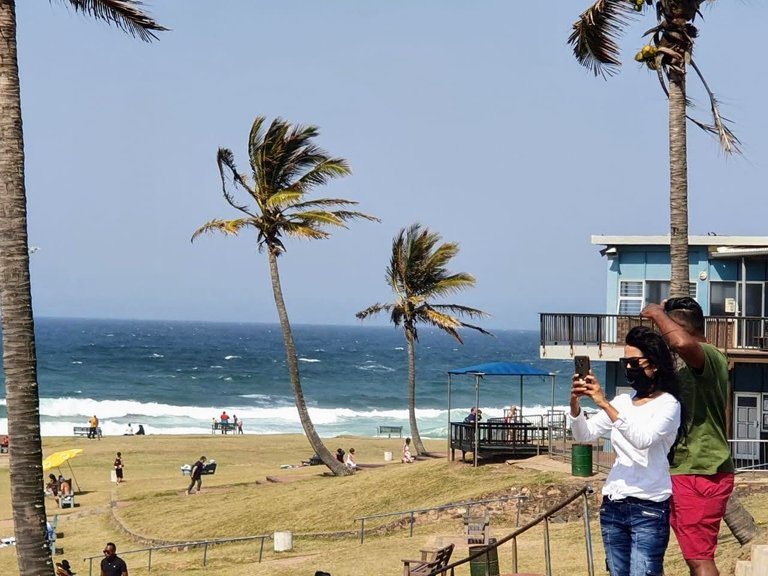 If you enjoy bathing, surfing, fishing, long walks or just sitting and gazing at the ocean, Scottburgh is well worth a visit and only a 40 minute drive from the popular holiday city of Durban.
---
News just in:
We've had a Covid recovery rate of 89% and cases are right down, so we're finally moving to
Lockdown Level 1.
International travel will be opened up and in the words of our president:
We are ready to open our doors again to the world, and invite travellers to enjoy our mountains,
our beaches, our vibrant cities and our wildlife game parks in safety and confidence.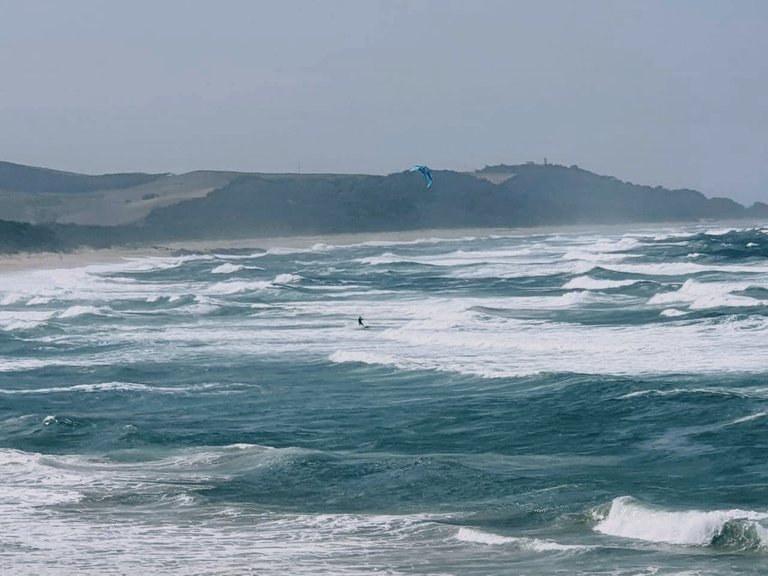 This has been my contribution to @tattoodjay and @elizacheng's collaboration #WednesdayWalk and #MakeMeSmile and that last bit of news certainly made me smile :)


Original Content by @lizelle
Thank you for stopping by
Copyright @lizelle – All Rights Reserved


Banner created by @derangedvisions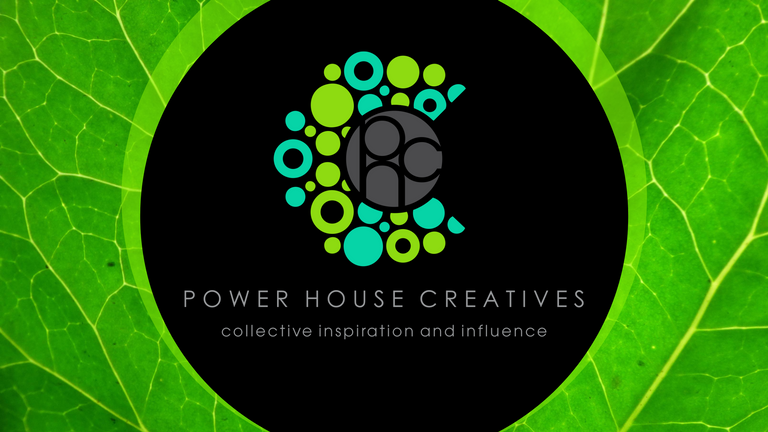 Banner created by @zord189