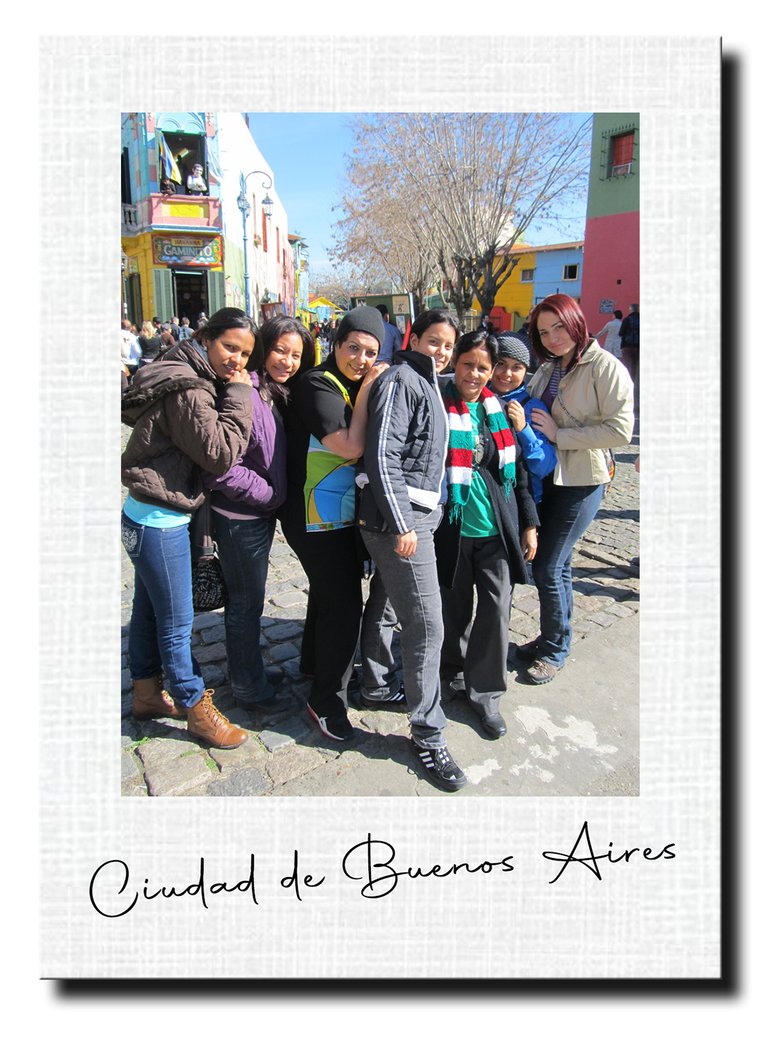 That day we went out excited to get to know the Boca neighborhood, starting with the cheerful and very colorful Caminito area. In the place, there was a handsome tango dancer with whom we could pose to take some pictures, he told us what positions we should do, I think I was the first to take the step and take those photos, they were great without a doubt.
Aquél día salimos emocionadas a conocer el Barrio de Boca, empezando por la alegre y muy colorida zona de Caminito. En el lugar había un apuesto bailarín de tango con el cual podíamos posar para tomarnos algunas fotos, él nos decía que posiciones debíamos hacer, creo que fui la primera en dar el paso y tomarme aquellas fotos, quedaron geniales sin duda.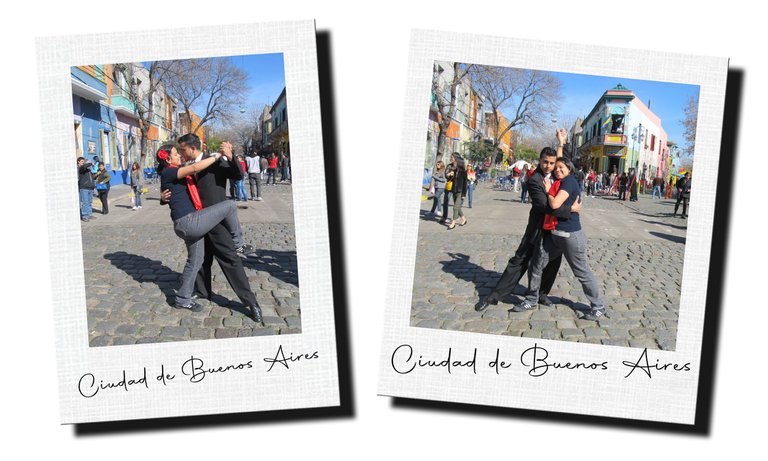 After that we continued our tour, those streets were really colorful, in the balconies, we could see caricatured statues of some Argentine characters among which was Maradona and Evita.
Luego de eso seguimos nuestro recorrido, aquellas calles eran realmente coloridas en los balcones se podían apreciar estatuas muy caricaturescas de algunos personajes argentinos entre los cuales estaba Maradona y Evita.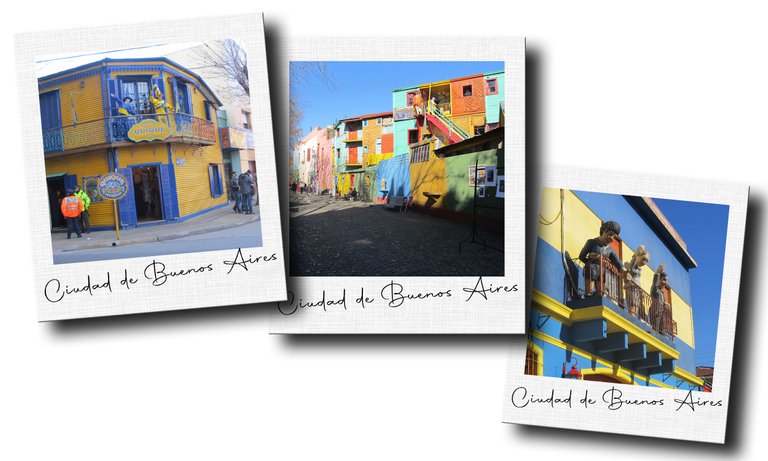 Around noon, we went to eat at a small but nice restaurant, where there was a couple of tango dancers, who after realizing that we were tourists offered to teach us some steps while we waited for the food. I remember that they insisted that I try it, and although I was a bit embarrassed, I did it. Besides, I was in the city of tango, I had to live the whole experience. I'll leave the video here.
Hacia medio día, fuimos a comer a un pequeño pero agradable restaurant, donde había una pareja de bailarines de tango, quienes al ver que éramos turistas se ofrecieron a enseñarnos unos pasos mientras esperábamos la comida. Recuerdo que me insistieron en que lo intentara y aunque me daba un poco de pena lo hice. Además, estaba en la ciudad del tango, tenía que vivir la experiencia completa. Por acá les dejaré el video.
After that pleasant lunch we continued our tour, as football lovers, we could not miss visiting the emblematic Boca Juniors stadium, which was a symbol that stood in the middle of the neighborhood. In the access corridor we could see a kind of hall of fame with the stars of the most emblematic historical players of the team, among them Diego Armando Maradona and Martin Palermo.
Luego de ese agradable almuerzo seguimos nuestro recorrido y como amantes de los deportes y del futbol y estando en aquél popular barrio, no podíamos dejar de visitar el emblemático estadio de Boca Juniors, era todo un símbolo que se erguía en pleno barrio. En el corredor de acceso se podía apreciar una especie de hall de la fama con las estrellas de los jugadores históricos más emblemáticos del equipo, entre ellos Diego Armando Maradona y Martín Palermo.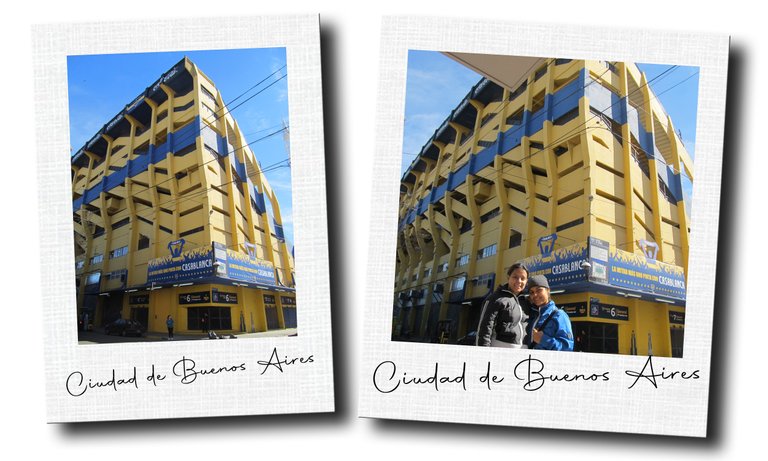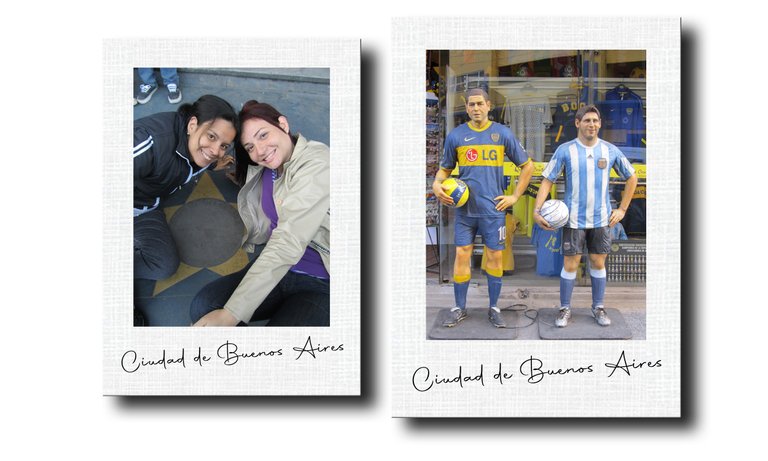 After such a spectacular day and all those tours, it was time to go back to the inn to rest and regain energy for what would be our last day in that city before returning to our country.
Después de este día tan espectacular y todos esos recorridos, era momento de volver a la posada a descansar y recobrar energías para lo que sería nuestro último día en aquella ciudad antes de regresar a nuestro país.