Read this post on TravelFeed.io for the best experience
---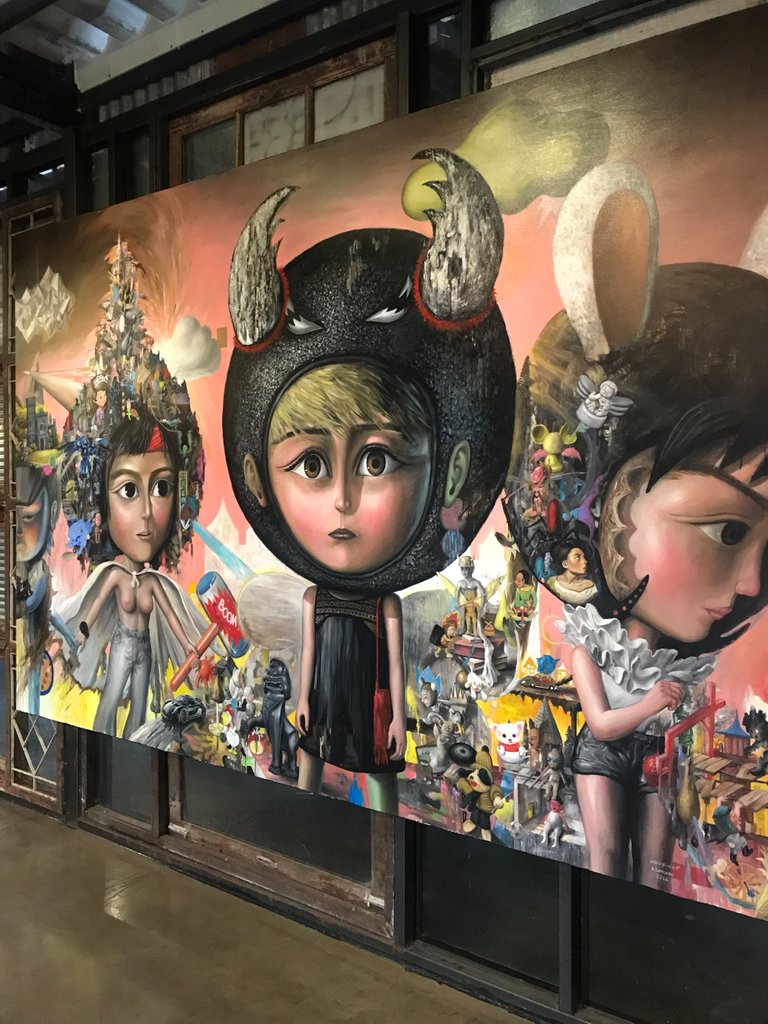 Chang Chui has amazing art hiding in every corner
The Pre-Covid Series is a series of posts about my trips and adventures pre-pandemic. You'll get to hear about some of the amazing places that I was able to visit before travel was extremely limited. Hopefully soon, I'll be able to return to a life of traveling soon!
Today's trip, we go back to 2018 and my visit to Chang Chui Night Market in Bangkok, Thailand.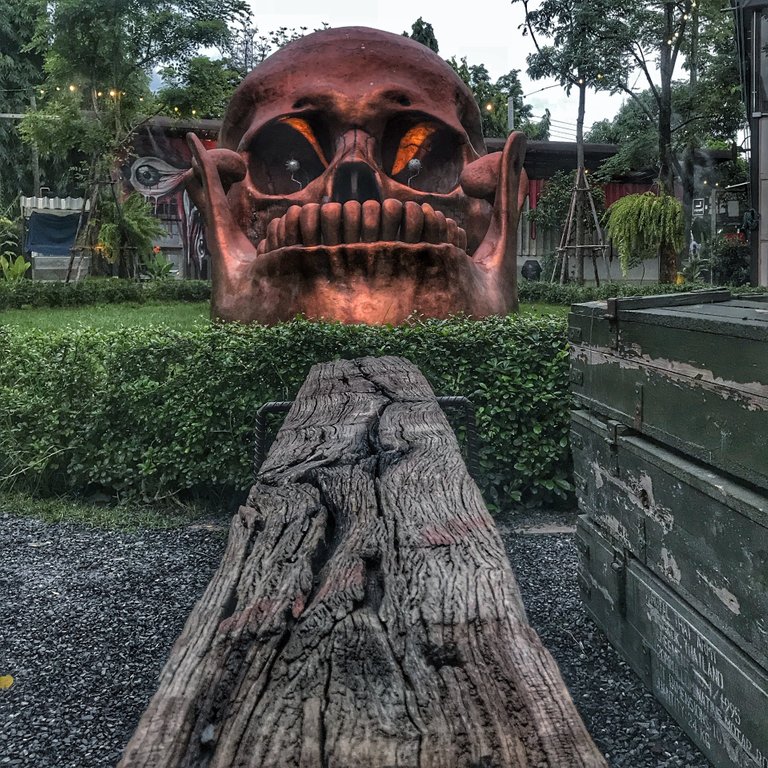 This skull sculpture was huge!
About The Chang Chui Night Market in Bangkok
If you've ever been to Bangkok or Thailand, you've probably visited one of the countless outdoor markets. From clothing to amazing street food, you can wander around Bangkok and eat and shop till you pass out or go broke. There are markets scattered around the city that will meet your every need.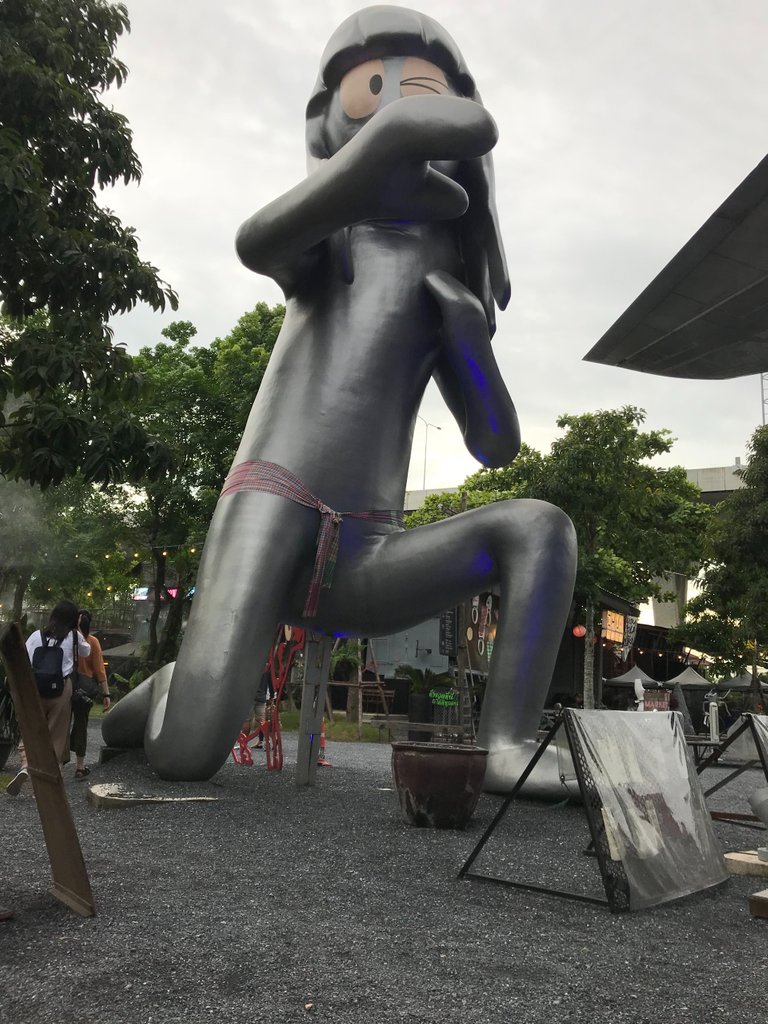 Not sure if that sash is hiding this statue's junk or not.
Chang Chui is a little different. While there is shopping and dining on street food at Chang Chui Market, that's not the major attraction. This market is filled with wild and interesting art pieces. The 18 building market is home to some of the craziest sculptures, paintings, and works of art I've ever seen.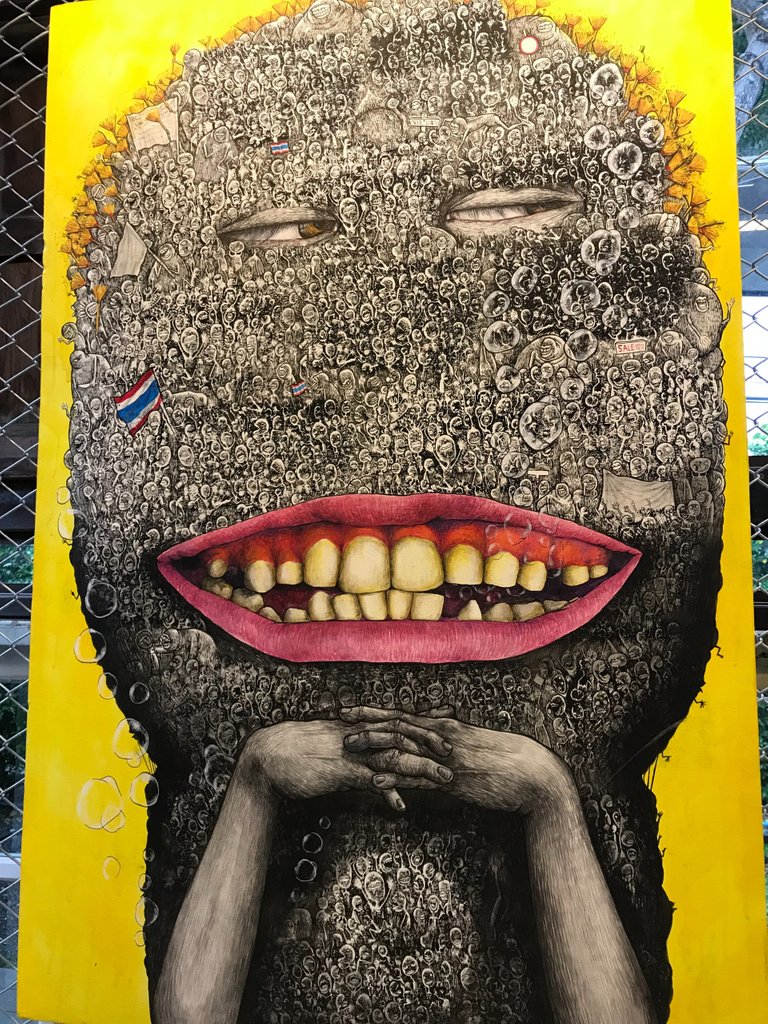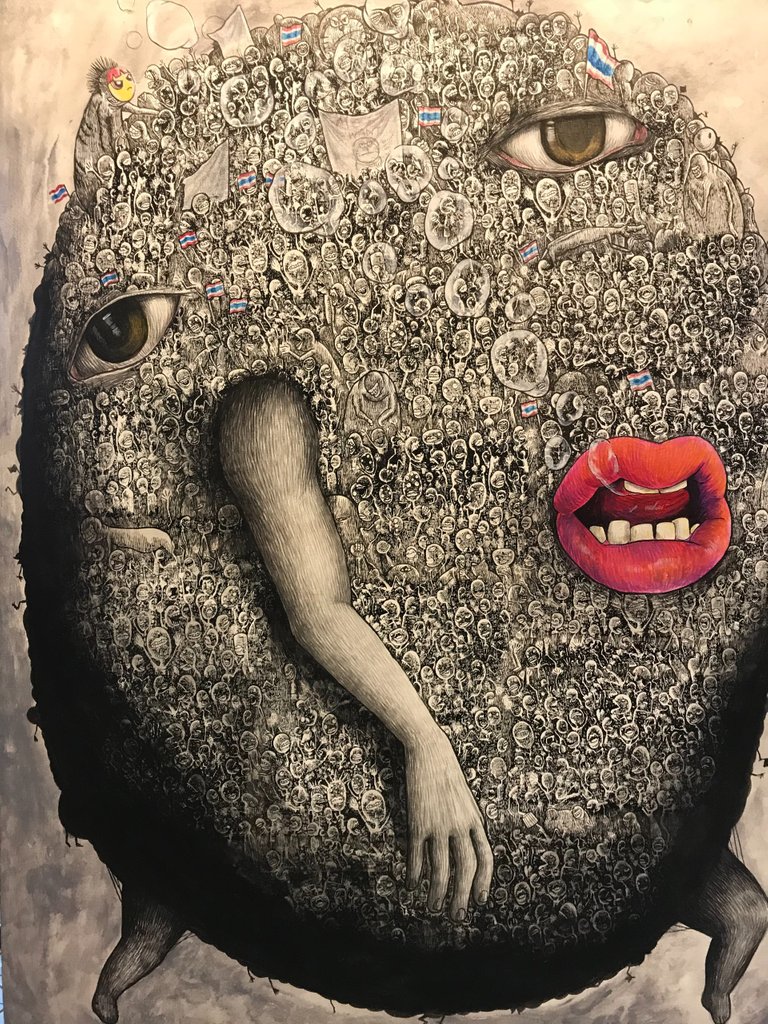 The market has an urban-hipster feel that makes it seem like the art was transported right out of a Brooklyn suburb. Centered around an old Lockheed Tristar airplane, you can wander through the exhibits, enjoy live music, experience the wonderful art, drink a craft beer, and dine on fantastic street food.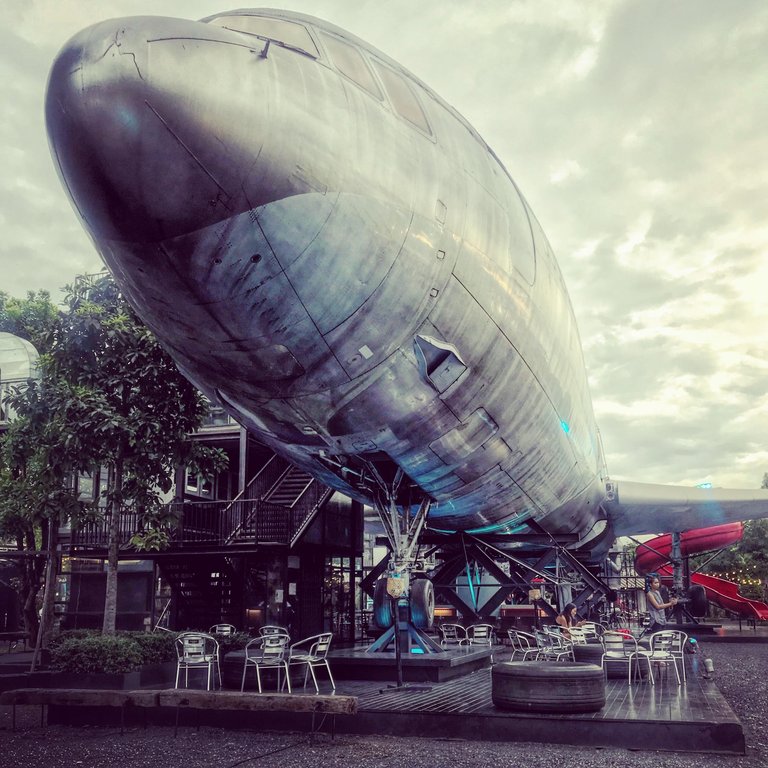 You can go inside and check out the airplane
In the center of the market, you can venture into the Lockheed airplane. At the rear, there is also a red slide to exit the plane. WEE!
Underneath the plane is fitted with multicolor LED lights and fog machines to give the area a cool nighttime ambiance.
So Many Wild Sculptures and Statues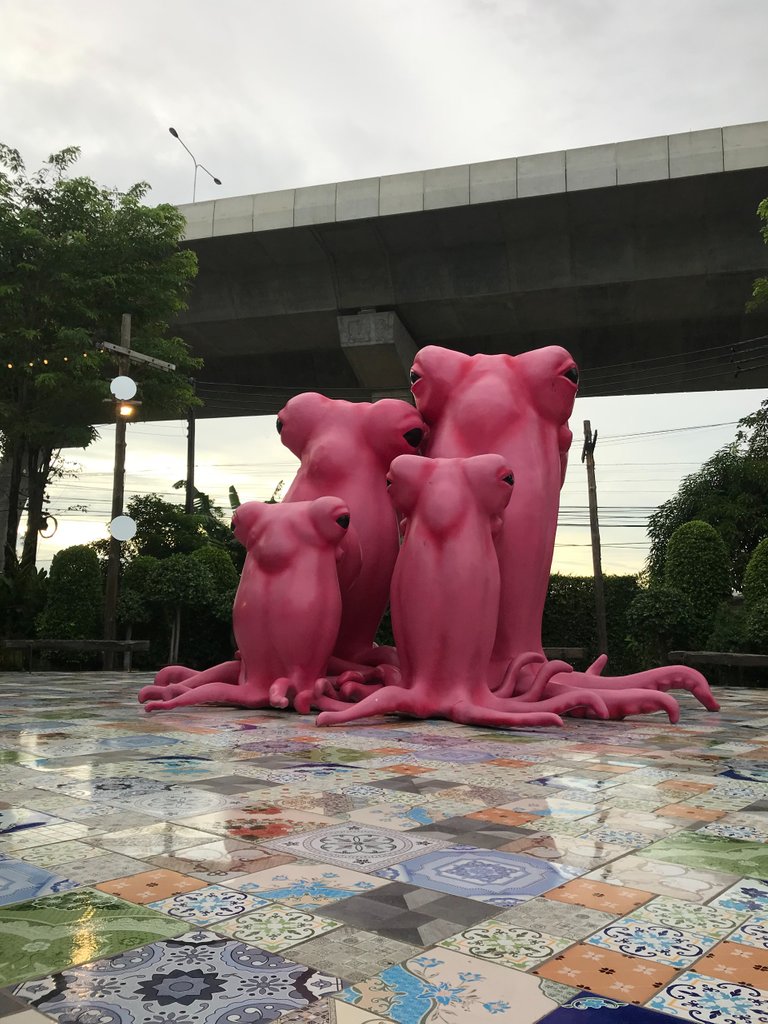 Cthulhu and his kids love art as well.
While all the art is amazing, I loved all the wild sculptures you could find throughout Chang Chui Night Market. While the market is much smaller than most other markets, I found myself lost in the buildings trying to find every piece of art that was hidden throughout the complex.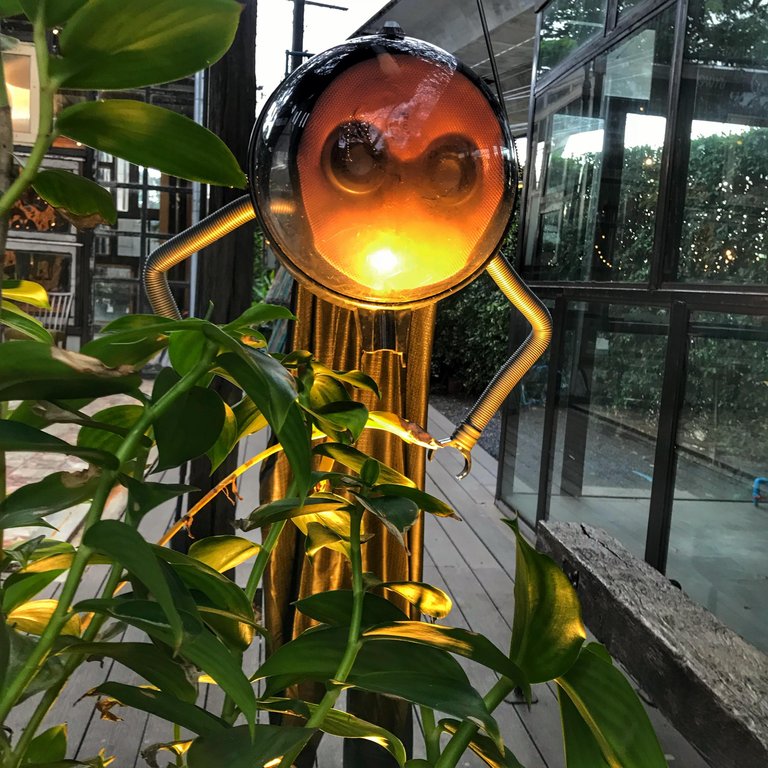 Sometimes the statues would pop up out of nowhere.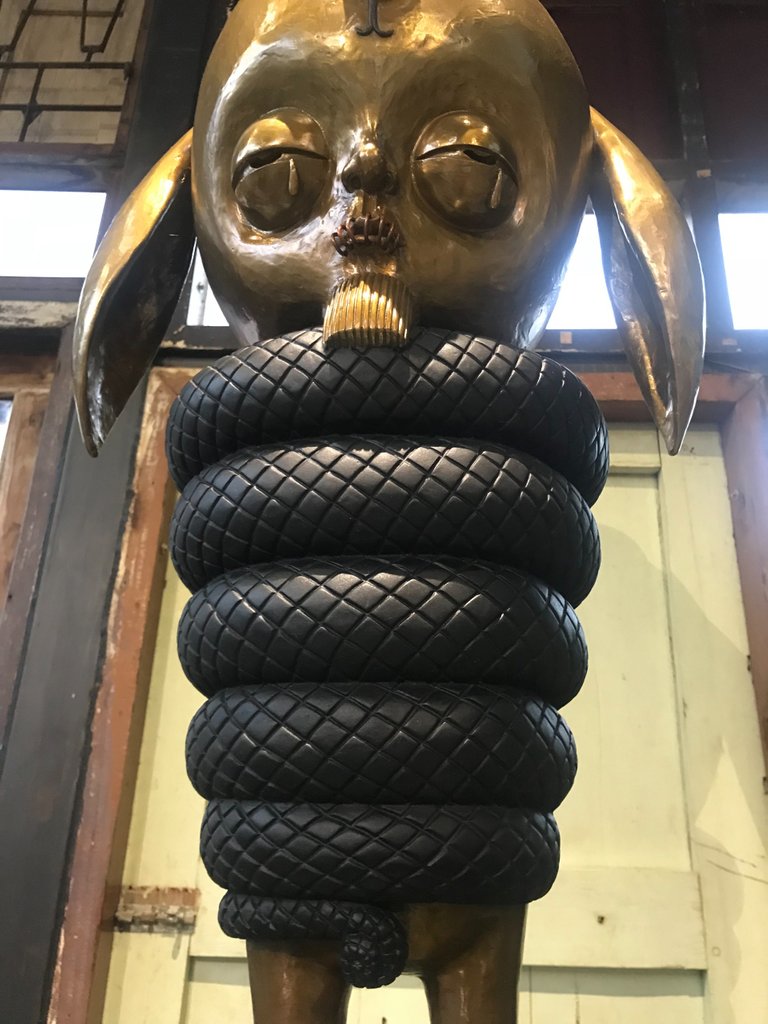 Is this dude having a bad day or what?
While all the art is PG-13, some of the imagery could put off sensitive attendees. But honestly, if you're reading my articles, I doubt that includes you.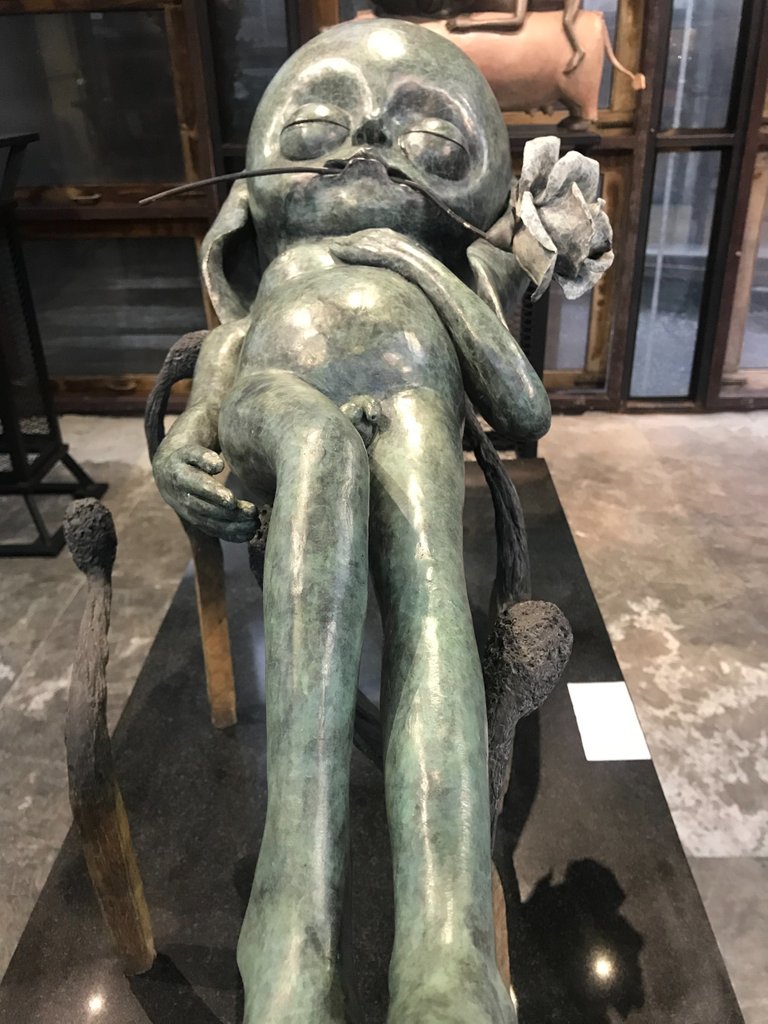 He has such a little pee-pee.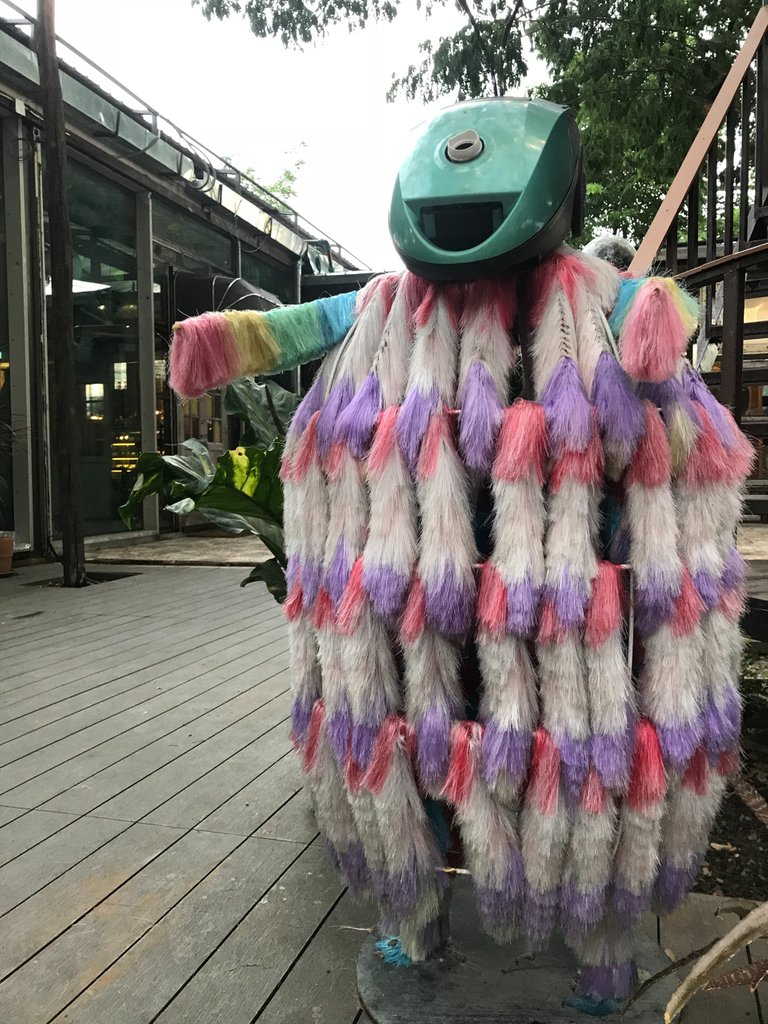 He's just trying to say hello!
Paintings at Chang Chui Plane Market
Alongside the sculptures and statues, you'll find no shortage of stunningly beautiful and thought-provoking works of art. If you do get the chance to visit Chang Chui Night Market, I encourage you to take your time and appreciate every painting and piece of art the market has to offer you.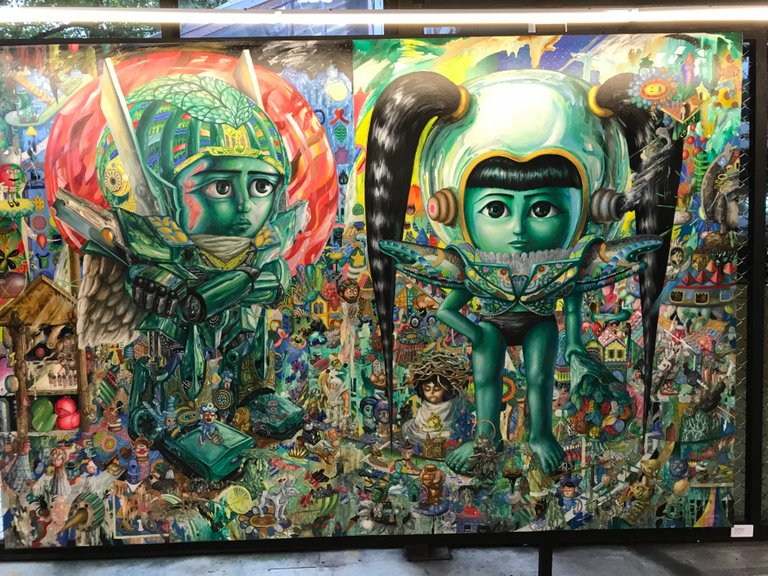 I can't imagine the hours of work that go into something like this.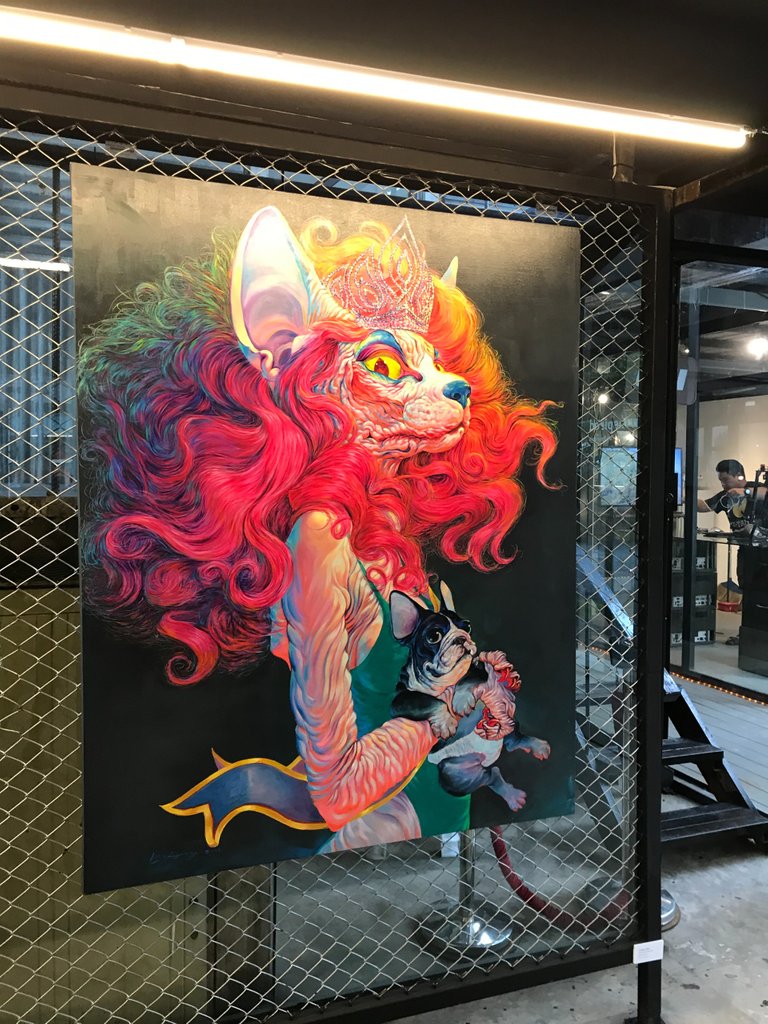 Such a cute puppy and his mom
Unfortunately, photos won't do justice to how detailed and amazing these paintings are.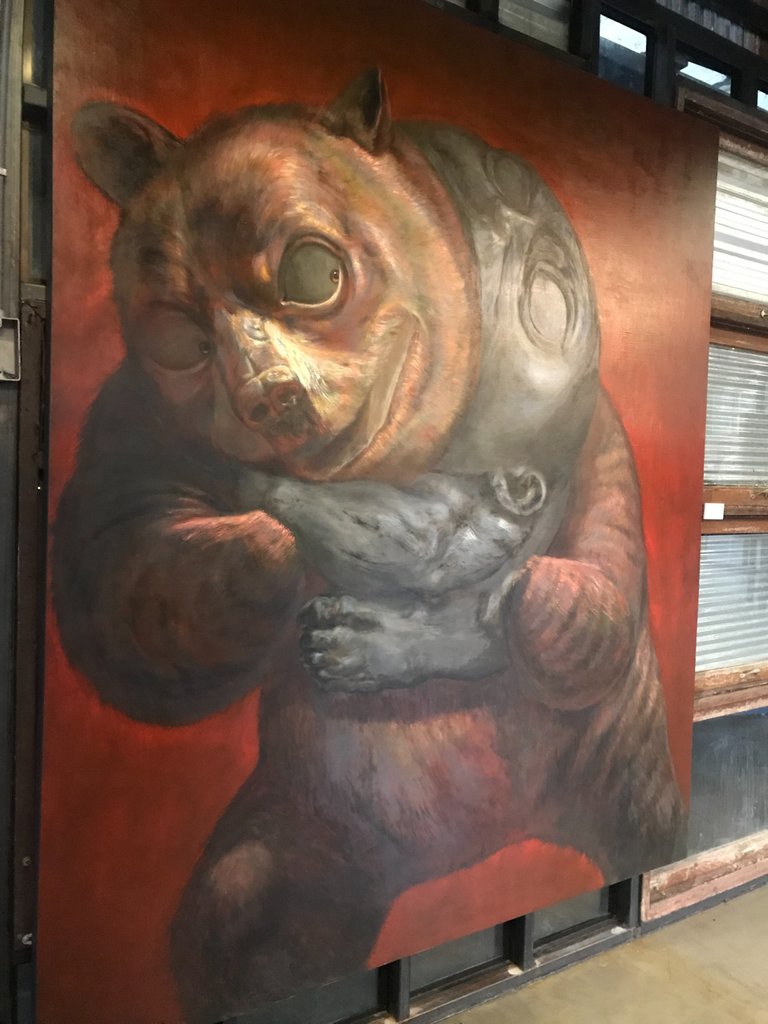 I told you some art can be a little disturbing.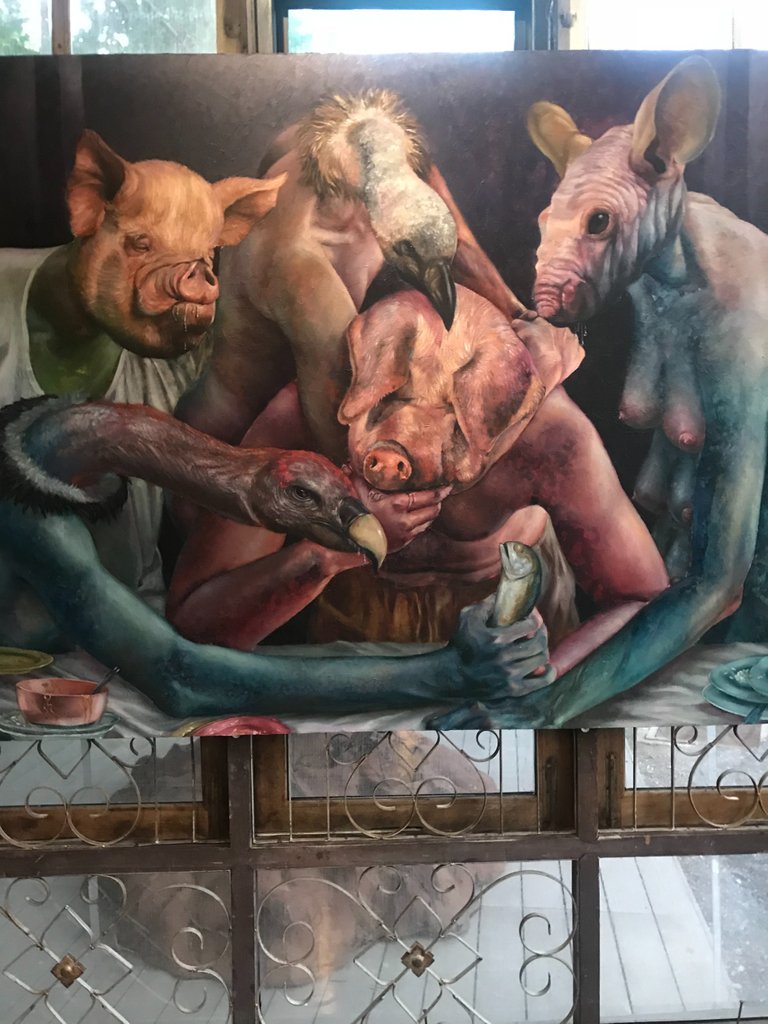 The gang is just chilling
Shopping at Chang Chui Night Market
This is a night market and of course, there is plenty of shopping. But, don't expect the shopping here to be like the larger markets.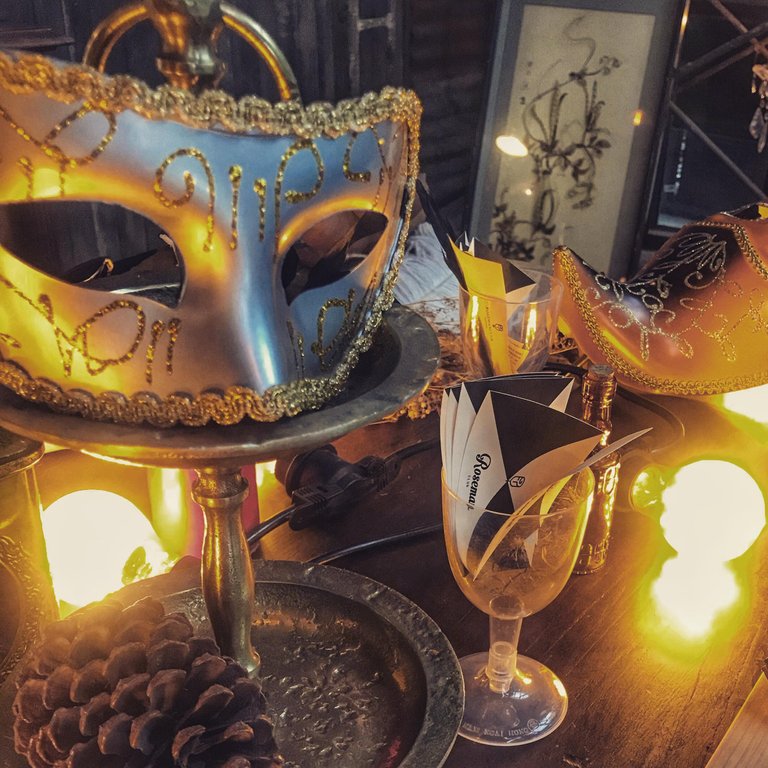 Even the shops have amazing displays for their wares.
You won't find rows and rows of counterfeit items or cheap jewelry for sale. Each shop offers a variety of handmade items from Thai designers. There's also plenty of vintage clothing and accessories available for sale. 
While prices may be higher than the other markets, it's worth checking out the shops for some unique and interesting gifts.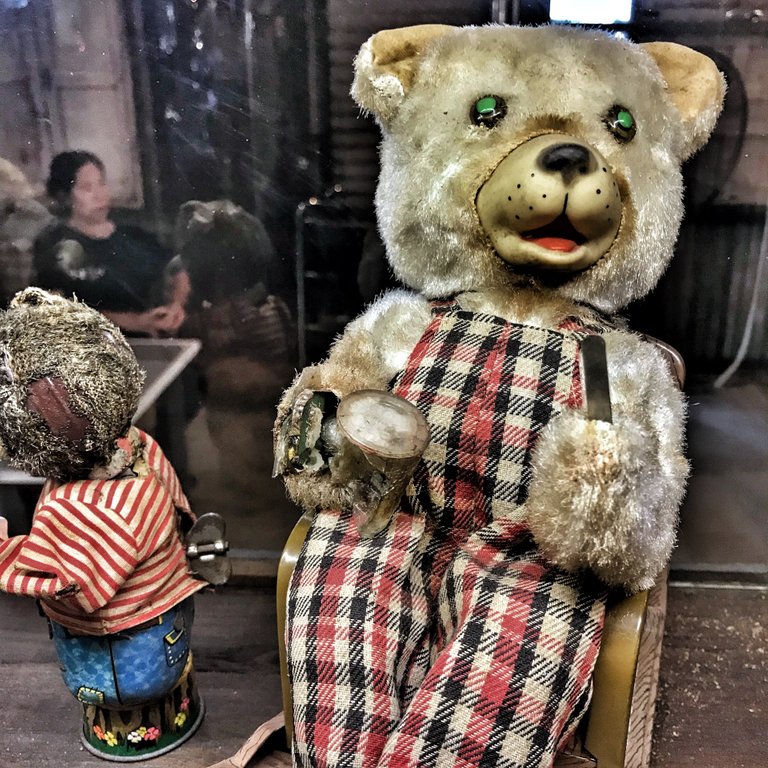 Does anyone want a new creepy teddy for their kids?
The shops also get in on the fun and have eclectic and artistic shop windows and displays in the shops.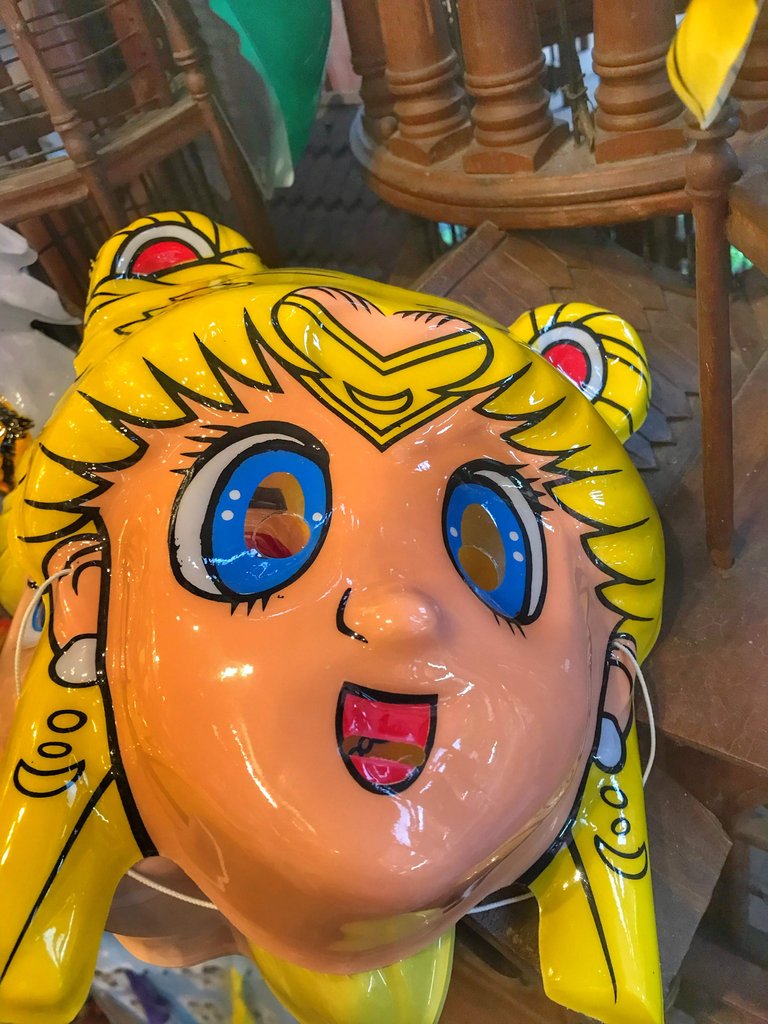 Should I get this mask for the Full Moon Party in Koh Phangan?
Food and Entertainment at Chang Chui Market
Of course, I can't visit a market without eating. Instead of traditional street food, Chang Chui Market has quite a few food stalls and small sit-down restaurants. Expect to pay a little more than a street food vendor, but expect high-end cooking and world-class flavors.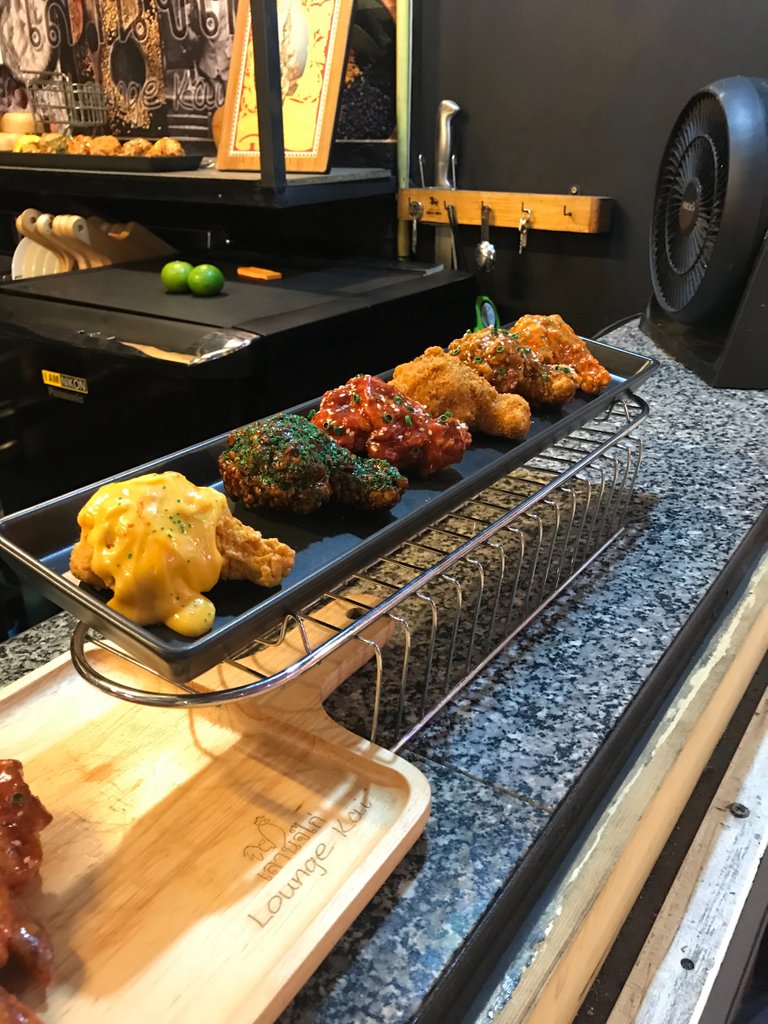 Yes, I will take one of everything on your menu.
I opted to eat light and found a gourmet chicken wing shop and ordered 1 of each of their wings.
After wandering the complex for a few hours I was still hungry and found a wonderful ramen joint. The soup was amazing and the broth was so rich!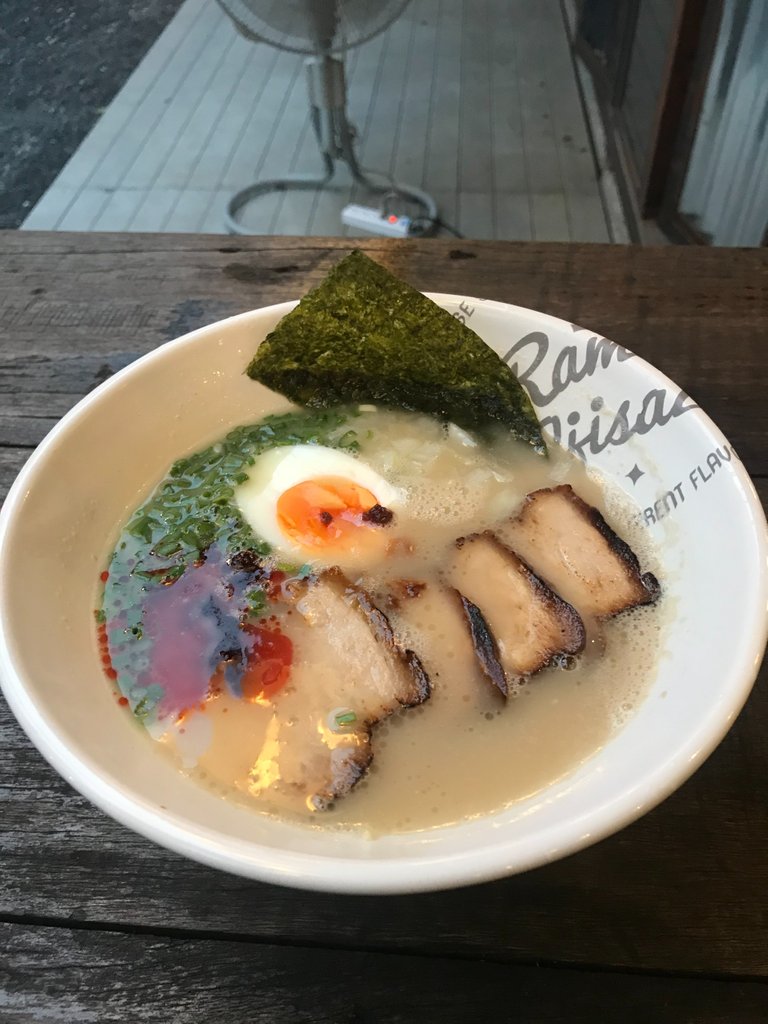 Yes I know ramen isn't Thai, but I can't turn down an amazing ramen
There is also live entertainment nightly from varying musicians. Sorry, I didn't grab any images of the bands, but they are worth checking out. 
Want to Visit Chang Chui Plane Market in Bangkok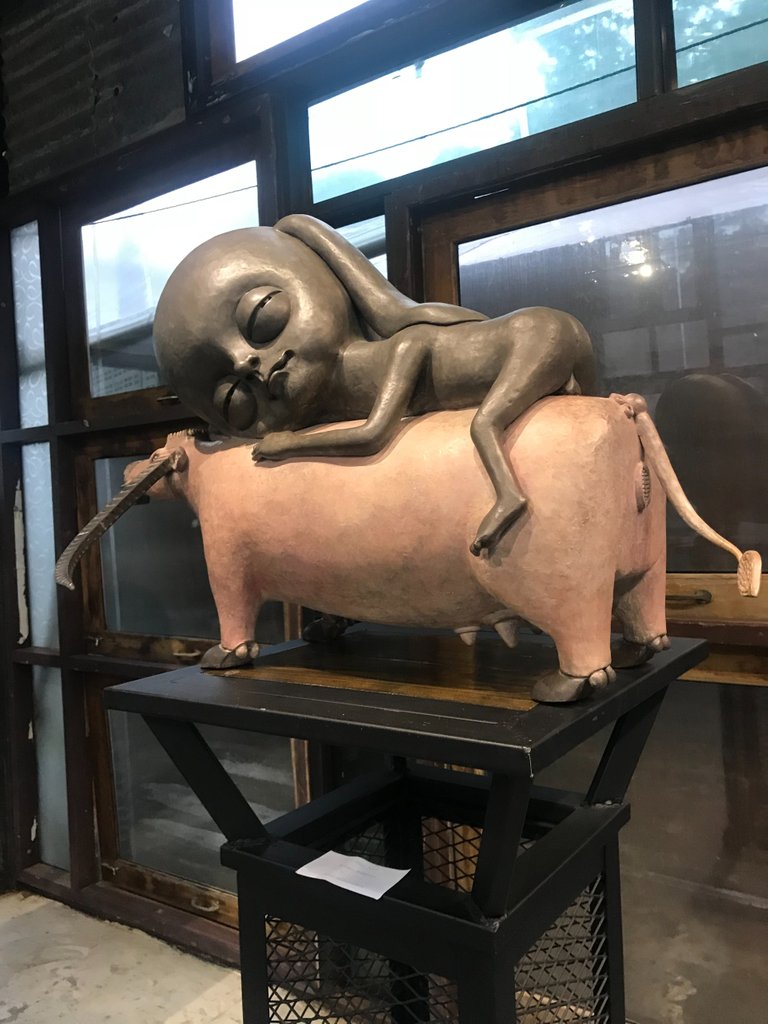 You'll feel right at home while visiting Chang Chui Night Market
Once Covid restrictions calm, I definitely recommend visiting Chang Chui Plane Night Market in Bangkok. It is a short taxi ride from central downtown and is worth the trip. While you may not find counterfeit Nikes for sale here, it's still a must for any Bangkok holiday.
Chang Chui Night Market
Location: 460/8 Sirindhorn Rd, Bang Phlat, Bangkok 10700 Thailand
Open: Thursday - Tuesday from 11 am to 11 pm
Phone: +66 (0)81 817 288
Let's Connect
I hope everyone is enjoying these posts. I'm sure everyone is anxious to get back out on the road and enjoy life the way we could before the pandemic.
I encourage everyone to do what they can to stay safe and stop the spread of Covid. This doesn't mean living in fear. Do what's right and do what you can to stay healthy! Let's beat this thing and get back to traveling!
Currently based in Siem Reap, Cambodia, I'm a solo-traveling digital nomad. Due to the pandemic, I've been living in Siem Reap for almost 2 years now. While I'm hoping to get back on the road soon, I'm not in a rush. 
I'd love to connect with other travelers, digital nomads, gamers, or residents of Cambodia. Don't hesitate to say hi or send me an upvote!
You can learn more about me and my company at OneZen.me.
Socials 
Facebook Instagram Twitter Website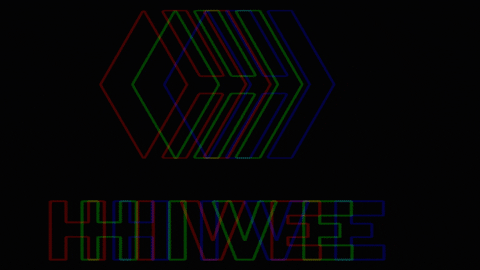 ---
View this post on TravelFeed for the best experience.