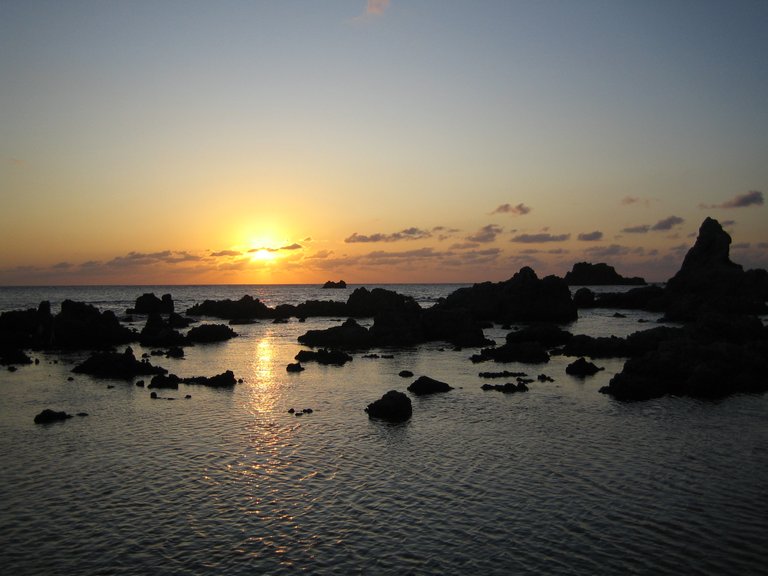 Hello travel friends and Japan lovers, today we are going to explore another great place in this still so beautiful and exciting country.
Japan, as an island kingdom, is blessed with a never-ending coastal landscape that is always changing and surprising. From any place in Japan you can be at the sea in just a few hours, gazing at the vast expanse of water that stimulates our longing so incredibly. Wanderlust and homesickness, both are served here in equal parts and my heart seems to blossom anew every time I come to the sea. Japan is, despite all its uniformity, a country full of differences, which is able to surprise me again and again in terms of culture and nature. Not only the big main islands like Honshu or Hokkaido, also the many small islands are worth a trip and a visit, which often takes you off the beaten track and shows the country and also the people from a completely different side.
For this reason, today we are going to Sado, an island in the Sea of Japan on the western side of the main island Honshu, which is located about 60 kilometers from the city of Niigata. Like almost everywhere else in Japan, Sado was formed by volcanic activity that can still be felt today. For the normal Japan tourist, Sado will probably not be on their agenda, the island is too far away from all the other famous and popular cities that are visited by millions of tourists every year. But if you ever make it to the northwest of Japan, I highly recommend a visit to Sado, especially nature lovers will really love this beautiful place.
Unfortunately, I have only been to Sado once so far, and I only saw a small part of the island. But today I would like to share with you some of the impressions I gathered back then. And that's why we're going out on the water first, as that's the best way to reach Sado Island.
So let's go...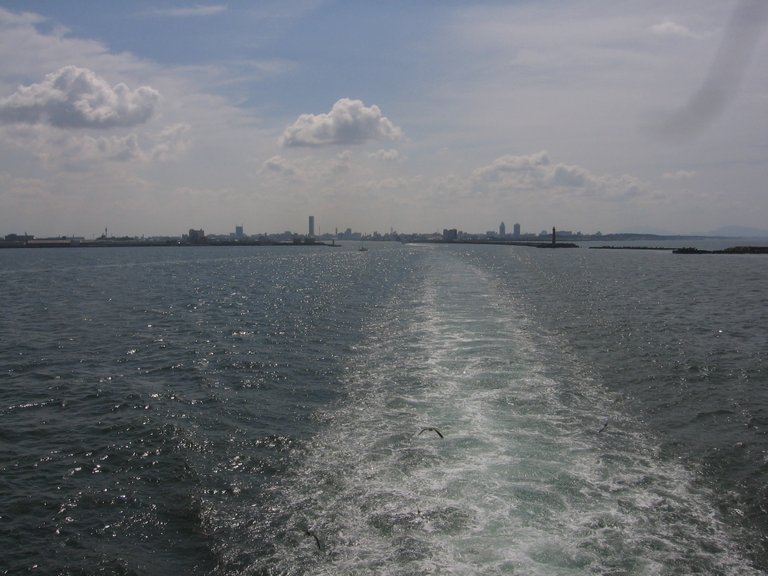 Since we want to go to an island, the easiest way is of course by boat, and there are several ferry options to choose from. We had opted for the regular car ferry from Niigata city, which would take us to Sado in 2 1/2 hours. We started at about the same time of year and were very fortunate to enjoy blue skies and good weather during the trip. Already the ferry ride was a little experience, the view back shows the scenery of Niigata city, which quickly became smaller and smaller and soon disappeared.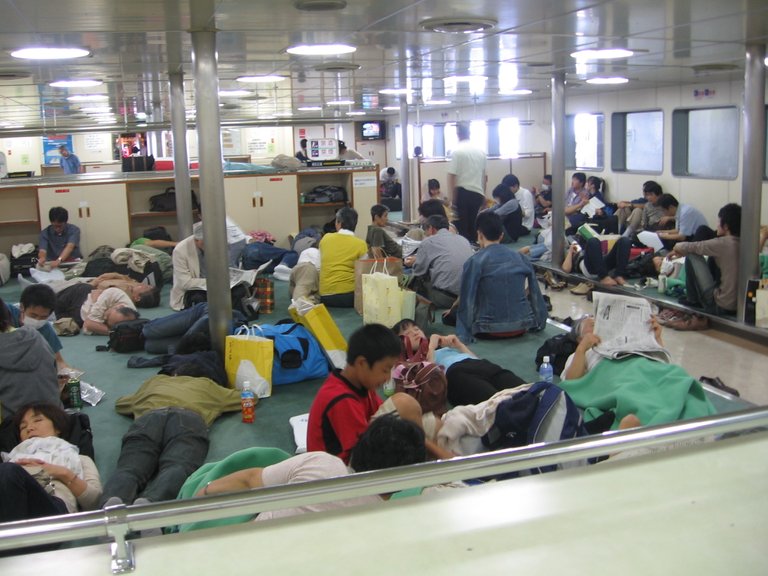 There are several rooms for passengers to make themselves comfortable during the crossing. If you don't feel like being outside in the fresh air, you can snuggle up here with most of the other passengers....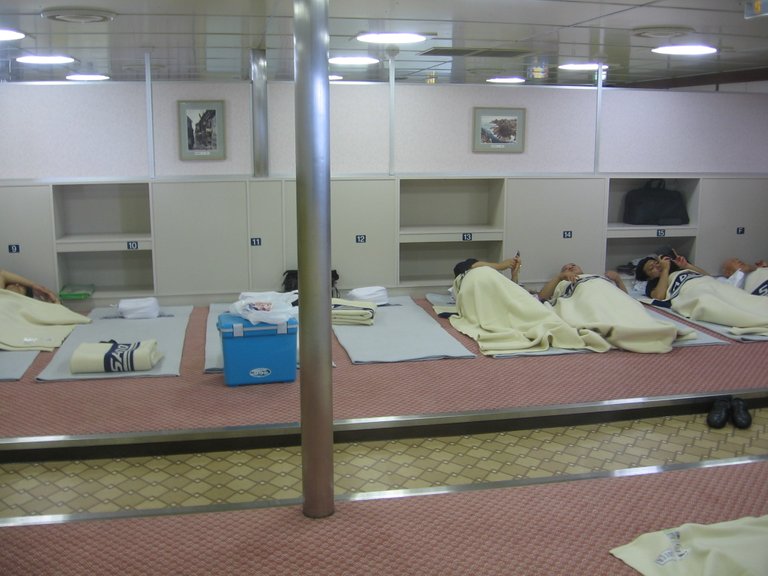 ...or if you have a reservation, you can lie down her and have a little more space and sleep for a while. We didn't feel it was necessary for the 2 1/2 hours of the crossing, but there are ferries that are on the water for more than half a day, and at night it's a good idea to close your eyes and get some rest.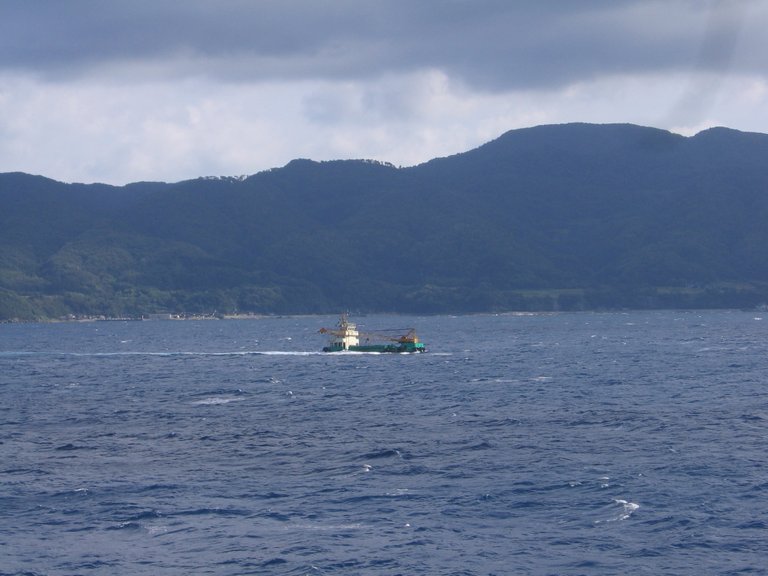 But we preferred to stay outside and watch how the mountain scenery of Sado was getting closer and closer and we could slowly make out some shapes. The crossing was a great start for our trip.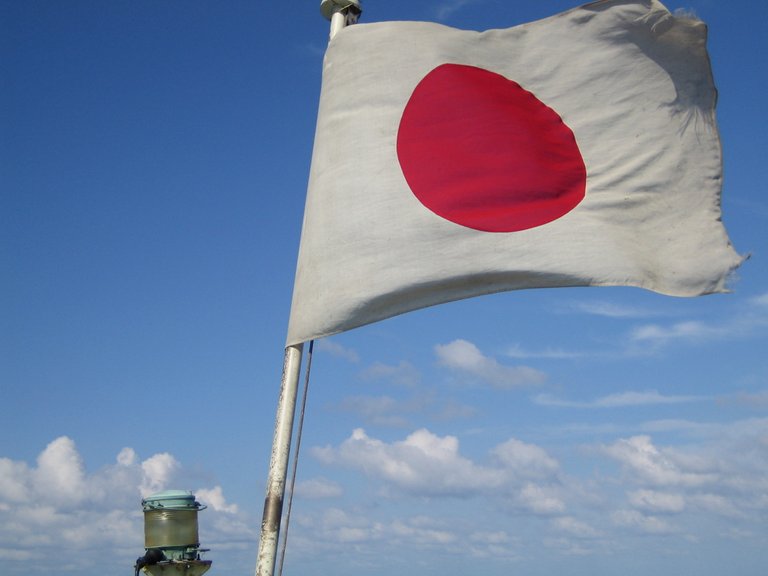 The sky continued to be blue and the sun was shining not only from the national flag but also above us in the sky. Thus, it could only become a great day.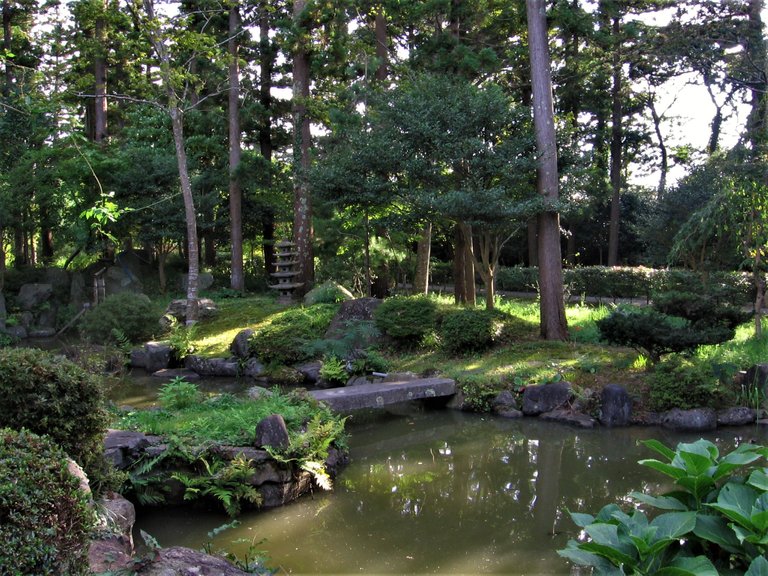 Since we had decided to bring our car, we were able to move freely and look around without any problems. And that's why we immediately set off to the center of the island to discover a bit of Sado's secrets.
Although Sado is quite far from the main regions of Japan, culturally the island has a lot to offer. For many centuries, disgraced politicians and leaders were exiled to Sado, including famous people like the former emperor Juntoku, and also some famous priests such as Zeami, one of the founders of today's Nō Theater. Sado also used to be a place of refuge for the politically persecuted and other refugees.
Of course such high and famous personalities didn't come alone and the people in their entourage brought some of the cultural of that time with them to the island. Many of the exiles had previously lived in Kyoto, which had a great influence on the cultural imprint of Sado. In particular, the Noh theater was able to thrive here on Sado and developed into a special form, so that during the Edo period there were over 200 Noh stages on the island.
Since the opening of the Aikawa mines in the year 1601, Sado became a center for mining and the exploitation of gold and silver. The mines became an important source of income for the shogunate, and many workers were forced to work here. Back then the island was called not only "Gold Island", but also "Death Island", because most of the workers, who were prisoners of war and convicts, died because of the extremely harsh working conditions.
Today the mines are depleted and mining has ceased, but some of the mines are still open to the public as a tourist attraction.
On our way we visited some temples, which originate from that time and were incredibly inviting in their quietness and remoteness.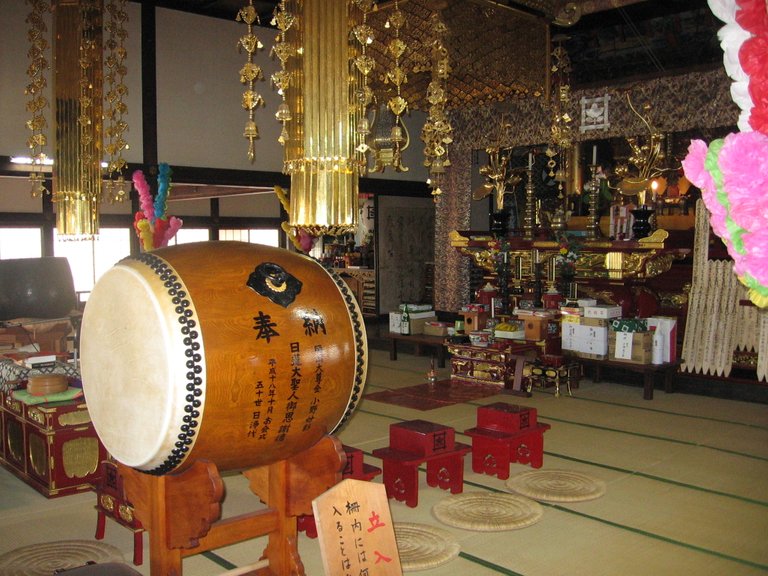 From the outside, local temples often look rather simple, but inside they are sometimes very richly decorated and ornamented.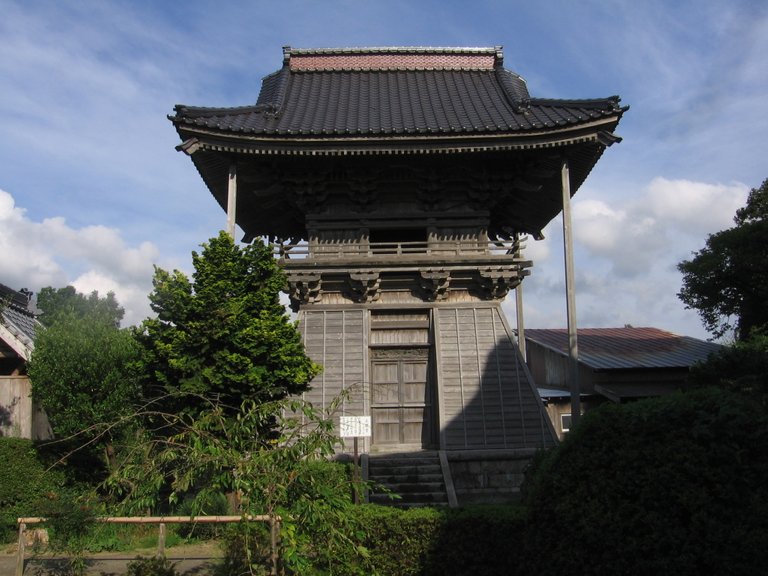 But this simplicity has its very own special charm without the need of loud exaggeration, and it definitely seems to have an effect on me. And when seeing those tempel ground which have all those nature in the background, I can't help but linger for a while and take my time.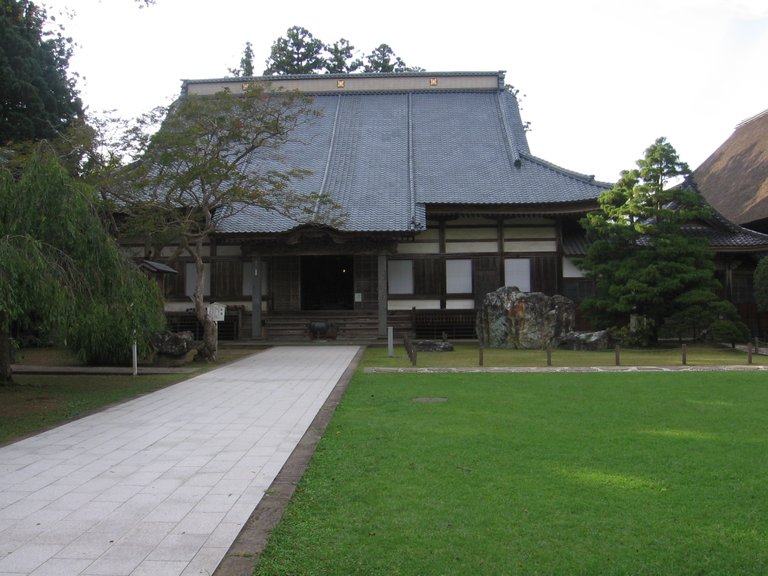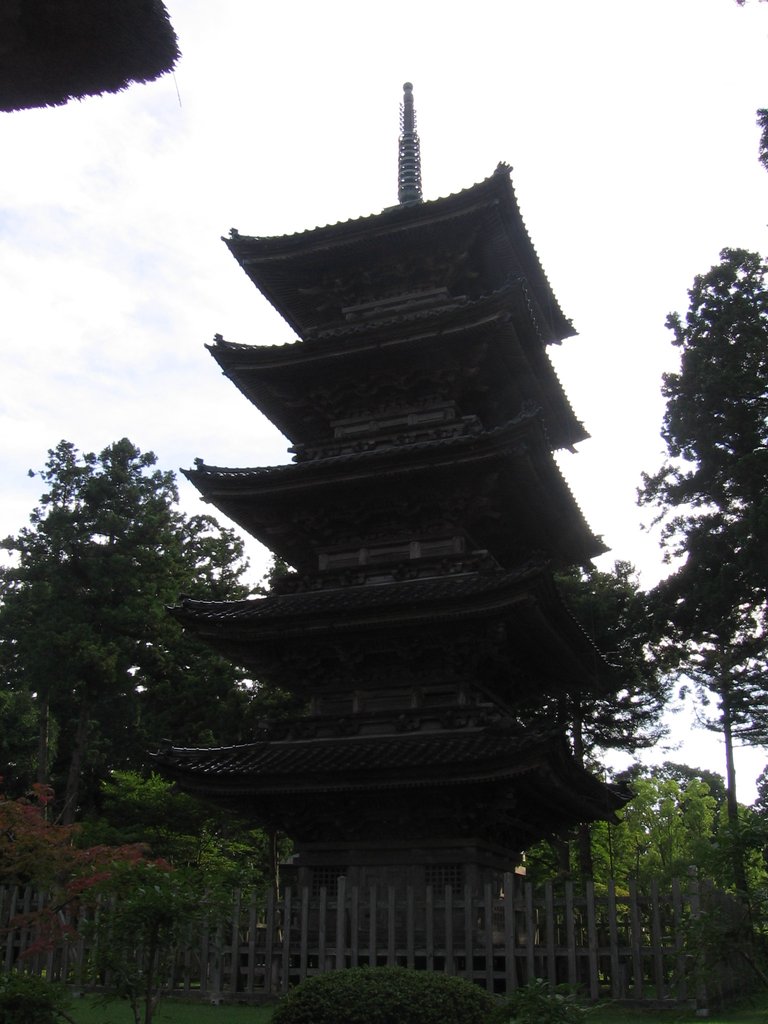 The Myosenji temple goes back to the former priest Nichiren, who was also exiled to Sado at that time, and who is the founder of Nichiren Buddhism. He is said to have set up his residence here more than 700 years ago and thus founded this temple.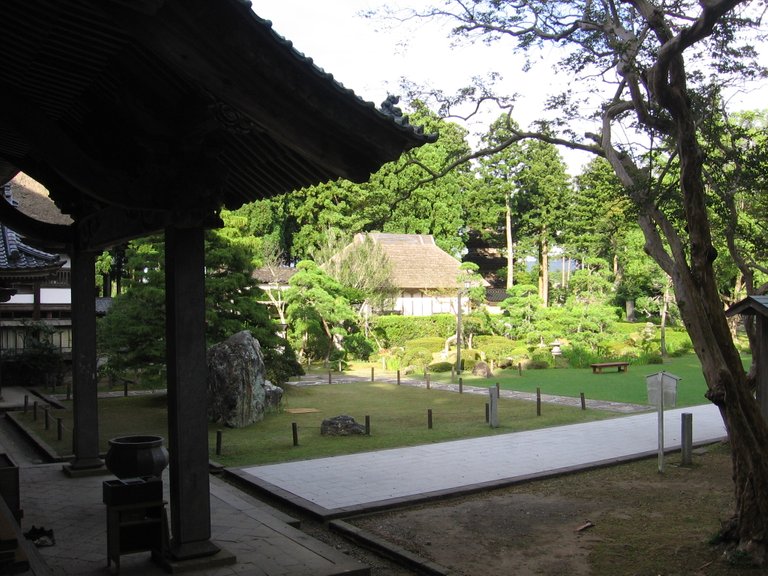 Today, you can even find this 5-story pagoda here, testifying to the importance and grandeur of this site.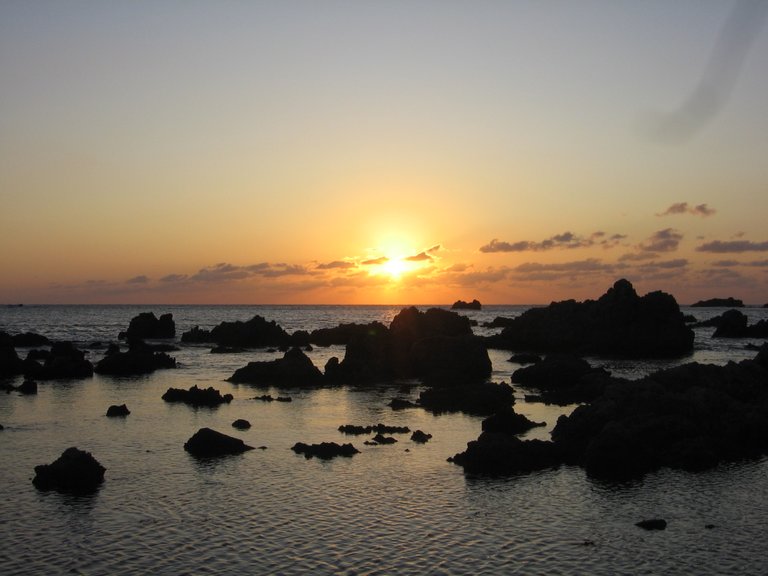 The whole ensemble is another a good example of Japanese temple culture. Buddhism had already spread in Japan in the first millennium and since then different sects have taken over this religion and interpreted, taught and lived it in their own way. I often find it hard to resist a visit and even a walk in the many temples areas here in Japan, too inviting and also soothing is the atmosphere that exudes from these places.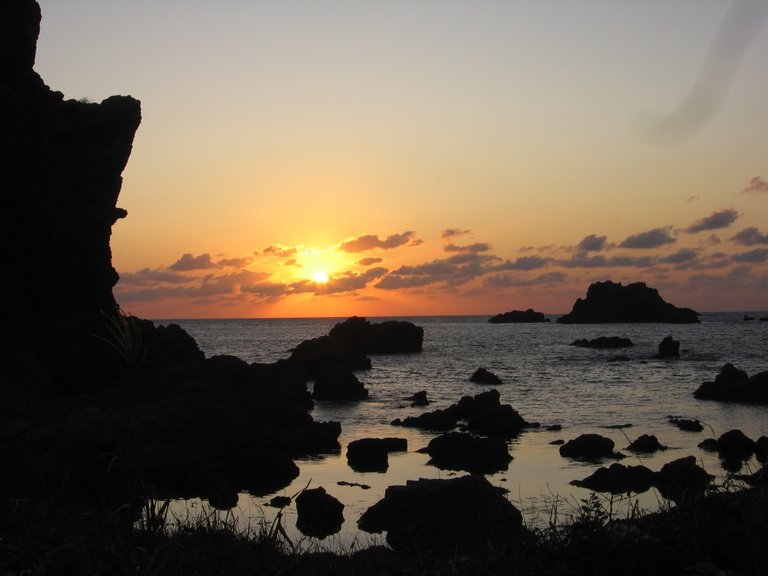 After we had found our accomodation and had refreshed ourselves, we went out one more time down to the sea to say goodbye to the day.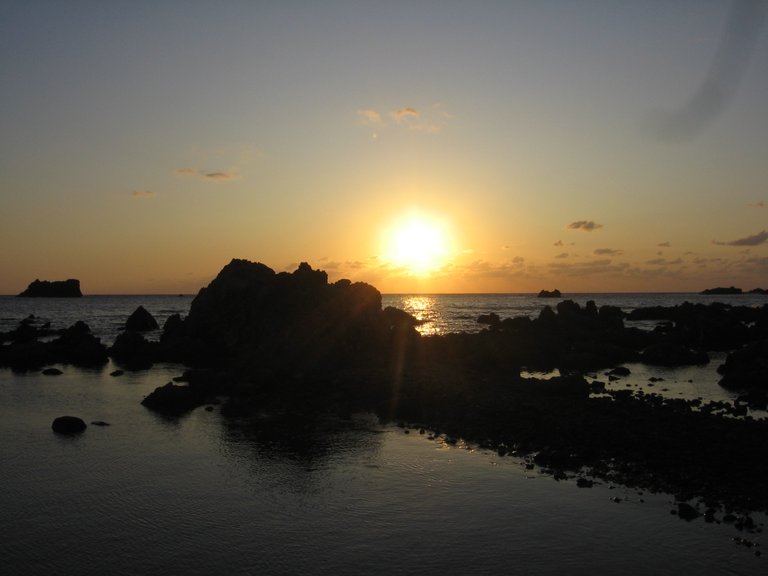 Sado has a rather rugged coastline with many rocks and cliffs, but especially in the evening and in the light of the setting sun they offer a breathtaking spectacle.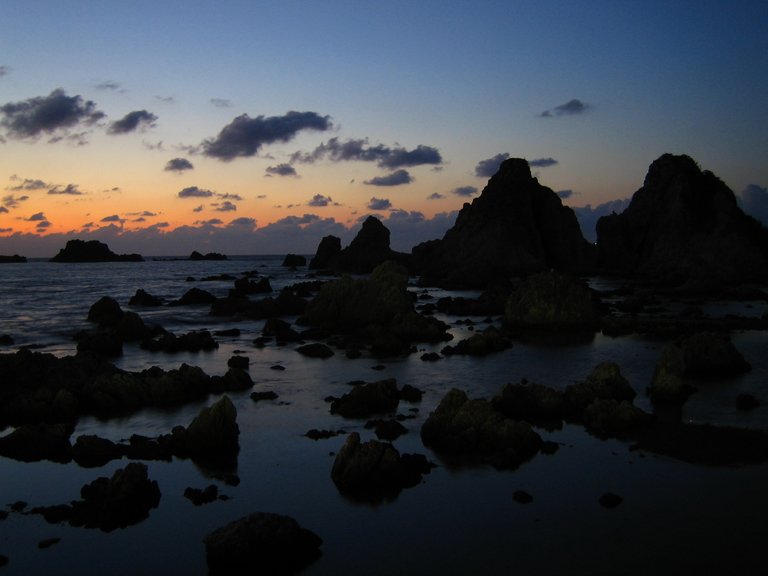 Such pictures always fill me with an incredible gratitude and a deep warm feeling, and I would love to stay in such places forever and dream away.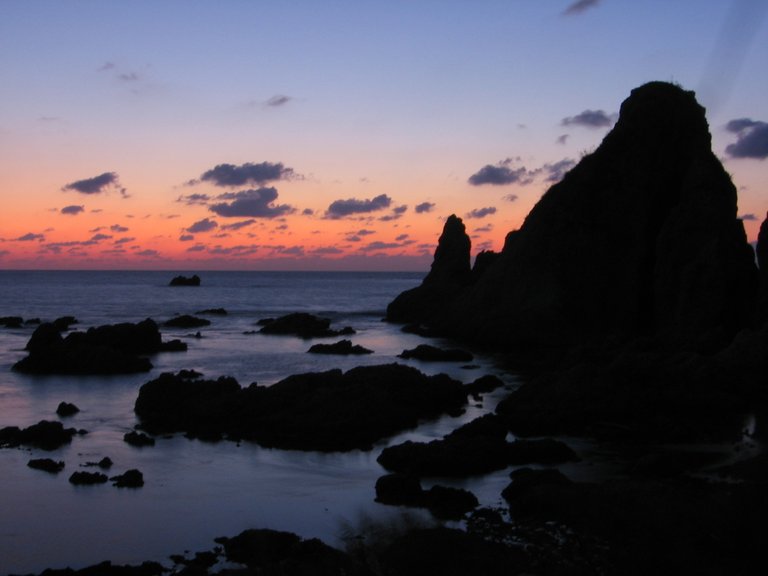 But the light of the disappearing sun tells and shows me again that tomorrow there will be a new day, which will have so much to offer as well. Each passing day may mean an end, but fortunately this will always lead to a new beginning. As soon as the night is over, the sun will approach again from the other side and shine and warm us. And therefore I am already looking forward to the many opportunities that which tomorrow may bring.
Have a wonderful day everyone, and I'll be back soon with the second part of our little sado tour.
またね matane


[//]:# (!pinmapple 37.971694 lat 138.371836 long Sado-Island, a wonderful trip to the island of exiles d3scr)