Tasmania is one of the few places in Australia where it's still possible to free camp, from lake side bush camps to sea side scrub with incredible views. Having saved so much on camping fees, aside from a two year Parks Tasmania pass (necessary for most wild places), we had more cash in our bank account. However, one doesn't get a washing machine or a shower at free camps!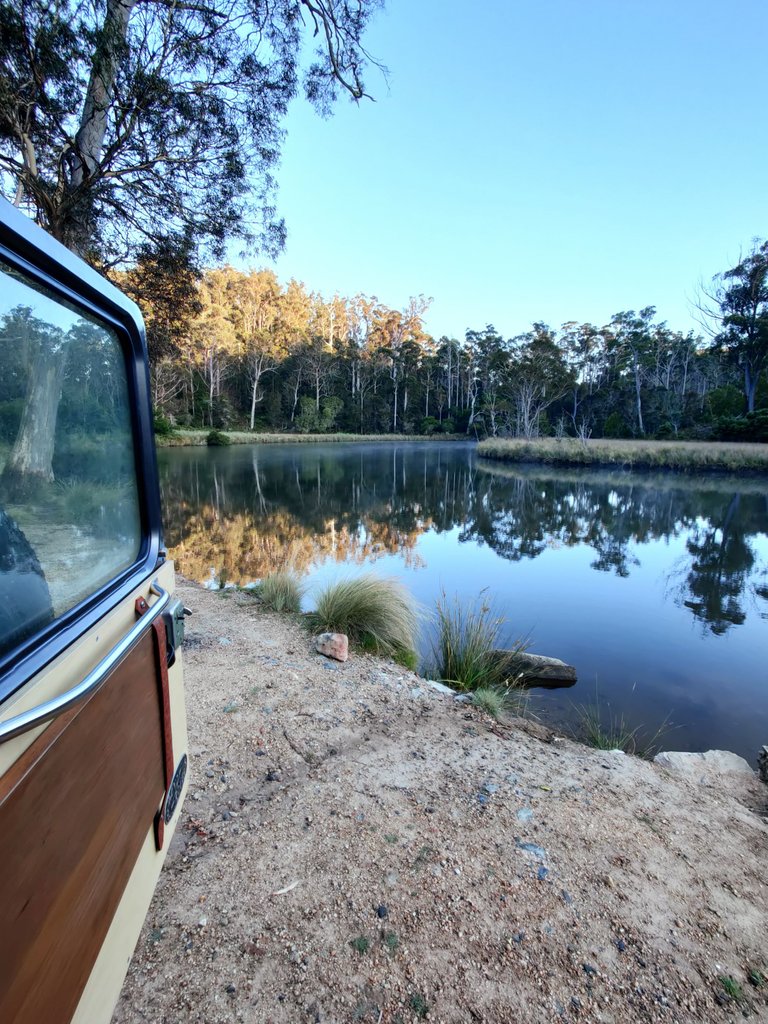 Knowing this, we bought a Companion lithium powered shower that is USB charged, a great bit of kit. Many companies, including Kick Ass, make them these days. We used to have a Wahle pump we had attached a hose and shower head to, way ahead of #vanlife accessory madness, but it was powered via a cigarette lighter and the 12v so we liked the fact this system is portable.
Hence, finding a beautiful free camp at Trout Creek in the reserve forest behind the coastal town of Scamander near Bay of Fires on Tassie's East Coast, we decided to wash! We certainly had a whole river to use...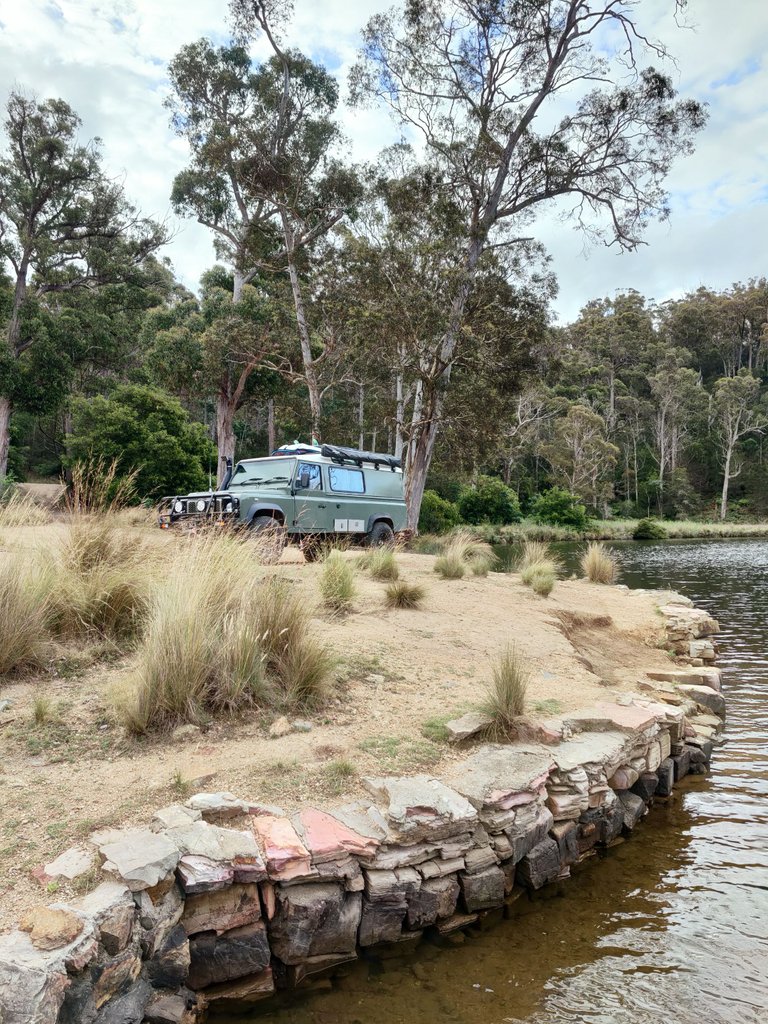 It's a little bit of a rigmarole to have a shower but once you have your system down it's easy. So far we have had four and no sign of battery needing charging yet. Firstly, I set it all up - the large bucket for my shower basin, and my washing up bucket for the warm water.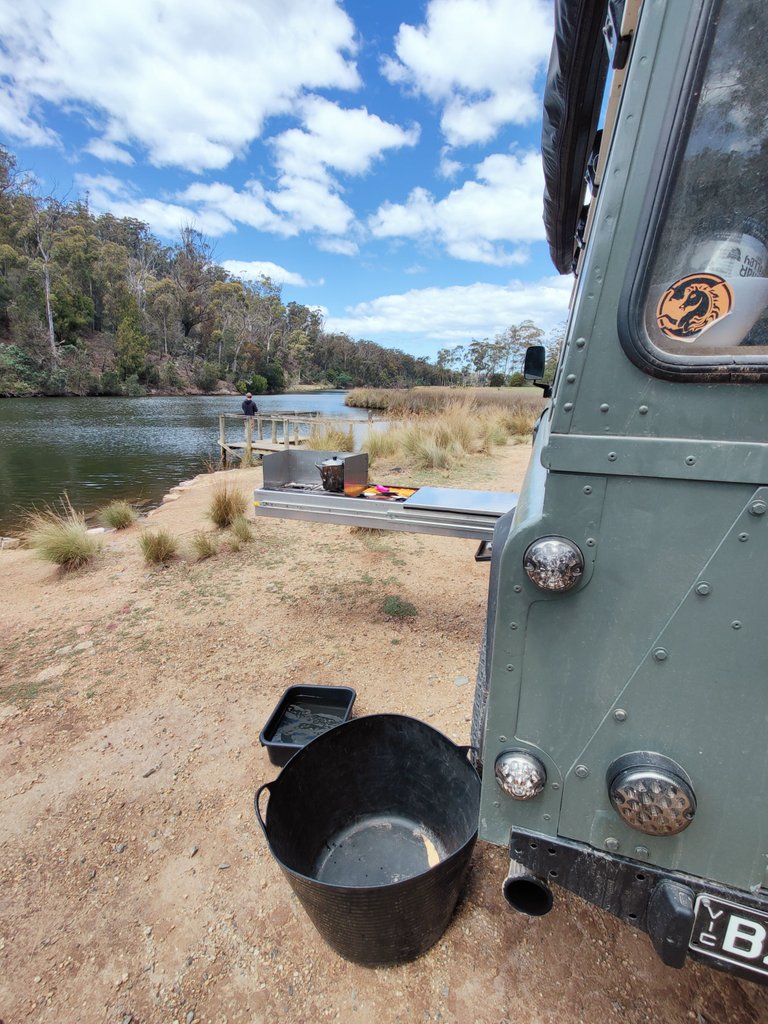 I use natural soap bars but that's not a reason to use the soap in natural water ways as it distrurbs the surface tension of wlthe water which is no good for fish and insects, so I make sure any waste water is caught so it can be disposed of under a thirsty tree. The water itself I take from a lake, bore water or tank water, but with a 60 litre water tank I can, at a pinch, use that.
The best shower set up for us is with the side drawer pulled out so I can put my soap, clothes and towel there, but we have showered under trees using branches or logs. As this place was deserted I didn't worry about modesty, but I don't mind showering in my bathers if that's all I can do.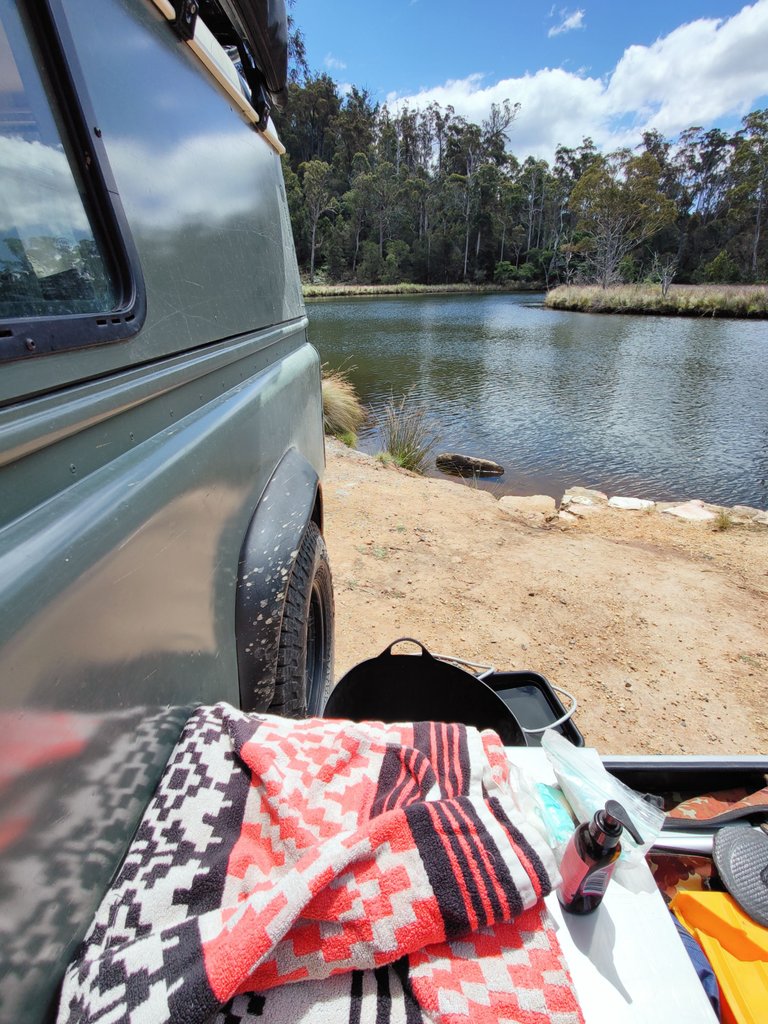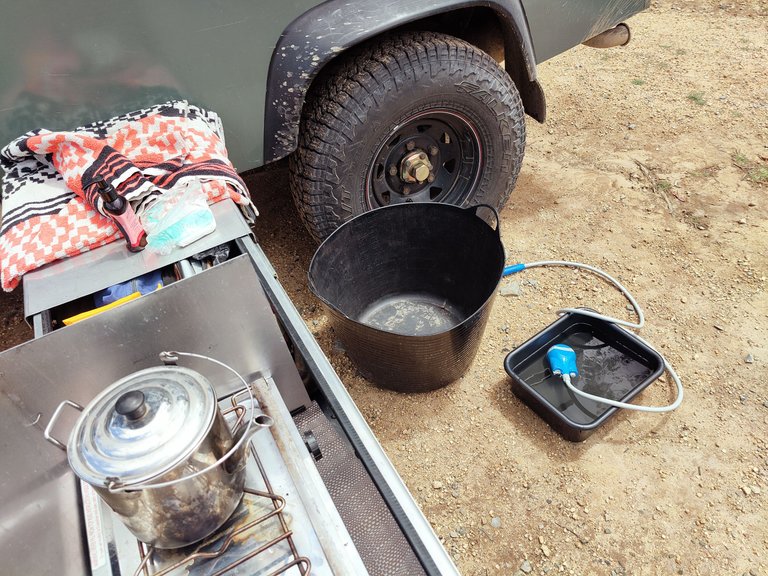 Eventually we will get a Kickass shower screen that will attach to the awning. I didn't think we would need one and they were a tad gimmicky but since we have been on the road there's been a few situations where we would have had a shower but didn't feel comfortable with people around. Certainly Jamie has more modesty than me and would prefer it.
I heat up the kettle and the jetboil to add to the bucket of water to have a warm 🚿 shower which is just luxurious. I use maybe two litres of water and the pressure is good. I wet first, turn off the pump, lather with soap and shampoo, then turn the pump on and rinse before doing same witn conditioner. The last bit is the best as I luxuriate in all the remaining warm water.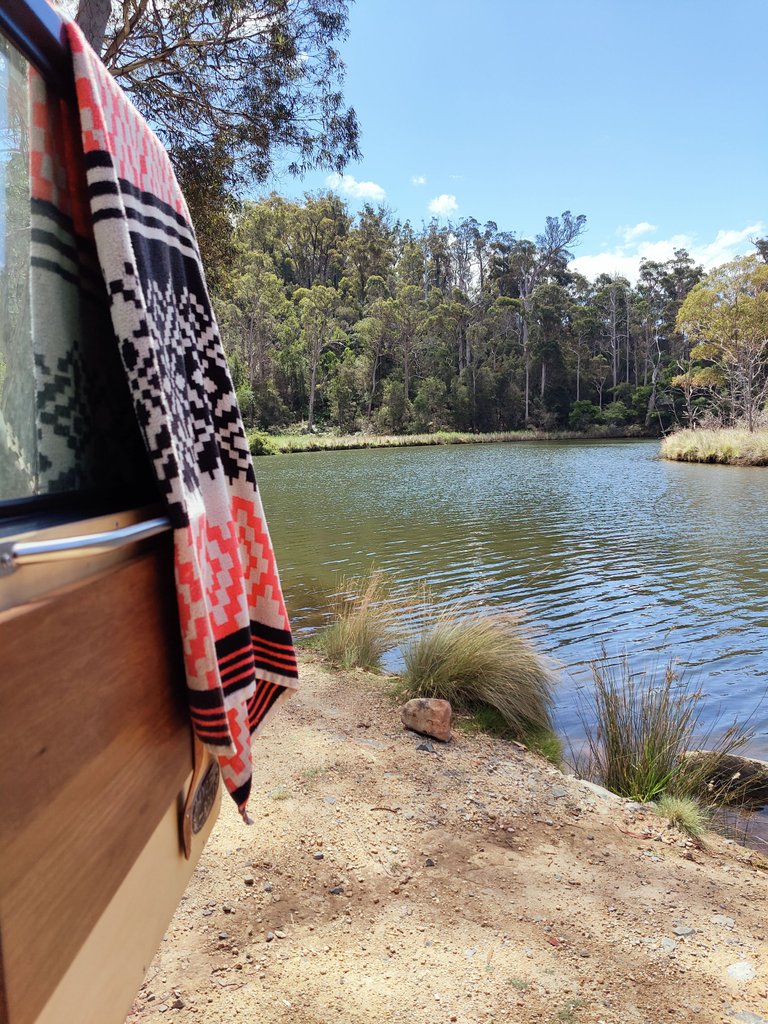 The only thing I'd change is the size of the pump. The Wahle one fit in a Jerry can of water, but this is bigger due to the lithium battery and it means the last bit of water can't be used as the pump needs to be covered.
Trout Creek itself was a lovely, quiet spot with a lot of space. We didn't have anyone else join us although it might be busier on weekends and public holidays. We did have a possum jump around on the bonnet and leave poo there. At least he didn't steal our Turkish bread like last time - we left it in the wetsuit bucket as there was no space in the cupboards.
I have jumped forward a little in time, and still have some posts to write about Franklin, Bruny Island and the rest, but that's for another day. Another four days or so and I'll be back on the mainland and able to return to your posts and comments! Hope you are all well - miss you!
With Love,

Are you on HIVE yet? Earn for writing! Referral link for FREE account here