Good Morning @haveyoubeenhere and Hive community, with a deep sleep and a fresh look upon a new day and so blessed to be all that is, and all that was. Today I present my 23rd Hiking post in our wonderful community. This time my Nephew and I wanted to see if their is water at this secret waterfall but no, small amounts but clearly not a waterfall at the moment. The West Side Road Trail, now this is pretty much an old access road, about a half mile of old pavement road but then turns into a dirt road til about a half mile from the waterfall and then its more like a trail til you get to the no trespassing sign. This is about a 4.5 mike aka walk up the mountain, not to difficulty and if your not into checking out and enjoying mountain tops, this trail isn't for you. For me I just love being out in nature and away from the city and people, well the terrible people anyways.
On this hike, we only saw three people in total, so its pretty nice and it is dog friendly too. Mountain biking, bird watching, running waterfall but only at certain times when heavy rainfall happens, as well as flowers and wildlife. We were able to see, some vulture birds, some hawks and for some reason another hummingbird, so beautiful, had a nice green color to it and a pink under belly or chest area. For some reason I always see a hawk and a hummingbird, coincidence or spiritual is the question, I'm going to go with the spiritual meanings of them. Anyways, just another new trail completed in my life and a different mother nature scenery. Figured this picture right here would make a great cover photo. Thanks for taking a look at my post today on this wonderful Monday morning. Bless You...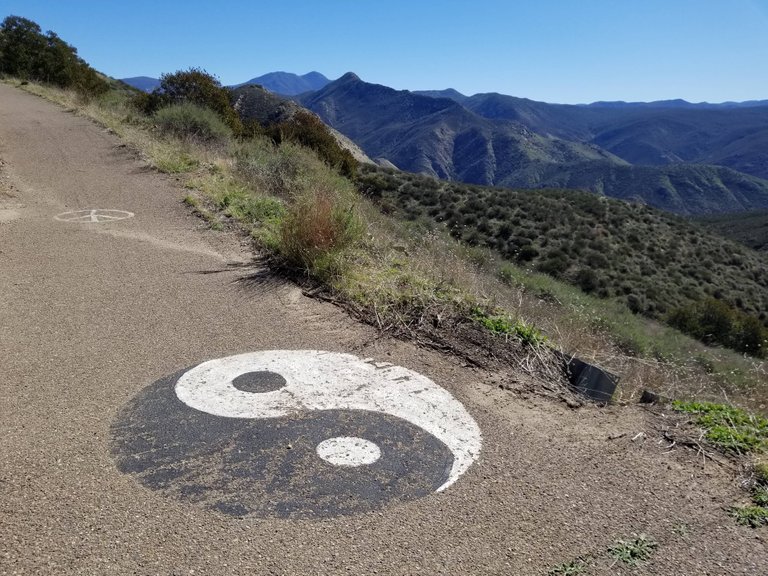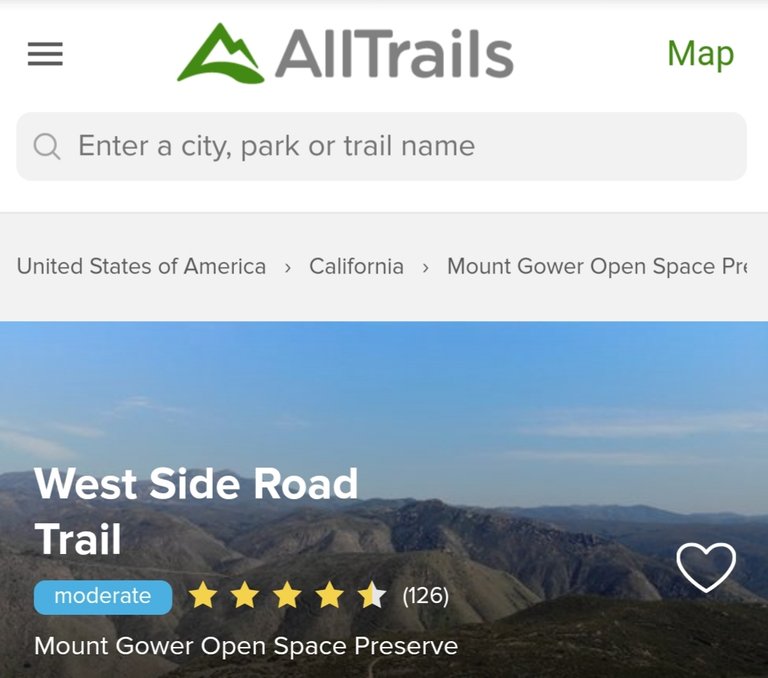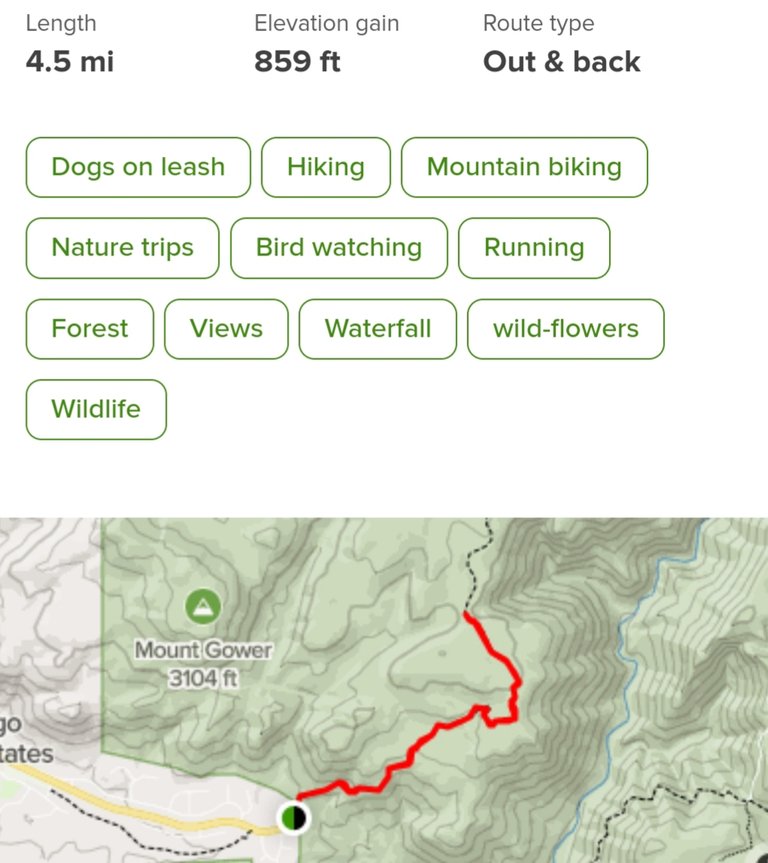 Here is the start of the hike and what was nice about this, my nephew and I had a nice discussion on this trip, he always is go go go on our hikes, I'm to old for that, I like to slow down and enjoy the sites and sounds, and just discuss. He did open up a bit to me this time, which was cool, yes he is young and his dad past away, so we had a really good talk.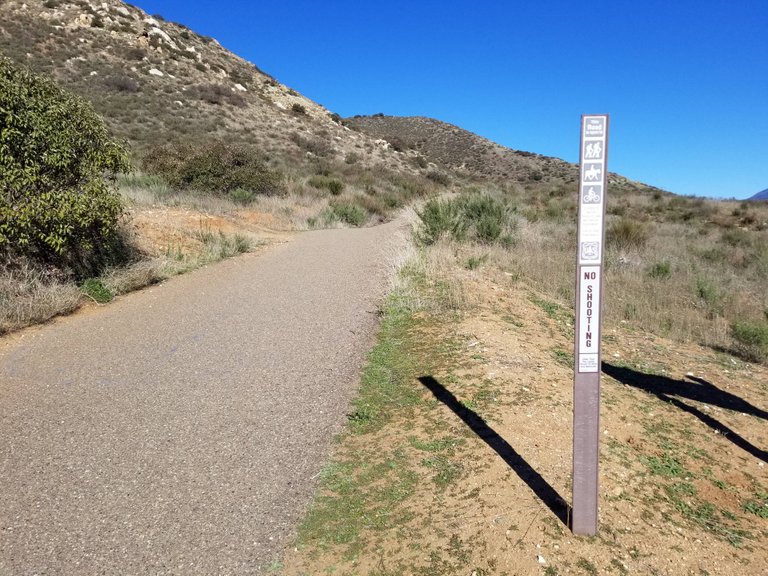 This is where it all started from, down there at the end of the street.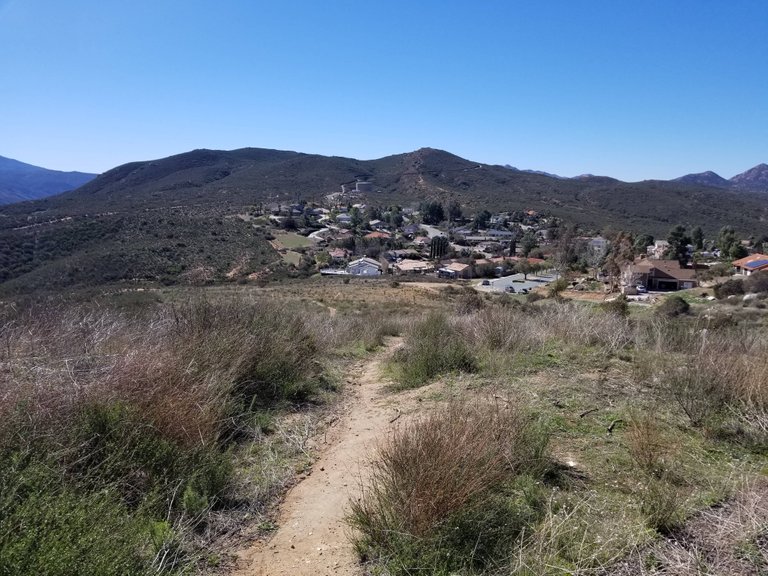 I'm really liking the mountain tips here, I sure wish I came up here when it snowed to see if the mountains would have snow that direction, for that is towards Mt Laguna where I have plenty posts about.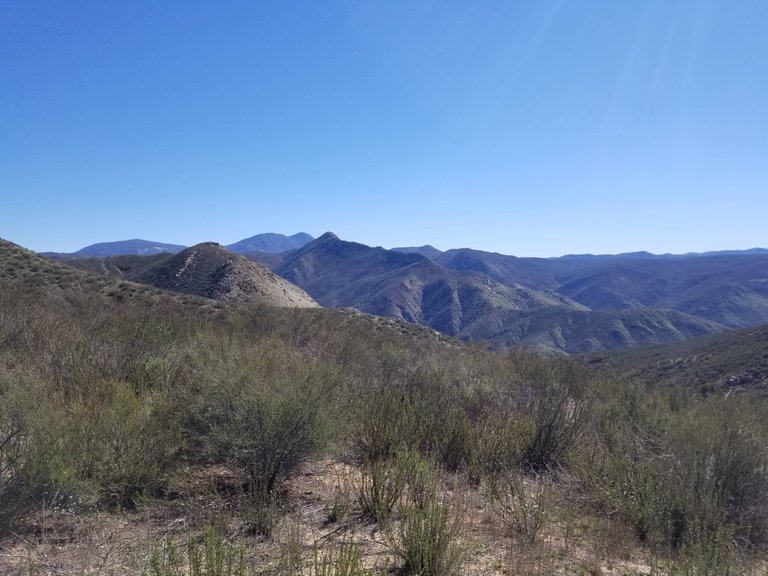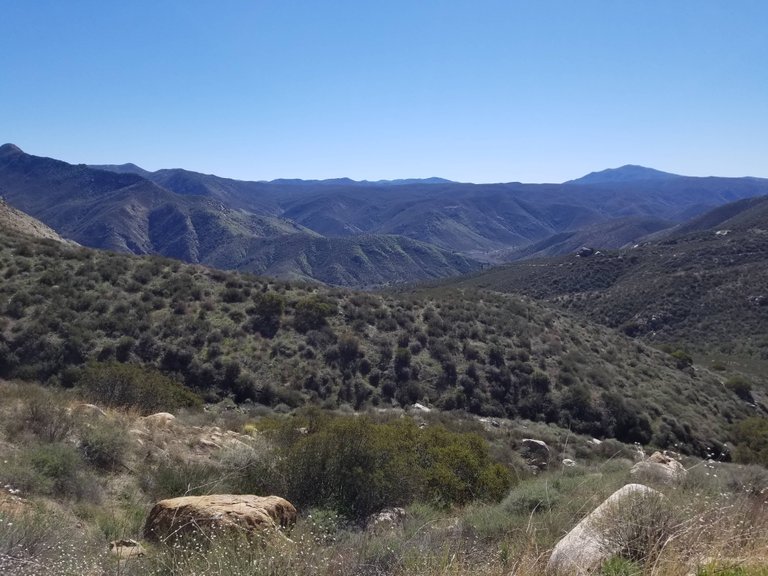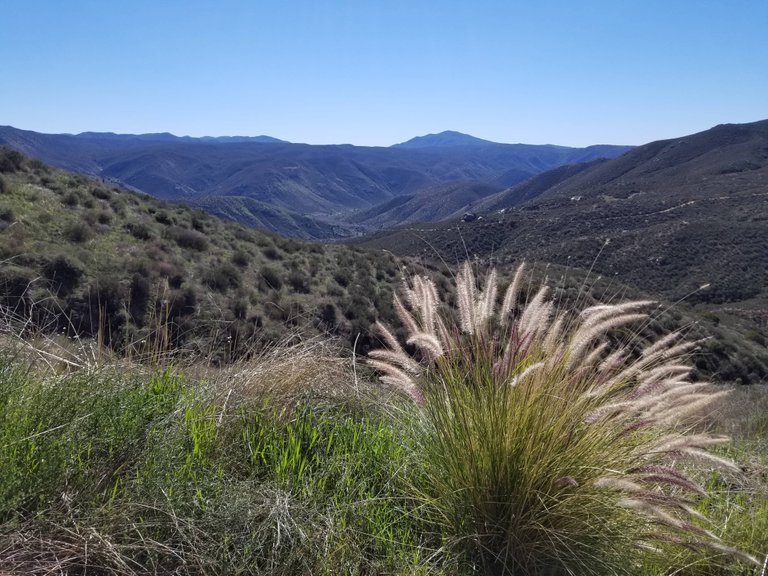 Good news as well, is we discovered where another waterfall is but you must buy a day pass and the Cleveland National Forest only gives out 75 a day. So this shot here, you can see the trail and down that direction is an amazing waterfall I here. Will do that soon but its a longer hike and the wife wants to go.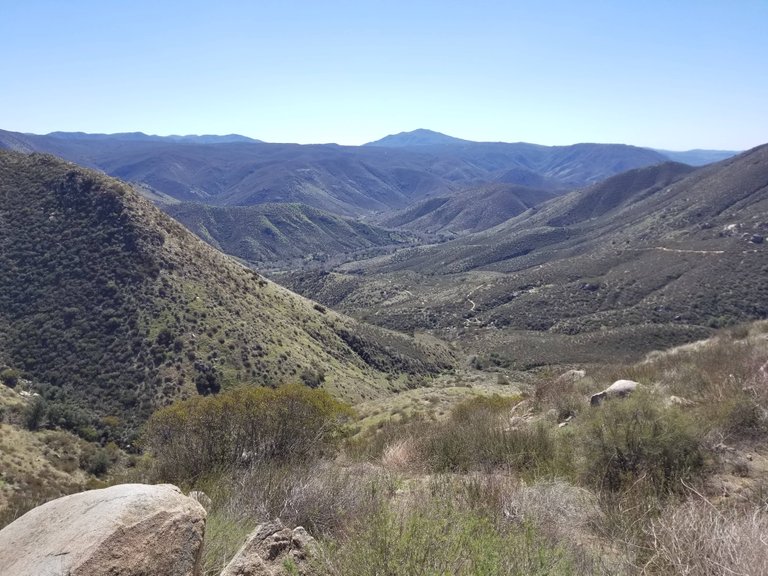 At times this road has a nice incline, for me anyways.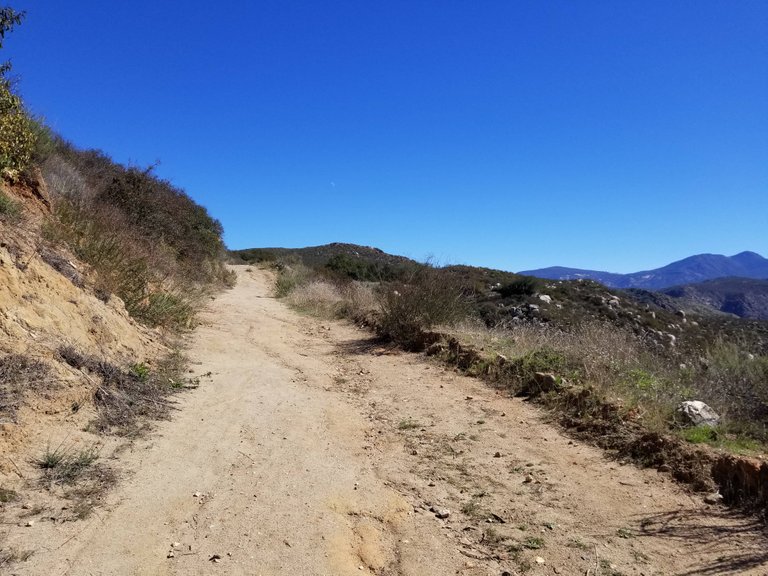 You can see the El Capitan Reservoir off in the distance.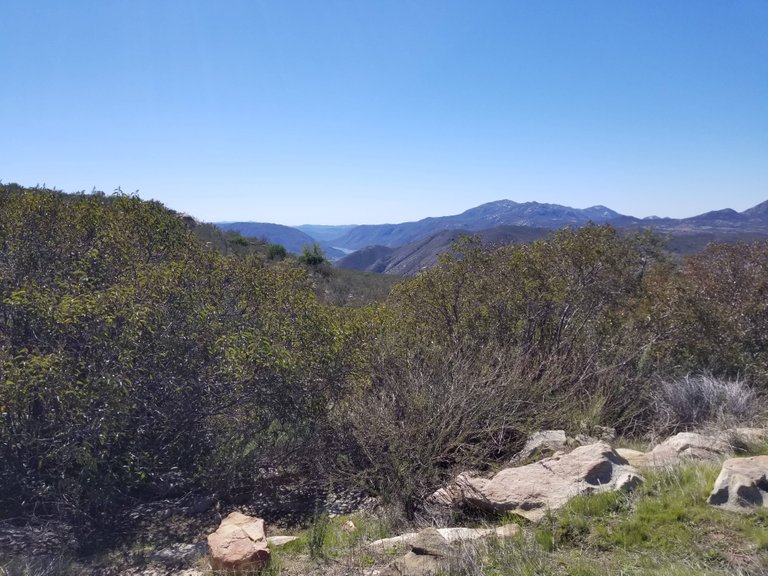 Hard to get with my camera phone but you can see the moon at the tip of this plant.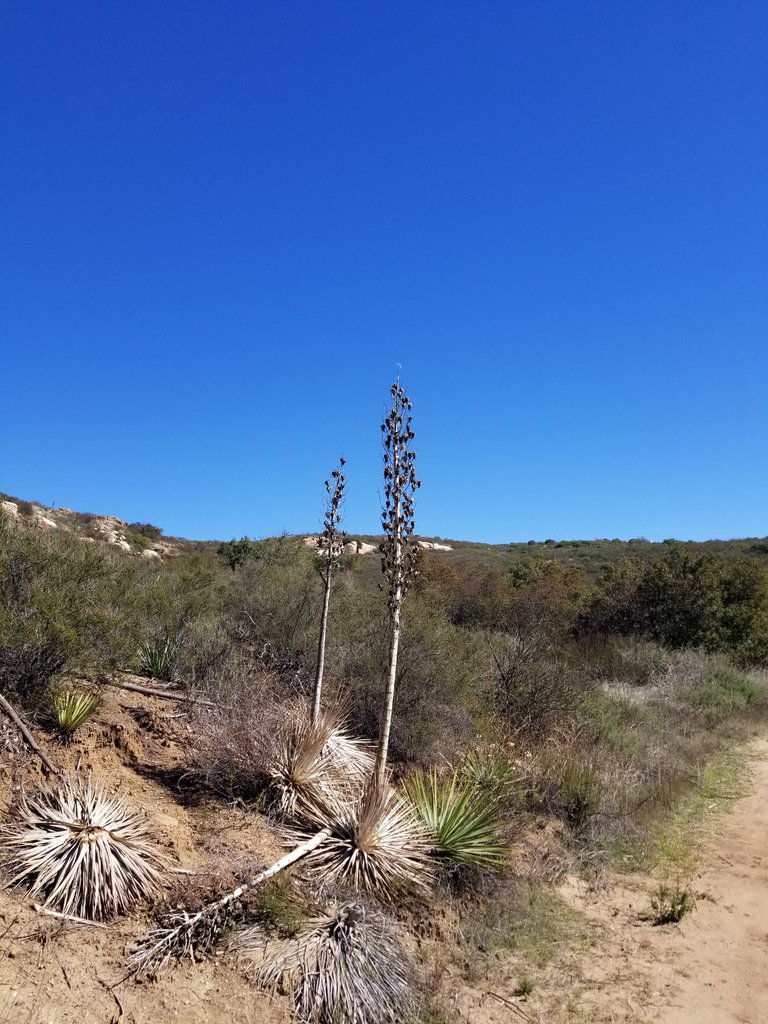 We can see more trails and it does appear to the left some sort of campgrounds or something.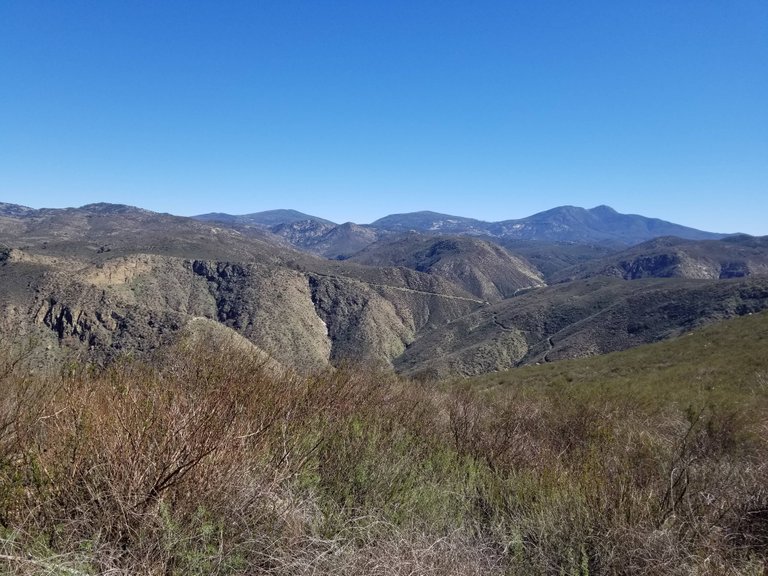 Good times, love the mountain tops.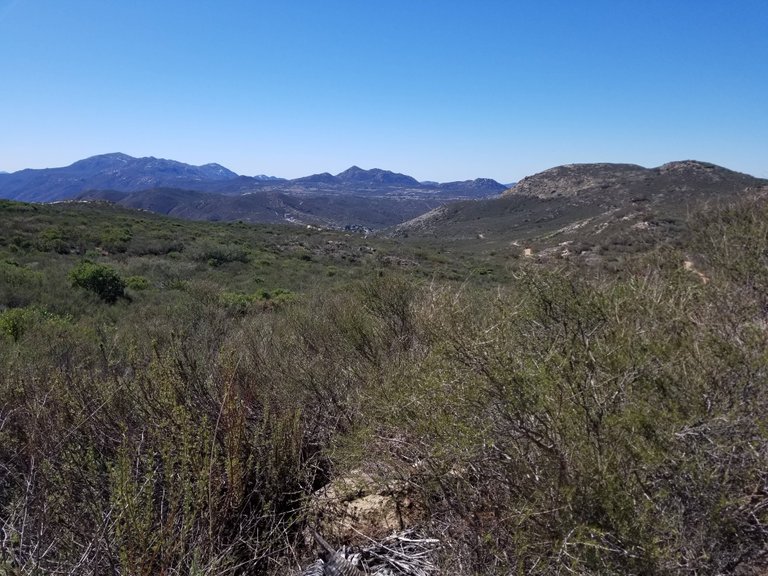 As well as them with the reservoir off in the distance.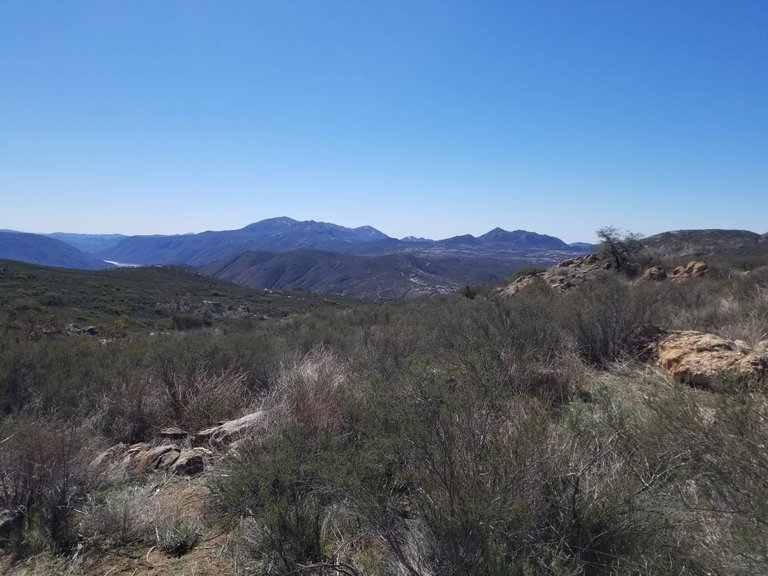 Here it is the waterfall, that isn't water falling. lol Right in the middle, the rocky slit in the mountain, this has the chance to be a raging waterfall but due to less rain in San Diego, it is not currently.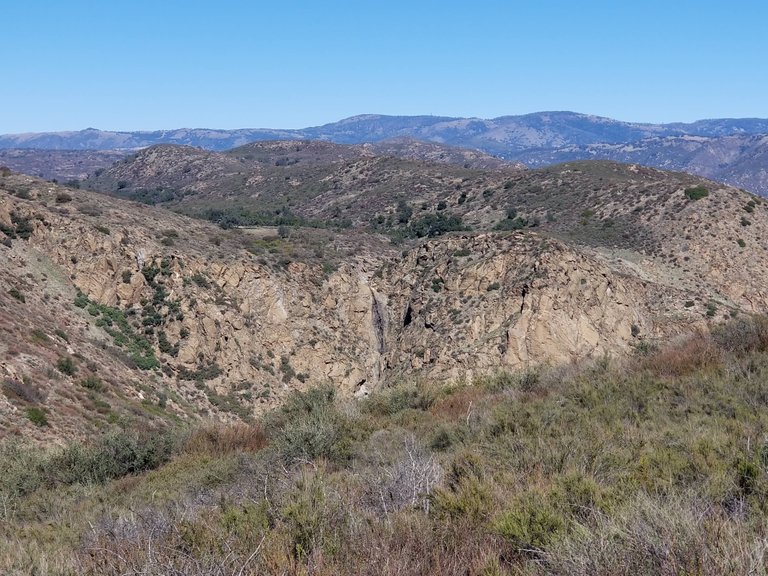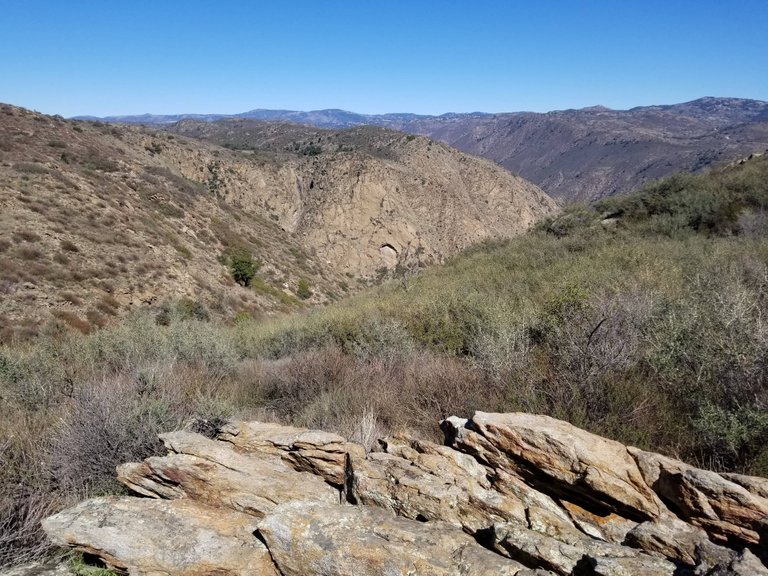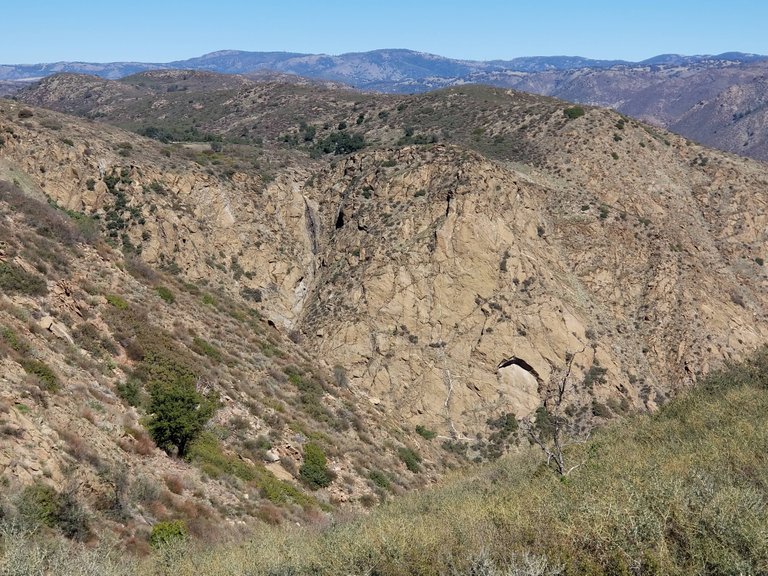 Here, a little blurry because the wind was pretty tough today up here, you can see the hummingbird chilling on the branch.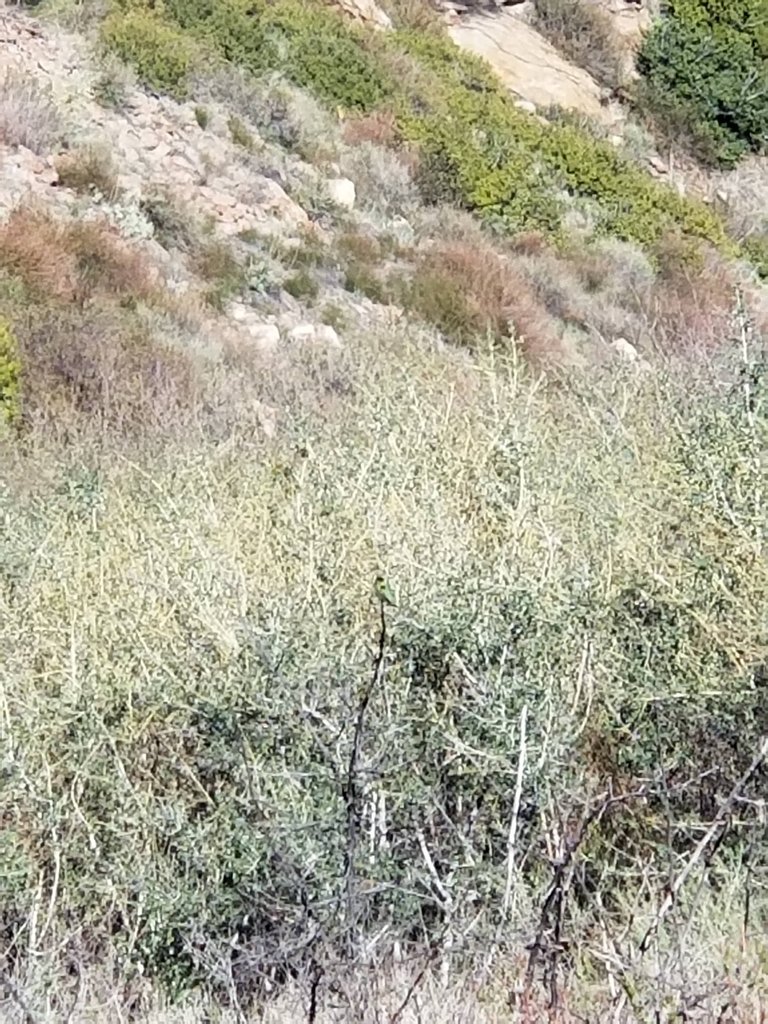 Burned tree, down but not out, still with life.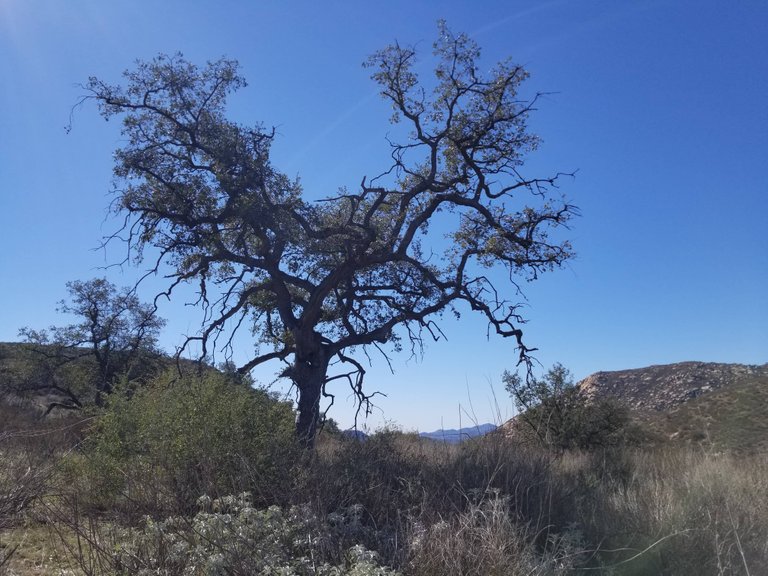 This is where your supposed to turn back so we did, I didn't want to risk it today. Funny sign though from the owner, a biker with a Bobcat in the same picture, taken from their trail camera.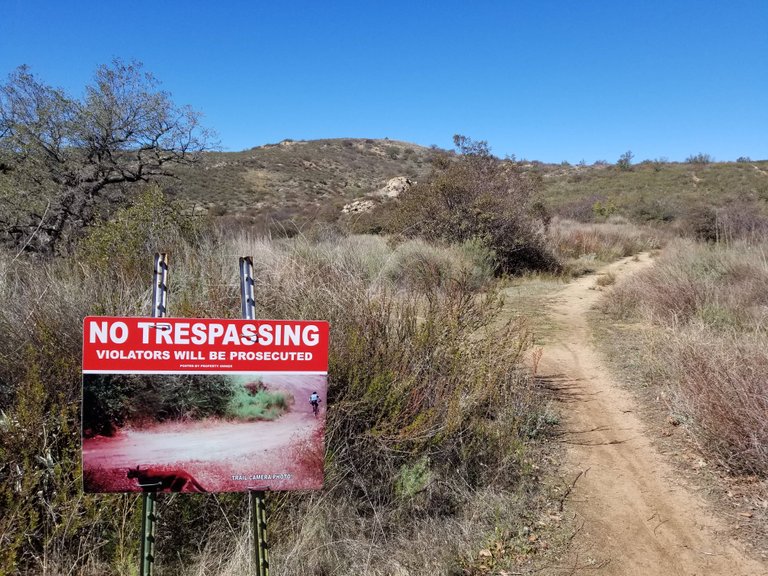 Time to start heading back.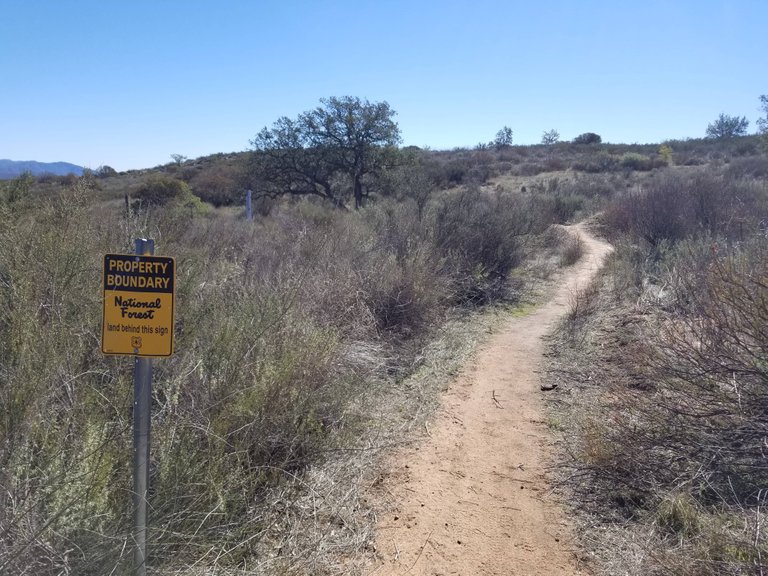 The trail ends up being different and different way seeing mother earth.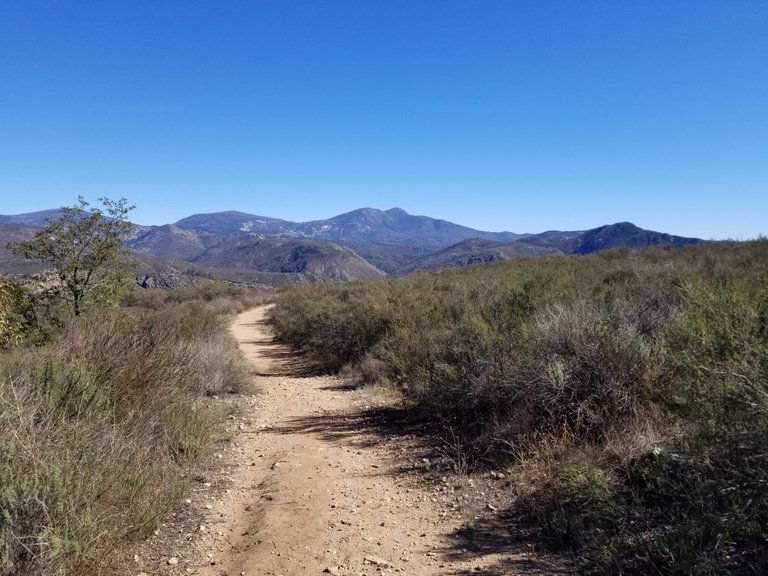 Some more shot's of El Capitan Reservoir.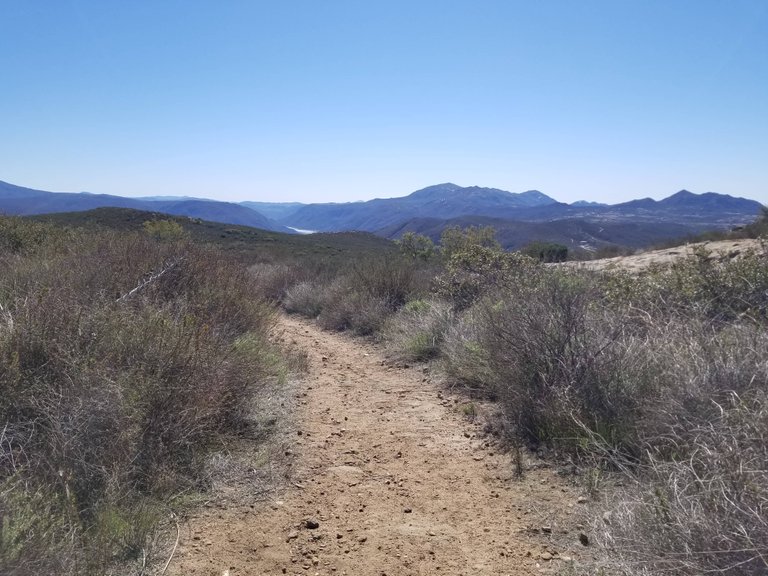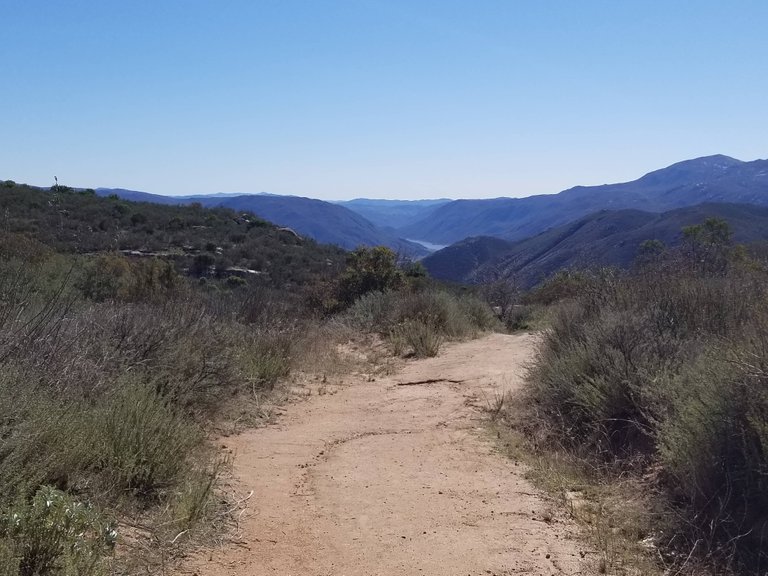 Here is the best shto I got of the Vulture, he was chilling and we disturbed him. I did smell a carouse at this point and found a fox had seen its last days. I did take pictures but I did not share them. No need for that in my opinion. I did take the picture so I can look up to see what kind of Fox it was, for my education purposes.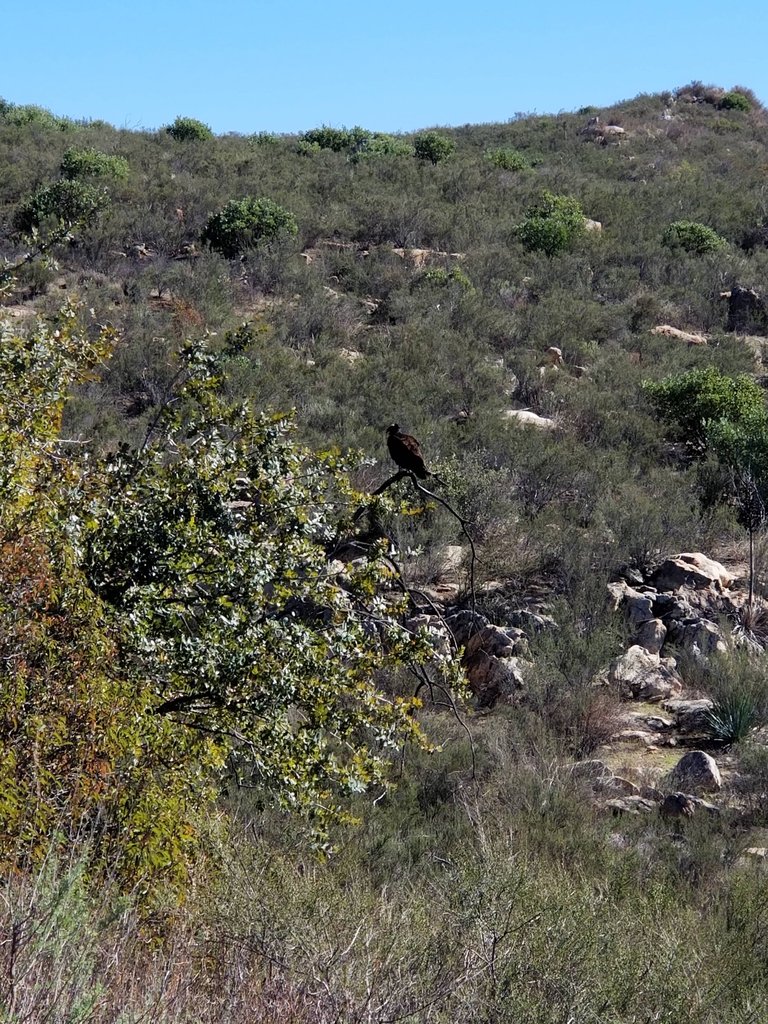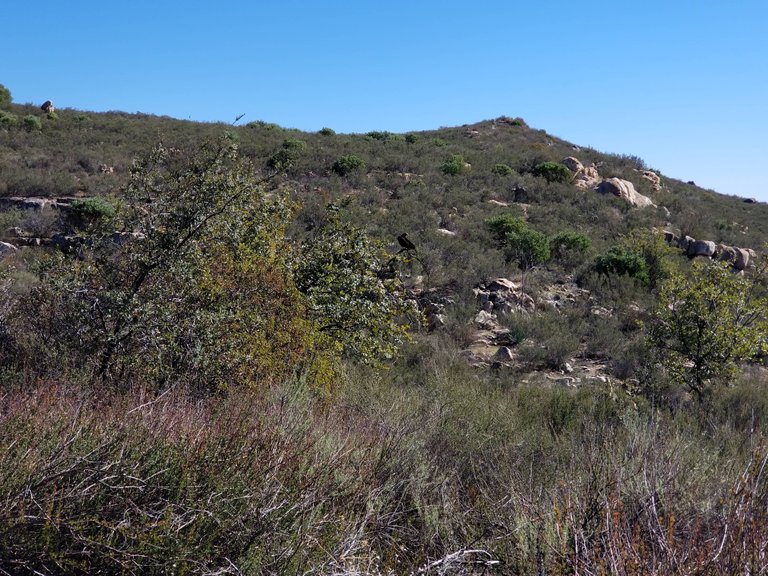 Another shot of the Canyon where the other trail and waterfall is, one day soon that hike and post will happen.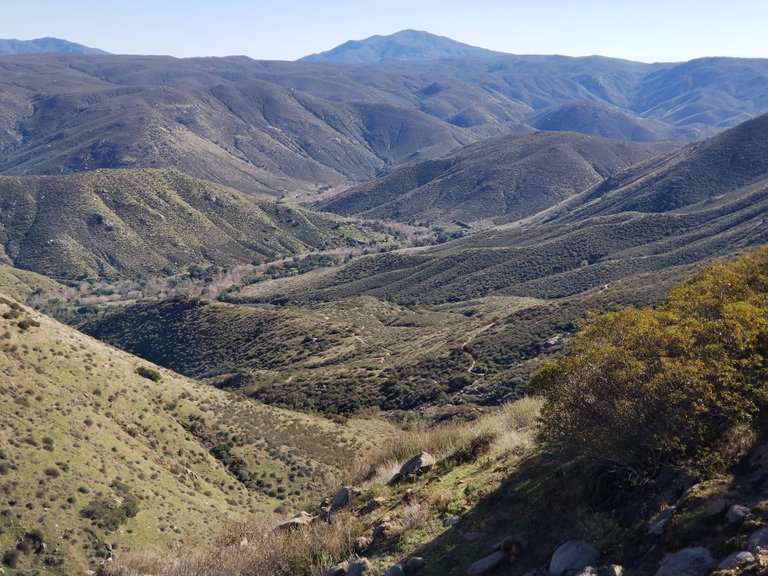 and that's a wrap, it's been awhile since I did my shadow shot on my hike, thought this was cool, anyways thank you again have a blessed day, appreciate you taking the time out your day or night to view my post.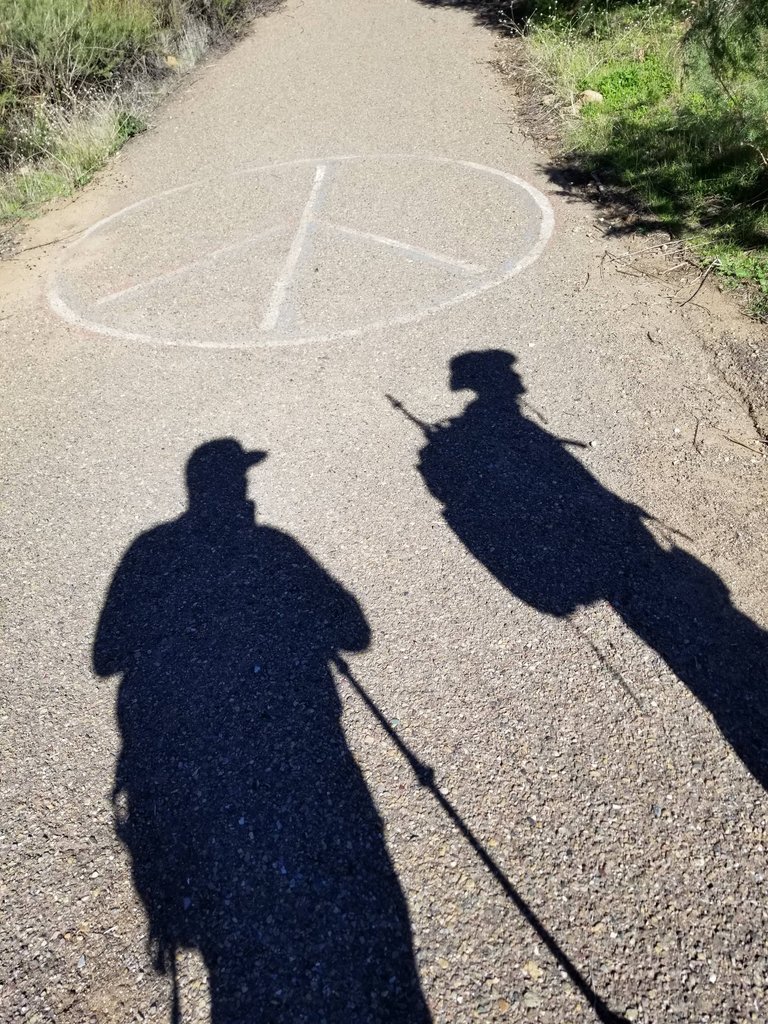 I am not a professional writer nor photographer, I just want to do my best and show my hike and travel journeys with the community and I do appreciate each and everyone of you.
Thank you for taking the time and checking out my post and following me on this journey. Always Blessed to be here and I want to continue creating the best content I can, sharing my thoughts and sights of pictures in my way. So many more to come and I hope you continue enjoying my hikes, posts and pictures. Until the next post, Thank you all, God Bless....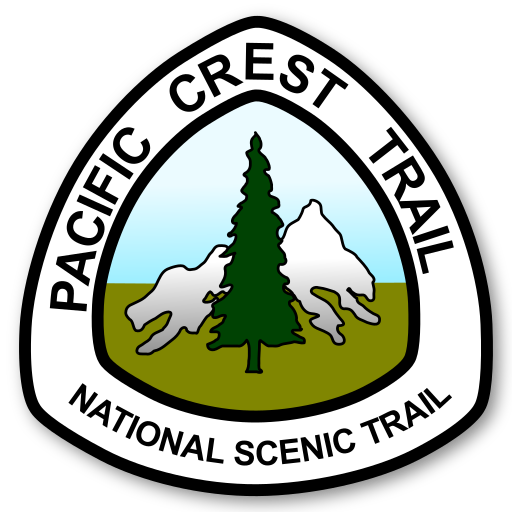 If you would like to learn more about @pinmapple and @haveyoubeenhere go and check out their blogs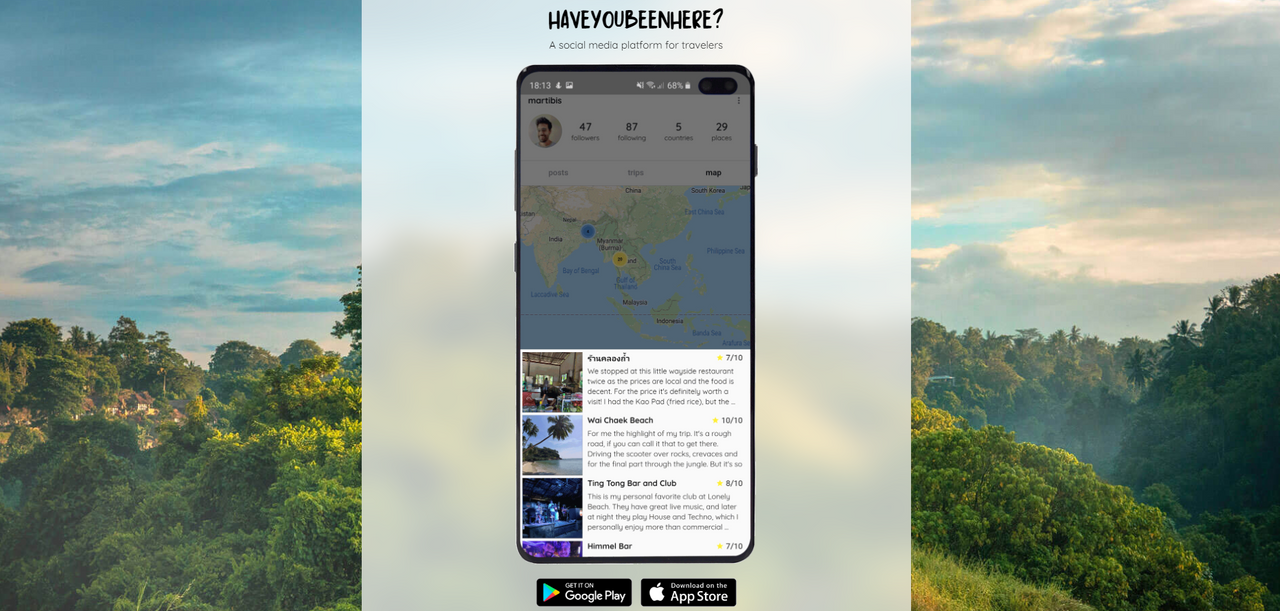 If you would like to check out my pinmapple and all my locations, click the link and it will show my posts and locations.
https://www.pinmapple.com/@shoemanchu

If you would like to help me out with my journey's, you can donate to these addresses....
---
Bitcoin : 13z8G6thHHVsiCj95AkSAMJLivEyb9YHdK

Ethereum : 0x29062f4585DB37b2AC1DDAb8f6B33EB0d76a202b

Litecoin: LdQHXahvpF1UcstTboEHQbHGfzjj9cpM4N
---
NFT Showroom
---
Ionomy exchange
---
My Referral link to buy Hive Tokens:
---
Coinbase
---
Also I've been using Coinbase which makes it really easy and safe to buy, sell, and store digital currency (like Bitcoin).Sign up now and get $10 of free Bitcoin when you buy or sell at least $100 of digital currency.
https://www.coinbase.com/join/5a1e4d14dfb316011f890a07?src=android-email-invite
---
Kucoin Exchange
---
---
Splinterlands
---