Read this post on TravelFeed.io for the best experience
---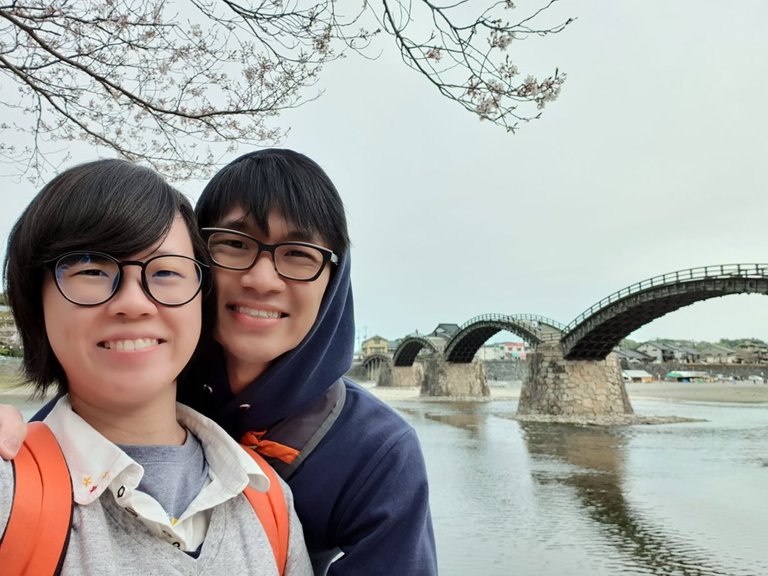 ---
Hey Hive!
If you missed the last couple of posts, we just started recounting our trip to Hiroshima back in April 2019! Sean had won some free air tickets to Hiroshima from a lucky draw sponsored by one of the local banks in Singapore, DBS! Since we've never been, we decided that was a good chance to explore the Chūgoku region!
Last week, we finished our day exploring Okayama returning back to Hiroshima and then taking a sightseeing bus tour to go see Hiroshima Castle, where we got to enjoy a lovely sunset!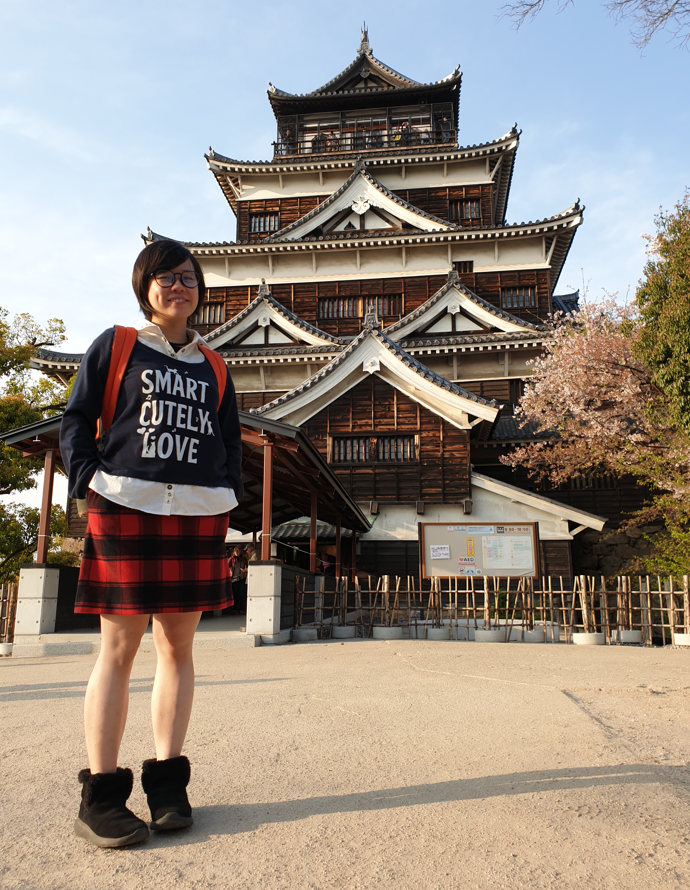 I wrote in the last post that we would be visiting a very special place today so here we go!

9 April 2019. Tuesday.
It was pretty warm in the afternoon so we took a bus to the station. There wasn't too much air conditioning but it was still cooler than walking outside I think. It wasn't even summer yet and it was still pretty warm.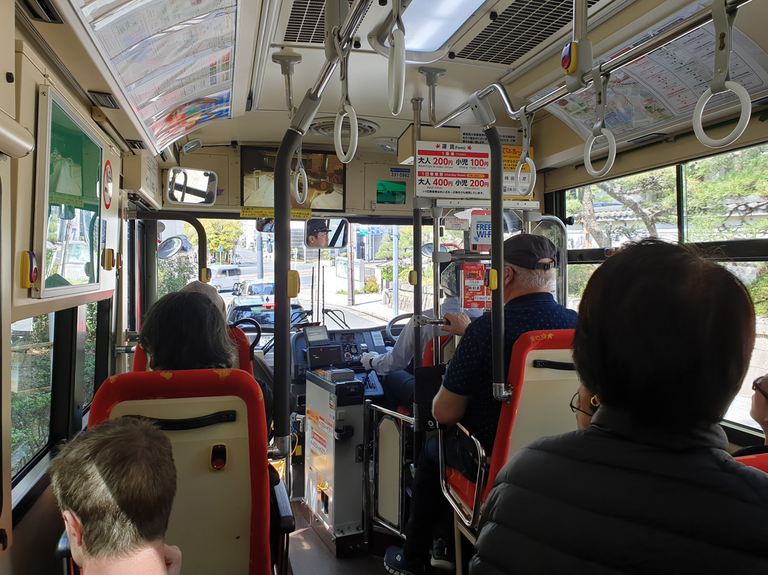 What was curious about this bus was that there was a video showing the popular sights in this part of town with English voiceover and everything! It was pretty interesting and felt like a tour bus. Here's a video:

When we arrived at the station, we were pretty hungry so we went to see what food we could find and came across this teppanyaki place that specialised in okonomiyaki!

It was a pretty small restaurant since it was in the station, but they had a huge teppanyaki grill where all the chefs were working and it intrigued us since we hadn't had the chance to eat teppanyaki in Japan yet!

It was so cool to sit at the teppanyaki grill and watch them preparing the food right in front of us!
Here's a video:
After a couple of minutes of ogling at the food, our order was ready! So we got an omelette: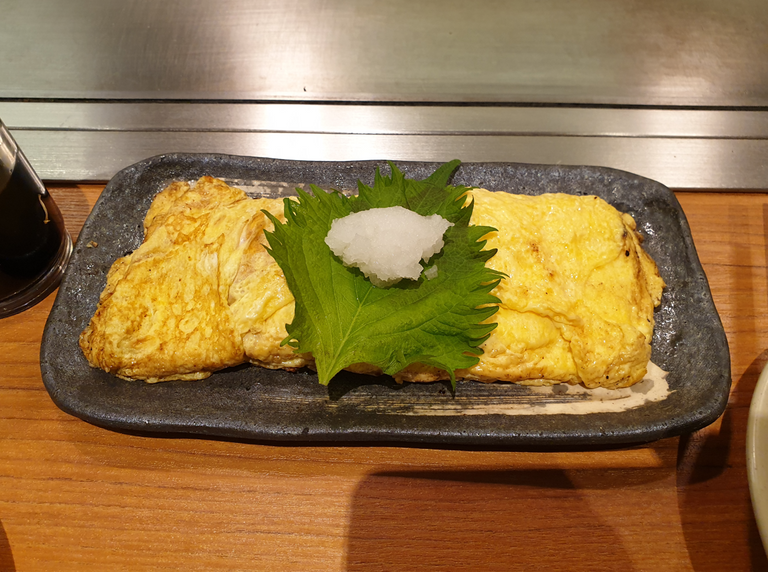 and a bacon okonomiyaki (if I recall recorrectly):
I'm actually not a huge fan of okonomiyaki since I like my meals to be more savoury and the sauces are typically quite sweet. And in Japan they don't normally have chili so it's not spicy either. But this one was pretty good. The bacon helped to add some salty flavour but it was still pretty sweet nonetheless.
It was good though, just not to my taste per se. The omelette was pretty normal, just tasted like a lot of fried egg which is always yummy anyway.
After that we took the train and arrived Iwakuni Station! But we still had to take a bus to reach there since it was quite a ways away. Thankfully the bus schedules in Japan are all very exact but because it was quite a remote area they were more infrequent. So while waiting for the bus we decided to check out this nice little cafe to get more snacks since the okonomiyaki wasn't very filling.
Unfortunately I didn't take a picture of the cafe from the outside, but it was a very cute and comfy little place. It looked very homely on the inside and it looked similar to how I imagined the cafes I read about in books.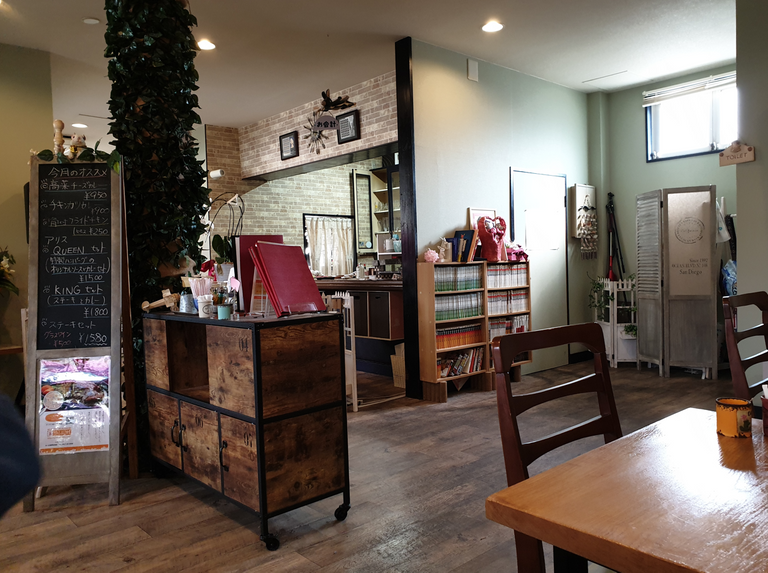 We ordered a glass of banana juice: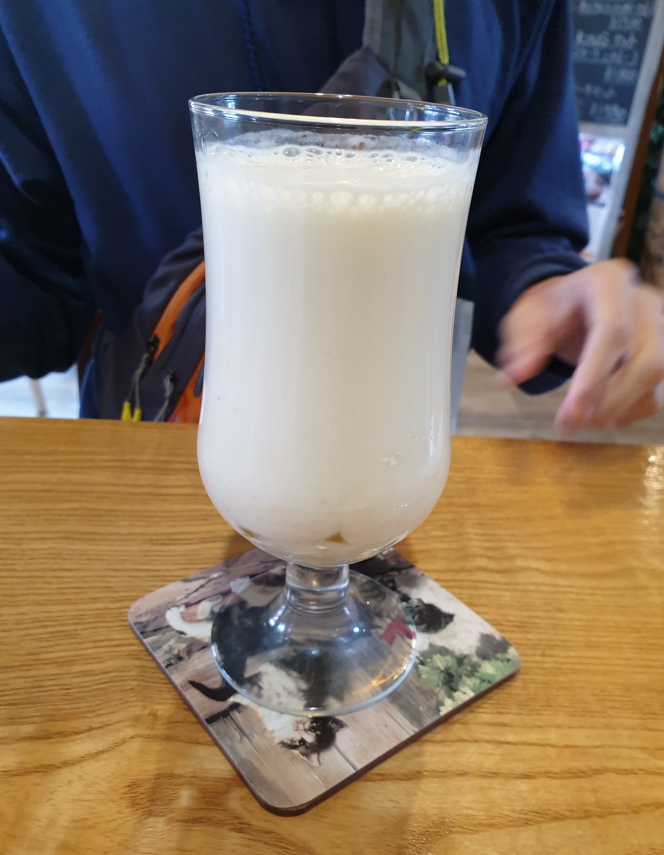 And a plate of yummy karaage!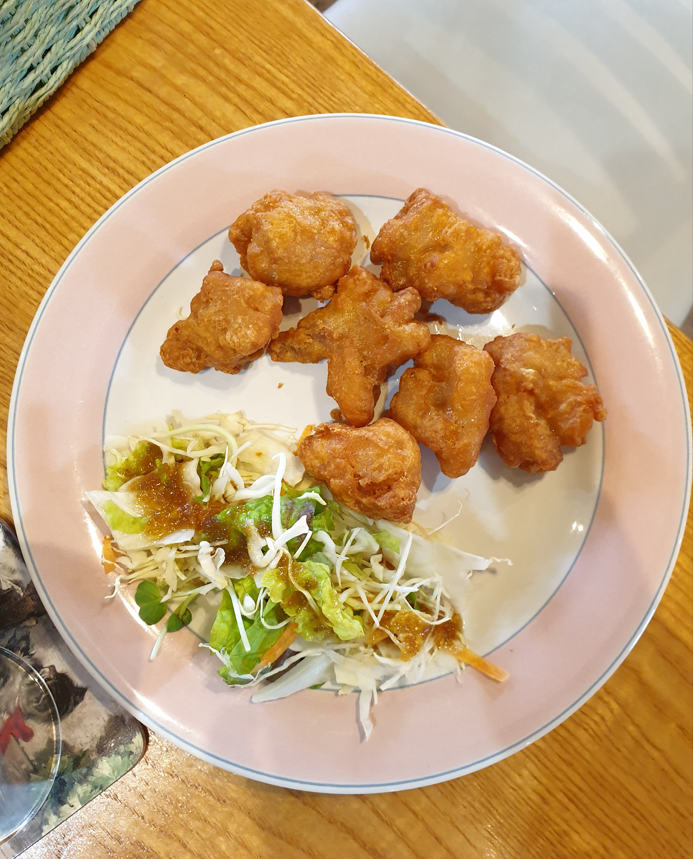 It was soo tasty and juicy I wanted to eat them all at once but also savour it so I took smaller bites.
And this was where we were going to visit today! It's called Kintaikyo Bridge and is a historical wooden arch bridge, in the city of Iwakuni in the Yamaguchi Prefecture. It is a pedestrian bridge that was built in 1673, spanning the Nishiki River in a series of five wooden arches. The bridge is located on the foot of Mt.Yokoyama, at the top of which lies Iwakuni Castle. (Source: Wikipedia)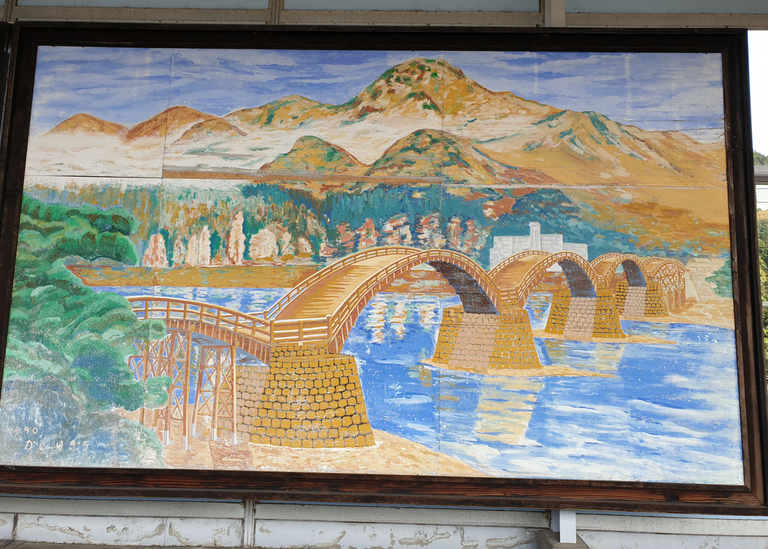 The interesting thing about this bridge was obviously the shape of it because it's unlike any bridge we've ever seen in real life! I've definitely seen curved bridges like this in books, movies and games but never in real life; and since it was still sakura season we decided this would be a very lovely spot to enjoy the scenery and the flowers!
And about 20 minutes later, we finally arrived at the bridge!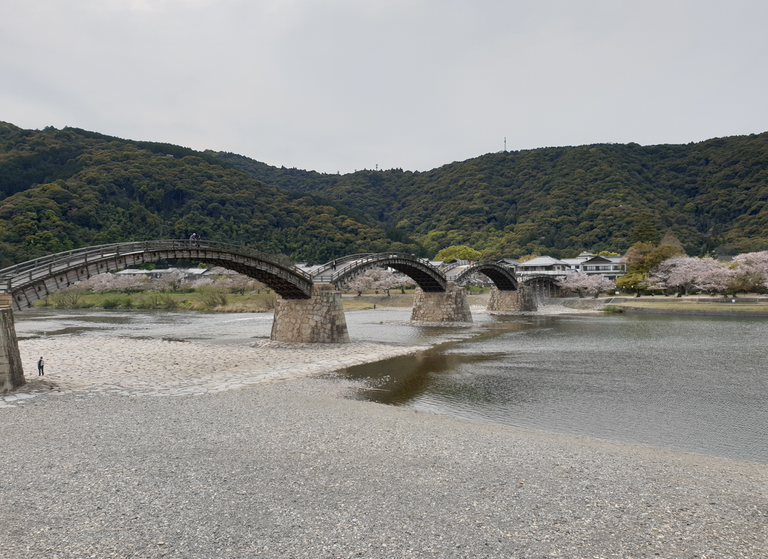 And man what a view! There was a whole line of cherry blossom trees on the other side of the river too! And it was absolutely breathtaking!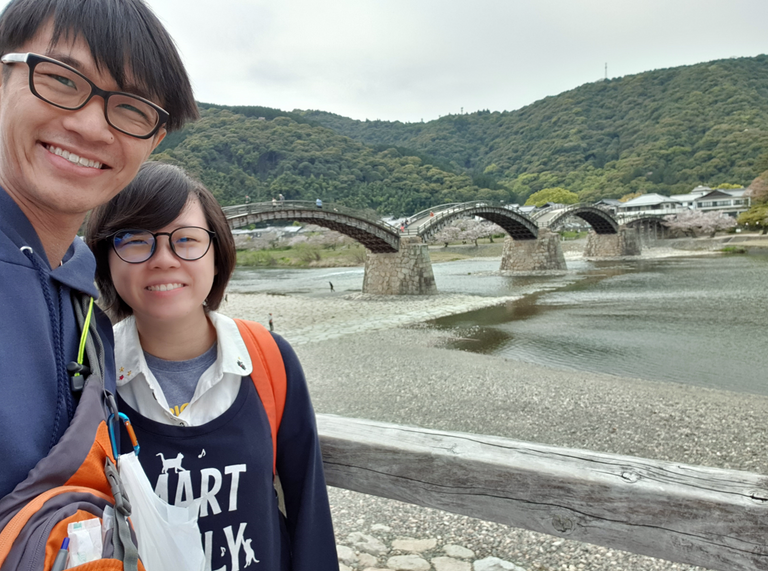 The river was also on low tide so you could go down below the bridge to the river bank and take photos! Perfect timing!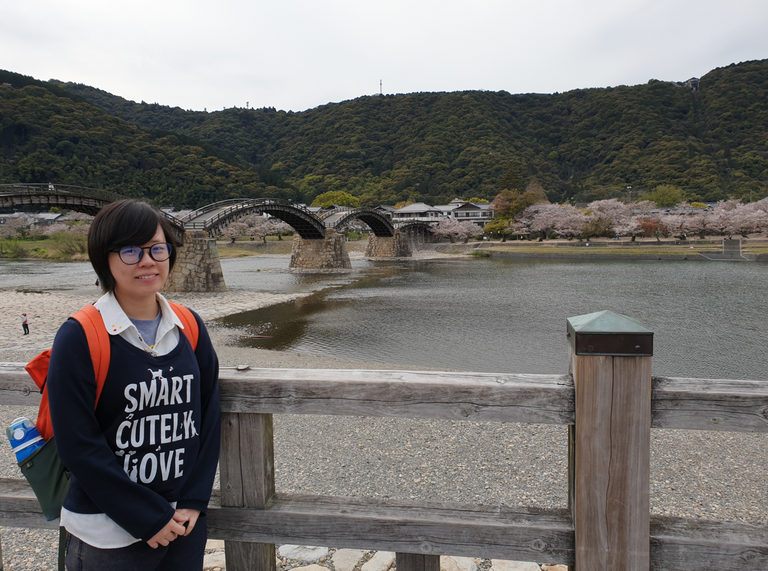 Here's the map and information board of the surrounding area, including some key sights like Kintaikyo Bridge, Iwakuni Castle, Ropeway, Iwakuni White Snake Museum, Kikko Park, Momijidani Maple Park and the Visitors Center.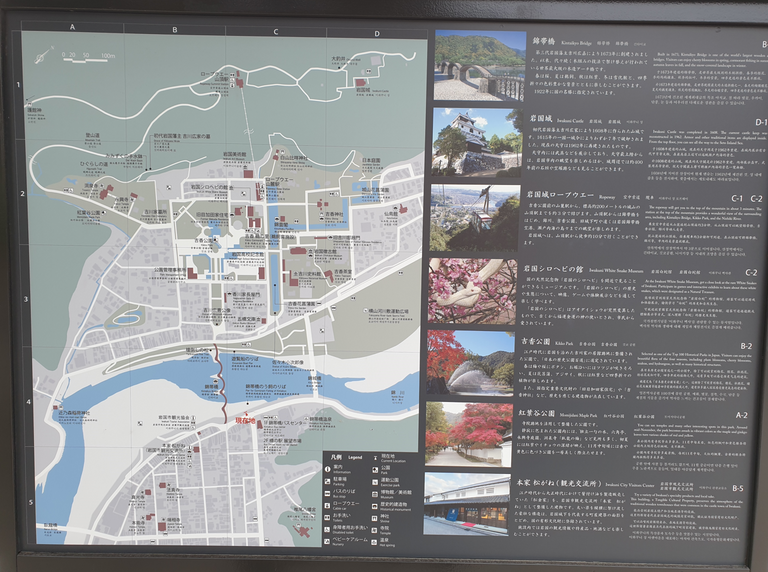 Here's a short video from Sean:

I tried my best to take a shots of the overhanging sakura with the bridge but it was tough to get a good angle.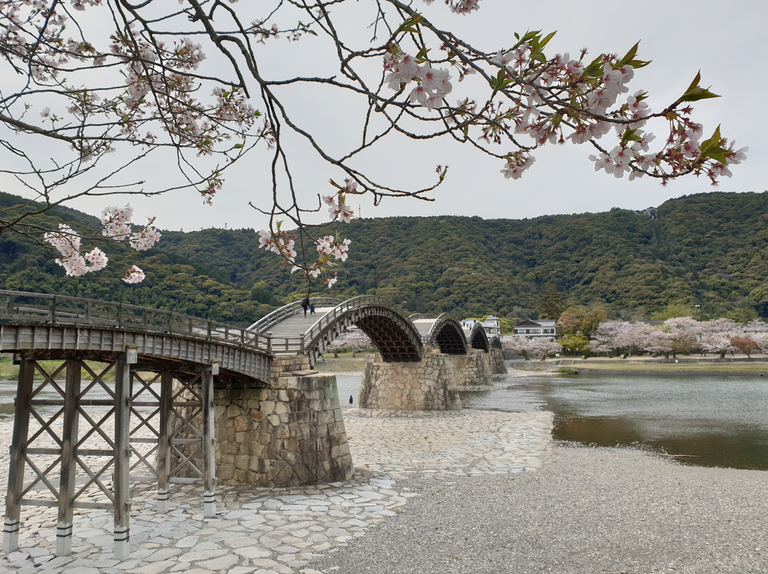 It's a shame the sun was gone although it was cooling the sky did look a little murky.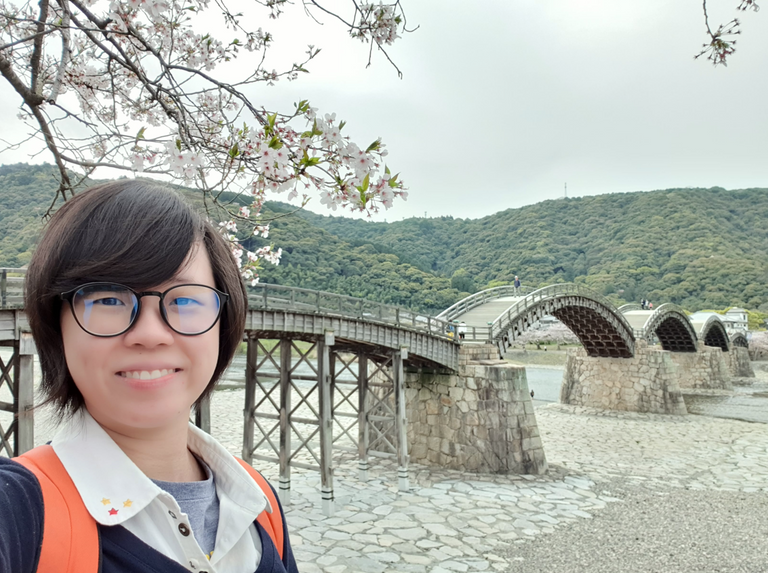 But it was fine though the view was pretty good already.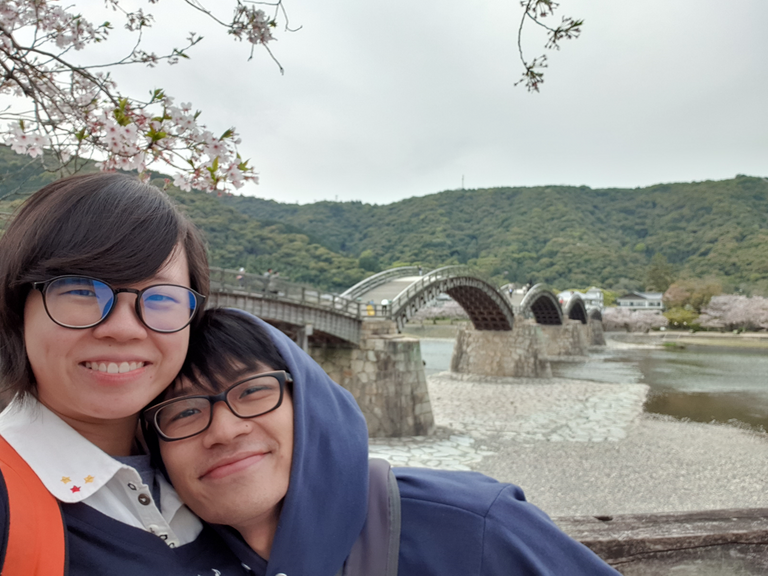 After taking a lot of photos, it was time to cross the bridge! You actually did have to buy tickets to cross it and it was 300yen for each adult.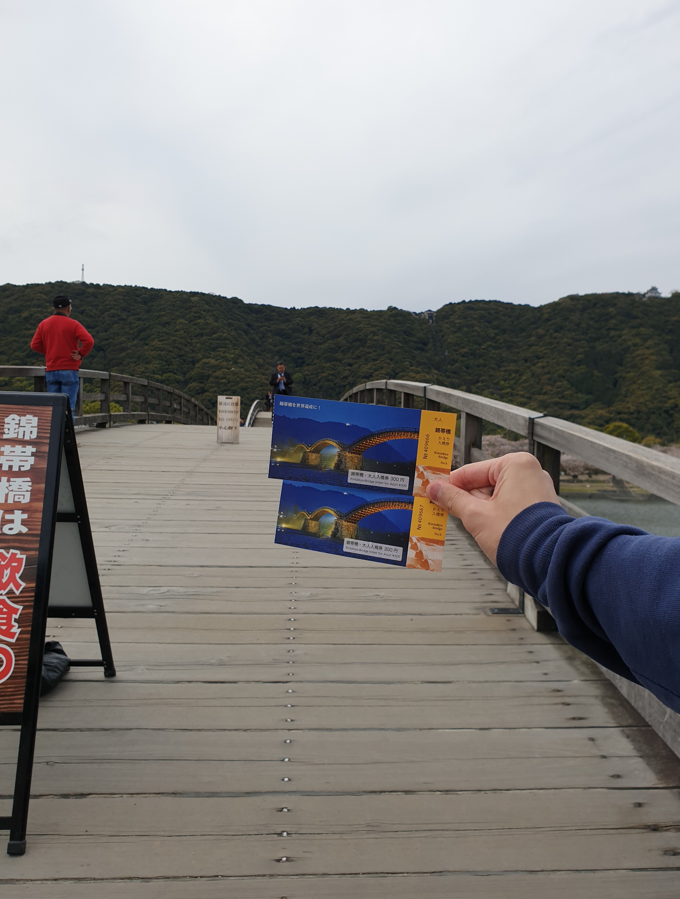 After we bought the tickets, it was time. So up and down and up and down we go!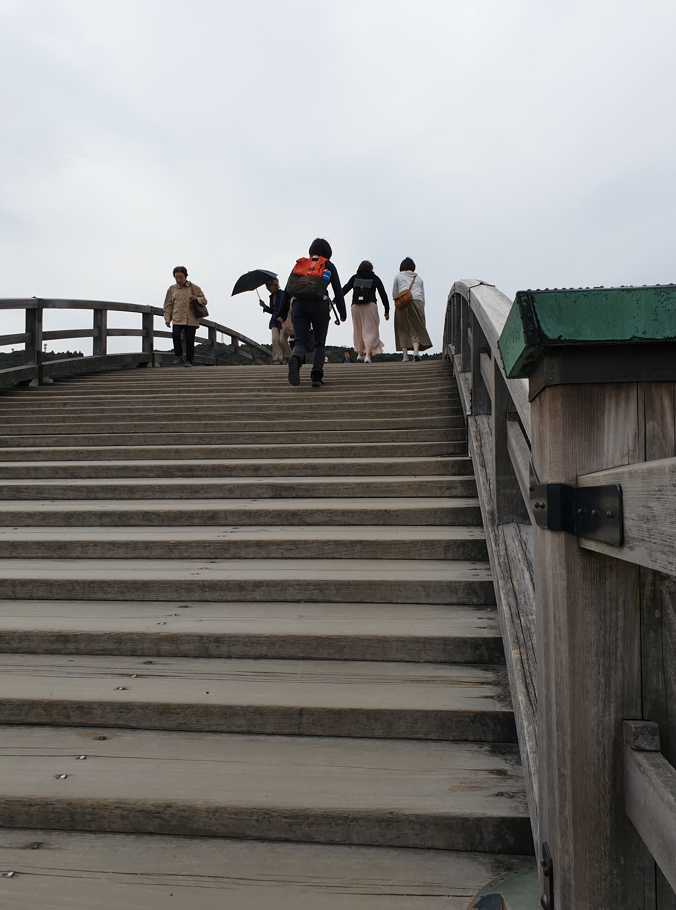 The stairs on the bridge at each arc were pretty short so it wasn't steep and relatively easy to climb but they were wide.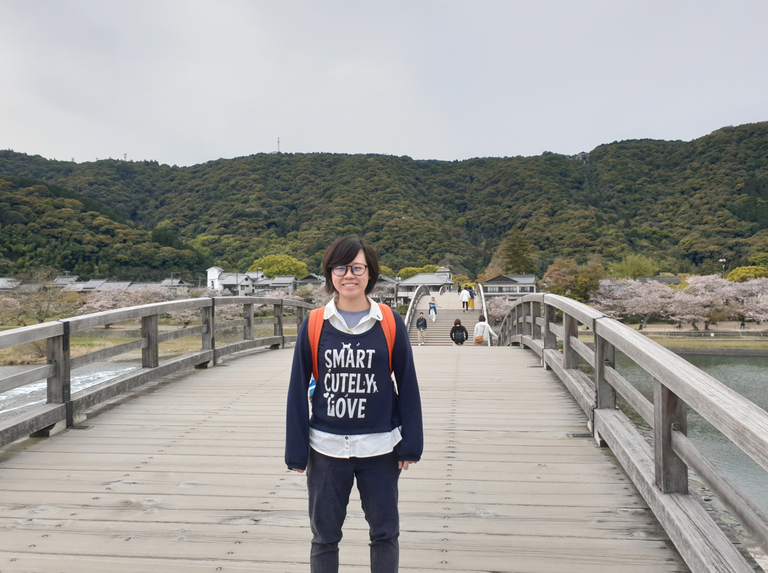 It was definitely an interesting architectural design though. And I daresay it was pretty fun crossing it!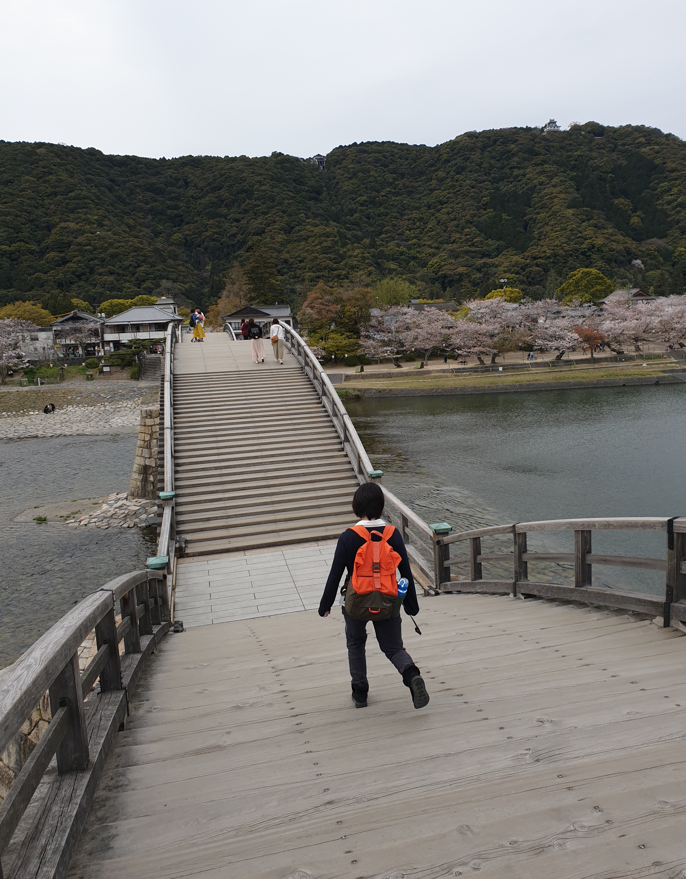 We weren't sure if we were allowed back on the bridge after we crossed it so we made sure to take our time and enjoy the view on the bridge itself.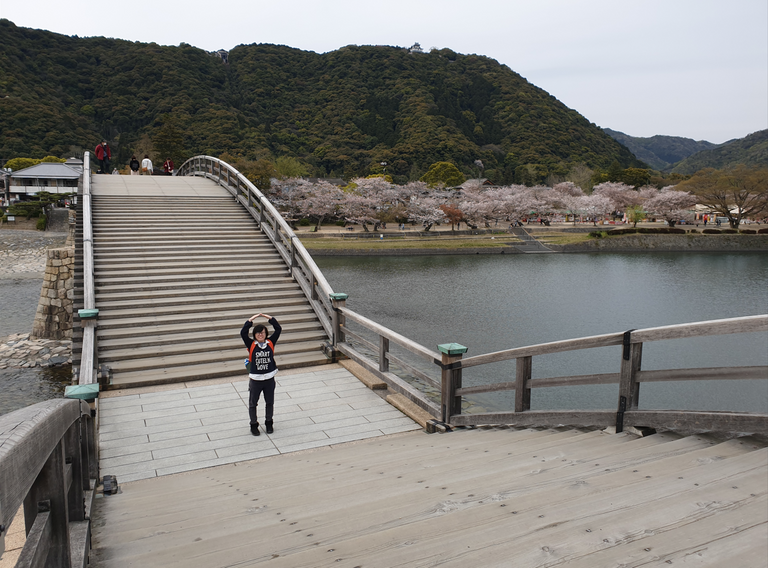 The Nishiki River wasn't too impressive since it was really shallow but it cool to see the riverbed and actually be able to physically stand in it I suppose.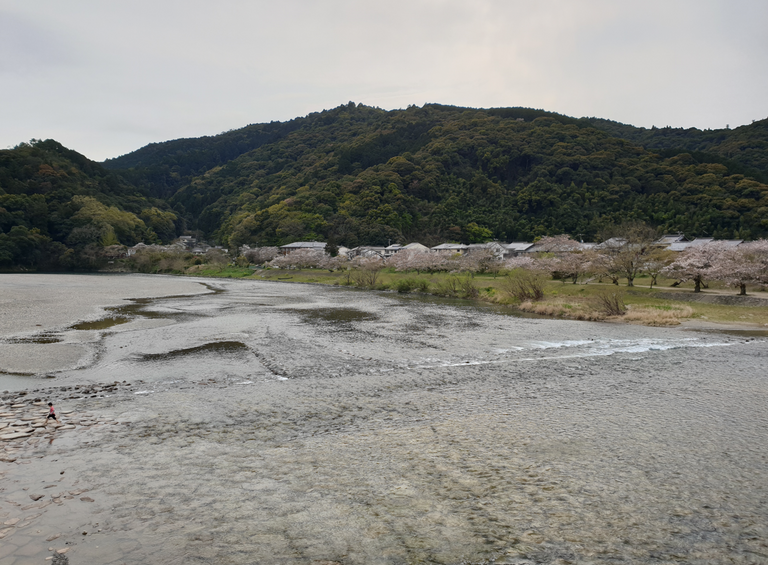 There were actually a lot of people on the rocks enjoying the view from below.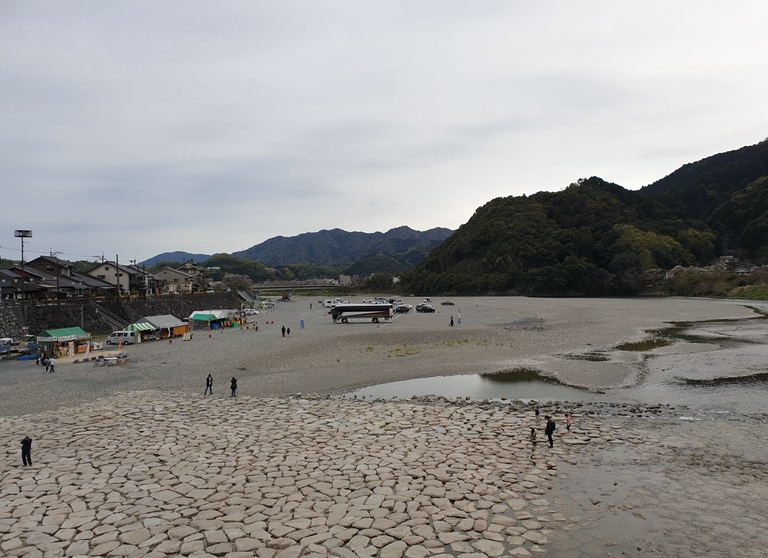 It got kinda windy while we were on the bridge so it was chilly without the sun.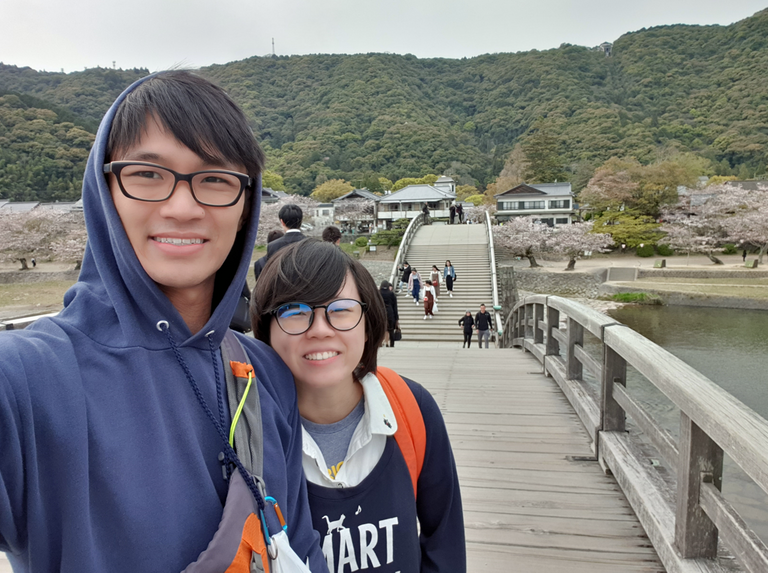 It was funny since one side of the river looked full while the other side was more than half empty. It was like the bridge was the dividing line, or curve I guess.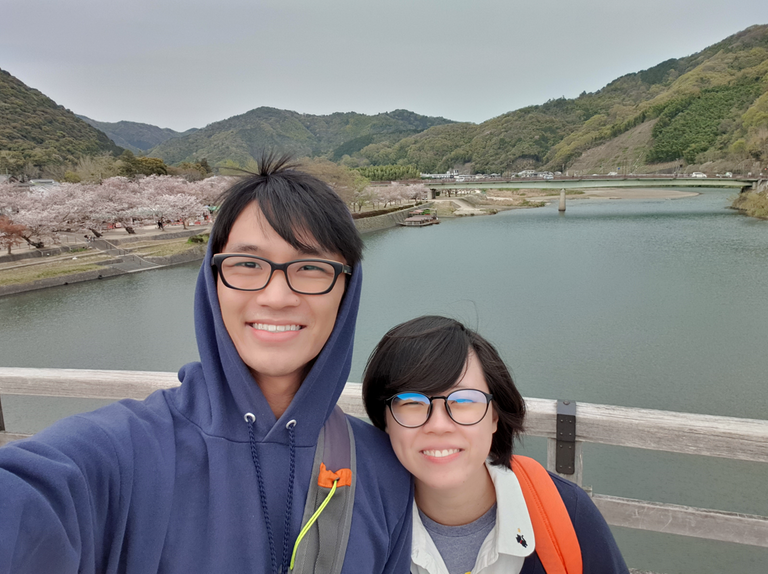 There were quite a few tourists here too. I guess the view is really well known despite it being quite a remote area away from the city.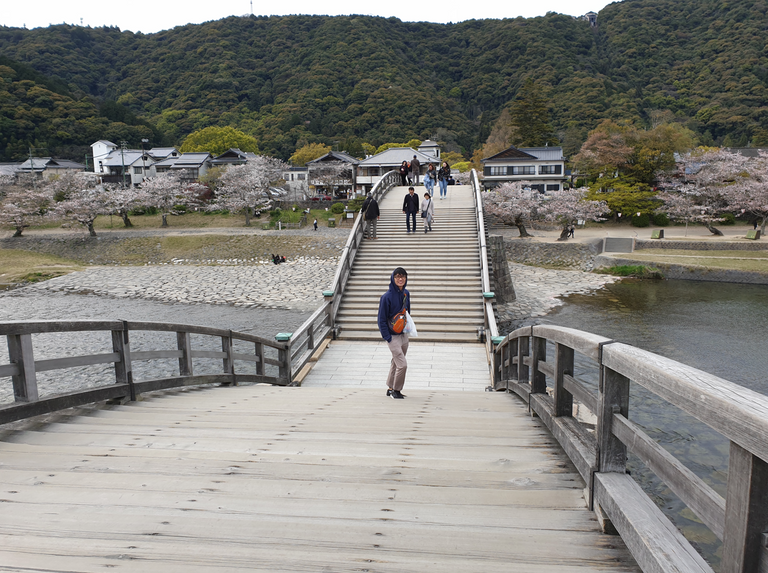 I definitely felt a lot higher at the peaks of the bridge. And the view was quite different as well.You could see a lot of Kikkou Park from the top of the arcs and truly enjoy the sakura.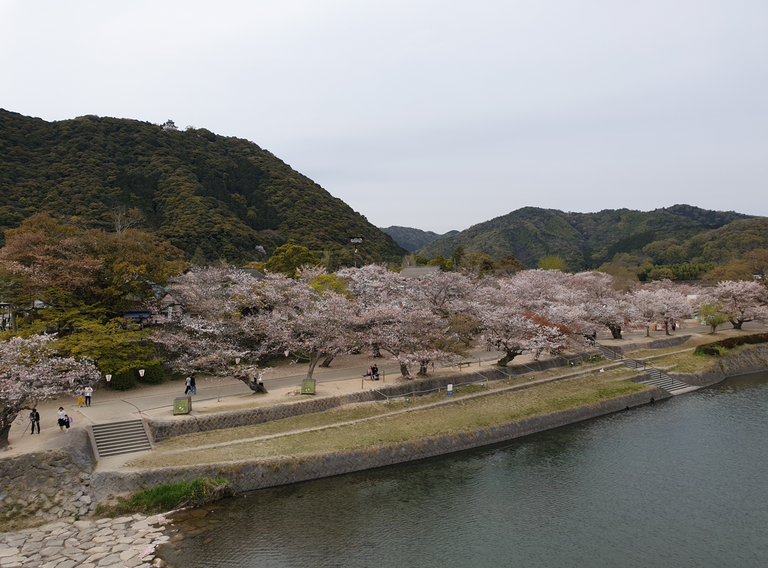 After taking a bunch more photos we crossed to the other side and went to go explore the park and enjoy the cherry blossoms.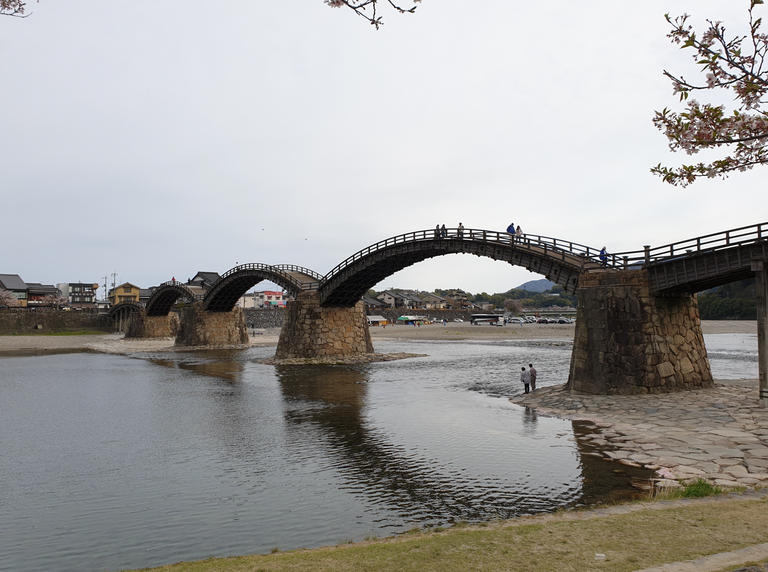 And also take even more photos!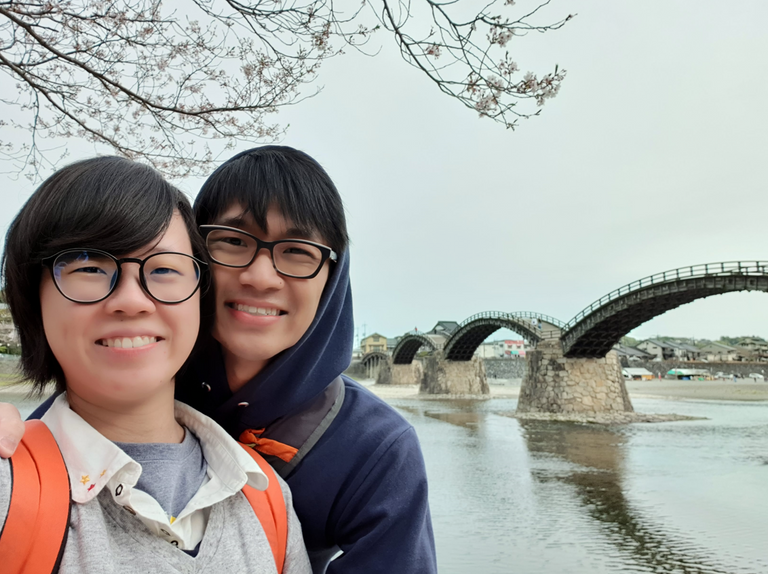 There was even a lovely bench here to just sit and watch the view and also take some nice photos!
A shame that this tree wasn't as blooming with sakura as the ones in Hiroshima though. I think these were a few days off from their prime but it was still quite lovely nonetheless.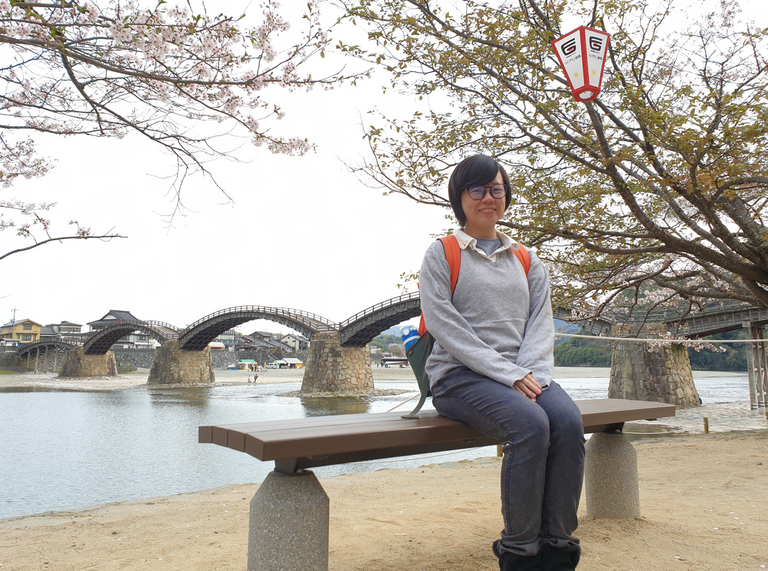 Especially when we went to go take a walk in the park.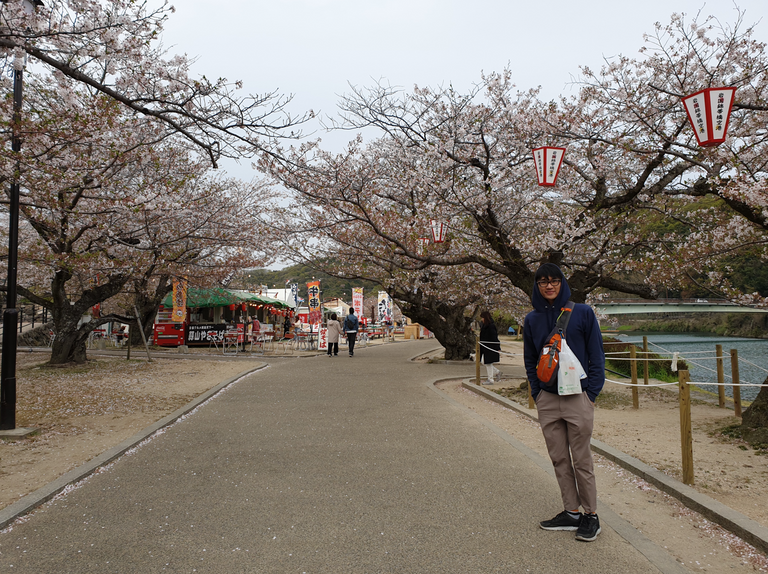 But I think we'll cover that in the next post! Sorry for the abrupt end but this post is getting pretty long already. Here's some pretty blossoms in the meantime: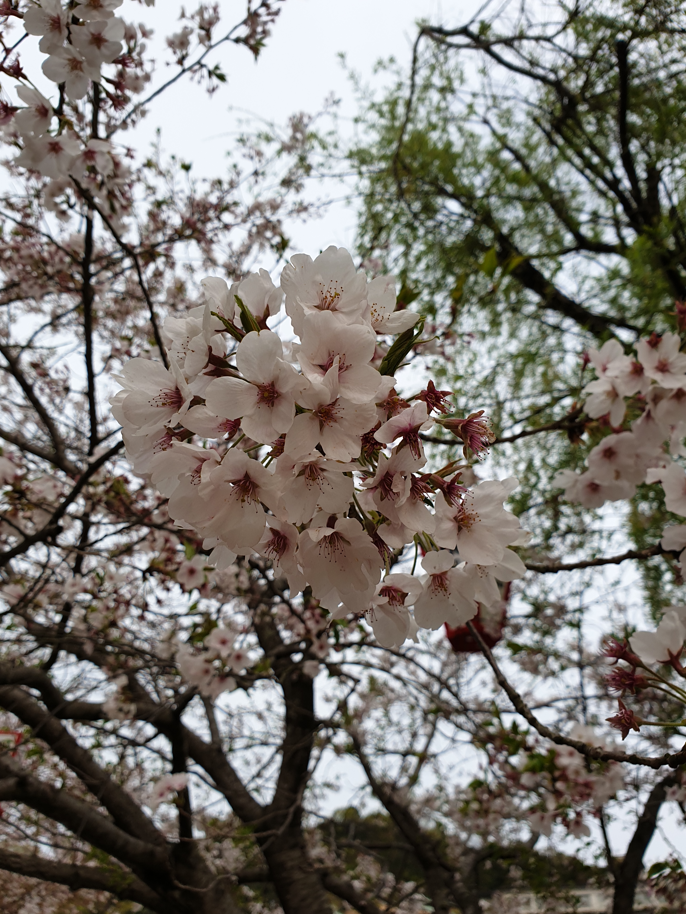 Thanks so much for reading!

To find out more about me, check out my intro post here!
---
Check out my previous post in this series!
TacoCat's Travels #150 (Hiroshima): Sunset Stroll to Hiroshima Castle! 🏯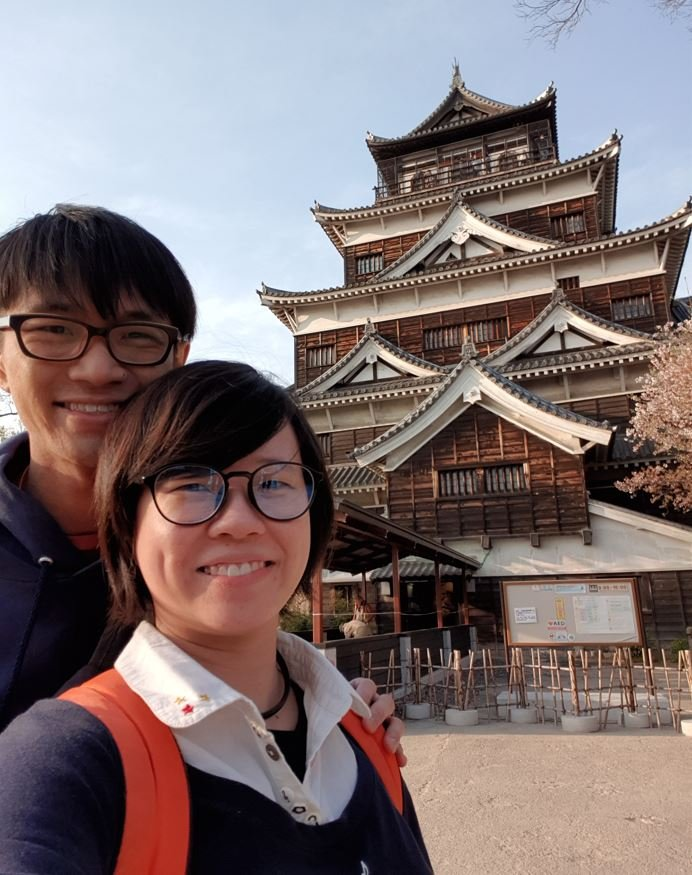 ---
View this post on TravelFeed for the best experience.