Way back in 2019, we planned a trip to Pha Sawan Waterfall. Thailand offers many waterfalls but we often found that if we didn't visit at the right time, then many of them would dry up or turn to a measly trickle over and under a pile of rocks. We have had many disappointing trips in the past and now make it a rule to only visit waterfalls that are famous for having a year round flow or restricting our visits to just the rainy season.
Pha Sawan Waterfall is in Kanchanaburi Province, a little out of the way but a great place to visit if you love the wild outdoors. Pha Sawan also has a reputation for having one of the tallest falls in the area.
We couldn't find much about the route leaving the main road but knew there was a 13km offroad track into the waterfall and a small wooden bridge to cross somewhere deep in the jungle.
Excited to explore, we headed straight there after the local area had just received a few days of rain - surely there would be water!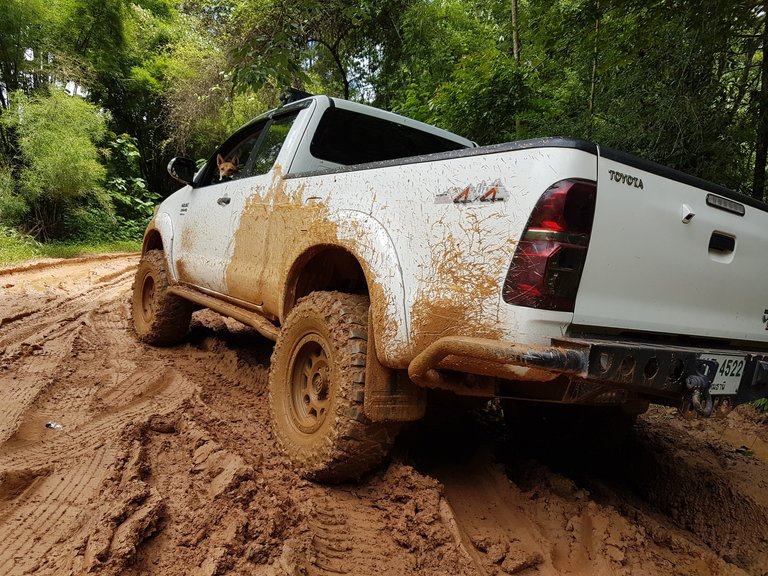 Source: Google Maps
https://goo.gl/maps/bHcXrqZ65q1Jfqin6
The map leading us from the local road was slightly off! It read as mix of walking trails and roads but still confirmed a total distance of 12.7km.
As we turned off the local road we felt confident the track would lead us to the right place and could already see plenty of other tyre tracks in the mud so thought, if others are doing it, then it can't be that bad!
It didn't take long for us to start spotting those same tyre tracks making 3 and 5 point turns, obviously deciding that they no longer wanted to continue! We soon encountered an ever worsening track, deeper holes, more mud, bogs and overgrown vegetation.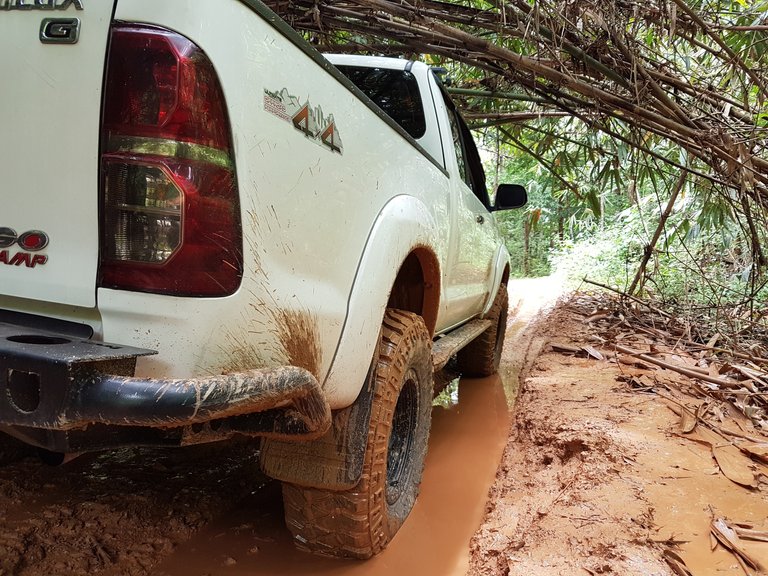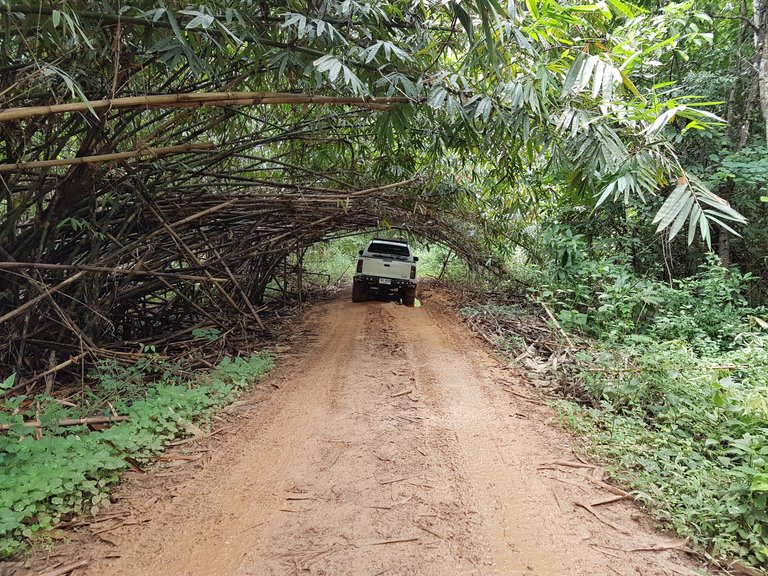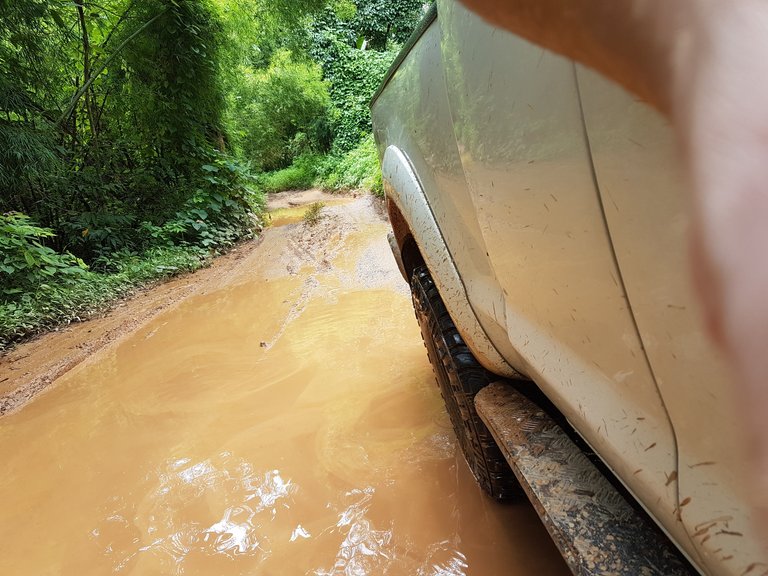 Luckily each bog hole and puddle had a hard bottom and we managed to drive in and out without any trouble. At this point we really had no doubt that the waterfall would be raging with the sheer amount of ground water about.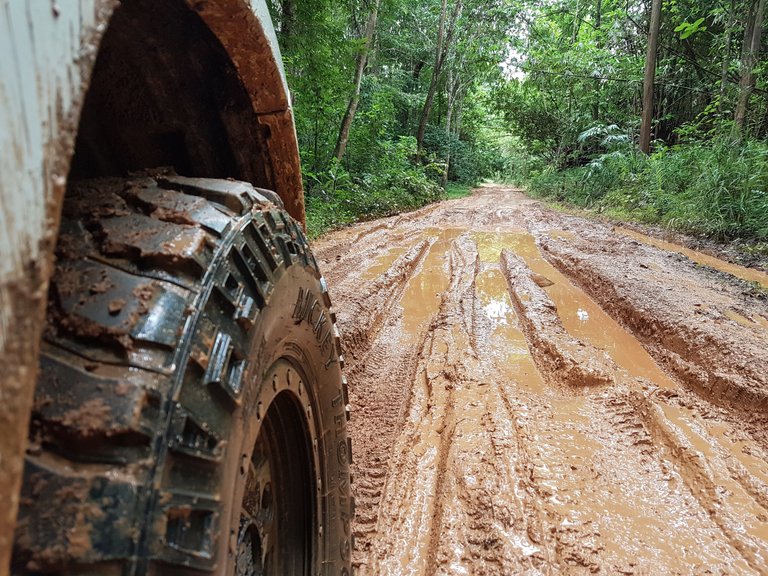 We have used several tyre brands in the past but now always rely on Mickey Thompson MTZp3 Mud Terrain tyres. They have always been great for whatever we throw at them and last surprisingly well for long daily commutes as well. They have an aggressive lug pattern with added sidewall grip that hook up well in both mud and sand and have easily out performed their 100,000km drive life.
I usually sell the tyres on just after we reach 100,000km but still at that point they are far from bald and still have the same amount of tread as a standard road tyre would have - still plenty of life in them for regular use. The photo above shows the tyre tread after about 70,000km - they could be better, but still good enough!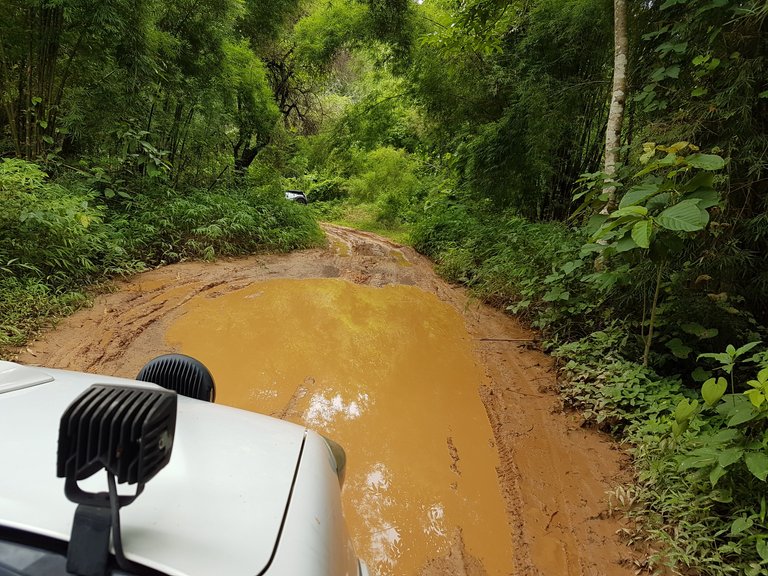 As we continued along the muddy track, we experienced the same muddy slop the entire journey. We were grateful that the track was level and didn't have steep slopes or dangerous drop-off edges. The flat track would therefore pose no danger to sliding in the wrong direction.
We also caught up with another group of 4x4. Although we normal travel alone, it was fun driving in convoy watching each other take on the next obstacle and know that if you did get stuck, it would be easy to get pulled out.
A few corners later we had arrived at the wooden bridge somewhere deep in the jungle that everyone talked about. It looked strong enough, I mean the wood was plenty chunky but how thick does the wood need to be to hold a truck and how strong were the fixings!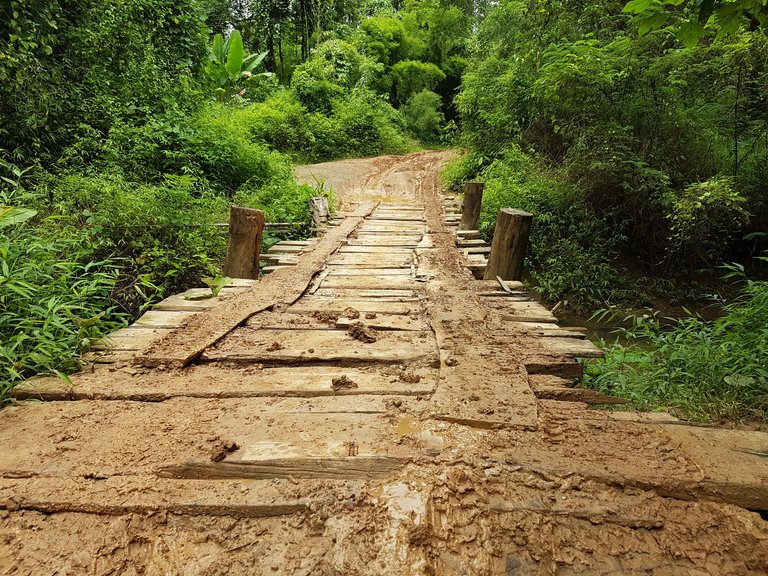 Without hesitation we got out and checked the structural integrity of the wooden bridge. To be fair this was nothing more than a walk over, jump in the middle and tell one another than the tyre marks clearly show that it is truck strong! Spotters were available so we slowly crawled over trying to avoid the edge on either side.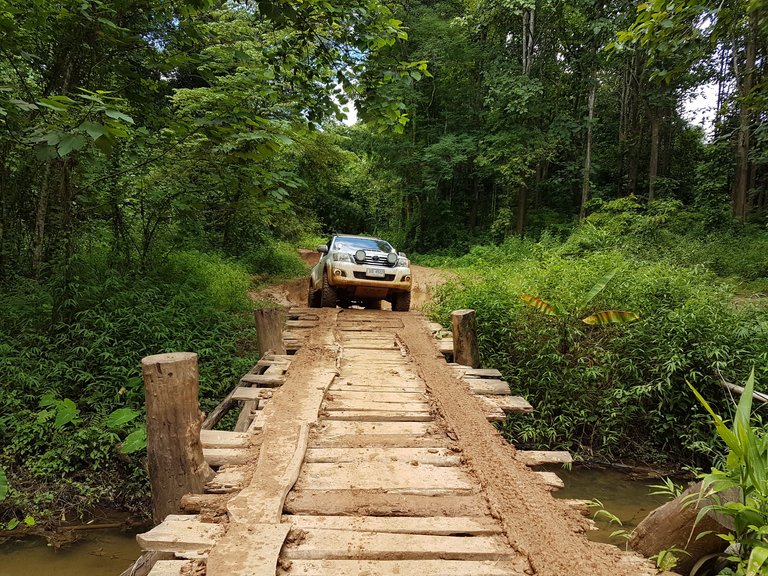 The wet mud didn't really help with the already wet and slippery wood. The first lift and roll onto the bridge created a slight wheelspin as the wheels lost grip on the smooth planks and from there we knew we had to crawl.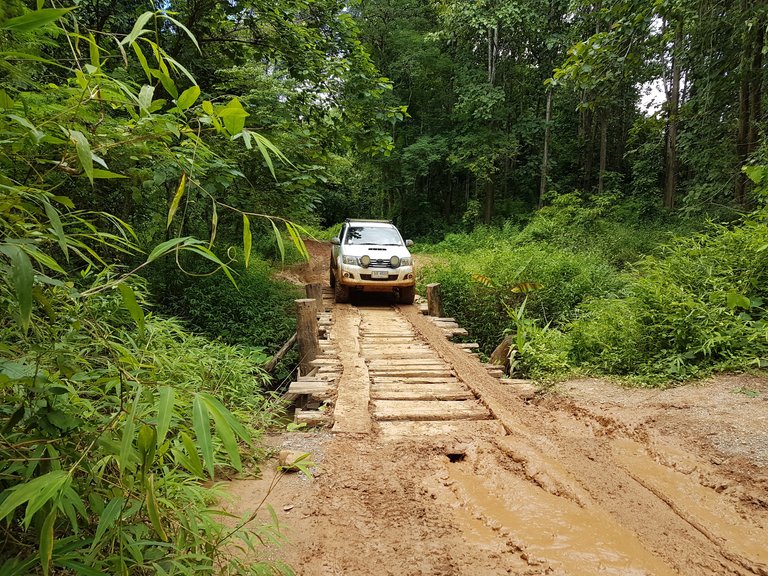 Our first thought when trying to cross was, why didn't they just make it a foot wider? My wheelbase is slightly greater than standard but only by a few inches and my wheels were already hanging off the wooden run-planks either side. It was quite unsettling to say the least, especially since none of the top planks were nailed down and would move as you drove over each one!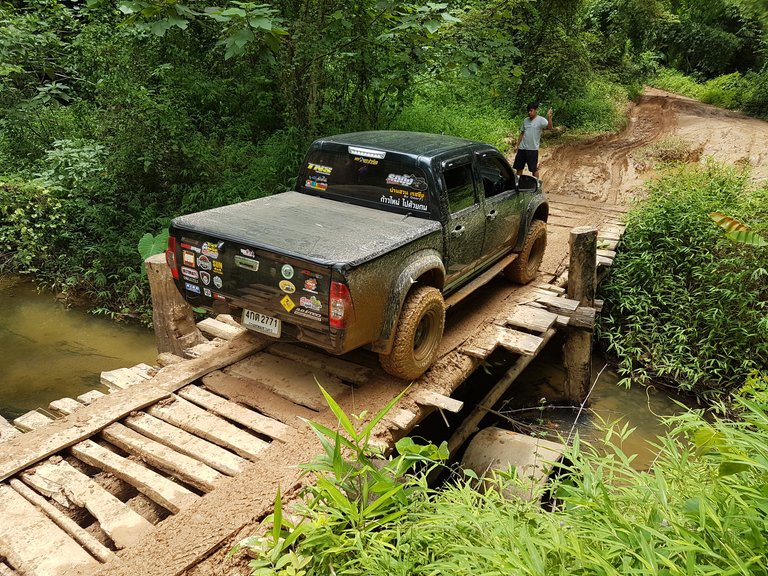 We soon met other vehicles, some travelling in the same direction and some travelling back out. We heard that the track ended at a large clearing and that there was a hike through the forest along a cut footpath up to the waterfall... and that the waterfall was full.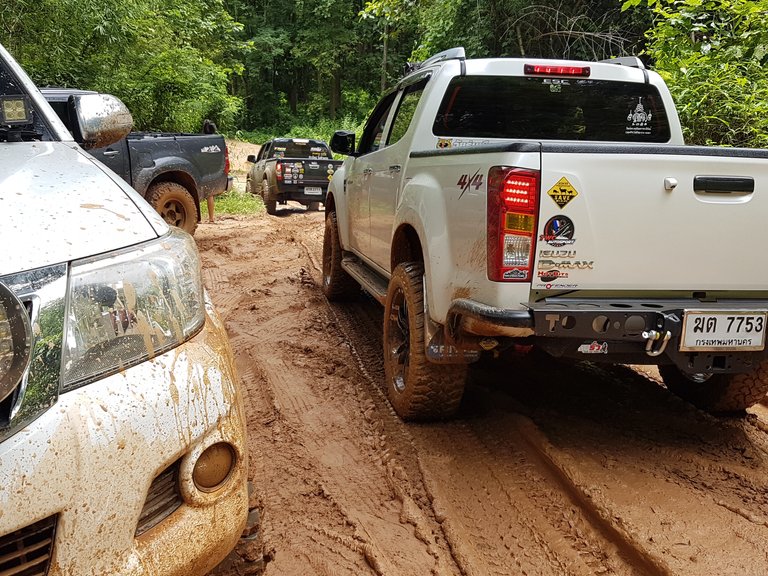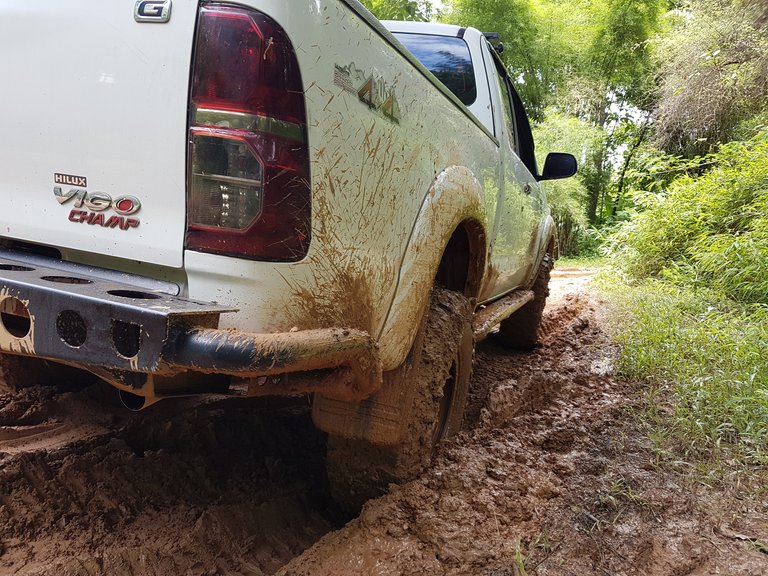 After a long and slow slog through the jungle we came to the opening. Almost like a 4x4 paradise with big trucks everywhere. Unfortunately I didn't get any good photos of the big rigs but can say, I wanted one!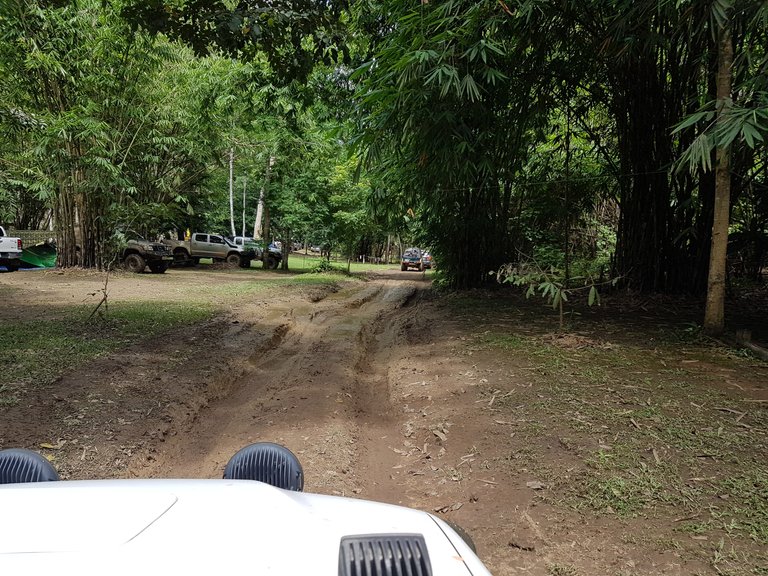 Finding the trail up to the waterfall was harder than we had anticipated but with so many people around, it was easier to just ask. Cut branches and footprints were easy to follow and the sound of water grew louder as we walked further.
Unexpectedly, there were multiple waterfall tiers, each one more magnificent than the next.
It was very hot and humid trekking in the middle of the day deep in the jungle. Our dog of course joined us for the trip but made the most of every puddle and pool of water she found.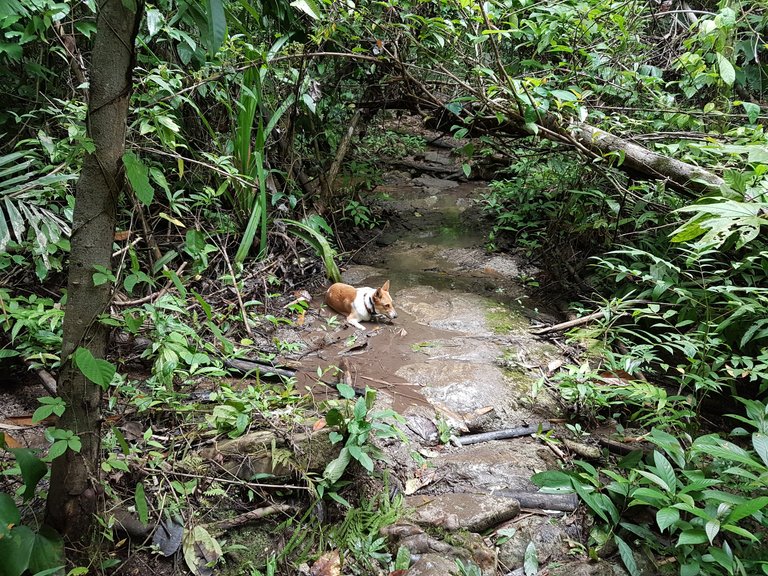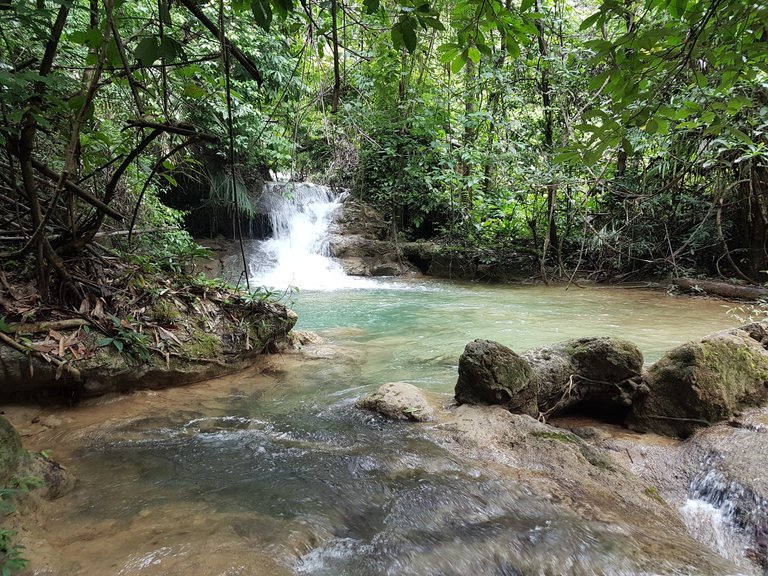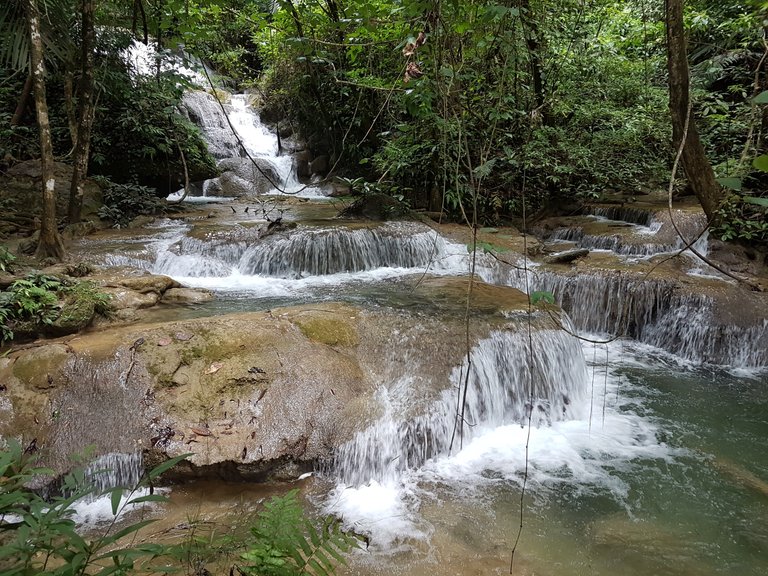 Climbing from tier to tier needed some thought and planning. The track that we had followed started to disappear but there were small trails and foot holds people had made to climb the sides of each waterfall. Some of the wet rocks were very slippery and were best avoided.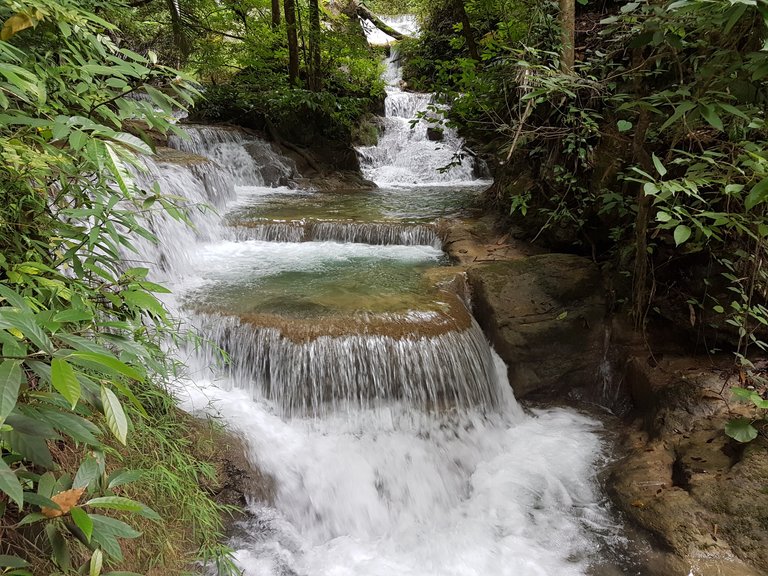 The higher we climbed the further we wanted to go, even after telling each other that the next tier would be the last.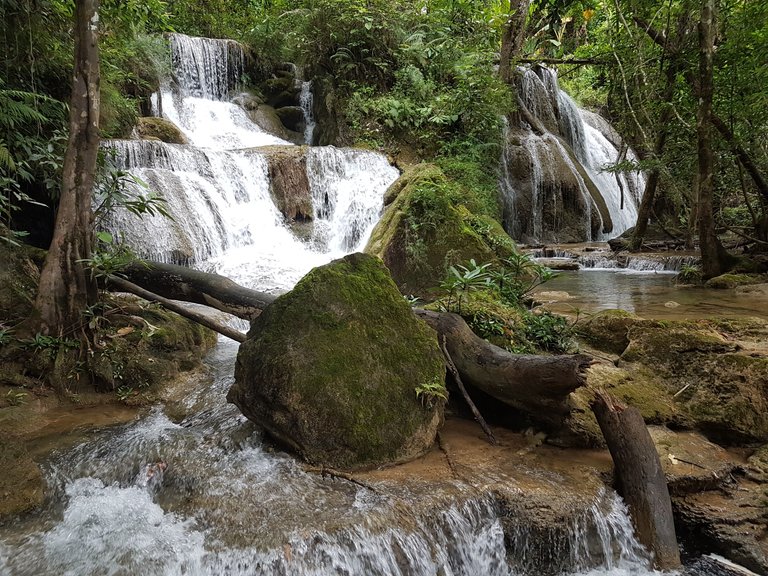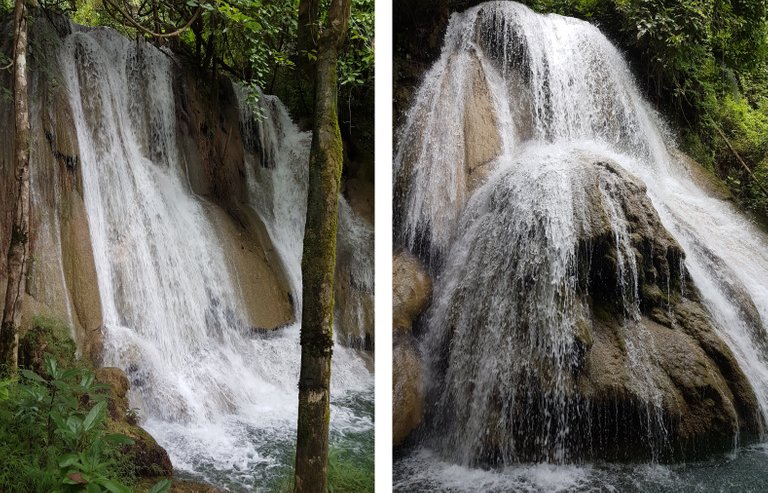 Looking back over old photos and comparing it with the camera or phone that I use nowadays I really wish that I had a wide angle lens back then. A lot of the waterfalls here could only been seen close up, otherwise they would have been hidden from all the lush vegetation. A wide angle lens would have been the only way to capture the falls in all their glory.
I hope you enjoyed this post and please follow for more like it in the future.
All content is original: the photos (unless stated), the writing and the adventure!