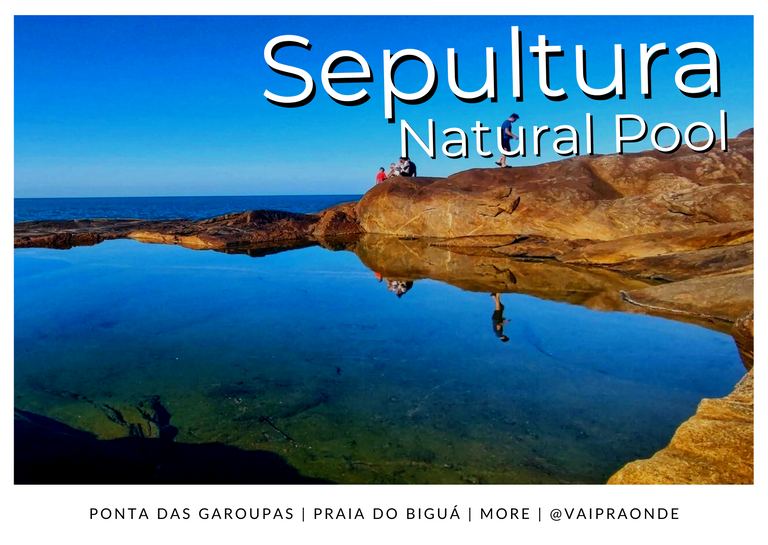 Hi friends, how are you today?!
Continuing the post 4 beaches in the Bombinhas region, it's time to start the Sepultura Trail.
Explore the coast, beaches, and natural pools along the Sepultura Trail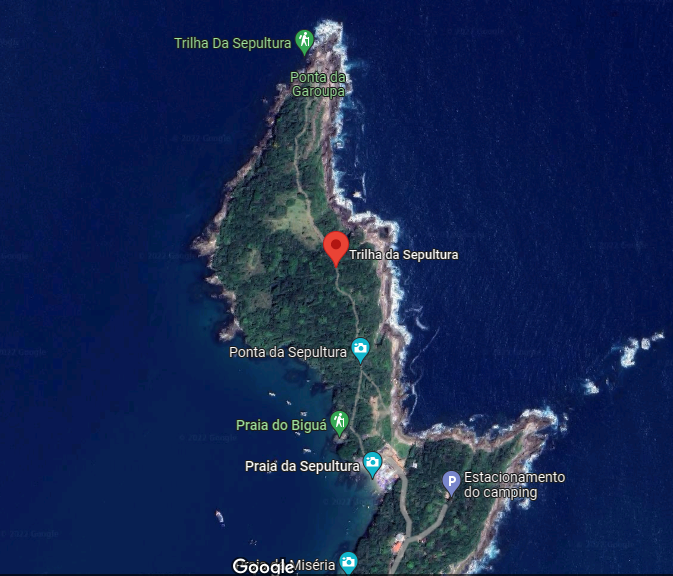 For those who like beaches and nature trails, Bombinhas, in southern Brazil, is a great destination.
The plan is go to Ponta das Garoupas, marked on the map as green mark named Trilha da Sepultura, passing by Sepultura Natural Poll and explore the rocks formations and others natural pools over there.
In our way back, visit 2 spots, the Pedra Lisa and Praia do Biguá. Two semi desert spots that are ofter visited by tourists due more hidden and difficult access trail.
Today's trail is not as well known as the Trilha dos Macacos with that beautiful sunset, but this trail is a must do when in Bombinhas region and reveals #seascapes with blue sea water and crystal clear water beaches.
The Sepultura trail starts behind Praia da Sepultura. Right at the beginning, a small hill that already provides a very nice view of the slope.
I like this trail because it is a trail with beautiful natural scenery in a rich diversity of Atlantic Forest native plants. On this last trip I took, I walked there twice and selected some photos for this post.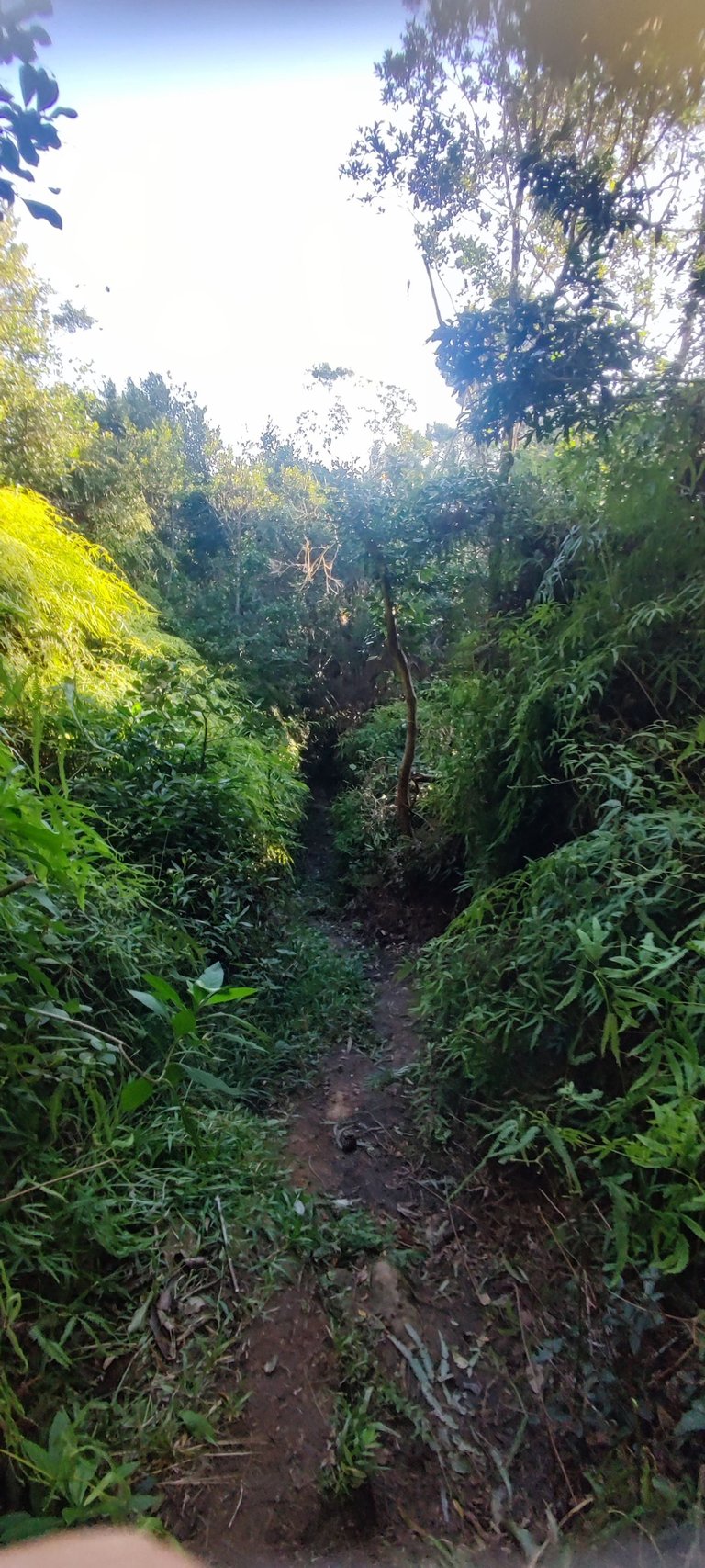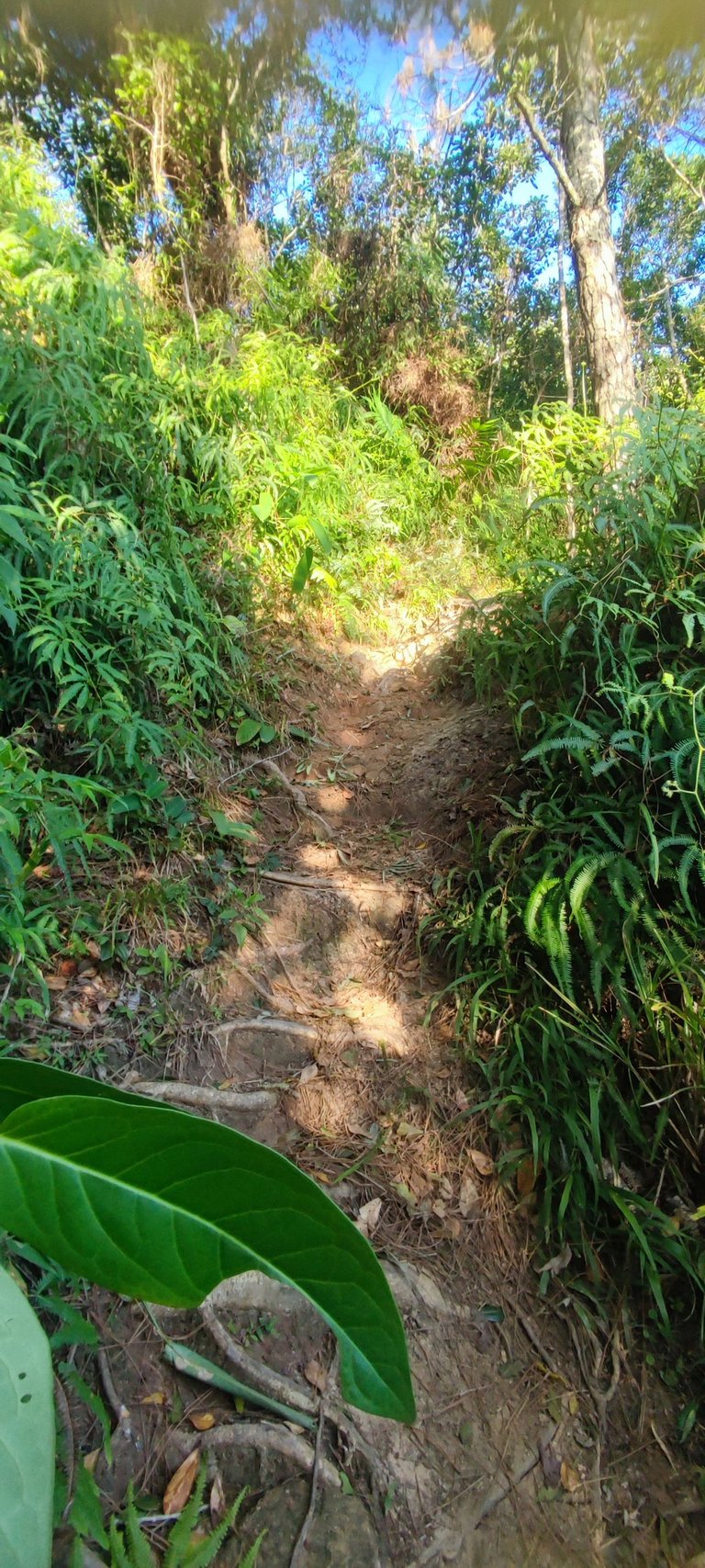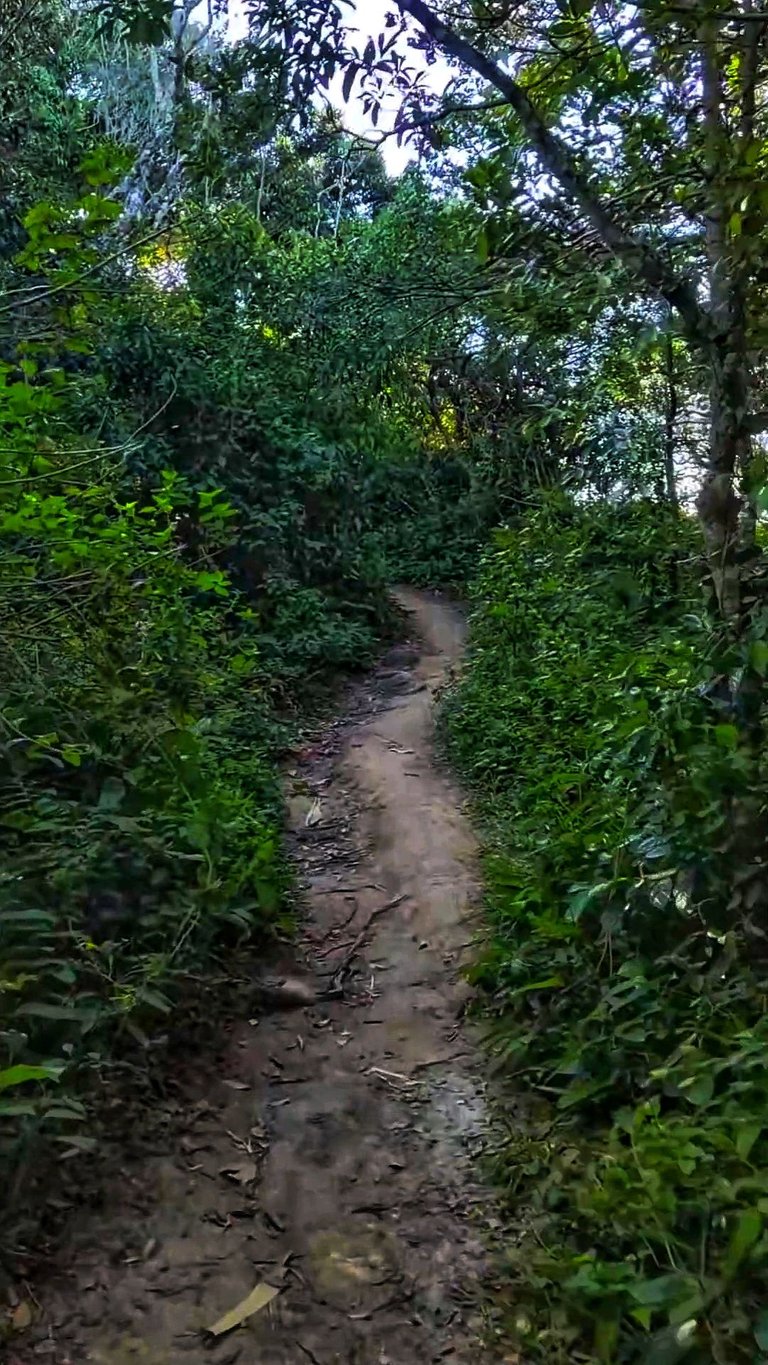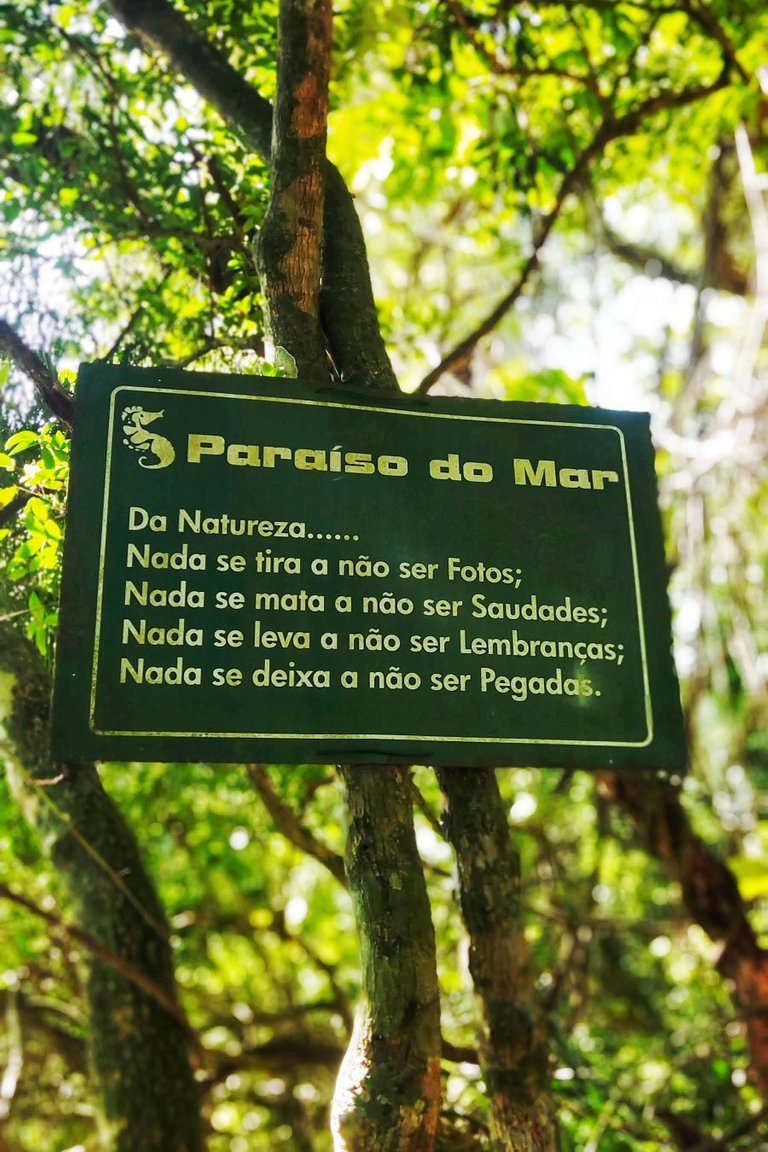 This is what to expect from the path.
---
The best season to visit Bombinhas region is during the summer, but as mentioned before, I choose the winter season this time.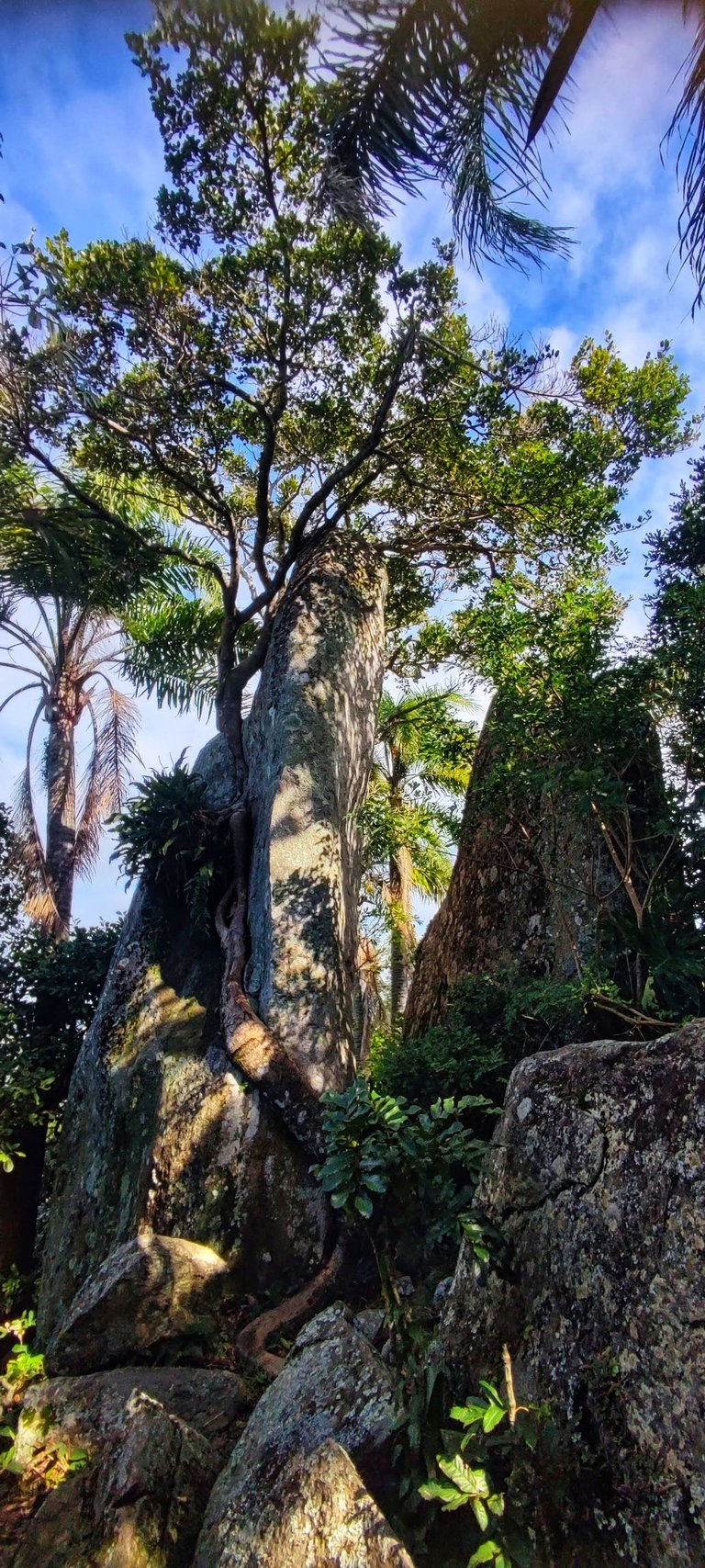 Here in Brazil, you can expected sunny hot days even in the winter. On summer, this region is crowded with tourists, you can take up to 4 hours to reach Bombinhas beaches coming from nearby cities. Yes, I already faced that traffic jam. But totally worth it.
I loved this tree that grew up against the rocks, zigzagging and conquering its place in the sun.
On this trail, there are some natural pools and the main one, which is the Sepultura pool, is a different point of this trip.
---
After the beginning of the trail, a fork, which takes you along the west or east coast. Let's go east and back west.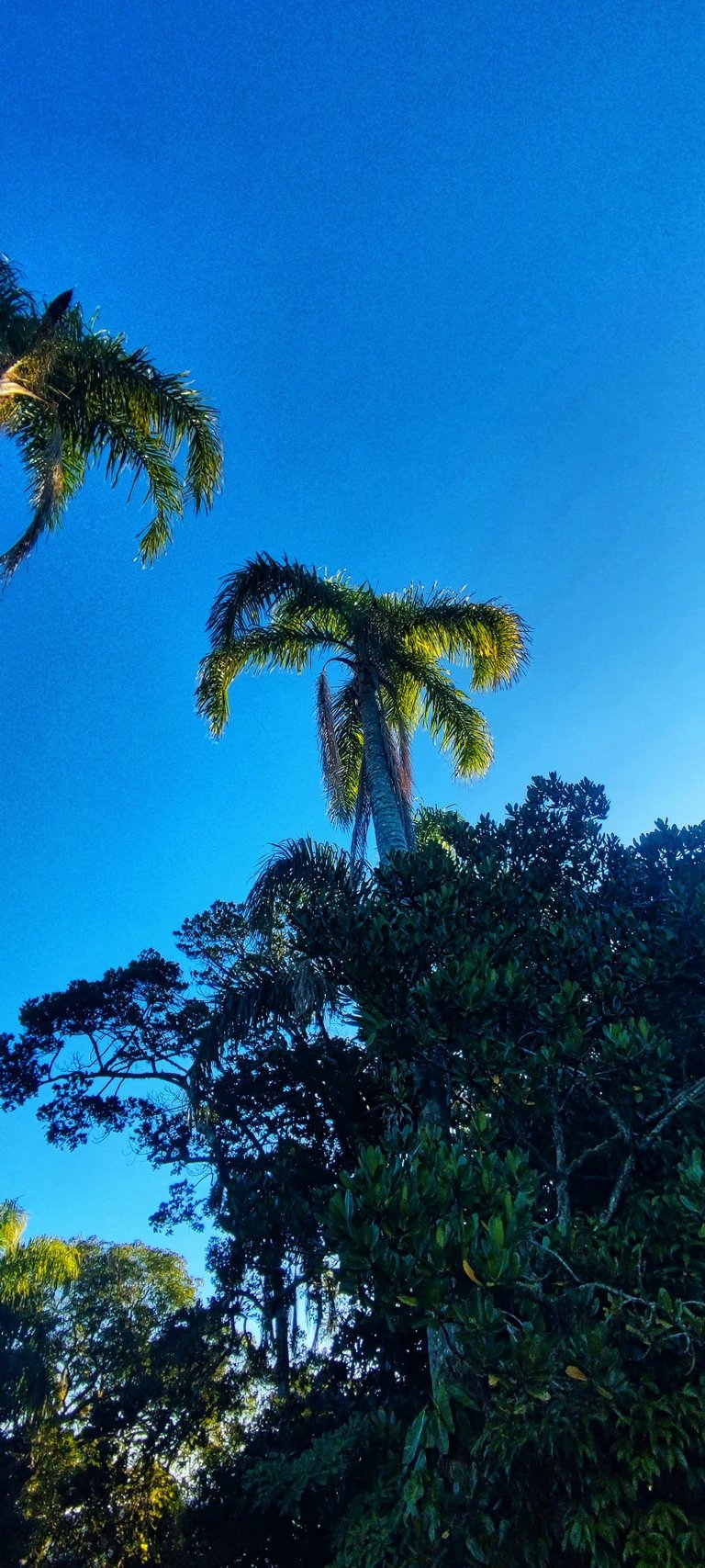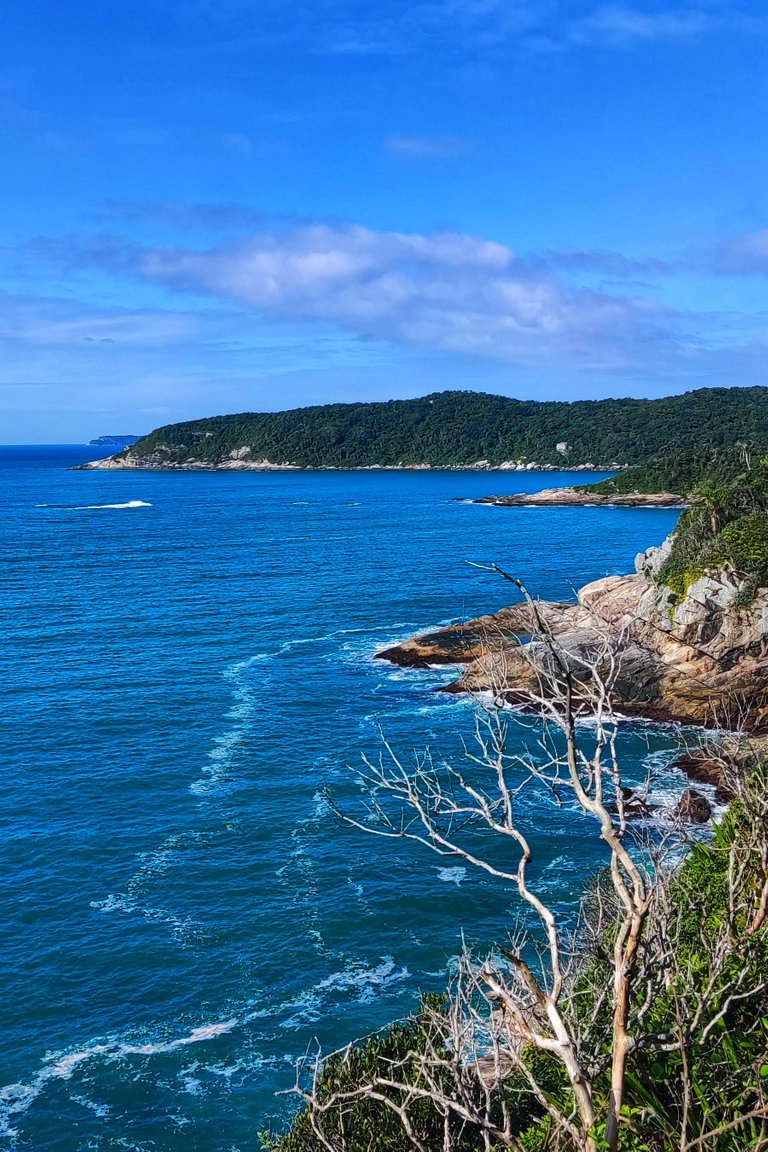 Some spots during the trail can lead you to the coast view, is good to spend some minutes watching the waves and boats passing by to open ocean.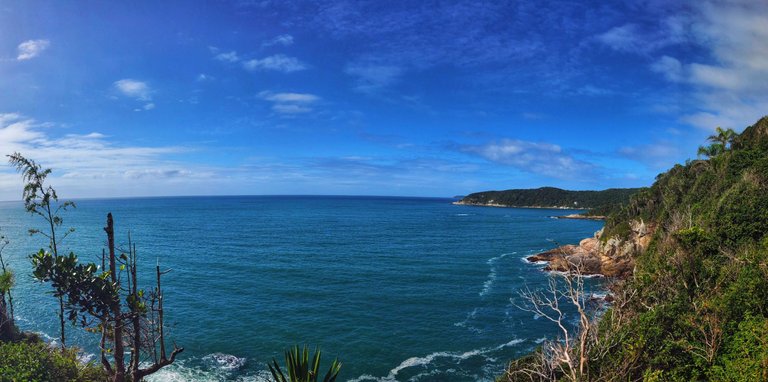 I consider the trail easy and fast! After conquering the steep slope, the most difficult part has already been overcome, and it rewards you with an incredible view of the coast.
After climbing the hill, we entered the forest. It is an open forest with a well-marked path. The path continues to Ponta da Garoupa, tracing the path.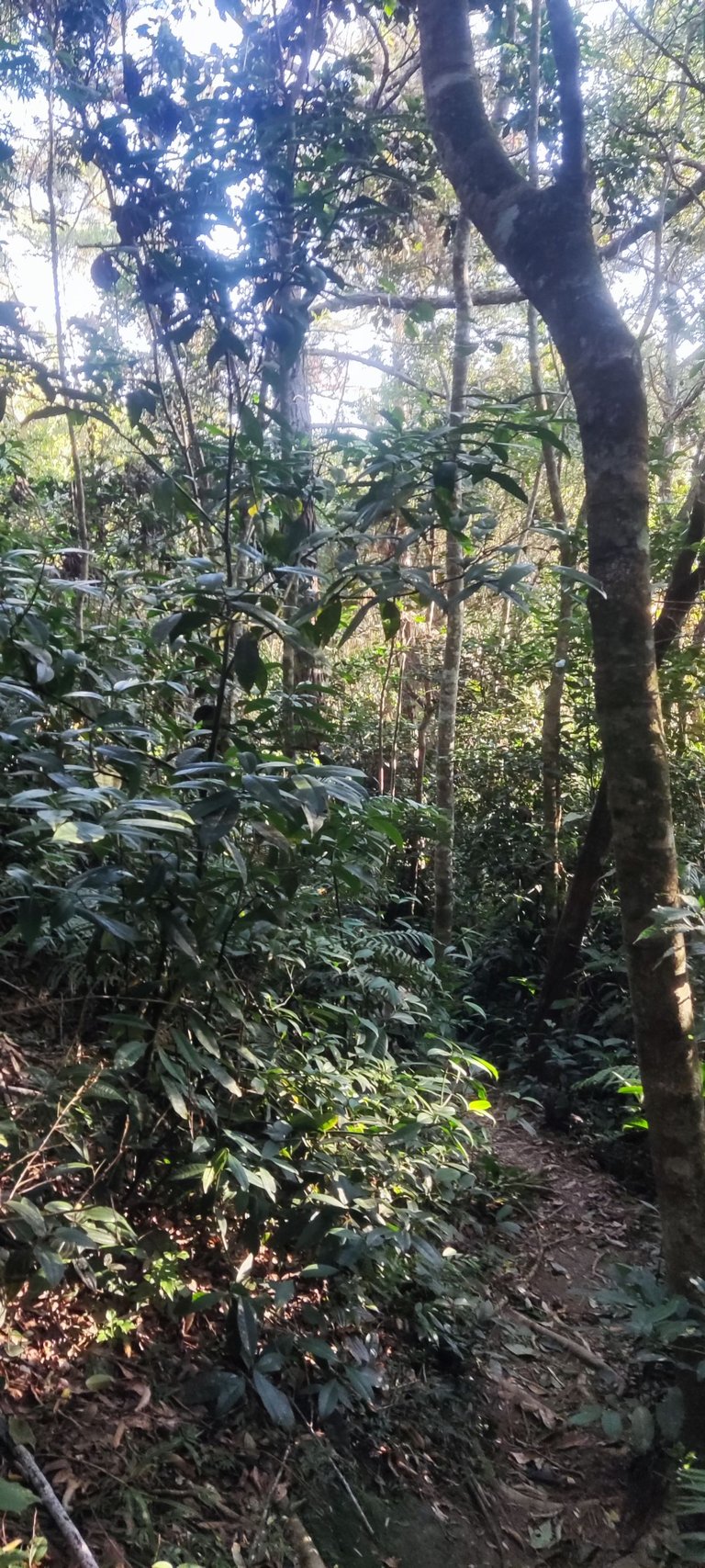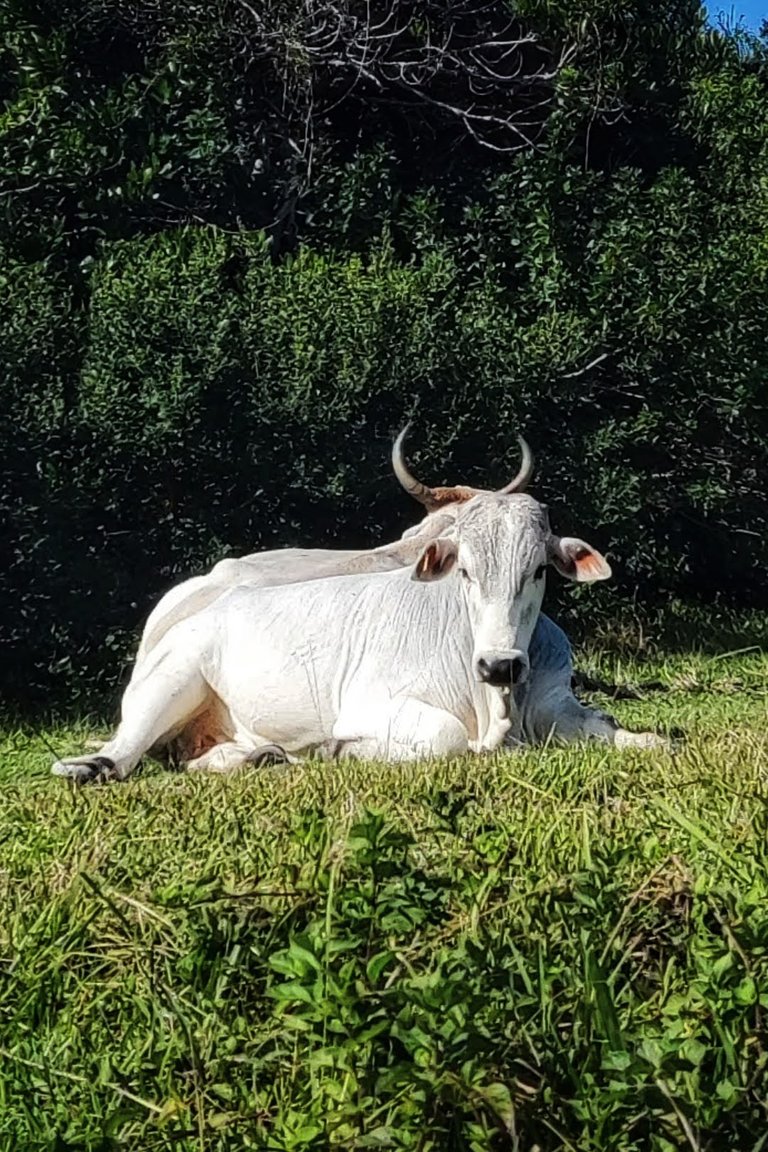 Continuando pela floresta densa, logo ela se abre e até encontramos algumas vacas que estavam relaxando ao sol.
Melhor não atrapalhar, não quero nenhuma vaca correndo atrás de mim.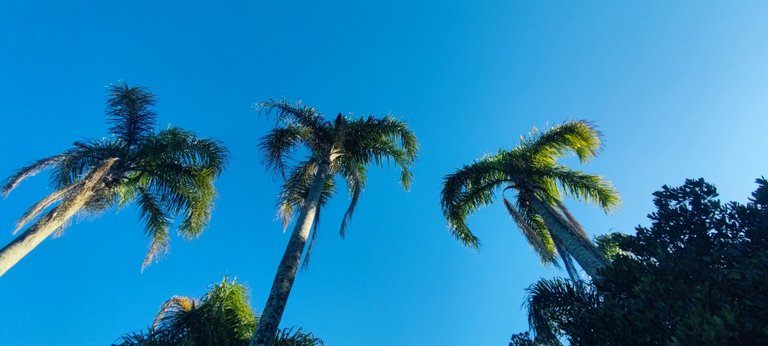 ---
Piscina Natual da Sepultura
One of our goals is to go down to the natural pools, which is an optional part of the trail, and would be the second challenge, maybe a little bigger.
Lot of people decide not to go down to the pool, and just see it from above. Always good to be safe, and if you are not in good shape to climb down in hard terrain, butter not to risky yourself.
After making this small detour and go down a very steep slope, a gratifying spot to relax.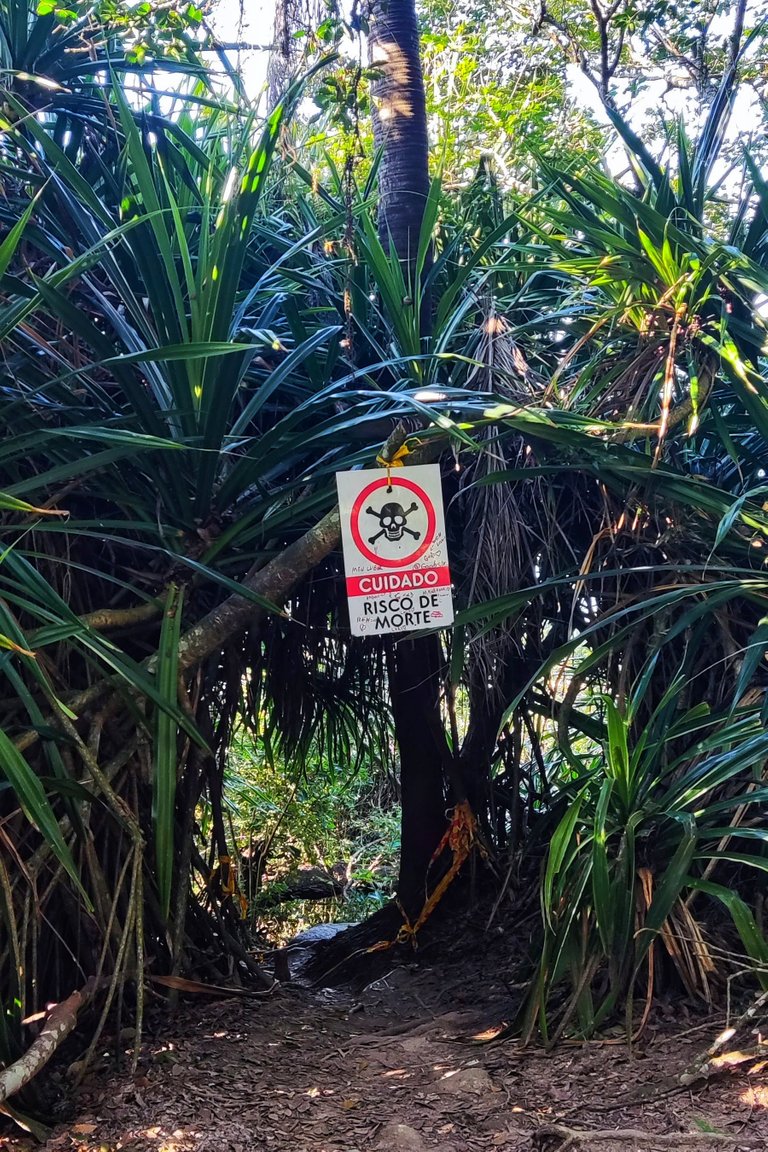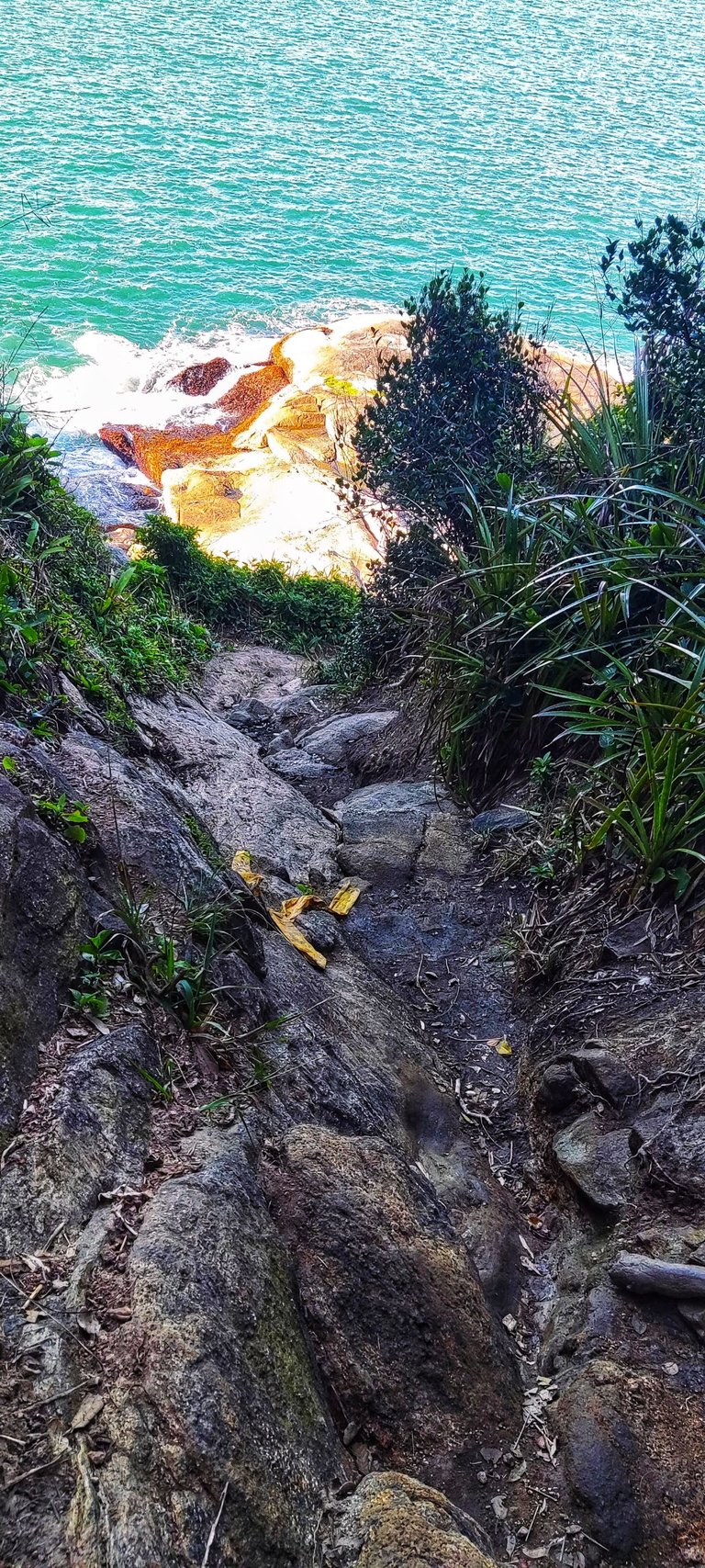 On this visit, a surprise, a sign indicating risk of death on the natural gate towards the pools. I'm not sure if there were any accidents in the region, but it's always good to be prepared.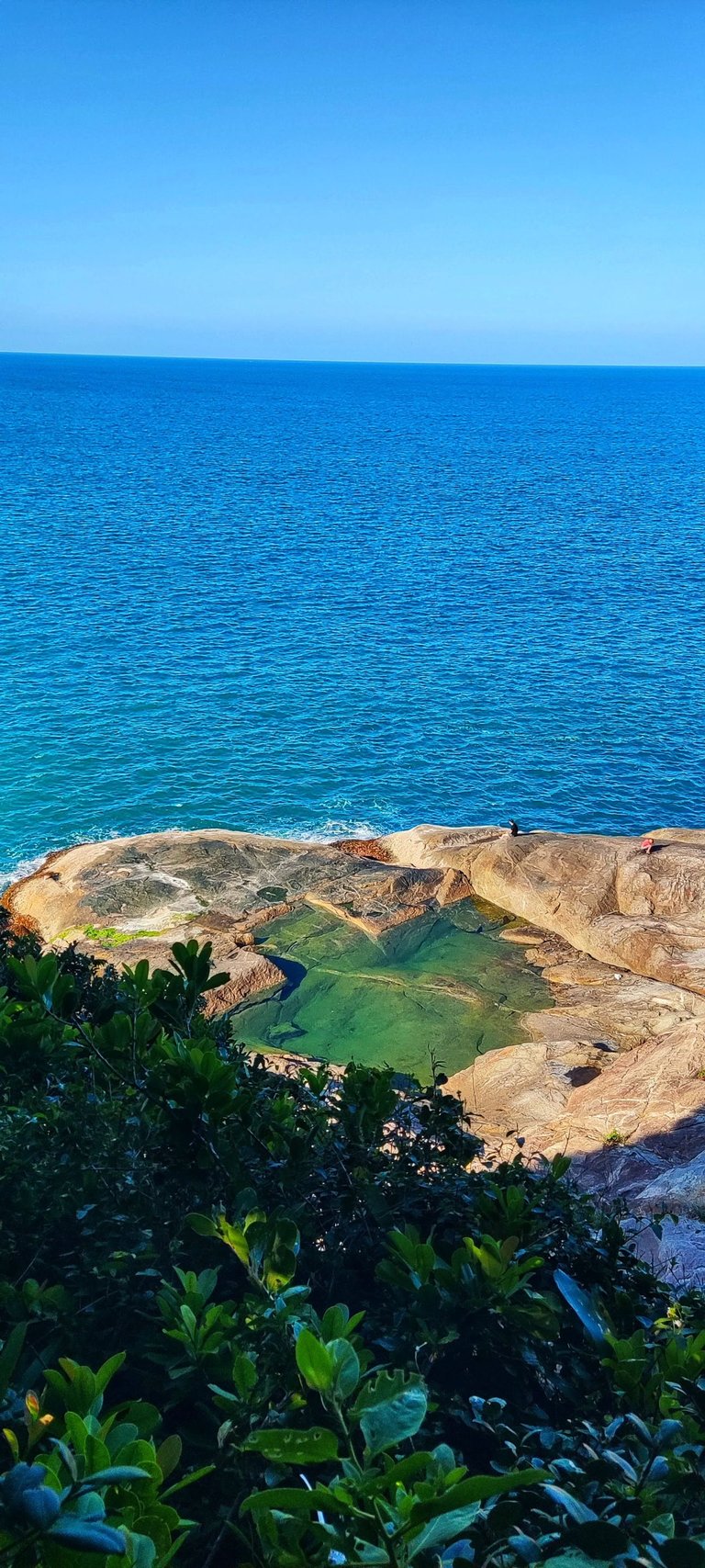 Trees, rocks, sky and sea form this splendid landscape and in a few minutes we have a view of the pool. They installed some ropes to guide the descent, another novelty. And the terrain seems to be rougher than I remember.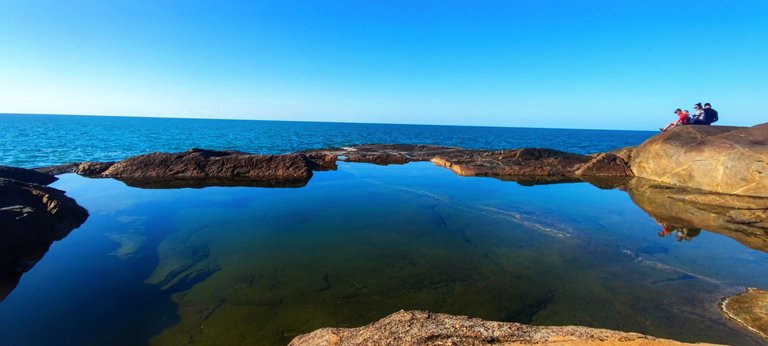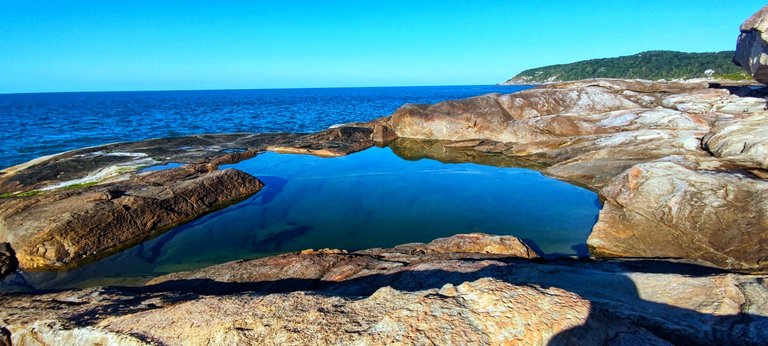 Going down calmly and carefully is important, because if you slip through there and end up hurting yourself, it can take time to be rescued, even more so because the flow of people on the trail was very low with the low season.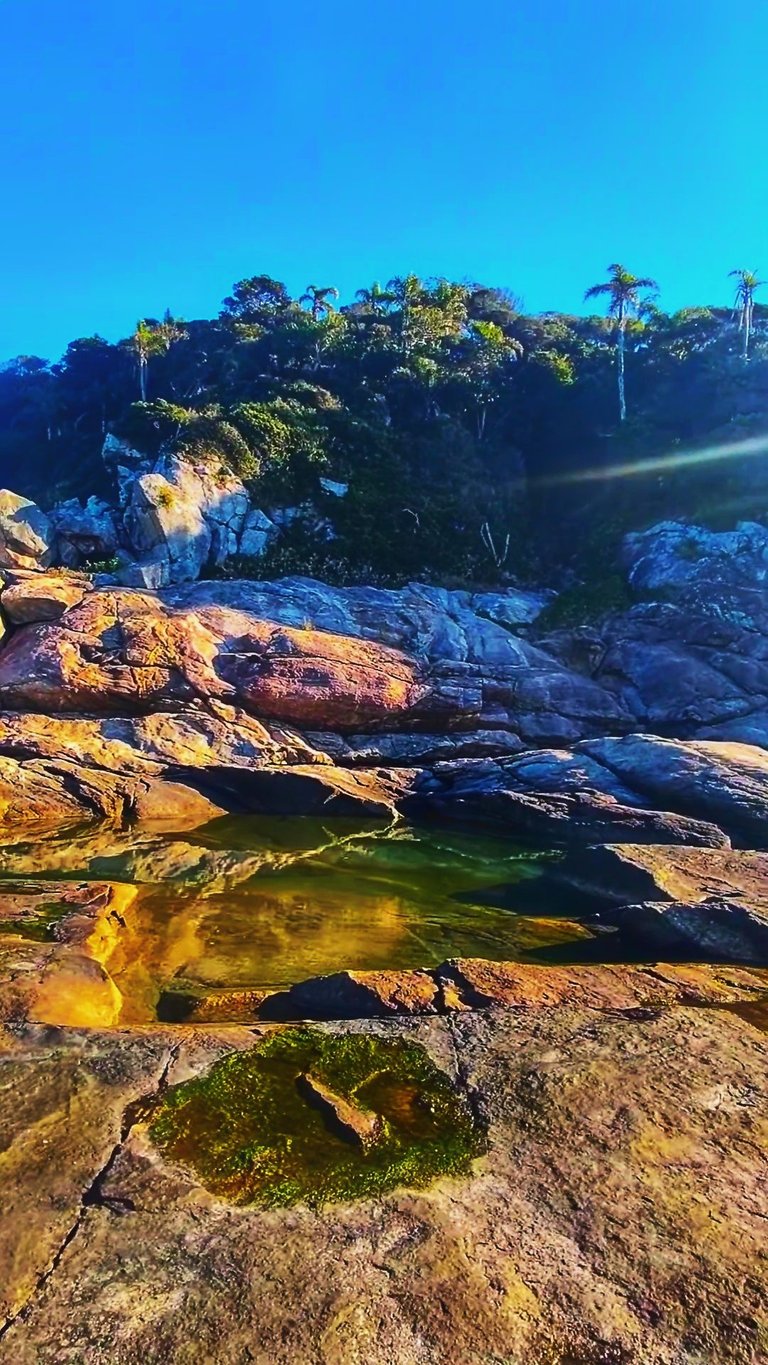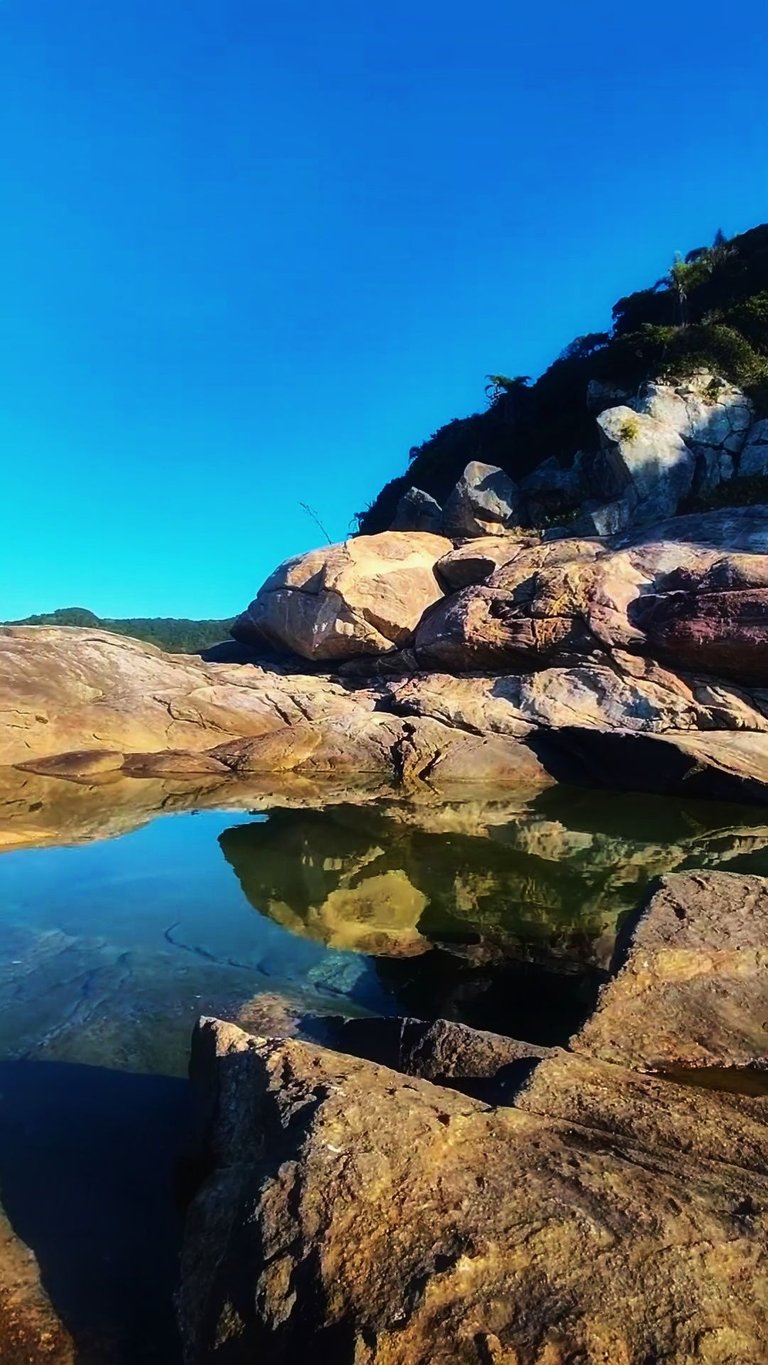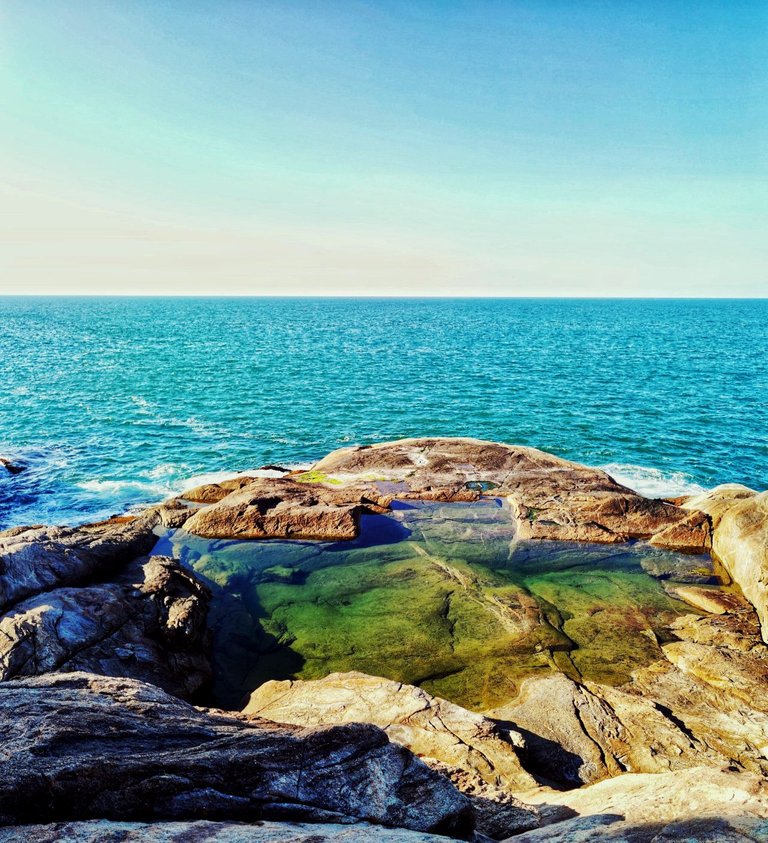 After the descent, we have the swimming pool, a very beautiful view in addition to the rock formations, which enchant me with the walls and the view of the coast that make up the landscape of this place.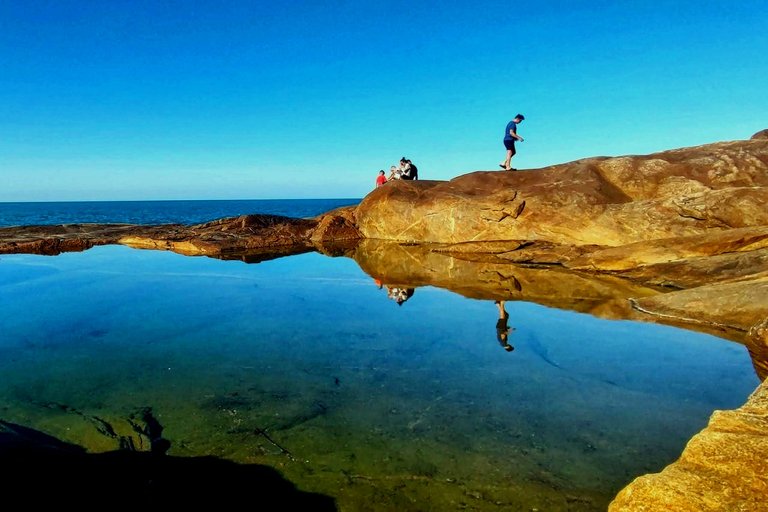 Arriving there, a family and friends took advantage of the place to take pictures, after a few minutes they returned leaving us there alone.
The feeling of peace is incredible, great for meditating and relaxing, watching the blue of the sea and the boats passing on the horizon.
After a few minutes, it's time to continue the trail to Ponta das Garoupas.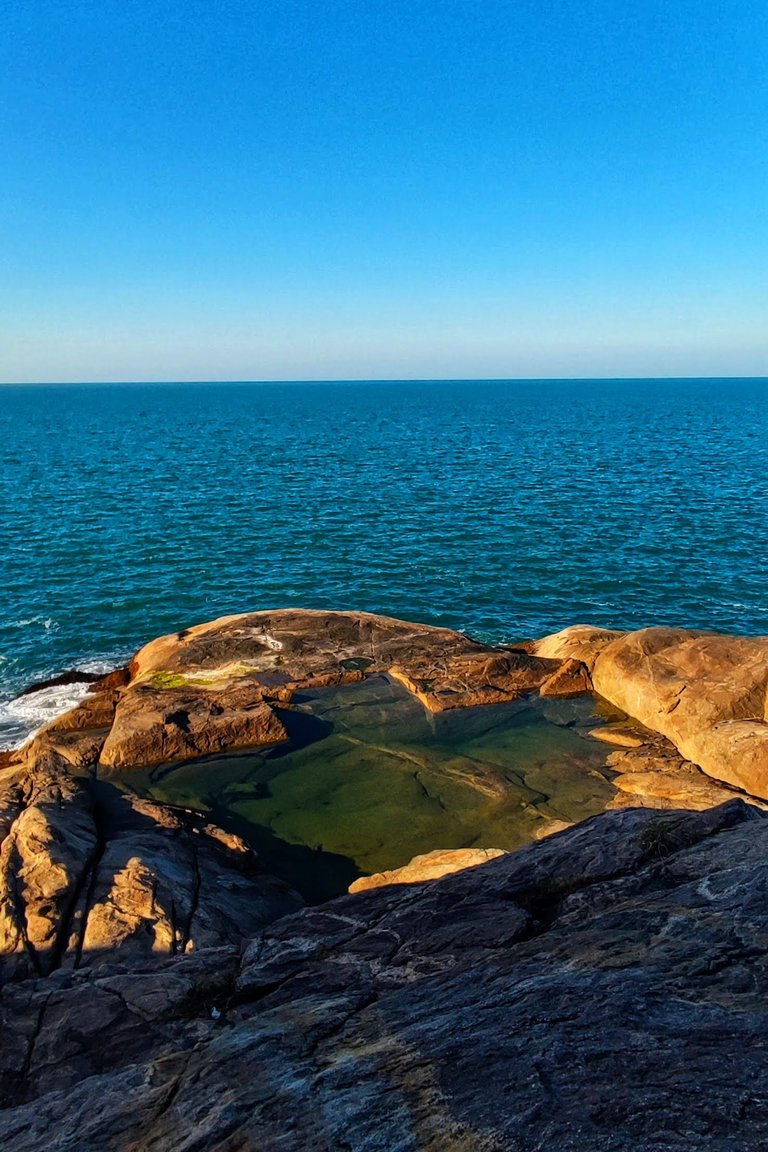 ---
Ponta das Garoupas
As can be seen in the initial map, Ponta das Garoupas is at the very end, what I like about this place are the rock formations and the incredible landscape, where you can see boats leaving and coming from the high seas, as well as the coast of the entire Bombinhas beach.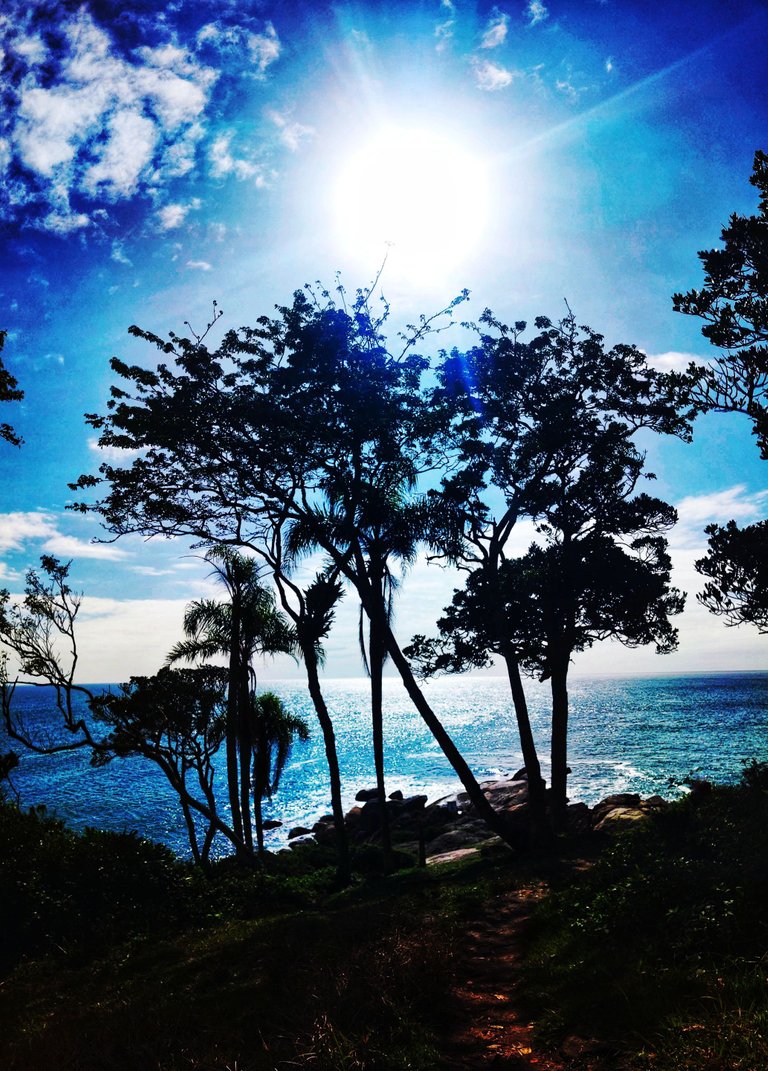 More natural pools are formed in this place, creating different landscapes between the rocks.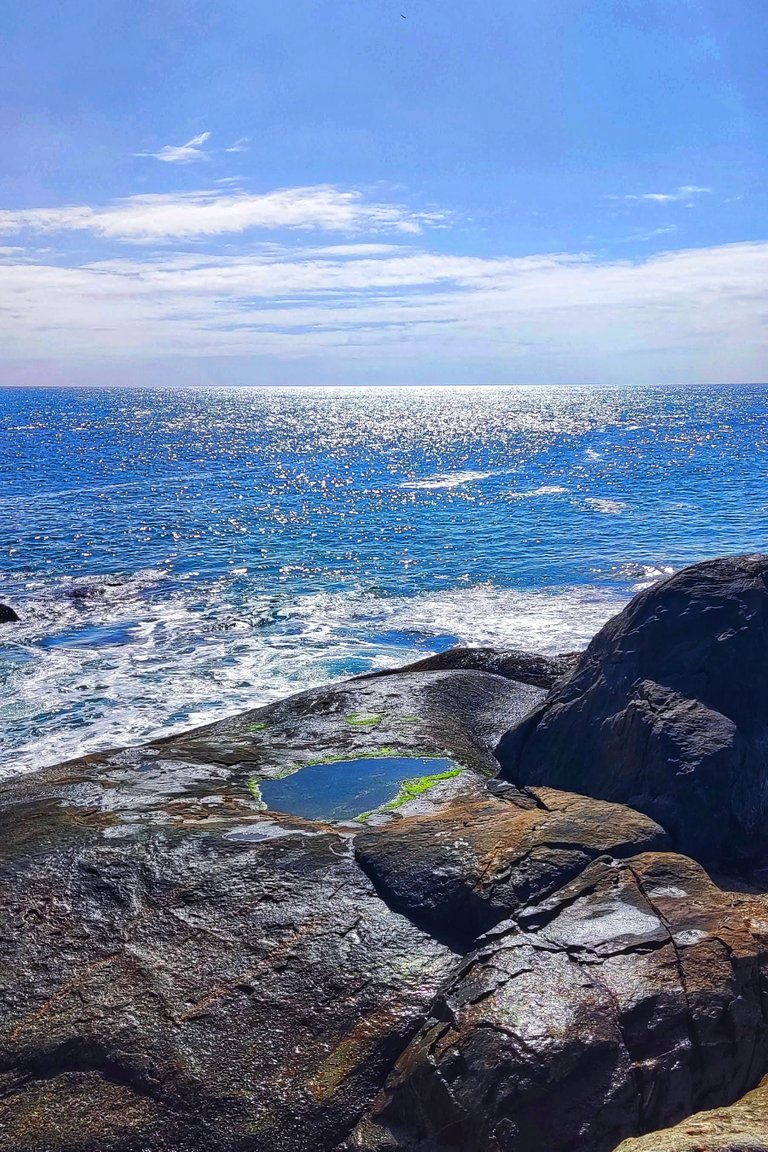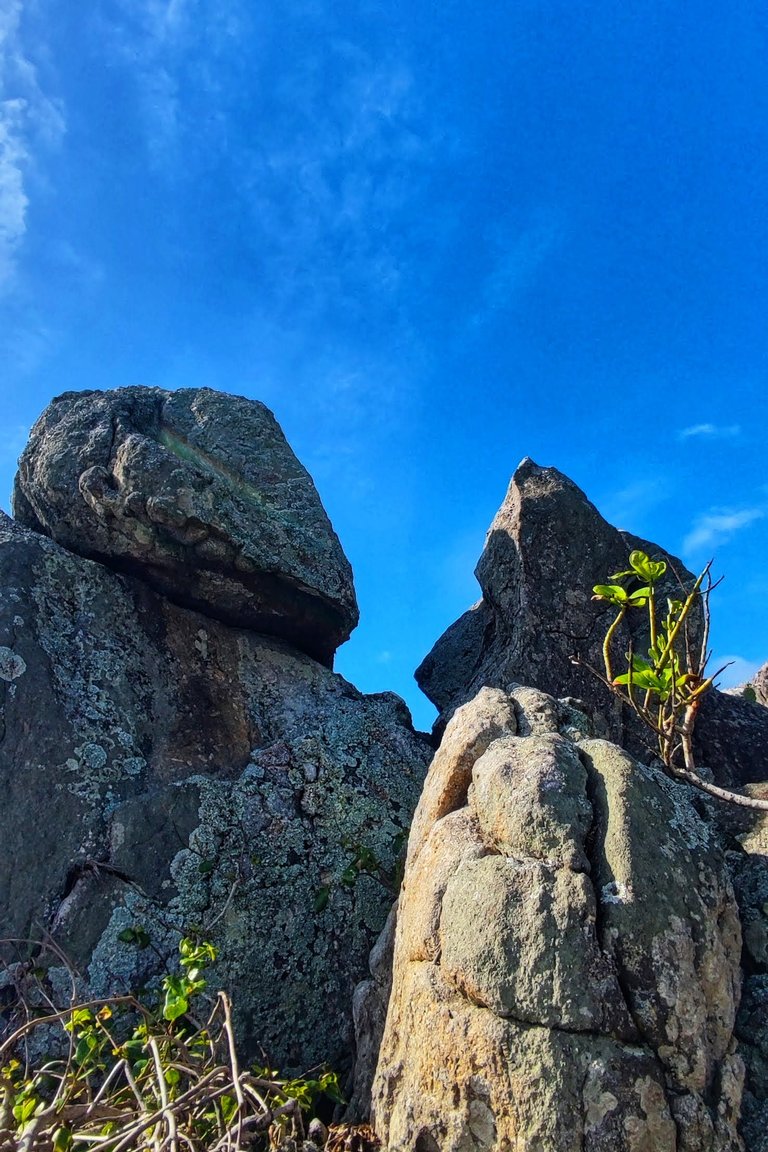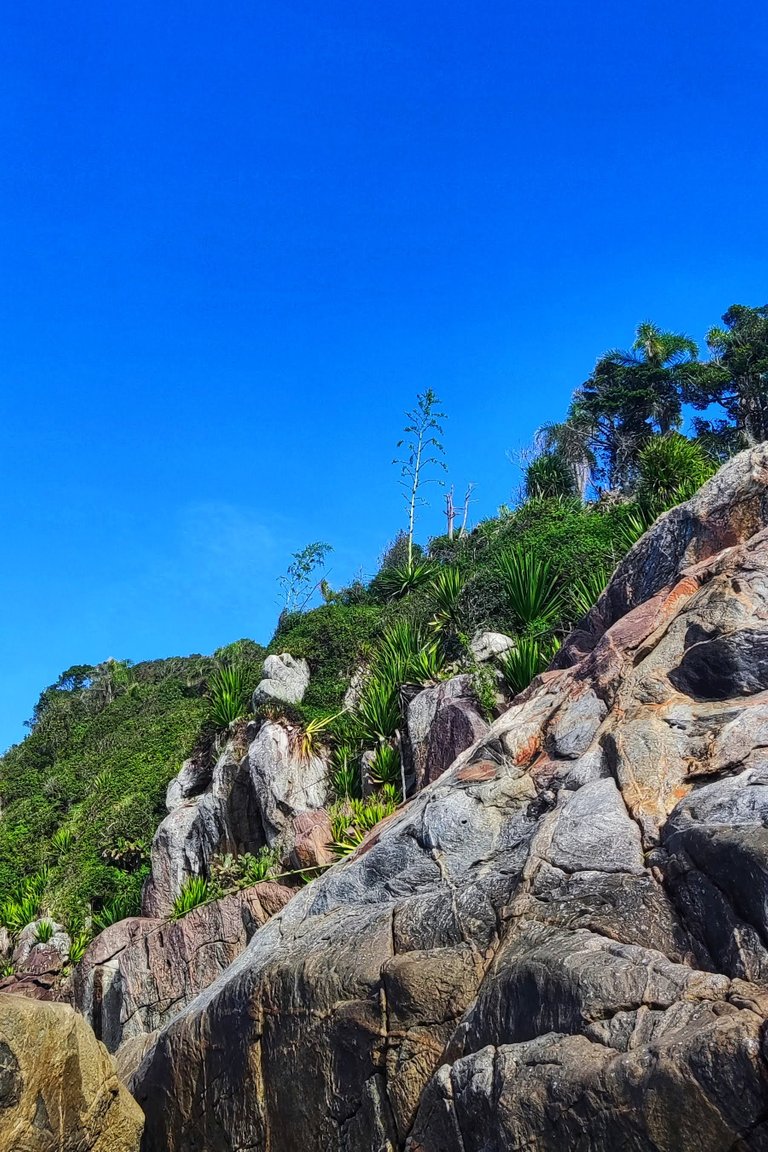 A formation that draws a lot of attention is this staircase, it seems that it was made naturally so that we can go to the pools and return.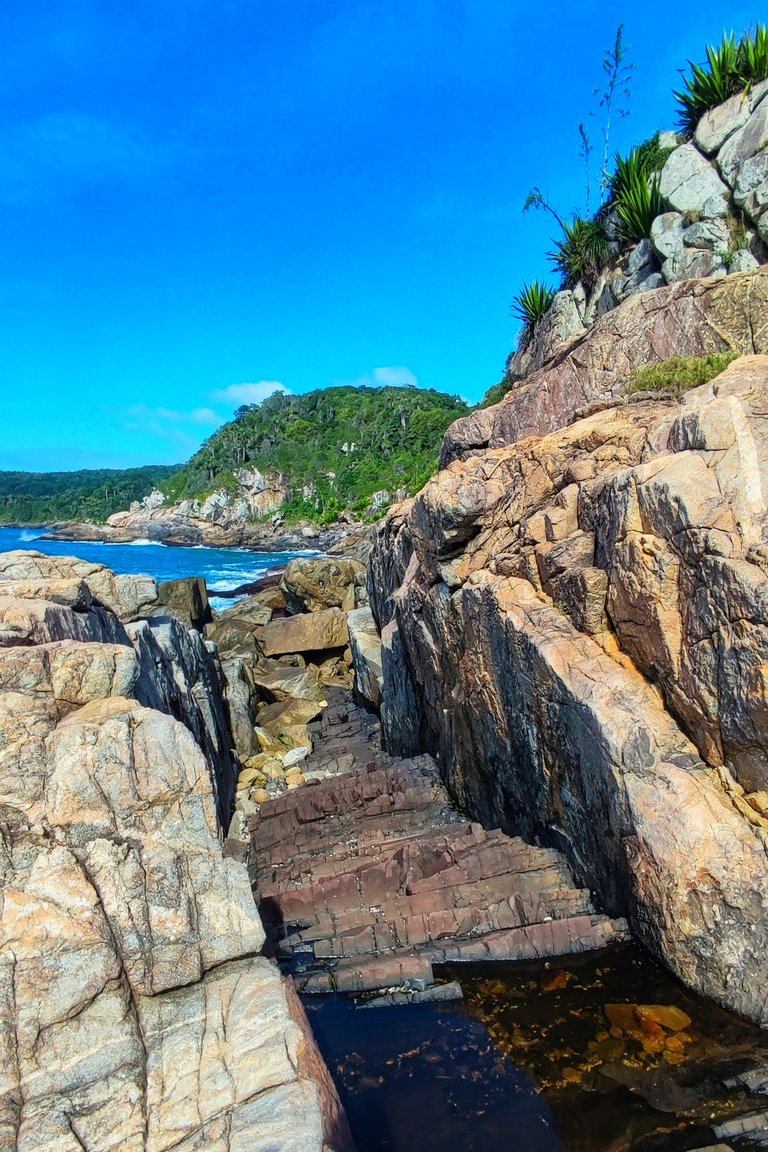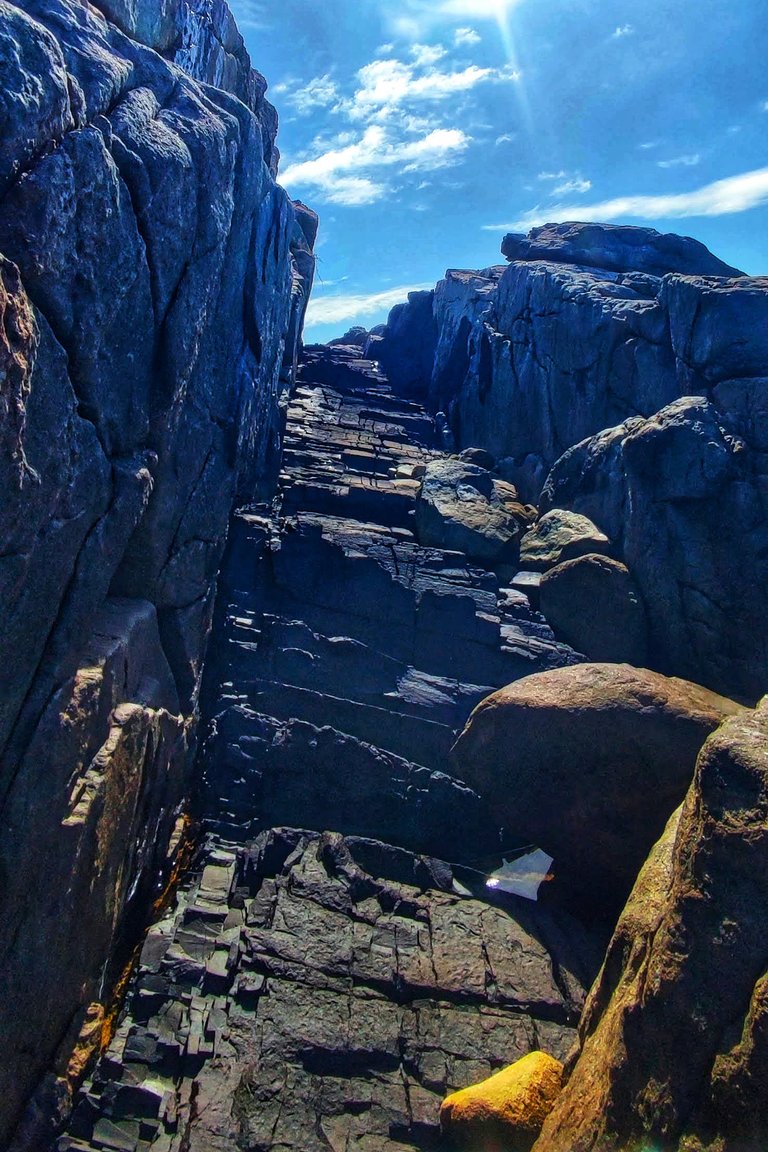 At this point, the vegetation is less dense and it is possible to see the blue of the sea between the trees, which hide some beaches that are a little more deserted, such as Praia do Biguá, which we will see below.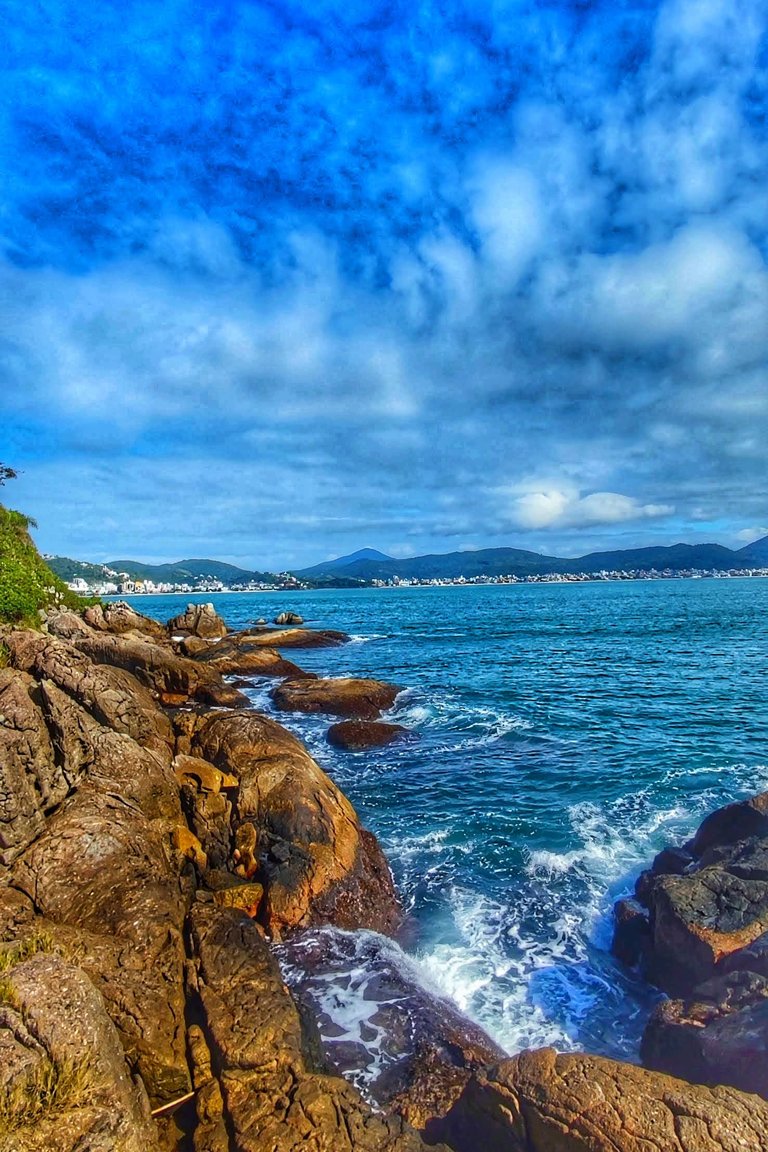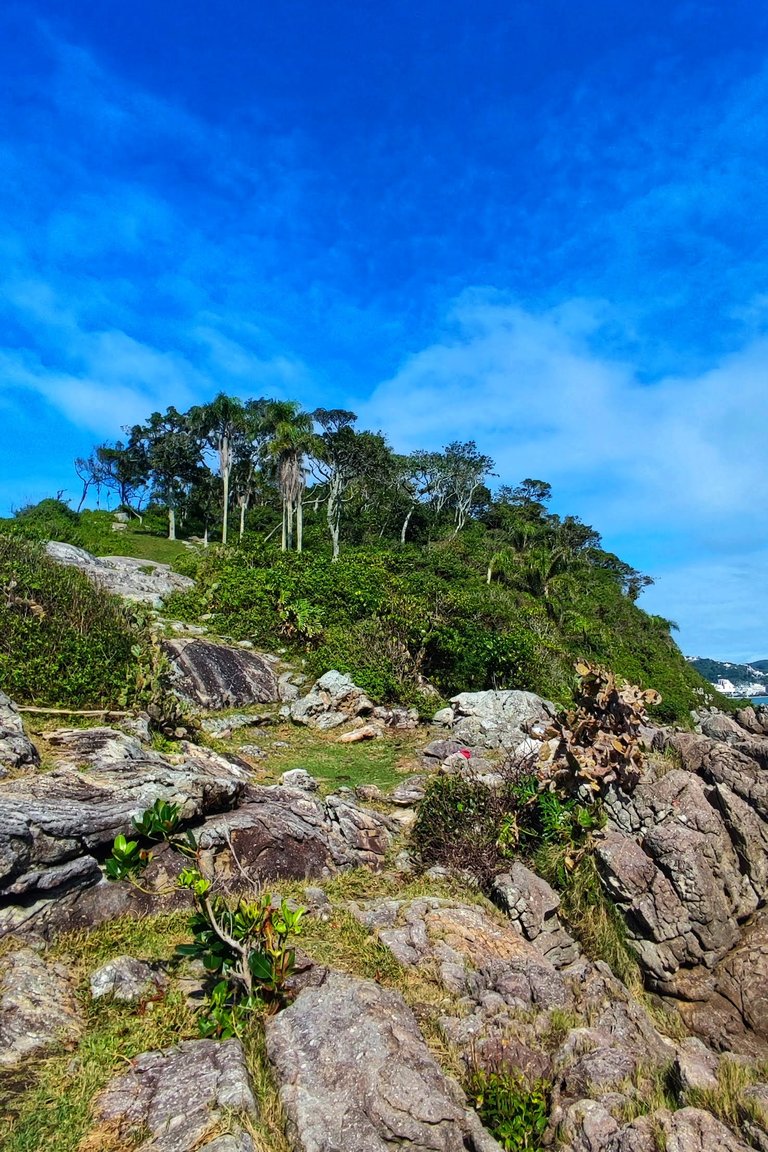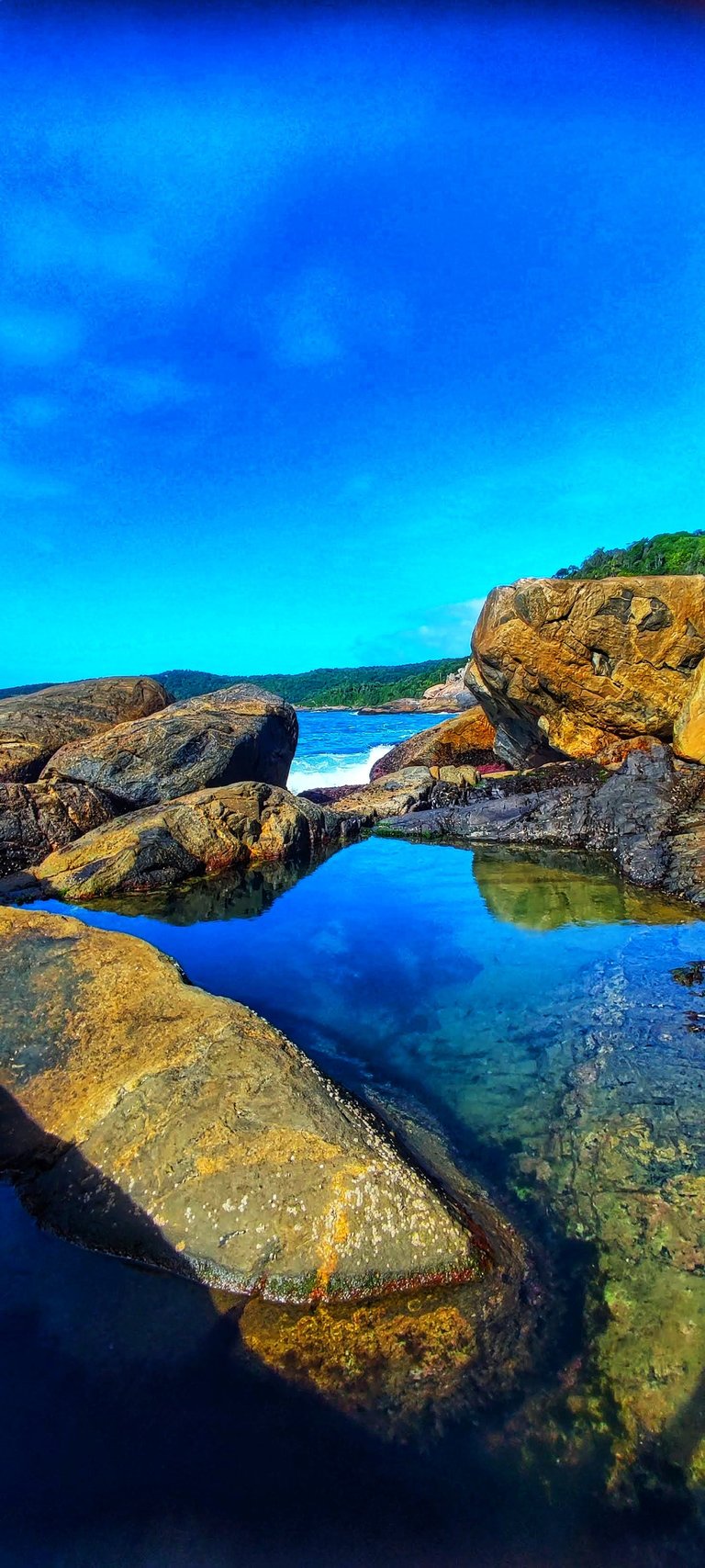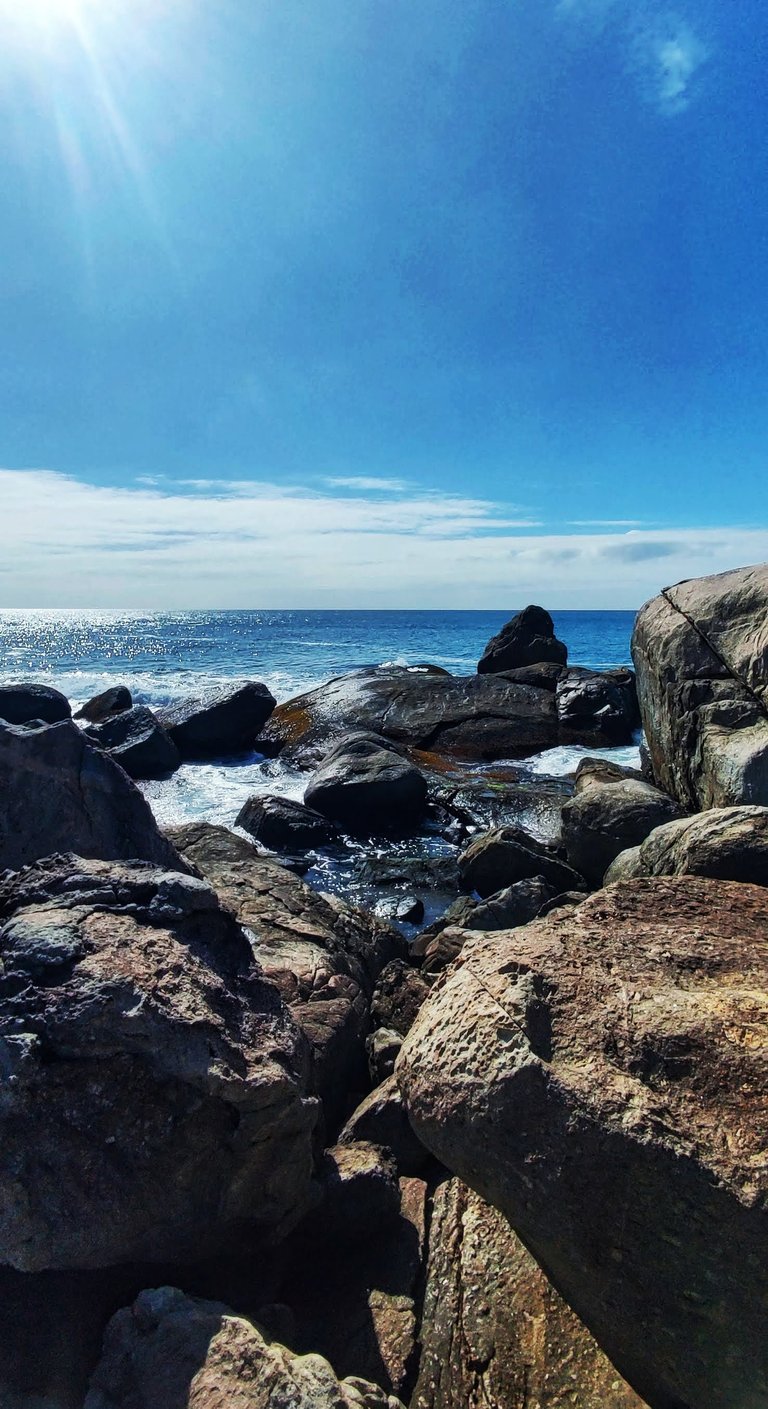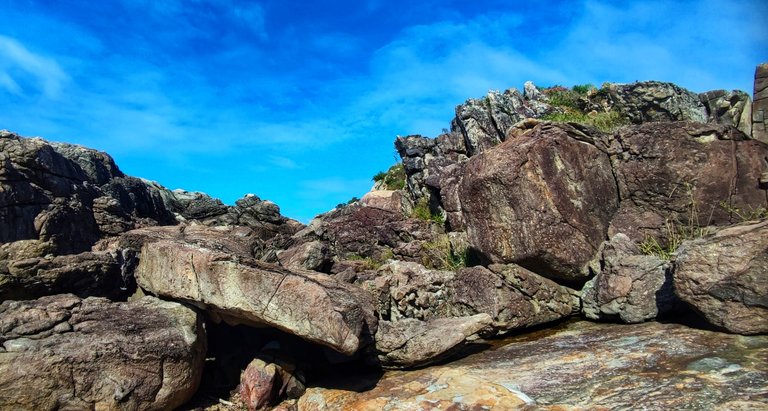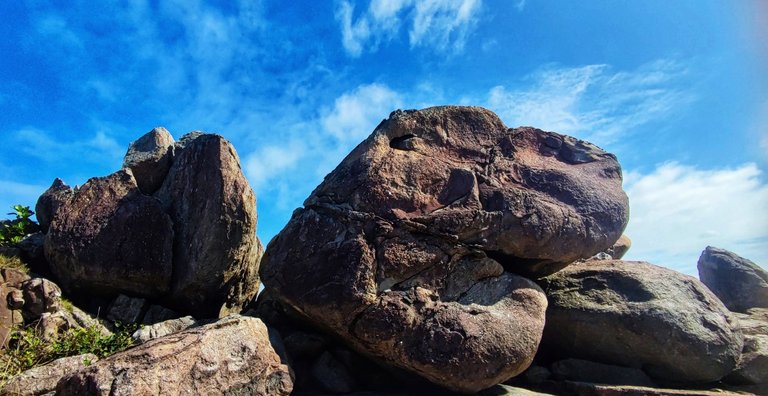 ---
Pedra Lisa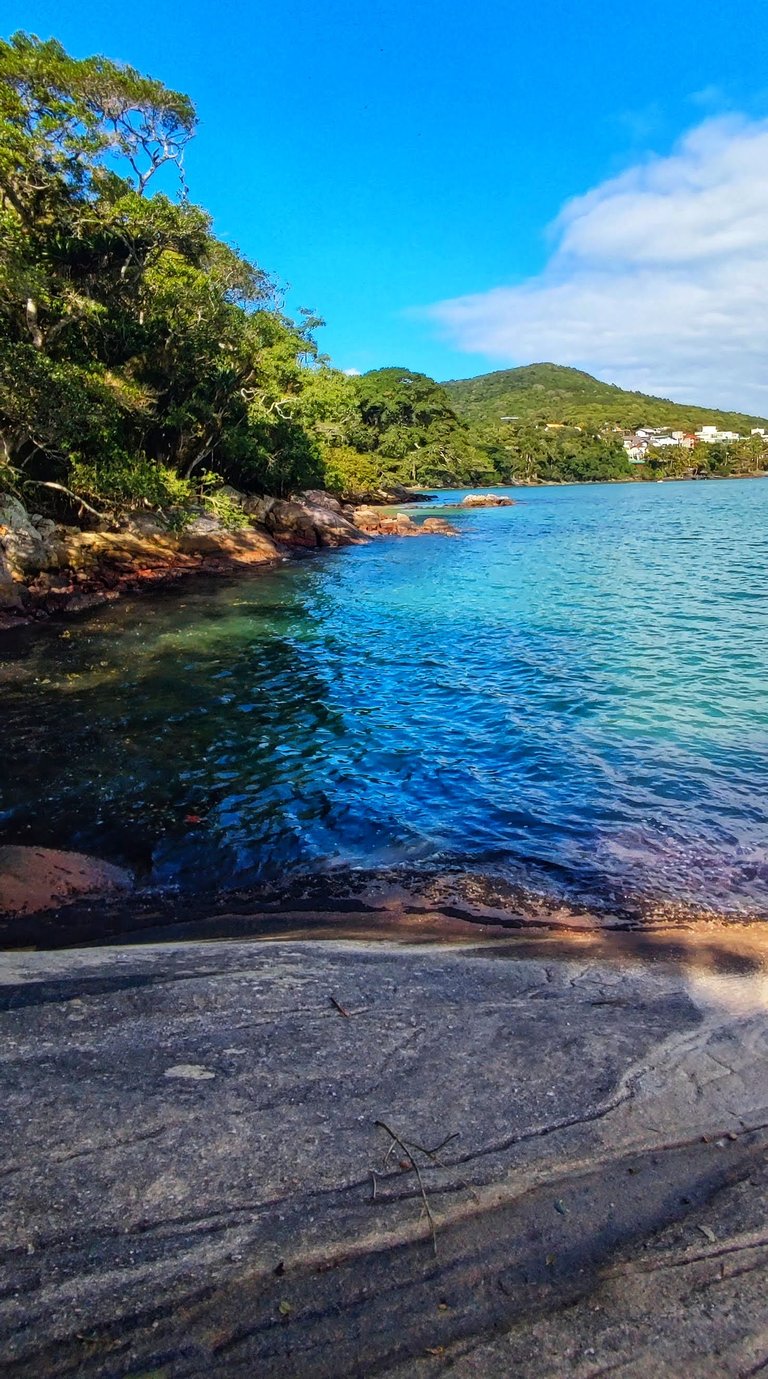 Before arriving at Biguá beach, we pass by Pedra Lisa, an elongated rock that is an ideal place to rest.
Pedra Lisa means Smooth Stone in portuguese.
We took some time to each a snack and rest while watching the birds flying over us.
A place that make me feel peace and that feeling that you want to stay there forever.
But we still have one more point to visit and go back before sun sets down.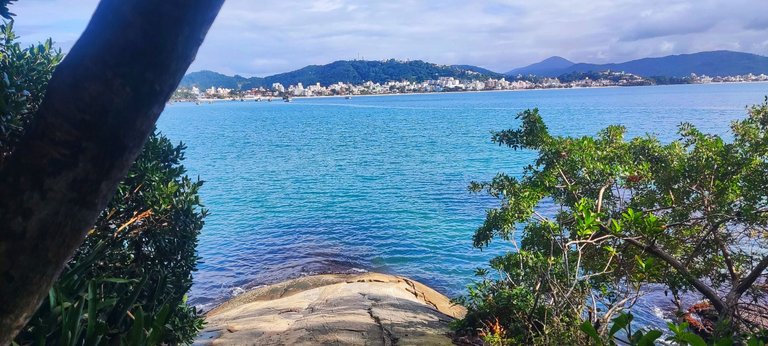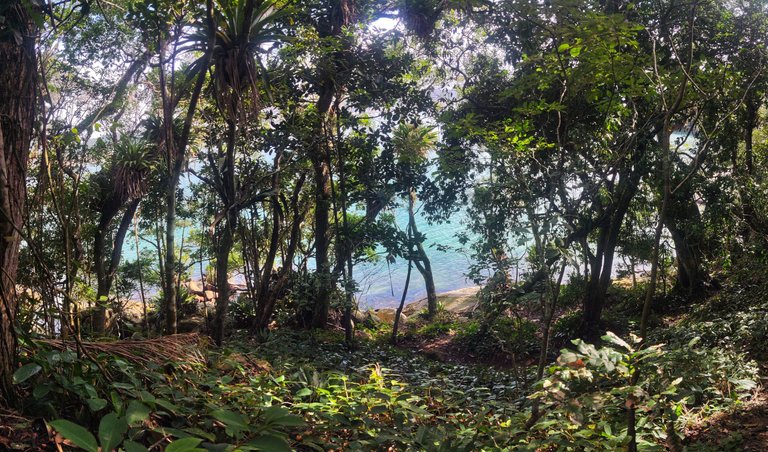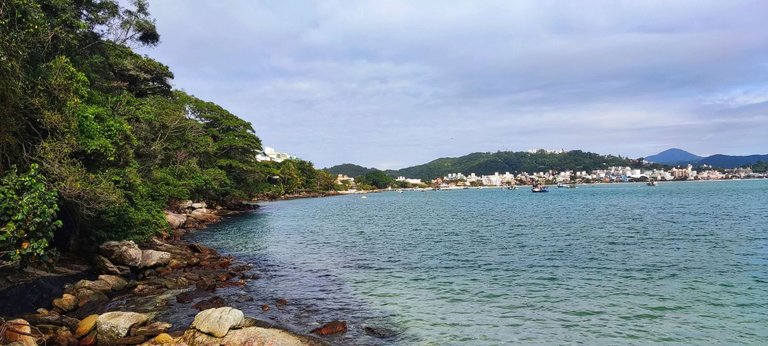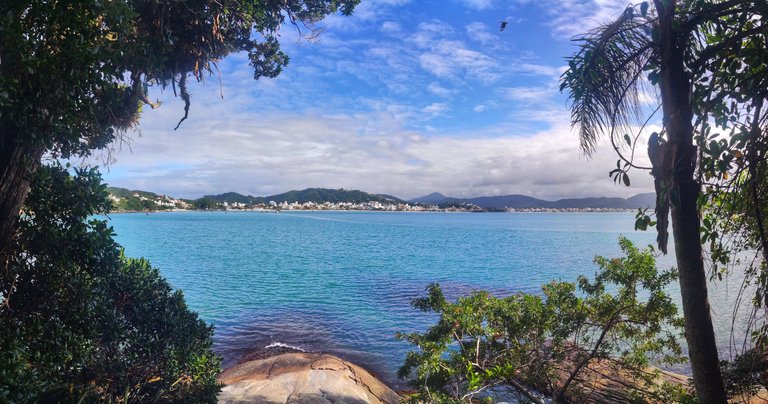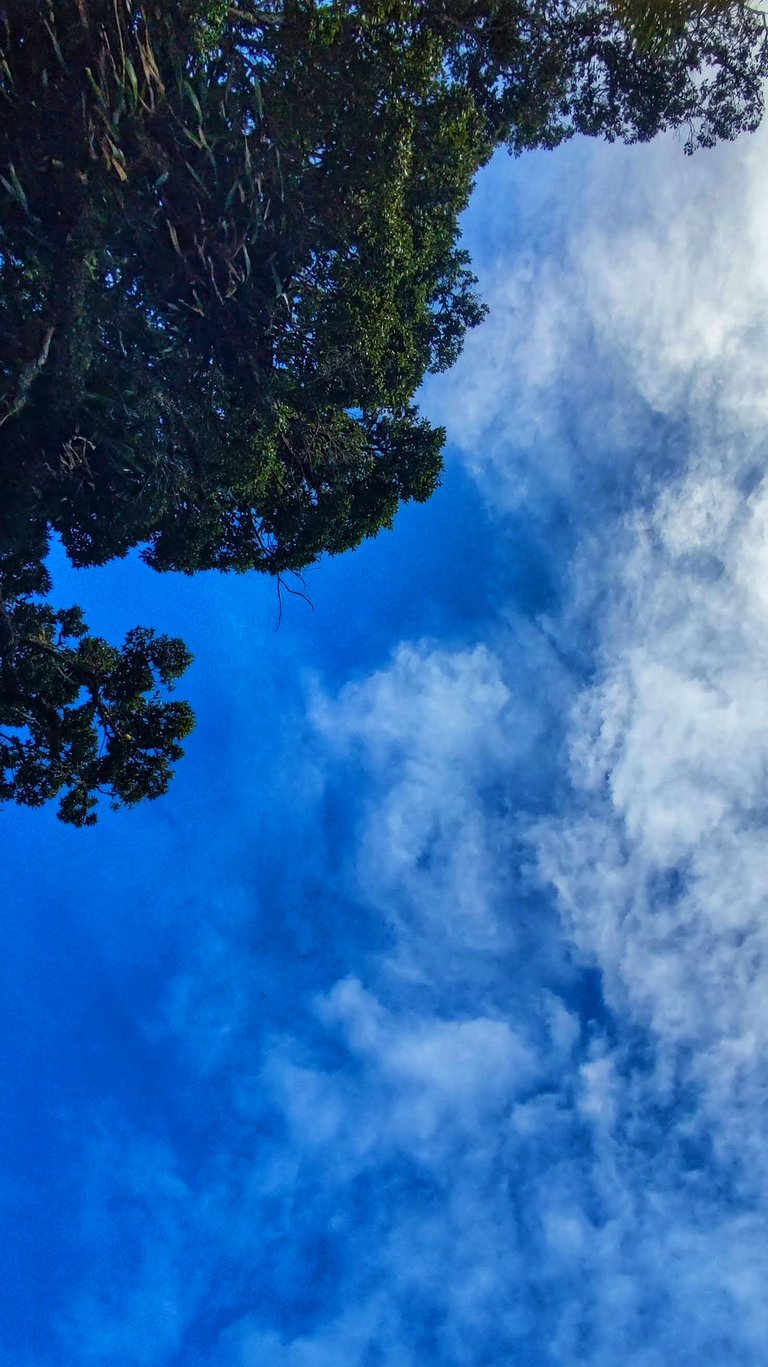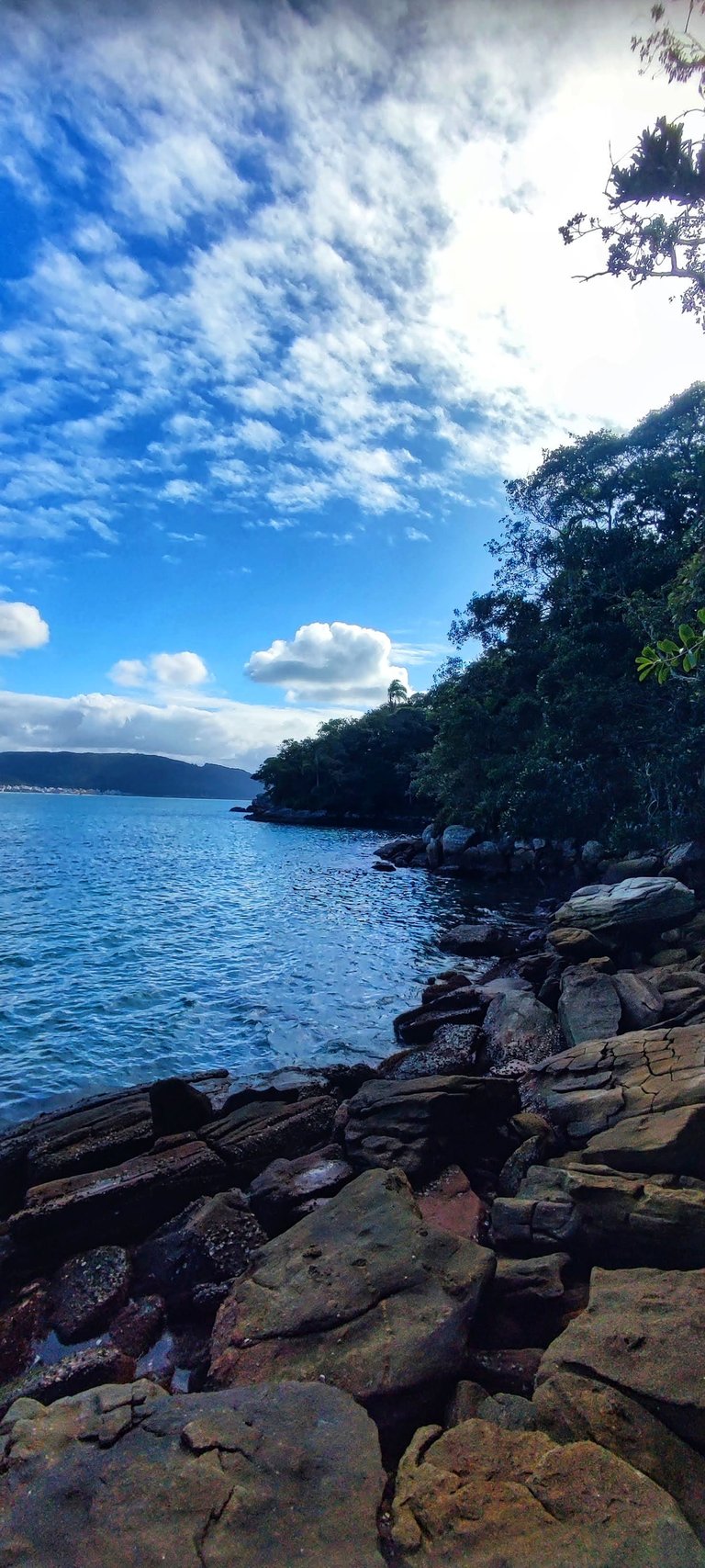 Decided to take this picture on the left when laid down and was watching birds flying over this blue sky.
The right side showing the rocks formation beside Pedra Lisa.
---
Praia do Biguá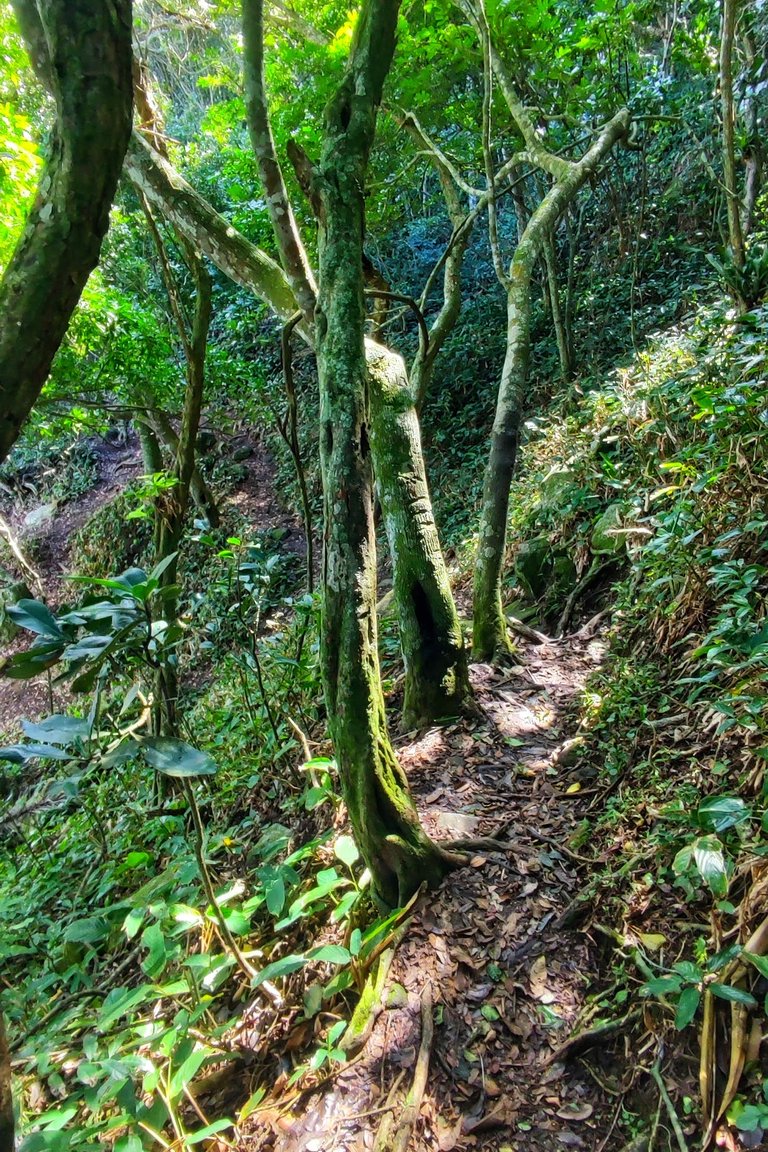 Our last planned stop. After little more walking, this time a little more difficult to reach due to the terrain, a practically deserted beach with a strip of white sand and rocks that also provides a great spot for snorkeling.
From up the trail, you will be rewarded with this incredible small beach among the trees, for me at least, a paradise scenery.
You can notice that the trail is not that easy, at least, the trees roots help us on the way down.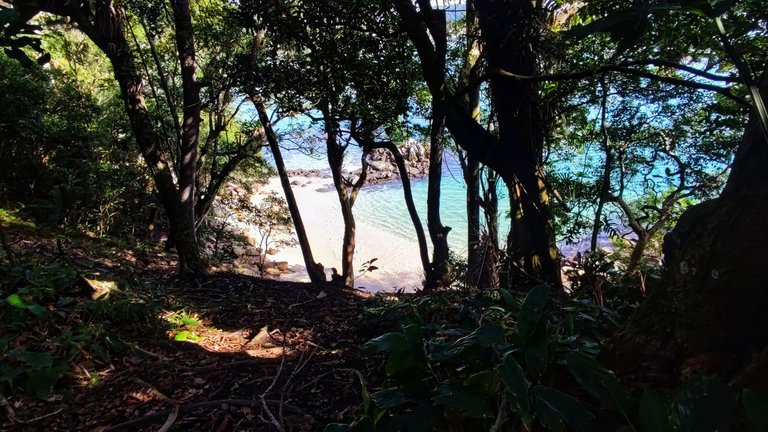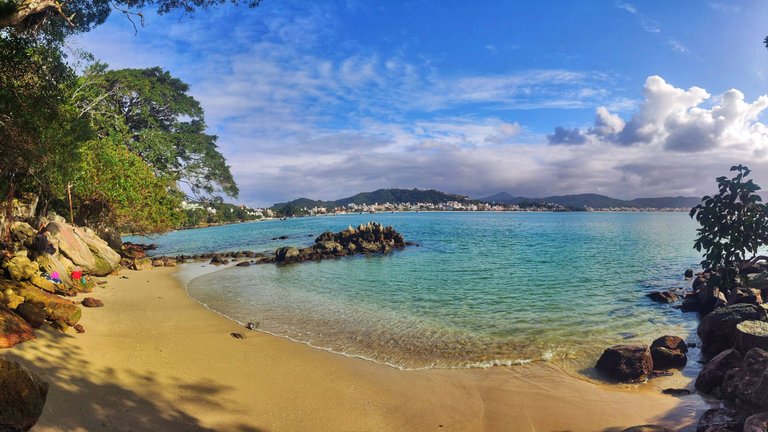 This time that I missed my goPro to take some underwater pictures to share.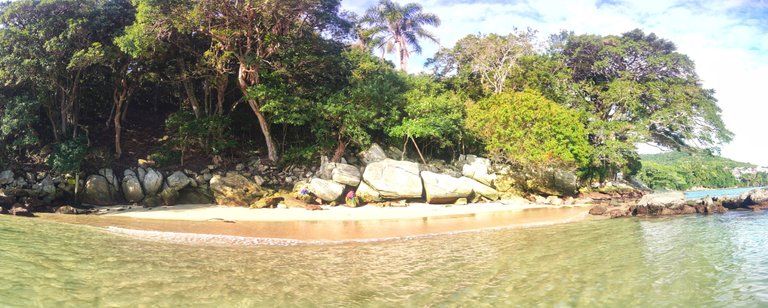 Arriving at the beach, we took the opportunity to do some snorkeling. I was not lucky enough to find any exotic species, but there is a very nice diversity of fish among the corals and rocks.
Visibility is very good and you can see clearly from 1.5 meters away. Diversity of fish in this place is great and if you are lucky you can even see turtles that live there.
It is possible to do the entire coast by snorkeling, since the sea is very calm and practically without waves.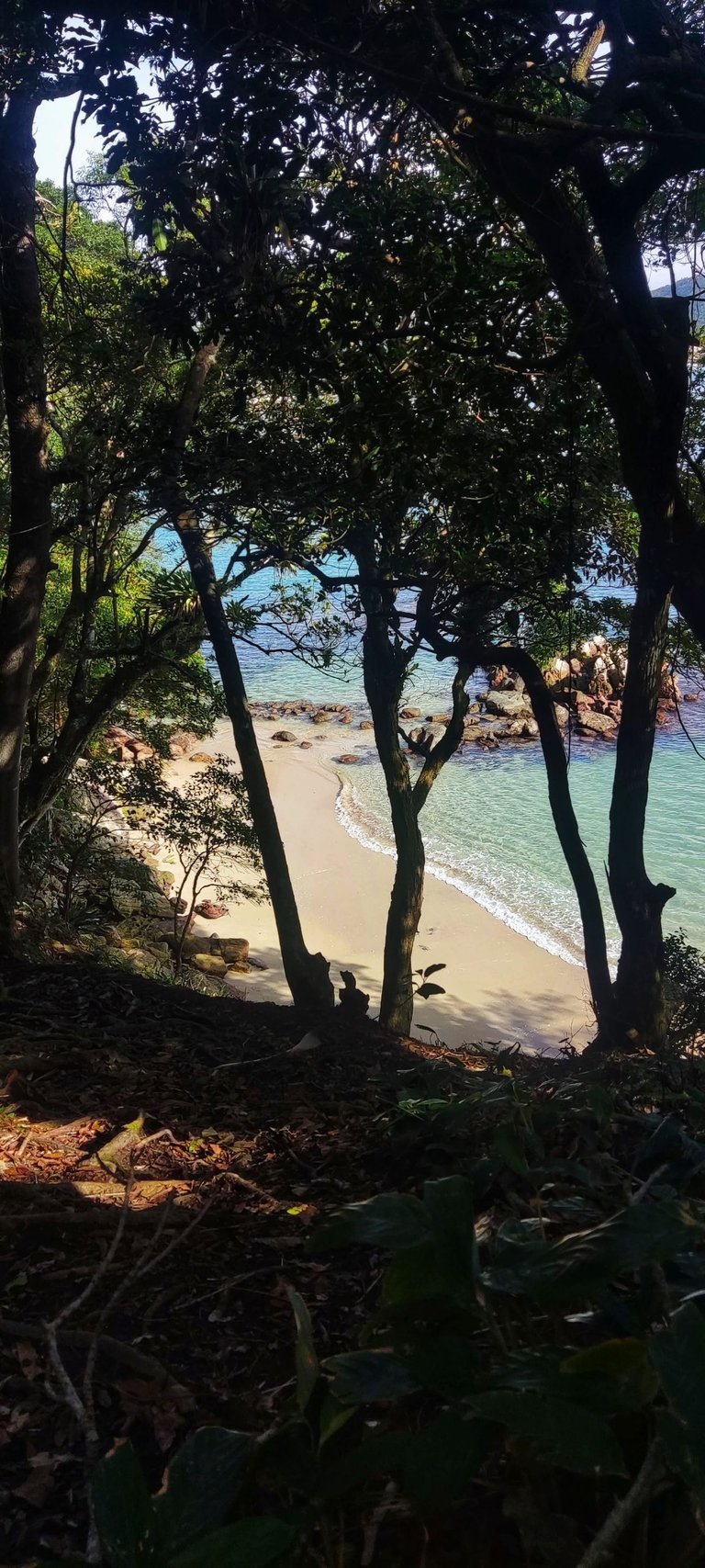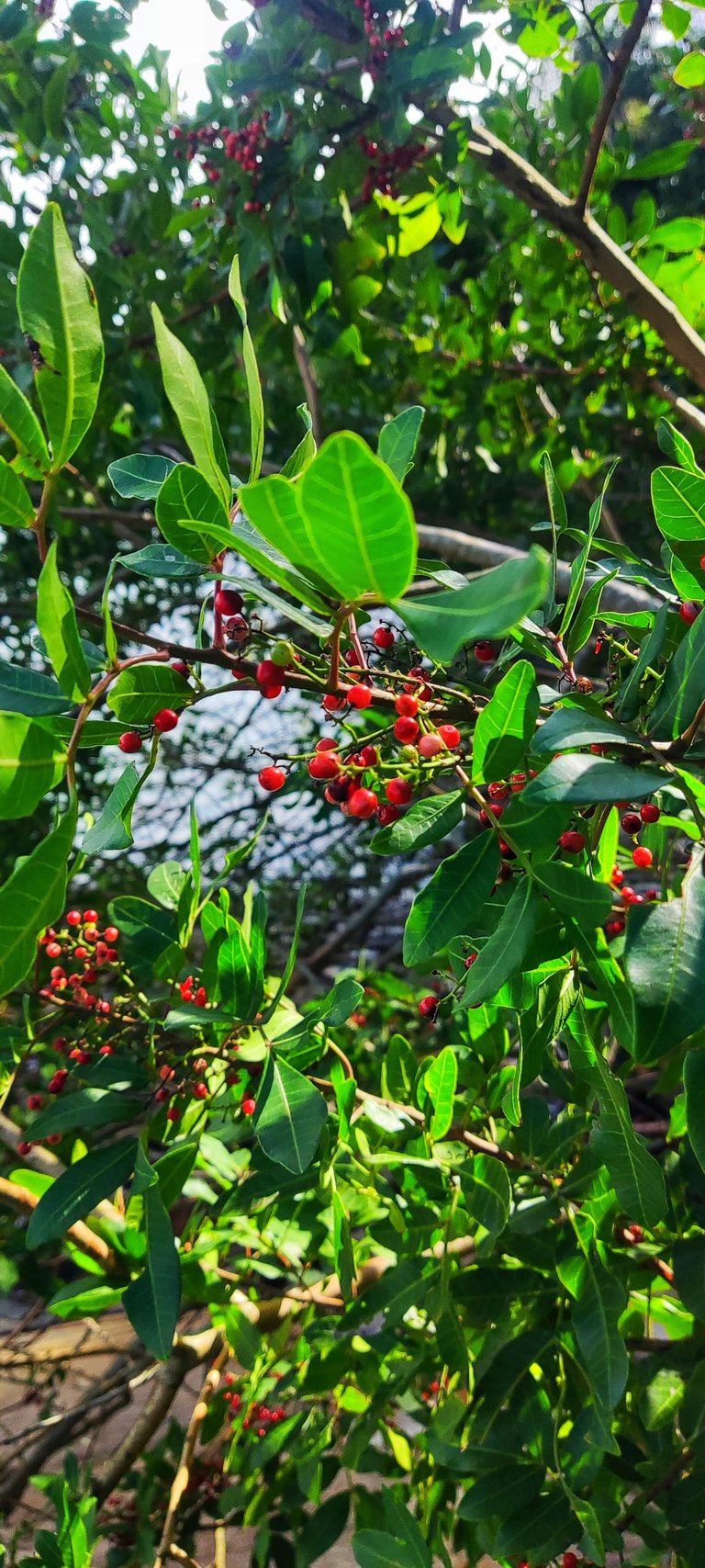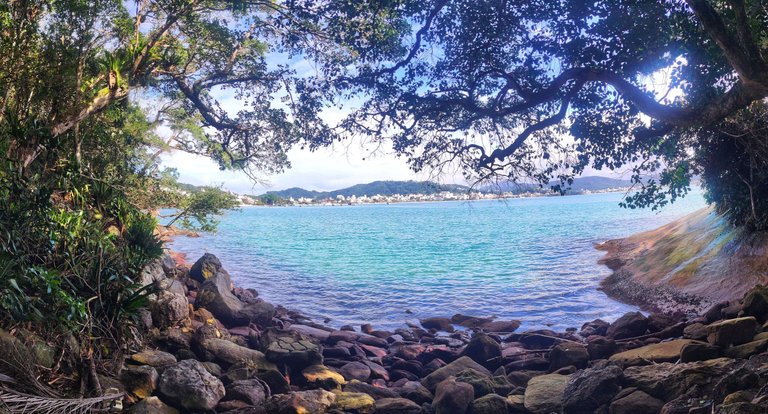 This was our last stop on the trail, time to go back. I hope you this post. Invite you to follow me for more posts like this. Still have more pictures and stories to share about this trip to bombinhas.
Any comment or suggestion will be appreciated.
---
Thanks for reading.
Leave a comment that I'll be glad to reply to.