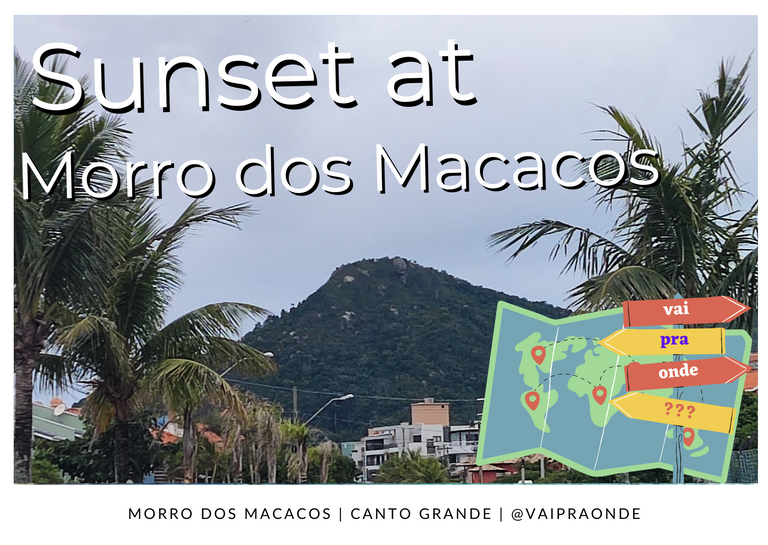 Hi Hive Travellers, how are you today?!
I'd like to invite you all to ascend Morro dos Macacos with me today. The itinerary calls for visiting Mariscal beach while walking from the hotel, followed by a hike to the top. We were unable to witness the sunset on our first attempt owing to clouds, but the view from up there was still fantastic. Then, let's try again and see what the purportedly best worlds sunset has to offer. Buckle up and let's go!
Sunset at Morro dos Macacos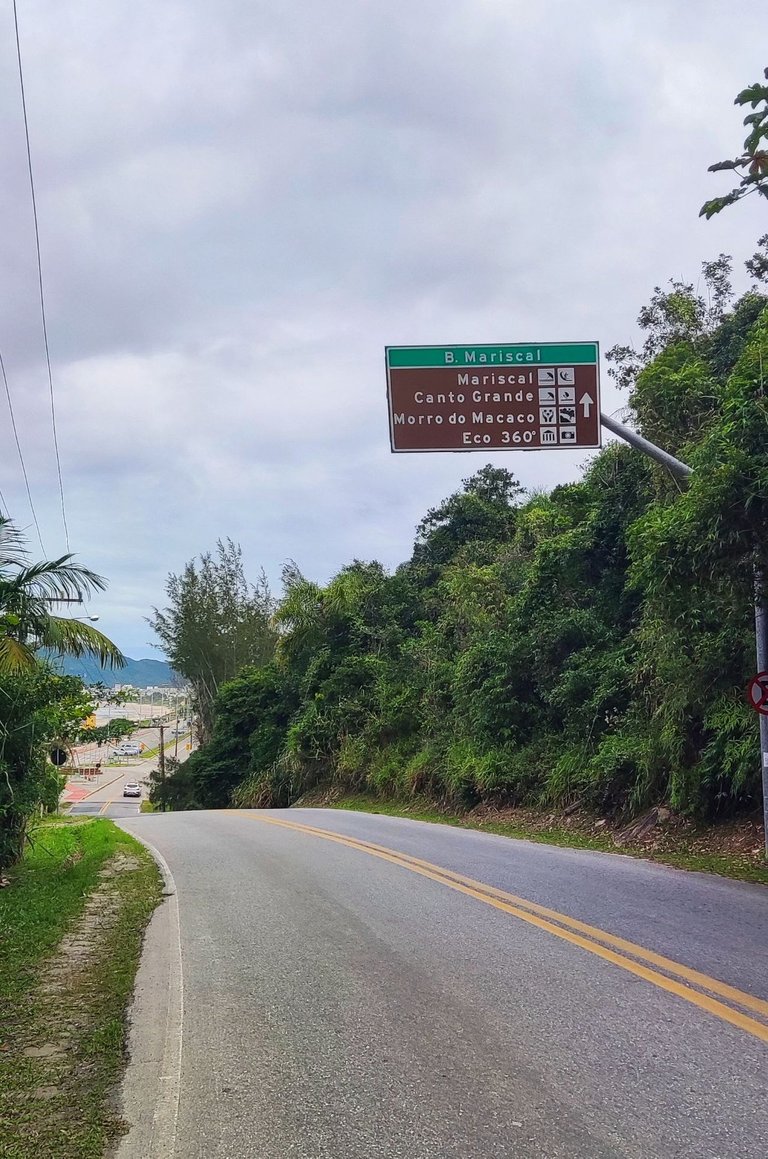 Location
Located in Canto Grande, Bombinhas region, on the south coast of Brazil, a place that was very special on this trip.
I was told that it was the place with the best sunsets in the region, and as I lover of sunsets, I couldn't help checking it out.
It was a 7km journey from the hotel to the Monkey Hill. As I also like to walk, I decided to walk and take pictures of the landscapes along the way.
On the way
The biggest problem was crossing the hill. Climb after climb, called for careful physical preparation. In the part of the descent, it became easier and soon arrive at the beach of Mariscal, from that point I knew it would be simpler beause the hill section was finished.
At this point, I was gratefull for don't have strong Sun shining over me.
As the weather started to change and a lot of clouds moved in, I already knew that I wouldn't be able to watch the sunset this time. But because I would return on a clear day to take in the sunset, it would be advantageous to already be familiar with the trail.
Mariscal Beach
The Mariscal beach, with its businesses, residences, and other lovely homes, was one of the areas I had not yet seen. Additionally, there is a sizable beach with numerous workout facilities, bike routes, outdoor gyms, soccer fields, and sand tennis courts.
I briefly paused to watch a volleyball match before continuing on my trip. However, when I came upon this bee around a lovely blossom, I couldn't help but stop and register.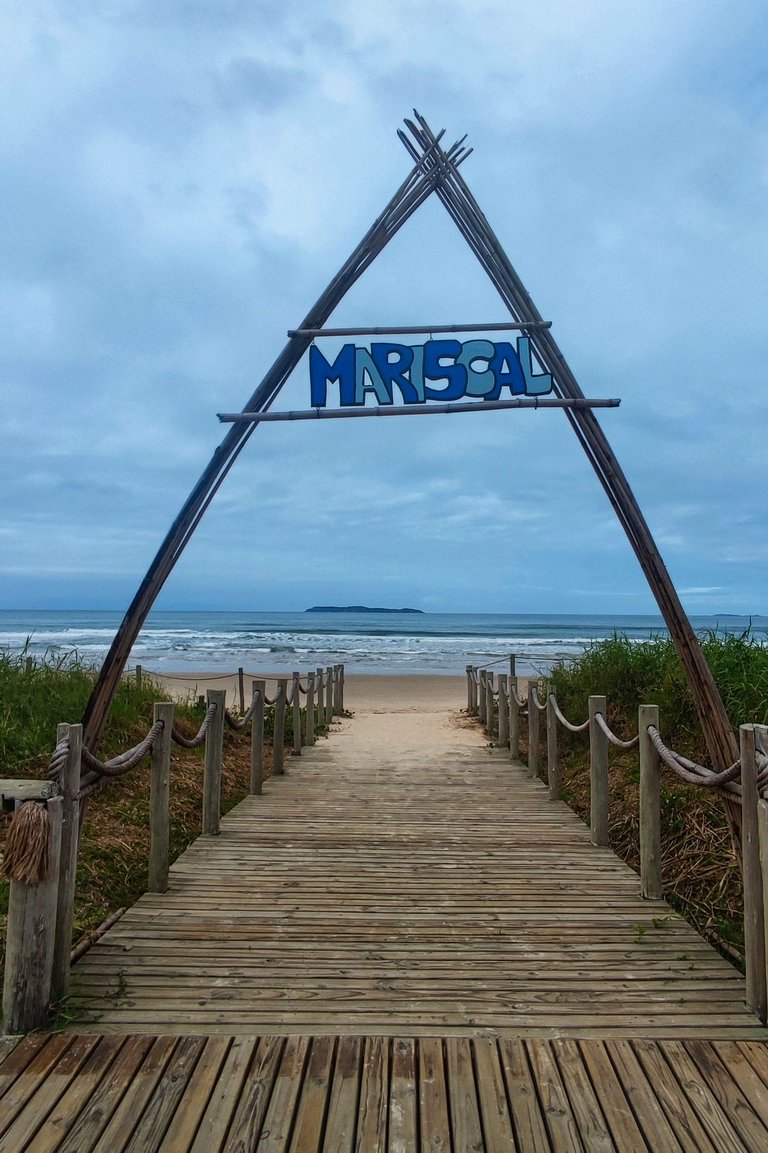 Take a break to refuel
There was a sign that claimed they had the best coffee. It might be a good idea to take a coffee break. Recharging is always beneficial, and I find it difficult to refuse coffee.
Back to the road again after having a some conversation with the servers about different types of coffee, roasts, tastes, and methods for making good coffee.
---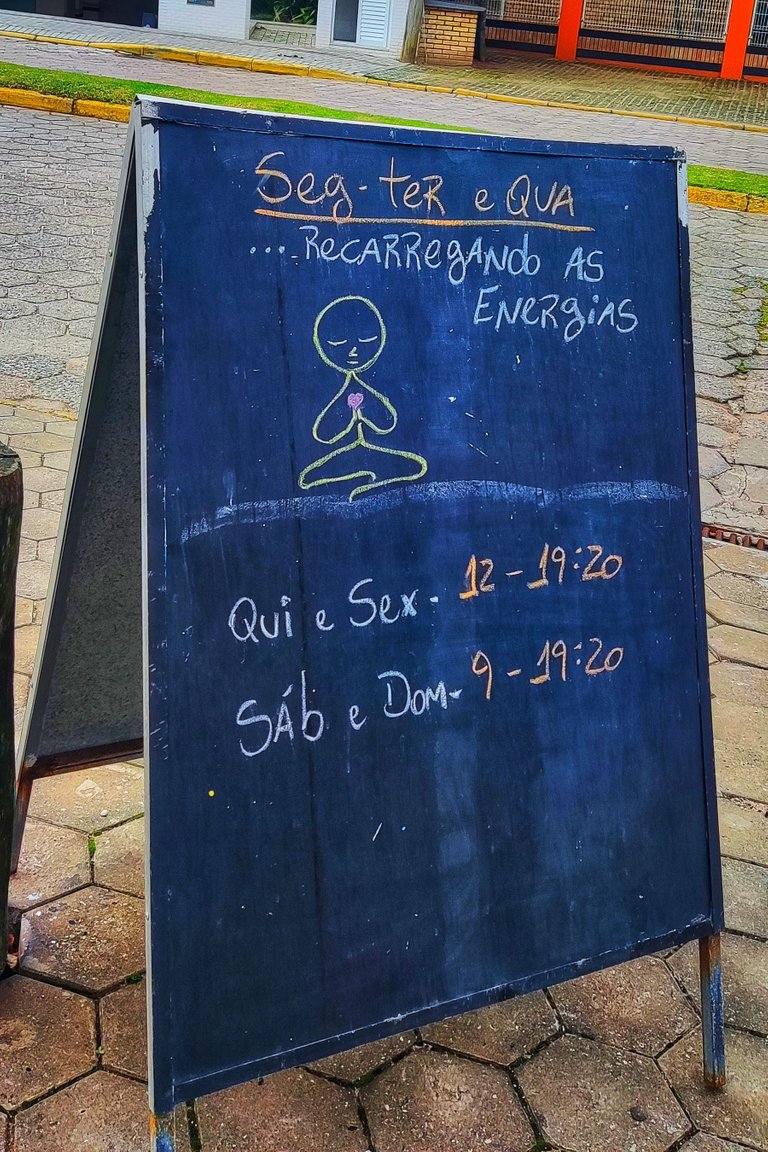 I thanked them for the coffee, which was very wonderful and had hints of dark chocolate.
The route was now simpler; there were no slopes or rises, just a straight ascent to the Hill that was already visible.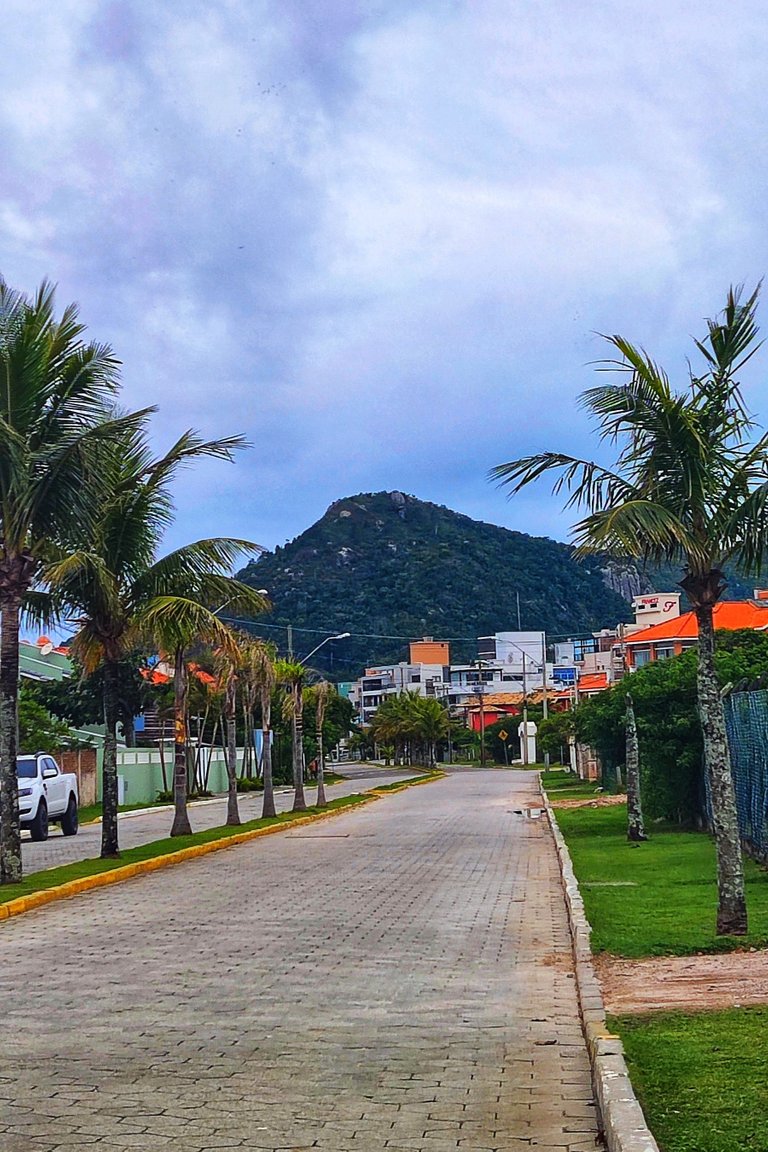 ---
Some interesting buildigns on Mariscal beach region.
---
Arrival at the Monkeys Hill
When I reached the base of the hill, I used the chance to purchase some food, water, and sugarcane juice—a characteristic Brazilian beverage that is incredibly calorie-dense and energizing. Do you think it's a good idea to start the trek with newfound energy?
As the weather started to change and a lot of clouds moved in, I already knew that I wouldn't be able to watch the sunset this time. But because I would return on a clear day to take in the sunset, it would be advantageous to already be familiar with the trail.
I was greeted at the entry by staff who asked if I was familiar with the route, gave me a tour of the area, and helped me register by taking down details like my lodging arrangements, birthdate, and home city.
The world's most beautiful sunset would be present, according to a sign. Although I'm not sure if it's the best view in the world, we'll keep searching. You then tell me what you think of my pictures. Being that sunsets everywhere are wonderful moments for me and knowing that every place has its own beauty, I'm suspicious.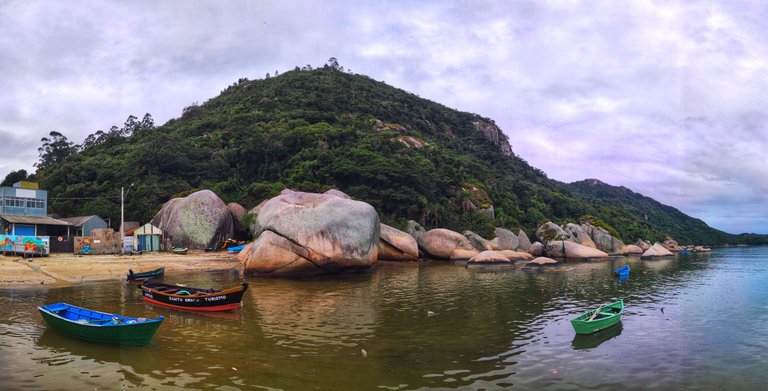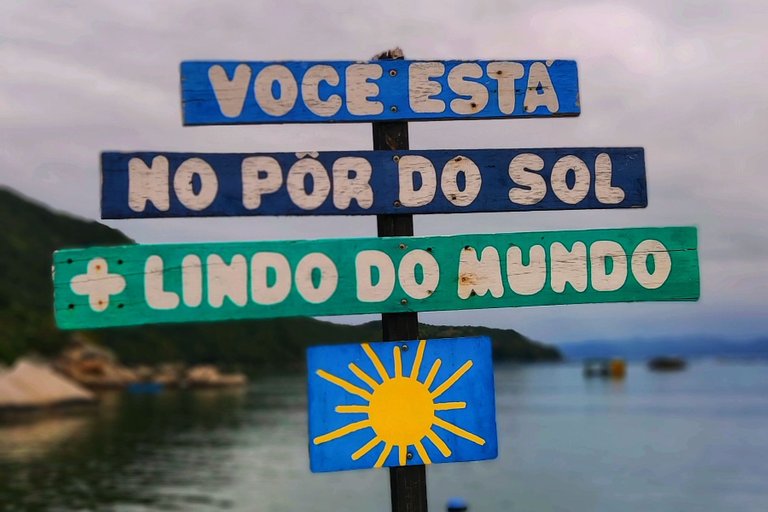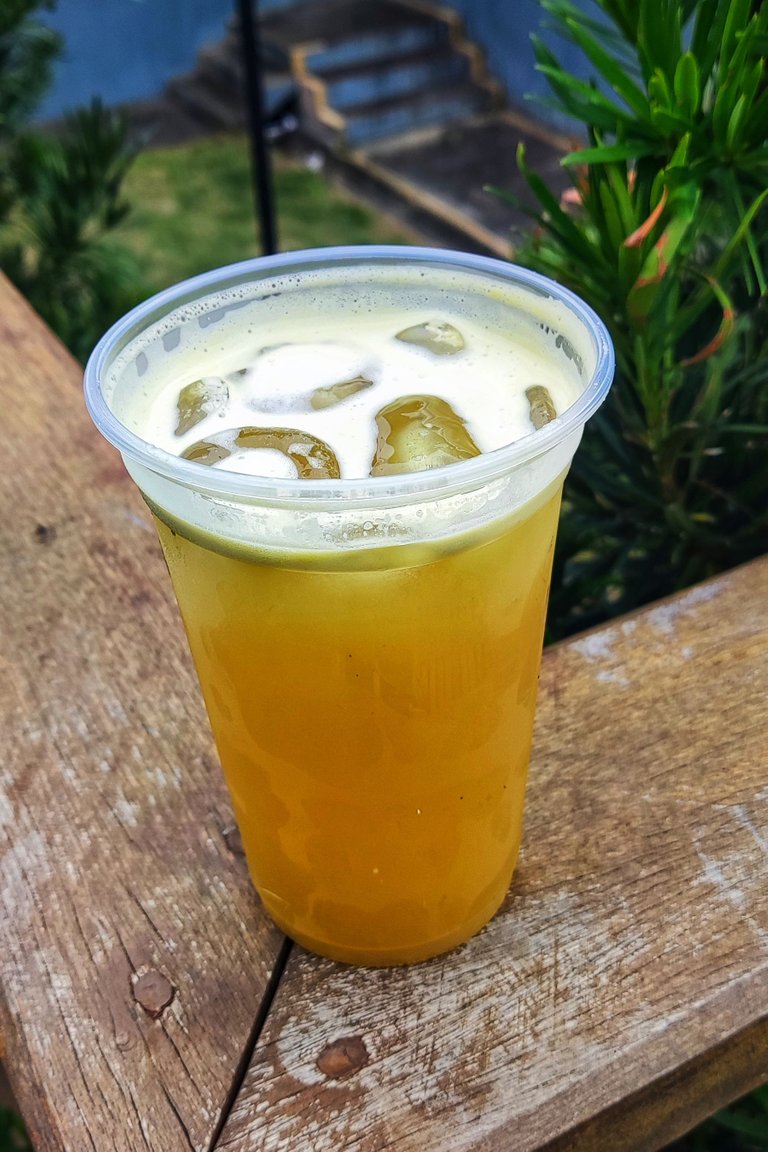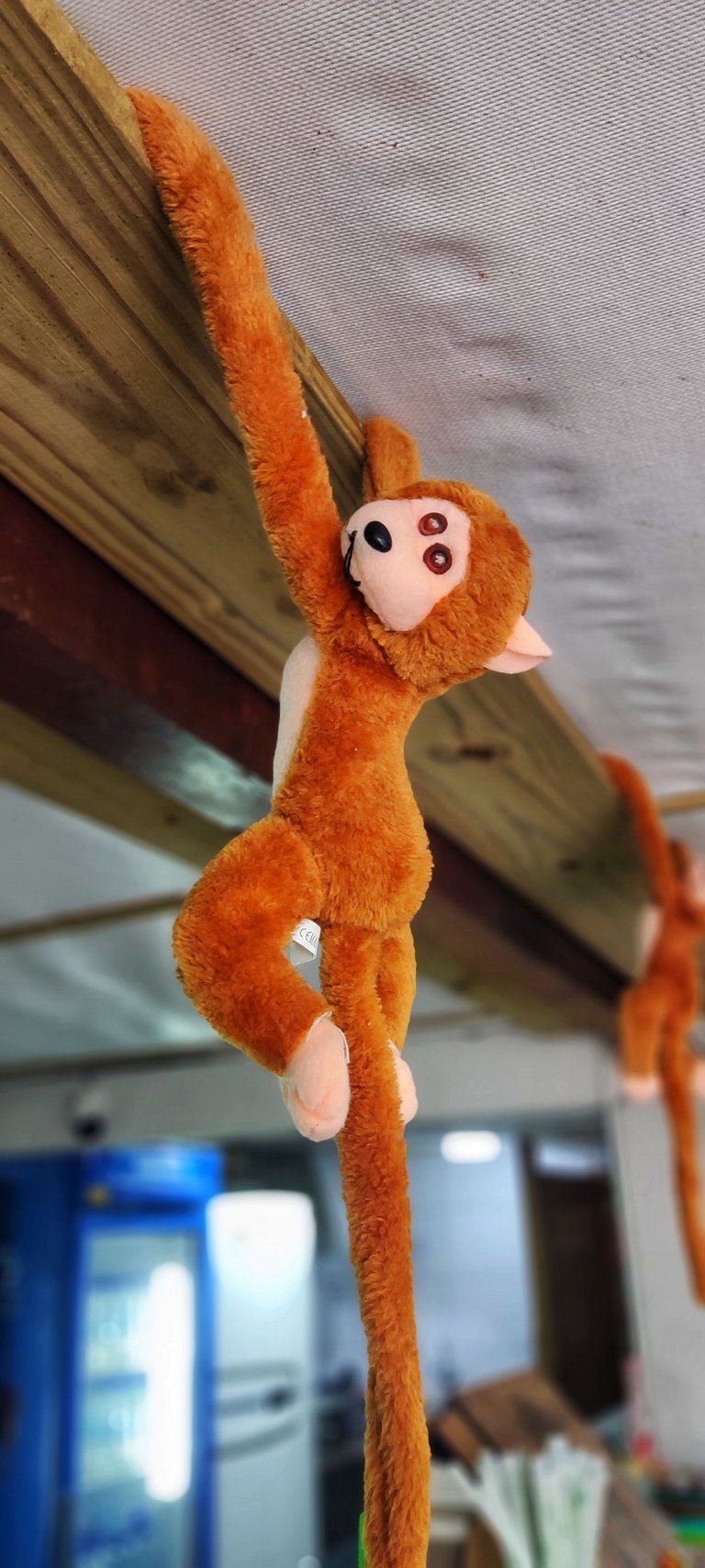 After showing me the map and pointing out the route I should take, I was able to choose between the Morro and Tainha paths after beginning the journey. The other trail will be left for another day, so we have a reason to come back once more.
The 1.2 km route takes between 30 and 40 minutes to complete.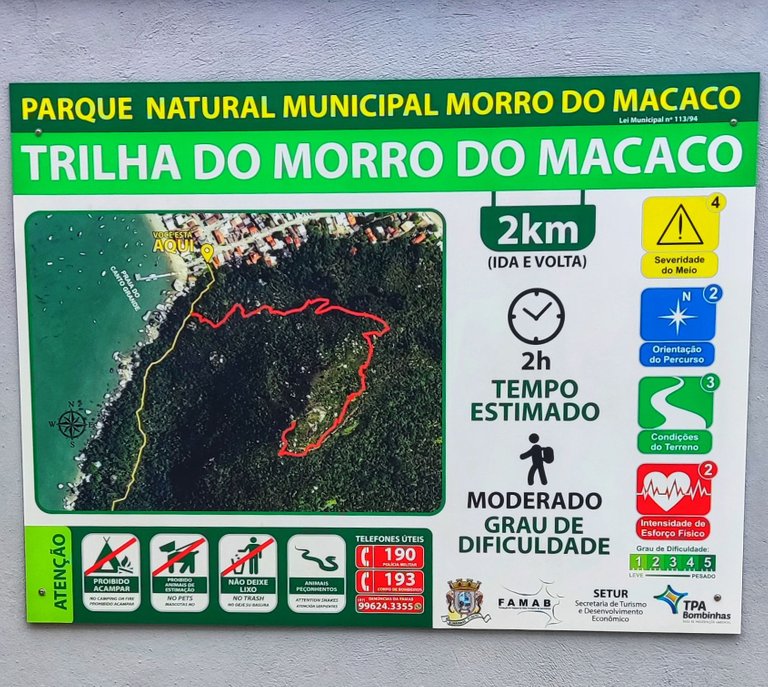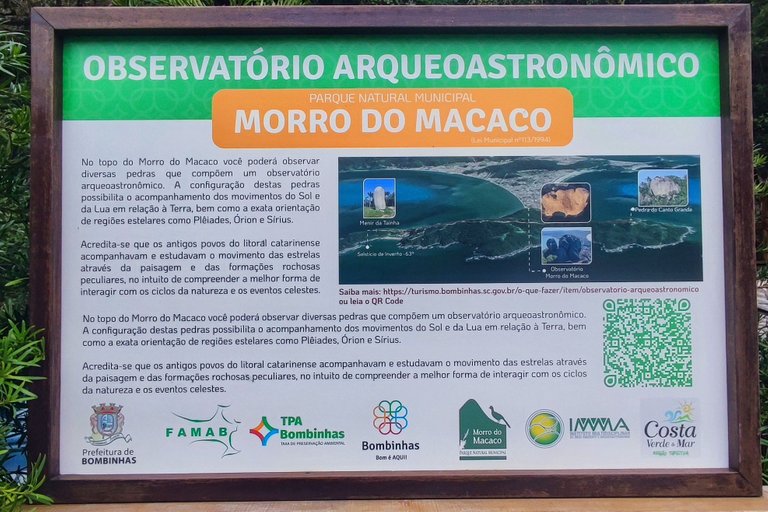 ---
Going up
The hill has a large slope and is 200 meters in elevation. Good to be in healthy physical shape, good knee and tennis health. Moderately demanding trail. Will we?
The beaches of Mariscal, Conceiço, and Zimbros can be seen from a number of spots along the Macaco route. The Arvoredo Reserve can be observed from up there in addition to everything else. These locations offer breathtaking vistas, and you can immediately tell that the view from above will be excellent.
Being that I had never been on the route before, I went up taking in all the intricacies, reading the signs, and taking several photos and videos.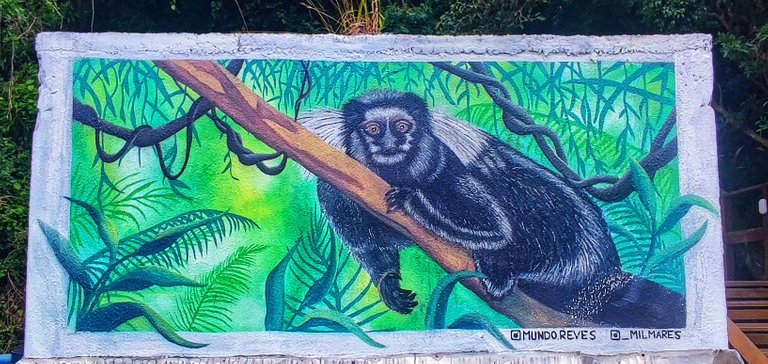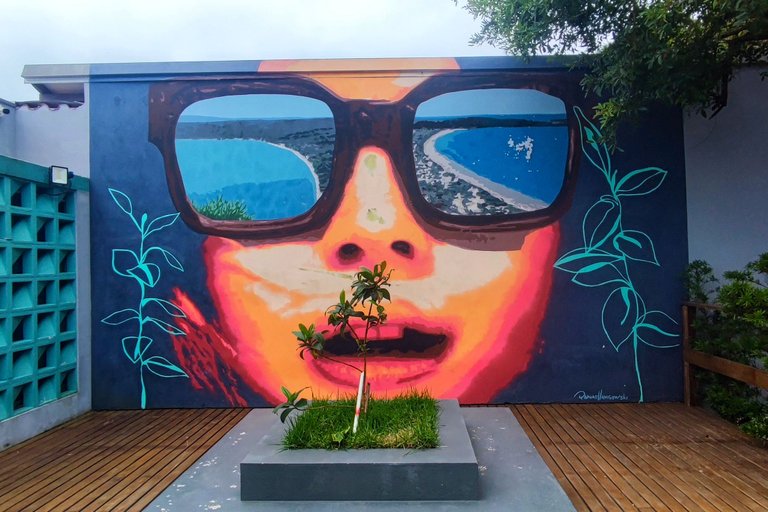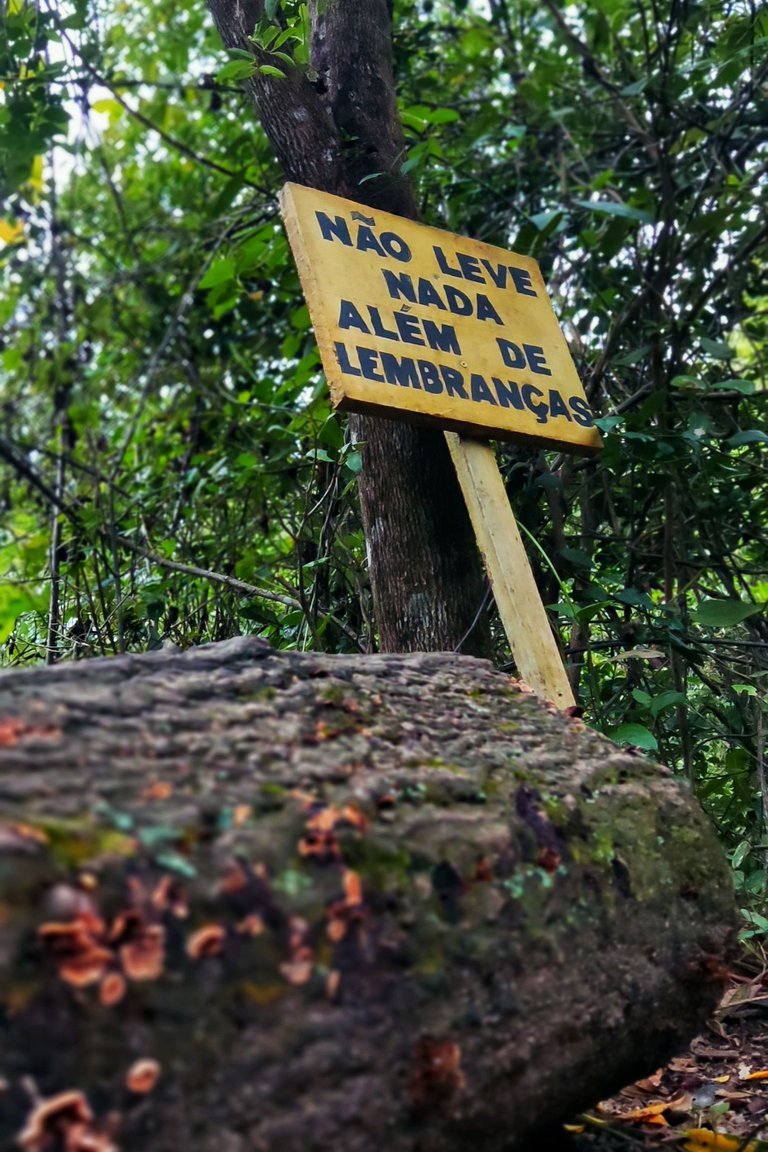 Really, it is not required to ascend with a guide. The track is clearly marked with some alternate, blocked paths for the purpose of promoting faster vegetation recovery as well as signs requesting respect and staying on the main trail.
I thought the information about the animals and vegetation that reside there was really intriguing. There are signs explaining some of the local flora and fauna along the walk. And yes, there are monkeys in the area, but I was unable to see any of them this time. It's wise to keep an eye out for spiders and snakes.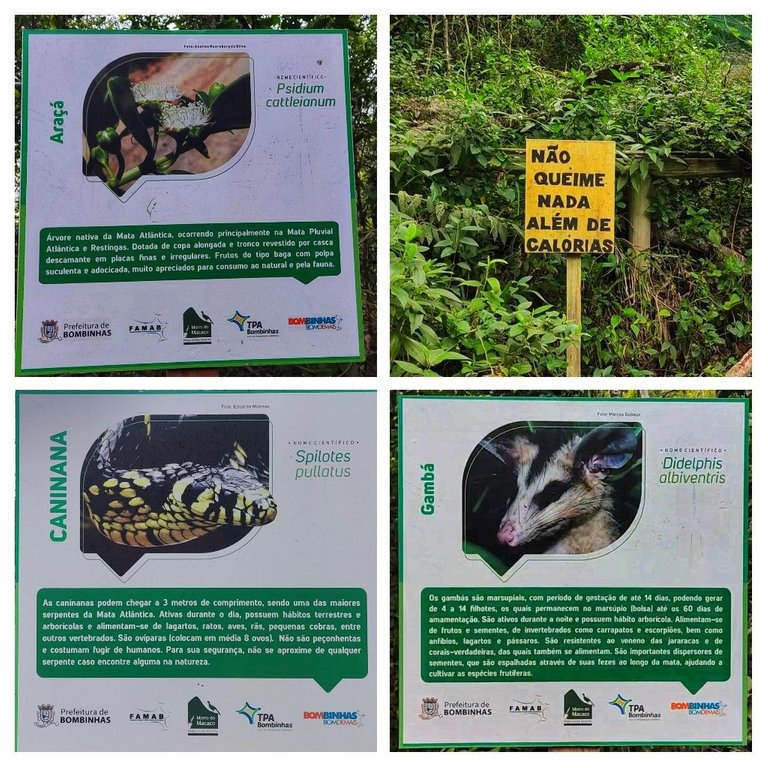 The hill top
The most common time to ascend is around sunset, but many people also choose to do so in the morning. Who knows, maybe the next time I'll be ready to stay all day up there. This time, I think it was excellent to be able to explore the finest locations for views and photography because it was cloudy and there weren't many people up there.
The view from the summit was absolutely breathtaking, offering a glimpse of the sea and the two beaches that make up Canto Grande, Mariscal. I learned that the final beach is known as Conceiço beach.
I took advantage of the chance to unwind, rest, and appreciate the scenery, as well as to meditate and enjoy the tranquility the place offers. wonderful vigor.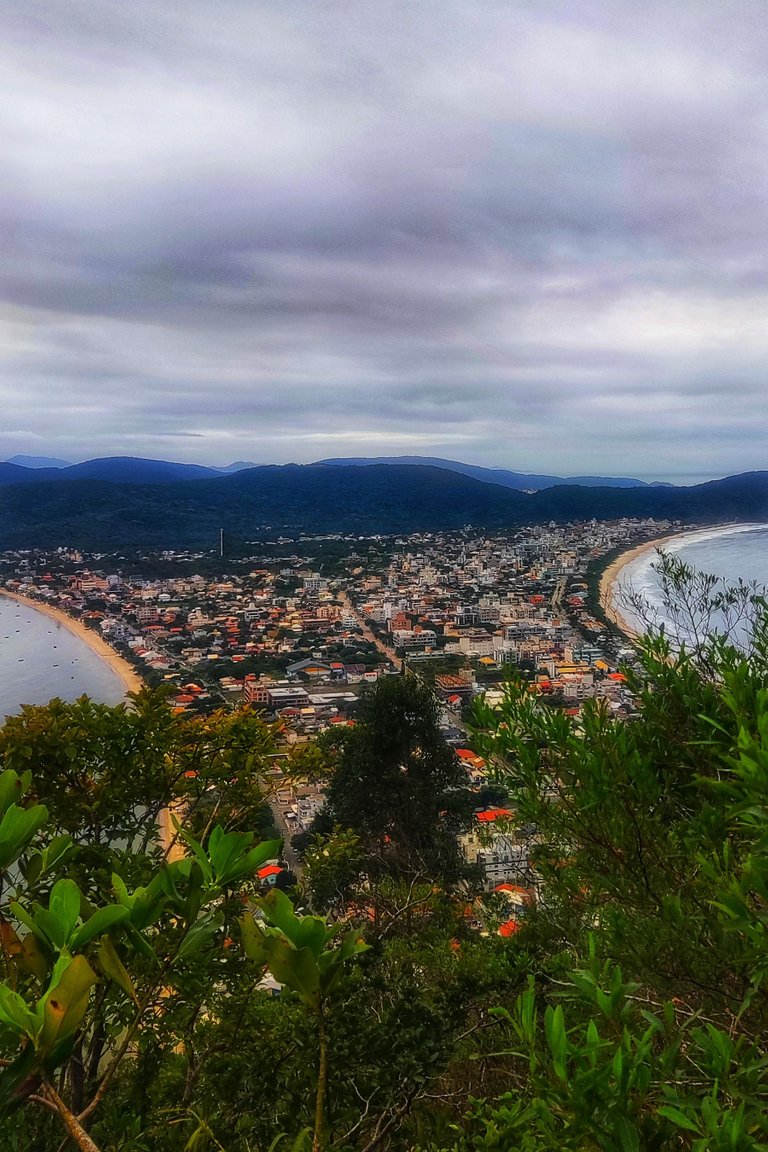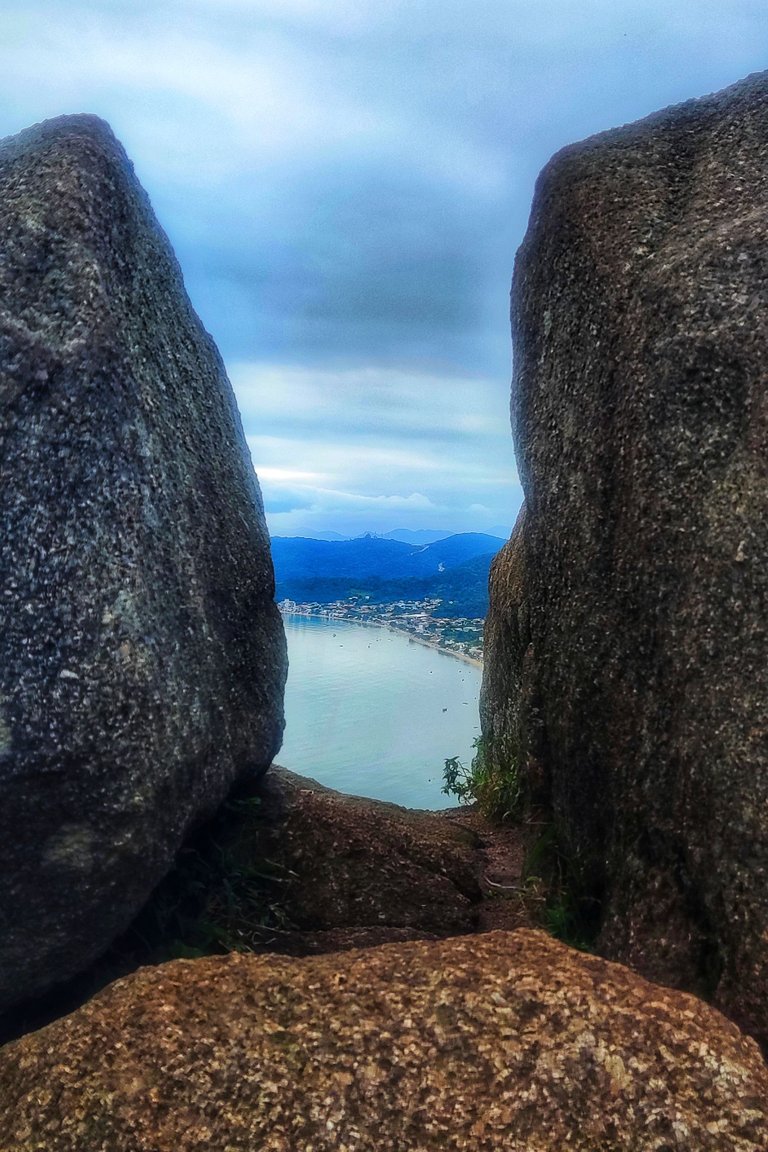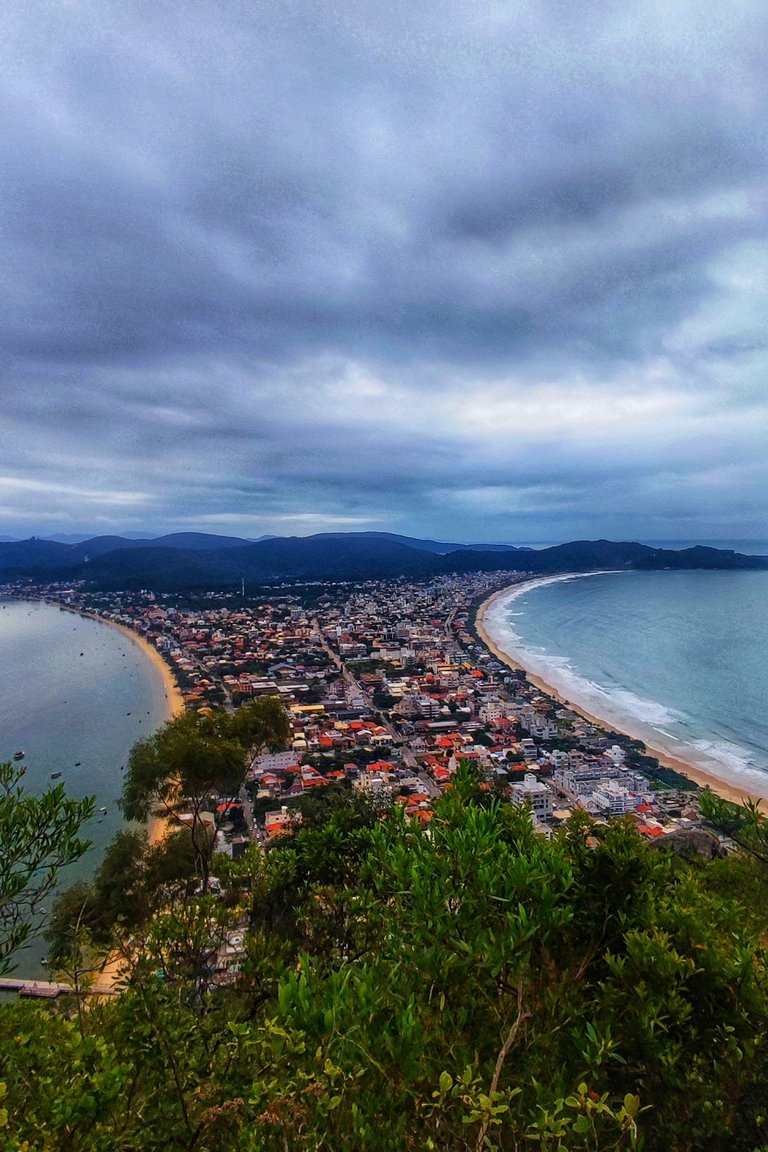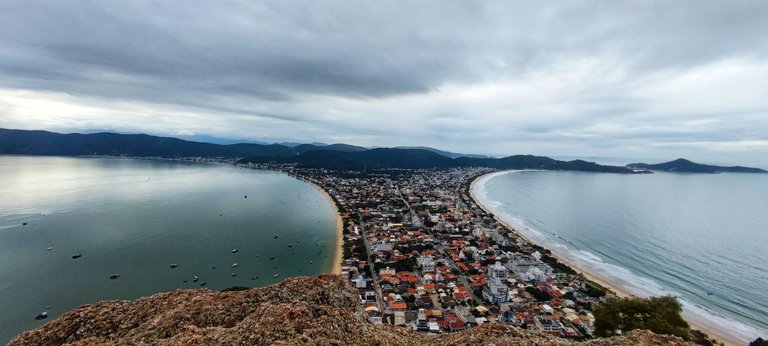 Conceição Beach
There are many points that you can enjoy panoramic view. At the right side of Main Rock Panoramic view, we found a second rock that give us the Mariscal and Conceição beach overview.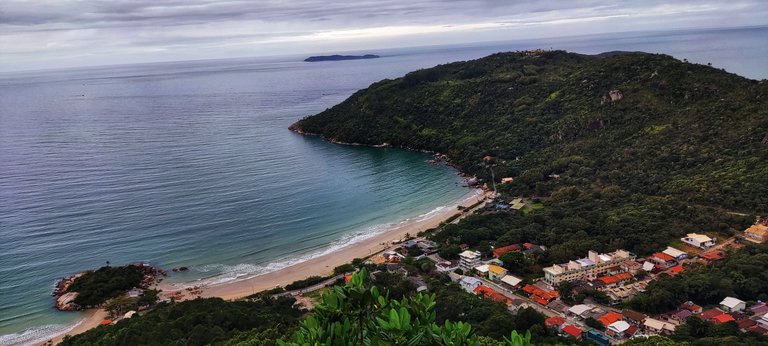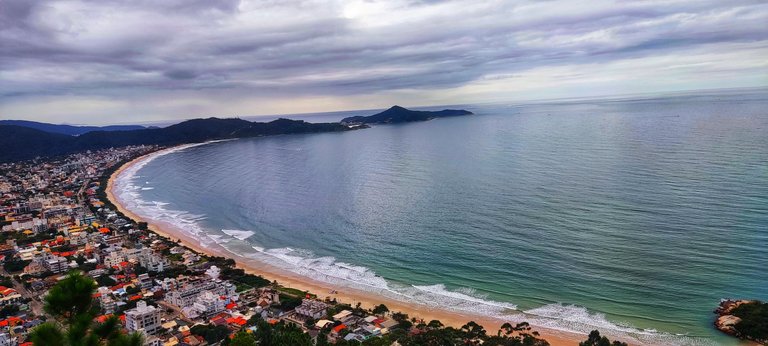 Descend
Always, it seems like the decline is simpler. I made the decision to go back rather than wait until daylight to do so because I couldn't view the sunset from where I was.
It's good that I came back earlier since I was able to take some beautiful pictures on the large corner pier and catch the final sunbeams in this overcast sky.
I made my way back to one of the eateries I had passed on the way. The menu offered delicious meal options, and there was live music.
I then go back to the hotel and start to wonder when the weather will become better since I would definitely come back to see this vista at dusk.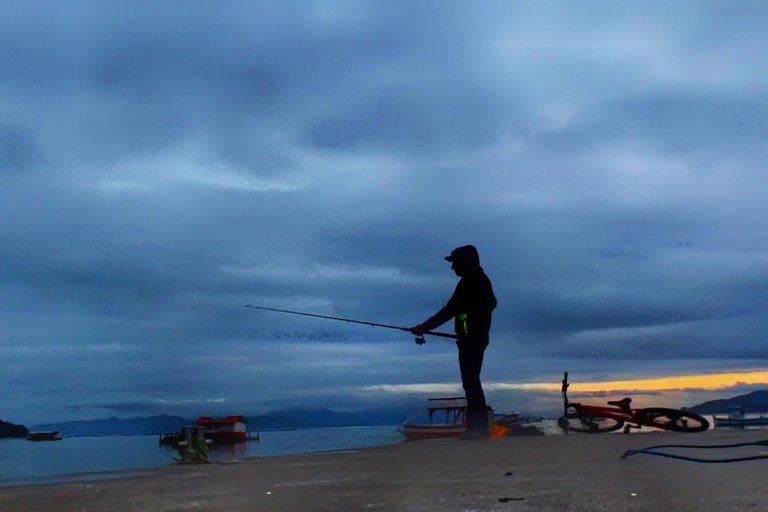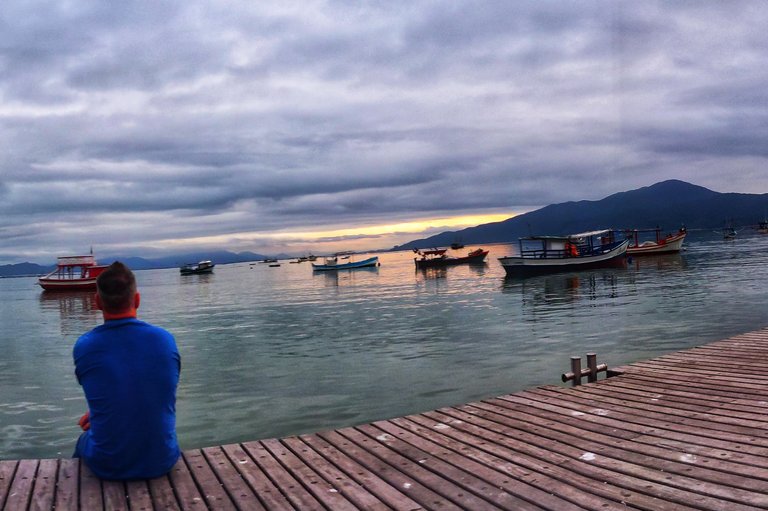 The Sunset
Time has come! We are here because of it, right?
This time we have a very clear sky, Full Moon and Sun is shining on the Sky. I bet it will be amazing...
I had to go back as promised to watch the "Best Sunset in the World," and this time I made it to the top quickly and without stopping.
Knowing the way, I took a taxi to the hill and began the ascent. Because I knew the paths and where to step, I was able to ascend to the top much more quickly. Nothing like knowing the trails.
On that particular day, I discovered a lot more people up there, all competing for the greatest views of the setting sun.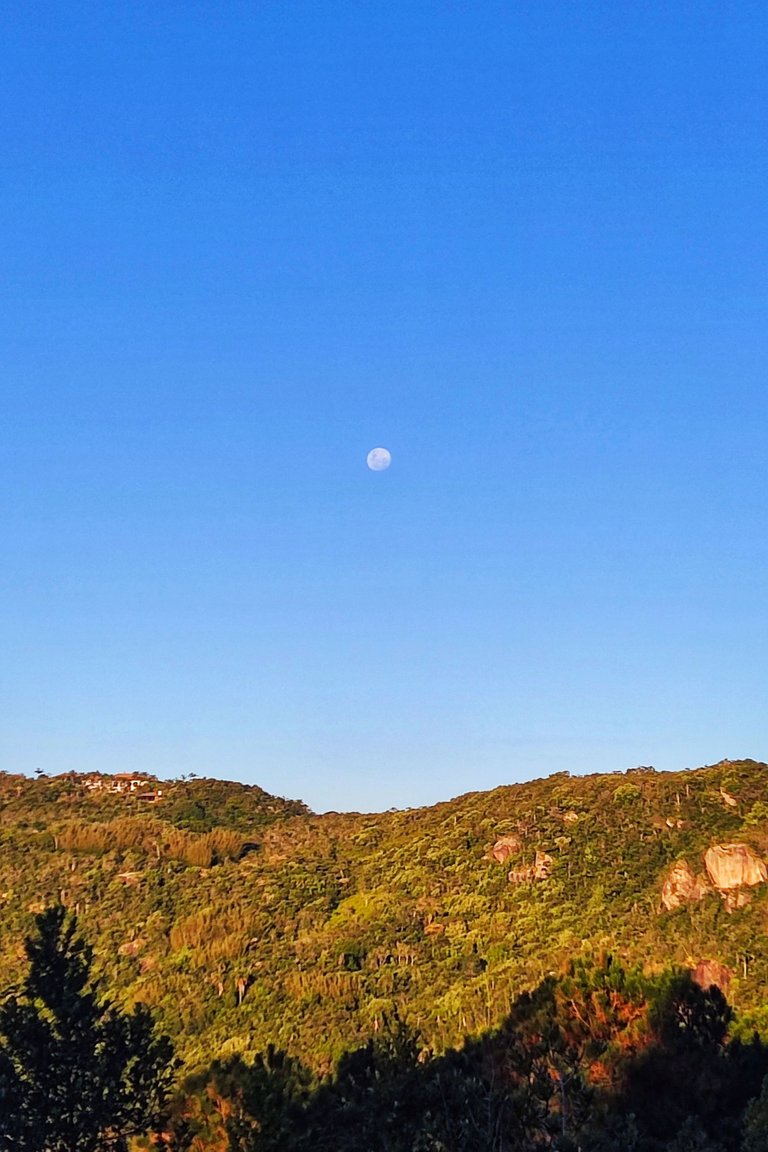 This time was a beautifull day and we also have the Full Moon to join us at this trip.
I seized the chance to interact with those who were on the rock and secured my spot in the sun.
We lingered there conversing and watching the sun set. That was genuinely fantastic. An great atmosphere and color display.
The local church started ringing a bell just as the sun was setting, echoing around every corner and adding a more mysterious feel to this amazing day.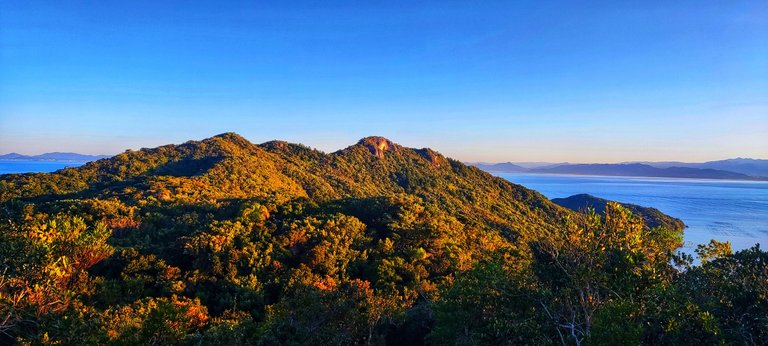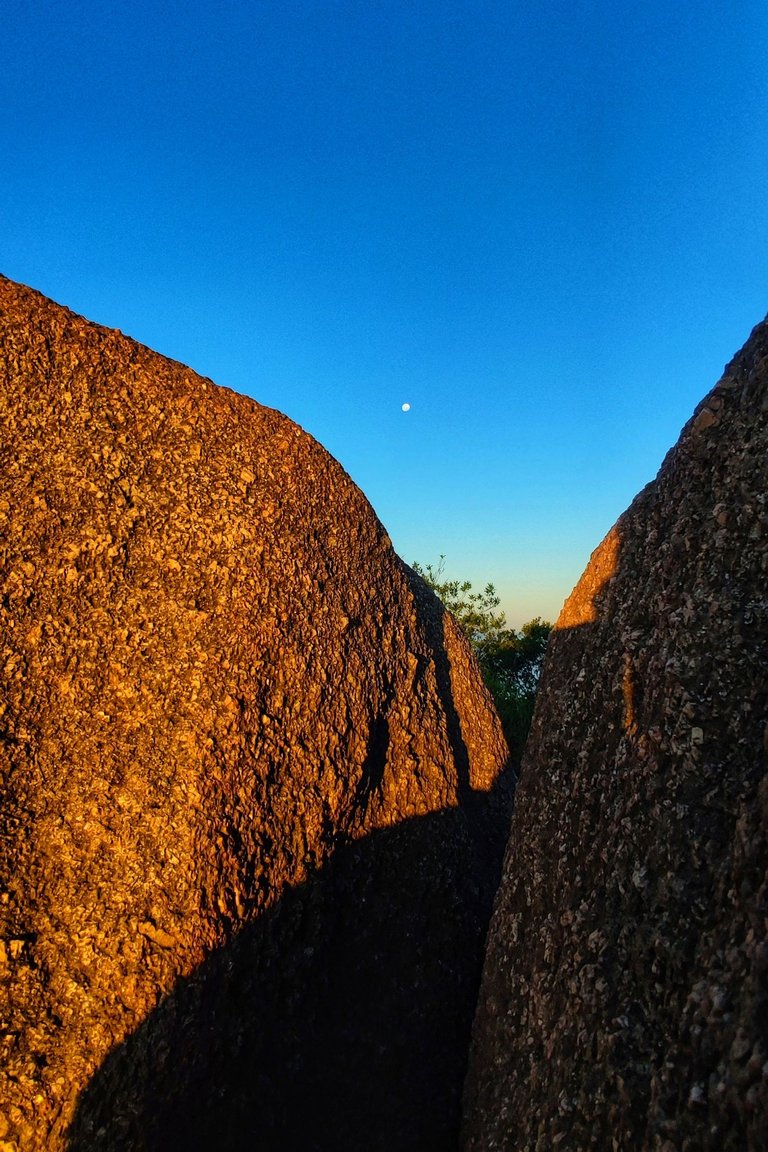 It's wonderful to meet people whose chats are cool and natural.
I will leavy you for a while so you can enjoy the sunset pictures with no interferece.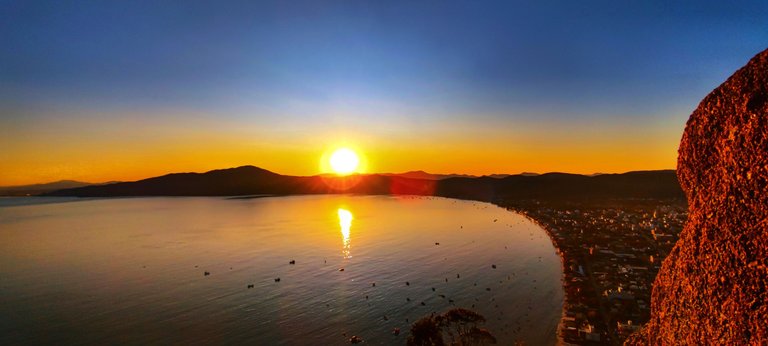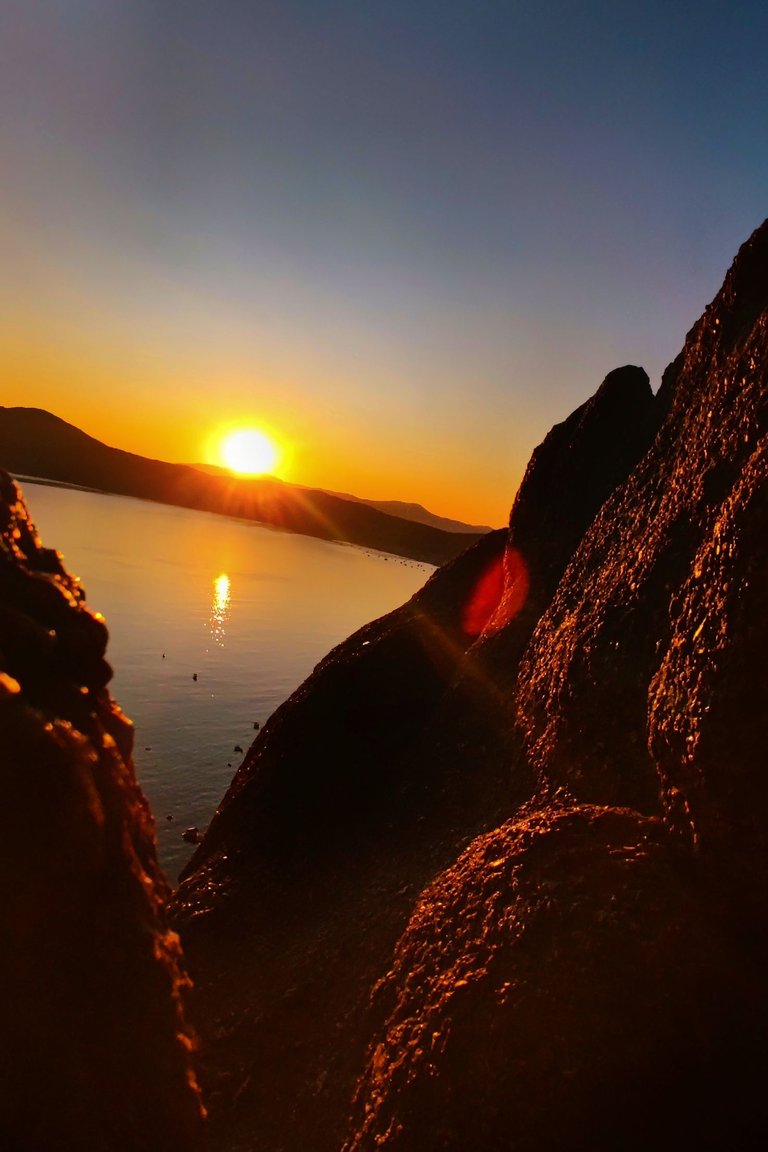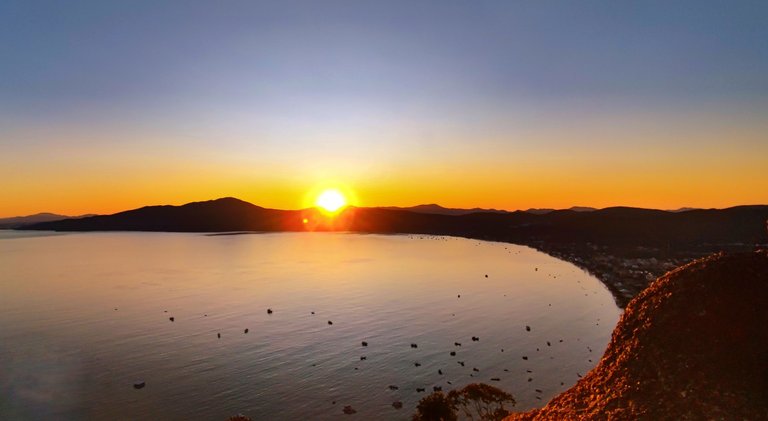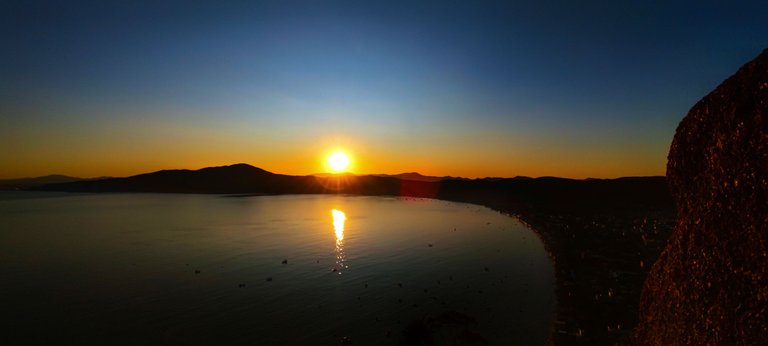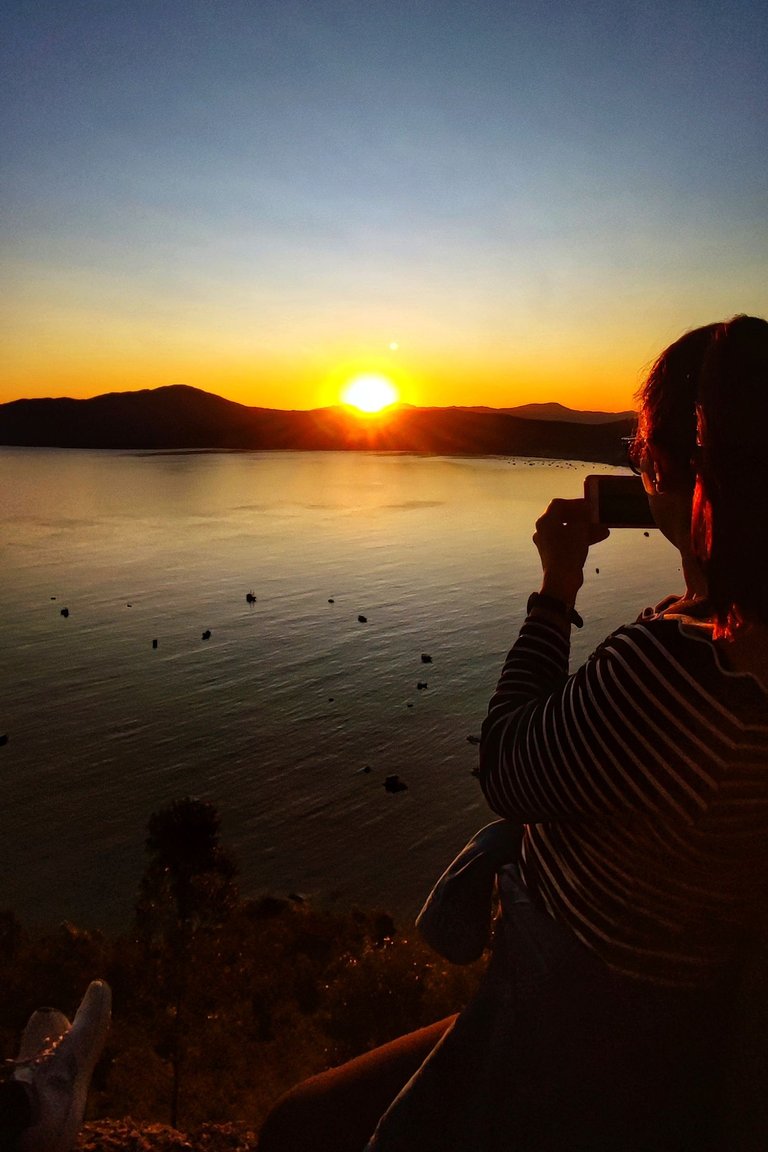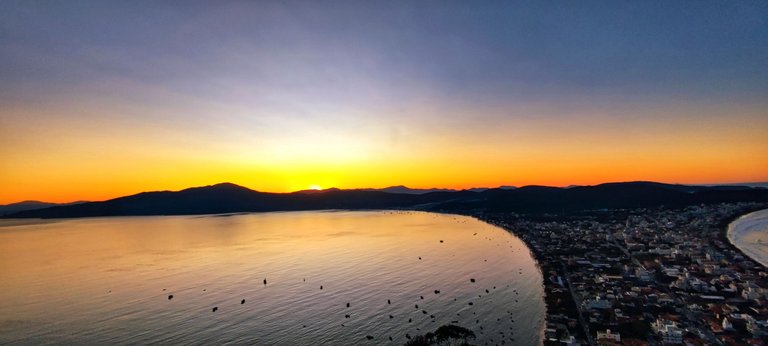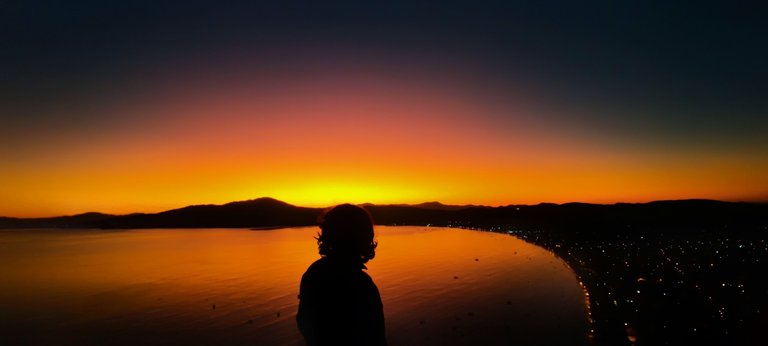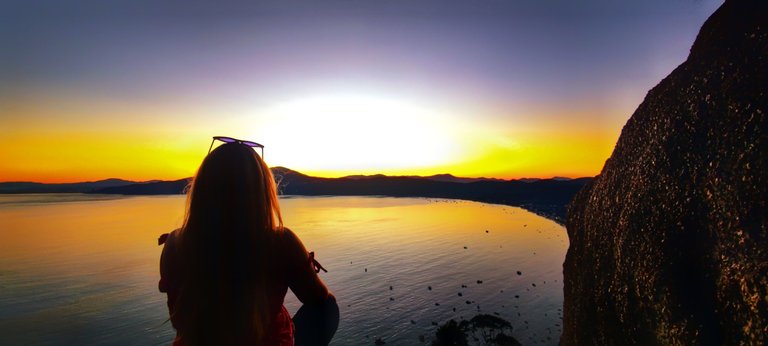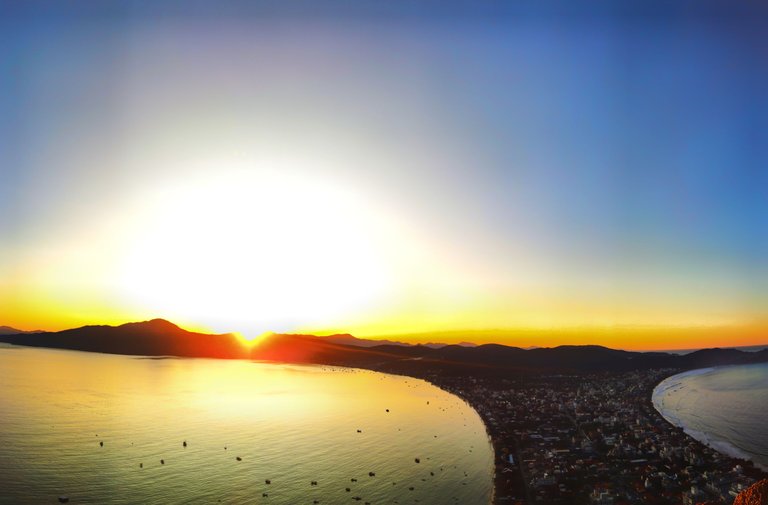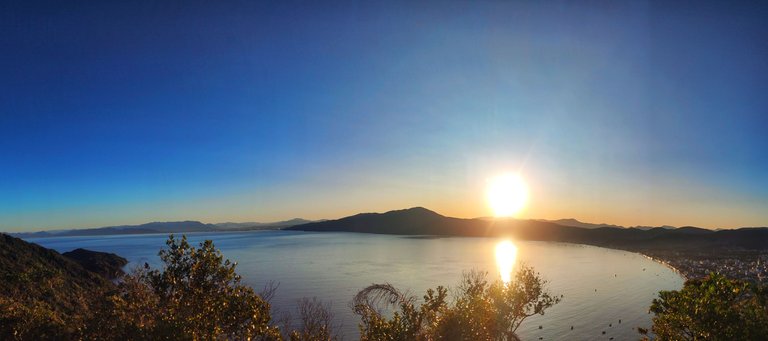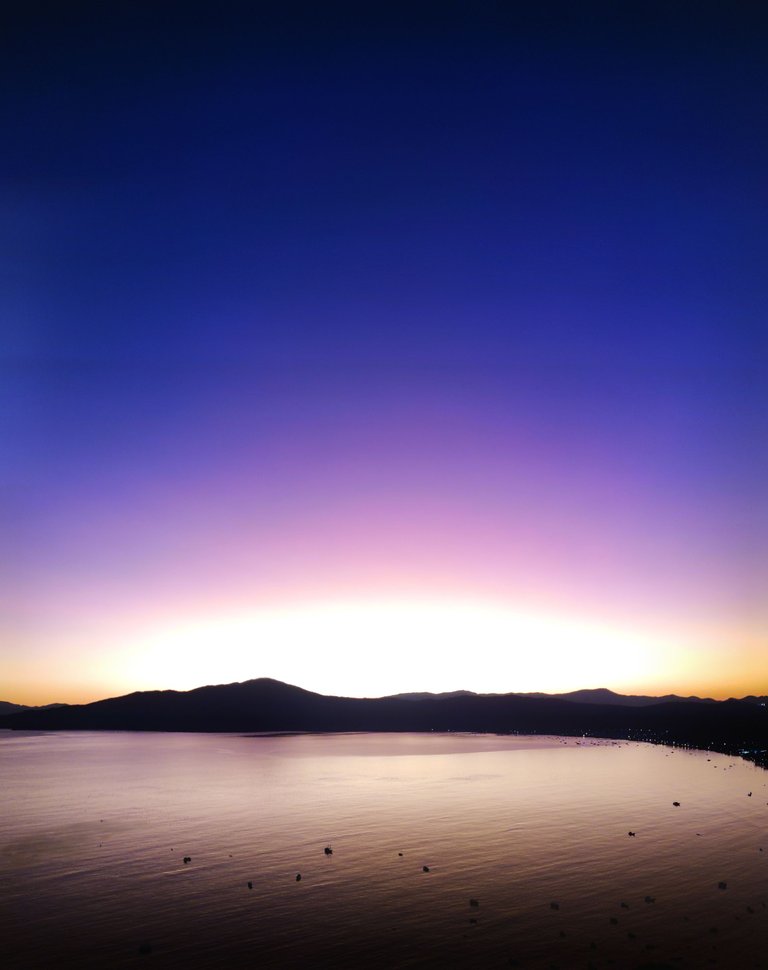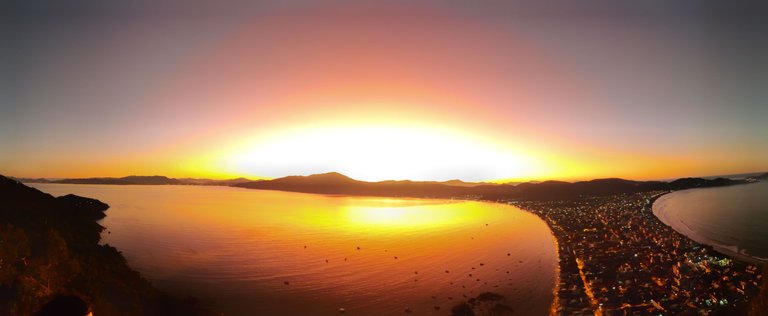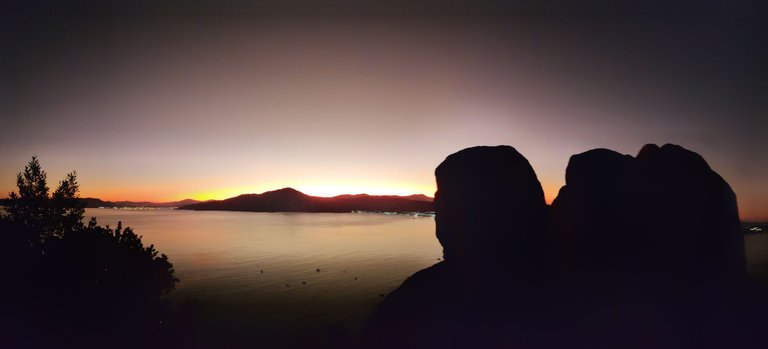 Even after sunset, the sky was still brilliant and gorgeous, the city lights were on, and the talks I had there with the individuals I met were more engaging, so it was very difficult to want to leave.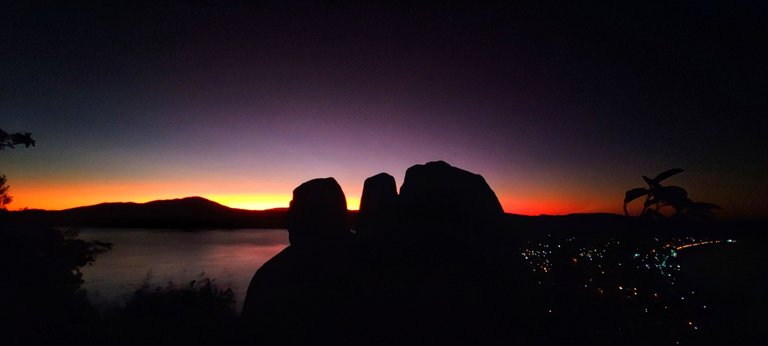 Video
Return
When we made the decision to descend, it was already dark, but the full moon provided light. However, regions with thick woodland were required, as were flashlights.
We came upon a spider that was hardly discernible in the darkness, which is fortunate.
I have no idea what kind of spider she is, so I should probably just let her be.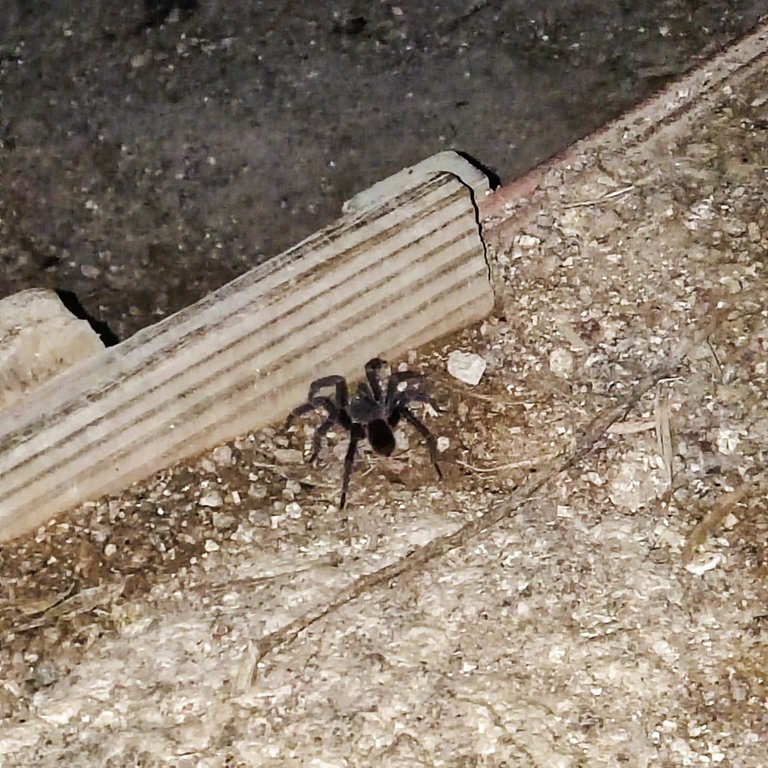 Despite the winter was starting, it was a pretty pleasant night, so we paused on a rock to take in the night sky. Among other deep topics, we discussed the universe, stars, and planets.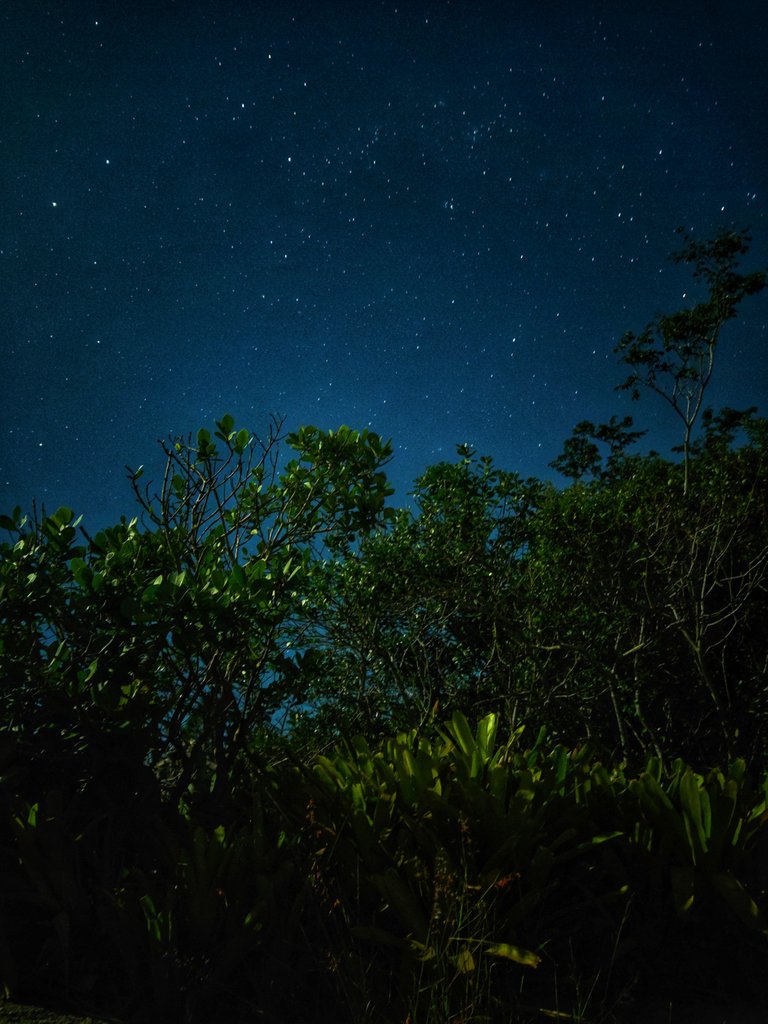 Before leaving, lets try to take another Full Moon picture.
This time, it was simpler to get back to the hotel because these folks were headed in the same direction as them and my hotel was in their path. What wonderful new friendship!
So this is the end on this trail, which had been well worth it because to the stunning scenery, physical activity, and new acquaintances.
I'm sure I'll want to watch the sunset again from up there when I go back to the area. Already anticipating my return.
I sincerely hope you liked your visit to Morro do Macaco with me and see you soon on our next adventure.
So what did you thinkk about it? Is the sunset gorgeous or not from up there?
Tell me; I want to know what you think.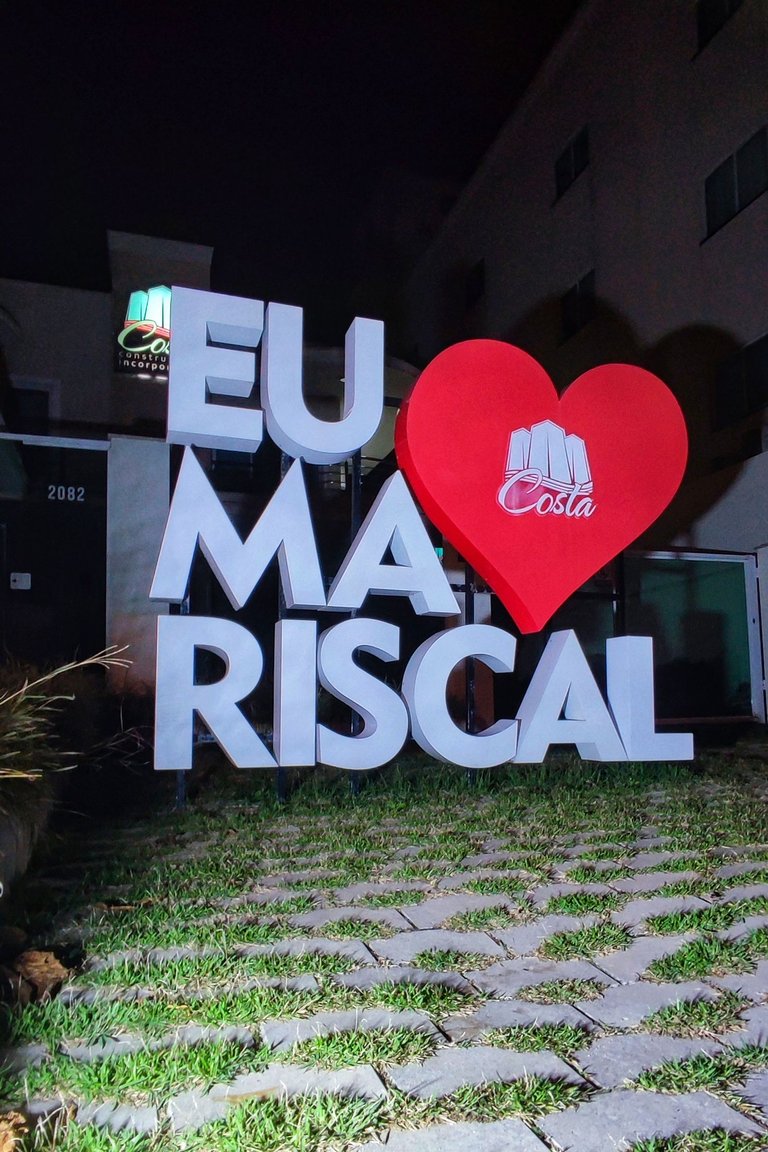 ---
Thanks for reading.
Leave a comment that I'll be glad to reply to.
If you want to see more posts about this trip, check out my blog here on Hive.

Portuguese Version
Trilha do Morro dos macacos
Localização
Localizado no Canto Grande, região de Bombinhas, no litoral sul do Brasil, um lugar que foi muito especial nesta viagem.
Me falaram que era o local com o melhor pôr do sol da região, e como sou um amante do pôr do sol, não pude deixar de ir conferir.
Do hotel que estava até o morro do macaco, era um trajeto de 7km. Como também gosto de caminhar, resolvi ir andando e aproveitar para tirar fotos das paisagens pelo caminho.
O Caminho
O maior problema foi atravessar o morro. Subidas atrás de subidas, que exigiu um bom preparo físico. Na parte da descida já ficou mais tranquilo e logo cheguei na praia de Mariscal, dali pra frente sabia que seria mais fácil, já que a parte dos morros tinha acabado.
Ainda não tinha visitado esse lado da região e gostei muito da praia de Mariscal, com comércios, prédios residenciais e muitas casas lindas. Além disso, uma praia extensa com diversos locais para prática de exercícios, ciclovias, academias ao ar livre, quadras de futebol e tênis de areia.
Parei alguns minutos para assistir um jogo de vôlei e logo segui caminho, encontrando essa abelha rodeando uma linda flor, não resisti e tive que registrar.
Pausa para recarregar energias
Vi uma placa dizendo ter um café perfeito. Uma pausa para um café não seria má ideia. Recarregar as energias é sempre bom e difícil eu dizer não para café. Depois de um pouco de conversa com os atendentes sobre cafés, torras, gostos, e maneiras de fazer um bom café, agradeci pelo café que estava realmente maravilhoso, com notas de chocolate amargo e voltamos para o caminho.
Agora o trajeto estava mais fácil, tudo plano sem morros ou subidas, uma reta até o Morro que já dava para ser avistado.
Chegando no Morro
Chegando na entrada do morro, aproveitei para comprar um caldo de cana, bebida típica brasileira que é muito energética e calórica, água e alguns snacks. Bom estar com energias renovadas antes de iniciar a trilha, concorda?
Já imaginava que não seria dessa vez que iria conseguir ver o pôr do sol, já que o tempo começou a mudar e muitas nuvens chegaram na região. Mas seria bom já conhecer a trilha pois iria voltar em um dia limpo para apreciar o pôr do sol.
Na entrada, fui recebido pelos funcionários que me perguntaram se já conhecia a trilha, me explicaram sobre o local e fizeram meu registro, com informações como onde estava hospedado, data nascimento e cidade de origem.
Uma placa indicava que ali seria o melhor pôr do sol do mundo. Não sei se é a melhor vista do mundo, mas vamos continuar procurando. Depois vocês me contam o que acharam pelas minhas fotos. Sou suspeito já que o por do sol em qualquer lugar pra mim, é um momento especial e sei que cada lugar tem sua magia.
Depois de me mostrar o mapa e o caminho que deveria seguir, já que depois de iniciar a trilha existe uma bifurcação para seguir entre duas trilhas, a do Morro e da Tainha. A trilha possui 1,2 km, mais ou menos 30 a 40 minutos para chegar até o topo.
Subindo
O morro fica em uma altitude de 200m que você sobe com uma grande inclinação. Bom estar com bom preparo físico, bons ténis e um bom joelho, trilha de grau moderado de dificuldade. Vamos?
A trilha do Macaco possui diversos mirantes para as praias de Mariscal, Conceição e Zimbros. Além de toda a Reserva do Arvoredo pode ser vista lá de cima. A vista desses mirantes também são incríveis, já dá para perceber que a vista lá de cima será muito boa.
Como era minha primeira vez na trilha, subi vendo todos os detalhes, lendo as placas e tirando muitas fotos e fazendo vídeos.
Realmente não é necessário subir com guia. A trilha é bem sinalizada com alguns caminhos alternativos fechados para recuperação da vegetação e placas pedindo para respeitar e não sair da trilha principal para que a vegetação possa se recuperar mais rápido.
Placas explicando um pouco da fauna e flora do local durante toda a trilha, achei bem legal as informações sobre os animais e vegetações que existem por ali. E sim!, existem macacos que moram por aqui, mas não foi dessa vez que consegui vê-los. Sempre é bom ficar atento por cobras e aranhas.
O Topo
O pôr do sol é o horário mais procurado, mas muitos também preferem subir pela manhã. Quem sabe, próxima vez, vou preparado para passar o dia todo lá em cima. Desta vez, acredito que por estar nublado, não tinha muita gente lá em cima, foi bom por poder explorar os melhores locais para vistas e fotos.
Ao chegar no topo, realmente a vista era incrível, com visão da baía e das duas praias que formam Canto Grande, a de Mariscal. Descobri que a última praia recebe o nome de praia da Conceição.
Aproveitei para relaxar, descansar e aproveitar a vista, meditar e curtir a paz que aquele local nos dá. Energia maravilhosa.
A descida sempre parece ser mais fácil. Como não dava pra ver o pôr do sol, decidi retornar antes aproveitando a luz do dia para retorno.
Bom de retornar antes, é que consegui registrar algumas fotos legais no pier de canto grande e pegar os últimos raios de sol neste céu nublado.
Voltei caminhando para parar em um dos restaurantes que tinha visto no caminho. Estava tendo música ao vivo e pelo menu tinha ótimas opções de comidas.
Depois retorno ao hotel e pensando quando o tempo iria melhorar, pois com certeza iria retornar para ver essa vista com o pôr do sol.
O Pôr do Sol
Como prometido, precisei retornar para ver o "Melhor pôr do Sol do Mundo", e dessa vez já fui direto para o topo sem muitas pausas pelo caminho.
Já conhecendo o caminho, peguei um táxi até o morro e iniciei a subida já sabendo caminhos, onde pisar e consegui subir muito mais rápido até o topo. Nada como conhecer as trilhas.
Nesse dia encontrei muito mais gente lá em cima, todos querendo se posicionar nos melhores locais para assistir ao pôr do sol.
Aproveitei para fazer amizade com pessoal que estava na pedra e já garanti meu lugar ao sol.
Ficamos lá conversando e aguardando o início do pôr do sol. Que realmente foi maravilhoso. Uma vibe incrível e um show de cores.
Logo após o sol se pôr, a igreja local começou a tocar sino, ecoando por todo canto grande e trazendo um ar mais místico para esse dia incrível.
Estava muito difícil querer sair dali, pois mesmo após pôr do sol, o céu continuou iluminado e lindo, as luzes da cidade acendendo e as conversas com a galera que conheci lá mais interessantes.
É muito bom encontrar com pessoas que as conversas fluem de forma espontânea e legal.
Retorno
Já estava escuro quando decidimos descer, mas a lua cheia iluminava nosso caminho. Mas locais com mata fechada e lanternas foram necessários. Algo bom, já que cruzamos com uma aranha que quase não dava pra ser vista no escuro. Não sei qual espécie dessa aranha, mas melhor deixar ela seguir caminho dela em paz.
Paramos em uma pedra para apreciar o céu de noite, já que estava uma noite bem gostosa, apesar de ser início de inverno. Conversamos sobre planetas, estrelas e universo entre outros assuntos profundos.
Aproveitei para fazer algumas fotos de longa exposição, mesmo com a lua brilhando forte e quase sozinha no céu, consegui capturar algumas estrelas. Mas tudo bem lua, era seu dia de brilhar.
Dessa vez foi mais fácil retornar ao hotel, já que essa galera iria para quase mesmo local e meu hotel ficava no caminho deles. Que ótimas novas amizades!
E assim finalizei essa trilha que super valeu a pena,lindas paisagens, exercícios físicos e novas amizades. Com certeza quando retornar a região vou querer repetir ver por de sol novamente lá de cima. Já está ansioso para retornar.
Morro do Macaco é realmente um local imperdível, Espero que tenham gostado e até a próxima aventura. E o que você achou? O pôr do sol é bonito lá de cima ou não? Me conte, vou gostar de saber sua opinião.