Hi there Hive Family,
Last weekend was very interesting for me and my Friends as we tried something new. We made a circle route starting from one point traversing a good part of Rila mountain (which is very big) and returning back to the same place. We also managed to ascend not 1 or 2 peaks but 5 and counting as there were also small and medium peaks before the highest ones. This logically meant that the hike will be long and tiring but we wanted to test ourselves. And we did it. It was incredible. We had one of our best sunsets in an epic panoramic place with stunning views and had to descend for 3 hours in pitch dark overcoming yet another challenge.
Guys! I will try something new with this post. As people are generally more interested in pictures than words, I am going to try a monologue speech along with the pictures to encourage reading the post all the way through and immersing everybody in my experience in a unique way that could be pioneering. Let's see if this would be something worthwhile.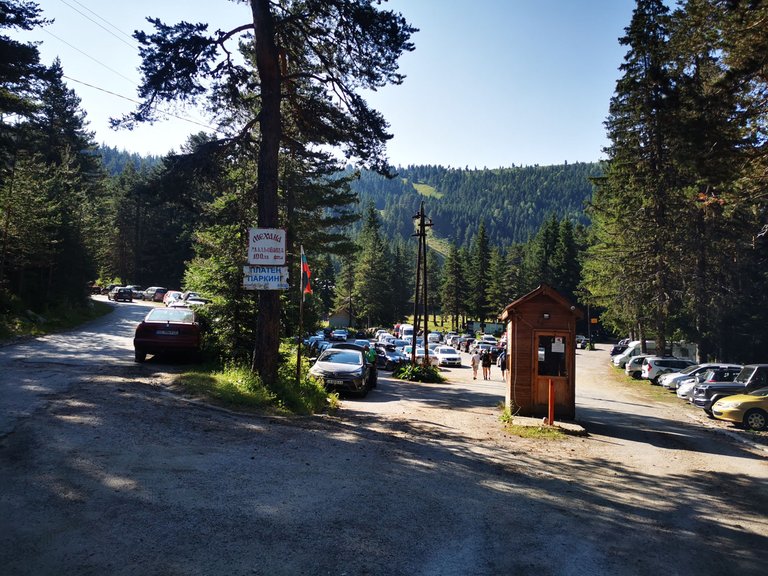 Okay, so this must be you initial point right. I see a Parking lot and the mountain is very close.

You are right. This is Malyovitsa Parking lot in Rila mountain. We start our adventure here.

So cool. Can't wait for it!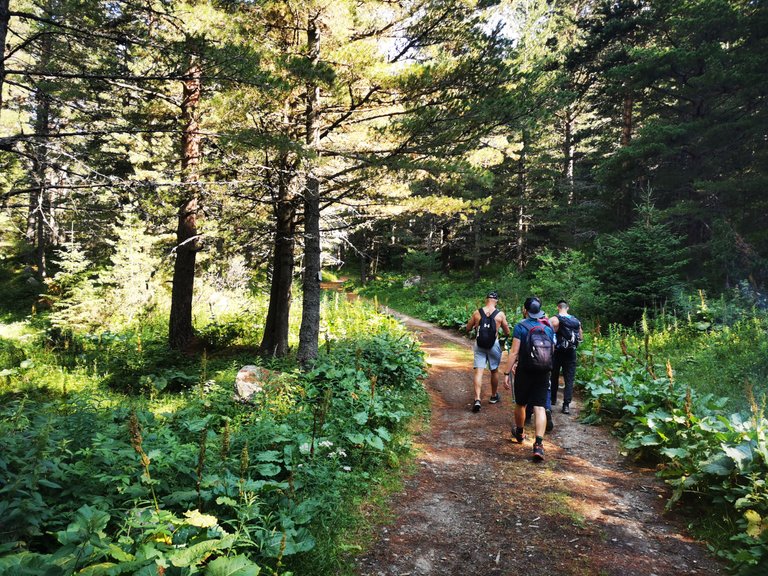 So you chose like a standard itinerary right?

Kind of. There are a lot of routes in this region. People usually choose the Malyovitsa peak one as it is the most famous.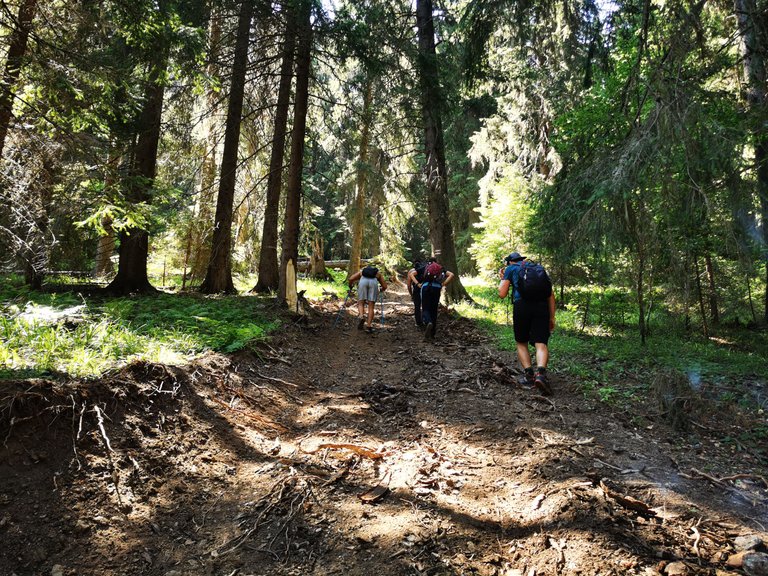 Wow! This escalated quickly! Tiring already?

Well, this was a great denivelation point but thankfully not a long distance. We managed to summit it with a couple of breaks.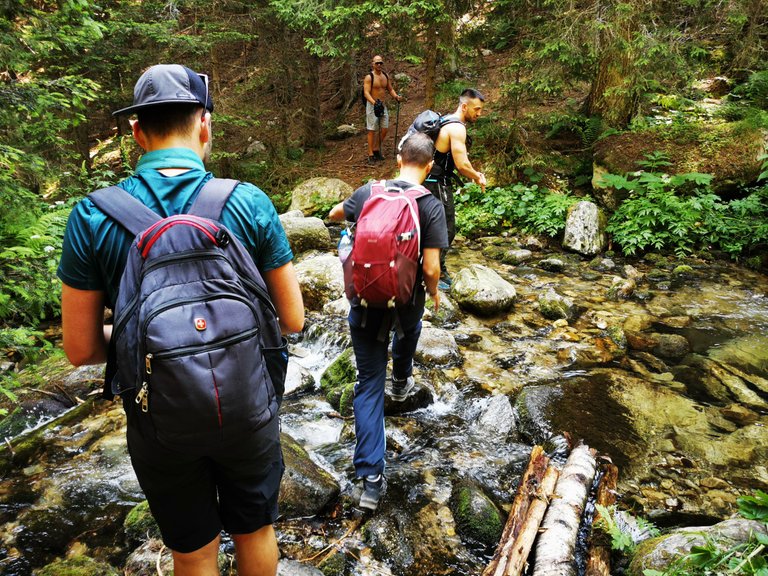 What about that? Did any of you guys splashed their feet in the water?😄

Ha-Ha nice joke. You should apply as a comedian.
We didn't slip but I did something better. I took a dip in the river.
What do you think about that?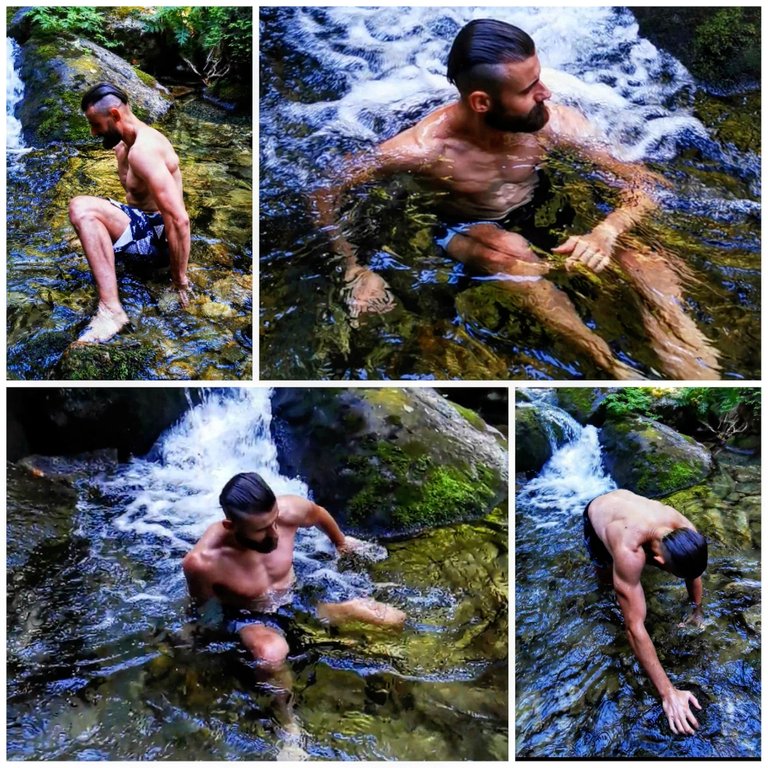 Are you out of your mind? It is like 8 degrees inside. You are gonna get shrivers and cold and mess up everyones mood. End the hike altogether.

Not if you know what you are doing. You stay inside less than a minute. If you are new. Less than 30 seconds. It will rejuvenate your energy and give you a boost you have never felt before.

Whatever yo say man. I am not trying this in a million years.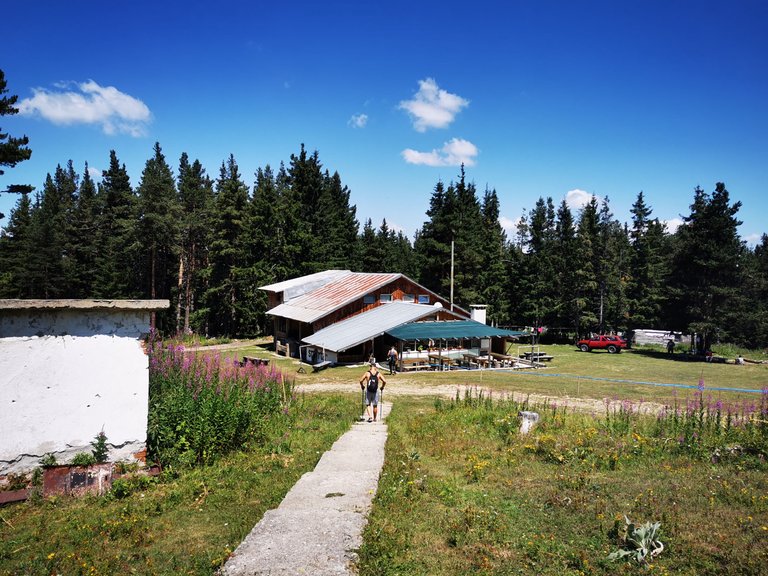 Very convenient. You were close to the Lodge.

Yeap! They have a shower inside the bathroom too. I so rarely see this that I had to use it. People mocked me for it because I took a while. When I got out, they were like - Did you take a shower? Umm yaa. 🤣

We also ate like bears, because we knew that this is the only place that will have food for the whole trip.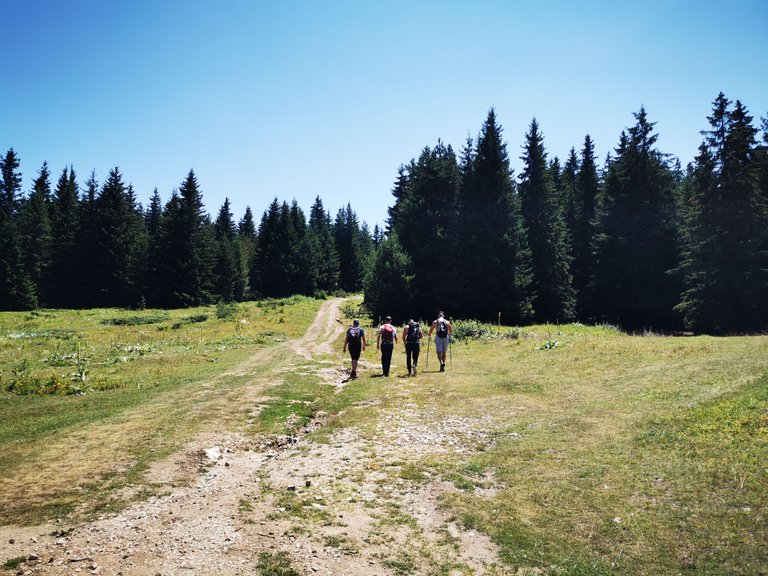 This reminds me of the movie The Expendables

Another of your jokes right? You are good! Except we are not expendable okay?

Okay, okay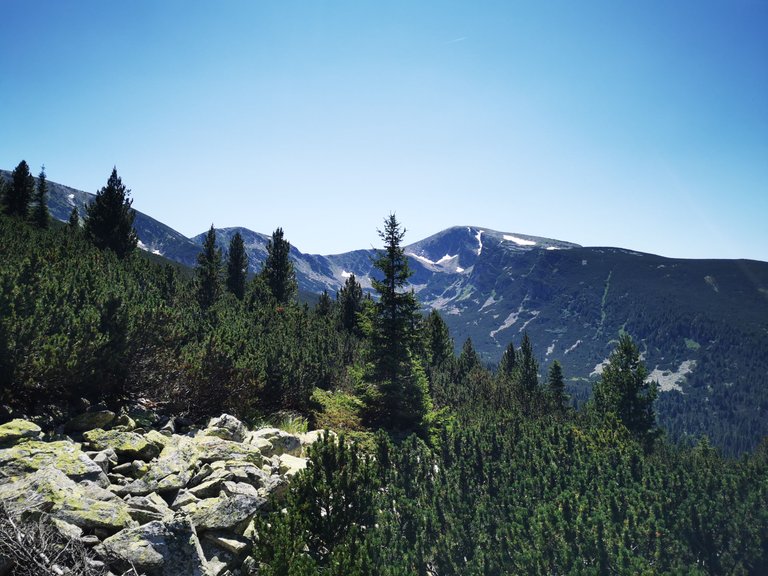 Nice views. I guess you are headed that way right?

Correct! We need to reah the snowy caps

Crazy man but man is gotta do what man is gotta do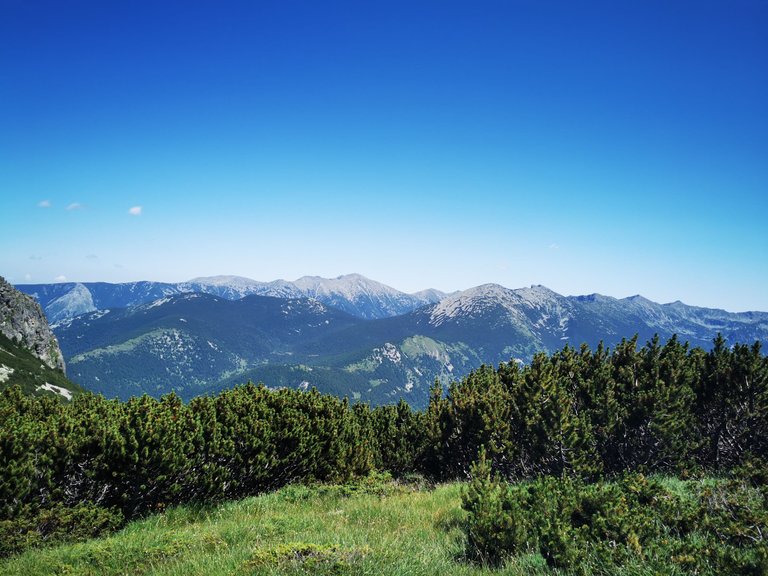 Oh wow! Is this Rila mountain?

Yes! All of it and in the middle we see Peak Musala. The highest one on the Balkans.

So nice!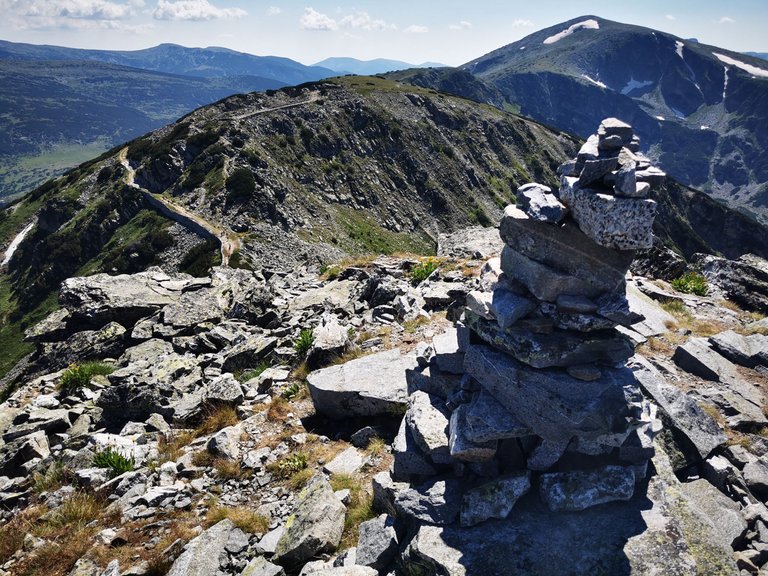 I see a pyramid. This is a peak right?

Once more, you see flawlessly. Name is Mechit. Big Mechit as there is a small one too.

Do you see the road thing over there? No. It is not the Chinese Wall. What makes you think that? No, we had a crazy King that tried to create a pathway for cars to summit and peacock for European guests and VIP figures.

But that did not go all through right?

Thankfully yes. He was stopped. Can you imagine cars at this height. That would be devastating for the nature.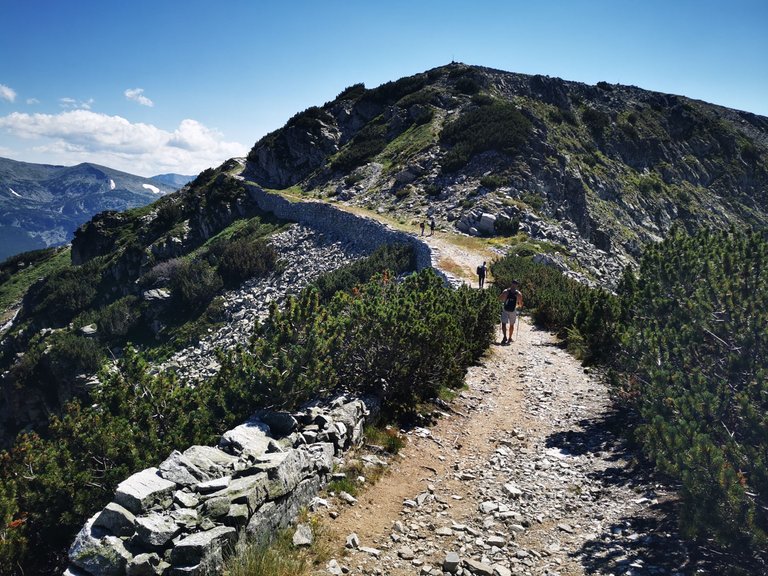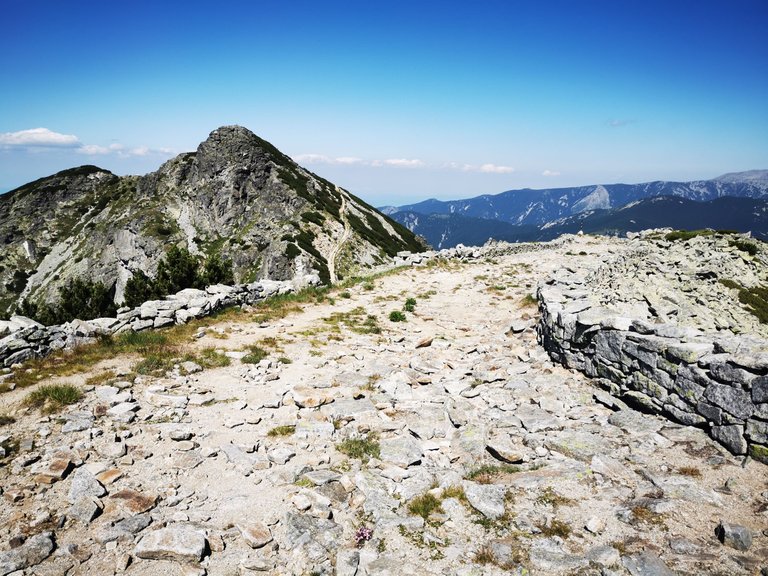 Okay so this is a closeup of the road. Man, people could be so inconsiderate.

Such a hard work for something that would criple the whole region.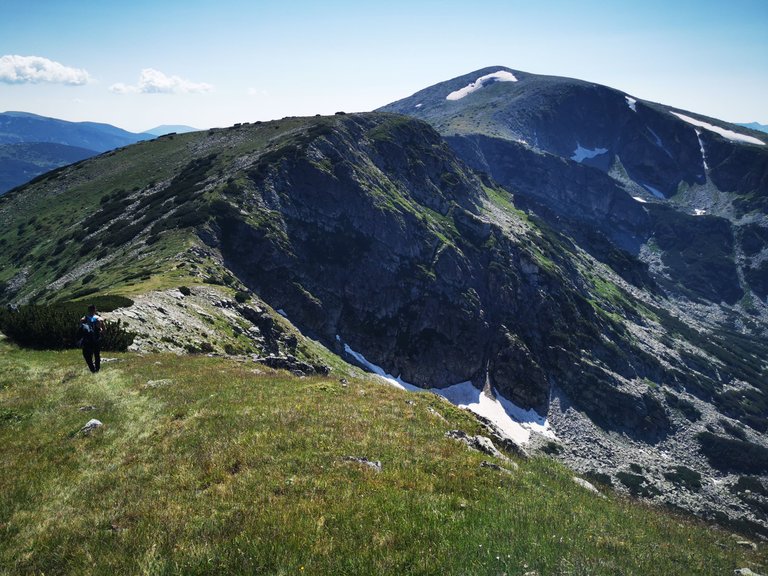 Whatever, let's not fill our heads with this. We have so much beauty and scenery to see.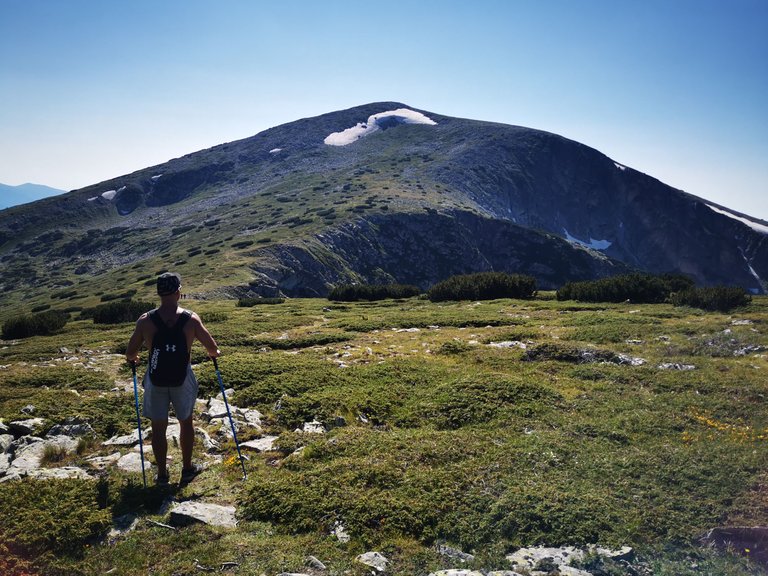 I get it. You pictured the snowy cap peak from distance and now another one where you are closer.

Very observing. Congrats!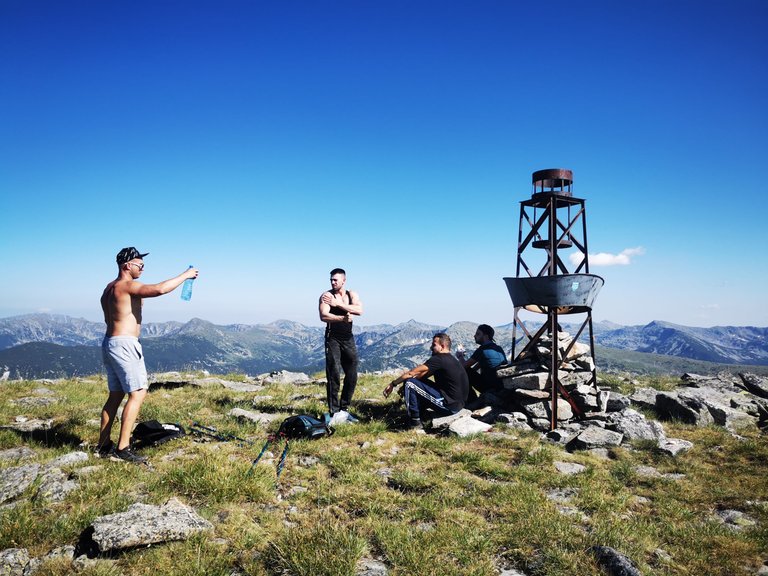 Another peak?

Yeap! Lopushki Peak. Time for refreshments and some small talk.

Right! Like you have time for it..

Shshh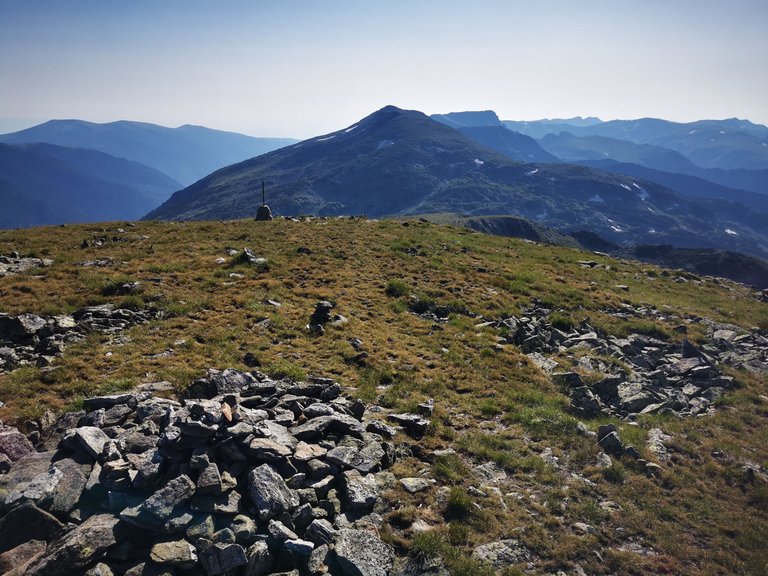 So I guess you follow the poles now.

Yeap! Until the Big Kupen.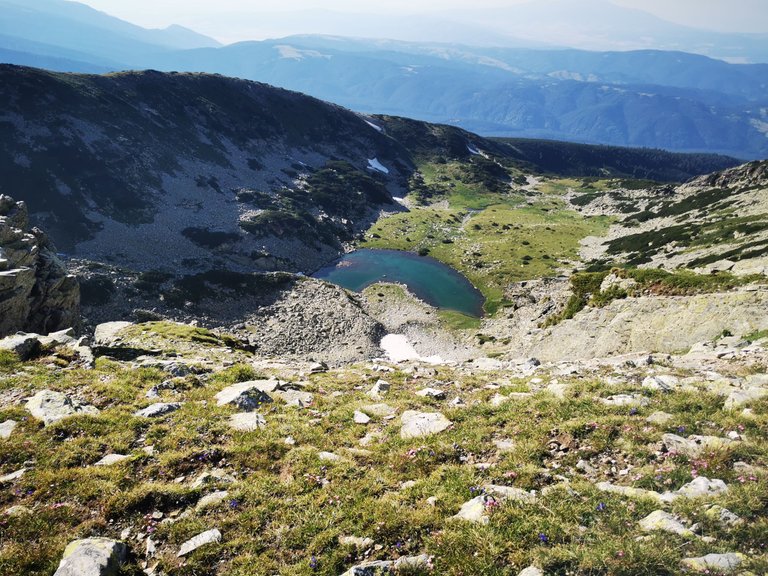 Hey! This looks amazing. A lake with the shape of a rainbow. I love it!

Thanks! I love it too.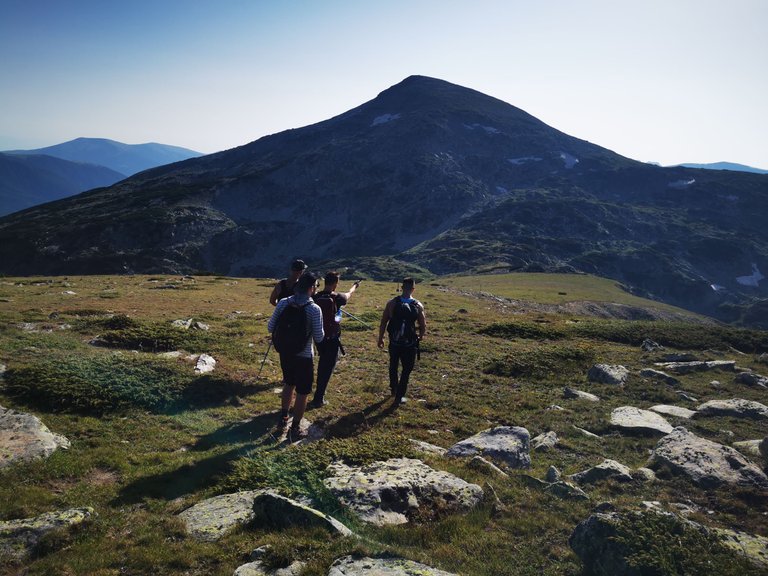 You are not lost right?

Not in a single moment. But we need to hurry as the Sun is setting and we want to be in the right place for that.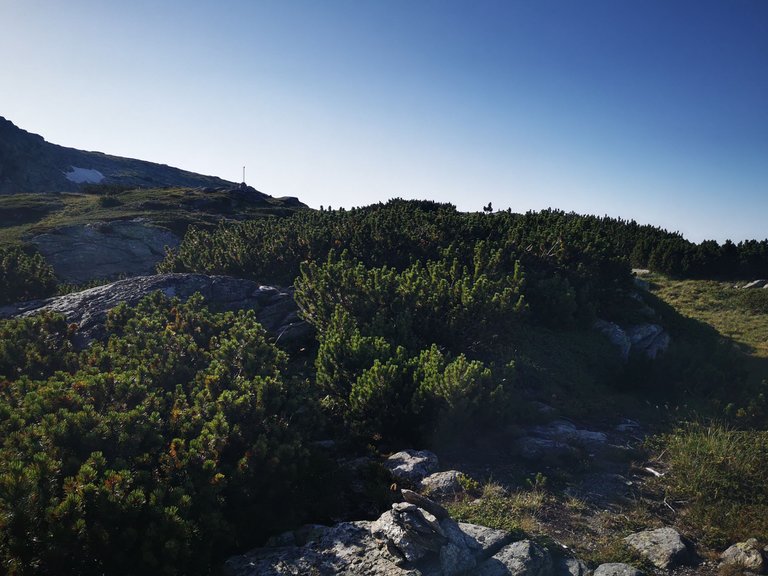 Junipers!

Not fond of them. But oh well. We have to go through them.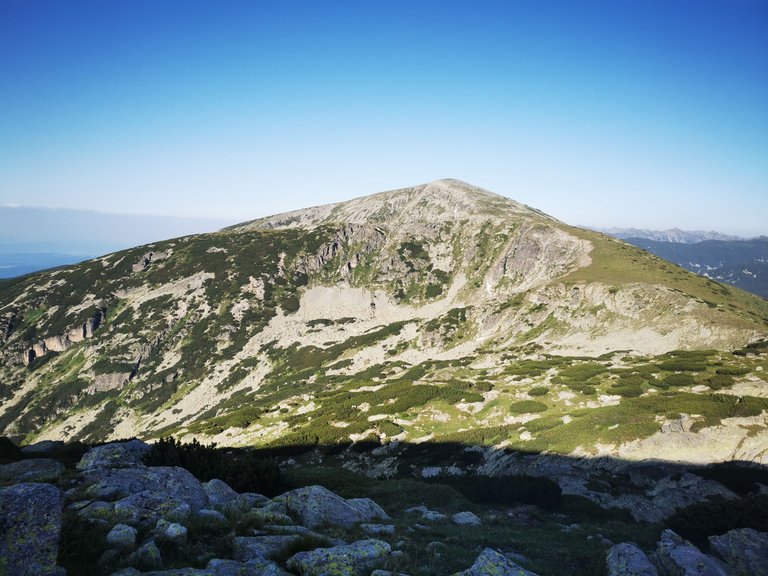 And this looks really steep. You sure this is the right way?

I am sure. And it always looks terrifying from afar. But you can´t really grasp it until you get closer.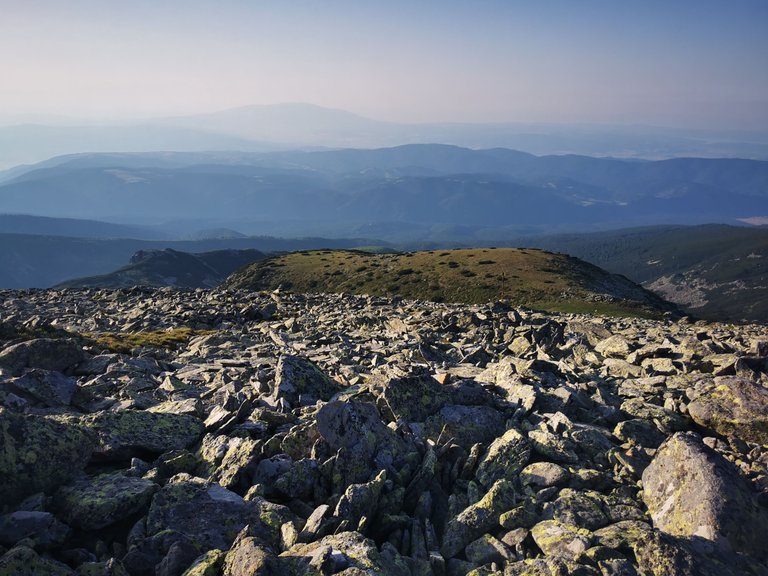 What about now?

Ok it is steep. But nothing we haven´t done already.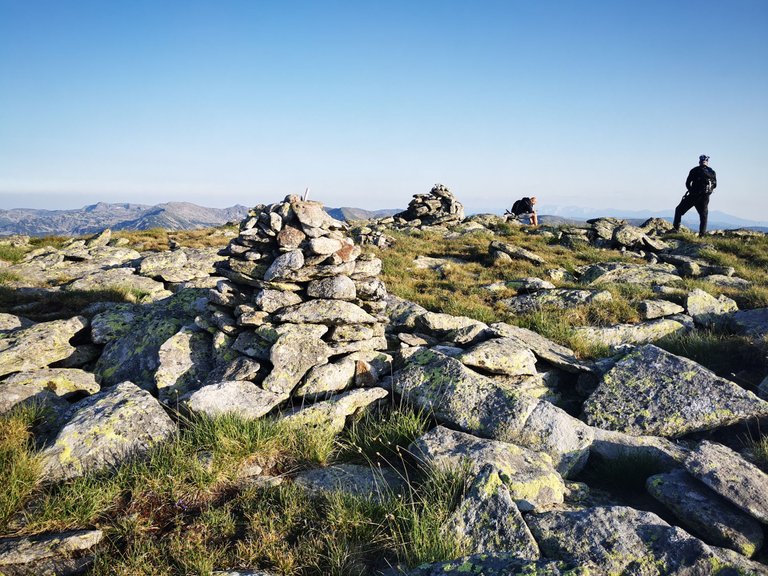 Aaah. A new peak! What is its name again? Popova Kapa?

Yeap!

Whatever, I am not going to remember those silly namings anyway but it looks amazing.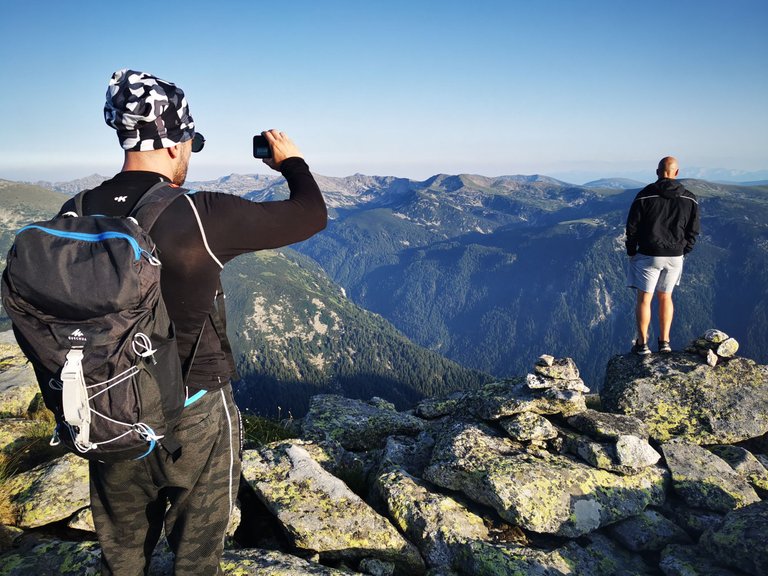 Wow! Indeed amazing! Photobomb it!

Your wish is my command.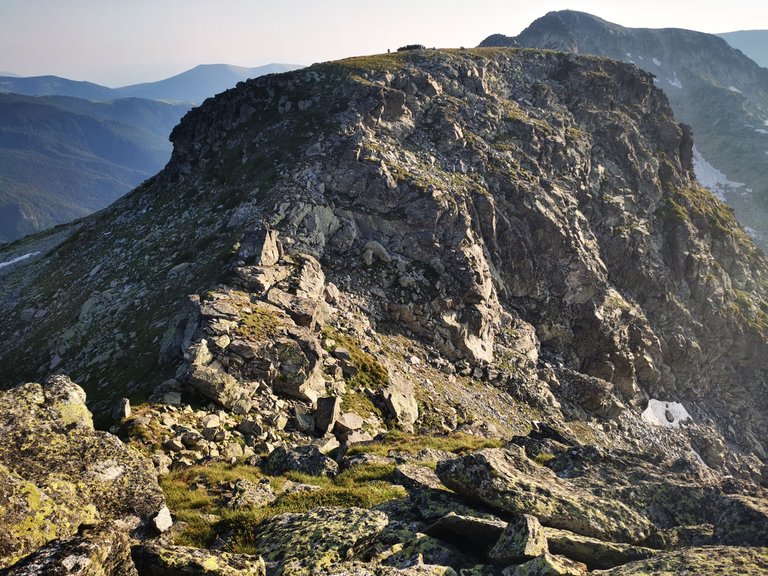 Now we are talking. Crazy adrenaline rocks! Your favourite right? But are you sure you wanna ascend this?

You kidding? Of course I am sure! Why do you think we came all that way? To give up? Not me! Not on my watch!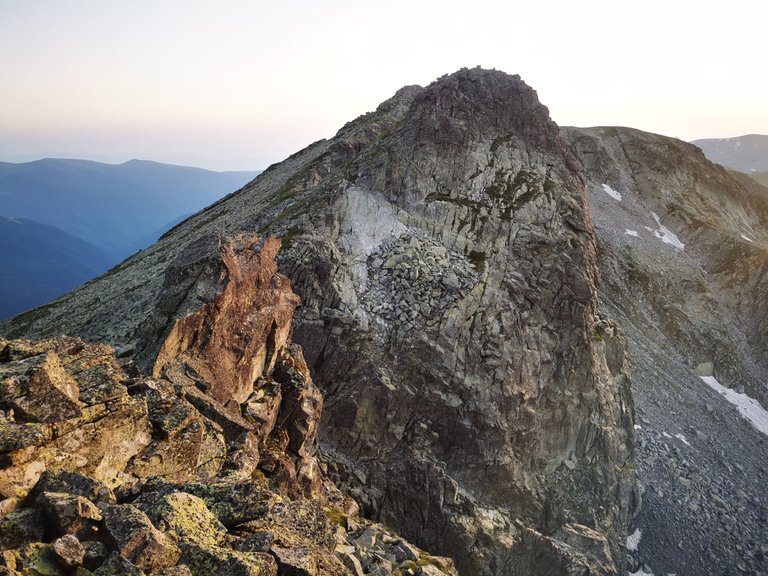 Oh my God... This is sick! You crazy?

Maybe.. But who cares, we live only once. Better buckle up for the ride.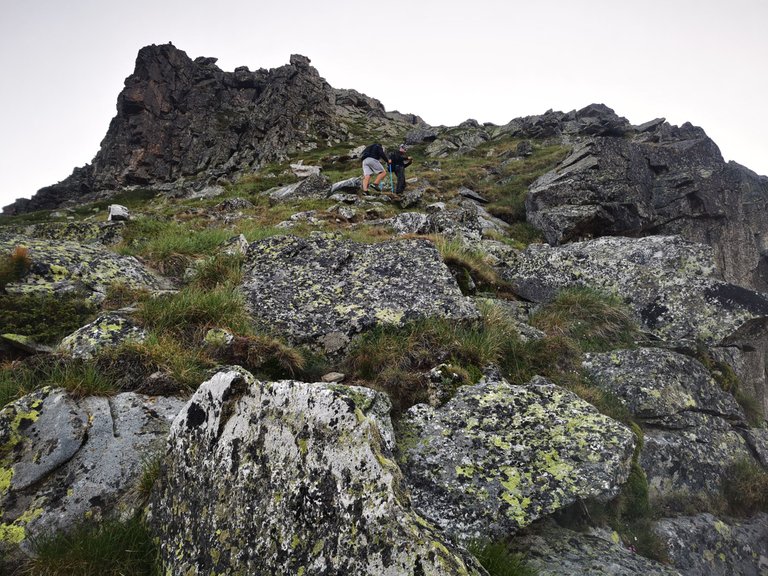 Looks like you are professional guys. Thumbs up!

Well.. not really. We are just a pack of adrenaline seeking sears. We do not think too much. We act!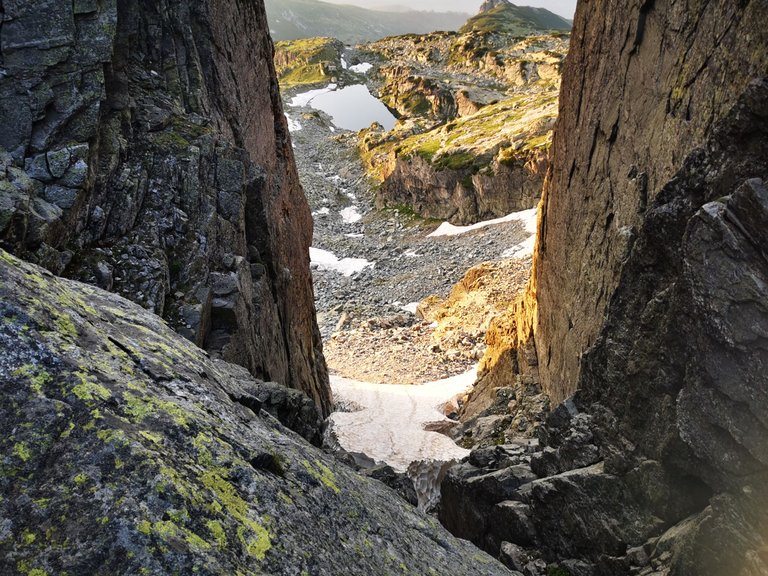 Well that is good. You have depressions, furrows, hollow parts. I get it. But is this the best you've got?
I am glad you asked my Friend! Behold, the mighty Sunset!

This is crazy! More, please, show me more!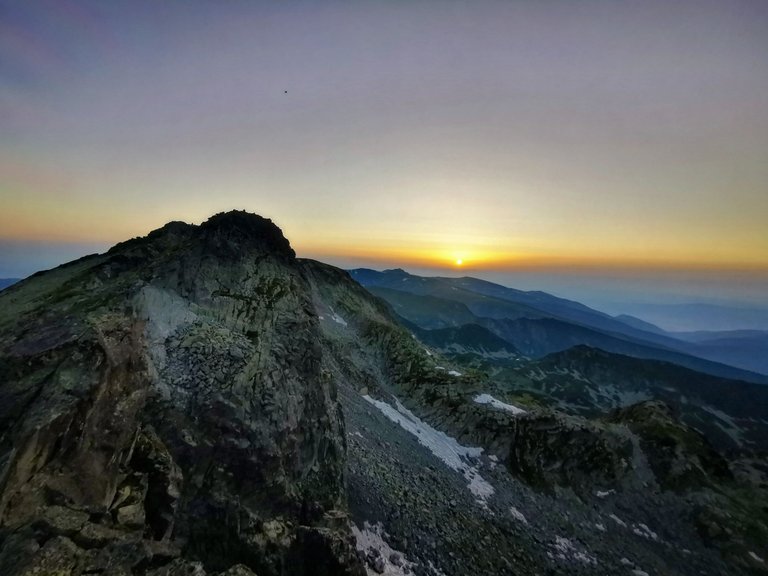 As you wish. But be careful, you may get addicted to this and there is no stopping it.

Whatever man. Give me more!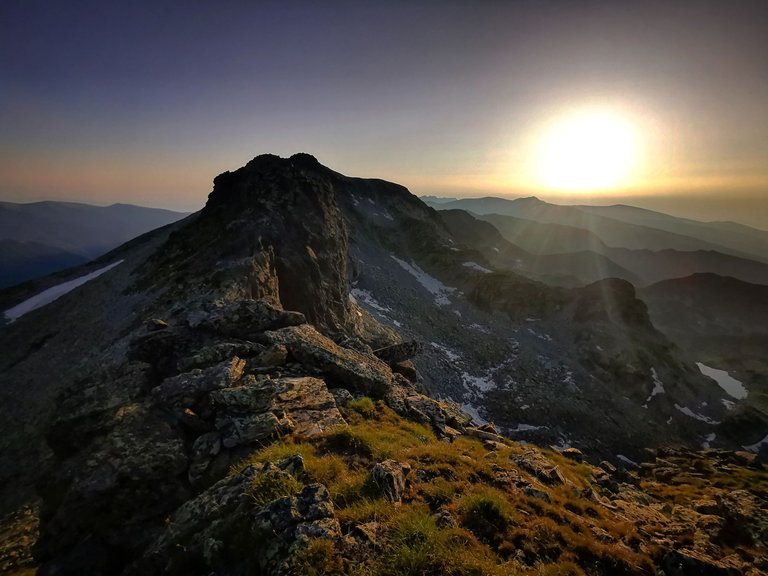 This is some wonderful country you have.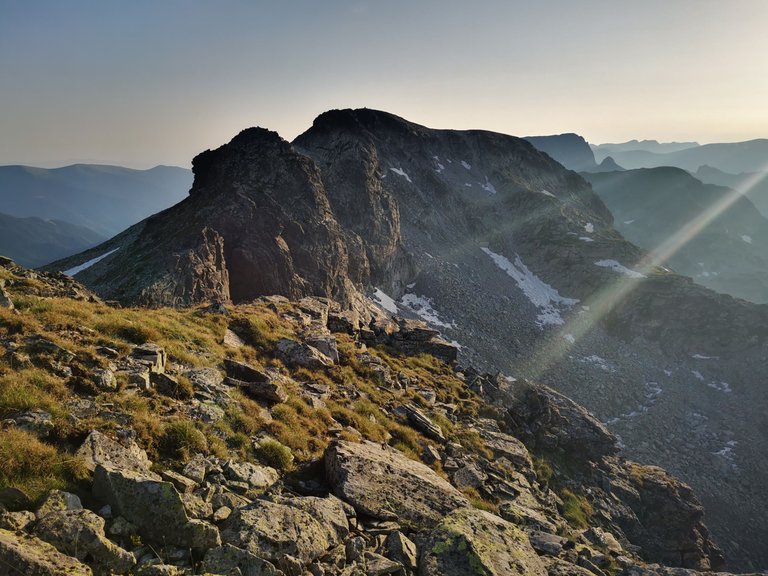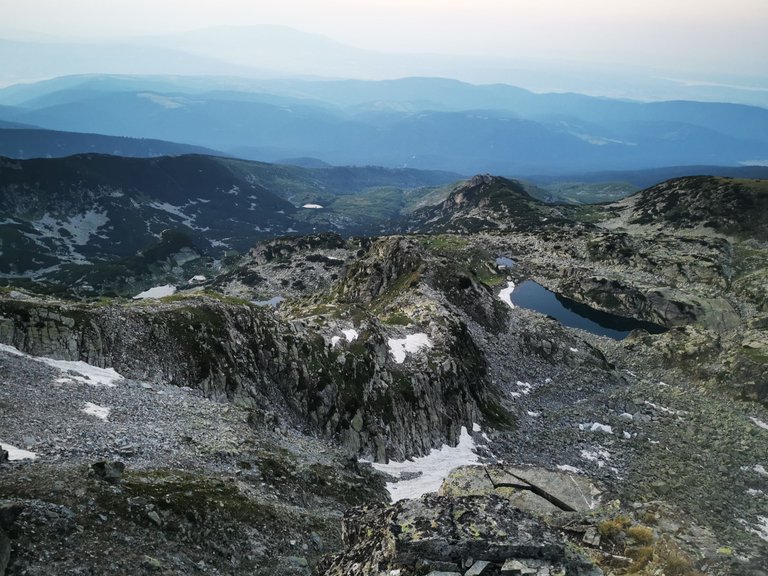 Thanks man! I try to preserve the places I go as pristine and clean as possible. No littering and no breaking. I hope everybody does the same.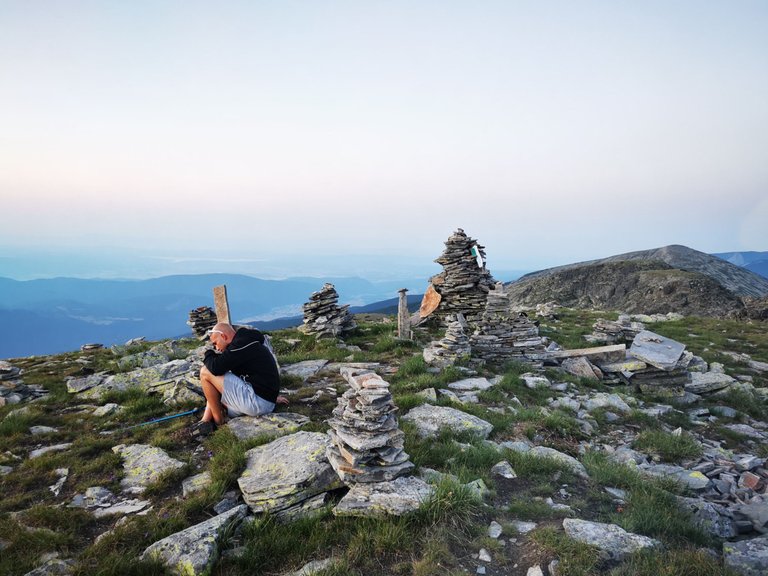 Another peak?

Yes! This is the highest and last for this adventure. It is called Big Kupen. To reach it you must summit Small and Medium Kupen so technically it is 3 peaks in 1. Perfect combination right?

Agreed.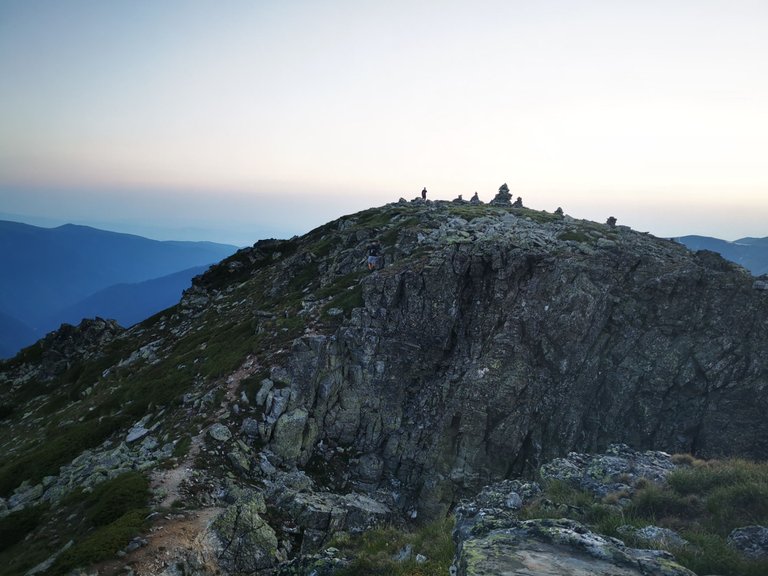 This is the view from distance before reaching it.

That is great but it is getting dark. What are you going to do? You are in the middle of nowhere and descending this rocks would be extreme in darkness.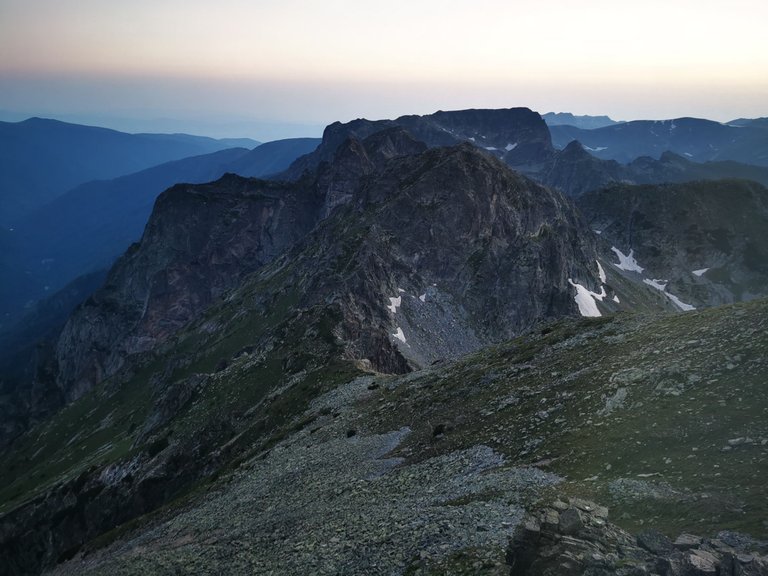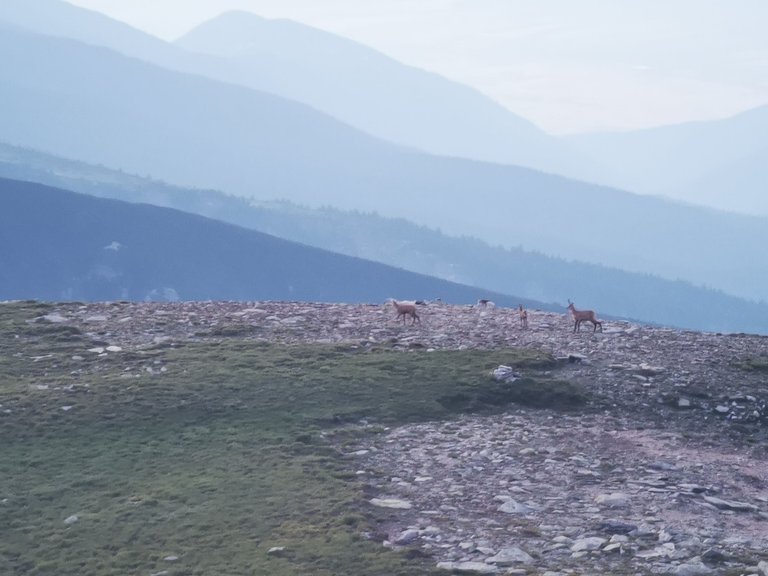 You are right! Ok, last 2 pictures of the surroundings and we go.

Ok so there is wildlife. You think this is like comforting. What if there are other animals apart from those goats. Like I don't know.. bears.

Hey! These words are forbidden to say out loud okay? Not cool man!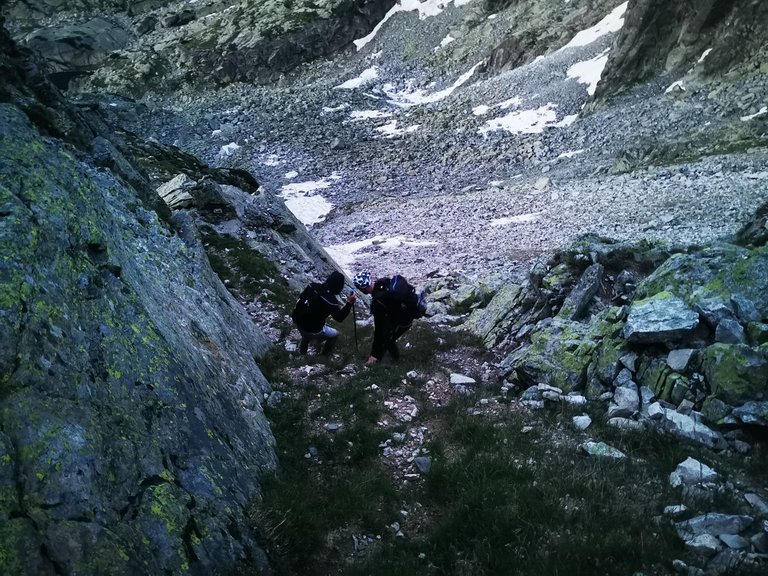 People are so dramatic nowadays. We just want to have a good time without getting lectured for it. Geez.

Whatever man. You just go back home safely ok?

Well, ya. This is what we intend to do, right 🤔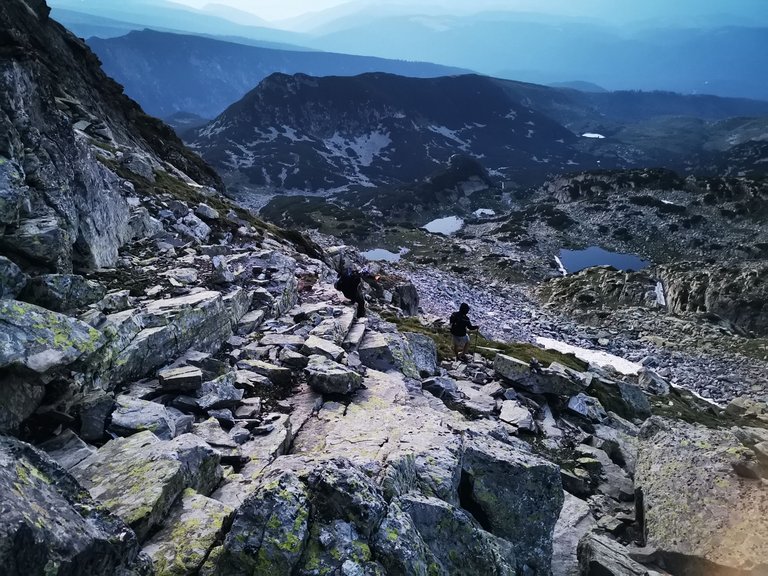 Like descending crazy rocky surfaces in the dark. Sure. This looks like a plan. It is all figured out.
Did not want to mention it, but look what we have ascended. I think it is normal that we need to descend it a little steeper than normal, right?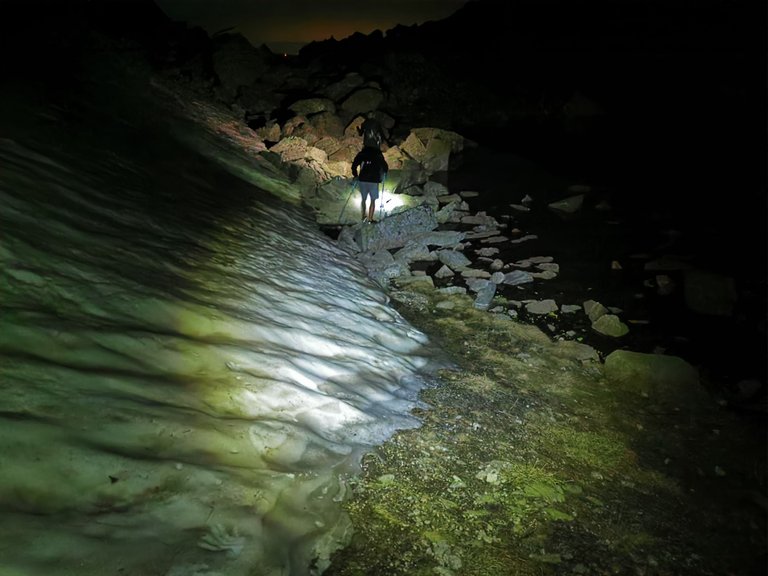 Okay, Okay. And now what. There is snow. And you are with you summer shoes.

No problem. We just go around it and use our headtorches for guidance.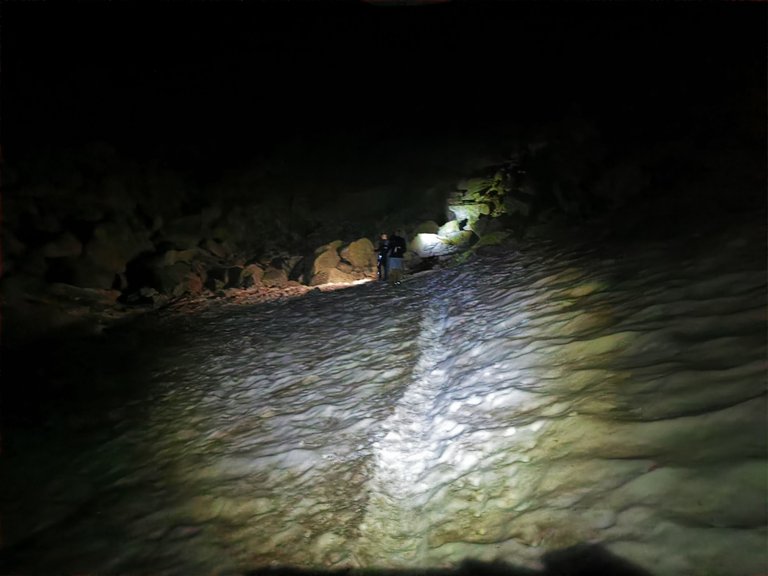 What about know. You can't go around that.

Just go through it. Don't be such a baby.

Alright, alright

I hope that the remaining 3 hours in pitch black walking will teach you to not try Sunsets so far from your car.

Not entirely sure. I did like it, and yes. We did not see any animals on our way back. Just some birds because we went through the forest and also our minds played a little bit with the dark and we had to overcome false alarms.

One the the best trips in my life. And it is going to be remembered for life in Hive. Now how cool is that?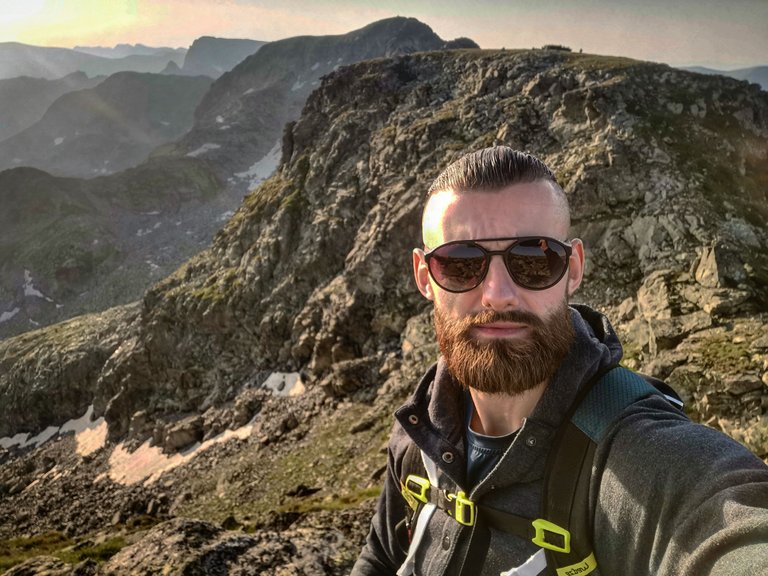 Hey guys! I am back from my monologue speech. Did you like it? I think it was hilarious and highly entertaining. At least for me 😀 Makes me wanna do more of those. Please tell me in the comments below, should I extend on that and do more?
Thank youuu!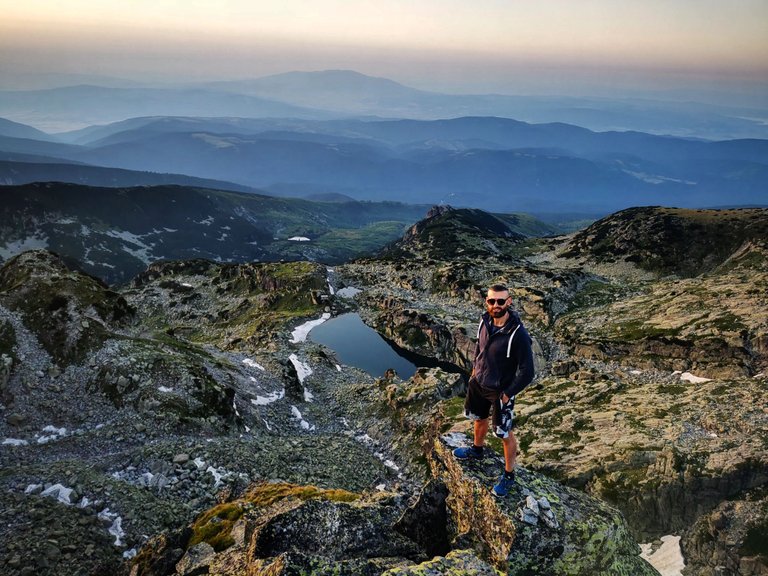 Stay happy, be peaceful!
Namaste
---
---

If you decide to support the Bulgarian community growth you can do it by delegating some HP that will be used only for that!
---
---