There are times when I like to go for a short relaxed trip to a near by hotel for a night to kind of get a reboot with my family after repeated daily routines. Its good to break that usuals... stay at home and watch TV/iPad all day all night. Although I do enjoy it I think sometimes I like to randomly go somewhere.
Staying in hotels is usually for trips that are far away from home. And most of the time we are occupied with either by work or vacation destination. So the hotel becomes just a place to rest and go on out during the day. A lot of my business trips when I was in China where I had to fly, many times there were nice hotels however due to focus on work I missed some of the beauty and food items the hotel had to offer.
Since we have a 6 month old baby we could not really look into going to far away like we usually do, so my wife and I arranged something fresh for the kids and a little mental break from home.
There is an outlet mall in Taiwan where its layout is similar to America and they have a Hotel and aquarium for kids. Hotel, Shopping, and Aquarium. OK good enough, we are going there!
The Official website for Cozzi Hotel
Location : Taoyuan, Taiwan
Name : Cozzi Blu Hotel


---
The Hotel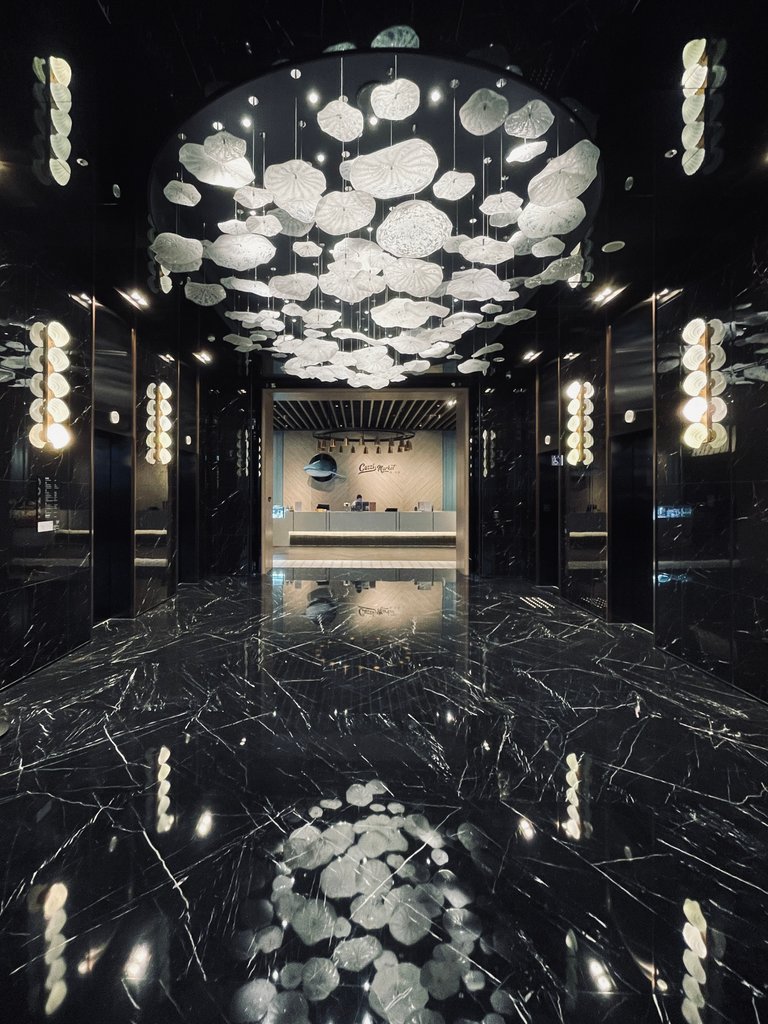 Main lobby entrance of hotel... pretty blinged out.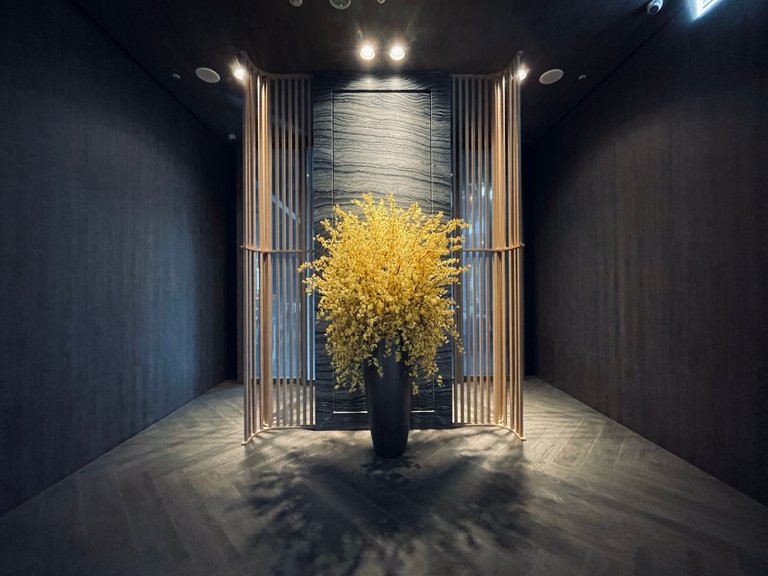 Gallery deco next to the reception desk. I do like the layout of the colors of yellow and grey.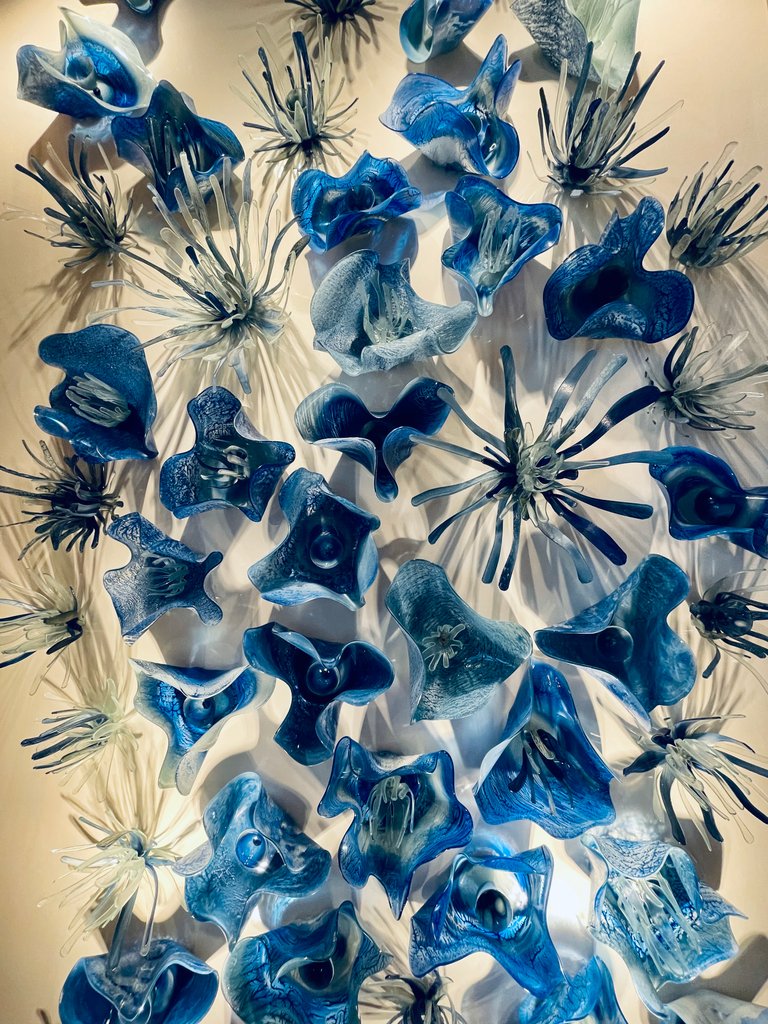 Reminds me of a glass artist from Seattle Washington named Dale Chihuly. But this was not his work. :)
Our room is on the 5th floor~ Lets check it out.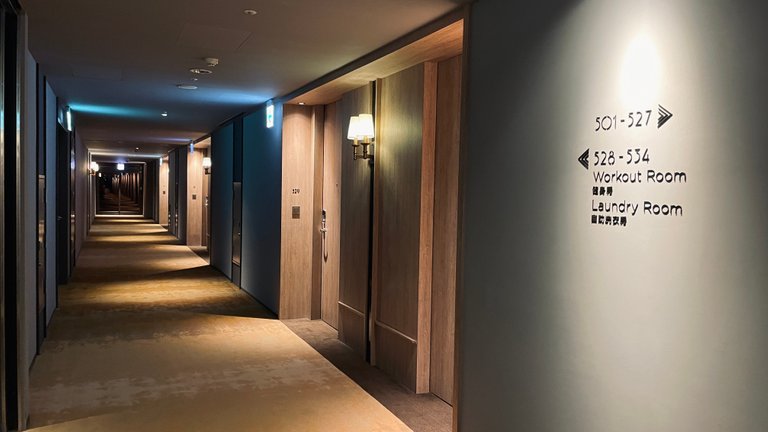 The hall way for our room... check it out, they even have a workout room and a laundry room.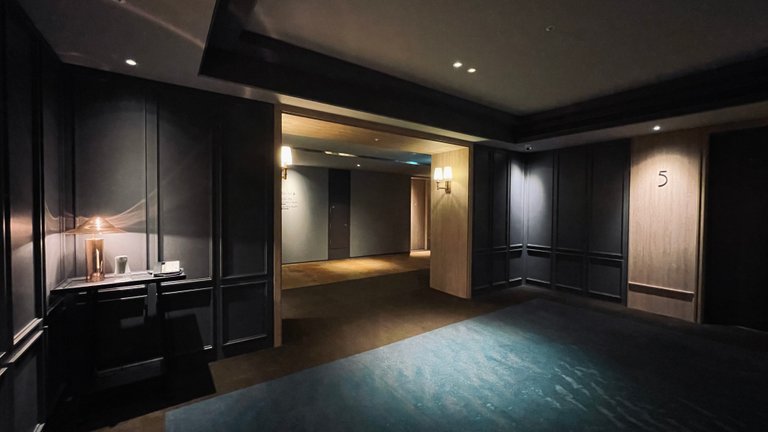 When we get off the elevator this is what we see. I like the décor and interior design... its not the typical Asia style hotel. They have a lot of various themes as you move from place to place.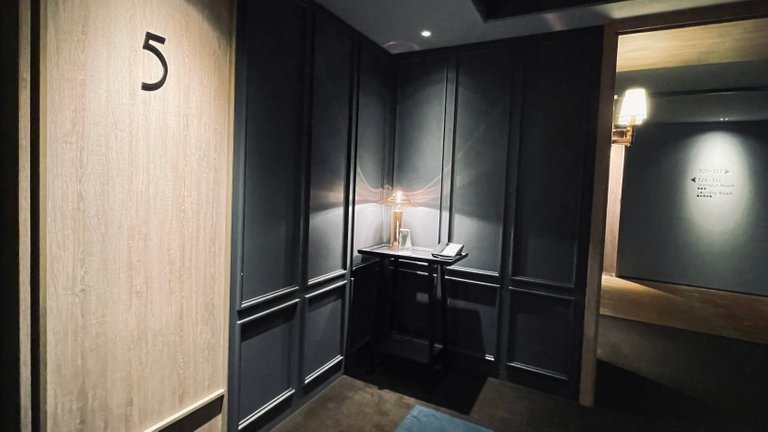 The 5th floor!~~ Where our room is located. So dramatic interior~
What I didnt expect is the way how they bundled the outlet shoping mall, movie theater, aquarium, restaurants and hotal all together into one complex. Just by looking at the layout it seems they put convenience as a key feature and wanted people to stay at the hotel. Cause there is no way you can wnjoy everything in just one day.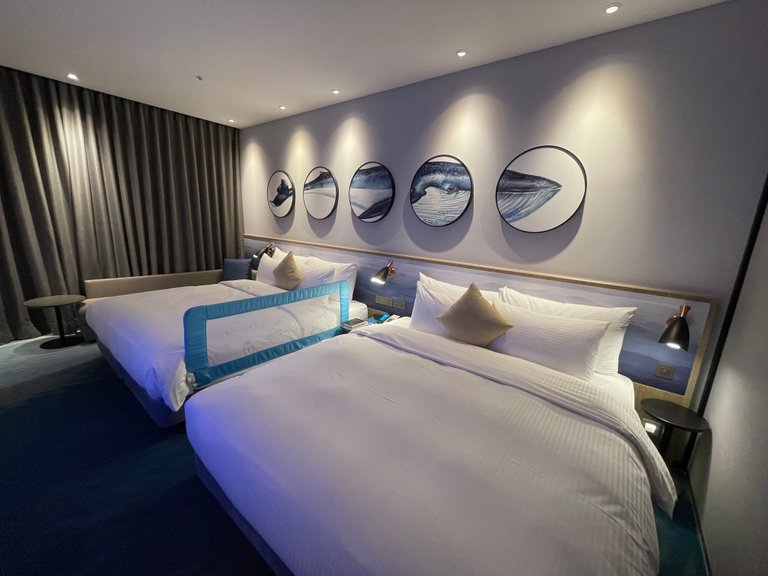 I really liked what I saw... it was clean and theme was fresh~ blue whale. :)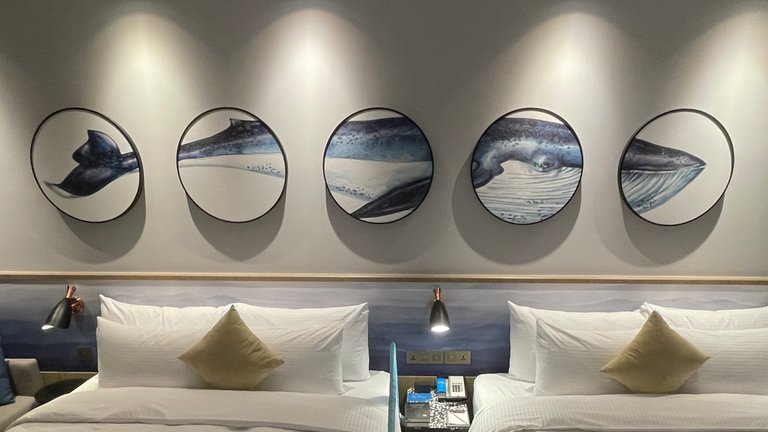 The blue whale picture somehow makes me think of Ecency for some reason. Maybe because I have been on the hive community a lot recently. hehehe.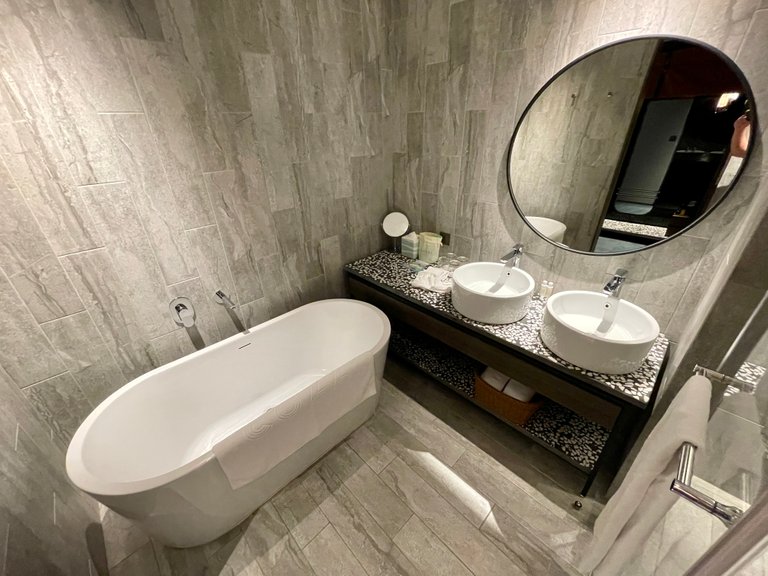 The bathroom was simple and clean as well. Maybe this hotel was build pretty recently?


---
The Outlet Mall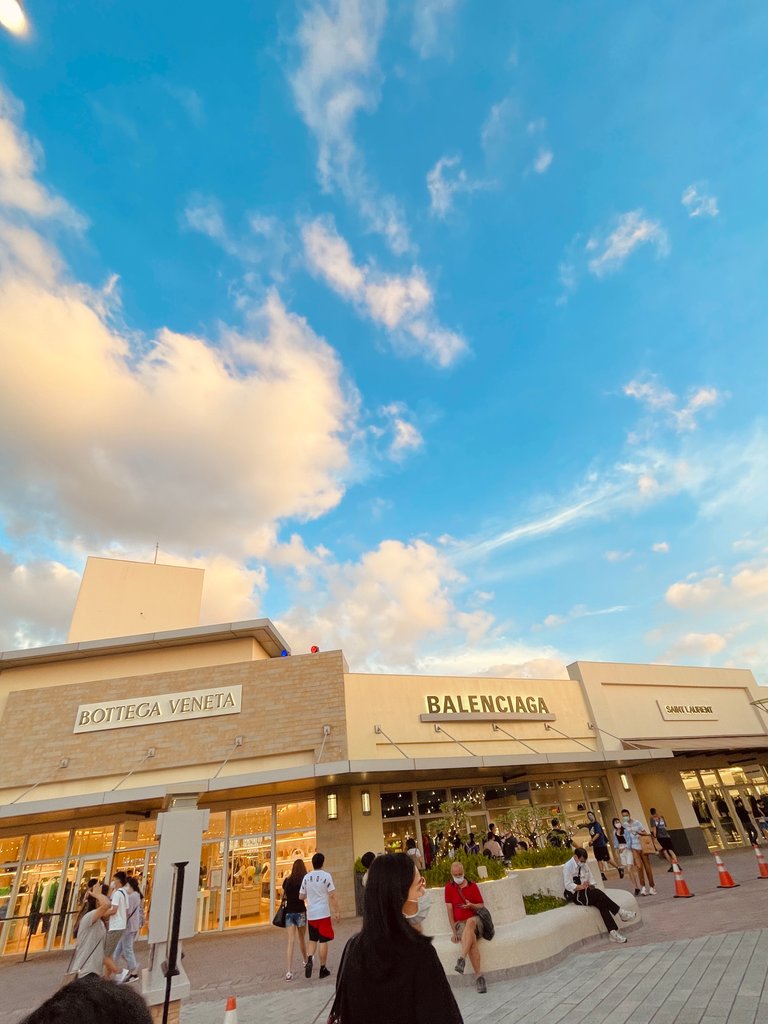 We head out to the outlet to get some walking done and check out what type of stores they had. The weather was nice that day so off to a good start.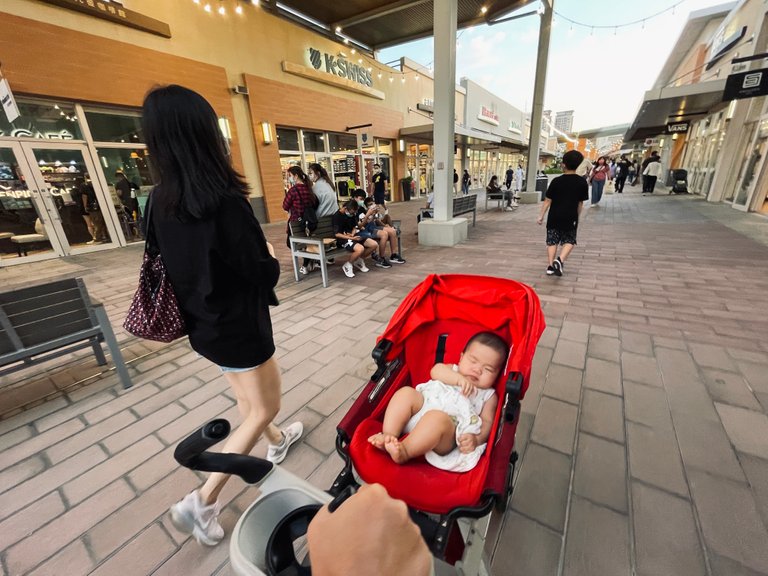 I was strolling the stroller with my baby daughter so my wife can have some freedom time of her own and my son in front looking around and just walking around with people feel good.
Haven't done many if this ever since covid because we were more carefull due to the baby. Its good to be out and feeling a little bit normal again. We still had to use masks here in Taiwan as the law. But still its good enough.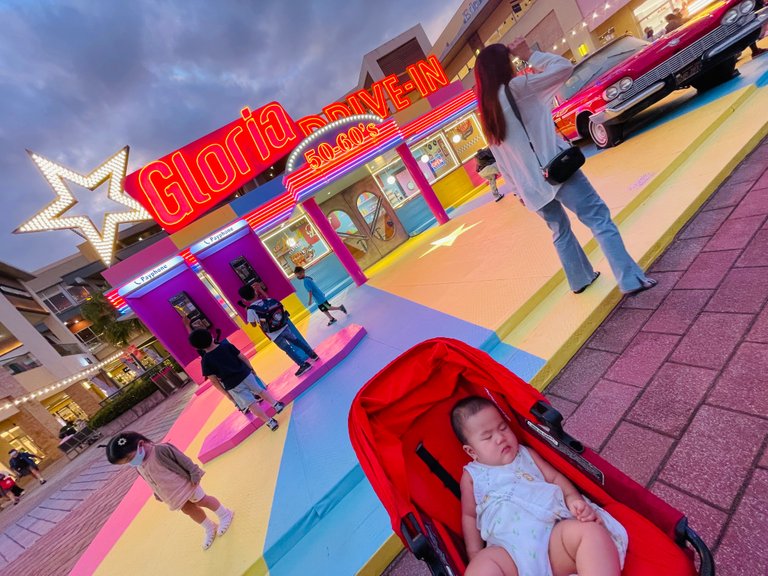 They had these stops where you can take a photo. Great for kids and grown ups too. :)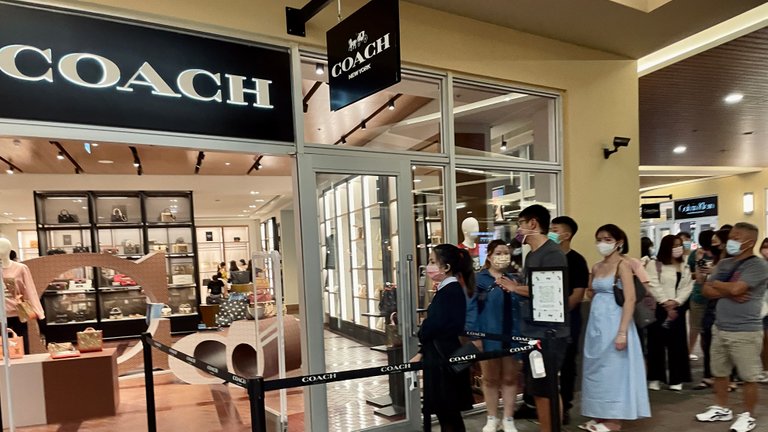 Its amazing there is a line forming to get into the Coach store... wow is that still a thing?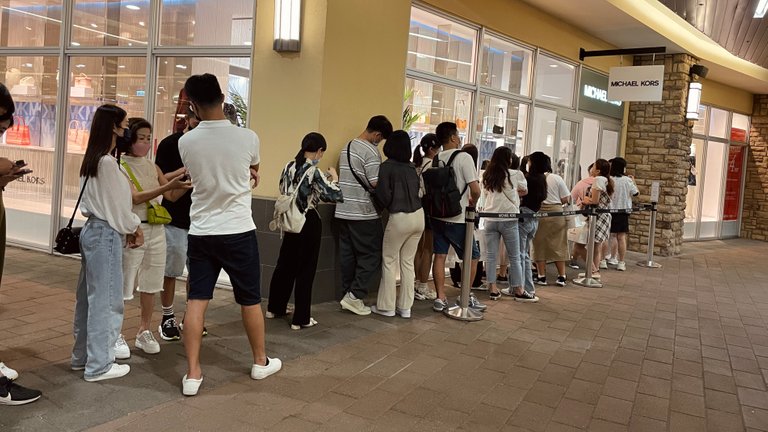 Michael Kors as well? I am not really the type of waiting in line to check out a clothing brand. I dont have that kind of patience.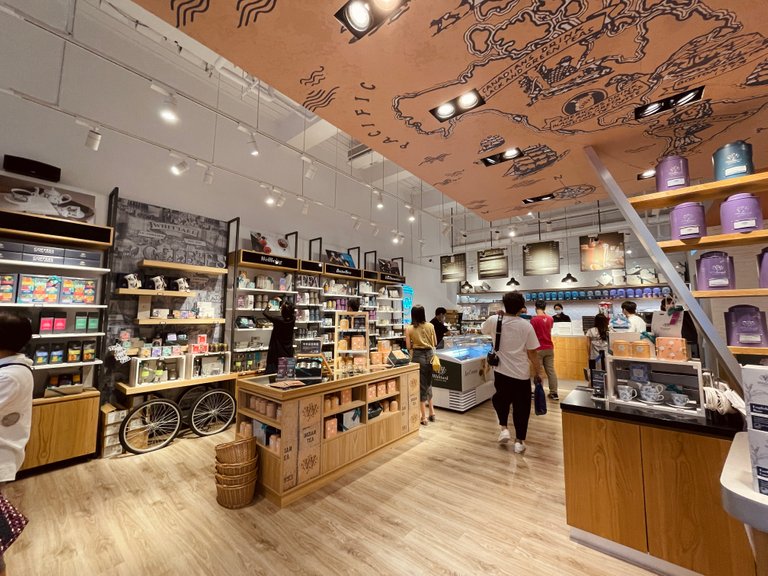 Interesting themed store where they sell tea leaves.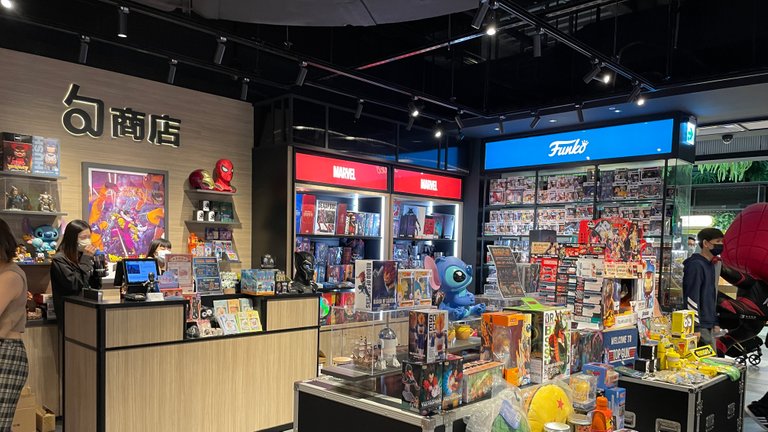 A toy store where they sell legit Marvel and Dragon Ball figures. I wish I can collect them all.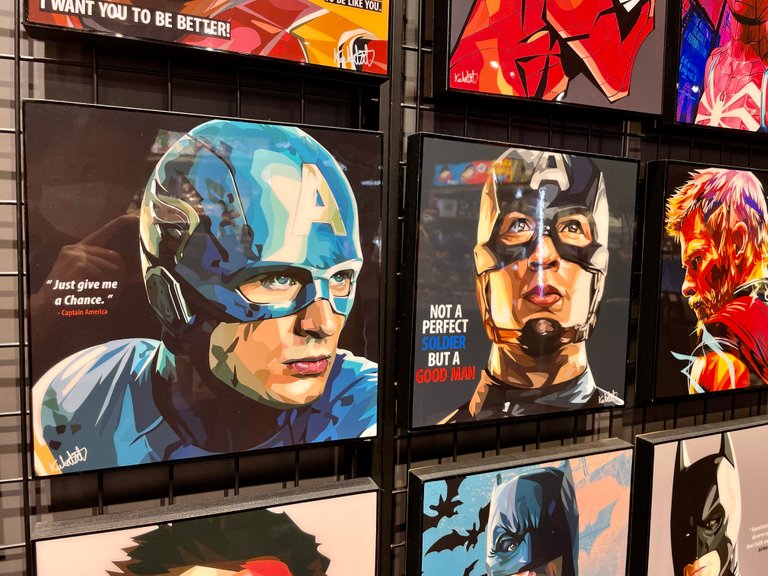 Man these paintings are so nicely done... using bold color and bold brush strokes.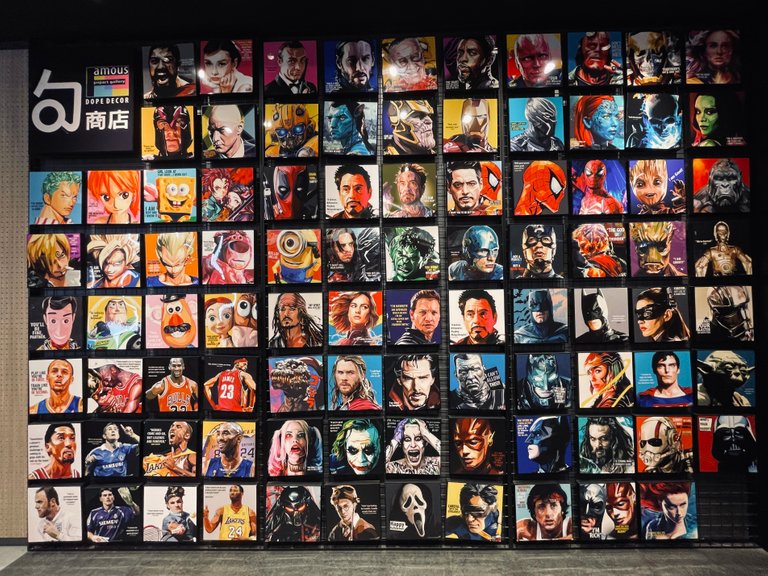 A wall of so many characters and actors I really love... at first I thought these were t-shirts but no... I looked closely and they are individual paintings!!!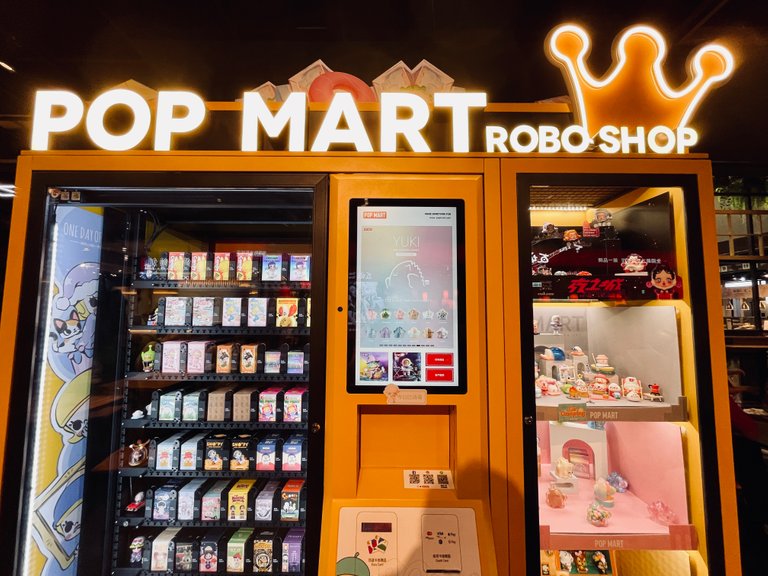 That is some really fancy vending machine for just a toy figure... talk about overkill. hehehe.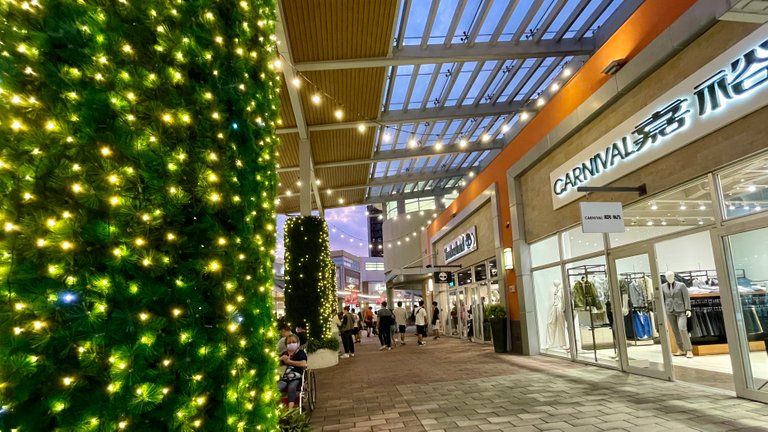 The sun is slowly going down and we start to see more lighting beginning to light up. I personally really like city night lights.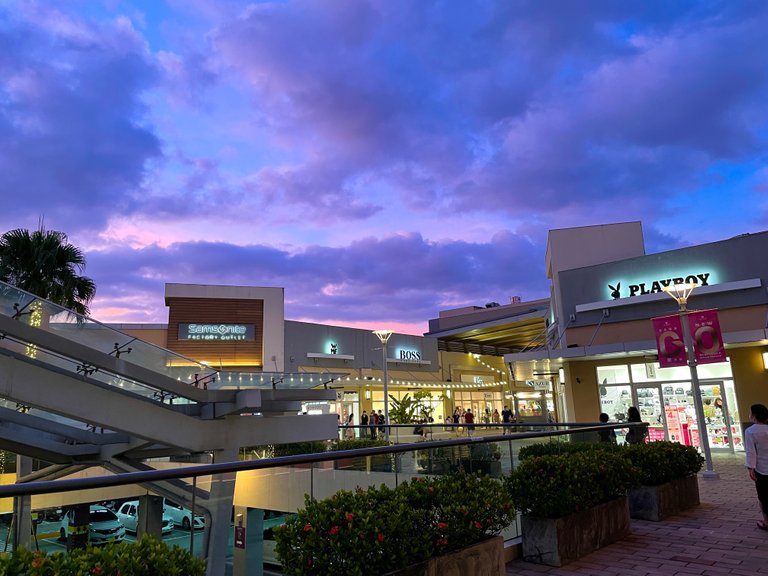 As the sun was going down the purple sky was really amazing. Its not very often you see something like this.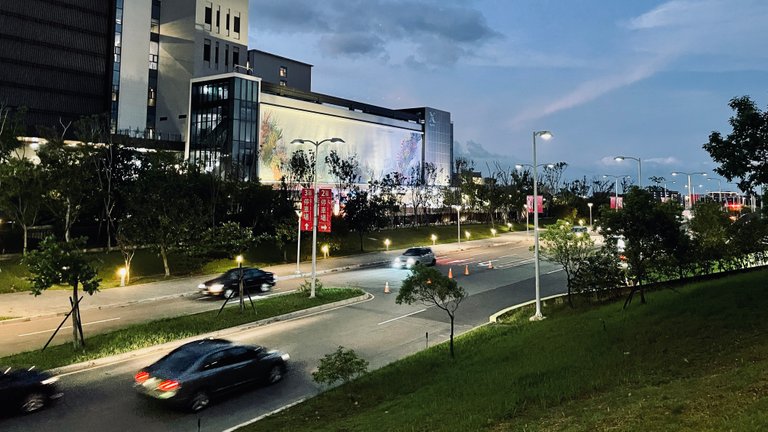 The streets of Taoyuan, Taiwan .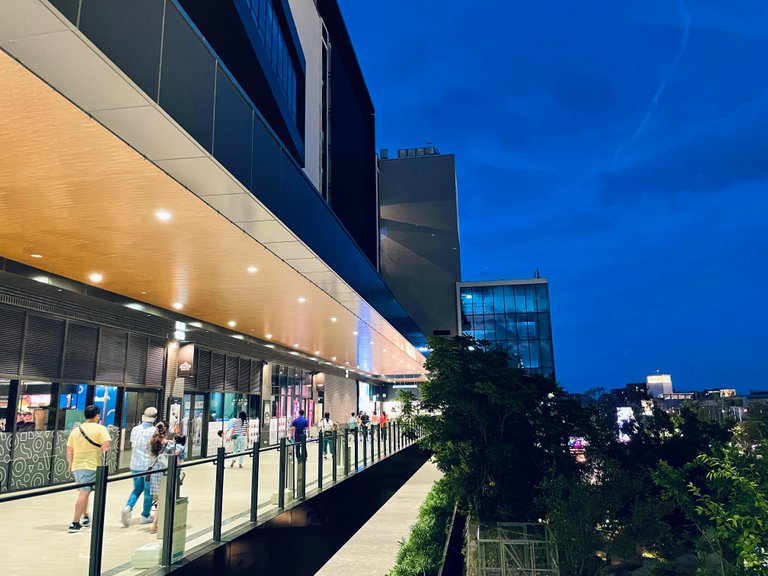 The entry way towards the hotel and restaurants when coming from the outlet shopping mall.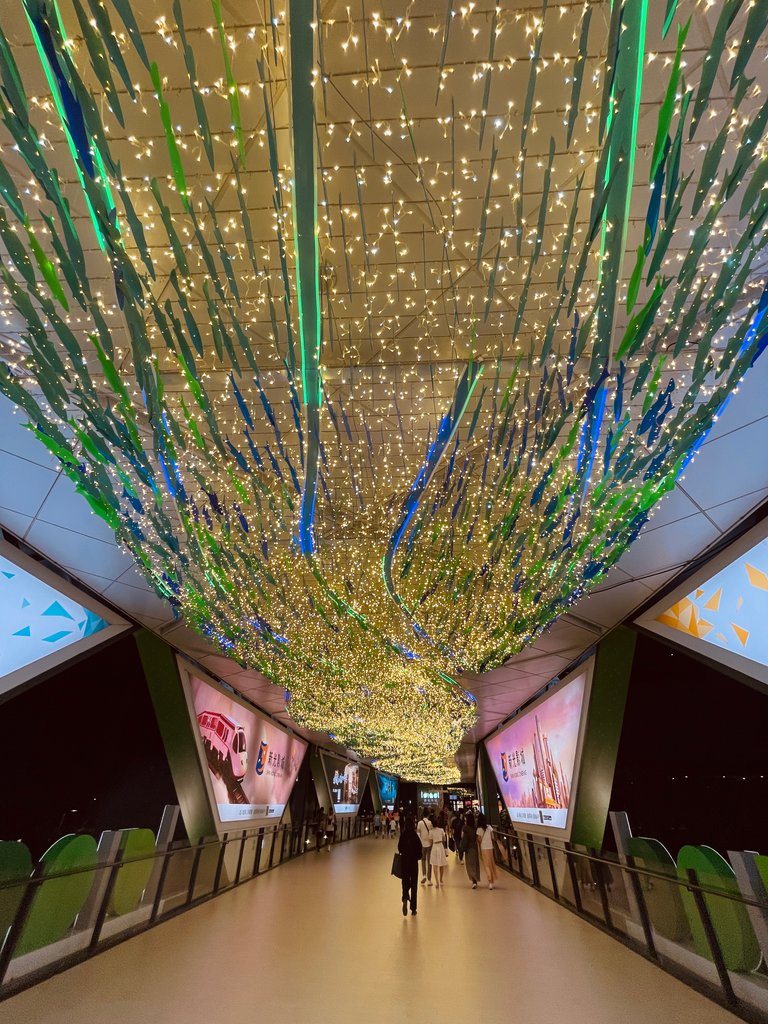 We are now heading towards the resturant because we were getting hungry. Wow look at that... I didn't notice it much during the day but at night it really is fantasy like. This is also the way to the aquarium so I get it. The road to aquarium. :)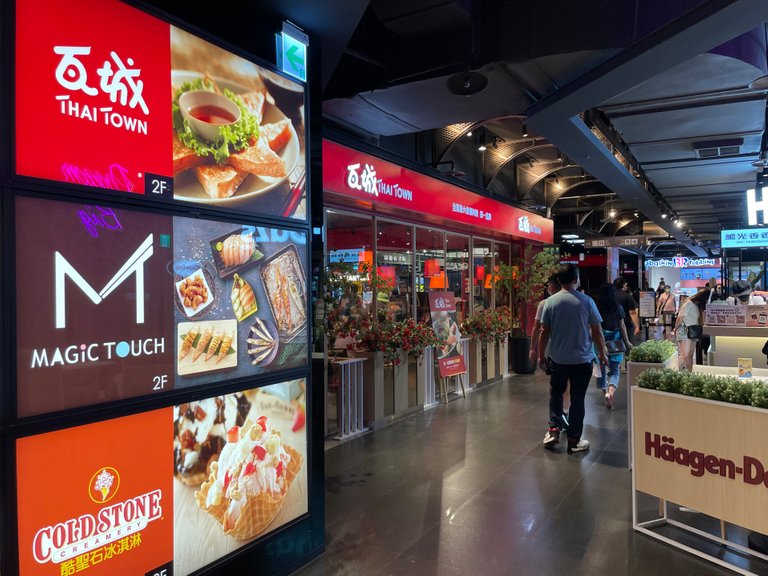 Ahhh... getting more hungry! Time to choose!!!

STEAK SALAD!!!! Medium Cooked!!! Ultra Hungry at the time. When I am hungry, everything is good.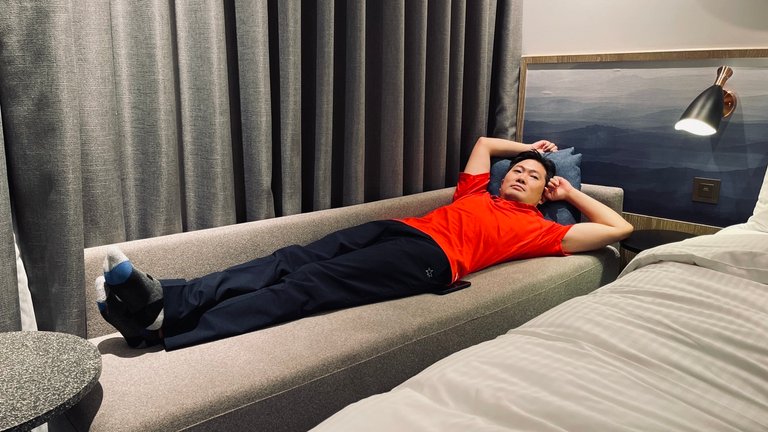 This was the end of our day... and man I was tired. Like... Done. I dont know but I didn't really think age will effect me however I take that back. Being mid 40's I am starting to feel that its not the same.... But!! Still!!! zzzzzzzzzzzzzz.....


---
The Breakfast at 7AM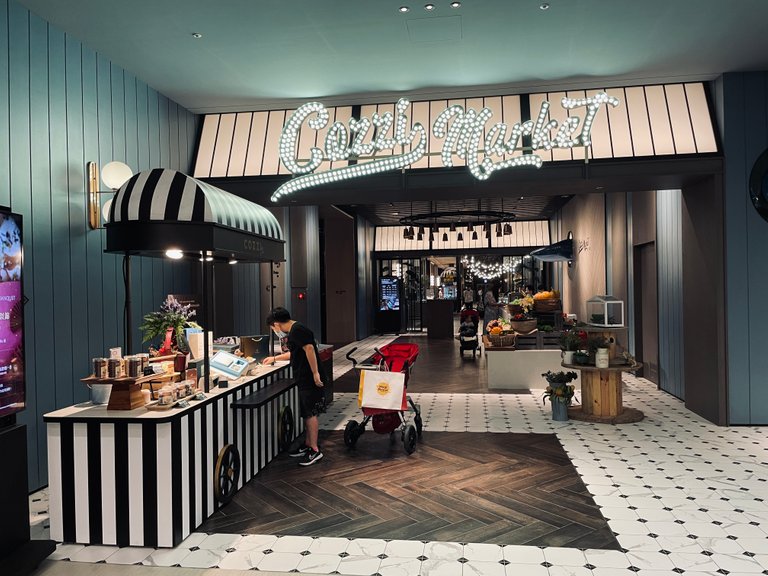 Entrance of where we eat our breakfast.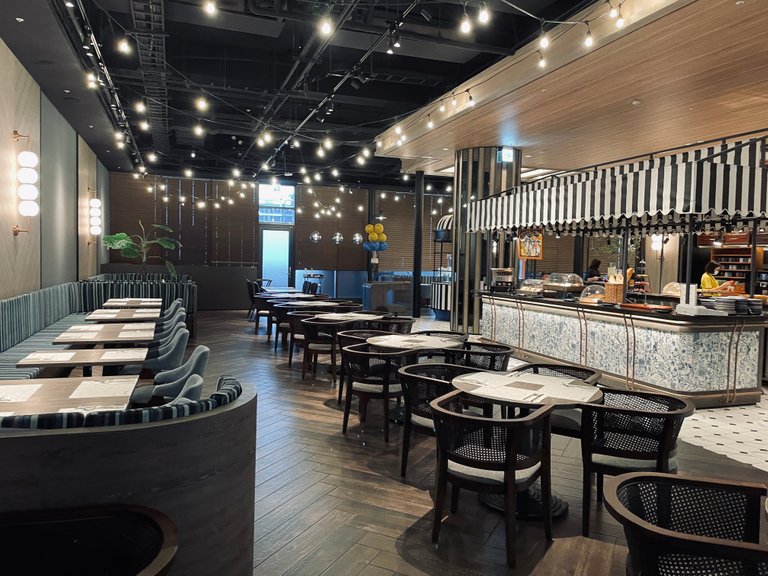 Breakfast place interior design again has changed and its very cozzi like the name of the hotel.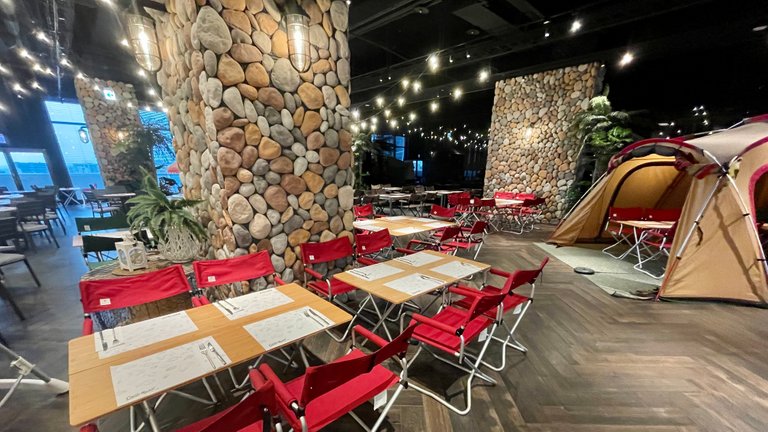 The other side of the resturant they themed it like camping!!! Ultra creative... Kids love this side.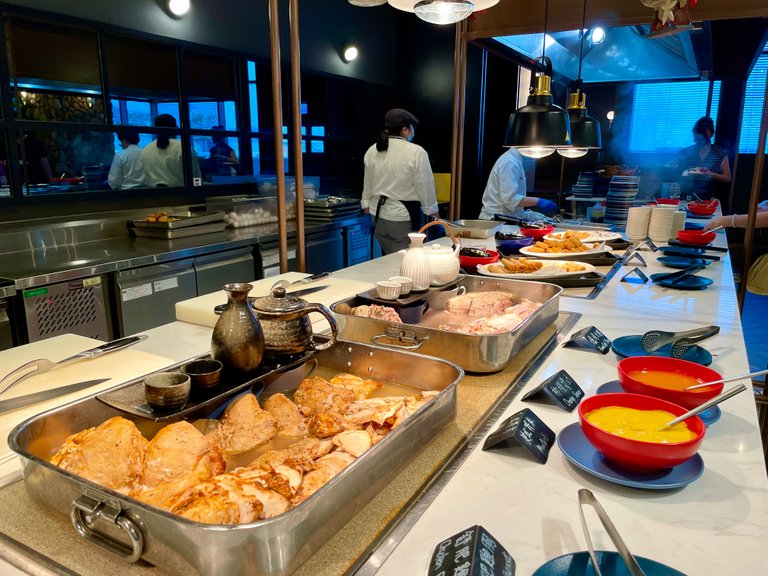 Breakfast buffet~ Food was great.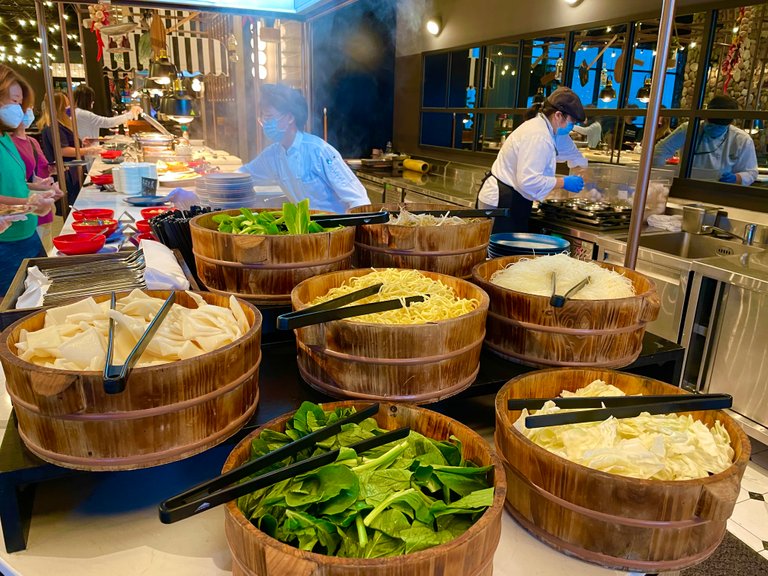 Noodles with fresh veggies can't go wrong.... mmmm.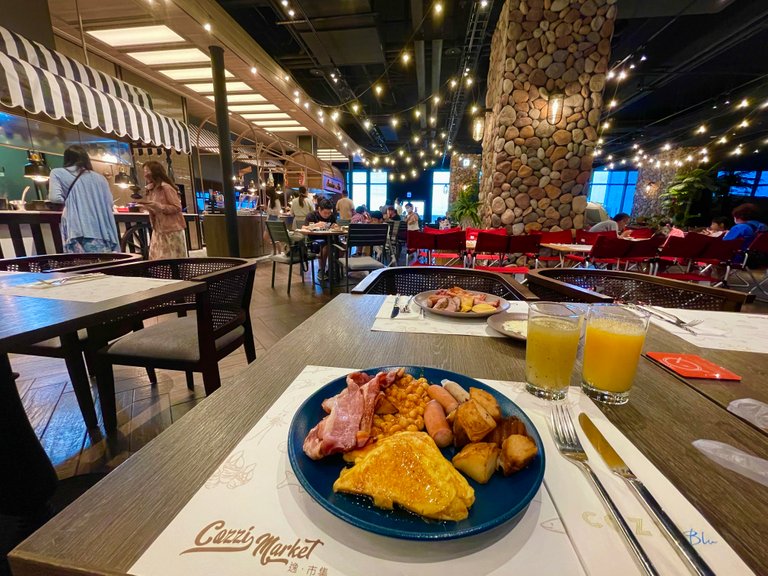 Ahhhh.. breakfast.... this is what I'm talking about. This is why we came here.... eat breakfast. A lot of breakfast~~~
This is what my wife really likes about staying at hotels... she likes to eat good breakfast and she wakes up early. She likes to be the first one opening up the fresh food on the breakfast buffet tray. OK I get it... so we woke up at 6:30 ish and went straight down to the breakfast place... almost no one was there, but it filled up pretty quick. I am glad we got to eat the food first hand and early... can't go wrong with that.
I hope you guys enjoyed my little around the town vacation travel blog with the family. Its not often we do this and this time I was prepared to take some photos to post it and show to our Hive community.
Thanks a bunch!!!~~
Set Da Tone!!