My Travel Blog.
The gateway to the Black Sea - Anadolu Lighthouse.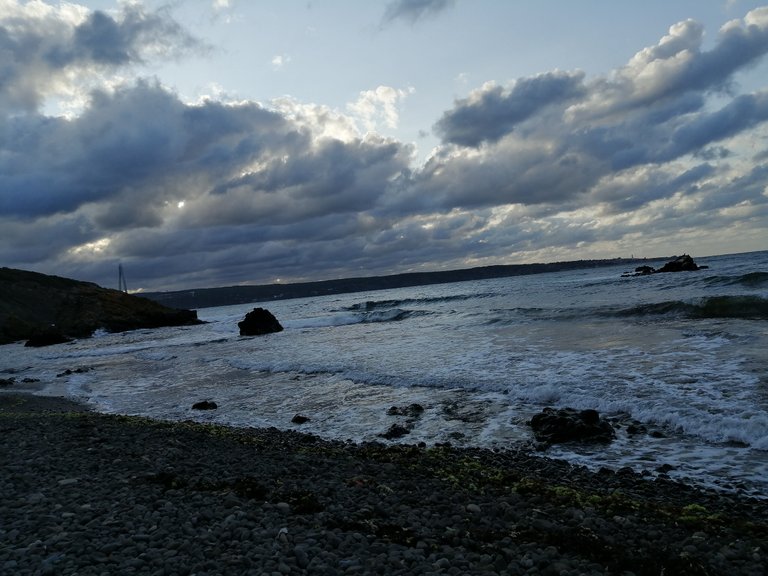 Hello to all who love to travel,
I found a great place an hour away from where I live. We can say that this is a connecting gate of the Black Sea to Marmara and Mediterranean. This is a place of great importance in terms of providing sea transportation to many countries such as Bulgaria, Romania, Moldova, Ukraine, Russia and Georgia.
I used my own vehicle to get here. Since I had never been here before, I immediately started exploring. They built a lighthouse at this extreme point. This is Anadolu Lighthouse. In fact, there is the Rumeli Lighthouse right across from this lighthouse. Here, the controls of the passing ships are provided. The first greeting is made at these points.
Gezmeyi seven herkese merhaba,
Yaşadığım yere bir saat uzaklıkta harika bir yer buldum. Burası Karadeniz'in Marmara ve Akdeniz'e olan bir bağlantı kapısı diyebiliriz. Bulgaristan, Romanya, Moldova, Ukrayna, Rusya, Gürcistan gibi birçok ülkeye deniz ulaşımı sağlanması açısından burası gerçekten çok büyük öneme sahip bir yer.
Buraya gelmek için kendi aracımı kullandım. Daha önce buraya hiç gelmediğim için hemen keşfe başladım. Bu uç noktaya bir deniz feneri yapmışlar. Burası Anadolu Deniz Feneri. Hatta bu fenerin tam karşısında Rumeli Deniz Feneri var. Burada geçen gemilerin kontrolleri sağlanıyor. İlk selamlama bu noktalarda yapılıyor.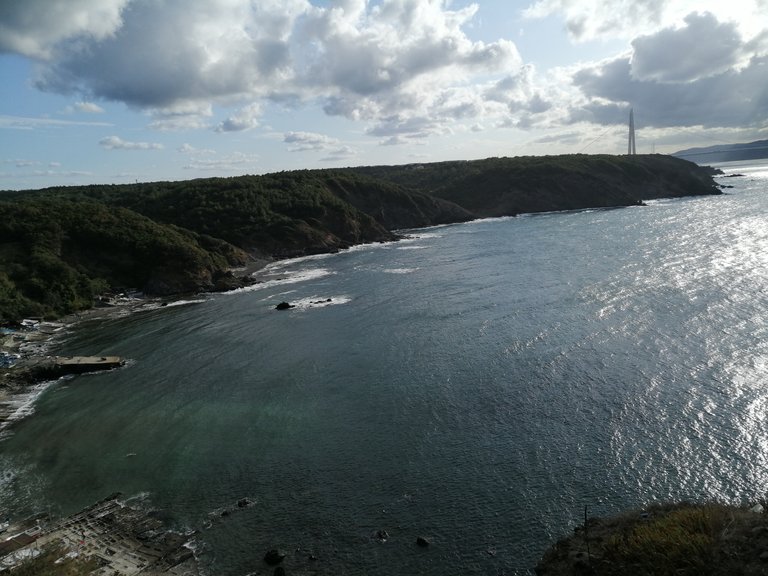 At the point where Anadolu Feneri is located, there is a castle that was built before. Next to the lighthouse, there is a historical mosque built in ancient times. Many people who come here visit the fort and the mosque. First of all, I will share with you the view I saw from the side of the mosque.
After entering the Bosphorus, there are small coves on the sides. You can also see boats and beaches here. It was a bit cloudy when we went. That's why no one went into the sea. There are 3 bridges in total that connect the continents in this strait. The last bridge you see in the photo is the 3rd bridge. It adds a different beauty to the scenery here.
Anadolu Fenerinin bulunduğu noktada daha önceden yapılmış bir kale var. Fenerin yanında eski zamanlarda yapılmış tarihi bir Cami'de var. Buraya gelen birçok kişi kaleyi ve camiyi ziyaret ediyor. İlk başta caminin yanından gördüğüm manzarayı sizlerle paylaşacağım.
Boğaza giriş yaptıktan sonra kenarlarda ufak koylar bulunuyor. Ayrıca burada sandalları ve plajları görebiliyorsunuz. Gittiğimiz zaman hava biraz kapalıydı. Bu yüzden denize giren yoktu. Bu boğazda kıtaları birbirine bağlayan toplamda 3 köprü var. Fotoğrafta gördüğünüz son yapılan 3. köprüdür. Buradaki manzaraya da ayrı bir güzellik katıyor.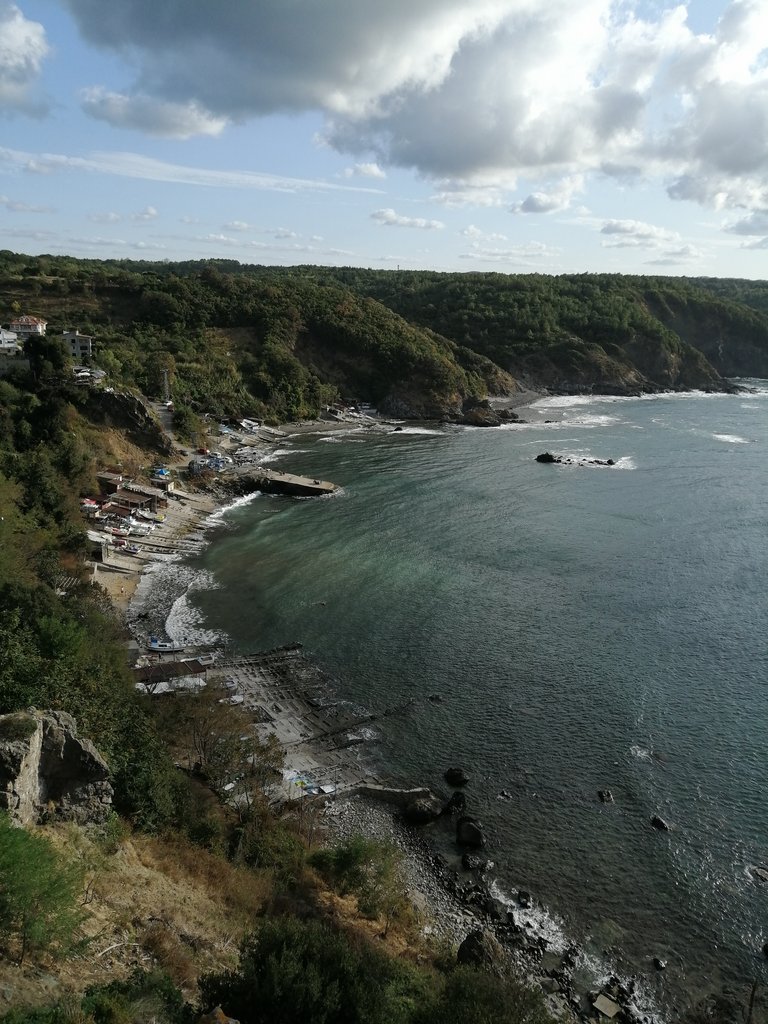 After looking at the view at the back, I walked towards the castle where the Lighthouse is located. This place is not always open. It is open at certain hours, so you have to go during the daytime. After they came to the castle, they built a ladder on its side walls. Thanks to this ladder, we go up to the Lighthouse.
When we go up, the Black Sea looks at us with all its beauty. Looking at an endless sea always relaxes me. Here I see the sea and the sky almost merge. When I look to the other side, I see the 3rd bridge. Being on the edge of a place really gives me great pleasure. The air coming from the Black Sea penetrates into us.
Arka taraftaki manzaraya baktıktan sonra Fenerin içinde bulunduğu kaleye doğru yürüdüm. Burası her zaman açık değil. Belirli saatlerde açık bu yüzden gündüz vakitlerinde gitmeniz gerekiyor. Kaleye geldikten sonra yan duvarlarına merdiven yapmışlar. Bu merdiven sayesinde Fenerin yanına kadar çıkıyoruz.
Yukarı çıktığımızda Karadeniz tüm güzelliğiyle karşımızda bize bakıyor. Sonu olmayan bir denize bakmak beni her zaman rahatlatır. Burada deniz ve gökyüzünün adeta birleştiğini görüyorum. Diğer tarafa baktığımda 3.köprüyü görüyorum. Bir yerin en uç noktasında olmak gerçekten bana büyük keyif veriyor. Karadeniz'den gelen hava içimize kadar işliyor.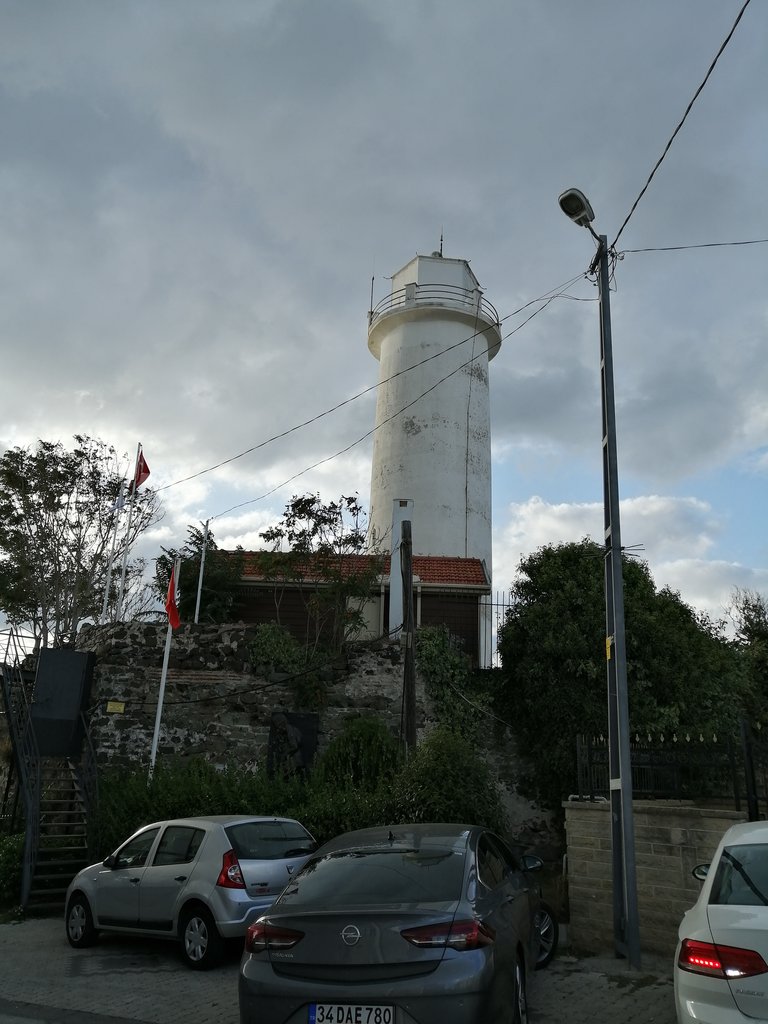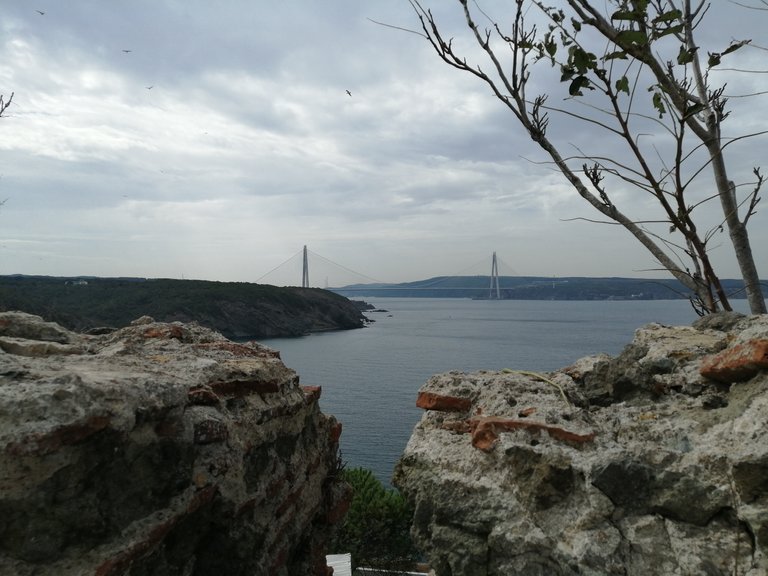 We had the opportunity to see many fishing boats in this direction. Many seagulls flying behind were trying to get fish from the boat. But I saw a very beautiful place in the photo below. There's a house here that belongs to someone. Look at the balcony of this house. This house with an incredible view overlooked the Black Sea. I can't even imagine how valuable it is to own this house.
Since the lighthouse was built on the top of the mountain, you see a cliff when you look down. But the color and clarity of the sea is dazzling. During the day, visitors like us come here and enjoy the view.
Bu istikamette birçok balıkçı teknesi görme fırsatımız oldu. Arkasında uçan birçok martı tekneden balık alma peşindeydi. Fakat Aşağıdaki fotoğrafta çok güzel bir yer gördüm. Burada birisine ait bir ev var. Bu evin balkonuna bakın. İnanılmaz bir manzarası olan bu ev Karadeniz'e bakıyordu. Bu eve sahip olmanın ne kadar değerli olduğunu düşünemiyorum bile.
Fener dağın tepesine yapıldığı için aşağıya bakıldığında uçurum görüyorsunuz. Ama denizin rengi ve berraklığı göz kamaştırıyor. Gün içerisinde bizim gibi ziyaretçiler buraya gelip manzaranın tadını çıkarıyor.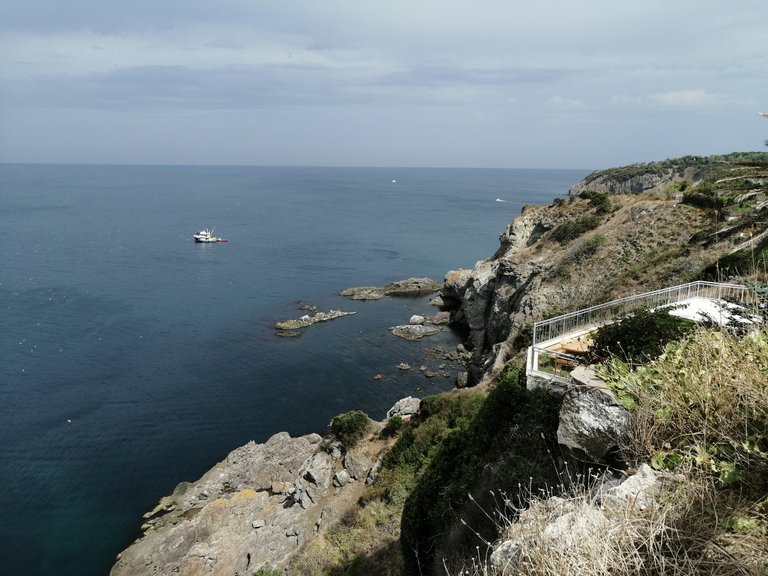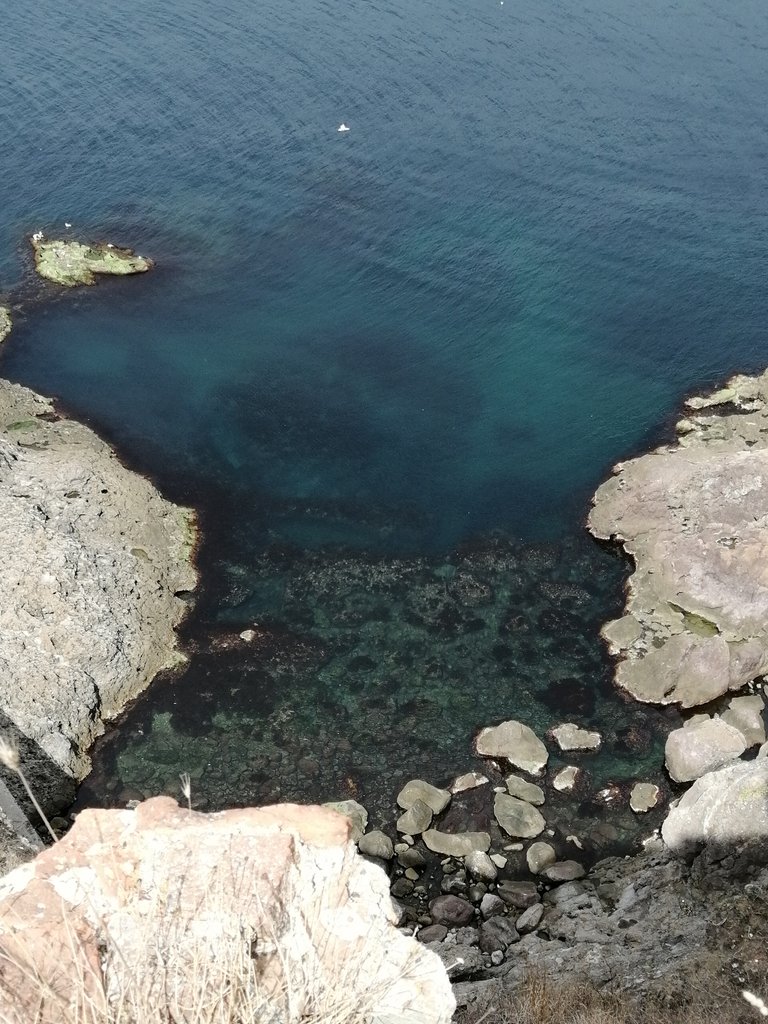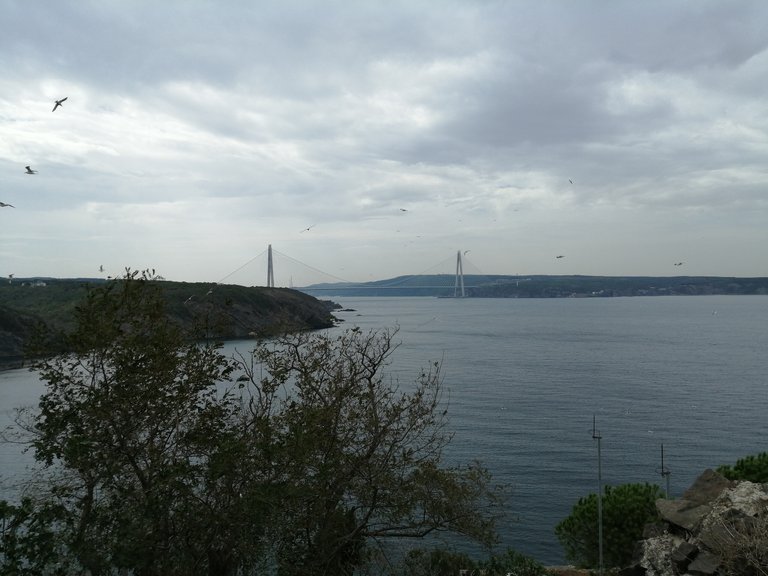 When I went to the Anatolian lighthouse, I saw a cove with boats below. After watching the scenery in Fener for a long time, I decided to go down. The sea was a bit choppy as the weather was cloudy. But this place had a different view from above and from below.
I took a panorama photo to fit the entire landscape here in one photo. They put a bench to sit by the sea. There is also a place where you can drink tea and coffee. I suggest you to come here with your spouse or girlfriend. 😊
Anadolu deniz fenerine çıktığımda aşağıda sandalların olduğu bir koy görmüştüm. Fener'de uzun bir süre manzarayı seyrettikten sonra aşağı inmeye karar verdim. Hava kapalı olduğundan deniz biraz dalgalıydı. Fakat buranın yukarıdan ayrı aşağıdan ayrı bir güzel manzarası vardı.
Buradaki manzaranın tamamını tek bir fotoğrafa sığdırmak için panorama fotoğraf çektim. Deniz kenarına oturmak için bank koymuşlar. Çay ve kahve içebileceğiniz bir yer de bulunmakta. Eşinizle veya sevgilinizle buraya gelmenizi öneririm. 😊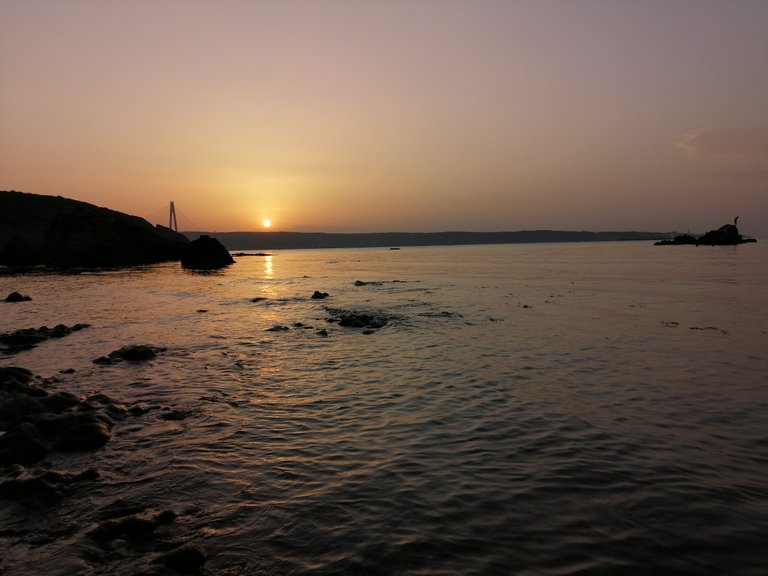 After spending all day here, I waited for the sun to set. I wait for the sun to set in all the places I like. Because as the sun goes down, it gives me a different pleasure and I fall in love with the landscape that emerges.
I had a fun and enjoyable day at Anadolu Lighthouse. I hope it was an enjoyable sharing. Thanks for your visit. See you on my next travel blog.
Tüm günümü burada geçirdikten sonra güneşin batmasını bekledim. Beğendiğim tüm yerlerde güneşin batmasını beklerim. Çünkü güneş batarken bana ayrı bir keyif veriyor ve ortaya çıkan manzaraya âşık oluyorum.
Anadolu Deniz Fenerinde eğlenceli ve keyifli bir gün geçirdim. Umarım keyifli bir paylaşım olmuştur. Ziyaretiniz için teşekkürler. Bir sonraki seyahat bloğumda görüşmek üzere.
Stay Healthy. Goodbye.