My Travel Blog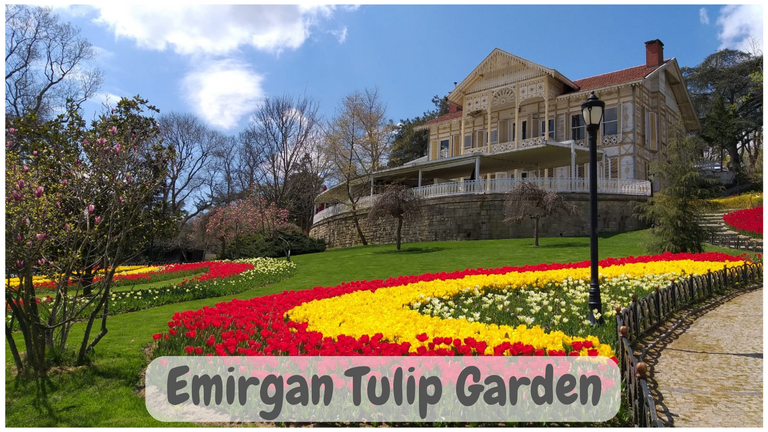 Hello to all who love to travel,
In our travel articles, we usually see photographs in blue. As with seascapes, skyscapes and other eye-catching landscapes. But in this post, I will take you to a colorful garden.
Green color gives people confidence and peace. In addition, seeing all the colors you can see in nature in a garden will make you feel lucky. Gardens are calming for people. In this post, I will try to give you the calming you need. Let's take a trip to the colorful tulip garden together.
Gezi yazılarımızda genelde mavi renkte fotoğraflar görüyoruz. Deniz manzaraları, gökyüzü manzaraları ve diğer göz alıcı manzaralarda olduğu gibi. Fakat bu paylaşımda sizleri rengarenk bir bahçeye götüreceğim.
Yeşil renk insana güven ve huzur verir. Ayrıca doğaga görebileceğiniz tüm renkleri bir bahçede görmek sizi şanslı hissettirecektir. İnsanlar için bahçeler birer sakinleştiricidir Bu paylaşımda ihtiyacınız olan sakinleştiriciyi size vermeye çalışacağım. Hadi rengarenk lale bahçesi gezisine beraber çıkalım.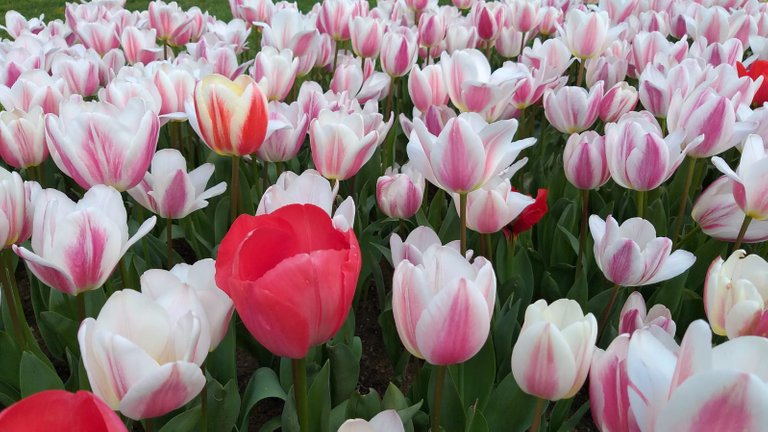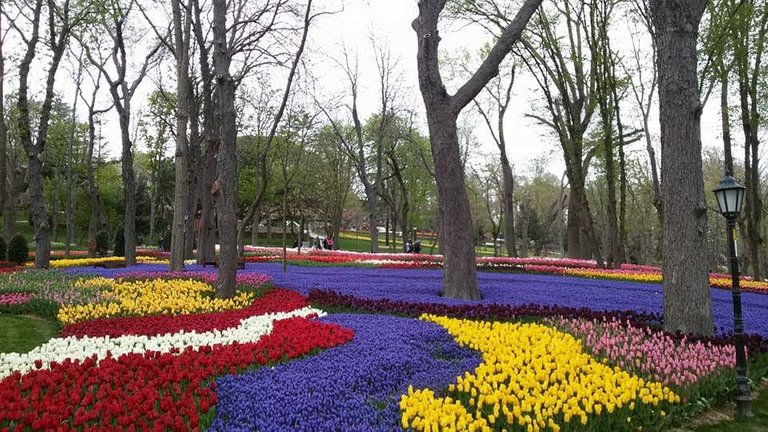 Tulip festival is held here regularly in April every year in the province of Istanbul in Turkey. Emirgan tulip garden takes its name from here. They carefully plant colorful tulips in the tulip garden. In this way, different shapes emerge with tulips. The harmony of colors and the fragrant tulips emanate from nature relaxes you.
Walking among these dazzlingly colored and fragrant tulips makes one feel like walking in paradise. We continue our walk in the garden with pleasure by watching the surroundings. Bird sounds and tulip-scented wind accompany us.
Türkiye'nin İstanbul ilinde her yıl Nisan ayında düzenli olarak burada Lale festivali düzenleniyor. Emirgan lale bahçesi adını buradan alıyor. Lale bahçesinde rengarenk laleri özenle dikiyorlar. Bu sayede farklı şekiller ortaya çıkıyor. Renklerin bir biri ile uyumu ve lalelerin doğaya saçtıkları o mis koku sizi rahatlatıyor.
Göz kamaştıran renkteki ve kokudaki bu laler arasında yürüyüş yapmak insanı cennette geziyor gibi hissettiriyor. Bahçe içerisinde etrafı seyrederek keyifle yürüyüşümüze devam ediyoruz. Kuş sesleri ve lale kokulu rüzgarda bize eşlik ediyor.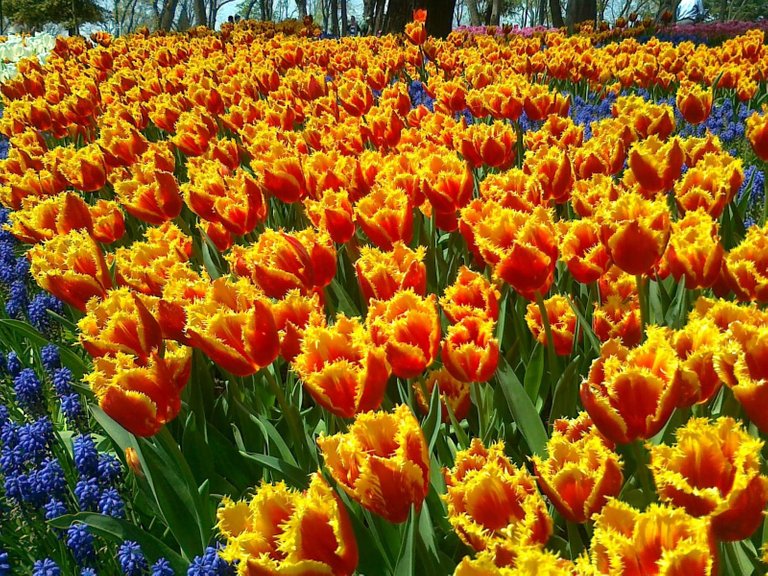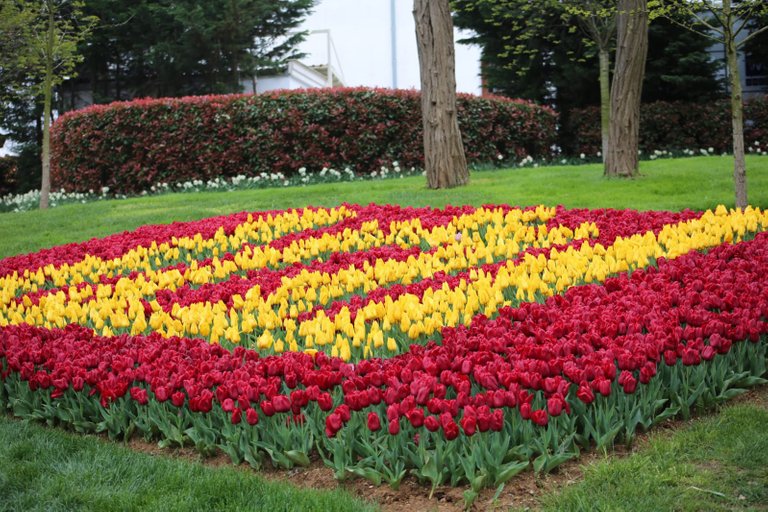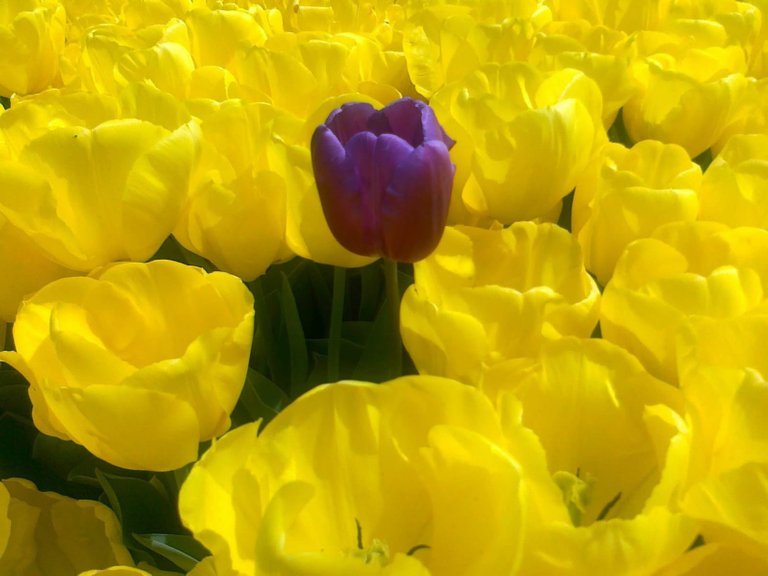 There are also three pavilions in the Emirgan tulip garden. The mansions provide restaurant service for those who come here. The mansions have also adapted to the colorful garden. They also wore colorful clothes. They were even named as the white mansion, the pink mansion and the yellow mansion.
While you are out for a tour of the tulip garden, I would like to give you information about tulips. Tulips are a plant that grows in certain months and has a short lifespan. That's why it differs from ordinary plants. The growth stages are quite demanding. Because at the beginning of these stages, it is necessary to make the soil suitable for the growth of the tulip. Then, about 5 months before the festival, tulips are planted according to their color and size. Irrigation is done regularly during this period. The colorful tulips we see appear before us after a long adventure to relax and give us peace.
Emirgan lale bahçesi içerisinde ayrıca üç tane köşk bulunuyor. Köşkler buraya gelenler için restoran hizmeti veriyor. Köşklerde rengarenk bahçeye uyum sağlamışlar. Onlarda rengarenk kıyafetlerini giymişler. Hatta beyaz köşk, pembe köşk ve sarı köşk olarak isimlendirilmişler.
Hazır lale bahçesini gezintiye çıkmışken sizlere laleler hakkında bilgi vermek istiyorum. Laleler belirli aylarda büyüyen ve yaşamları kısa olan bir bitkidir. Bu yüzden sıradan bitkilerden farklıdır. Büyüme aşamaları oldukça zahmetlidir. Çünkü bu aşamaların başında lalenin büyümesi için toprağını uygun hale getirmek gerekir. Daha sonrasında festivalden yaklaşık 5 ay öncesinde laleler renklerine ve büyüklüklerine göre ekilir. Bu zaman aralığında düzenli olarak sulama işlemi yapılır. Gördüğümüz rengarenk laleler uzun bir serüvenin ardından bizleri rahatlatmak ve huzur vermek için karşımıza çıkarlar.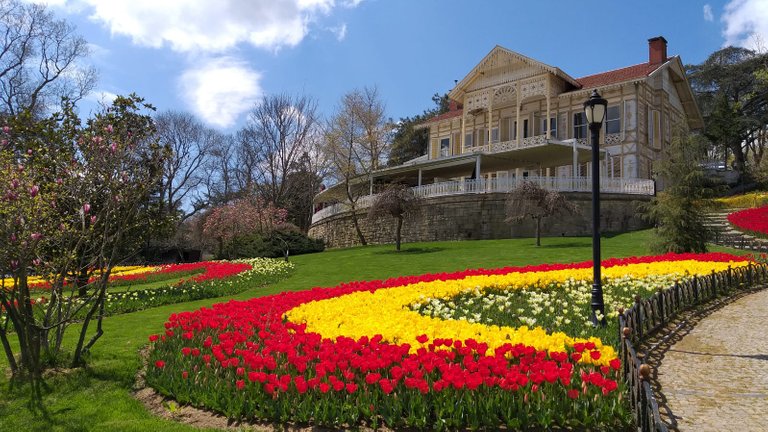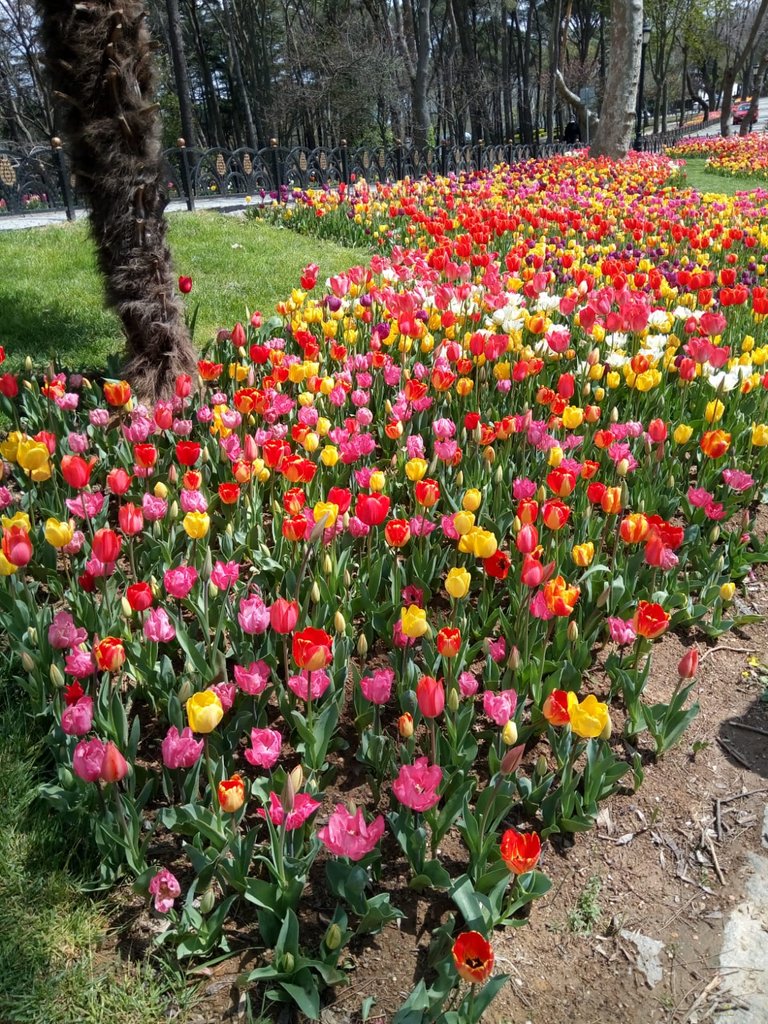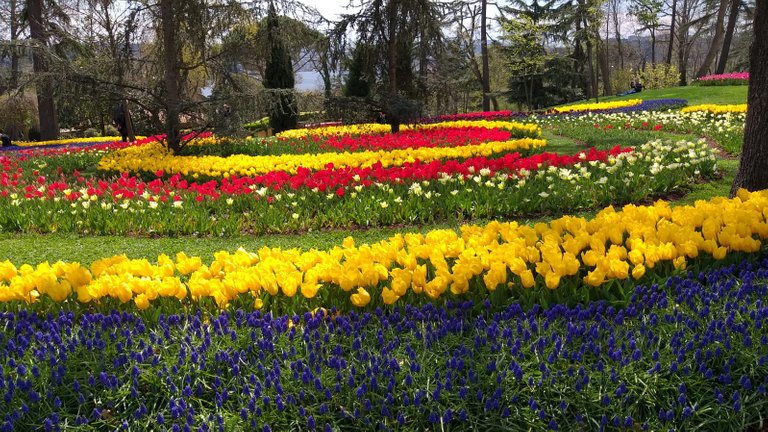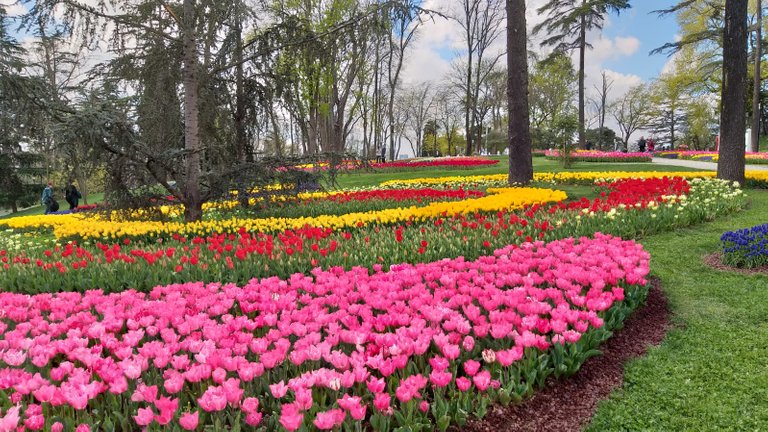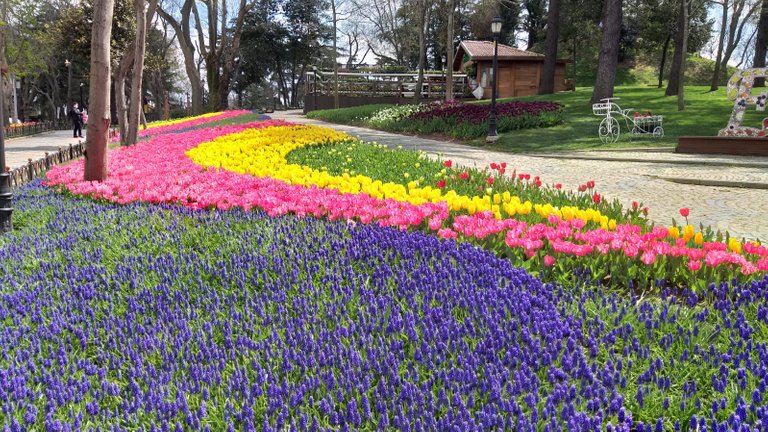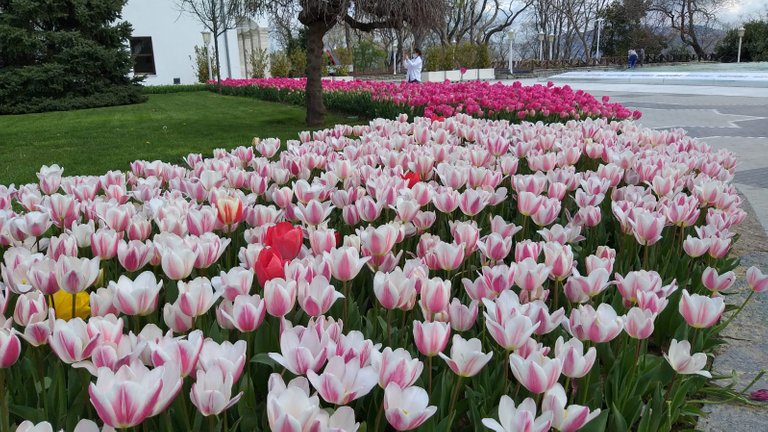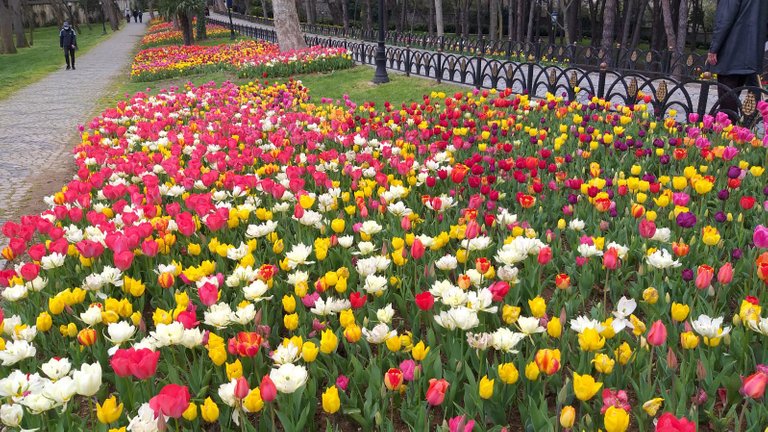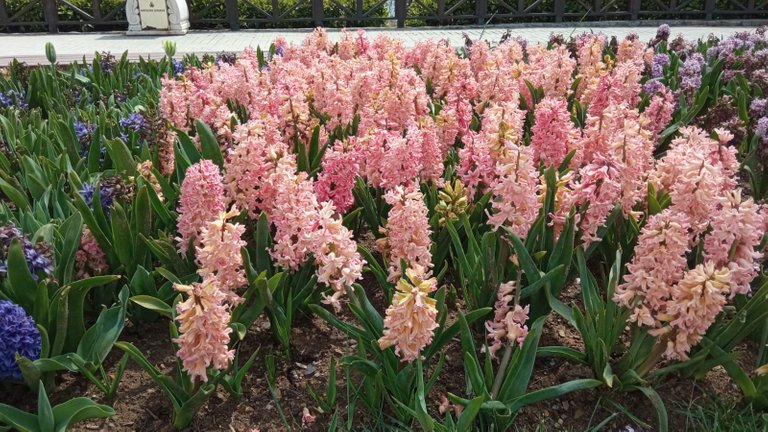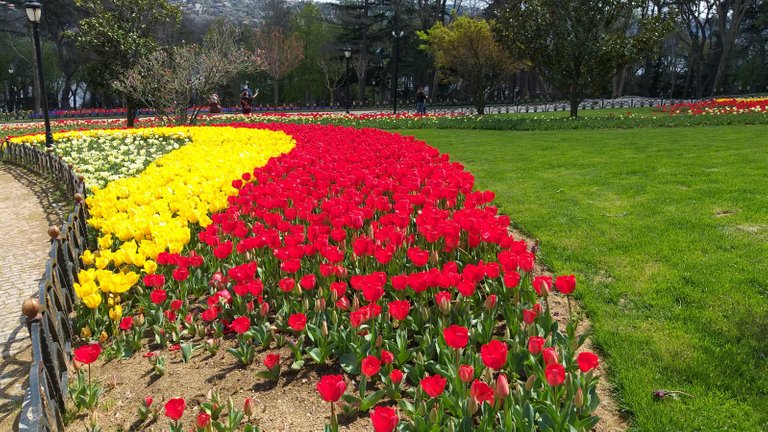 It is a very big garden and you should spare a day to visit this place. We took a break after a long trip. There is a playground for those who come with the family. After resting, we continue our tour.
I have a question for you. Do you think men or women love flowers more in the world? In fact, most people can give the same answer to this. But I'm asking if I can get a different answer from those who come to my page from various countries of the world and read my article. Waiting for your comments. :)
Çok büyük bir bahçe olduğundan burayı gezmek için bir gününüzü ayırmalısınız. Uzun bir geziden sonra biraz mola verdik. Ailecek gelenler için oyun parkıda var. Dinlendikten sonra gezimize devam ediyoruz.
Sizlere bir sorum var. Sizce dünyada çiçekleri erkeklermi yoksa kadınlarmı daha çok seviyor. Aslında bunun cevabını çoğu kişi aynı verebilir. Fakat dünyanın çeşitli ülkelerinden sayfama gelip yazımı okuyanlardan belki farklı cevap alırım diye soruyorum. Yorumlarınızı bekliyorum. :)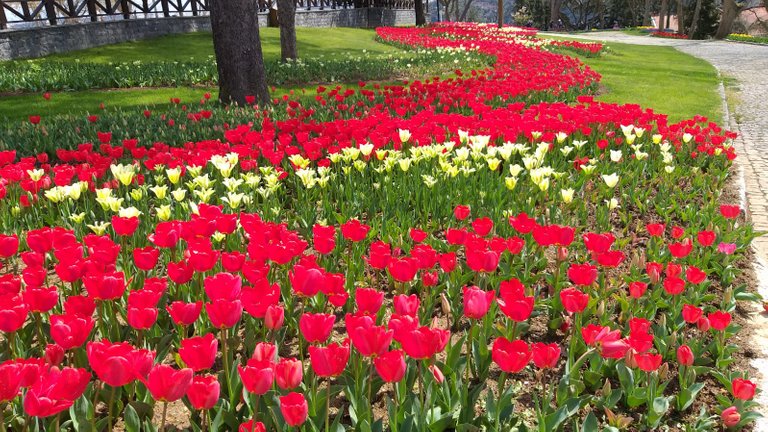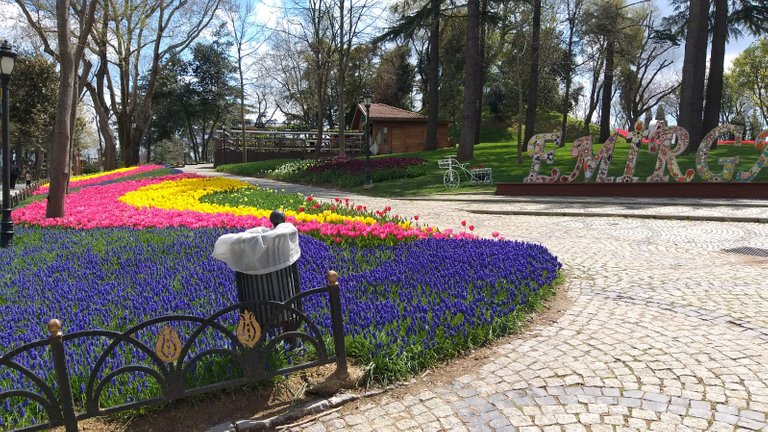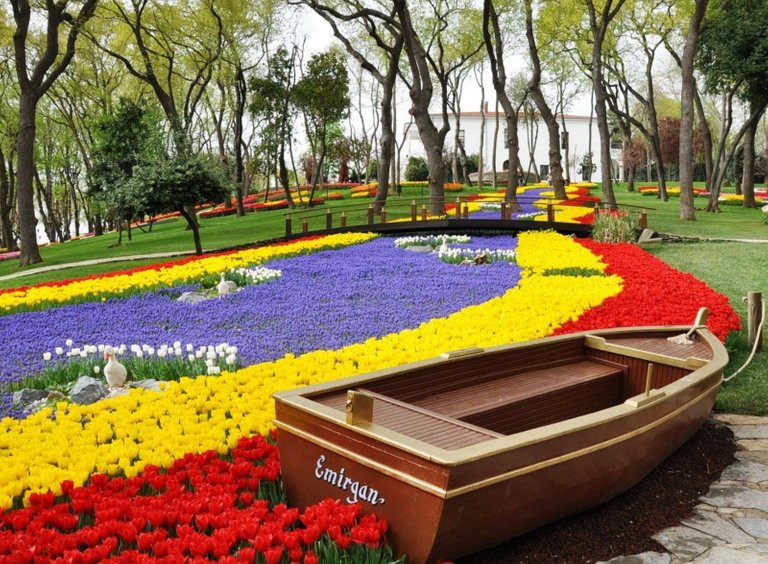 She is very happy when you buy flowers and give a gift to someone. Of course, if the flower you give is tulip, it has more meaning than its color. In the country where I live, when a red tulip is given as a gift, it represents love. The most preferred tulip color is white. It signifies eternal love and innocence.
That's why we can remind our loved ones how much we love them by buying tulips. Even if you're offended with someone, this will work. Never forget to laugh and have fun. I hope this was an enjoyable and informative post for you. See you on my next travel blog.
Çiçekler alarak birisine hediye verdiğinizde çok mutlu olur. Tabi verdiğiniz çiçek Lale ise rengine göre daha çok anlam taşır. Yaşadığım ülkede kırmızı lale hediye edildiğinde aşkı temsil eder. En çok tercih edilen lale rengi ise beyazdır. Sonsuz sevgi ve masumiyeti ifade eder.
Bu yüzden sevdiklerimize Lale alarak onları ne kadar çok sevdiğimizi hatırlatabiliriz. Eğer birisiyle dargınsanız bile bu işe yarayacaktır. Gülmeyi ve eğlenmeyi hiç bir zaman unutmayın. Umarım sizler için keyifli ve bilgilendirici bir yazı olmuştur. Bir sonraki gezi bloğumda görüşmek üzere.
Photo shoots are mine. Do not use without permission.
Fotoğraf çekimleri bana aittir. İzinsiz kullanmayınız.
Stay Healthy. Goodbye.