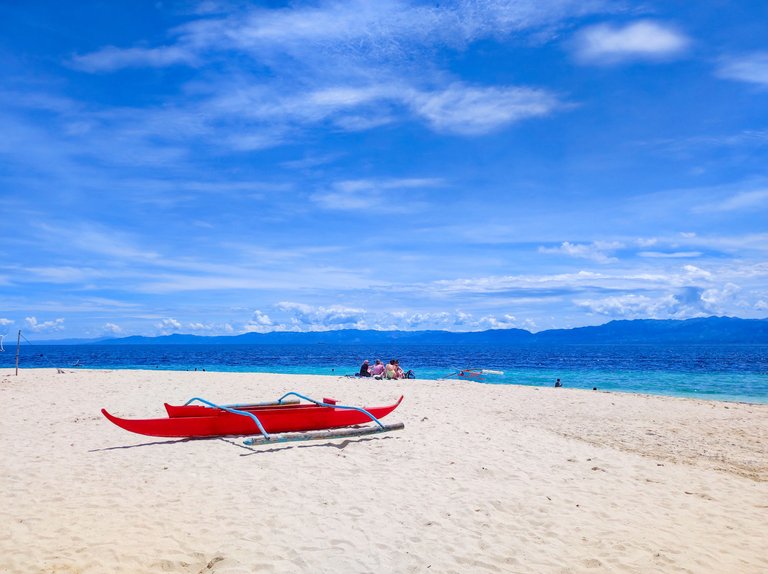 Hello everyone!
This is an unplanned post. I want to post something like my Palawan series or a video of my latest freediving shenanigans, but for some reason, I came up with this. I seriously find it weird, but I'm not complaining because I can add another entry to my Definitely Cebu series. This beach is not new though. I have visited this part of south Cebu many times as I made Moalboal more like my second home and my freediving playground. But for some reason, I didn't have a decent photo of this beach until last Tuesday when I went back after a very long time.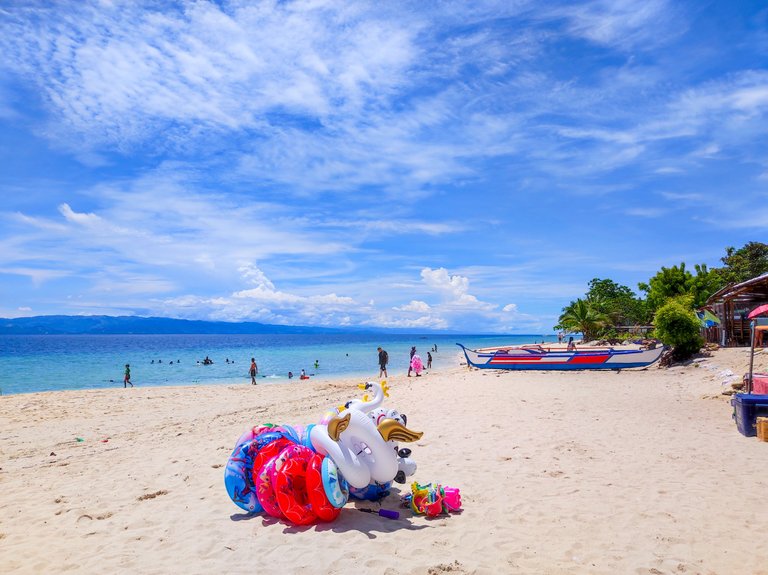 Before talking about the beach, let me share a story of how we ended up in Moalboal. You don't have a choice anyway, so here we go:
I have been stuck at home the past two weeks since it was always raining. I wanted to go out, but I hate getting wet or getting stuck in traffic. I was actually thinking of going somewhere sunny. Good thing my friend who's about to have his birthday invited me to go with them in Moalboal. We hitched a ride on the early morning of Monday without any clear plan on where to exactly stay in Moalboal. The plan was to be spontaneous.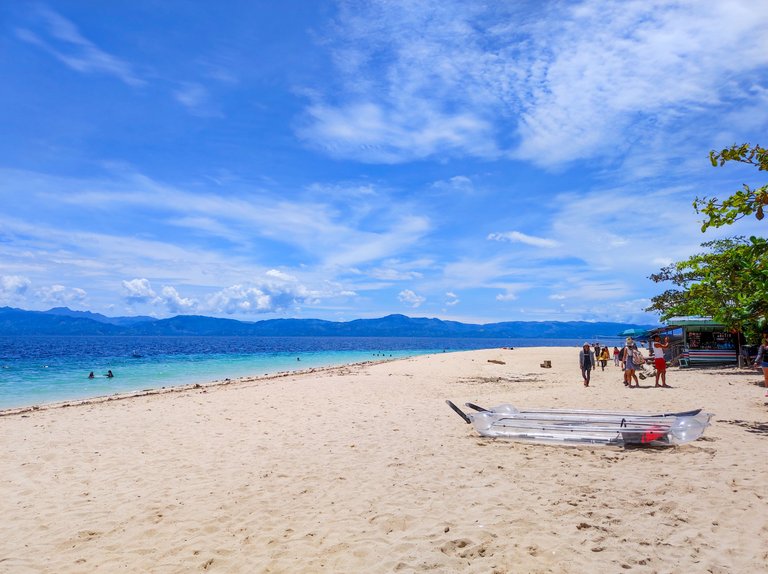 Since it was their first time in Moalboal, the plan of spontaneity was scrapped because they now relied on me to become their sort of guide. I frequent in the area like once a month, so I can't say no to their request. I ended up contacting
@sabanalchristian
for a snorkeling guide in Panagsama. Since we planned to stay overnight, I requested Christian to look for a cheap room that's good for four people. I had my lunch at Smooth Cafe while my friends opted to just have refreshments because they planned to eat somewhere else. The reason I had my early lunch is that I would be freediving while they're snorkeling. Freediving on a full stomach is just unpleasant.
We met with Christian and went to his recommended guest house so that we can settle down and prepare for the dive. I chose to have a little bit of sleep while my friends had their lunch and we agreed to have the snorkeling activity at 3 PM. I was a little bit worried about snorkeling and freediving in the afternoon for it might rain. Fortunately, the weather was fine and I had an awesome dive. I'll share some footage of the dive soon. We then had an awesome dinner at Hungry Monkeys. It's a recommended resto bar in Panagsama.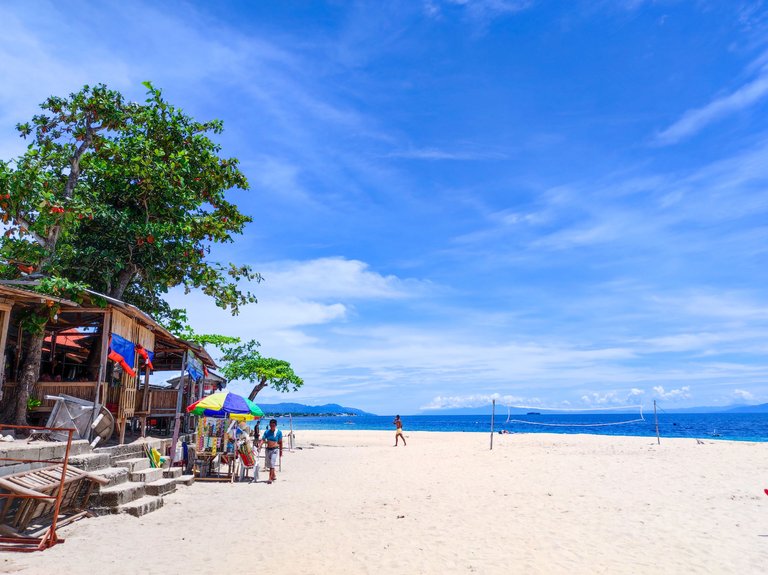 The next day (Tuesday), our initial plan was to go to Secret Paradise before checking out and going home, but we woke up at around 9 AM, so it was already late for swimming. I suggested that we would just have our lunch somewhere after we checked out. Since it was their first time in Moalboal, I thought of having our lunch in Basdaku. They agreed, so that's how we ended up in Basdaku White Beach. We went back to the main road in Moalboal to get a pass from the tourism office. You can't enter the area without a pass.
---
BASDAKU WHITE BEACH
One of Cebu's Finest Beaches
---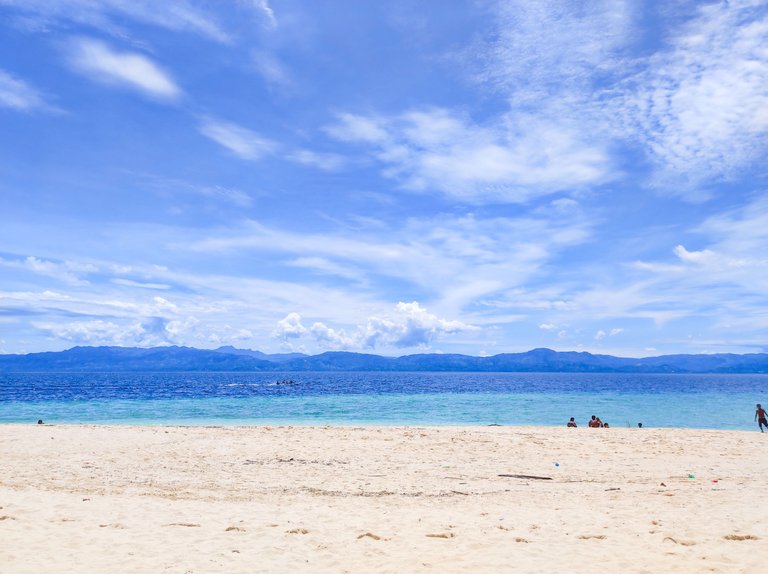 I'm sure I mentioned in one of my blogs that I have been to this beach many times, but I don't have any good photos to share. Some spontaneity led to this post which turned out to be good. I initially wanted to just showcase the beach photos taken from my new phone, but I realized it should be a full travel blog.
Basdaku is a combination of two Cebuano words "bas" which means sand and "daku" which means big or large. It's a literal description of the kilometer-long coastline of the white beach. There's another term Basdiot which means small sand and Basdiot is where Panagsama is located.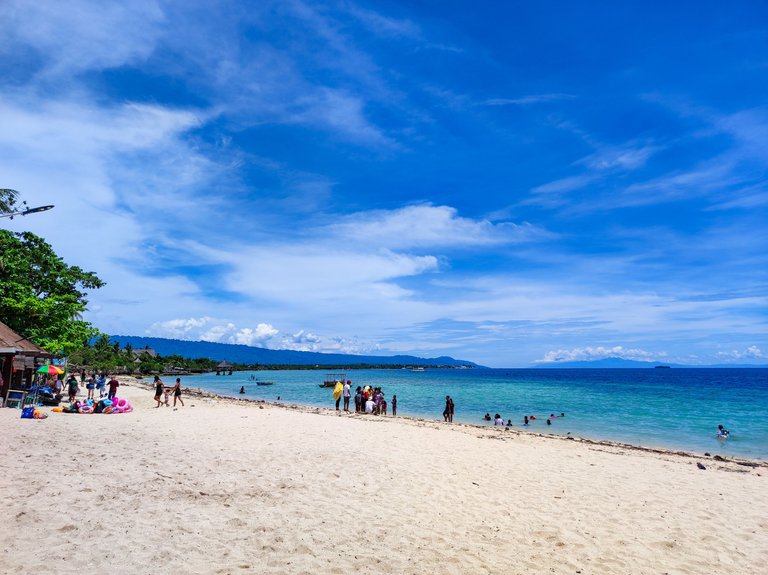 The weather was perfect for the beach that time so as expected, there were a lot of tourists. However, the number was nowhere near the pre-pandemic levels. Basdaku can get really crowded especially during the weekends. If you're looking for a place to stay overnight, you don't have to worry because there are a lot of resorts near the beach especially in the northern part. You just have to choose according to your budget because that part of Cebu can get a little bit pricey. If you're just in there for a day, there are a lot of cottages available for rent. The south part of the beach is public while the north part is where most of the private resorts and hotels are located.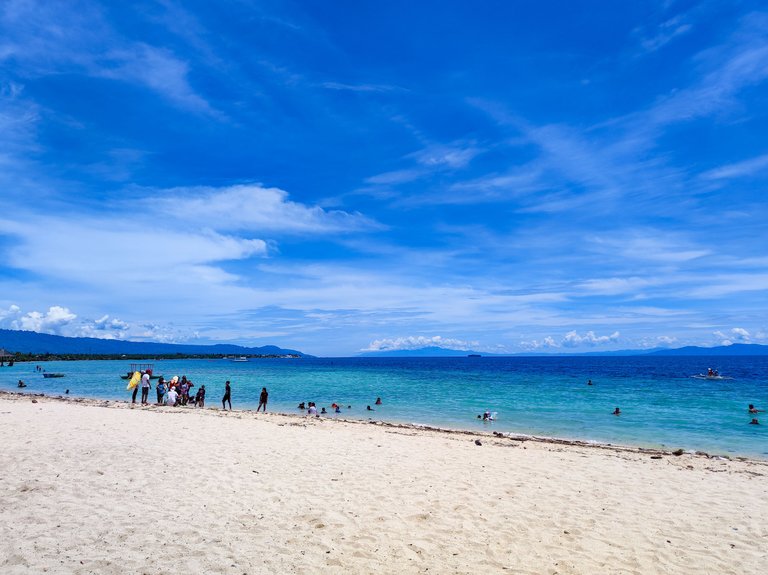 Because of the weather in the previous days, the beach is littered with debris, but those didn't stop a lot of people from swimming. The water was crystal blue as expected of Moalboal. The beach is facing Tanon Strait and across is the island of Negros. If you're into sunsets, the beach is a good spot.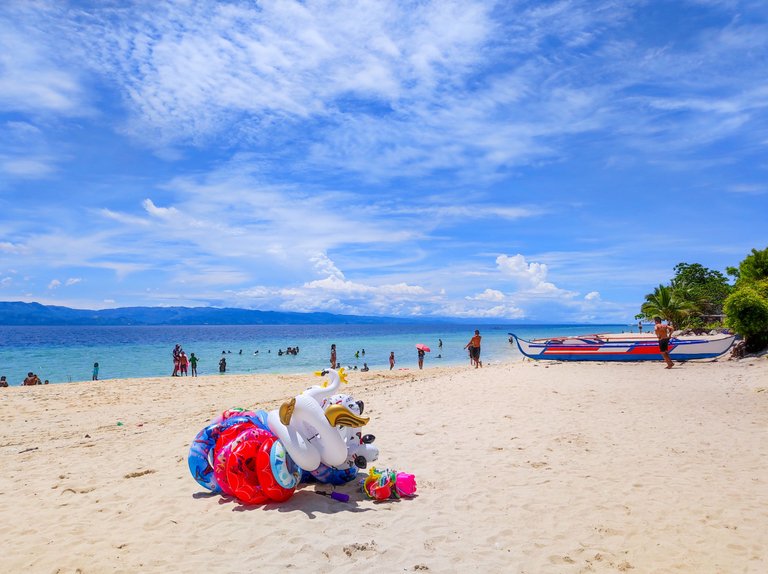 We didn't stay longer in the beach because it was so hot and we have no plans of renting a cottage. There are very few shady areas in the beach so make sure you bring a big umbrella and you're well hydrated when you visit. We tried to look for a good place to eat, but we didn't find any that suited our taste. We just decided to have a late lunch near the terminal before going home. Instead, we took some photos just to update the followers that we were in Basdaku. 😅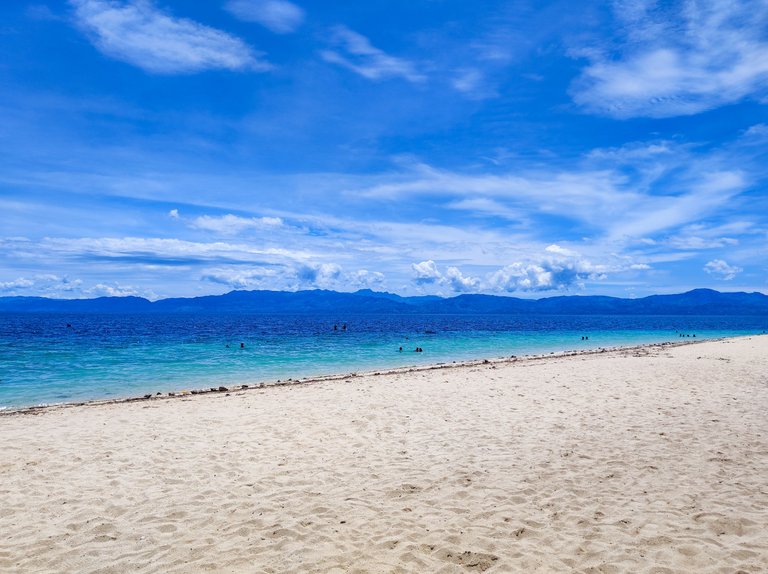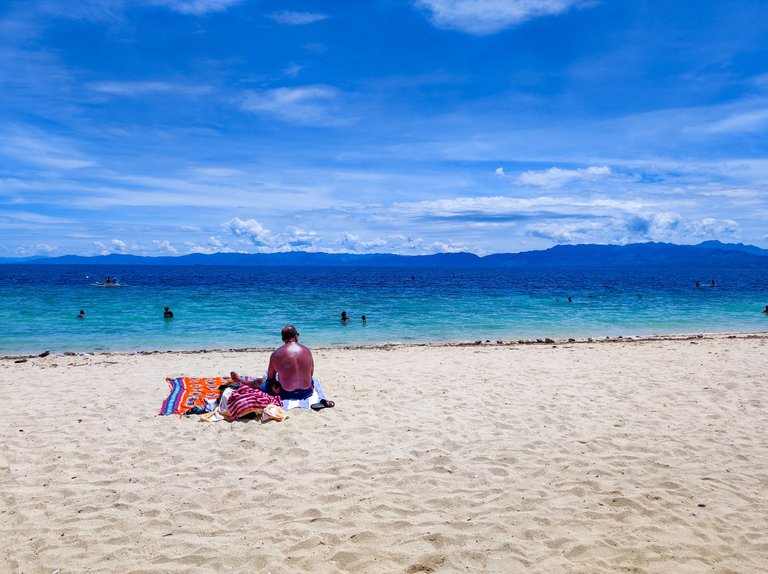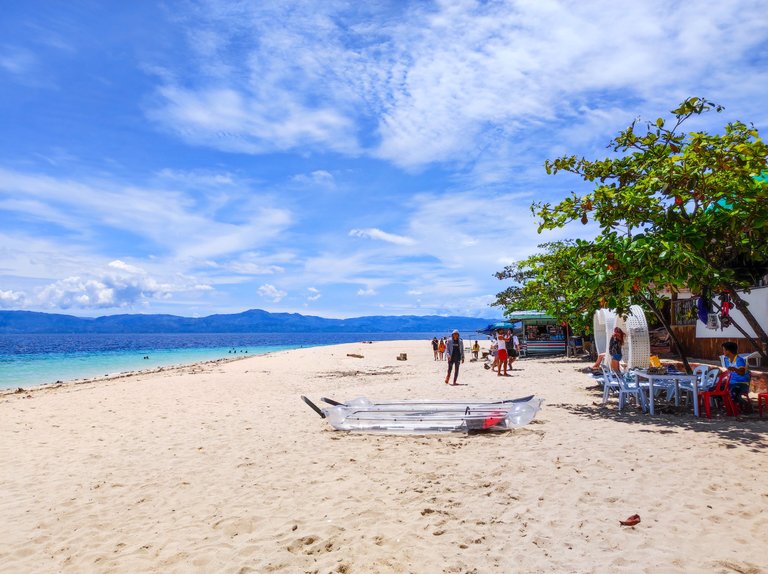 ---
While taking some pictures, I noticed that the sand was not as white as I perceived them to be. I think there are a lot of factors for this. Maybe because of the debris that are washed ashore. Or maybe because I have seen a lot of white beaches after Basdaku that my standard of a white beach is now elevated. Nevertheless, that doesn't stop me from enjoying the beach while observing the tourists having a great time.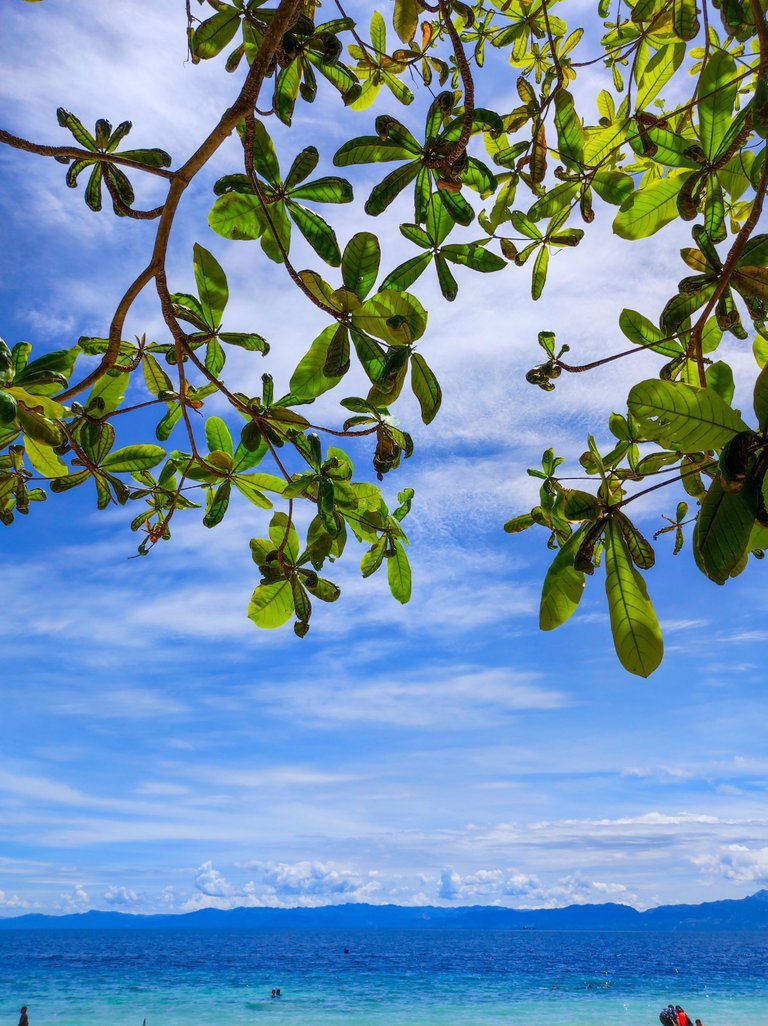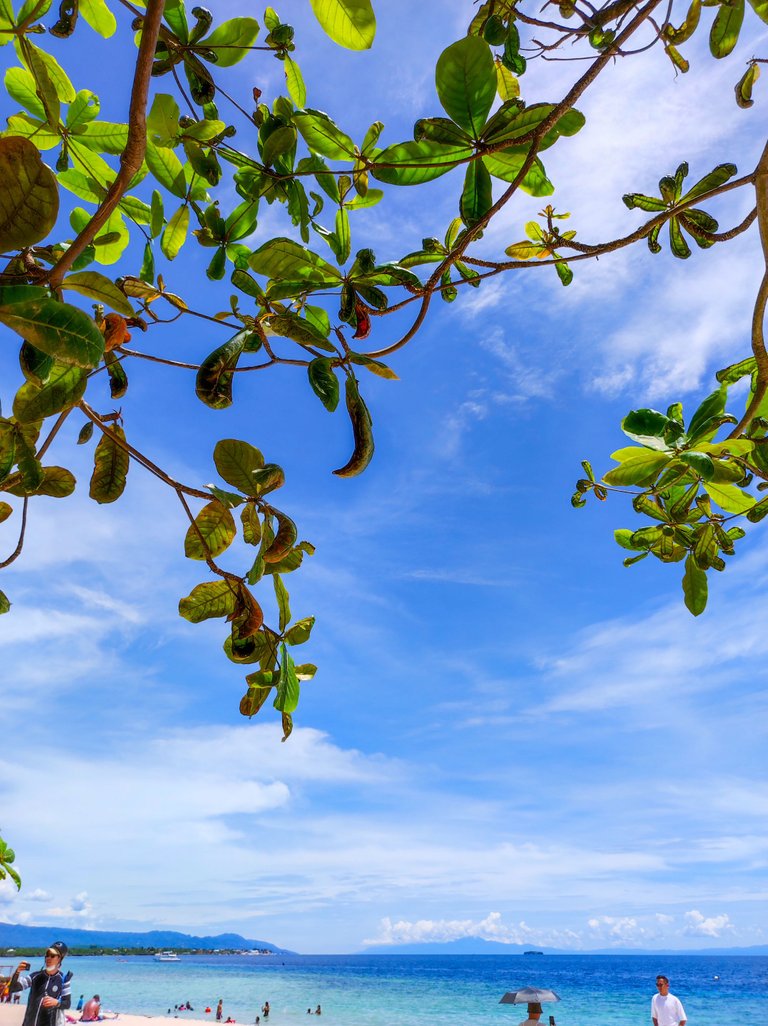 ---
The Philippines is really known for its paradise white sand beaches and you can add Basdaku White Beach to the list. If you're into sun, sand, and sea, you should consider visiting this beach if you happen to be in Cebu. Bonus: Moalboal is just a town away from the famous Kawasan Falls of Badian, so it's always a great side trip.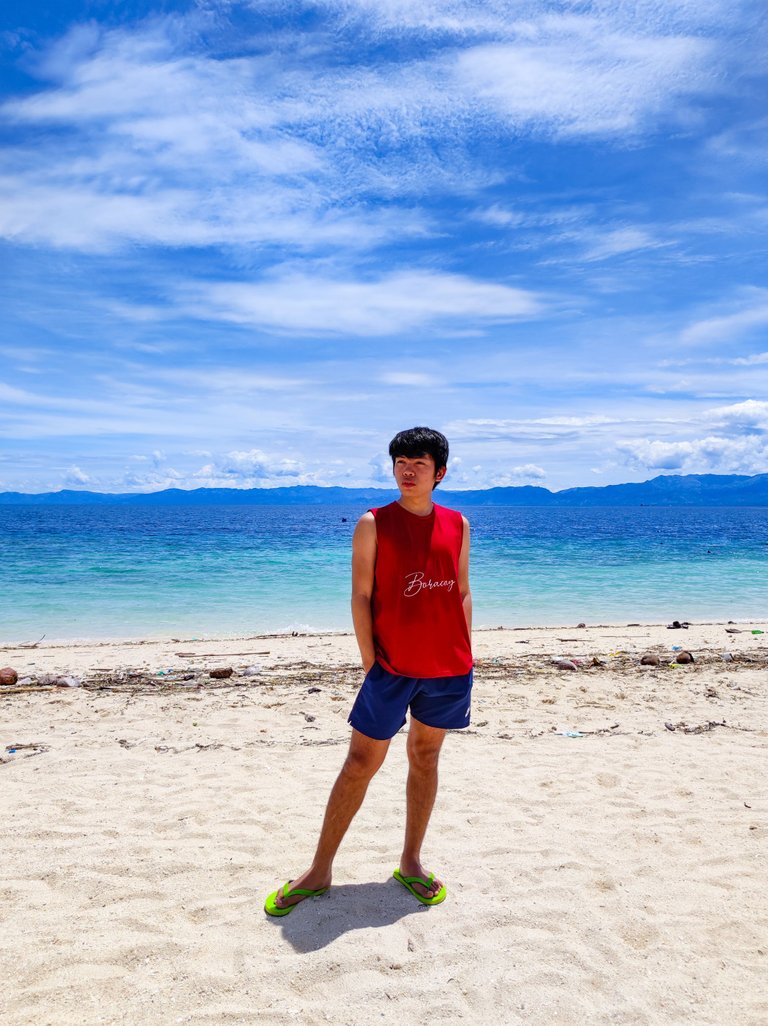 I guess that's all for this post. See you on the next one! As always, have a great week wherever you are.
---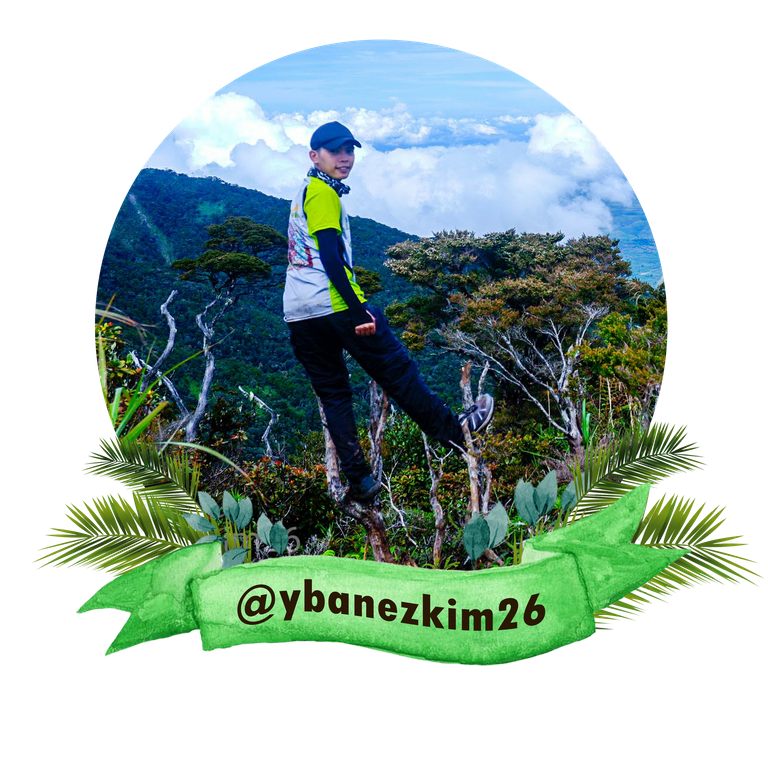 Kim Ybañez
Welcome to Kim's small corner in Hive. He is a chemical engineer by profession, but a blogger by passion. He is a wanderlust and an adventure seeker. Join his quests as he visits secluded destinations, climbs mountains, tries new and exotic dishes, and explores his country (The Philippines). He's also a trying hard photographer so stay tuned as he shares his photos and his thought process while creating them. If you like his content, don't forget to upvote and leave a comment to show some love. You can also reblog if you want to. Also, don't forget to follow him to be updated with his latest posts.