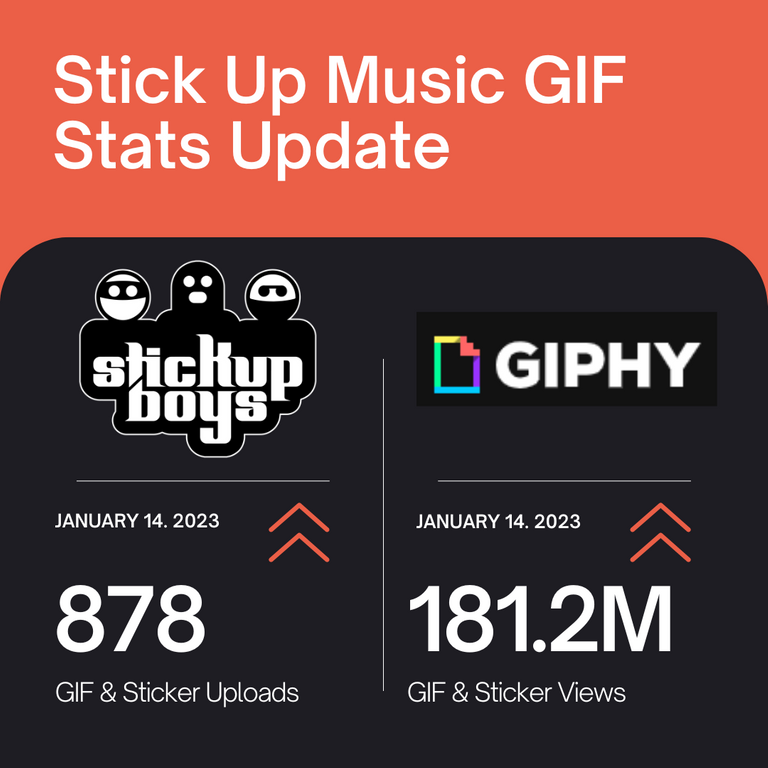 Stick Up Boys GIF collection
It's been a months since we've done a GIF stats update here and we thought that it might be nice to do a monthly update to see how many views we got and of course how many new GIFs were uploaded (if any). It has been quiet regarding new uploads as you know this is because of our studio being built.
We have done our first work in the studio using the white wall earlier this week so slowly things are starting to get moving again.
Since our last update on December 14, we have 10 new GIF uploads. We can tell you that these are the @psyber-x GIFs that we will share in another post as they are pretty cool. Since our last update we had 11.3 million more views, making the total 182.2 million views on our Giphy channel. Those are pretty cool numbers if we may say so ourselves.
There will be new GIFs added soon now that we have the studio back and we can't wait to see these numbers rise even faster in the future.
Thank you for reading and using our GIFs! You can find them all on Giphy here.
Have a good Saturday,
Cheers!

We appreciate all the support we get from the Hive community. Remember that you can earn 15% APR paid in Legion, in daily dividends, if you delegate Hive Power to @stickupcurator. By doing so, you also support music and art on Hive because that's our main focus when curating.
You can buy our records on our favorite blockchain game Rising Star or at the awesome NFT Tunz. We also have our own art, video and GIF NFTs on NFT Showroom.
For more information or to give us a follow, check out all our socials and say hello!
https://linktr.ee/StickUpBoys
Big up the music and arts
Stick Up Boys