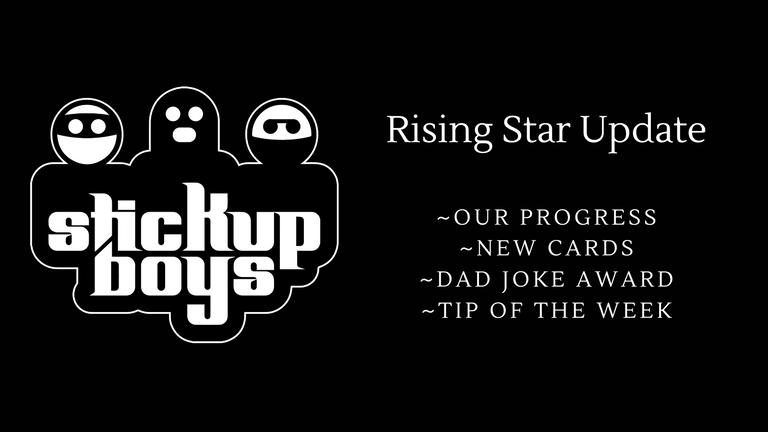 Stick Up Music Rising Star Update
As we play @risingstargame daily and love the game so much, a weekly update is nice to show our followers what we've been up to as well as show some ins and outs about the game. We are currently 21st on the leader board which is a nice position but of course we would love to get up a little higher.
We have some favorite cards that we love to share, one of them is worth sharing here as it's a pretty looking card because of the color palette. Or maybe it's so popular for other reasons, we can't tell, what do you think?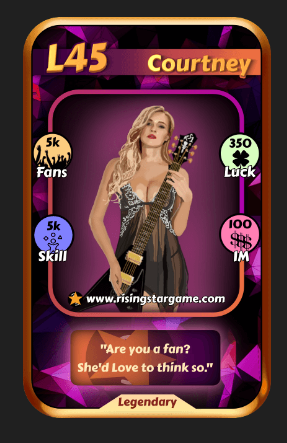 We have some more favorite cards, check them out in @stickupboys post here.
We will refer you to that same post to find out all dad jokes and only share the best one with you here: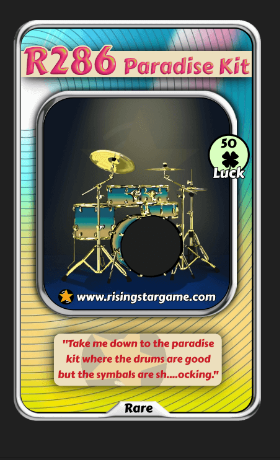 Let us know if you think it deserves the "Dad joke award" or not in a comment.
Last, we have a tip for the Rising Star players and that's to come to the discord, listen to the music and be part of the community. It's really part of the game and we feel you're missing out if you are not doing this.
That's it for this week, have fun playing Rising Star,
Cheers!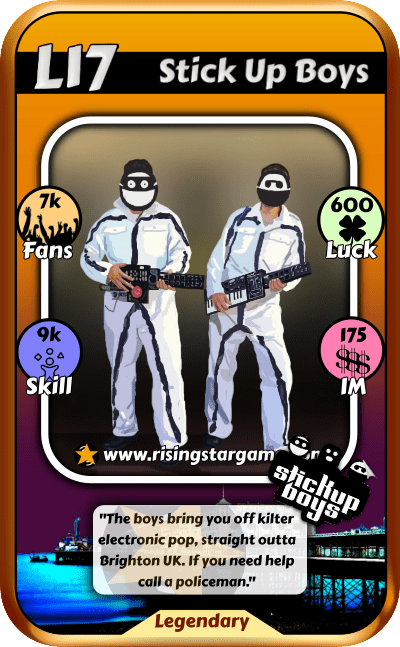 We appreciate all the support we get from the Hive community. Remember that you can earn 15% APR paid in Legion, in daily dividends, if you delegate Hive Power to @stickupcurator. By doing so, you also support music and art on Hive because that's our main focus when curating.
You can buy our records on our favorite blockchain game Rising Star or at the awesome NFT Tunz. We also have our own art, video and GIF NFTs on NFT Showroom.
For more information or to give us a follow, check out all our socials and say hello!
https://linktr.ee/StickUpBoys
Big up the music and arts
Stick Up Boys