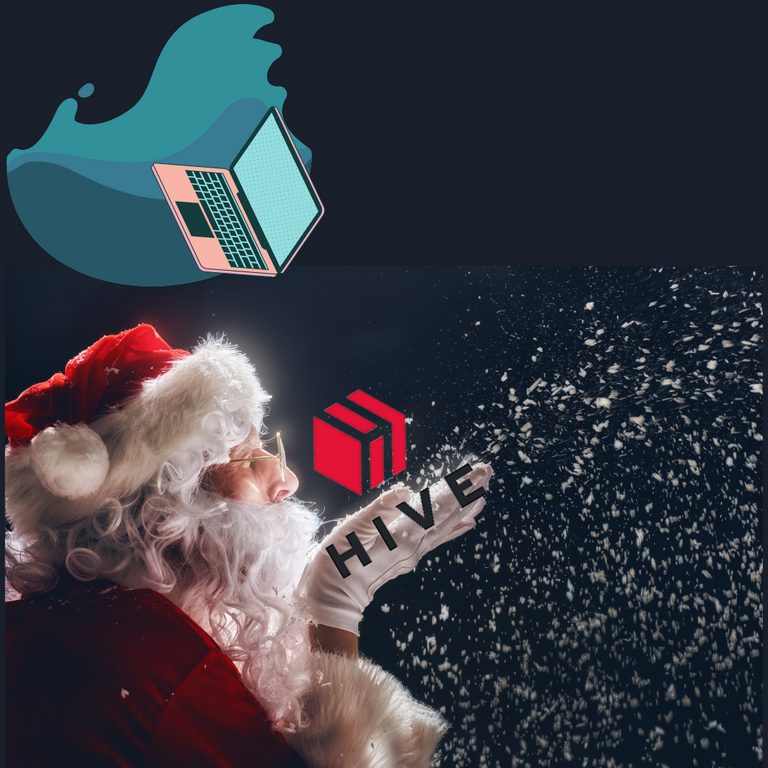 It was reported today that there has been a significant increase in the number of people on Hive creating Hive sticker designs to promote the Hive Community to the outside world and apply for funding from Valueplan for promoting the Hive blockchain.
The news comes after fellow investigative journalist and feather ruffler @doze's highlighting that some Hive Community members were getting paid handsomely for creating some stickers to promote our great community. On top of getting the spondulex from the Valueplan account they then posted about the stickers and received a load more spondulex on top of their payment for the stickers which some may find is "Extracting the Urine" which our friend pointed out.
On the plus side there has been a flurry of creativity on Hive.
"I have never tried the old digital design" admited Mohammed from Kenya, "but the rewards can feed my family for an entire year so I am gone hell for leather on the Hive Santa theme."
Reports suggest the payments for the stickers have really opened a can of worms on Hive around how much people should get paid for doing shit in a decentralised environment. Whereas poor @JohnnyVideoproducer gets 20 HBD for editing a video, @beatricedesign gets paid 200 HBD for the sticker design which is attracting designers to apply for similar funds.
@bellasadegre in Beirut is focusing more on a Jewish Hive theme and has been busy on Canva since the post highlighting how much was given for the stickers.
@islamforever from Islamabad has made a set of Hive Stickers for Ramadan and expects to be paid equally as handsomely for his effort as Christmas sticker girl.
Some of the eagle eyed Hive Community members who delved a bit deeper into outgoings of the Valueplan account were also wondering how the hell Marscrea is so dam unlucky that she lost her laptop in a bloody flood of all things.

It is rumoured that Marscrea is a bit like Hive Jesus spreading the word of Hive all across the globe got caught in a flash flood while she was holidaying doing an exhibition in South America. Marscrea managed to. stay afloat on one of the Hive banners which acted like a raft that her and a drowning monkey caught onto.
"Luckily the Hive banner was made of strong stuff or we would have been toast," said the monkey.
Thankfully she was sent 726 HBD by Valueplan to replace the laptop. Hopefully waterproof this time Marscrea you silly billy!
Marscrea (25) whose has received quite a few bob from the Valueplan account over the last year was said to be traumatized by the ordeal. But it did not stop her doing a Hive Promotion on the San Andreas Fault in LA which her ipad fell down a crack, and Mount Vesuvius in Naples where her phone fell into some lava but she put them through as "unexpected costs". Her next big promotion is due to be in a powerstation in Kiev where the Hive community needs to increase it's userbase.
"It might be less costly if we maybe get a Hive community that is local to the area to do the exhibition." claimed a disgruntled Hive member who saved Marscrea from the flood (didn't save the laptop though).
"Maybe that way they know which areas are prone to flooding and which areas aren't."
"Plus 5000 HBD would come in handy."he argued.
"Exhibitions and promotions are a costly but dangerous line of work to be in." said another unknown source
"There are so many unexpected costs that arise during these exhibitions."
"Only last week I was at an exhibition and the dog ran away with my homework.. I mean sandwich. It cost 80 HBD to replace that sandwich" sobbed our source.
"Luckily I put it down as an 'Unexpected Cost' due to 'regulatory requirements' and got my money back on the Cavier sandwich" claimed the Hive member.
"Works everytime."
We spoke to another Hive Community member who wished to remain nameless in case he will be downvoted into oblivion and told "you don't understand you bitter mannnnn" by the Hive uppercrusts.
"We had Ned over at Steem with his hair who we knew was boss."
"He sold up and was probably right to do so."
"Now over in Hive we are decentralized supposedly but there is an air of George Orwell Animal Farm about it."
"Everyone is equal but some are more equal than others."
"I've always wondered why the Hive price doesn't explode but now I know why."
"Business Expenses!! Unexpected costs!! Floody Laptops!"
"You never would have thought!"
"And here I am getting 4 Hive per post and powering it up."
"Turns out I am doing it wrong."
The flood has declined to comment on destroying the laptop but did point out that it was worth 250 quid at best.