Hello, you. You know who you are. It's raining. A lot! I'm not going out there. I'll write, I said, I'll go to the library because they have WiFi and it's less awkward than a coffee shop unless we're in Amsterdam and write something.
I forgot the iPad. Shit!
Not off to a good start. So I read some Bukowski I haven't read yet and went to the gym.
I forgot my earbuds. Shit!
I had to listen to everyone's conversations and couldn't fake like I can't hear them and point to my earbuds when they say something even though when I point to them like that I most likely heard everything they said and only pretended not to because I'm not interested in hearing them but couldn't because I forgot my earbuds.
I'm in a comfortable place now in case you're wondering. I tried connecting this paragraph to the previous one and this happened. Continuing on.
---
The other day I was trying on sweatpants, don't hate! They're comfortable. If you're not wearing sweats right now you wish you were.
So I'm sampling designer leg wear. Waist is right, just seemed a little short, that's why I tried them on. Pura was right outside so I asked her to grab me an extra large so I could compare lengths. Medium's a little small, large is comfortable, the pair I tried on were large. She knows what size pants I wear so when I called out, 'will you grab me an extra large right quick so I can see what it looks like?' a fairly crowded department store heard a female voice loud enough to carry about 20 feet to where I was, "you're not extra large anything in pants."
---
What do you get when you click an Elon Musk headline about Starlink in Ukraine?
Redirected to his Twitter page where I screenshotted a few people in the comment section beginning with Antony.
---

---
Uhm, what? And 127 people liked it!
What in the world is Antony trying to say? I have no idea what he's saying. Pooverty? Remind me to never have an autocorrect that doesn't fix pooverty. 8 billion people at 1 billion dollars each is 80 quadrillion zeros. Musk doesn't have that many zeros. Maybe Rutto can bring some clarity to this.
Rutto, you got your ears on?
---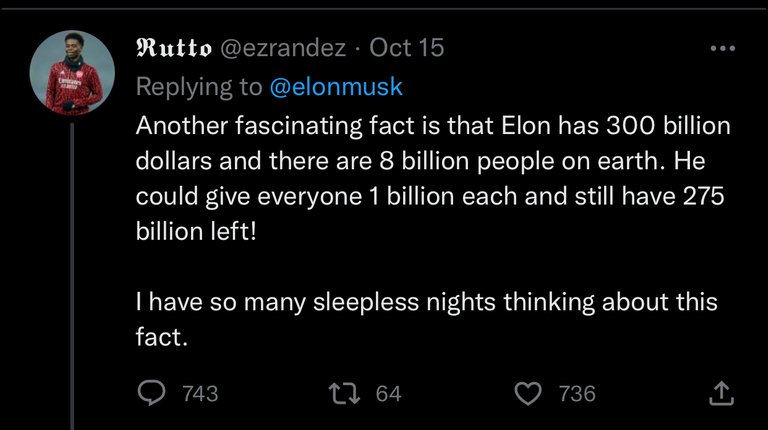 ---
What in the fuck did I just read? He said fact.
Twice.
I have so many sleepless nights thinking about this fact.
I can't stop thinking you should be embarrassed.
They're suggesting if Musk gave 8 billion people 1 billion dollars each, he'd only be out 8 billion dollars. How do they even think these things? And then say it keeps them awake at night. 8 billion people at 1 dollar each is 8 billion dollars, not 1 billion each but that still doesn't explain how we got 25.
From 300 billion, he said he'd still have 275 billion. 8 times NoThing equals 25.
Let's see if Ibeey can make sense of it. Ibeey, you getting all this?
---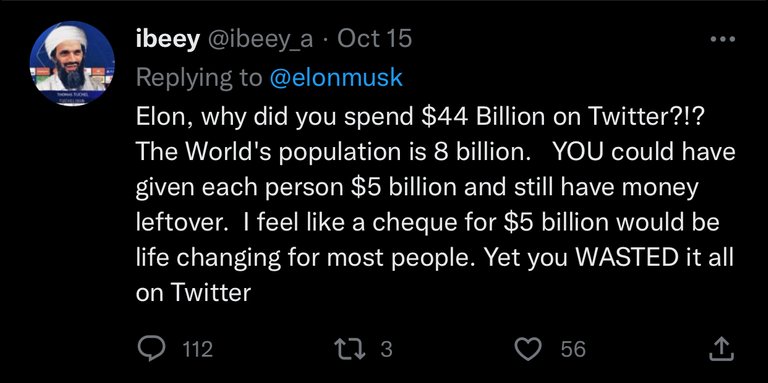 ---
No.
Way.
There's no way this is real.
56 people liked it! Who's doing the trolling right now, me or them? No way these guys are serious. Where's Ashton?
---

---
Fact. They're engaged in a serious debate about numbers that don't exist.
And it's all on the www. I saw it a couple weeks ago, I'm pretty sure there were more debaters involved. I didn't take screenshots until now, these are the ones who didn't delete their comment. One more.
---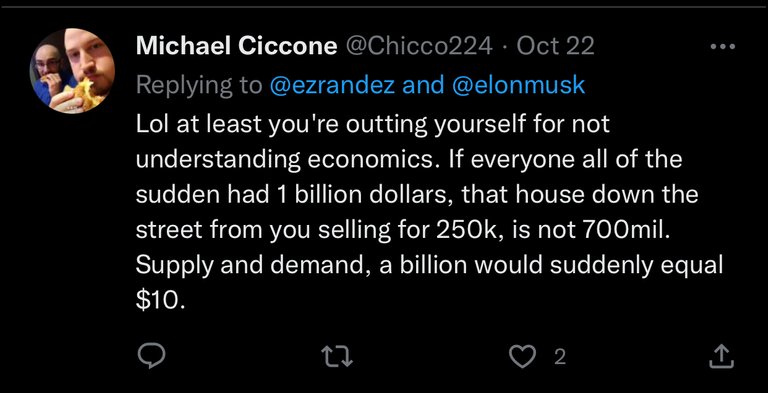 ---
Uncle❗️
No probs bruv. Dems bussin phat. Sound dawg totes. Gimme the deets yo!
They have their own language too.
The other day we're at a Trader Joe's, a stateside grocery chain my wife's infatuated with, TJ's. She calls Trader Joe's TJ's.
So we're at TJ's where these two girls who were probably in college but I don't think should've been left unaccompanied in the produce section of TJ's are inspecting and/or shopping for produce. Not sure they purchased anything, just pointed and said weird shit like strawbs micro'd are delish.
What language is that?
Strawbs micro'd are delish.
I know what I heard. I know what she said. I know the other girl agreed because she picked up a basket of strawberries and said I so know, right! but I have no idea what she so knows.
Two more.
---
We made our way north along the East Coast beginning in Miami. The closer you get to North Carolina, the deeper you're in what they call The South which means less residents move their jaw when they talk.
A good ol' American southern drawl is unmistakable. If you open your mouth slightly and hold your jaw still when you talk, no lips or jaw movement at all, use only your tongue and the roof of your mouth to form words and say hi, how are you doing? but it sounds like hu, huwy'all dun? you're doing it right. If you go west from North Carolina and make it to Kentucky, they don't even use their tongue anymore so when they get to talking it sounds like an endangered species documentary.
Anywho.. So we're in Georgia. Not quite North Carolina but north of Florida so jaws are beginning to display signs of laziness. We're en route to Tybee Island where I took this picture and need a cover image anyway so here goes.
---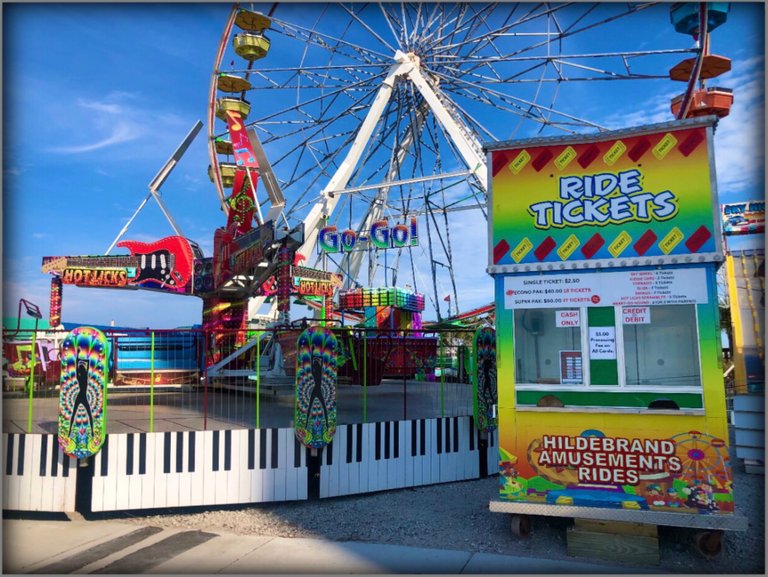 ---
We pulled into the only gas station we saw on whatever single lane road that was, surrounded by forrest and swamps and nothing else. Pura had to pee.
I don't even think about it anymore when I see a gas station or rest area, I stop out of habit. Sometimes she doesn't need it, mostly she does. So we pulled into whatever gas station that was wherever we were. She won't go inside these places by herself so we got out, locked the car, went inside. She walked directly to the back of the store toward the paper plate that said R̶e̶s̶t̶r̶o̶o̶m̶ in black magic marker.
I grabbed a Coke Zero and a couple waters.
Now I'm in line behind two other gentlemen, both look like they've been on the farm all day, one taller than the other. The tall guy's wearing a sleeveless plaid shirt that's in desperate need of an oil change, matching camo pants tucked into his boots and a cowboy hat. Either he and the cashier know each other or it's customary to talk about cooking moonshine in Elsy's parents old basement with the station attendant.
Behind him and in front of me is the shorter guy. He's a little older and probably wouldn't mind shedding a couple pounds. Denim overalls with no shirt underneath, sandals and socks. He's cradling about 10 cans of cat food in his arms like an infant which I was unaware was cat food until they went rolling across the floor.
In walks a lady who looks toward all four of us and, in her Southern Charm having, lazy jaw'd, southern drawl voice:
En ya'all jivawatt icket chuck?
Which translates to Is anyone driving a white pickup truck?
No excitement in her voice, just a question. No sense of urgency or anything. I know she isn't talking to me but nobody seems concerned.
En ya'all jivawatt icket chuck?
:crickets:
She points behind her with her thumb, turned around and walked back to the door. Before leaving, she looks back at us one more time:
El it's Rollin' out da Arkin'lawt.
Dude in front of me dropped all those cans and hovered across the station floor in socks and sandals like each step was one step closer to a million bucks. I looked outside and sure as shit, there goes an unoccupied white Chevy truck rolling backwards through the parking lot toward the gas pumps.
He got to it and jumped inside before anything happened. It stopped. No damage to him or the truck or anything else. But, for the sake of comedy; it hit the gas pumps, exploded on impact and everyone died.
---
Much thanks @amirtheawesome1 and @merit.ahama for keeping ComedyOpenMic on their toes.
And lastly, this one's called No Commentary Necessary. #OnlyInTheSouth.
---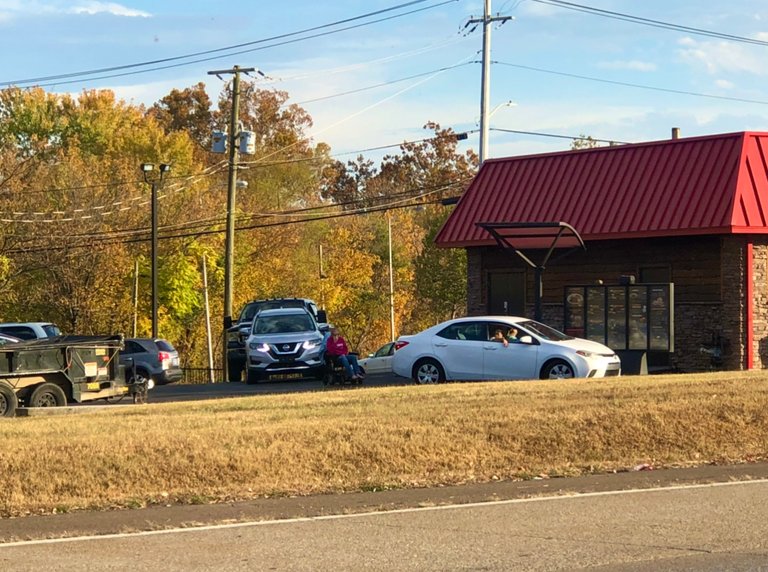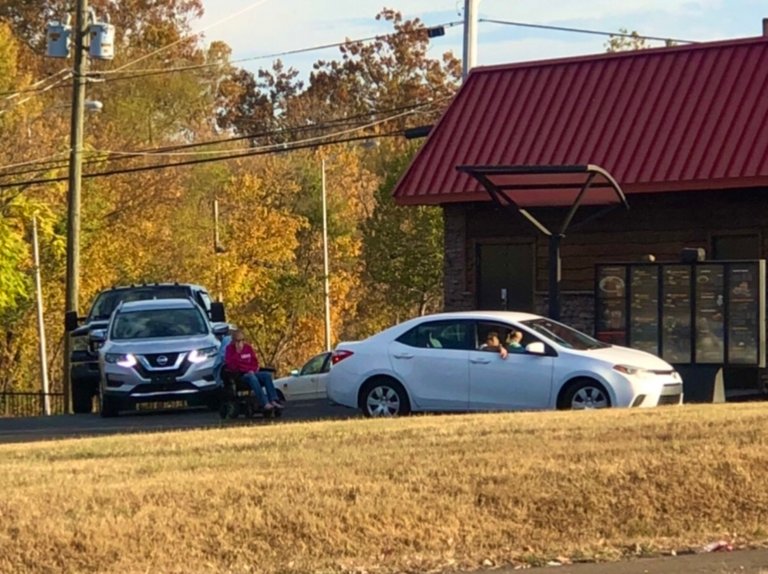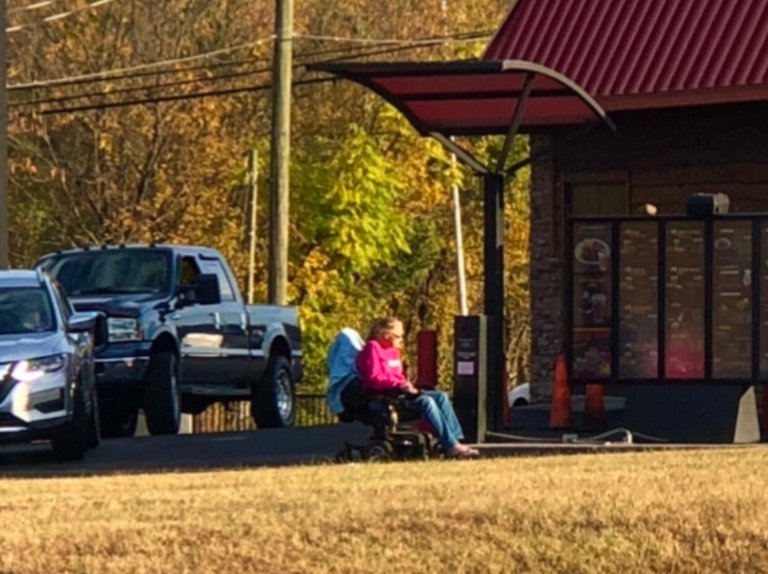 ---