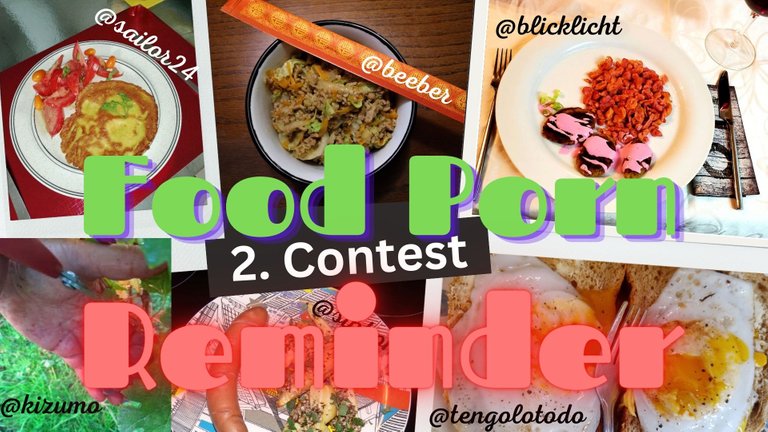 ---
Liebe Food Porn Community,
Ihr habt noch ganze 5 Tage Zeit, um beim 2. Food Porn Contest mitzumachen, bei dem es mittlerweile insgesamt stolze 10.000 PHOTO Delegationen und noch mehr zu gewinnen gibt!
Dank unseres neuen Sponsors @voltz-blag sind noch einmal 3000 PHOTO dazugekommen! Vielen Dank an dieser Stelle dafür!
Schaut doch noch einmal beim offiziellen Wettbewerbs Beitrag vorbei, bei dem Ihr auch Eure Einträge für den Wettbewerb in den Kommentaren verlinken müsst.
Der Wettbewerb endet nächsten Sonntag, 04.12.2022 um 20:00 Uhr.
Nach Ablauf der Frist wird es einen Post geben, in dem die Community zur Abstimmung aufgefordert wird.
Und nun nichts wie ran an die Töpfe und zelebriert Euren ganz eigenen FOOD PORN!

Dear Food Porn Community,
There are still 3 days left to join the 2. Food Porn contest where you can win Delegations of total 10.000 PHOTO and more!
Thanks to our new sponsor @voltz-blag have added another 3000 PHOTO! Many thanks at this point for it!
Check out the Contest Announcement post for more details.
The contest ends next Sunday , 04.12.2022 at 8:00 PM.
After the deadline, there will be a post asking the community to vote.
And now let's get to the pots and celebrate your very own FOOD PORN!
---
Mentions: @beeber @blicklicht @bluerabbit @kizumo @malos10 @sailor24 @siphon @tengolotodo @ynwa.andree