EN
Mhhhh that doesn't just sound delicious, it is delicious.
A friend from Swabia gave me this recipe and I absolutely have to share it with you.
I've made lentils many times before, but this is the first time I've made them this way.
DE
Mhhhh das hört sich nicht nur lecker an, das ist auch lecker.
Eine Freundin aus Schwabenländle hat mir dieses Rezept gegeben und ich muss es unbedingt mit euch teilen.
Ich habe schon oft Linsen gemacht, aber das ist das erste Mal, dass ich sie auf diese Weise zubereitet habe.

Preparation of the spaetzle
Flour
Eggs
Salt
Milk or a little cream
Zubereitung der Spätzle
Mehl
Eier
Salz
Milch oder ein wenig Sahne
First put the required amount of flour in a bowl (120g). I mixed 4 eggs with about 3 g salt and a dash of milk and dumped them into the bowl with the flour. Now comes the trick for the perfect spaetzle dough: beat the dough with a wooden spoon that has a hole in its centre so that air gets under the dough.
If you have a food processor, all the better, I'm an old hand and beat by hand. The consistency should not be too soft and not too hard. The dough must be smooth and bubbly.
Zuerst gebe ich die benötigte Menge Mehl in eine Schüssel (120 g). Ich habe 4 Eier mit etwa 3 g Salz und einem Schuss Milch verrührt und in die Schüssel mit dem Mehl gekippt. Jetzt kommt der Trick für den perfekten Spätzleteig: Schlage den Teig mit einem Holzlöffel, der in der Mitte ein Loch hat, damit Luft unter den Teig kommt.
Wenn du eine Küchenmaschine hast, umso besser, ich bin ein alter Hase und schlage mit der Hand. Die Konsistenz sollte nicht zu weich und nicht zu hart sein. Der Teig muss glatt und Blasen werfen.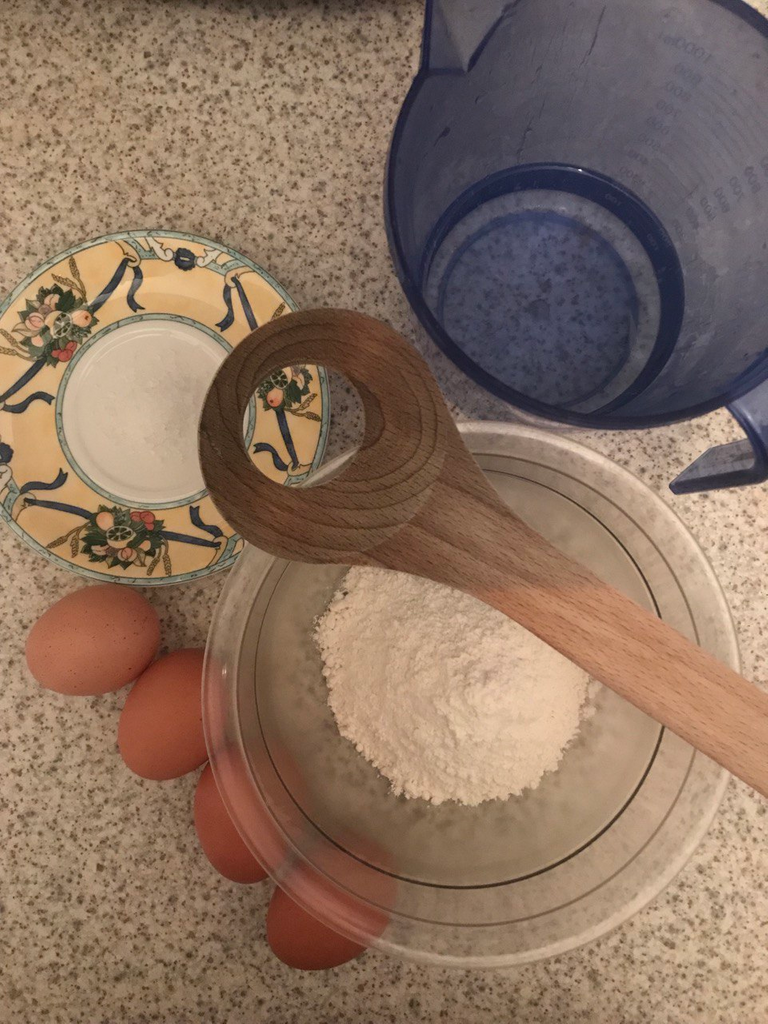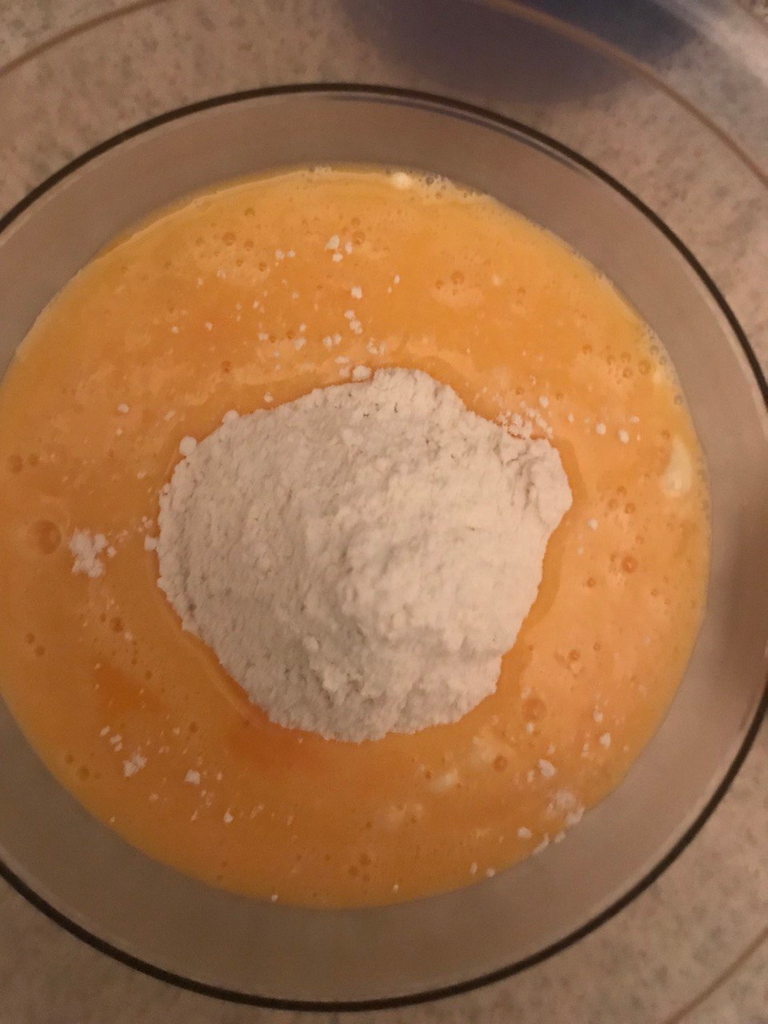 Heat a large pot with plenty of water and salt the water generously as soon as it boils. Now scrape the dough into the boiling water using a board. As soon as the spaetzle start to rise after two to three minutes, they are ready. Lift out with a slotted spoon and keep warm. Continue in this way until all the dough has been used.
Einen großen Topf mit reichlich Wasser erhitzen und das Wasser, sobald es kocht, großzügig salzen. Nun den Teig mit einem Brett in das kochende Wasser schaben. Sobald die Spätzle nach zwei bis drei Minuten zu steigen beginnen, sind sie fertig. Mit einem Schaumlöffel herausheben und warm stellen. Auf diese Weise fortfahren, bis der gesamte Teig verbraucht ist.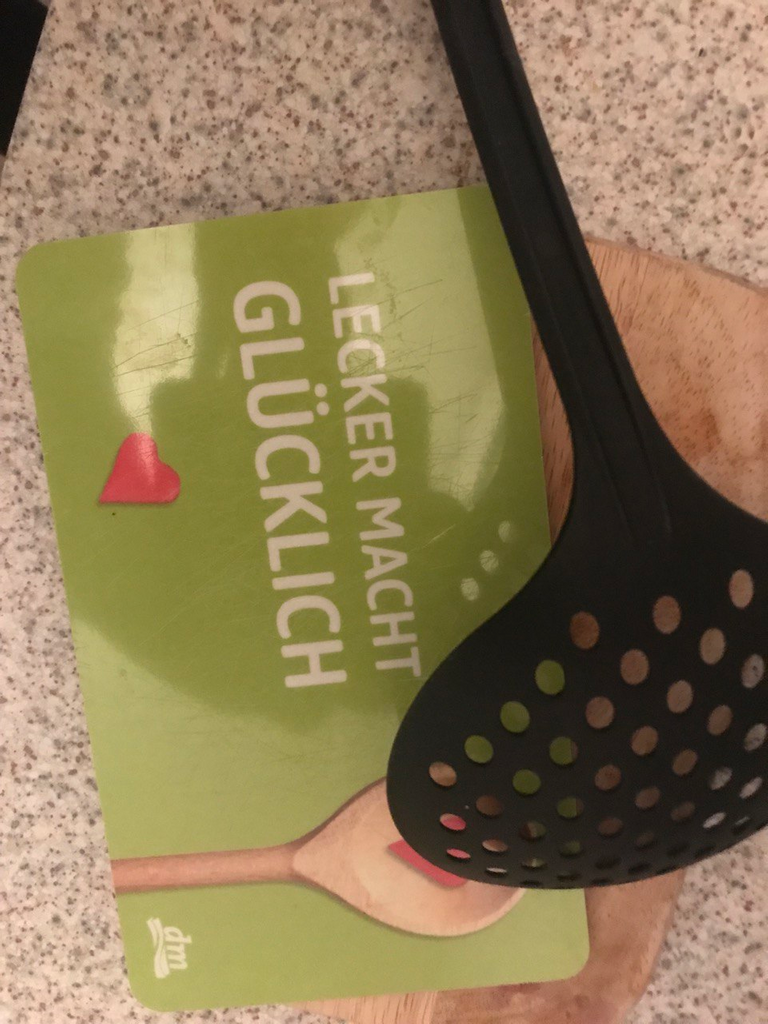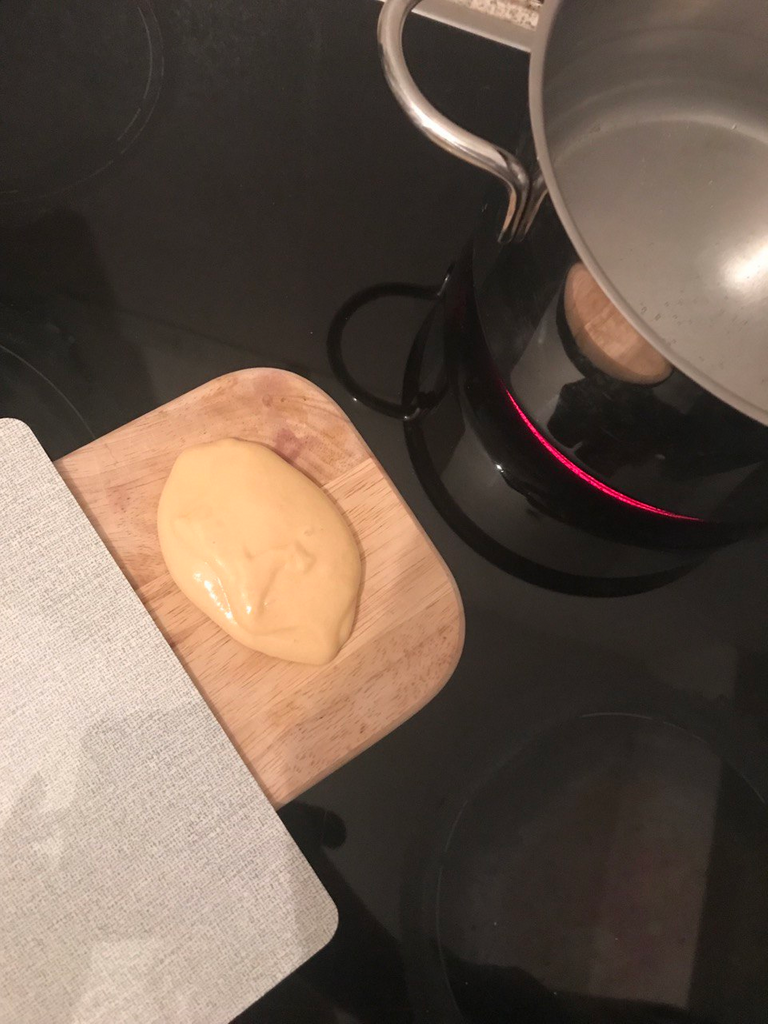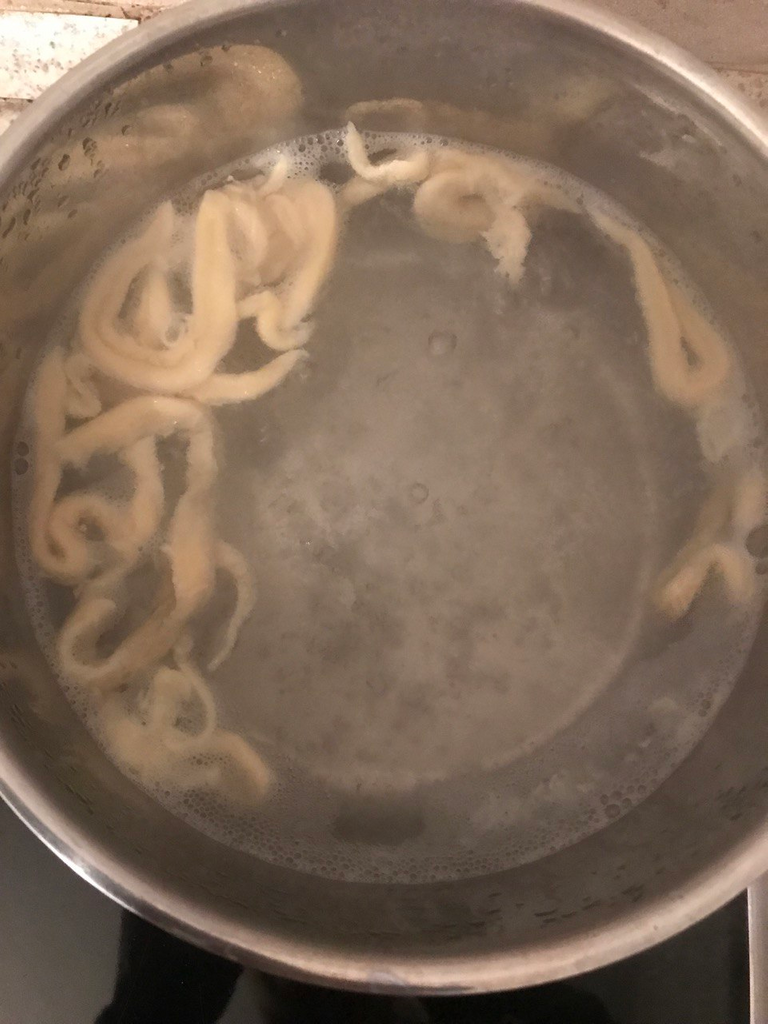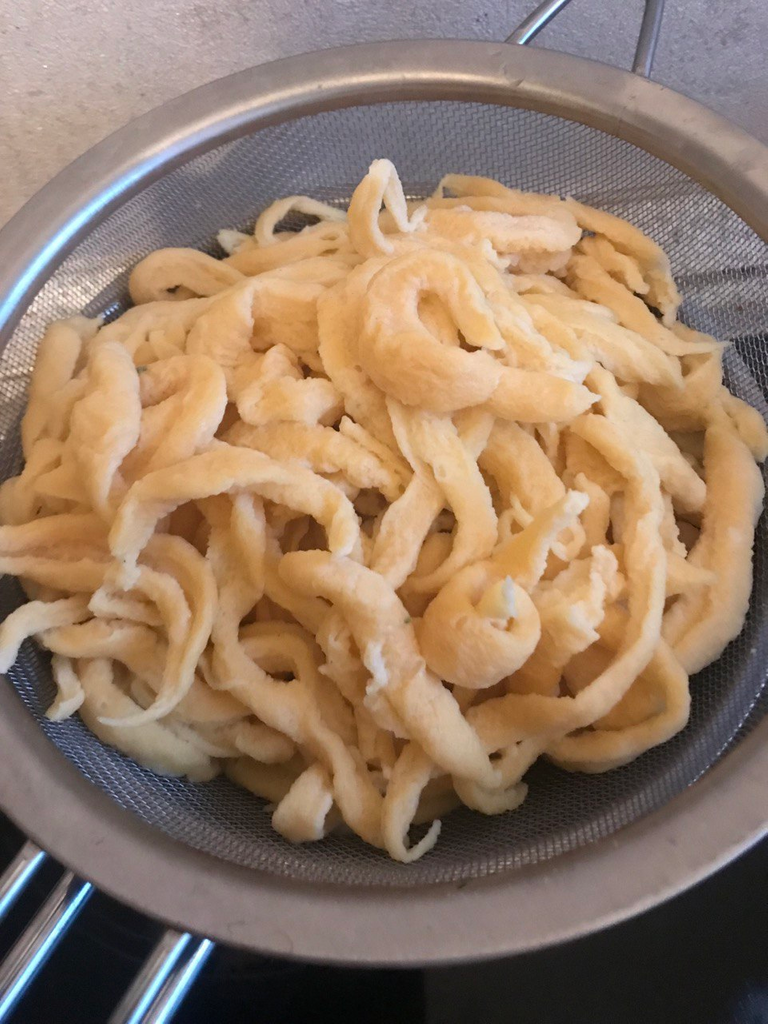 Preparation of the lentils
Lentils (your choice, I use Pardina lentils here)
Soup vegetables
Potatoes
Flour
Butter
Tomato paste
Zubereitung der Linsen
Linsen (nach Wahl, ich verwende hier Pardina-Linsen)
Suppengemüse
Kartoffeln
Mehl
Butter
Tomatenmark
Heat the butter in a pot. Meanwhile, peel and finely dice the onion, then sauté in the butter until golden brown. Dust with flour, then gradually stir in a litre of water. Stir well with a whisk so that no lumps form. Bring the mixture to the boil briefly and add a generous dash of tomato paste.
In einem Topf die Butter erhitzen. Währenddessen die Zwiebel schälen und in feine Würfel schneiden, dann in der Butter goldbraun anschwitzen. Mit Mehl bestäuben, dann nach und nach ein Liter Wasser einrühren. Dabei gut mit einem Schneebesen rühren, damit sich keine Klümpchen bilden. Mischung kurz aufkochen lassen und einen kräftigen Schuss Tomatenmark hinein.
When the water boils, add the ingredients in 10 minute intervals, first the lentils, 10 min. later the potatoes and after 10 min. the soup vegetables and then season, stock, salt, pepper, and season with a light touch of garlic.
Wenn das Wasser kocht, die Zutaten in 10-Minuten-Intervallen zugeben, zuerst die Linsen, 10 Min. später die Kartoffeln und nach 10 Min. das Suppengemüse und dann würzen, Brühe, Salz, Pfeffer, und mit einem leichten Hauch von Knoblauch würzen.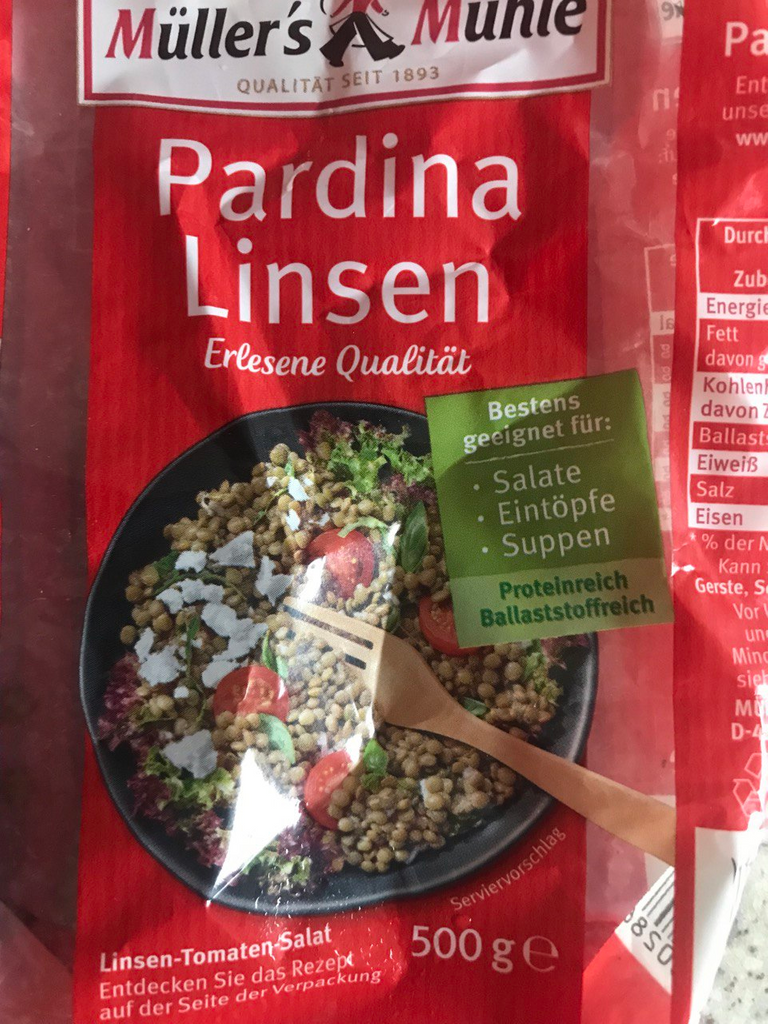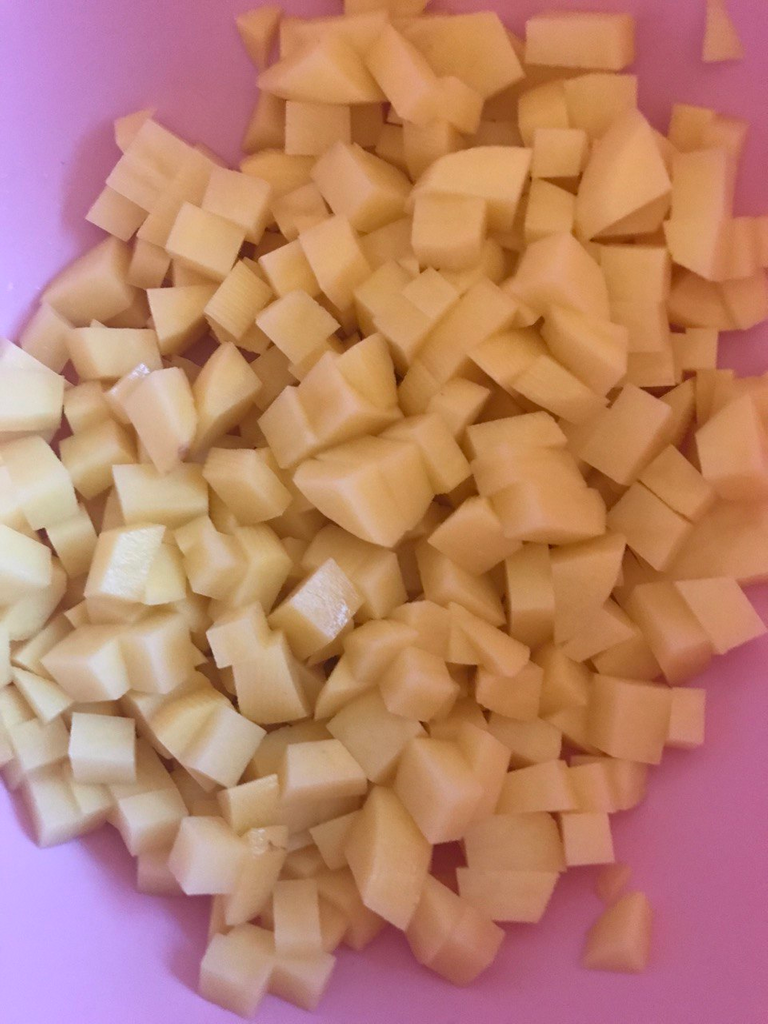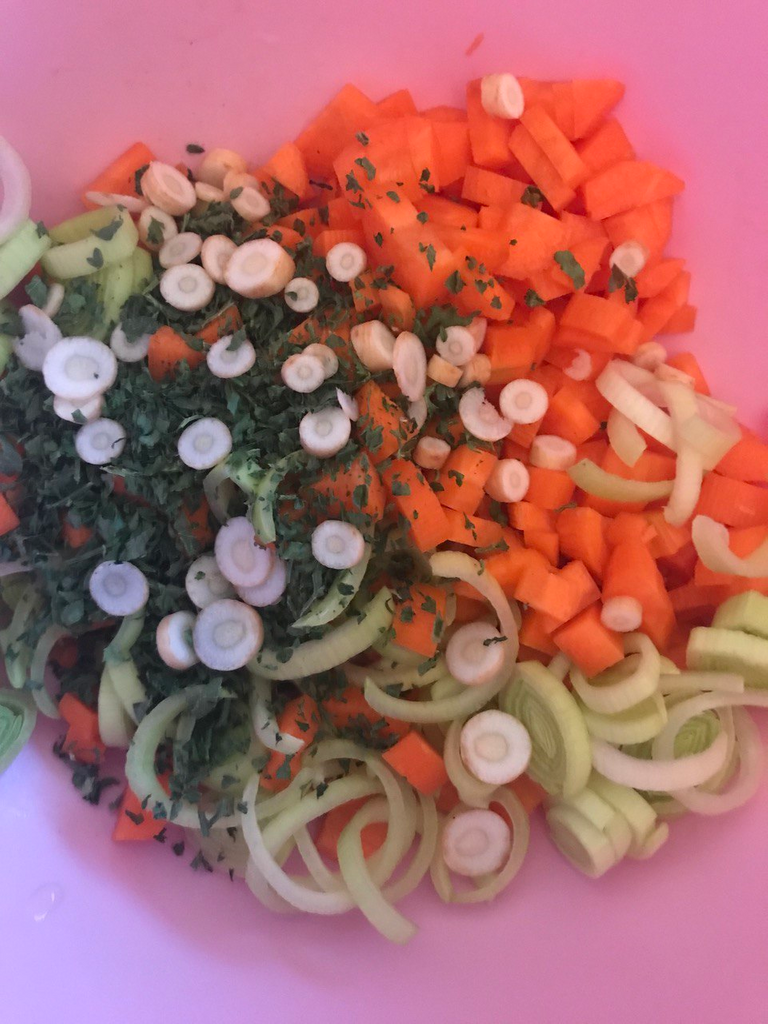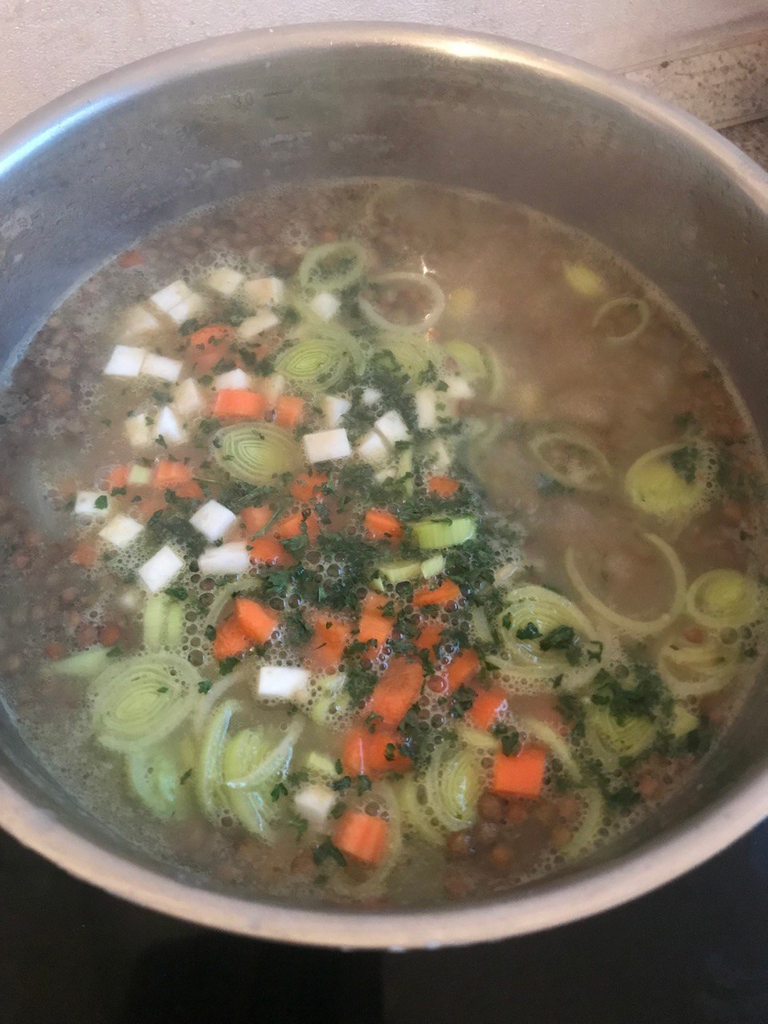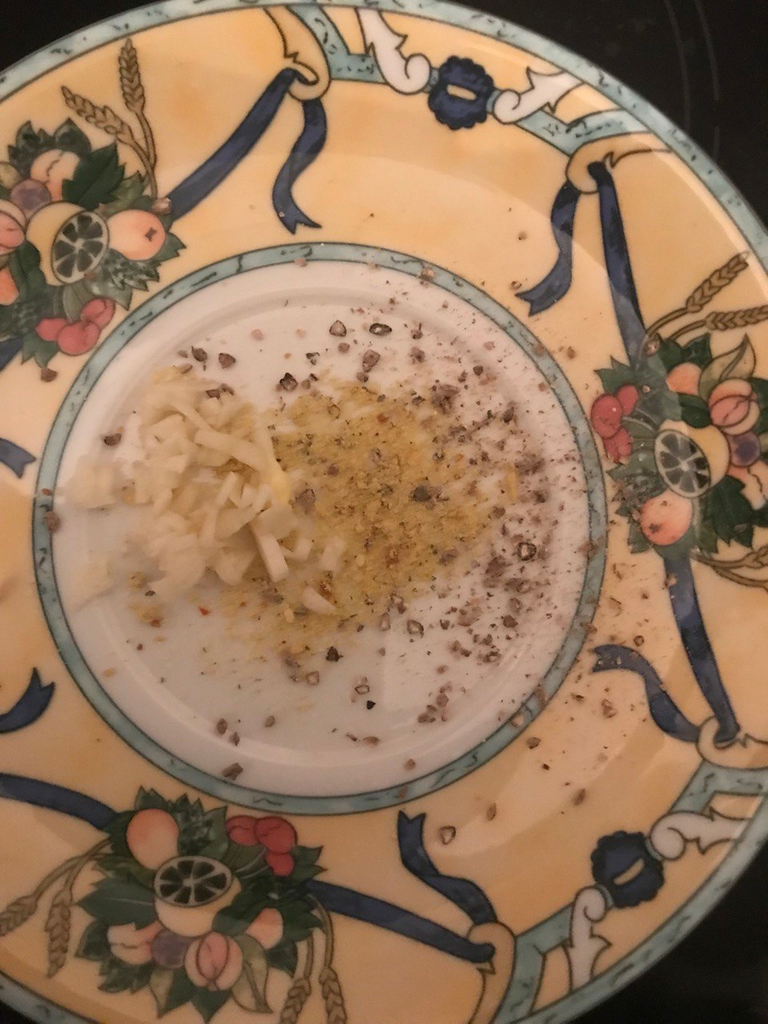 And you have a great vegetarian dish.
I didn't serve bacon or sausages with it, but you can of course vary it to your taste.
Und schon habt ihr ein tolles vegetarisches Gericht.
Ich habe keinen Speck oder Würstchen dazu serviert, aber das könnt ihr natürlich nach eurem Geschmack variieren.