Hello everyone, this time I want to share my review of this manga, which is entitled "MUKAI USAGIDOU NIKKI" or "JURNAL MUKAI USAGIDO" in Bahasa. I bought this comic through a shopping application called Shopee. These are the front and back cover of volume 1: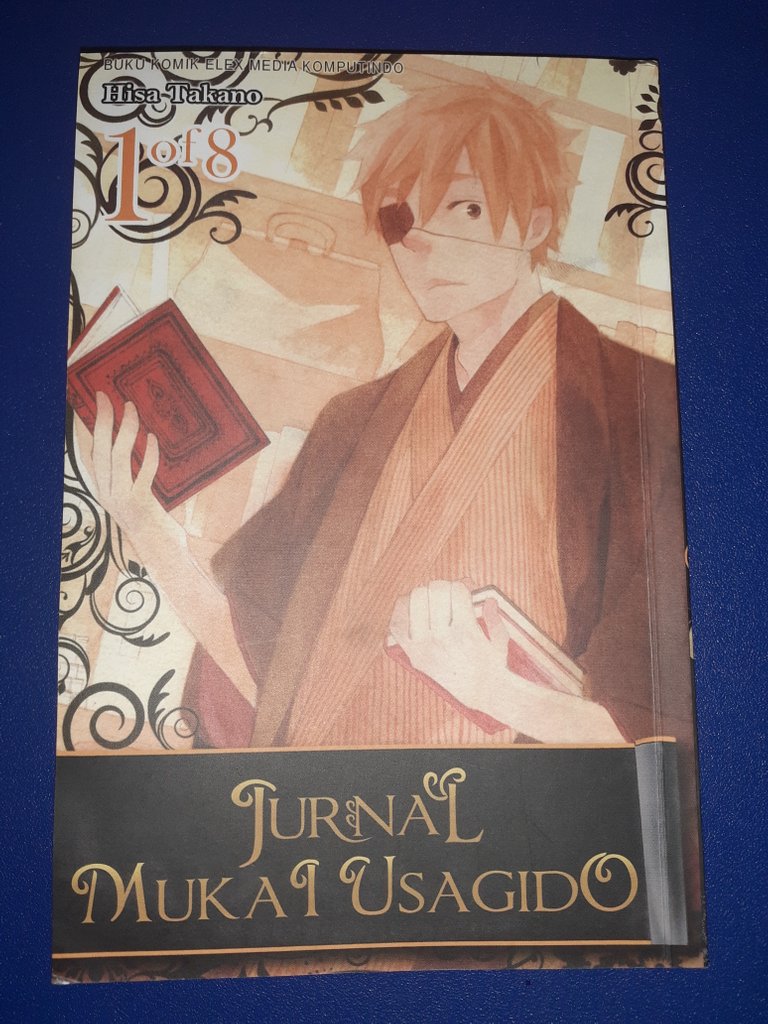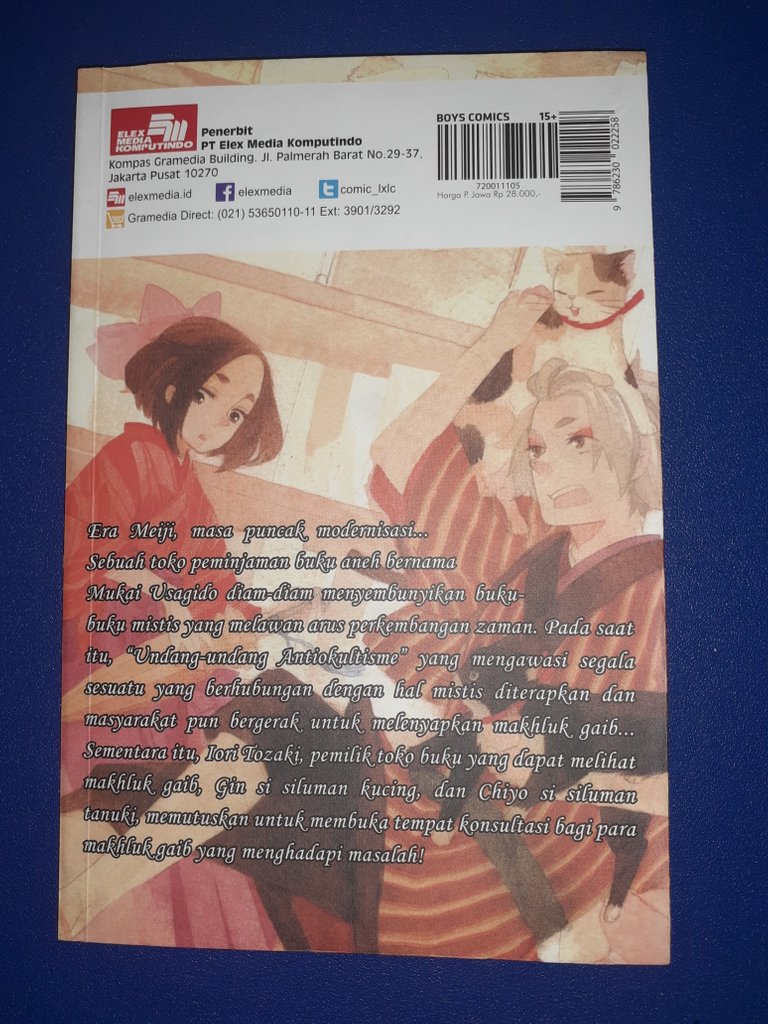 Here is the comic information:
Comic Title: Jurnal Mukai Usagido ("Mukai Usagidou Nikki" in Japan) Volume 1
Mangaka: Hisa Takano
Publisher: PT Elex Media Komputindo, Origin (Japan): SHINCHOSHA PUBLISHING CO.
Year of publication: 2021, Origin (Japan): 2012
Genre: Boys Comics
Java Price: IDR 28,000
This comic is unpopular, but I like the story and the characters. This comic consists of 8 volumes. But currently, there are still 1 of 8 that have been published in Indonesia.
Meiji era, peak period of modernization... A strange book lending shop named Mukai Usagido secretly hides mystical books that go against the current development of the times. At that time, the "Antiocult Law" which oversaw everything related to mystical matters was implemented and society moved to eliminate supernatural beings... Meanwhile, Iori Tozaki, owner of a bookstore who can see supernatural beings, Gin the cat demon, and Chiyo, the tanuki demon, decided to open a consultation room for supernatural beings who were in trouble!
This is a list of chapters in Bahasa:
Chapter 1: Botan
Chapter 2: Ikan Mas yang Melayang
Chapter 3: Zashiki Warashi
Chapter 4: Polisi
Chapter 5: Narikama
Chapter 6: Ikat-Celup Arimatsu
Chapter 7: Onmyoji
My assessment of the illustration/artwork:
=> So cool👍. The characters are interesting. The conversations/sentences in the comic drawings are also good, simple and easy to read.
For the back cover, I don't like the writing fonts made by PT Elex. Too simple and not cool to look at.
You can find out about PT Elex here:
elexmedia.id
facebook: elexmedia
twitter: comic_lxlc
That's all I share this time, thank you for reading my post. Read my other posts too😉...