Dear friends!
Today a russian missile hit a residential building in Dnipro. At the moment 12 people were killed, and 64 people were injured, including 12 children. Russian army and silent, indifferent russian citizens made it.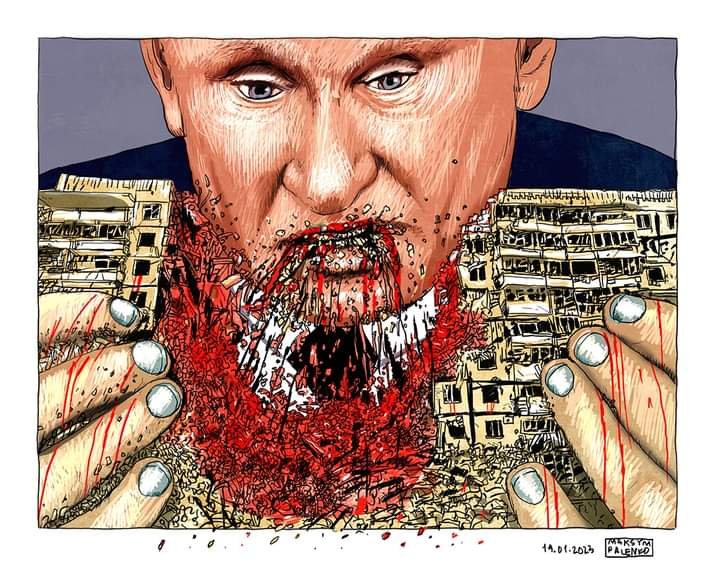 Illustration by Maksym Palenko
Look at these photos! The girl is waiting for the rescuers in her destroyed apartment on the 5th floor.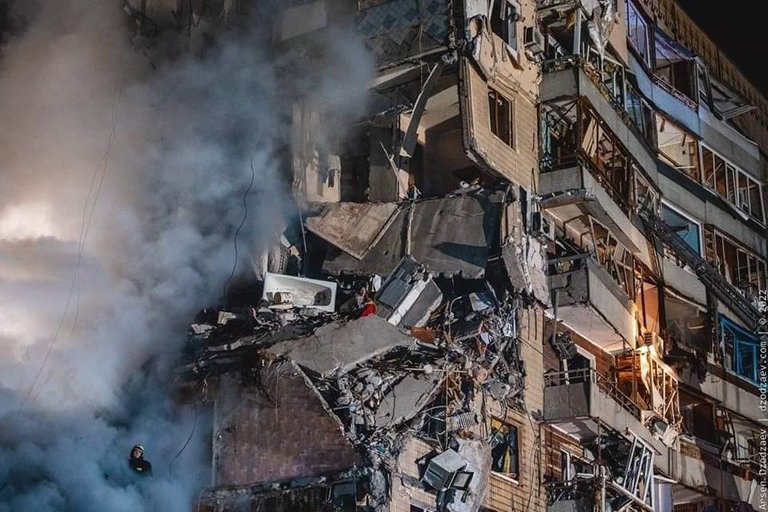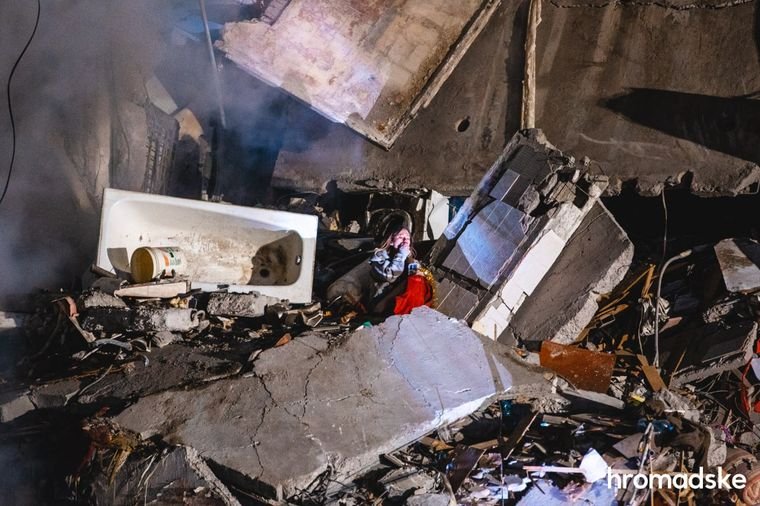 This girl is 23 years old, and in September 2022 she lost her boyfriend in the war. Under the rubble are her parents, whose fate is still unknown. What do You feel?
One of the photos shows how a Ukrainian rescuer emerges from the smoke and dust, rushing to the aid of a miraculously survived girl who lost her whole world today.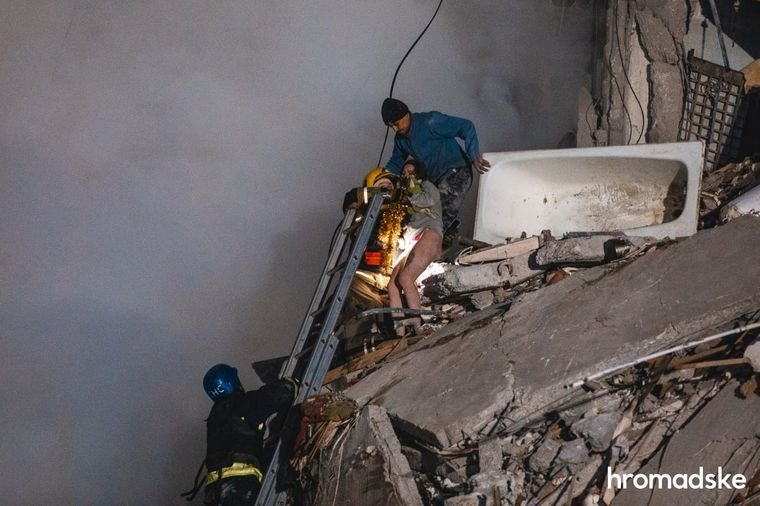 Can you watch all this without tears? It is a wild reality...
Give me, please, the answer to the question. What resonance would it have if this happened in Berlin, Budapest, Paris, Amsterdam or Milan?..
For almost a year, Russia has been striking Ukraine with missiles, drones, and everything else possible. But this is not enough to recognize Russia as a terrorist state. Ukraine is still not given long-range missiles, arguing that it "did not lead to a greater escalation"... What else has to happen? How many innocent civilians have to die that the whole world finally recognizes Russia as a terrorist state?
The Ukrainian writer Oksana Zabuzhko noted today: "Humanity must vomit Russia from itself in order not to perish from evil poisoning."
I completely agree with her.
Привіт, друзі!
Усіх нас сьогодні сколихнула звістка про влучення російської ракети у багатоповерхівку в Дніпрі.
Просто погляньте на ці фото з дівчиною, яка очікує на рятувальника на руїнах своєї квартири між зруйнованими поверхами. Цій дівчині 23 роки, і у вересні цього року вона втратила на війні свого коханого. Під завалами перебувають її батьки, доля яких поки невідома.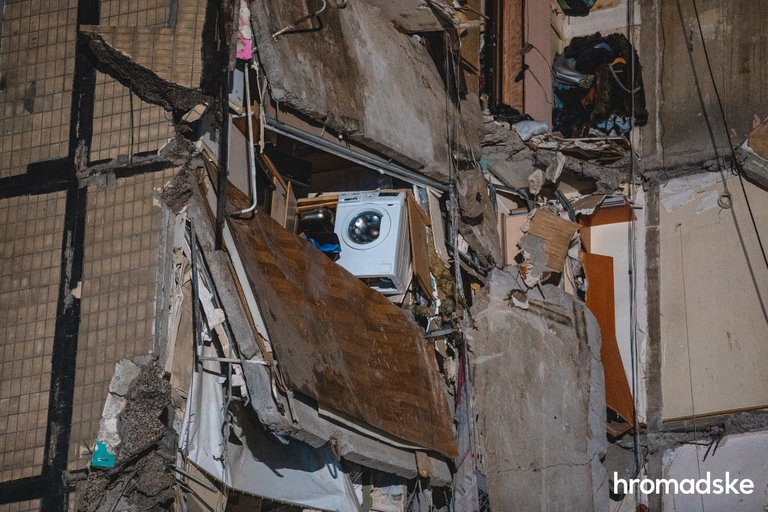 На одному з фото видно, як український рятувальник немов ангел виринає з диму та пилу, поспішаючи на допомогу дивом вцілілій дівчині, яка втратила сьогодні цілий світ. Чи можете ви дивитися на все це без сліз? Дика реальність...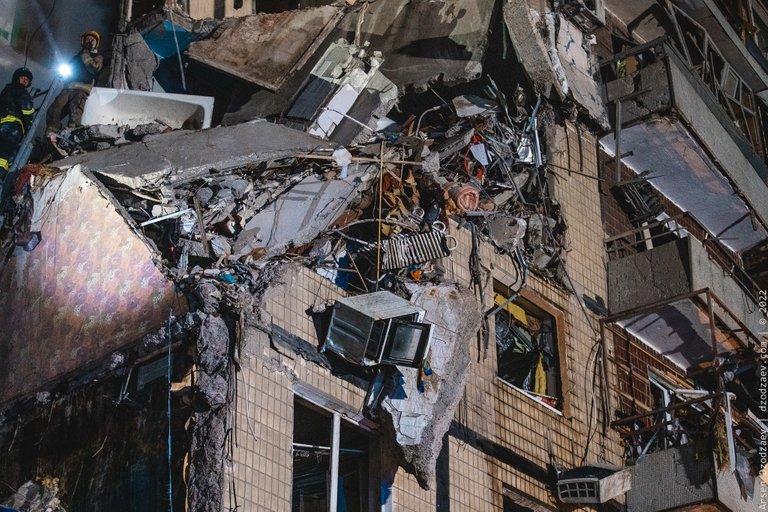 Мене не полишає одне питання: якби це сталося у Берліні, Будапешті, Парижі, Амстердамі чи Мілані, який би це викликало резонанс?..
Майже рік росія завдає по Україні удари ракетами, дронами, і всім, чим тільки можна. Але цього недостатньо, аби визнати її країною-терористом. Україні досі не дають ракет великої дальності, аргументуючи тим, щоб це "не призвело до більшої ескалації"... Невже все, що відбувається в Україні, не є піком ескалації? Що ще має статися, скільки невинних цивільних має ще загинути, аби весь світ нарешті визнав Росію країною-терористом?
Як влучно зазначила сьогодні Оксана Забужко: "Людство має виблювати із себе Росію щоб не загинути від отруєння злом".
І я цілковито з нею згодна. Бо толерувати зло - це бути самим злом.
Вічна пам'ять загиблим у Дніпрі.