This week was long, every minute seemed like a year to me. I have been working 5 days a week, seems like a full-time job but it's not a full-time job. The last two days were hot, warm days, very enjoyable and pleasant weather to enjoy but I have spent most of my time at work so couldn't do much. Luckily due to my schedule, I have got a day-off off this weekend I mean tomorrow, Saturday I have off-day. I had never cherished a weekend like this before after leaving Ukraine, every day was similar and regular but now I know why here people love weekends. I don't have any plans yet for tomorrow but probably will do something fun, not sure still. I might go to the grocery to buy some snacks, and food and then will go to another area of Almere. I haven't finished seeing the Almere city.
My current job is a very hard-work job but this job is teaching me a lot of things. Not only I have met a lot of people but also I have been noticing a few things about people's work ethics. On the other hand, I have been experiencing work politics too. Here, people are very straightforward and open. That's why sometimes it seems very rude behavior but it's a good thing. For example, if someone doesn't like your way of talking or way of working, they will tell you directly, whether you like it or not. It might hurt an individual too but this is the culture. People are very straightforward here.
In Almere city, Friday night means party night. People spend time with their friends and family and often at night, spend time at a bar. Restaurants and bars stay open up to 12.00 am but the kitchen gets closed at 11.00 pm or 10.00 pm. The bar stays open and some shops stay open until 3.00 am at night. In Kharkiv, I saw people enjoy their weekend from Friday night to Sunday night but here Sunday means family day/ church day. Even in Poland, I saw the similarities and I am not sure if this is a part of European culture or not. The only difference I have seen between Poland and the Netherland is, in Poland, during the weekend everything is closed even shops but here shops stay open maintaining a certain time period.
Today I finished work early, I only did a 7-hour shift instead of 8 hours. I was not feeling good at work so I left my workplace early. My plan was in the evening I will go out and will find a restaurant or bar to drink something. It's been a long time since I have drunk a cocktail. Besides due to PTSD, I wasn't able to think clearly and I was not in the mood to do something for myself. I was angry and depressed. Moreover, this week was rough so I decided to do something that will refresh my mind. I didn't want to stay alone, I wanted to see the people and wanted to be a part of the culture here. So, I went to the city center.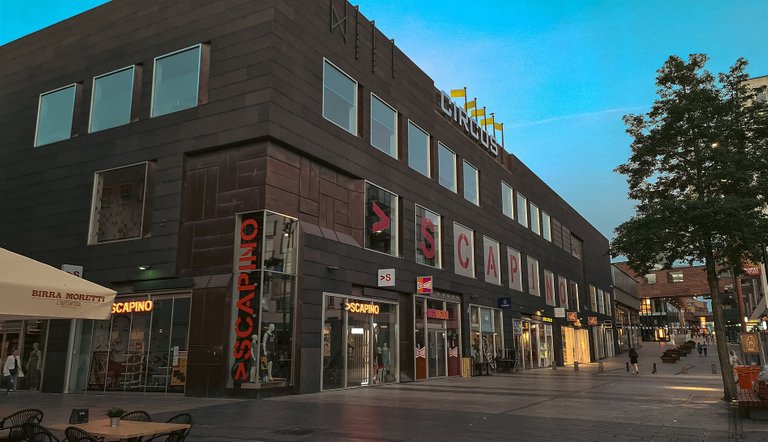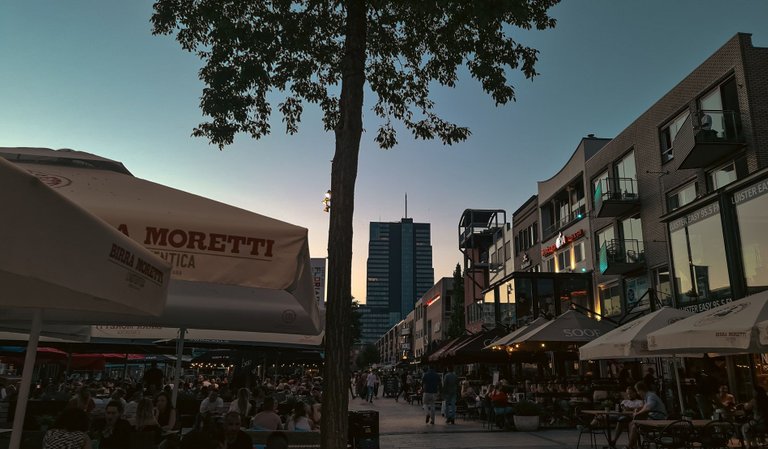 The weather was good, not too hot or not too cold. The atmosphere was chilly and pleasant and the day was long enough to enjoy the sun. Yesterday was hot, it was around 28 degrees celsius in the evening but today was 24 degrees celsius. The sun was about to set when I reached the restaurant area. After spending some time in the city center, I went to the restaurant area to have a drink. The entire area was cheerful and full of people. Seeing the surroundings, one can easily comprehend that it is a weekend night.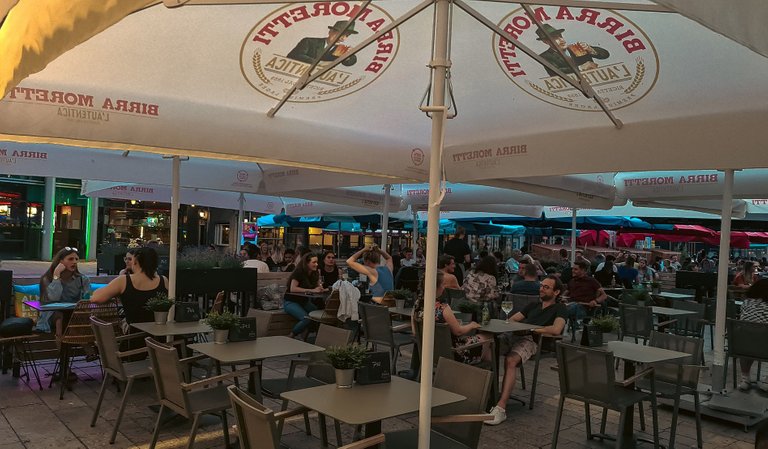 After seeing some restaurants and the prices of the drinks and menu, I have found a place for myself to drink a cocktail. I normally don't drink beer but when I do, I buy it from the superstore. But today as I wanted to do something fancy for myself so I went to a restaurant/bar to have a drink. It's been a long time since I haven't done anything for myself or for my entertainment. The price of drinks and food are high here, they are not cheap at all but here according to people's earnings, the price seemed fair to me. People like me find everything expensive here, to be honest. I could have gone to Amsterdam but I didn't have the energy to travel there.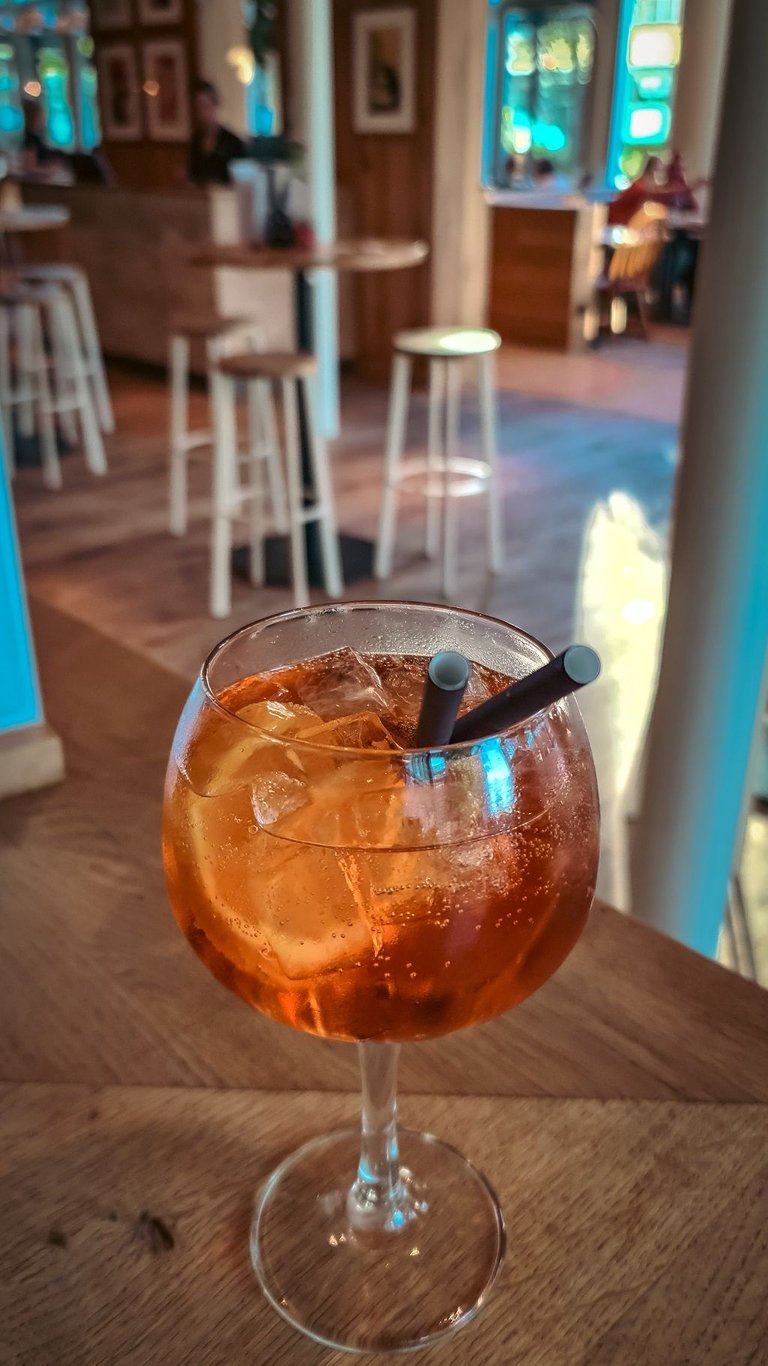 I have ordered the Italian classic cocktail "Aperol Spritz", I am more of a vodka or tequila girl and I am a fan of Blue Lagoon, Bloody Mary, and Tequila sunrise. The restaurant didn't have Tequila sunrise otherwise I would have ordered it. Here I only found Tequila sunrise in a Mexican restaurant.
Anyway, I really enjoyed Aperol Spritz on a hot summer day and I also ordered a side dish too. I forgot the name already but it was made of shrimps. Total I have spent 15 euros today so not bad.
I somehow managed to enjoy the Friday evening. After a long day of work, I was finally relaxing on the couch while enjoying my drink...
---
---
Love
Priyan...
---
I am @priyanarc.... An architect, a dreamer, and a passionate writer who loves to write about life. I try to present my own perspective and experiences. Please leave your feedback and criticism because it's the only way I can know and reach your mind and thought easily...
---
Find me on:
---
All images used are captured by the author...