Рік тому, в цей самий період Київ виглядав як покинуте місто-привид - порожні вулиці, поодинокі автівки, зачинені кав'ярні та магазини. Ще ніхто не знав, чи вдасться російським військам прраватися в місто і захопити його. Тоді весняне повітря було сповнене страшними передчуттями. Та на щастя, українським силам оборони вдалося відкинути російські війська з під Києва і загроза окупації минула.
A year ago, during this same period, Kyiv looked like an abandoned ghost town - empty streets, single cars, closed cafes and shops. No one knew yet whether the Russian troops would be able to break into the city and capture it. Then the spring air was filled with terrible forebodings. Fortunately, the Ukrainian defense forces managed to repel the Russian troops from near Kyiv and the threat of occupation passed.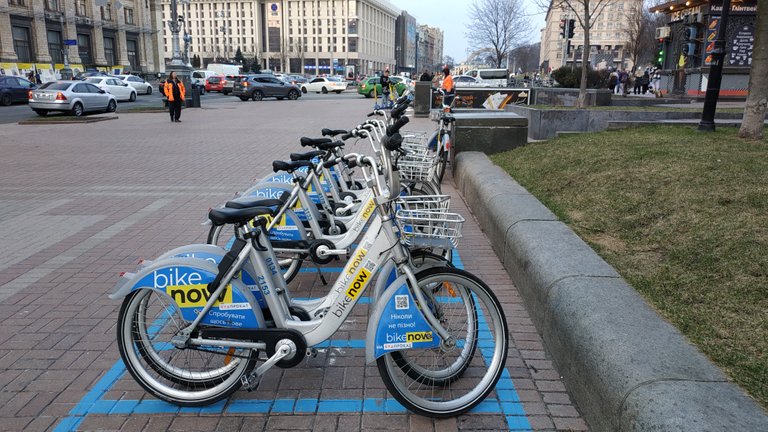 І хоч війна не закінчилась, але рік по тому Київ знову вирує життям. На вулицях міста знову людно, особливо багато молоді. Повернулись автомобільні затори і тягнучки. А там де затори, з'являються альтернативні засоби пересування містом. Запрацювали вже декілька служб прокату велосипедів та електросамокатів. Іноді навіть виникає відчуття, що наче нічого і не відбулося і Україна продовжує жити звичним мирним життям. Але чергова сирена повітряної тривоги повертає вас у реалність - і вона страшна...
And although the war is not over, a year later Kyiv is once again bustling with life. The streets of the city are crowded again, especially many young people. Traffic jams are back. And where there are traffic jams, alternative means of moving around the city appear. Several bicycle and electric scooter rental services have already started. Sometimes there is even a feeling that nothing happened and Ukraine continues to live its usual peaceful life. But another air raid siren brings you back to reality - and it's scary...