Greetings moms, daddies and general family of the great community of #Motherhood, God bless his homes. In recent months our family economy has had an important rise thanks to #HIVE, my husband and I find ourselves creating content daily for this great social network and our son Santiago is the engine by which we continue on the road every day, the Three members of this family make up a great team where each of us does a particular job, our son Santiago does the best job since he is our motivation and drive.
Saludos mamitas, papitos y familia general de la gran comunidad de #Motherhood, Dios bendiga sus hogares. En los últimos meses nuestra economía familiar ha tenido un alza importante gracias a #HIVE, mi esposo y yo nos encontramos creando contenido diariamente para esta gran red social y nuestro hijo Santiago es el motor por el que día a día continuamos en el camino, los tres integrantes de esta familia conformamos un gran equipo donde cada uno de nosotros realiza un trabajo en particular, nuestro hijo Santiago realiza el mejor trabajo ya que él es nuestra motivación y empuje.
The economic instability in our country is becoming more acute every day, so we have thought of creating a small fund for our son with some of the valuable rewards that we receive through this means, and well the truth is that the economic situation of our country Venezuela it hits the pocket and having money in a bank account is synonymous with devaluation and loss of capital. So we remember an old saving technique used by our grandparents, the famous "little saver pig" and we invested some of the capital of Santiago in the purchase of a pig to raise and invest.
La inestabilidad económica en nuestro país es cada día más aguda, por lo que hemos pensando en crear un pequeño fondo para nuestro hijo con algunas de las valiosas recompensas que recibimos por este medio, y bueno la verdad es que la situación económica de nuestro país Venezuela golpea el bolsillo y tener dinero en una cuenta bancaria es sinónimo de devaluación y perdida de capital. Entonces recordamos una vieja técnica de ahorro usada por nuestros abuelos, el famoso "cochinito ahorrador" e invertimos algo del capital de Santiago en la compra de un cochinito para criar e invertir.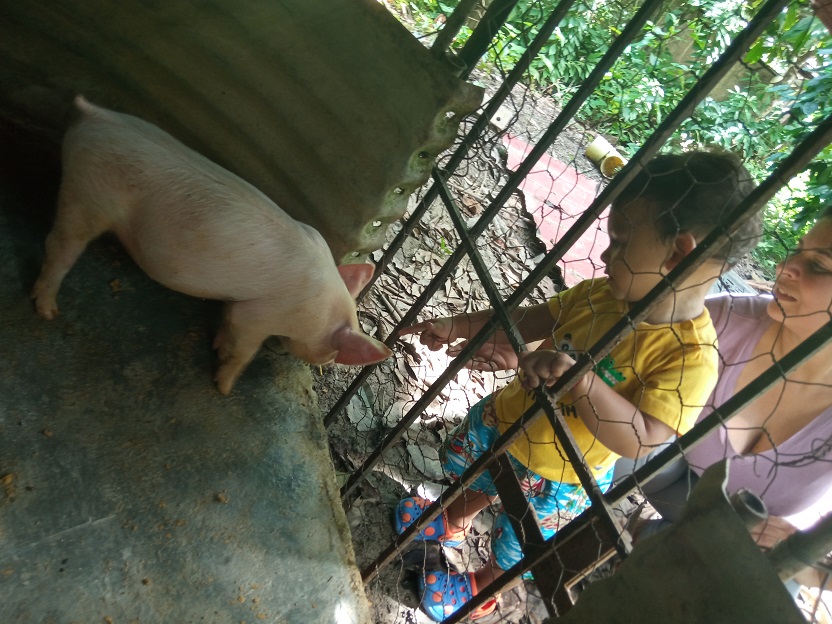 As it is a small animal that requires great care and mainly hygiene, it was impossible for us to have it near us at home, so my husband has created a small corral in one of his mother's plots to raise the pig. Over the days we have grown very fond of our little pig, we have named him "Cornelius" and we have allowed our son to meet his new pet and he has loved his little friend since the first day he arrived.
Al tratarse de un animalito que requiere de mucho cuidado y principalmente higiene se nos hacía imposible tenerlo cerca de nosotros en casa, entonces mi esposo ha creado un pequeño corral en una de las parcelas de su madre para criar al cerdito. Con los días le hemos ido tomando muchísimo cariño a nuestro cerdito, le hemos puesto de nombre "Cornelius" y hemos permitido que nuestro hijo fuera a conocer a su nueva mascota y le ha encantado su pequeño amigo desde del primer día cuando llego.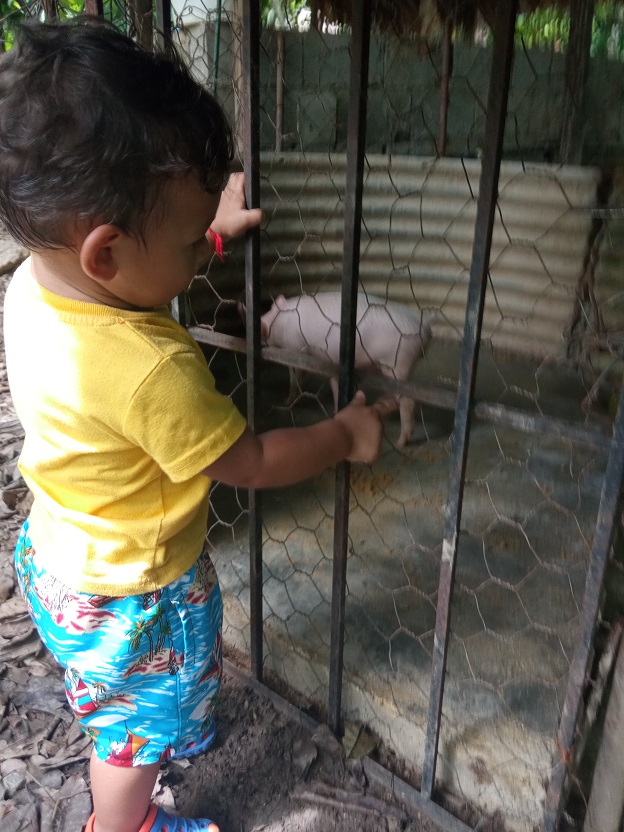 The ties of friendship and affection between my little son and Cornelius have increased, almost every day he visits his piglet together with his father to feed him, clean him and be able to touch him. I admit that as a mother I have been afraid of the hygiene product, being a pig you must be very careful with its urine and feces, but my son does not want to stay to be a spectator, he wants to touch his pig to feed him in his hand and play with it. Of course, after finishing this visit, I take care of cleaning Santiago very well, who arrives home in the same conditions as the pig, very dirty hahahaha ...
Los lazos de amistad y cariño entre mi pequeño hijo y Cornelius se han ido incrementado, casi todos los días visita a su cerdito junto con su padre para alimentarlo, asearlo y poderlo tocar. Admito que como madre me ha dado temor producto de higiene, al tratarse de un cerdito se debe tener muchísimo cuidado con su orine y las heces, pero mi hijo no quiere quedarse a ser espectador, él quiere tocar a su cerdito darle de comer en su mano y jugar con él. Por supuesto, luego de culminar esta visita me encargo de asear muy bien a Santiago, quien llega a casa en iguales condiciones que el cerdito, muy sucio jajajaja…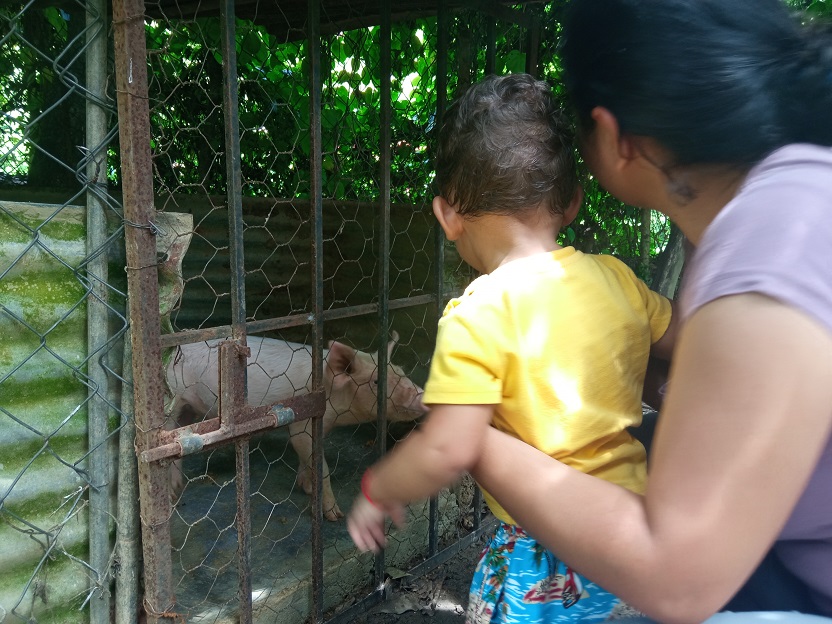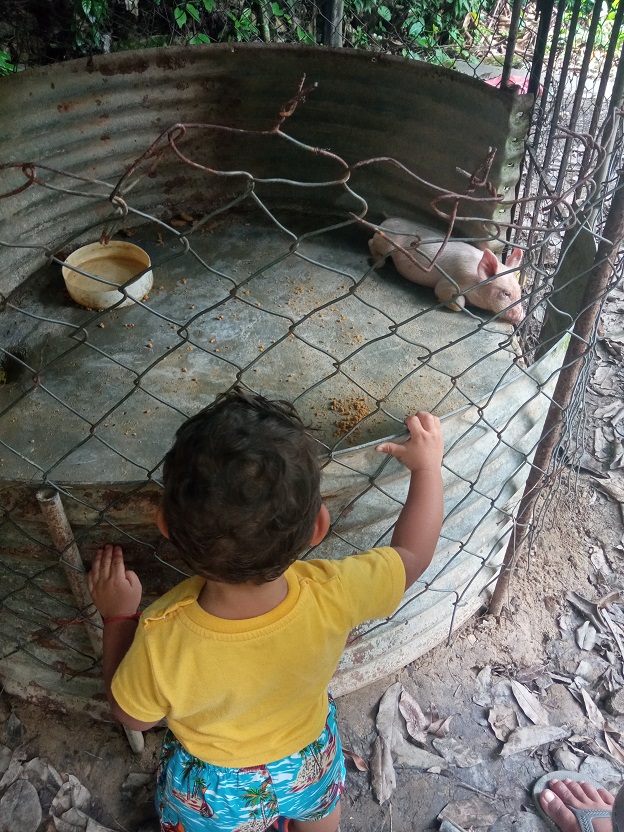 Santiago is very happy with his tender friend, and he is very happy when he hears the pig make all kinds of sounds and squawks, sometimes he wants to repeat the sound and immediately gets playful with the pig. He takes some of the food for growing pigs and begins to feed him, we do not let him feed the pig in his hand for safety reasons. He accepts and willingly throws some food on the ground, we are sure that if we are careless with Santiago at that moment he will be able to open the pig's corral to hug him and touch his trunk.
Santiago está muy feliz con su tierno amigo, y se pone muy contento cuando escucha al cerdito hacer todo tipo de sonidos y graznidos, en ocasiones quiere repetir el sonido y se pone juguetón inmediatamente con el cerdito. Toma un poco del alimento para cerdos en crecimiento y comienza darle de comer, no lo dejamos que le dé de comer al cerdito en su mano por cuestiones de seguridad. El acepta y de buena gana le arroja un poco de comida al suelo, estamos seguros que si nos descuidamos con Santiago en ese momento es capaz de abrir el corralito del cerdito para abrazarlo y tocarle la trompa.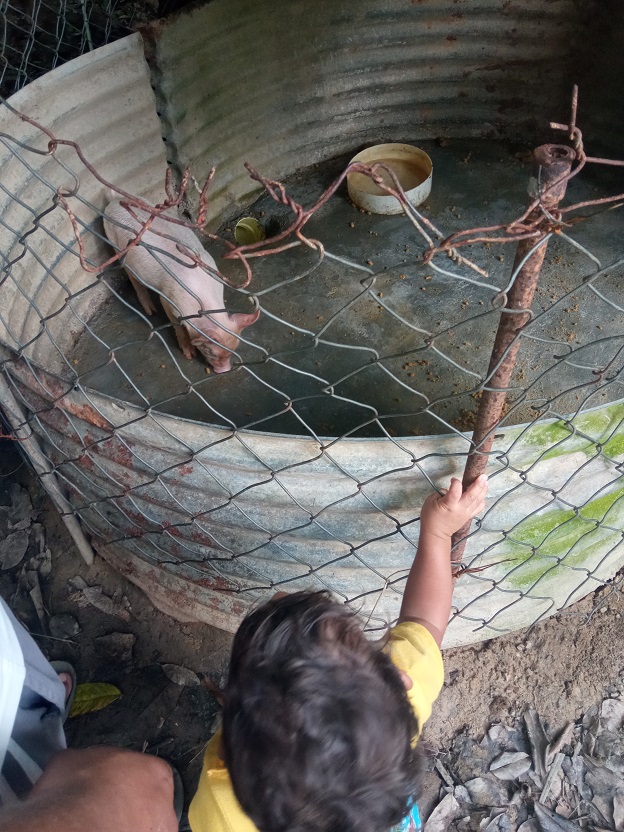 At the moment, our pig Cornelius continues to grow as Santiago grows and our investment plan for Santiago has become an excellent and pleasant company for my son, who in a more human sense and at such a young age has understood the value of friendship, responsibility and even more human value. In the near future we do not plan to get rid of our pig, but as parents we are aware that Cornelius will grow up and we will have to separate him from our little son Santiago for safety and hygiene reasons.
Por el momento, nuestro cerdito Cornelius continúa creciendo al igual que crece Santiago y nuestro plan de inversión para Santiago se ha convertido en una excelente y agradable compañía para mi hijo, quien en un sentir más humano y a tan pequeña edad ha comprendido el valor de la amistad, la responsabilidad y más aún el valor humano. En un futuro cercano no pensamos desprendernos de nuestro cerdito, pero como padres estamos conscientes de que Cornelius crecerá y tendremos que separarlo de nuestro pequeño hijo Santiago por motivos de seguridad e higiene.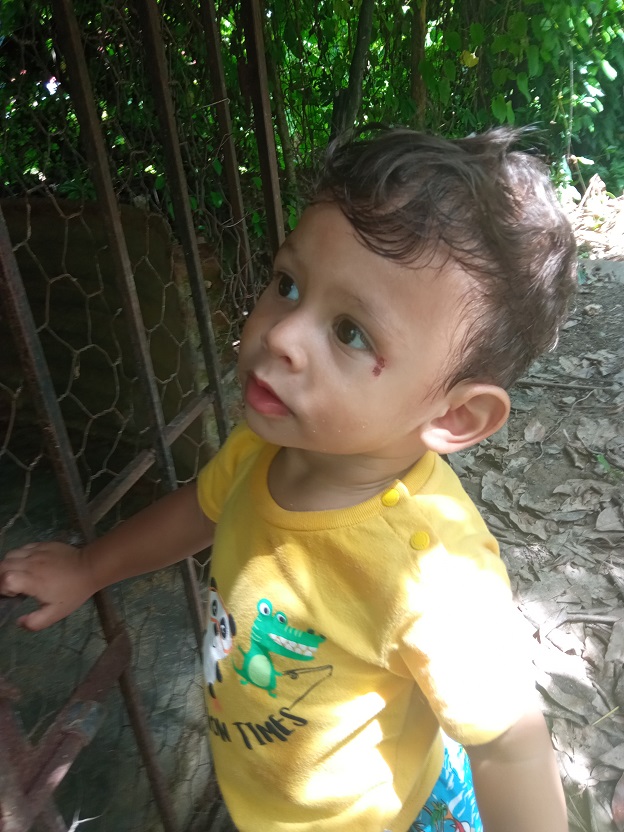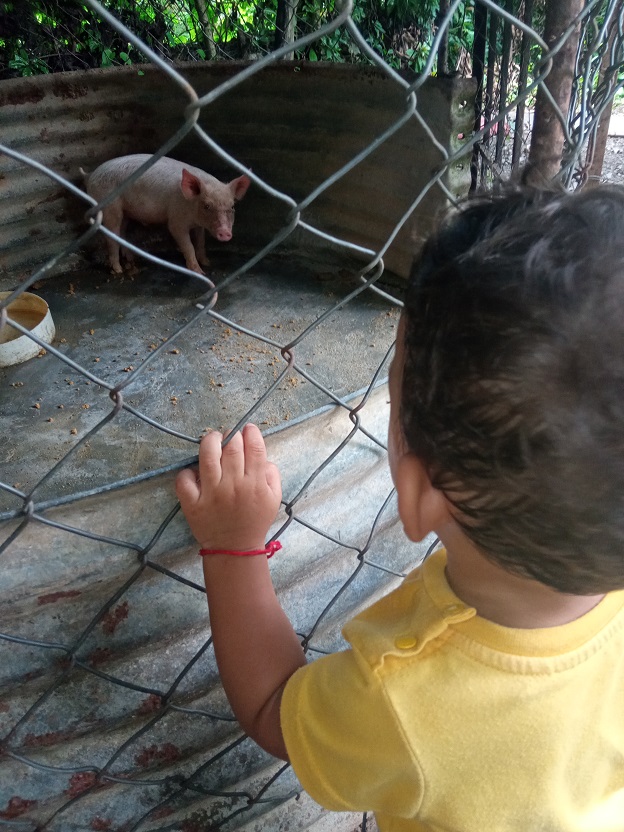 "Being a mother is the best profession in the world, because she is paid with many kisses, hugs from your little ones"
"Ser madre es la mejor profesión del mundo, porque es remunerada con muchísimos besos abrazos de tus pequeños"
Thanks for dressing me up and reading me, until next time @aksurevm89.
Gracias por vístame y leerme, hasta una próxima ocasión @aksurevm89.
THANKS FOR READING ME // GRACIAS POR LEERME
Translated by: google translator // Traducido por: google traductor
All photos are my property // Todas las fotos son de mi propiedad.