No acostumbro mucho a publicar cosas tan personales, mucho menos de mi mamá. Sin embargo, @elizabeths14 me ha invitado a compartir un poco de ella con ustedes, así que aquí voy.
I don't usually post personal things, much less about my mom. However, @elizabeths14 has invited me to share a little bit of her with you, so here we go.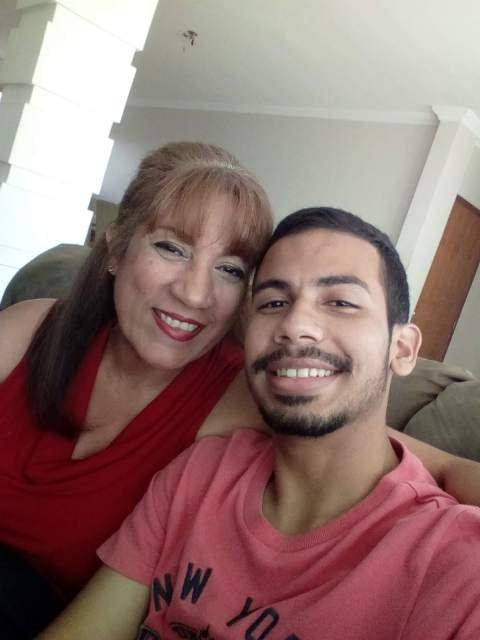 Selfie from @antoniojoseha
Su nombre es Elvira. Mi mamá es alguien atenta, emprendedora, amigable, temperamental, jodedora y excelente persona. Además de ser muy carismática, las rabietas y los coscorrones a sus hijos no pueden faltar!! jaja.
Sé que mis hermanos y yo no fuimos fáciles de criar, sin embargo que bueno que nos tocó una mamá como ella.
Las fotos mas recientes que tenemos juntos son de hace ya un tiempo atrás, debido a que ella se fue del país como muchos venezolanos. Desde ese entonces he aprendido a cocinar, barrer, limpiar, hacer las compras, administrar bien el dinero, y hasta molestarme cuando ensucian lo que acabo de limpiar, prácticamente me he convertido en el propio viejo cascarrabias. Esto, sumado a las locuras que ocurren el día a día aquí con la gasolina, la luz y el agua, en verdad es un estrés que a veces no es fácil de manejar.
Her name is Elvira, my mom. She's attentive, enterprising, friendly, temperamental, annoying and an excellent person. but although being charismatic, the scolding and tantrums to her children can't be missing!

I know we are not easy to raise, but I'm grateful that I got a mom like her.

The most recent pictures we have together are from some time ago because she left the country like many Venezuelans. Since then I have learned to cook, sweep, clean, do the shopping, manage money well, and even get annoyed when my father messes up what I have just cleaned (I have become the old curmudgeon himself). This, added to the craziness that goes on day to day here with gas, electricity and water, is really
stress that sometimes is not easy to handle.
Al tener que estar pendiente con todos estos deberes me doy cuenta del gran esfuerzo que ella hacía y que no lo supe valorar bien. Todo eso que mencioné, ella lo hacia sola, y recibía poca o nada de ayuda de parte de nosotros, algo que por dentro me arrepiento bastante.
Since I have to take care of all these duties, I realize how much effort she made and that I did not value it well. All that I mentioned, she did it alone and received zero help from us, something that I regret a lot on the inside.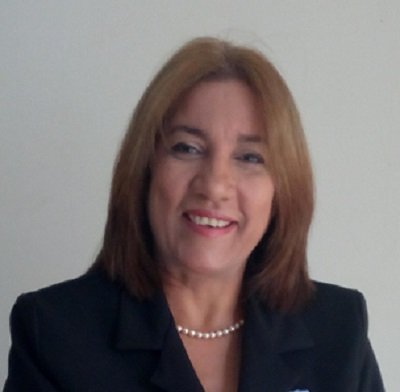 Photo from @antoniojoseha albúm
Profesora Universitaria de alto calibre ¡La mejor de todas! Ella deseaba poder darme clases algún día, pero mi pasión se dirigía hacia los animales, por lo cual decidí estudiar veterinaria. Al principio, ella no estaba muy de acuerdo conmigo, pero siempre estuvo apoyándome, y al final comenzó a tenerle un profundo amor a los animales.
Recuerdo que una vez, mientras ella manejaba, la puerta del carro que estaba delante se abrió accidentalmente y medio cuerpo de un Golden Retriever se asomó intentando salir hacia la carretera; Al mismo tiempo que eso sucedía, la persona que manejaba intentaba con todas sus fuerzas volver a introducir al perro, sin embargo terminó desviándose de la carretera y chocando contra un poste de luz, inmediatamente el perro salio corriendo fuera del carro alejándose rápidamente. Mi madre lo persiguió a lo largo de 2 cuadras y media, pero logró acorralarlo cuando intentó cruzar la calle, unas personas la ayudaron a meterlo en el carro y posterior a eso se devolvió a donde estaba la señora. Me contó que la dueña no le paraba de agradecer, con lágrimas en los ojos pensaba que ya su perrito se había escapado. Luego de un rato, el esposo de la señora llegó, mi madre le hizo el favor de dejar a su esposa y al perrito en su casa y luego de eso me fue a buscar a la Universidad jaja, - y yo quejándome de porque se tardaba tanto hasta que me contó todo eso - .
A university professor of the highest caliber, the best of them all! She wanted to teach me someday, but my passion was for animals, so I decided to study veterinary medicine. She didn't agree with me at first, but she was always supportive, and eventually developed a deep love for animals.

I remember that once, while she was driving, the door of the car in front of her accidentally opened and half the body of a Golden Retriever leaned out trying to get out into the road; at the same time that happened, the person driving was trying with all her might to get the dog back in, however, she ended up swerving off the road and crashing into a light pole, immediately the dog ran out of the car and sped away. My mother chased him for 2 and a half blocks, but managed to corner him when he tried to cross the street, some people helped her to put him in the car and after that he went back to where the lady was. She told me that the owner kept thanking her, with tears in her eyes she thought that her dog had already escaped. After a while, the lady's husband arrived, my mother did him the favor of leaving his wife and the doggy at home and after that he went to pick me up at the University haha, and I was complaining about why he was taking so long until he told me all that.
Además, ella es una excelente cocinera, lo cual es algo que no he podido igualar. No es que yo cocino mal, sino que las madres siempre le dan ese toque especial a la comida.
She is an excellent chef, which is something I have not been able to match. It's not that I'm bad at cooking, it's just that our mothers always add that special touch to our food.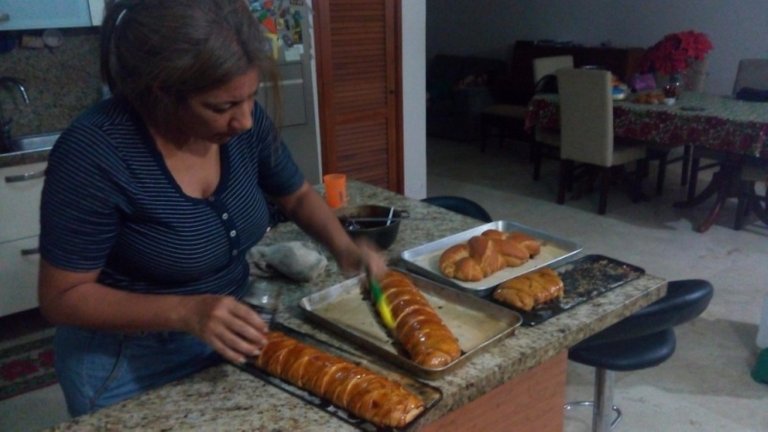 Photo from @antoniojoseha albúm
La verdad es que no hay mucho que decir, ella es alguien que me inspira bastante, siempre consigue lo que se propone, me ha enseñado muchas cosas y lecciones de vida, es una excelente profesora y tiene mucha gente que la aprecia demasiado. Siempre doy gracias por tener una madre como ella y sé que ella da gracias por tener un hijo tan chévere como yo.
The truth is that there is not much to say, she is someone who inspires me a lot, she always achieves what she sets out to do, she has taught me many things and life lessons, she is an excellent teacher and has many people who appreciate her a lot. I always give thanks for having a mother like she and I know she gives thanks for having a son as cool as me.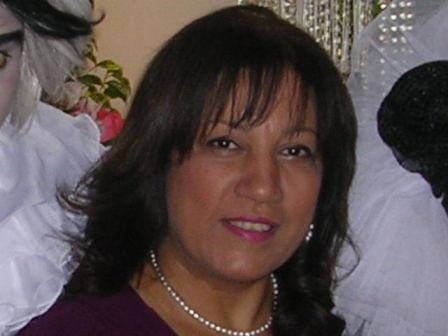 Photo from @antoniojoseha albúm
Gracias por leer!! Thanks for reading!!