---
---
Hello friends once again welcome to my blog!
Muy buenas noches a todos los que forman parte de está bella plataforma muy en especial a todos los que hacen vida en está hermosa comunidad @Motherhood, es un gusto estar de vuelta compartiendo mis experiencias vividas, anécdotas, cumpleaños. Me disculpo estuve algo ausente en esta maravillosa comunidad pero regresé para continuar mi Día a Día con ustedes amigos.
Very good evening to all who are part of this beautiful platform, especially to all who make life in this beautiful community @Motherhood, it is a pleasure to be back sharing my experiences, anecdotes, birthdays. I apologize I was somewhat absent in this wonderful community but I returned to continue my Day to Day with you friends.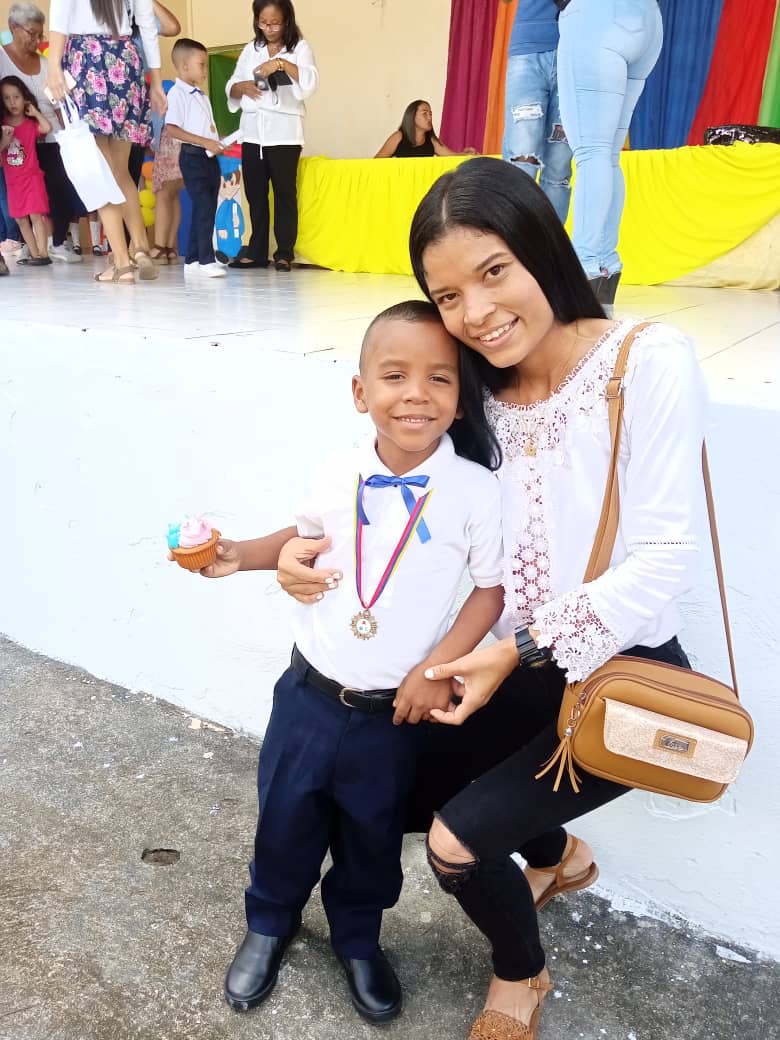 ---
Hace unas semanas aproximadamente culminaron las actividades escolares, y como ya todos saben no se hicieron esperar las promociones y graduaciones, Mi pequeño sobrino Luciano Alejandro hijo menor de mi hermano fue promovido al 1er grado de educación básica, como dicen los pequeños de la casa a la "Escuela grande" jejeje, todo estaba listo para acompañar a mi niño a su evento pero las cosas suceden sin esperarlas, casi para amanecer ese Día mi sobrina brianna hija de mi hermana amaneció algo indispuesta y no pudo acompañarnos al evento igual que mi madre.
Approximately a few weeks ago, school activities ended, and as everyone knows, promotions and graduations did not take long to wait. My little nephew, Luciano Alejandro, my brother's youngest son, was promoted to the 1st grade of basic education, as the children of the the "Big School" hehehe, everything was ready to accompany my son to his event but things happen unexpectedly, almost at dawn that day my niece brianna my sister's daughter woke up somewhat indisposed and could not accompany us to the event just like my mother .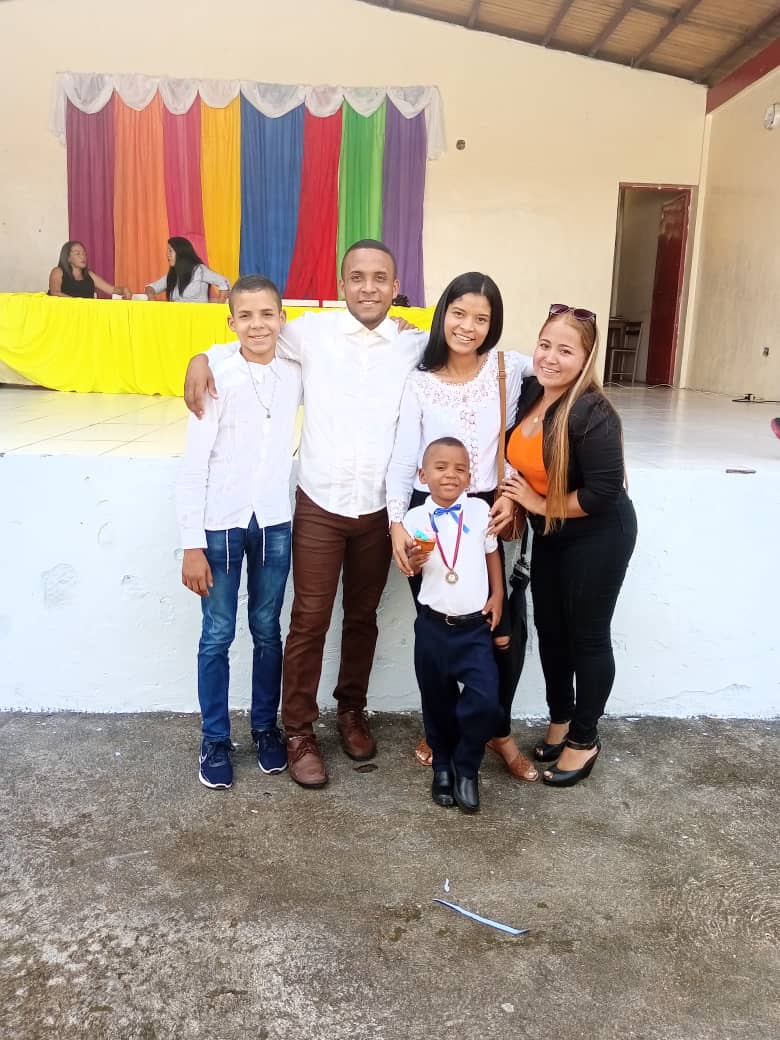 ---
A pesar que también tuve algunos inconvenientes para llegar debido a lo que le sucedió a mi sobrinita, pude llegar al evento a tiempo con mi hermano, su pareja y mi sobrino mayor José Miguel, a pesar que toda la familia no pudo asistir, compartimos ese momento lindo con él lleno de alegría, felicidad y alegría. Lo Bueno de todo que como eran niños entre las edades de 5 años y 6 años estuvo bien preparado fue súper rápido pero hermoso, el momento de subir al escenario a recibir su Diploma muy lindo y emotivo no pude grabar pero capture una foto donde subian sus brazitos muy emocionados con señal de alegría me gusto ese gesto que sus maestras les enseñaron, todo salió muy bien.
Even though I also had some inconveniences to get there due to what happened to my little niece, I was able to get to the event on time with my brother, his partner and my oldest nephew José Miguel, even though the whole family couldn't attend, we shared that cute moment with him full of joy, happiness and joy. The good thing about everything is that since they were children between the ages of 5 and 6, they were well prepared, it was super fast but beautiful, the moment they went on stage to receive their Diploma, it was very beautiful and emotional, I could not record but I captured a photo where they uploaded their little arms very excited with a sign of joy I liked that gesture that their teachers taught them, everything went very well.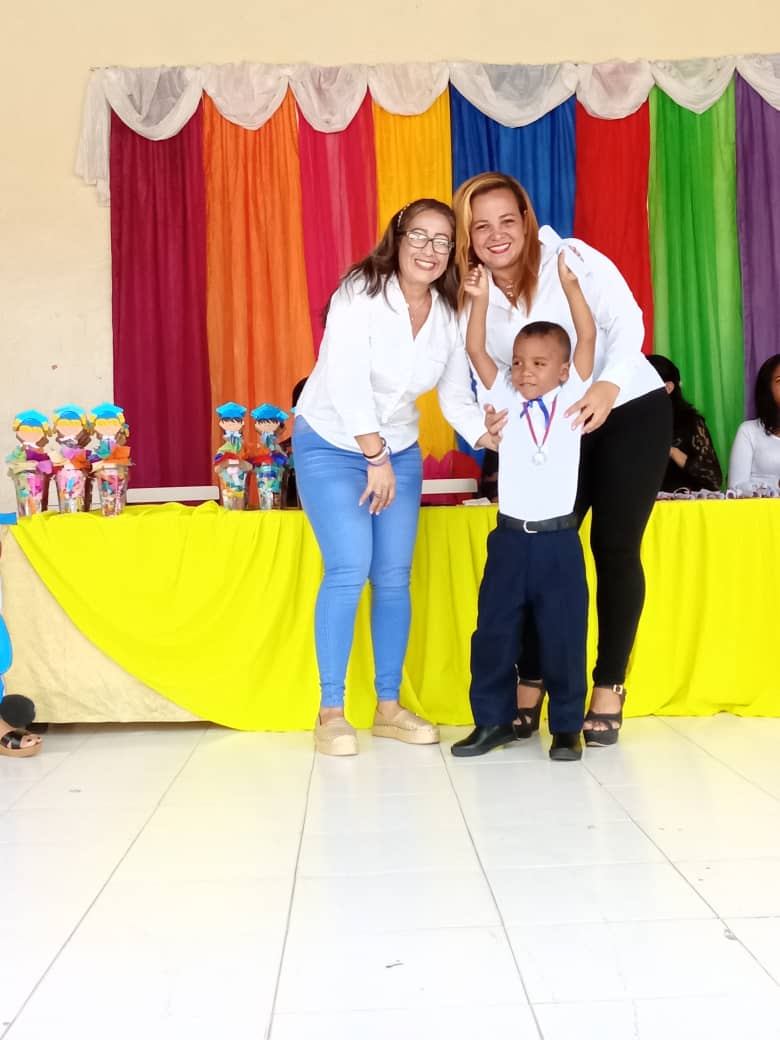 ---
Thank you very much for reading me many blessings to all.
Muchas gracias por leerm bendiciones para todos.

---
---