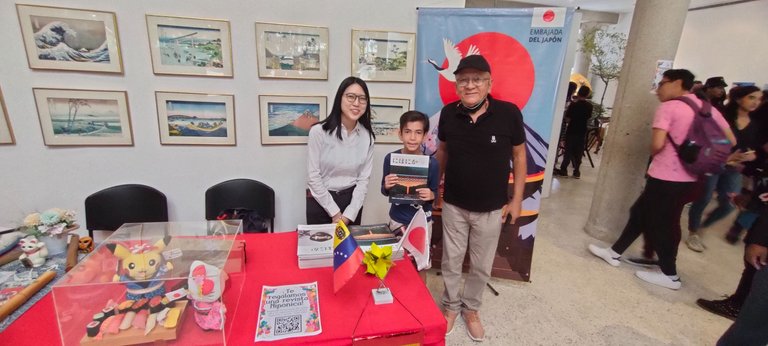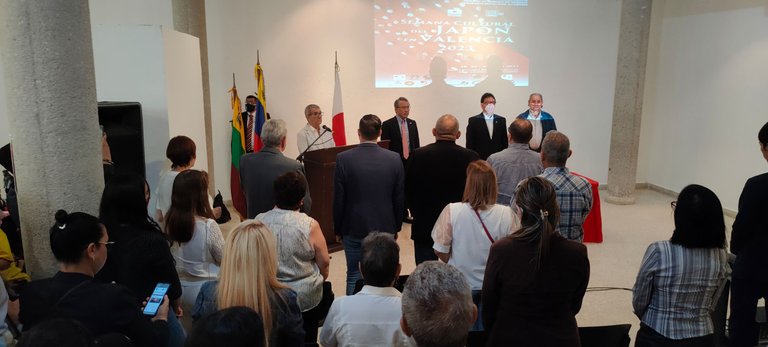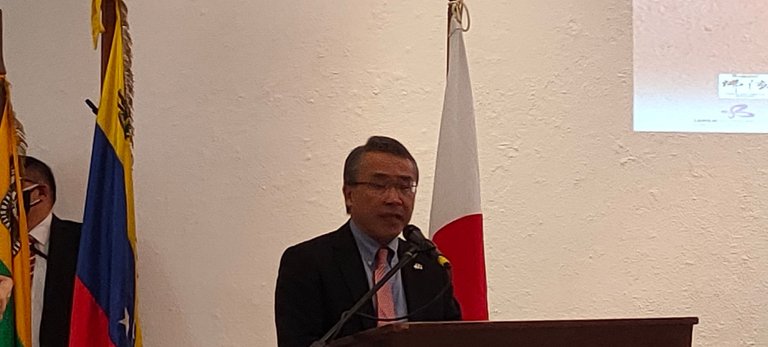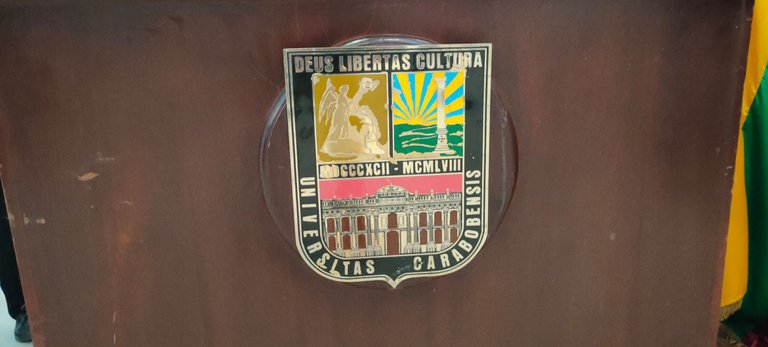 Una vez celebrado el onomástico de mi nieto @alejandroloreto, cumplidos los doce años, tengo en mi planificación personal retornar a Caicara del Orinoco, me enfoco en el retorno a mi casa, a encontrarme con la felicidad de ver como la luna se mueve en el espacio rotando, trasladándose con sus fabulosos movimientos de crecer y menguar. Me emociona respirar todo el Orinoco en un instante, llegar a mi casa y revisar en mi planetario orinoquense, mi jardín. Para mi interioridad que tiene un flow resplandeciente y sonoro es maravilloso.
—Padre, recuerda que al final de enero, 28, 29 y 30; se celebra la semana Cultural del Japón en Valencia, el programa contempla talleres de Bonsái e Ishi Zuke (adherido a la roca), lectura de Haikus, Meditación Zen, Artes Marciales, Karate, Kobudo, Origami, Caligrafía e idioma japonés y las Becas. Es una programación que me sacude el alma.
—Alejandro puede asistir? Pregunto, bien pensado, porque mi nieto es mi prioridad.
—Claro, el ambiente es abierto para todo público. Dice @soy-laloreto.
—Cónchale, pospongo el viaje porque los haikus, el bonsái y la meditación son una experiencia que necesito compartir para mi crecimiento espiritual.
The Japan Cultural Week Meeting in Valencia.
Once I have celebrated my grandson @alejandroloreto's name day, having turned twelve, I have in my personal planning to return to Caicara del Orinoco, I focus on returning home, to find the happiness of seeing how the moon moves in space rotating, moving with its fabulous movements of waxing and waning. I am thrilled to breathe the whole Orinoco in an instant, to arrive home and check my garden in my Orinoco planetarium. For my interiority that has a resplendent and sonorous flow is marvellous.
-Father, remember that at the end of January, 28th, 29th and 30th; the Cultural Week of Japan is celebrated in Valencia, the programme includes workshops of Bonsai and Ishi Zuke (attached to the rock), reading of Haikus, Zen Meditation, Martial Arts, Karate, Kobudo, Origami, Calligraphy and Japanese language and the Scholarships. It's a programme that shakes my soul.
-Is Alejandro able to attend? I ask, well thought out, because my grandson is my priority.
-Of course, the atmosphere is open to all audiences. Says @soy-laloreto.
-I postpone the trip because haiku, bonsai and meditation are an experience I need to share for my spiritual growth.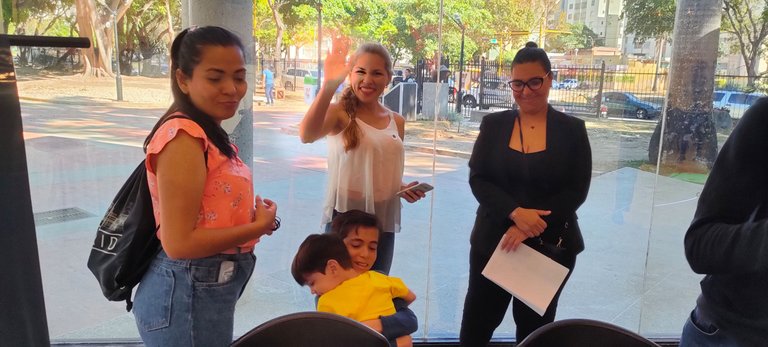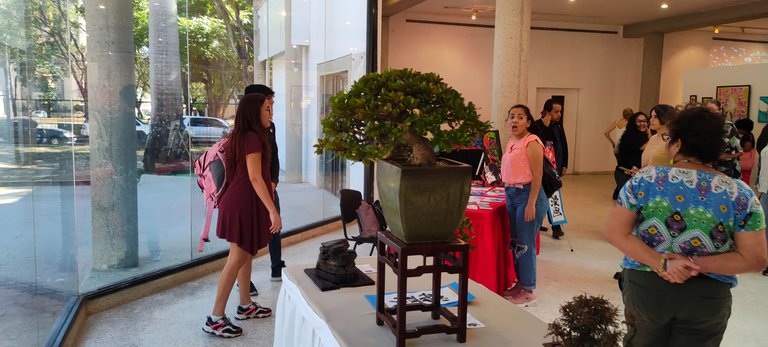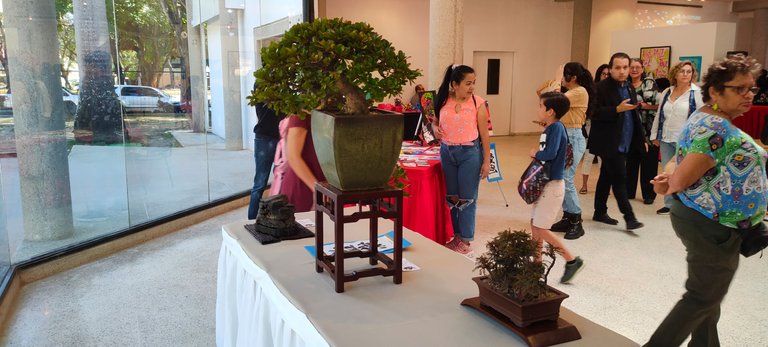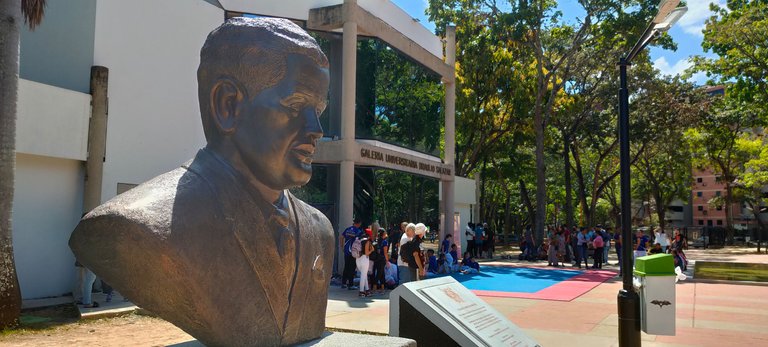 El extraordinario evento está patrocinado por la Universidad de Carabobo, el lugar donde se va a realizar es en la Galería de Arte universitario ubicada en el Parque Fabián de Jesús Díaz bejarano en la urbanización Prebo. Me trasporto con el imaginario para ubicarme en el sitio. Sí, la parada es en la avenida Bolívar, al final del callejón de la Cruz Roja, aja; allí está. Bueno, me bajo, me doy la pausa para esperar el evento de la cultura espiritual del gran oriente. El maravilloso Japón.
Es sábado 28, tengo que escoger entre llevar a mi nieto Alejandro al curso de puntillismo en el Museo de Arte Popular de Valencia o irme con mi familia a la inauguración de la Semana Cultural del Japón 2023 en Valencia.
Tomo la decisión más sana e inteligente, nos vamos para la Galería de Arte universitario Braulio Salazar. Actúo acompañado con un flourishing espectacular con @soy-laloreto, @iritere y @alejandroloreto a disfrutar positivamente de este magno evento. Llegamos al Parque, @alejandroloreto irrumpe con la piqueta abriendo el espacio para buscar a los conocidos de la red de Blockchain de Hive que están involucrados en la programación, él, tiene una extraordinaria empatía con los Hivers.
The extraordinary event is sponsored by the University of Carabobo, the place where it will be held is the University Art Gallery located in the Fabián de Jesús Díaz Bejarano Park in the urbanization of Prebo. I'm transporting myself with my imagination to find my way around the site. Yes, the stop is on Bolívar Avenue, at the end of the alleyway of the Red Cross, aha; there it is. Well, I get off the transport, I give myself a break to wait for the event of the spiritual culture of the Great East. The wonderful Japan.
It's Saturday 28th, I have to choose between taking my grandson to the pointillism course at the Museum of Popular Art in Valencia, or going with my family to the inauguration of the Japan Cultural Week 2023.
I take the healthier and smarter decision, we go to the Braulio Salazar University Art Gallery. I act accompanied by my spectacular flourishing with @soy-laloreto, @iritere and @alejandroloreto to positively enjoy this great event. We arrive at the Park, @alejandroloreto bursts in with the pickaxe opening the space to look for the acquaintances of the Hive Blockchain network that are involved in the programming, he has an extraordinary empathy with the Hivers.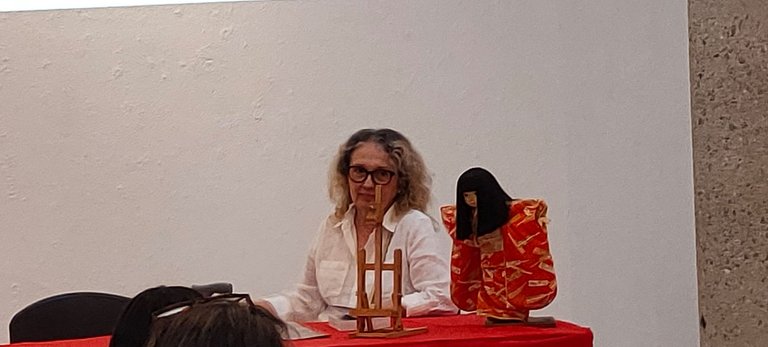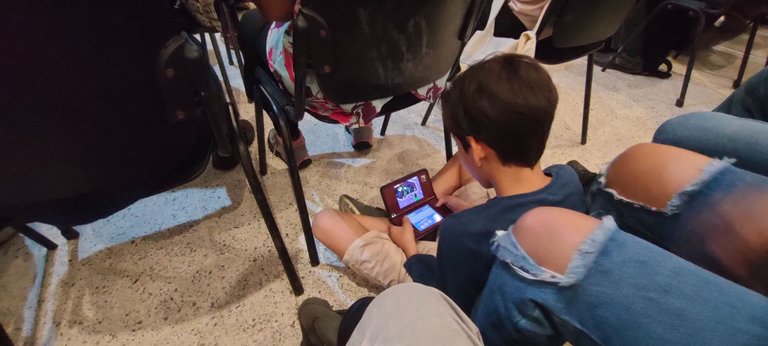 El evento está en el protocolo de la inauguración, están en el interior de la galería un presídium conformado por las autoridades universitarias presentes y el ciudadano embajador de la república del Japón, se desarrolla el acto protocolar, los himnos de Venezuela y el Japón, el orfeón universitario interpreta el himno de la universidad de Carabobo. Es un ambiente esplendoroso y acogedor, siento la dignidad del evento en mi personalidad. Soy egresado de mi universidad de Carabobo. Después, continúa con la lectura El Haiku: "La Belleza de lo Breve", a cargo de María Jaramillo, que está vestida de blanco. El haiku es tan leve, cuya hermosura se siente en el roce sonoro del espíritu. Excelente. Mi nieto está sentado a mi lado entretenido con su Nintendo, que tal. El haiku le dio la vuelta.
The event is in the protocol of the inauguration, they are inside the gallery a presidium formed by the university authorities present and the citizen ambassador of the Republic of Japan, the protocol act is developed, the anthems of Venezuela and Japan, the university choral society interprets the anthem of the University of Carabobo. It is a splendid and welcoming atmosphere, I feel the dignity of the event in my personality. I am a graduate of my university in Carabobo. Afterwards, it continues with the reading The Haiku: "The Beauty of the Brief", by María Jaramillo, who is dressed in white. The haiku is so light, whose beauty is felt in the sonorous touch of the spirit. Excellent. My grandson is sitting next to me playing his Nintendo, how about that. The haiku turned him around.
Una funcionaria, en compañía del asistente cultural de la embajada de Japón, están regalando revistas japonesas de forma on line, esta funcionaria en todo instante, tiene una suave sonrisa, le acompaña una mirada luminosa, un saludo reverencial agradable, todas sus expresiones son notables por su pequeñita sencillez, sincera y transparente.
Nos llega la hora pico donde el sol está en el cenit, miro a mis hijas; ellas se ríen, tienen hambre, la expresión corporal lo dice claramente sin informar nada, el arte de la gestualidad lo comunica todo. Pero estoy cerca de un estand donde están distribuyendo comida japonesa, me acerco con @soy-laloreto. Ella recomienda después de verificada la carta que vamos a comer sabroso, que compre Sushi. Se hace el pedido de cuatro deliciosas bandejas para nuestro grupo familiar. Pago, nos entregan en una exquisita bolsa nutrientes comestible y nos trasladamos hasta la concha acústica, allí se exhibe la delegación de Karate del estado Carabobo, actual campeón nacional de la federación de Karate, también se muestra la disciplina de Kobudo. Nos ubicamos en la concha acústica y se organiza el banquete de Sushi, este viene acompañado de una espectacular bebida de té japonés, tiene un contenido energizante que despierta emociones. Soy y estoy feliz.
A civil servant, together with the cultural assistant of the Japanese embassy, is giving away Japanese magazines online. This civil servant has a gentle smile on her face at all times, a luminous look on her face, a pleasant reverential greeting, all her expressions are remarkable for their small simplicity, sincere and transparent.
I look at my daughters; they are laughing, they are hungry, their body expressions say it clearly without informing anything, the art of gestures communicates everything. But I am near a stand where they are distributing Japanese food, I approach with @soy-laloreto. She recommends after checking the menu that we are going to eat tasty food, that I buy Sushi. The order is placed for four delicious trays for our family group. Payment, we are delivered in an exquisite edible nutritious bag and we move to the acoustic shell, where the Karate delegation of the state of Carabobo, current national champion of the Karate federation, also shows the discipline of Kobudo. We are located in the acoustic shell and the Sushi banquet is organized, this is accompanied by a spectacular Japanese tea drink, it has an energizing content that awakens emotions. I am and I am happy.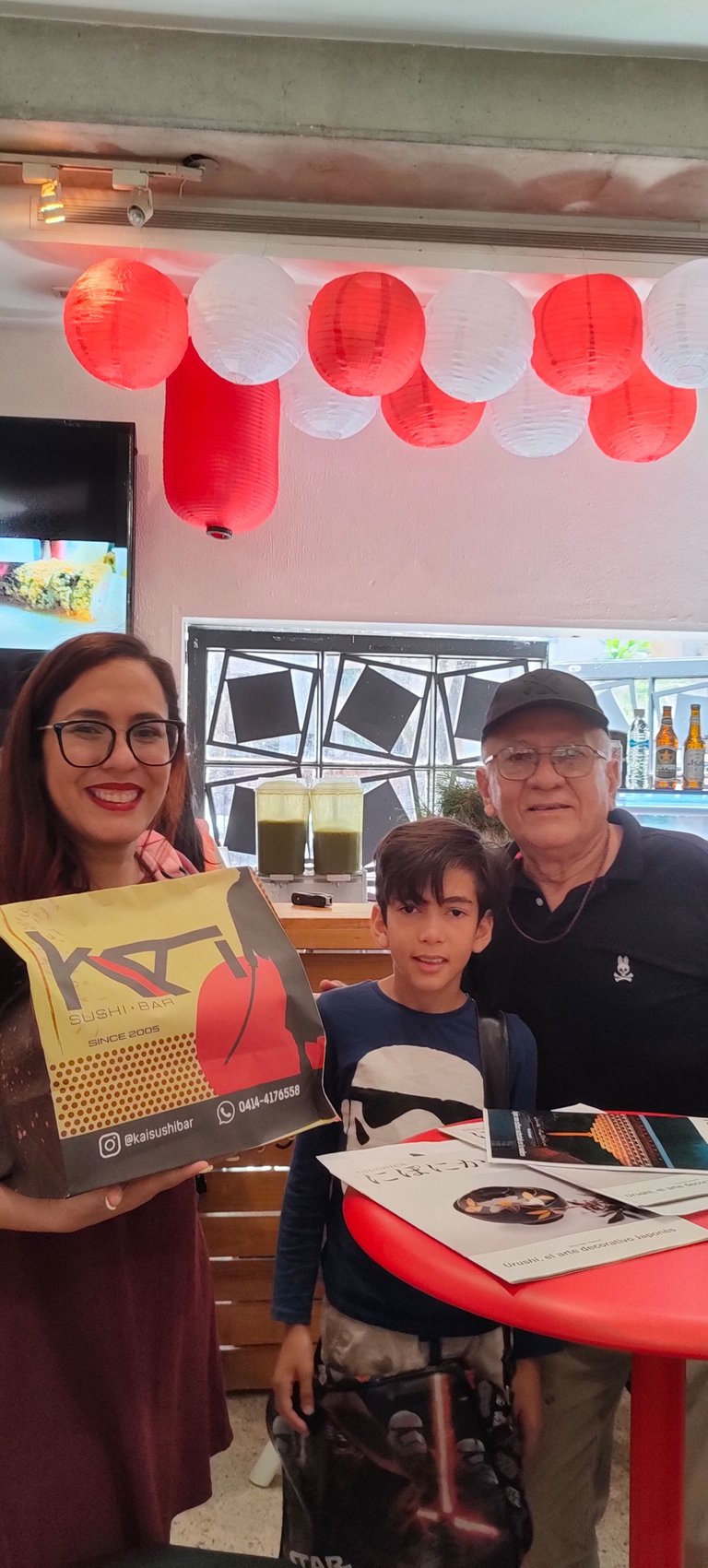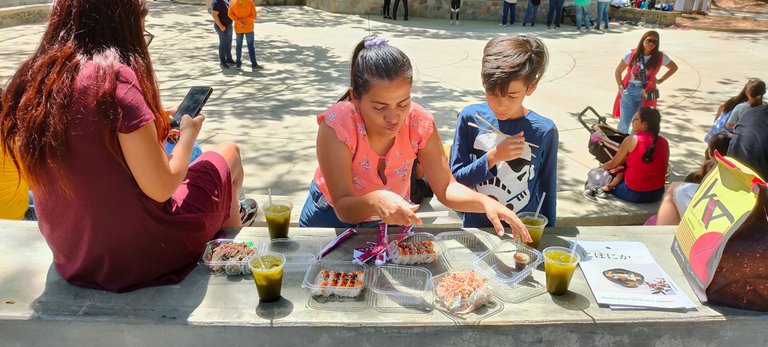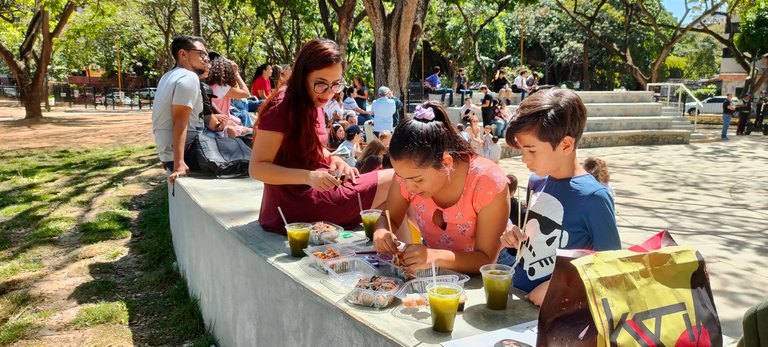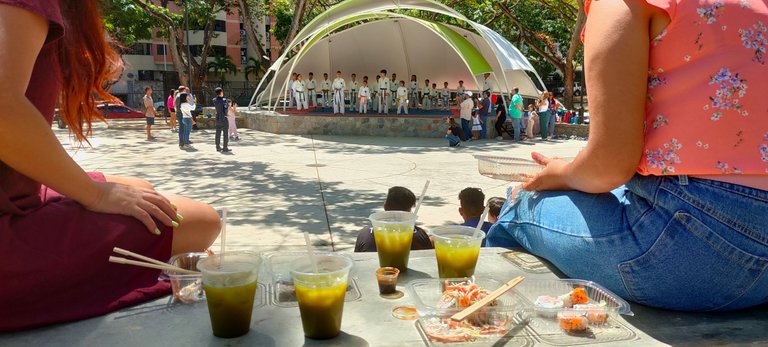 A veces, me preguntan. que es el flourishing? Bueno, esa información proviene del gran oriente, de allá del continente asiático. Siento el flow del flourishing, esta como un incienso de sándalo, impregnando la Semana Cultural del Japón por todo el Parque. Aquí tengo muchos contenidos espirituales que puedo desarrollar a plenitud.
Hasta acá llego con mi regocijante relato, estimados Hivers de la C/ Motherhood.
Gracias por leer y comentar mi post.
Soy y Estoy Feliz.
Gracias por Ser y Estar Feliz.
Sometimes, I am asked, what is flourishing? Well, that information comes from the Far East, from the Asian continent. I feel the flow of flourishing, it is like a sandalwood incense, permeating the Japanese Cultural Week all over the Park. Here I have a lot of spiritual content that I can develop to the full.
So much for my rejoicing story, dear Hivers of Motherhood Street.
Thank you for reading and commenting on my post.
I Am and Am Happy.
Thank you for Being and Being Happy.


REFERENCIAS: Las muestras fotográficas tomadas con mi teléfono Realme Pro 7 son de mi propiedad patrimonial, con el apoyo de mi estabilizador Gimbal 1-Asix.
REFERENCES: The photographic samples taken with my Realme Pro 7 phone are my property, with the support of my Gimbal 1-Asix stabilizer.