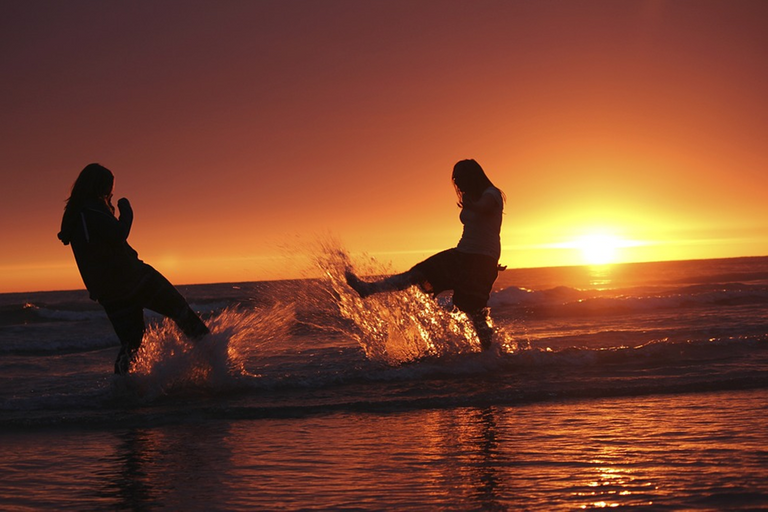 If there comes a day when we cannot be together,
Keep me in your heart. I'll be there forever.
(Winnie The Pooh)
During our journey in the train of life we meet like-minded people with whom we share many similarities.
Brothers that life gives us and that neither time nor distance can separate. They also influence our way of being and acting. As the friend @victoriabsb says, that has made an impact on your life.
In my case fate brought into my life a special woman who is part of my family. She is my sister and friend.
OMG, she was brought into my home by my older brother. I still remember that day, he came smiling and said: "Dad, this is my girlfriend and her name is Rosalba". Everyone was petrified, except me, I am more outgoing than a drawer. I already knew her, because he used to send me to bring her love letters. From that moment on she stayed in our home, I was 12 years old.
Wow, so many moons have passed, almost 47 years.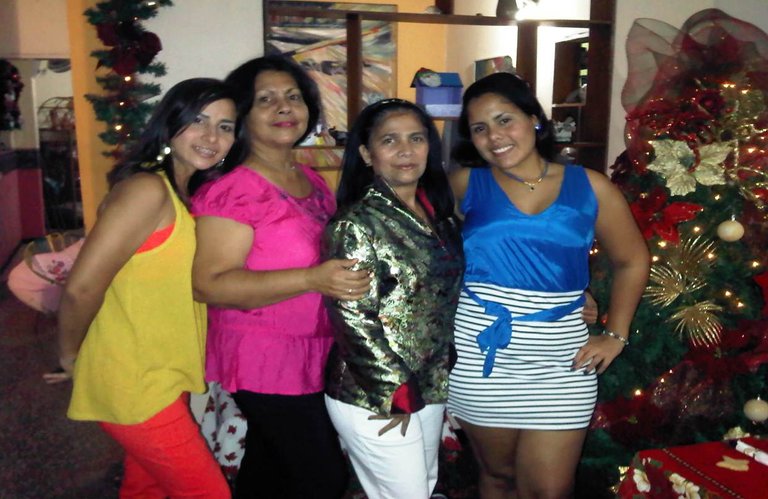 De izquierda a derecha: Rosaba, Ña Rosalba, Mafa y Gaby. Fotografía de mi propiedad
Today I brought her to this beautiful #motherhood community to celebrate women's week.
We call my sister-in-law Rosalba by affection Ña Rosalba; since we met we are great friends and sisters. I am proud that she is part of my life.
She is an empowered woman, a mother, a professional, tenacious, courageous, forward thinking and with great strength. I have learned a lot from her, even though we are polar opposites. She is serious and I always play the clown. She is brave and I am fearful.
Everything I know Rosalba has taught me; my first cake, my first sewing. She is one of those people who always says YES and knows how to do everything; crafts, sewing, cakes, and above all, she cooks delicious food. I don't know how she makes a fish stew with two onions, garlic and sweet bell pepper. I have to use half a kilo to get the flavor.
I love her hallacas, arroz con pollo, tortas negra and pineapple cakes. These are my favorite dishes and cakes.
I lived with them for many years. She is the biological mother of my first four children, my beloved nephews. I raised them by her side and they are also my children. Just as my son Jesus is her son.
Moises my singer, you know him, has participated as a guest in the curation on Saturdays. Eduardo, singer and poet. Rosalba, my little skinny girl. And my chubby Gaby. Together with my Prince Charming Jesus. They are my greatest treasure, they occupy a special place in my crazy heart.
When Jesus was born, Rosalba took care of everything. She was the one who gave him his first bottle and bath. She put him in my arms after a month to take care of him because I was scared, and he fell out of bed. She was always there for his big events; birthdays, baptism and his graduation ceremony for his mechanical engineering degree.
I never felt lonely because she was always by my side, she picked me up many times when I stumbled in my gray days. We traveled through Venezuela together, always inventing a trip.
But life separated us without warning and without protest, not even giving us time to say goodbye. She left one day on vacation to Panama to visit for a month, her children Eduardo and Gaby kidnapped her. They won't let her return. They are right, they miss their mother. Plus her granddaughter Veronica has a crush on her.
OMG, I don't know what she is going to do because her other granddaughter Gemita is waiting for her in Chile. Maybe they are going to make a clone of Ña Rosalba.
From there on, loneliness overwhelms me, she has left a void impossible to fill. Visiting her house without her there has been very difficult. I miss our long get-togethers with coffee and cake, shopping trips, walks and the happy days at our beloved Peña beach.
Hive, before I say goodbye I invite you to participate in the #Motherhood Community activities:
Challenge of the week
Healings and Music from The Community on PALNet, Saturdays at 6:00pm Venezuela time.
Enjoy the columns:
Informative Column || Mom, you have the right! By @ elizabeths14
Advice Column|| ¡Abuelita, Ayúdame! ... By @mafalda2018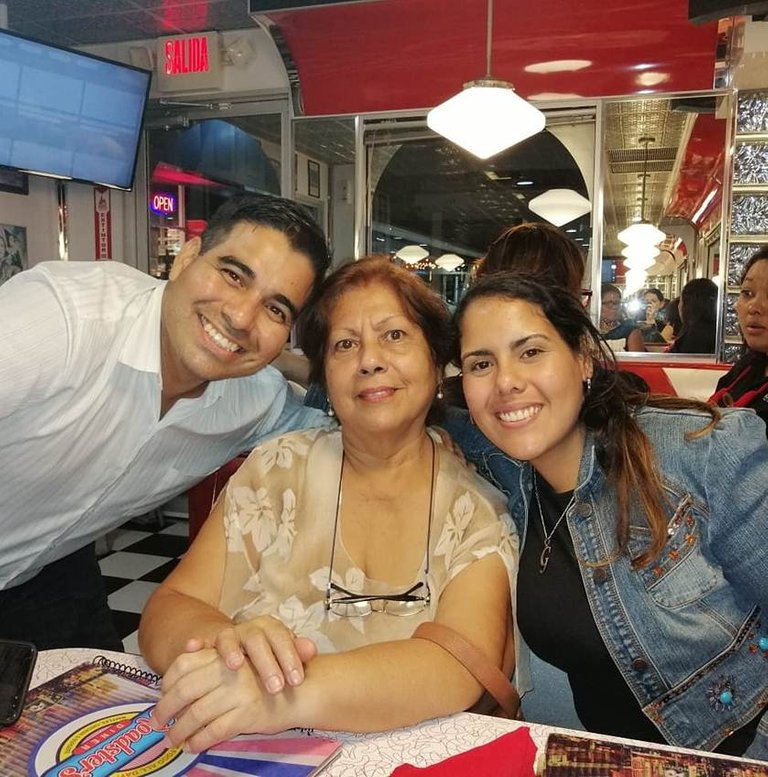 De izquierda a derecha: Eduardo, Ña Rosalba y Gaby. Ciudad de Panamá. Fotografía de Eduardo Gil
[ESP]
Si llega un día en que no podamos estar juntos,
Guárdame en tu corazón. Ahí estaré por siempre"
(Winnie The Pooh)
Durante nuestro viaje en el tren de la vida encontramos personas afines y con quien se comparten muchas similitudes.
Hermanos que nos da la vida y que ni el tiempo ni la distancia logra separar. También influyen en nuestra manera de ser y actuar. Como dice la amiga @victoriabsb, que haya causado un impacto en tu vida.
En mi caso el destino trajo a mi vida a una mujer especial que es parte de mi familia. Es mi hermana y amiga.
OMG, la trajo a mi hogar mi hermano mayor. Todavía recuerdo ese día, llegó sonriente y dijo: "Papá, esta es mi novia y se llama Rosalba". Todos quedaron petrificados, menos yo, que soy más salida que una gaveta. Ya la conocía, porque él me enviaba a llevarle las cartas de amor. Desde ese momento se quedó en nuestro hogar, tenía yo 12 años.
Wuao, muchísimas lunas han pasado, casi aproximadamente 47 años.
Hoy la traje a esta linda comunidad de #motherhood para celebrar la semana de la mujer.
A mi cuñada Rosalba la llamamos por cariño Ña Rosalba; desde que nos conocimos somos grandes amigas y hermanas. Me siento orgullosa de que forme parte de mi vida.
Es una mujer empoderada, madre, profesional, tenaz, valiente, echada para adelante y con una gran fortaleza. De ella he aprendido mucho, a pesar de que somos polos opuestos. Ella es seria y yo siempre ando de payasa. Ella es valiente y yo miedosa.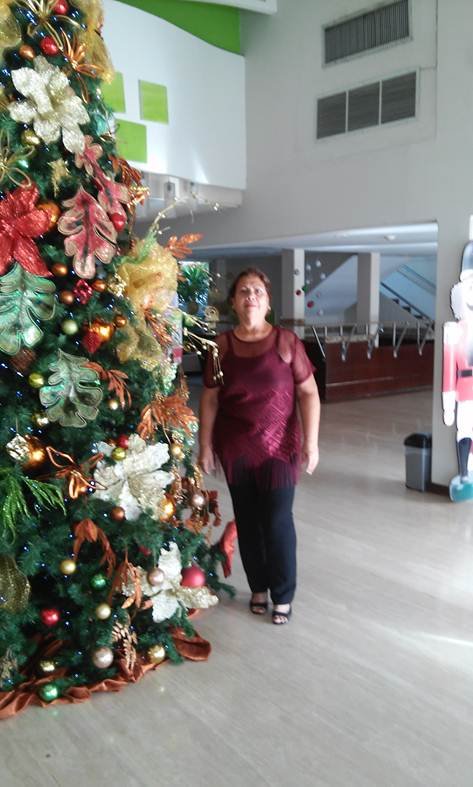 Ña Rosalba. Día de Acto de Grado de mi hijp Jesús para optar el título de ingeniero mecánico.
Fotografía de mi propiedad
Todo lo que sé Rosalba me lo ha enseñado; mi primera torta, mi primera costura. Es de esas personas que siempre dicen que SI y que sabe hacer de todo; manualidades, costura, tortas, y sobre todo cocina delicioso. No sé cómo hace para que un sancocho de pescado le quede bien con dos cebollas, ajo y ají dulce. Yo tengo que utilizar medio kilo para que pueda agarrar sabor.
Me fascinan sus hallacas, arroz con pollo, tortas negra y de piña. Estos son mis platos y tortas favoritas.
Viví muchos años con ellos. Es madre biológica de mis cuatro primeros hijos, mis queridos sobrinos. Los crié a su lado y también son mis niños. Al igual que mi hijo Jesús es su hijo.
Moisés mi cantante, ustedes lo conocen, ha participado como invitado en la curación de los días sábado. Eduardo, cantante y poeta. Rosalba , mi flaquita. Y mi gordita Gaby. Junto a mi príncipe azul Jesús. Son mi más grande tesoro, ocupan un lugar especial en mi loco corazón.
Cuando nació Jesús, Rosalba se encargó de todo. Fue ella quien le dio su primer tetero y baño. Lo puso en mis brazos al mes para que lo atendiera porque me daba miedo, y se me cayó de la cama. Siempre estuvo en sus grandes eventos; cumpleaños, bautizo y su Acto de Grado para optar el título de ingeniero mecánico.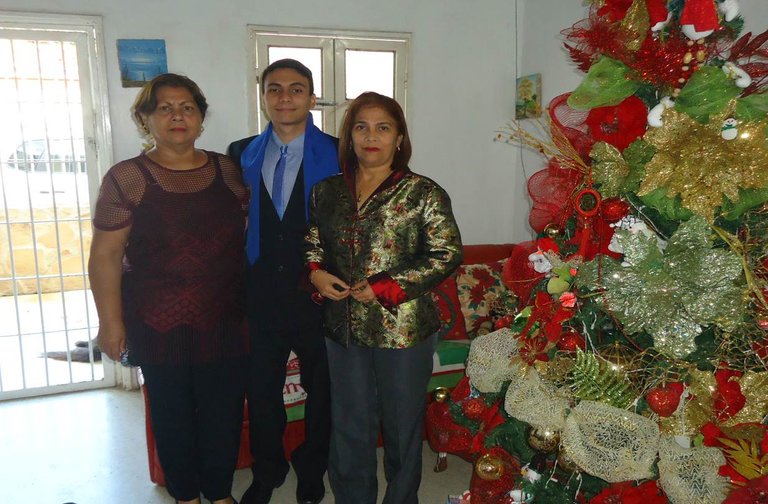 De izquierda a derecha: Ña Rosalba, mi hijo Jesús y Mafa.
Día de Acto de Grado de mi hijo Jesús para optar el título de ingeniero mecánico.
Fotografía de mi propiedad
Nunca me llegué a sentir sola porque siempre ella estuvo a mi lado, me levantó muchas veces cuando tropecé en mis días grises. Recorrimos juntas Venezuela, siempre inventábamos un viaje.
Pero la vida nos separó sin aviso y sin protesta, ni siquiera dio tiempo a la despedida. Salió un día de vacaciones a Panamá de visita un mes, sus hijos Eduardo y Gaby la secuestraron. No la dejan regresar. Ellos tienen razón, les hace falta su mamá. Además su nieta Verónica la tiene enamorada.
OMG, a todas estas no sé cómo va a hacer porque su otra nieta Gemita la espera en Chile. Será que van a hacer un clon de Ña Rosalba.
A partir de allí la soledad me embarga, ha dejado un vacío imposible de llenar. Visitar su casa sin ella allí ha sido muy difícil. Extraño nuestras largas tertulias con café y torta, salidas de shopping, caminatas y los felices días en nuestra querida playa de la Peña.
Hive, antes de despedirme les invito a participar en las actividades de la Comunidad de #Motherhood:
Desafíos
Challenge de la semana
Curaciones y Música de La Comunidad en PALNet, los sábados a las 6:00pm hora Venezuela.
Disfruta de las columnas:
Columna Informativa || ¡Mamá, tienes derecho! Por @elizabeths14
Columna de consejos|| ¡Abuelita, Ayúdame! ... Por @mafalda2018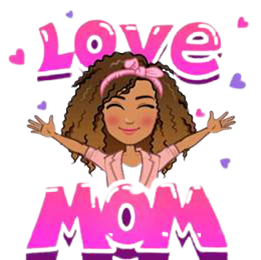 Me despido.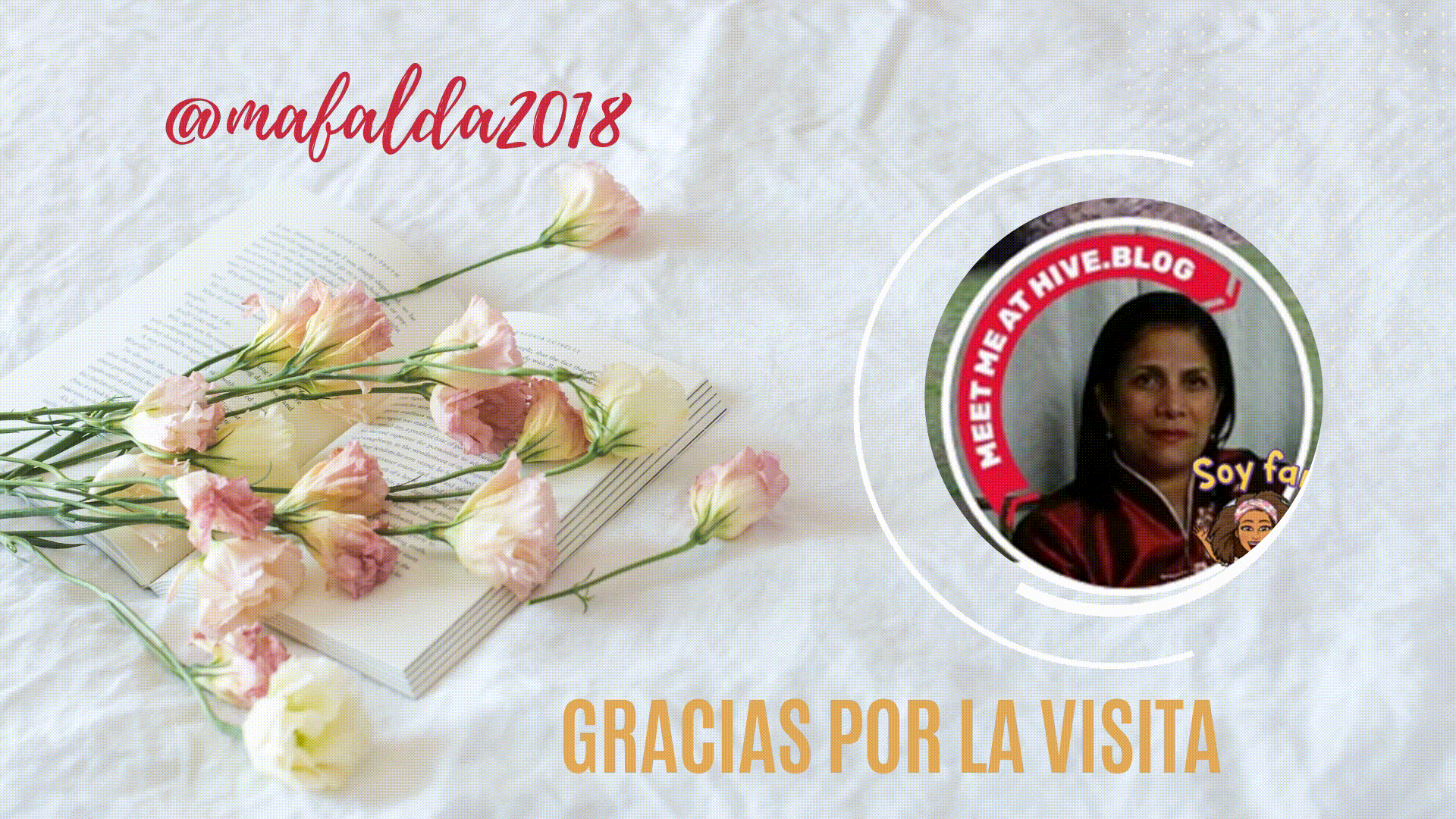 The photographs of my son Jesus are my property, I have used them in other publications. And in other social networks. Including Instagram and facebook.
The photograph of where Eduardo, Gaby and Rosalba appear in Panama; is property of my nephew Eduardo Gil Rodriguez. This photograph has been published in social networks; including Instagram and facebook. They were ceded to me, his aunt Rebeca Gil known on Hive as @Mafalda2018 for use in any publication.
I leave you the link of the first image for your recognition:
Las fotografías de mi hijo Jesús son de mi propiedad, las he utilizado en otras publicaciones. Y en otras redes sociales. Incluyendo Instagram y facebook.
La fotografía de donde aparece Eduardo, Gaby y Rosalba en Panamá; es propiedad de mi sobrino Eduardo Gil Rodríguez. Esta fotografía ha sido publicada en las redes sociales; incluyendo Intagram y facebook. Me fueron cedidas a mí, su tía Rebeca Gil conocida en Hive como @Mafalda2018 para su uso en cualquier publicación.
Les dejo el link de la primera imagen para su reconocimiento:
"Link"

"Si desea participar aquí les dejo el link"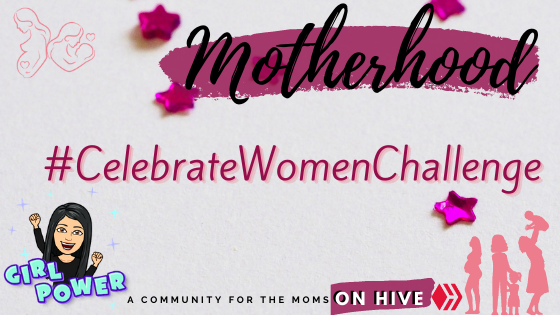 Fuente
Imagen tomada del reto desde el blog de @motherhood