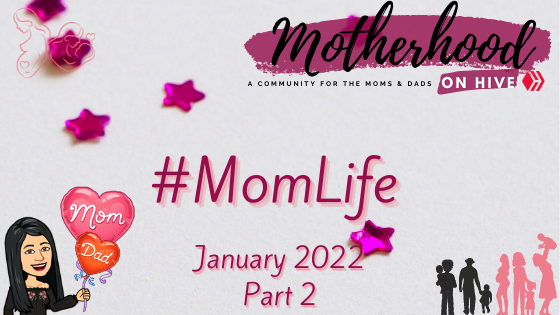 ---
What is Your Mom/Dad Life like?! || Cómo es tu vida de Mamá/Papá?
---

Hi mammas and Dads, We are back here with the daily challenge!, is a version of the Blogging Challenge, our version is a little bit different since we are moms & dads and busy people all around we sometimes can't actually commit to posting daily for a month so, we will only be doing this for 15 days at a time! This doesn't mean you can't skip days or just choose to not do or switch any of the topics given.
From now on the daily challenges for both Moms and Dads will be together in a single post just so we don't crowd too much the feed of our community with too many posts from the @motherhood account.
¡Hola mamás y papás! tenemos de vuelta nuestra versión del Blogging Challenge, nuestra versión es un poco diferente ya que somos mamás y papás ocupados, a veces no podemos comprometernos a publicar diariamente durante un mes, así que solo lo haremos 15 días a la vez. Esto no significa que no pueda saltarse días o simplemente elegir no hacer o cambiar cualquiera de los temas dados.
A partir de ahora, los desafíos diarios para mamás y papás estarán juntos en un solo post para no saturar demasiado el feed de nuestra comunidad con demasiadas publicaciones de la cuenta @motherhood.
Mom Life
English Version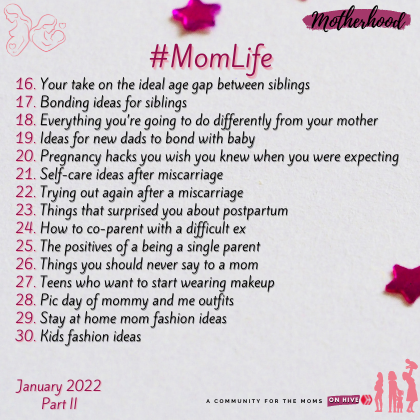 Versión en español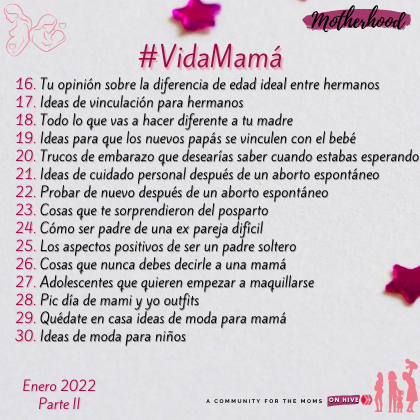 ---
click on the image to enlarge || Click en la imagen para agrandar
| English | - | Spanish |
| --- | --- | --- |
| Your take on the ideal age gap between siblings | 16 | Tu opinión sobre la diferencia de edad ideal entre hermanos |
| Bonding ideas for siblings | 17 | Ideas de vinculación para hermanos |
| Everything you're going to do differently from your mother | 18 | Todo lo que vas a hacer diferente a tu madre |
| Ideas for new dads to bond with baby | 19 | Ideas para que los nuevos papás se vinculen con el bebé |
| Pregnancy hacks you wish you knew when you were expecting | 20 | Trucos de embarazo que desearías saber cuando estabas esperando |
| Self-care ideas after miscarriage | 21 | Ideas de cuidado personal después de un aborto espontáneo |
| Trying out again after a miscarriage | 22 | Probar de nuevo después de un aborto espontáneo |
| Things that surprised you about postpartum | 23 | Cosas que te sorprendieron del posparto |
| How to co-parent with a difficult ex | 24 | Cómo ser padre de una ex pareja difícil |
| The positives of a being a single parent | 25 | Los aspectos positivos de ser un padre soltero |
| Things you should never say to a mom | 26 | Cosas que nunca debes decirle a una mamá |
| Teens who want to start wearing makeup | 27 | Adolescentes que quieren empezar a maquillarse |
| Pic day of mommy and me outfits | 28 | Pic día de mami y yo outfits |
| Stay at home mom fashion ideas | 29 | Quédate en casa ideas de moda para mamá |
| Kids fashion ideas | 30 | Ideas de moda para niños |
some suggestions were taken from nikkiblogs

Dad Life
The topics above applied to dads as well we encourage you to take part in this daily challenge by just switching the nouns from mom to dad!
Los temas anteriores también se aplican a los papás, ¡lo alentamos a participar en este desafío diario simplemente cambiando los sustantivos de mamá a papá!
---

Rules || Reglas
To be part you have to follow 3 simple steps
Para ser parte tienes que seguir 3 pasos simples

Remember you can still do the topics from previous weeks, or switch it up if you don't like a topic suggested.
Recuerda que aun puedes hacer los temas de las semanas pasadas o cambiarlos si no les gusta uno de los temas sugeridos.
#MomLife January 2022 Part I [ENG – ESP]
---
---


As always, thank you very much for reading this far and
We hope to read your comments!
---
Introducing: #Motherhood, The Community for Moms on The Hive Blockchain
---
---
😗 Follow us on our Other Social Media...❗️⬇️⬇️⬇️⬇️