It was a sunny day after a couple or rainy ones ... some days ago ...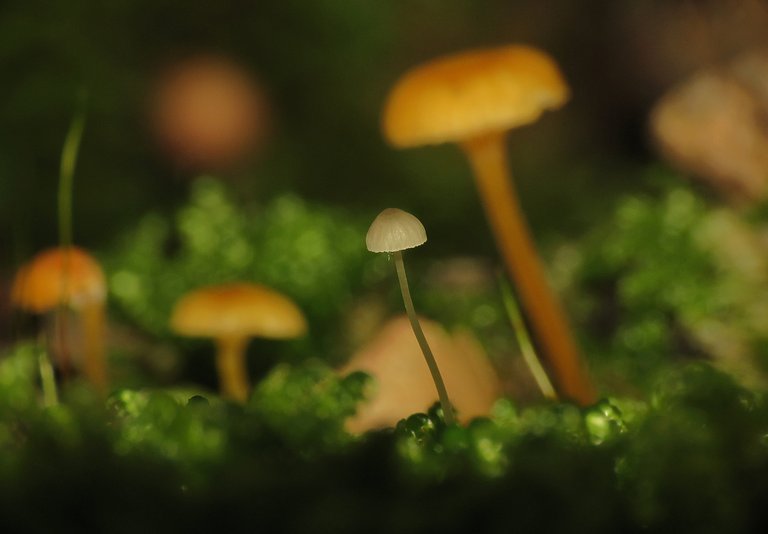 ... so I drove about 30 kilometers from where I live, to see what's going on in larger deciduous forests that don't grow around my hometown ...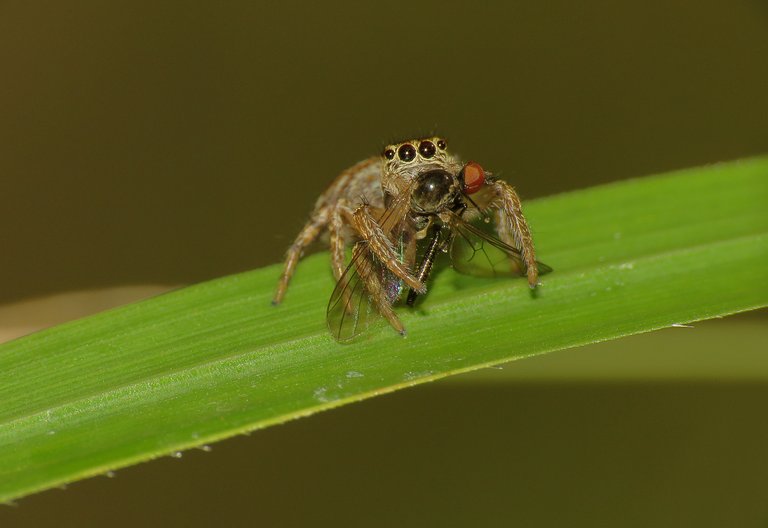 ... and found quite a few interesting things to put on photograph ... beside having fun in a beautiful environment.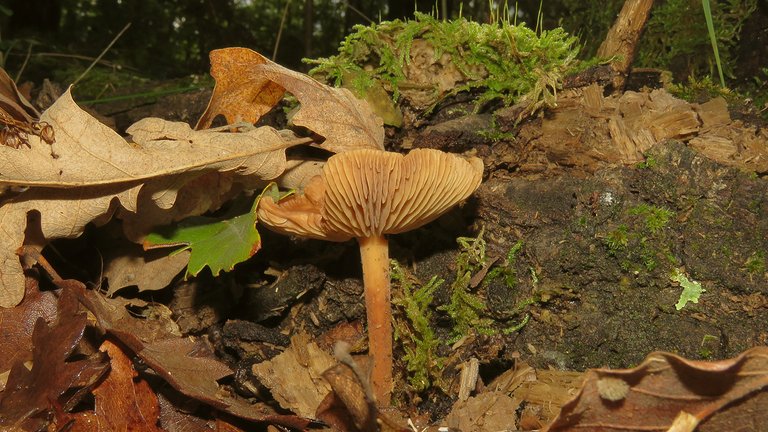 I didn't saw any large mushroom ... and even relatively small ones ... like the one on this picture, were pretty rare ... but ...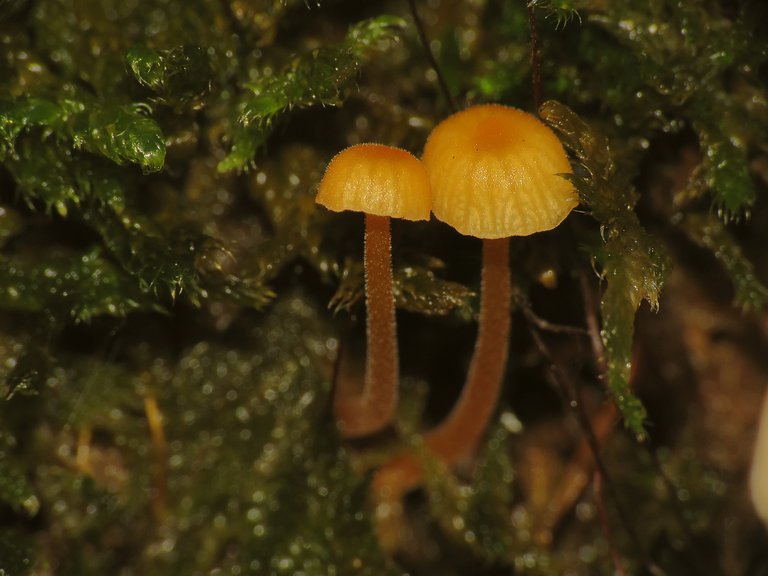 ... fortunately ... I had the macro lens ...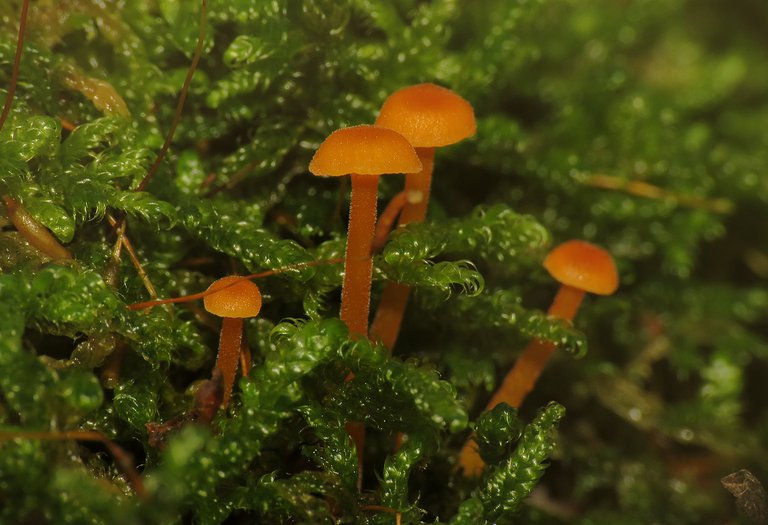 ... and I did find a multitude of elegant, minuscule ones. The most interesting stuff was growing in very humid, shady places, so I used the flesh for most of these photographs ... because is easier ... but when the time was to put on picture this group of lovely umbrellas ...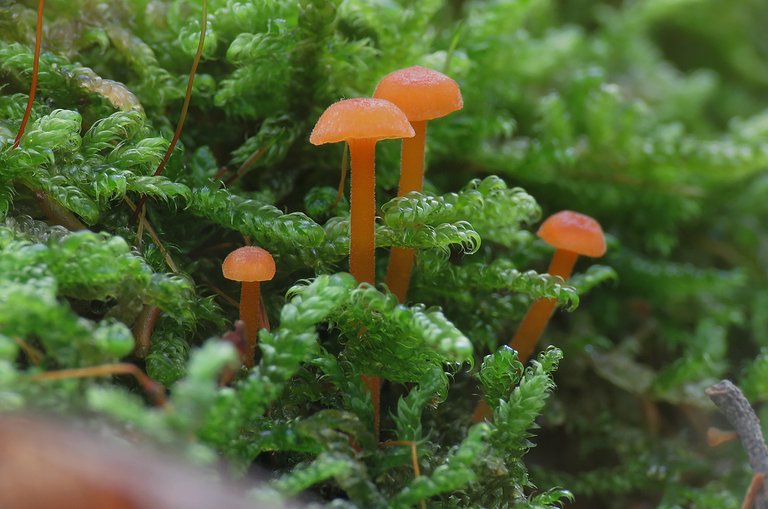 ... I just had to organize a makeshift pedestal to get at least one shot with longer exposure and natural light. I like everything in the woods, but small colorful mushrooms combined with moss always had a special place in my heart :D
Although the natural light mostly does a better job to emphasize the beauty of colors and atmospheres ... sometimes ...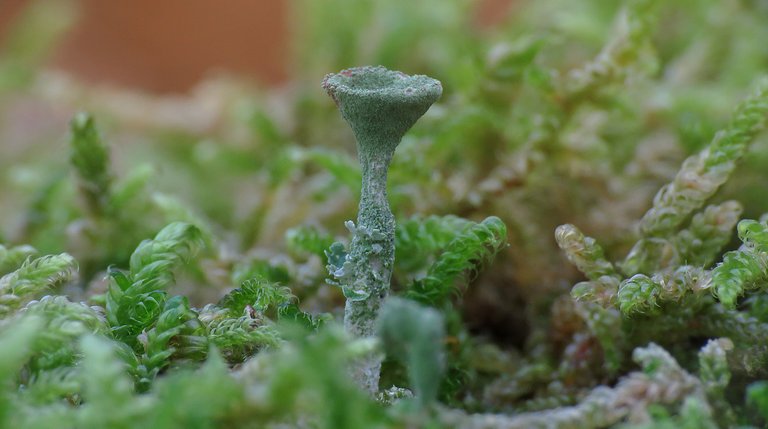 ... with some motifs and in some conditions ... shapes get lost in their surroundings ... so, in case of this lichen portrait ...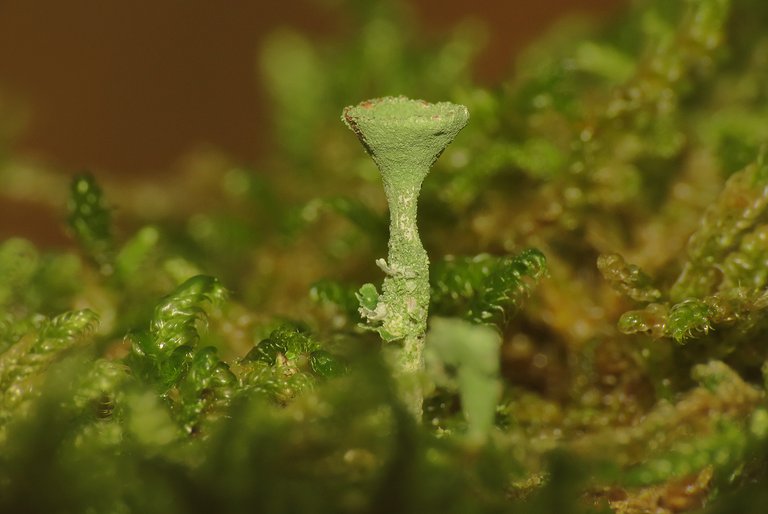 ... the flesh was quite helpful to bring the lichen out of the moss.
I didn't actually saw many mushroom species here ... but they were growing in various combinations ...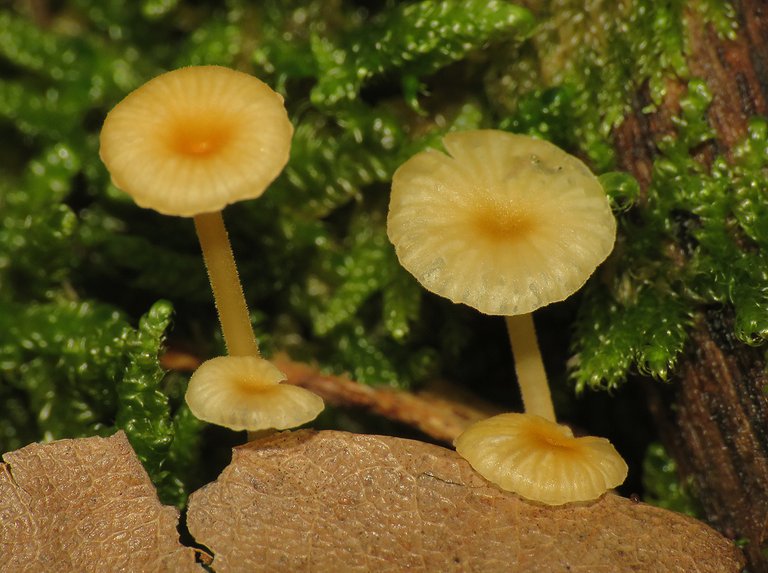 ... creating opportunities for interesting compositions ... like this gang of four, ad example ...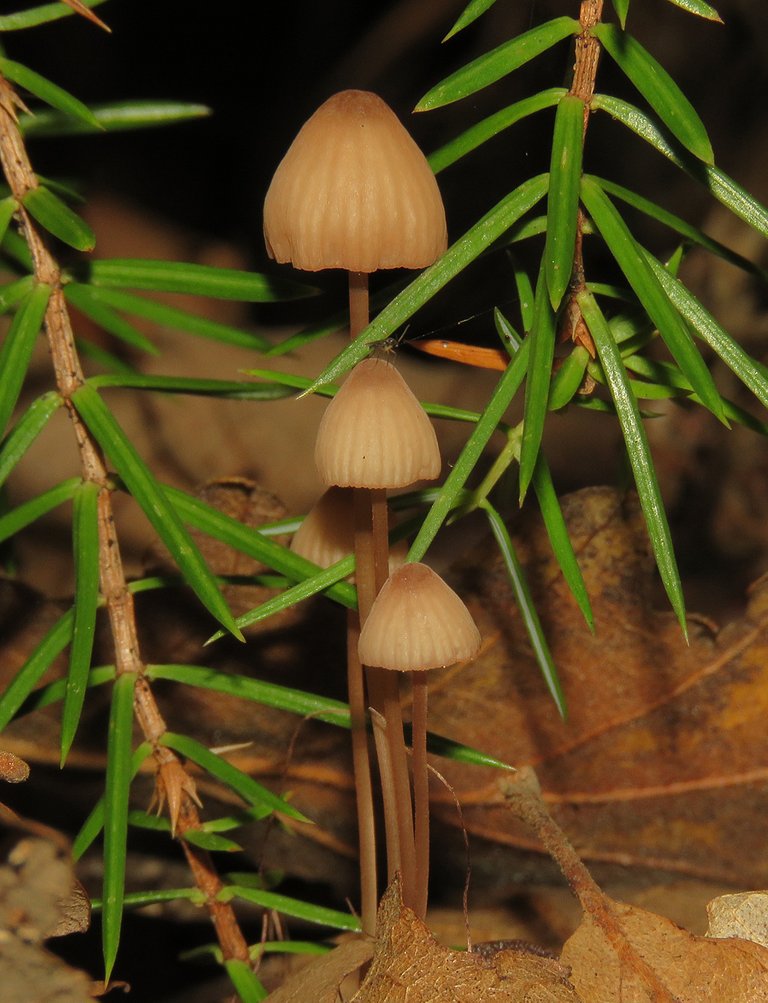 ... or this elegant natural architecture on three floors. These three mushrooms ...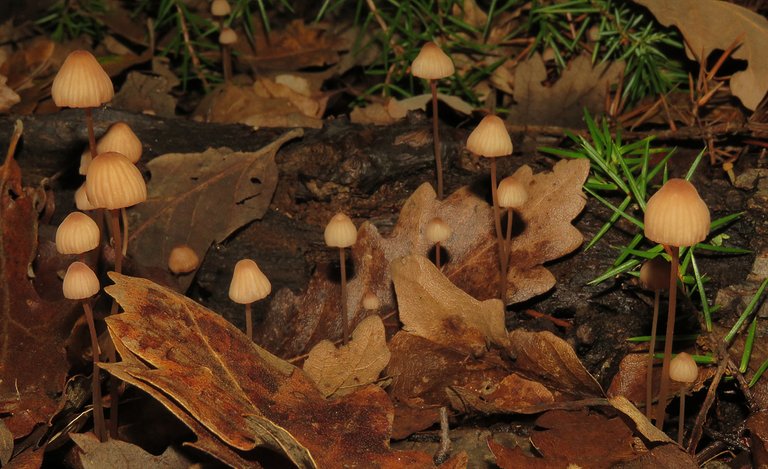 ... were part of a larger community growing on the fallen oak leaves.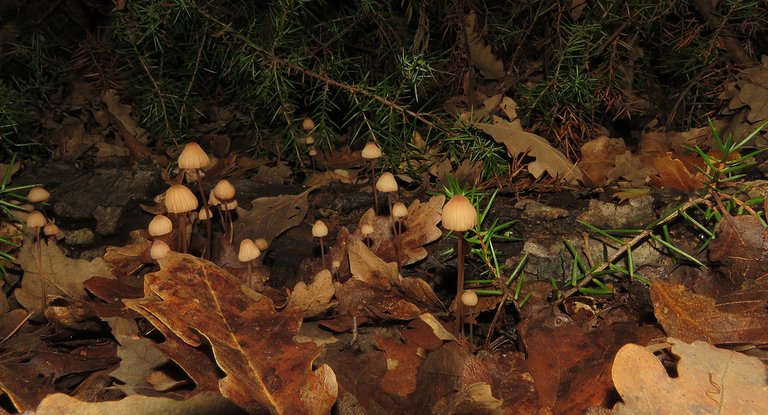 An evergreen plant was growing behind this mushroom field in autumnal shades of brown ...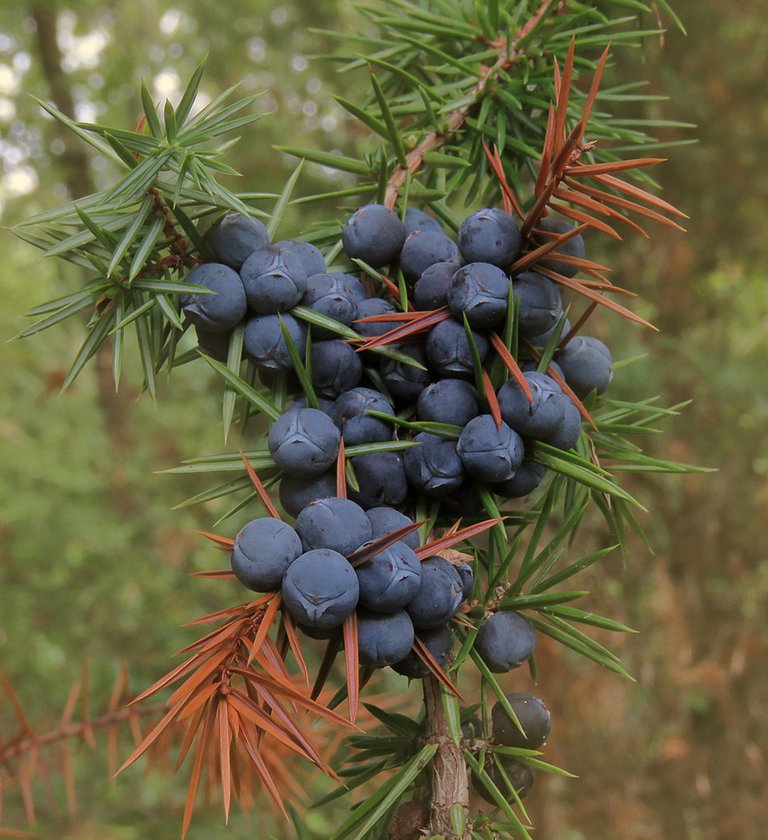 ... the Common juniper. Another plant that can't be found around my hometown. There is a similar species with dark red or red - brown fruits, growing there ... in open spaces ... on rocky terrain mostly.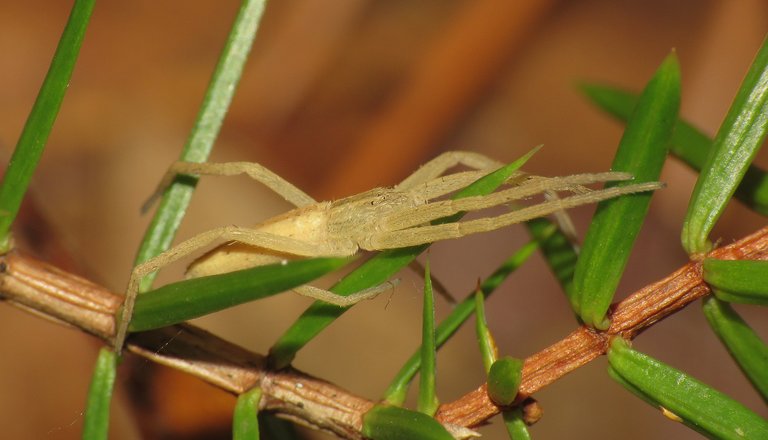 Here among the prickly leaves ...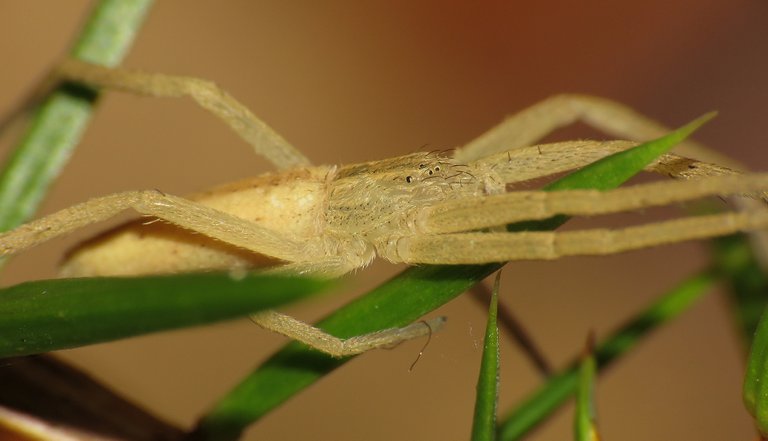 ... I found a camouflaged spider.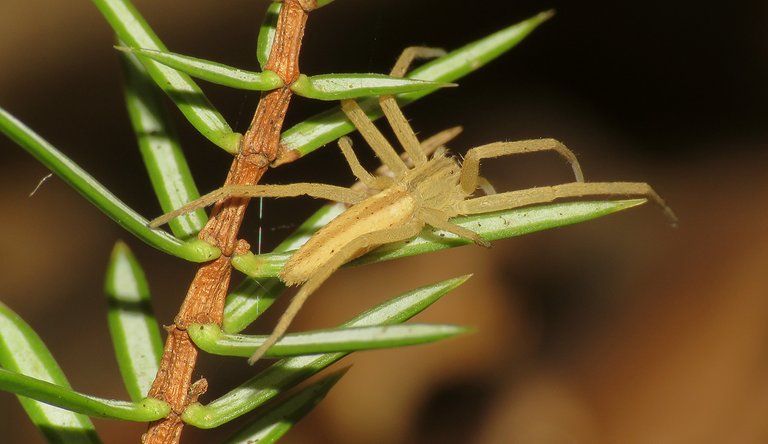 Only when he moved I could take a good look at his shape. When I moved my focus back down ...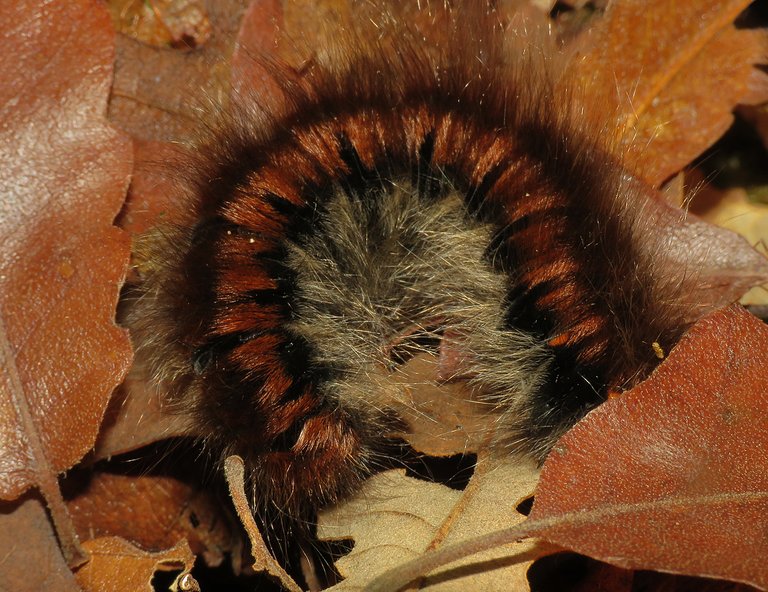 ... among the fallen leaves .... I found this big hairy caterpillar ... of the Lasiocampa quercus moth ...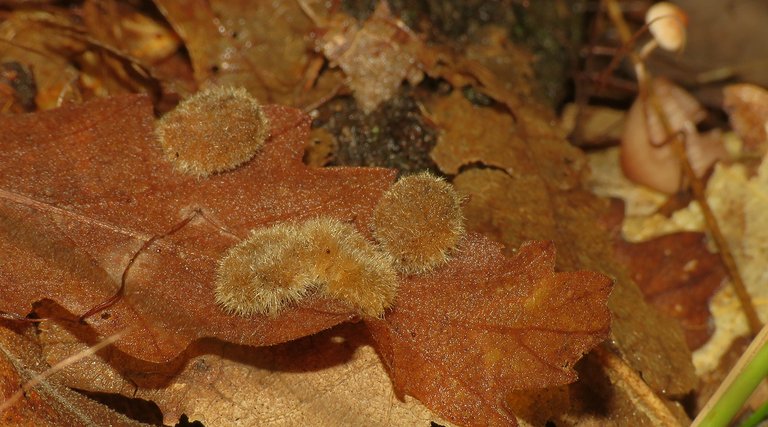 ... and some strange, temporarily undefined hairy stuff ...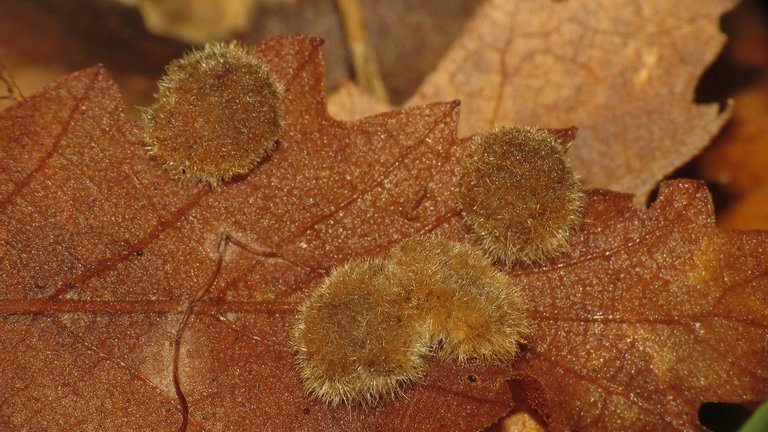 ... attached to the rotting leaves.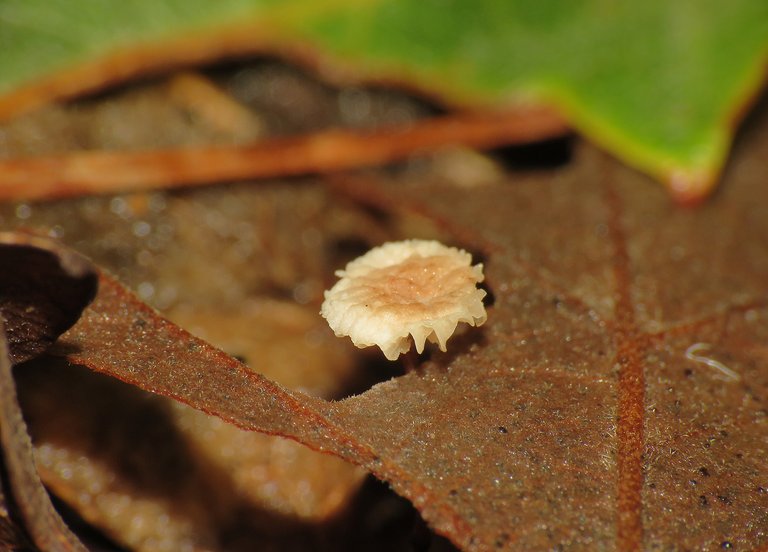 I found some more tiny mushrooms as well. This one had a relatively long stem but here on this shot doesn't look so, the cap has barely surfaced from the fallen foliage.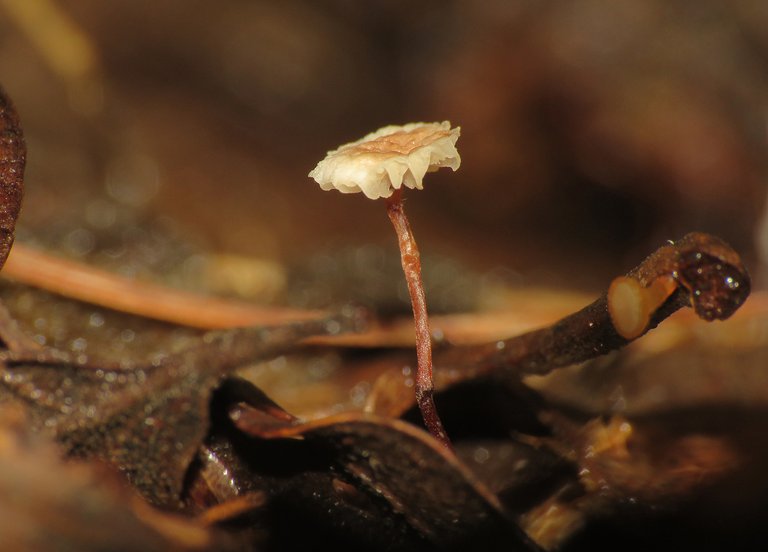 Here you can see the same mushroom ... when I removed a leaf or two.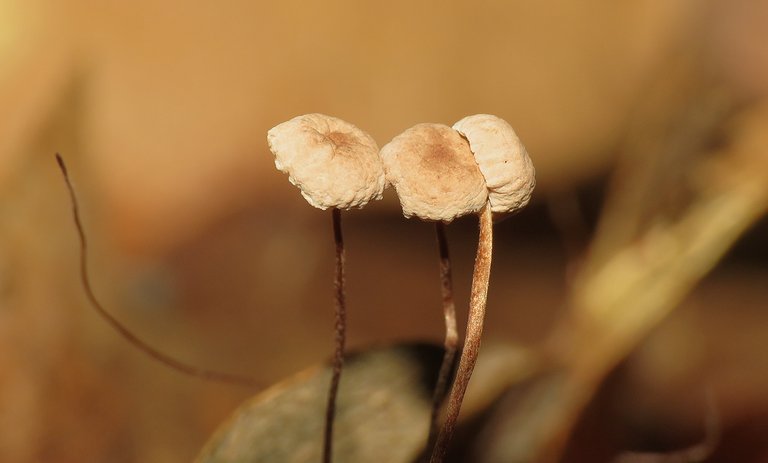 Here is a lovely, slightly dried out trio.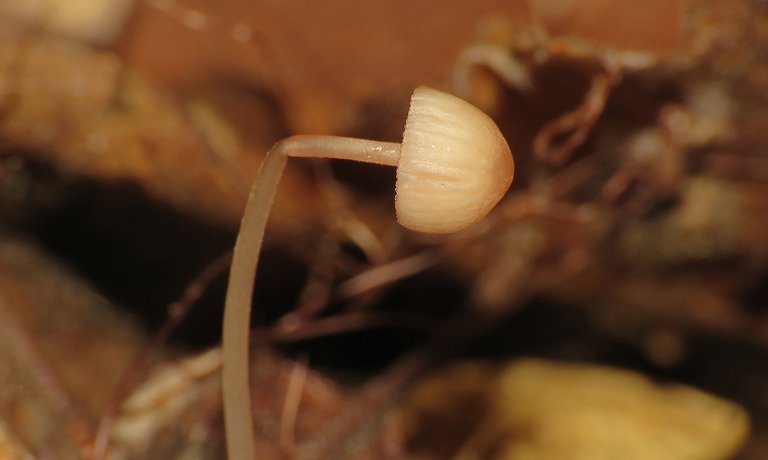 Some of these small mushrooms were slightly folded and bent like this ...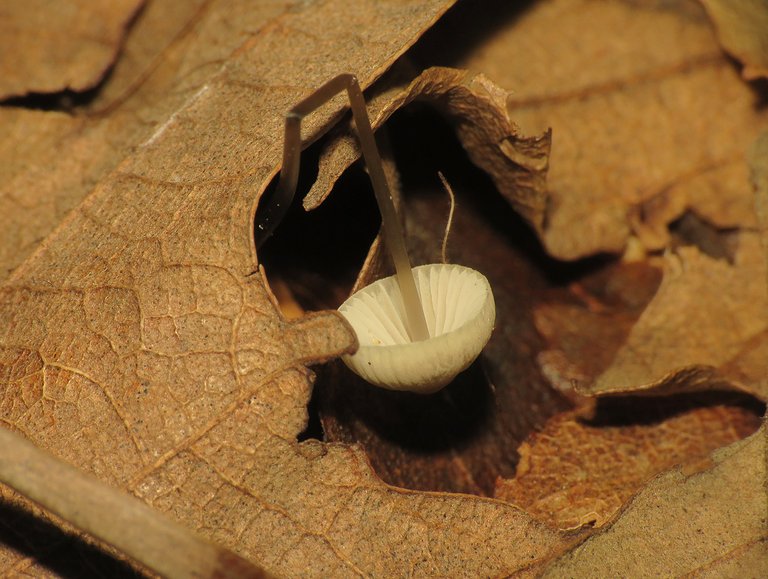 ... or a bit more ... like this one. When I needed a bit of change ... I stepped out of the dense oak growth with small trees to see what's going on in the more open space under some much larger trees that grew relatively distant from each other.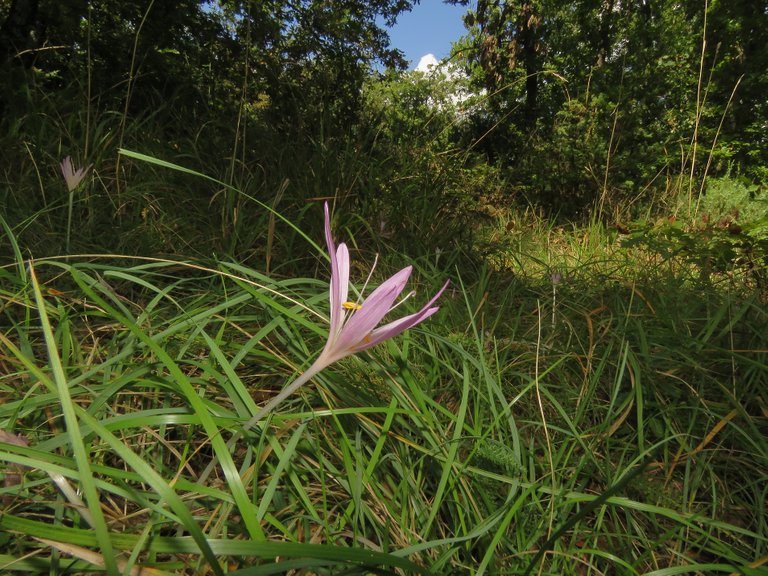 Here the terrain underneath the trees was covered with grass ... it looked a lot like spring and I saw some interesting flowers than don't grow in my seaside area ... this beautiful and poisonous Colchicum autumnale ...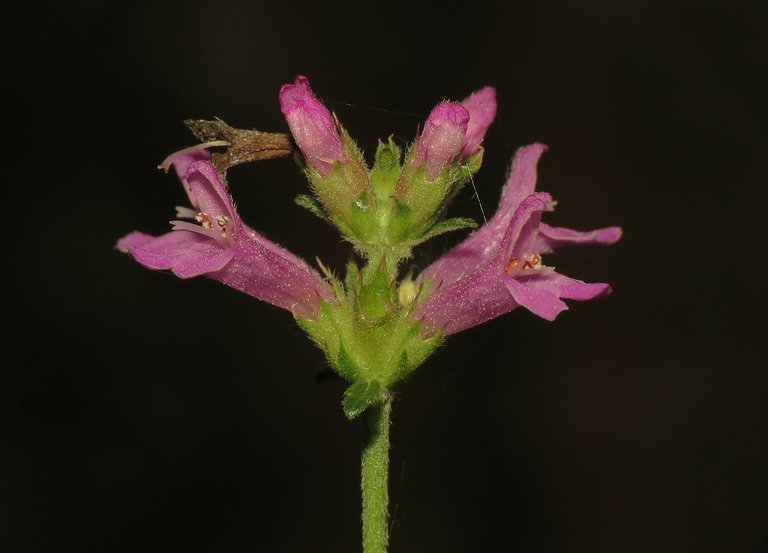 ... the Betonica officinalis ...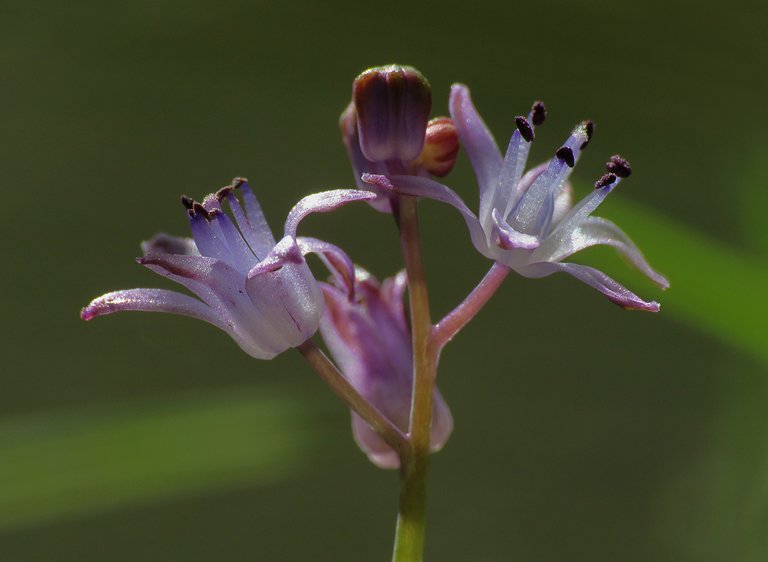 ... and the very lovely Prospero autumnale ... that I very rarely see. I didn't find many mushrooms here ...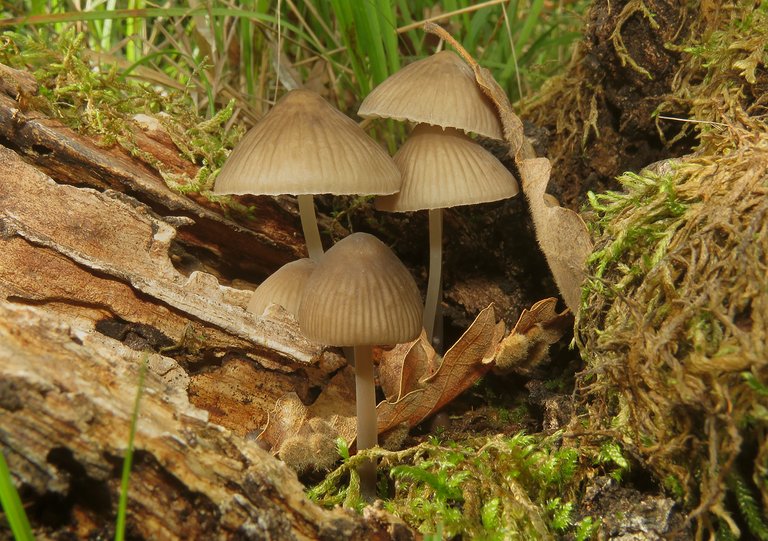 ... well, only these actually ... sprouting from some rotting wood.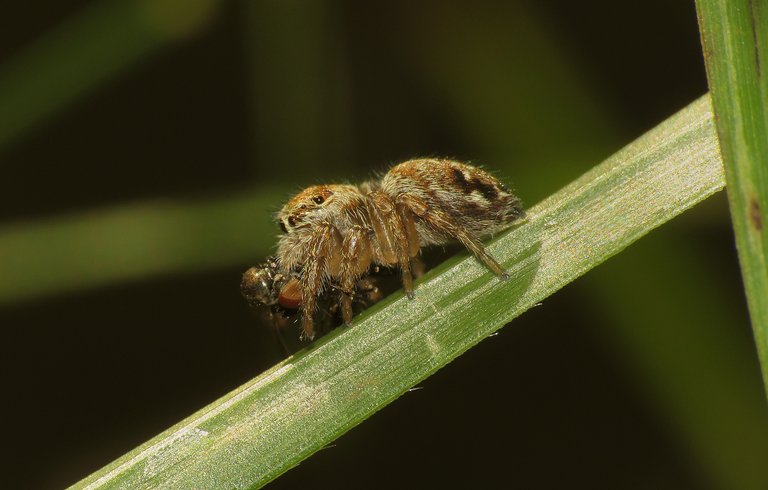 But I could observe a jumping spider ...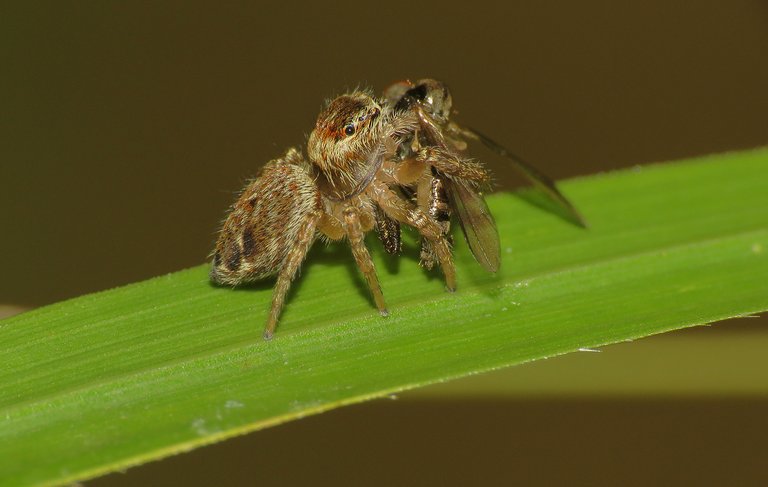 ... carrying his prey along the blade of grass ...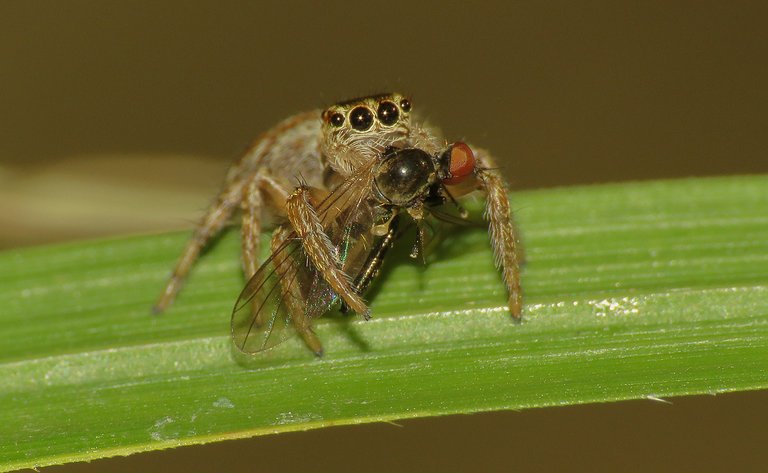 ... some small black fly. After these shots, when the spider disappeared in the intricate vegetation under the long leaves of grass ...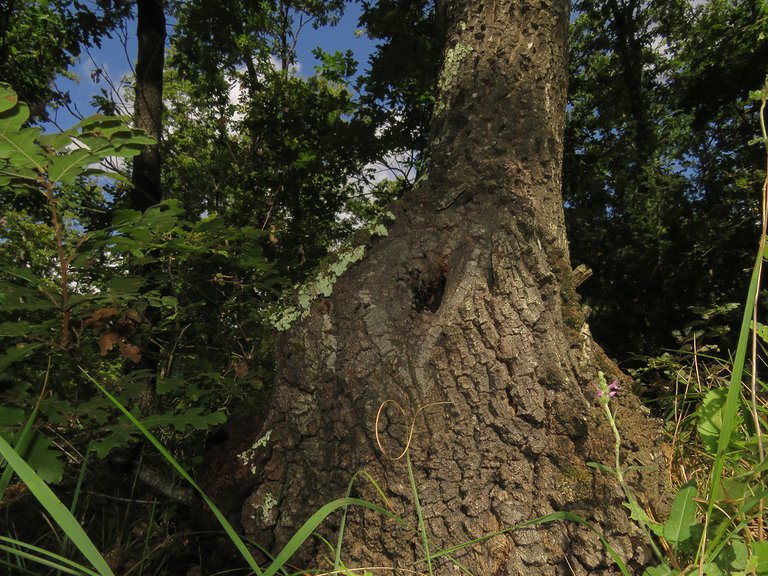 ... I noticed a hole in the nearby oak tree ...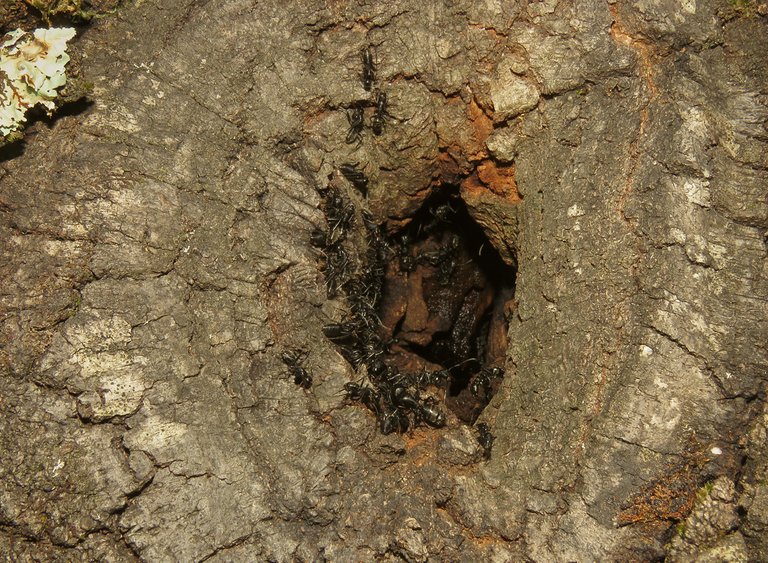 ... and some ant activity around this entrance into the mysterious world inside the trunk.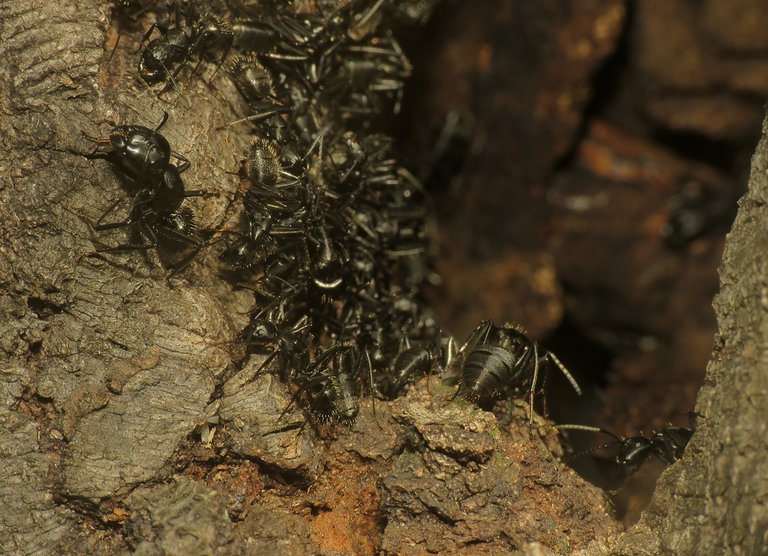 The ants, big black ants ...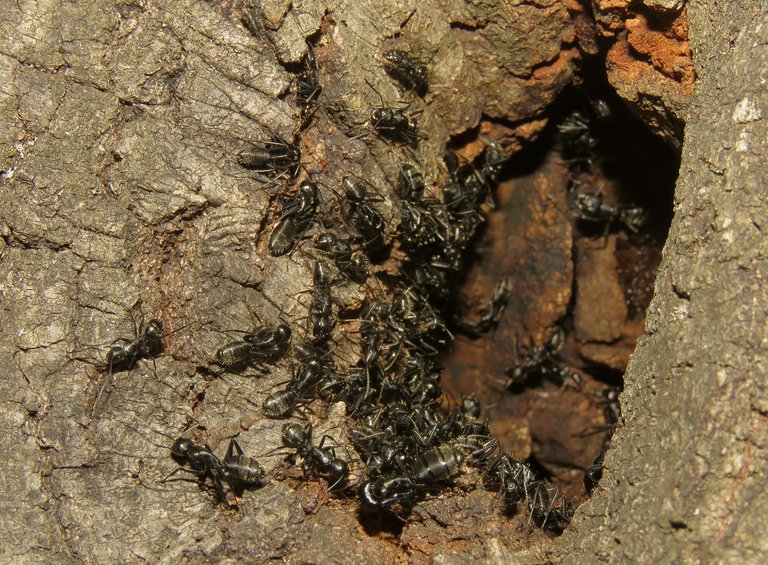 ... were busy around some ant project inside the cavity.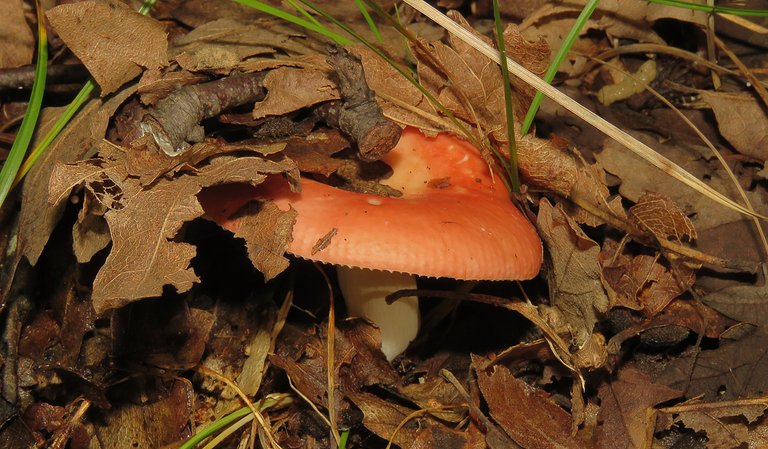 On my way back to the car I saw some larger red mushrooms peeking from underneath the carpet made of fallen leaves ...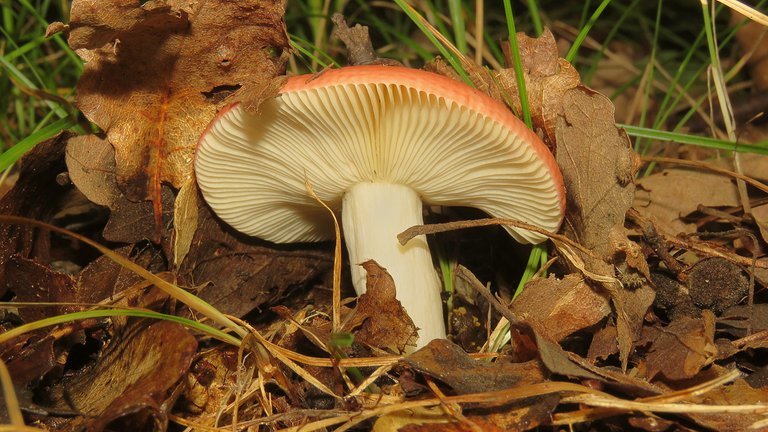 ... this shot was taken from the ground level ...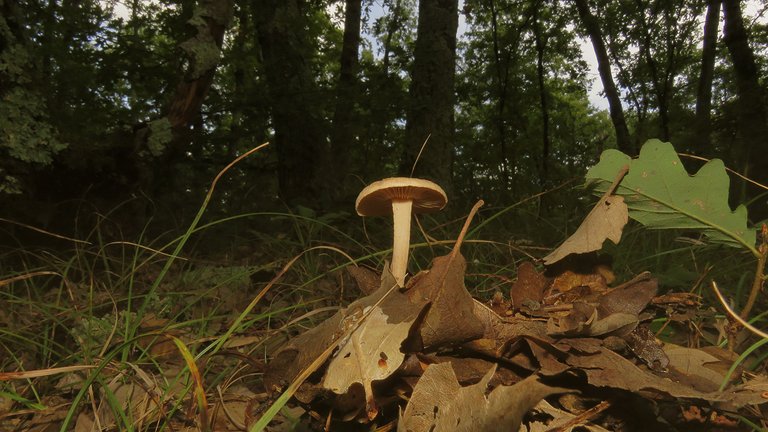 ... then I photographed this slightly taller, but overall definitely smaller mushroom ...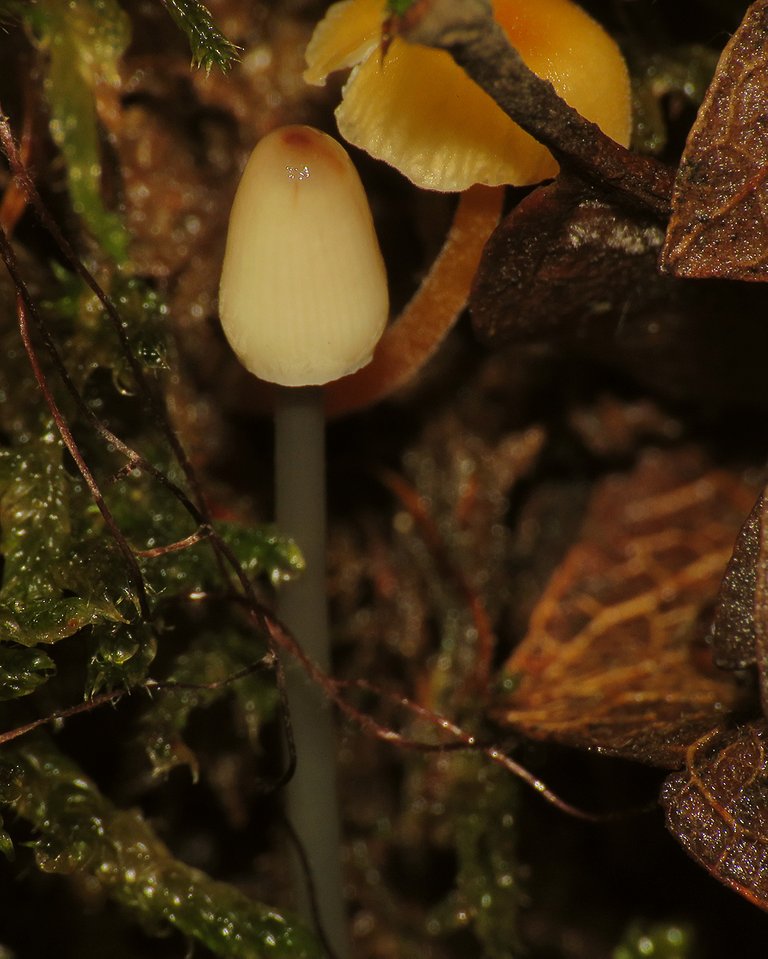 ... encountered a few more tiny ones ...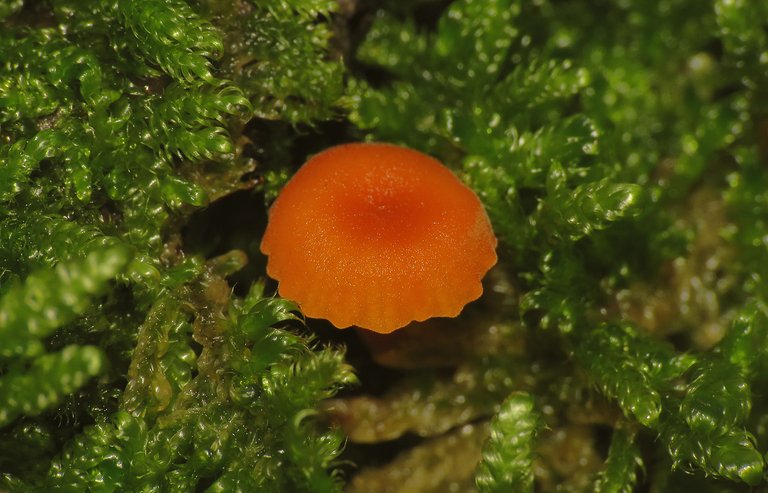 ... including this little "forest jellyfish" ...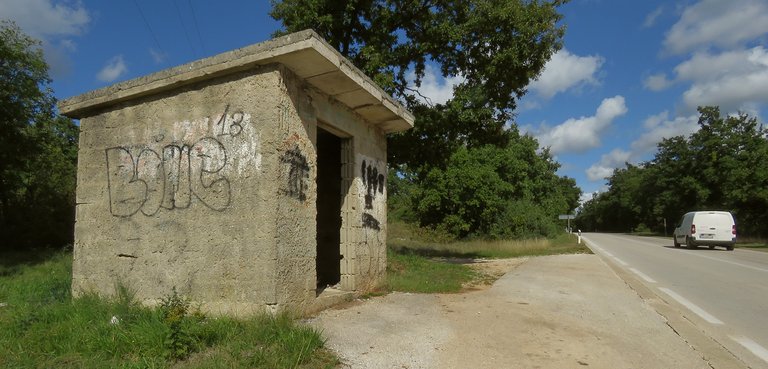 ... and that's it ... when I took this last, closing shot ... I was standing by the car ... ready to go home ... as always in these posts on HIVE, the photographs are my work - THE END.
And now ... after the end ... I would like to present you the enlargeable versions of some of the photographs ...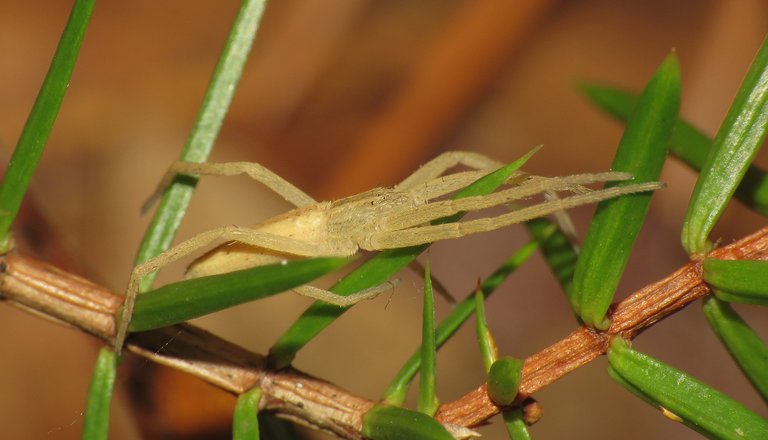 (Enlargeable)
... that I prepared for posting on PEAKD, but I had problems with that publishing, because of the Fork thing I suppose ... so now I'm here, trying to satisfy my compulsive obsession to publish something every day. Fortunately the post I prepared today can find its place here on STEMSocial ... I hope ... I mean, there is not much science here, but there is at least some kind of visual storytelling that evokes a scientific documentary about nature ...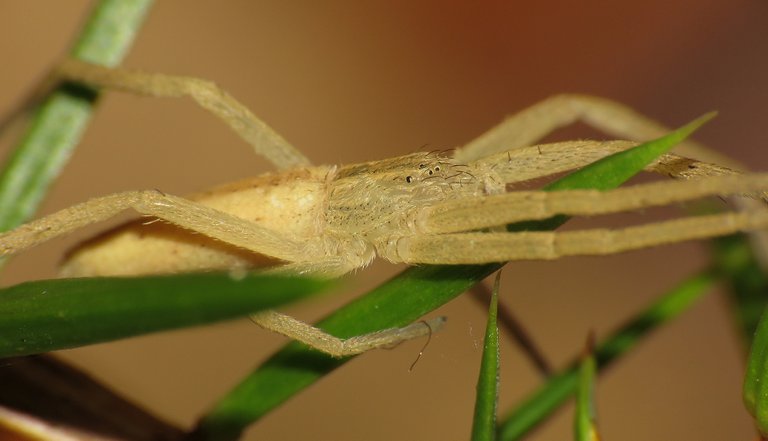 (Enlargeable)
... I didn't put these enlargeable photographs in the "story" because they were not visible in preview while writing the post ... so I think they will not be visible through STEMSocial ... and that wuill break the whole thing ...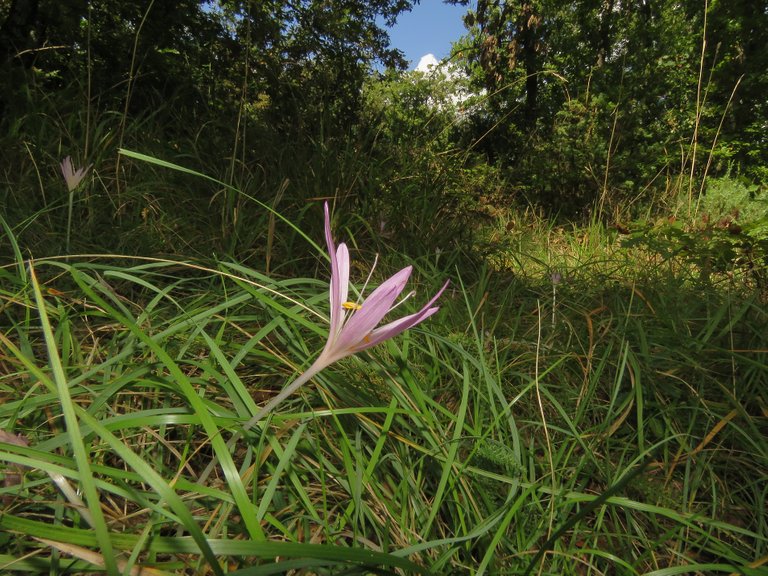 (Enlargeable)
... but I prepared them to be large :) so here they are ... and now - this is really THE END.
And then ... at the end ... after all I wrote ... I published the whole thing on HIVE.blog ... on the PC that belongs to a friend of mine :D ... which is cool ... it surprised me ... really ...